SMS & MMS FOR P2P & MASS TEXTING
All-in-One SMS Marketing Software
Reach out to your audience with text messages to inspire action, drive promotions, raise funds, and more. Engage contacts with a reliable, affordable and comprehensive sms marketing platform that's easy to use.
Mass texting to send text blasts
SMS opt-in to build contact lists
Peer-to-peer texting for two-way conversations over text.
Supports MMS marketing across all tools.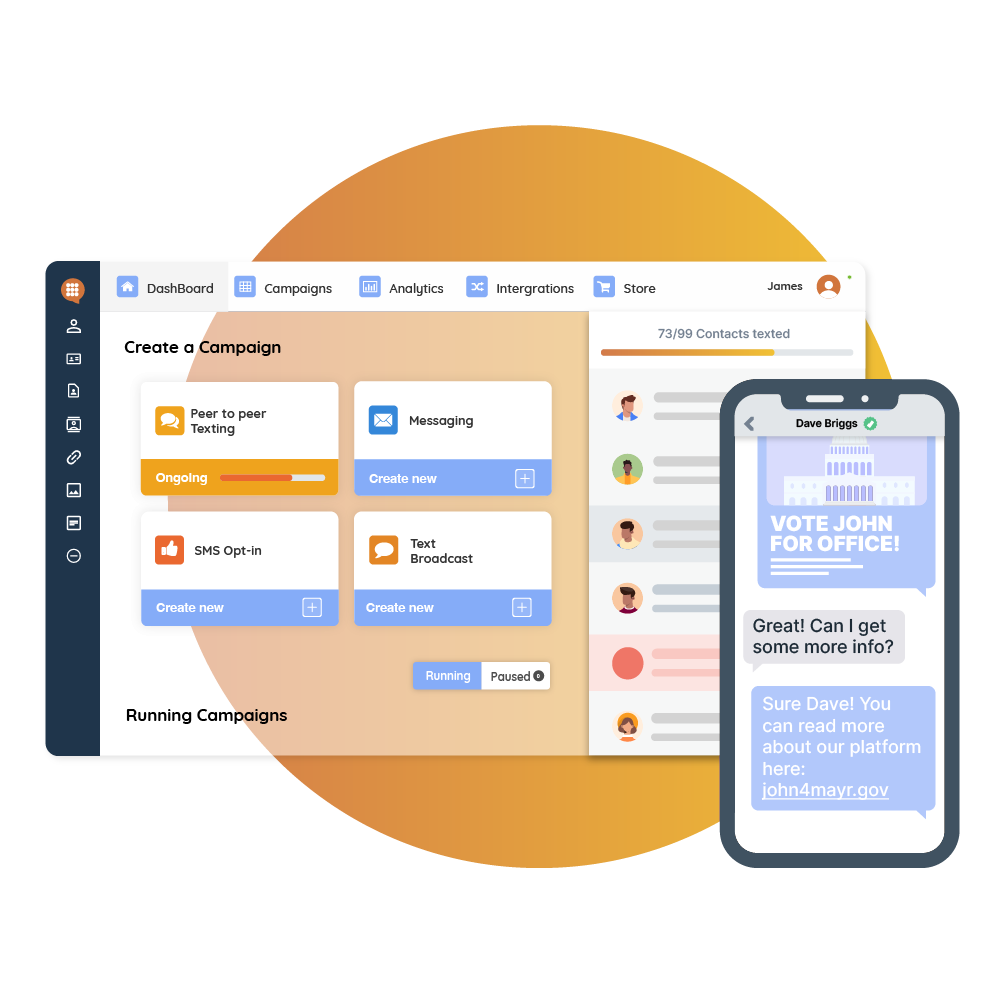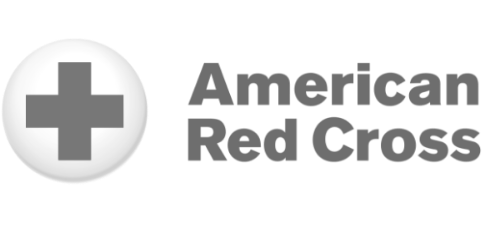 Texting has an open rate of 98% and is one of the most preferred communication channels.
Political Campaigns
Reach supporters with bulk sms or peer-to-peer texts for fundraising, GOTV messages, and drive voter mobilization.
Nonprofits
Nonprofits use sms marketing services to promote fundraisers, share event invites, collect RSVPs, and drive action with personalized text messages.
Businesses
Build sms lists for text message marketing. Send promotional offers, reminders, provide support, and much more.
Debt Collectors
Debt collectors send payment reminders, acknowledgements, follow-ups, and more using sms marketing platforms.
Education
CallHub's SMS marketing tool comes handy to educational institutions to send emergency notifications, submission reminders, and provide information over text.
Unions
Unions run sms campaigns to converse with supporters to mobilize them, send mass texts to spread awareness, collect e-signs, confirmations, and more.
Broadcast text messages to your entire audience
Upload your list, write your text message, schedule a time and hit send. Personalize your text message by importing contact data from your CRM and maximize engagement. Continue conversations without manual intervention with automated responses.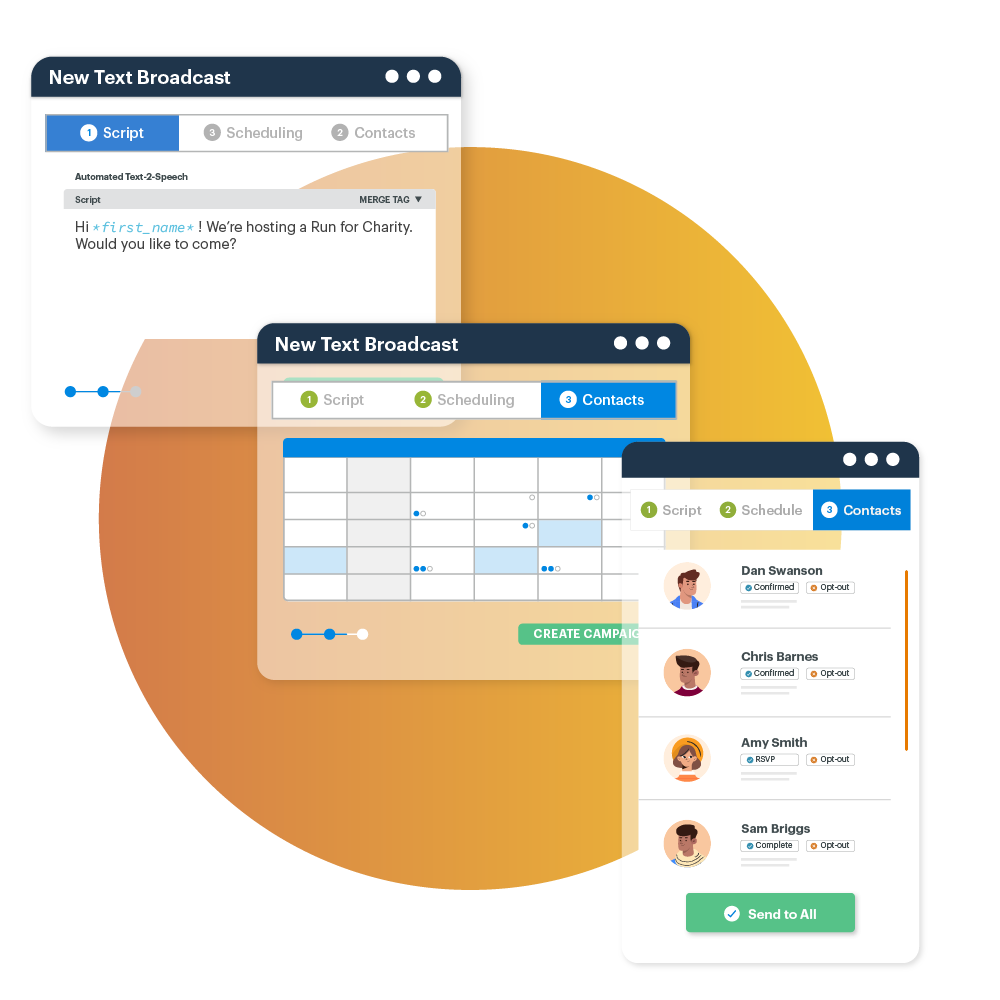 Add multimedia to your texts
Multimedia messages drive 6X more engagement. Make your messages more engaging by adding images, gifs, videos, and pdfs.
Set up automated responses
Set up trigger keywords for your text messages and appropriate responses for each. When a contact replies with the keyword, the automated responses carry the conversation forward.
Send out messages with a sender name
Send out your text messages using your organization name rather than a number. Set up a custom name for your sms marketing campaigns and improve your open and read rates.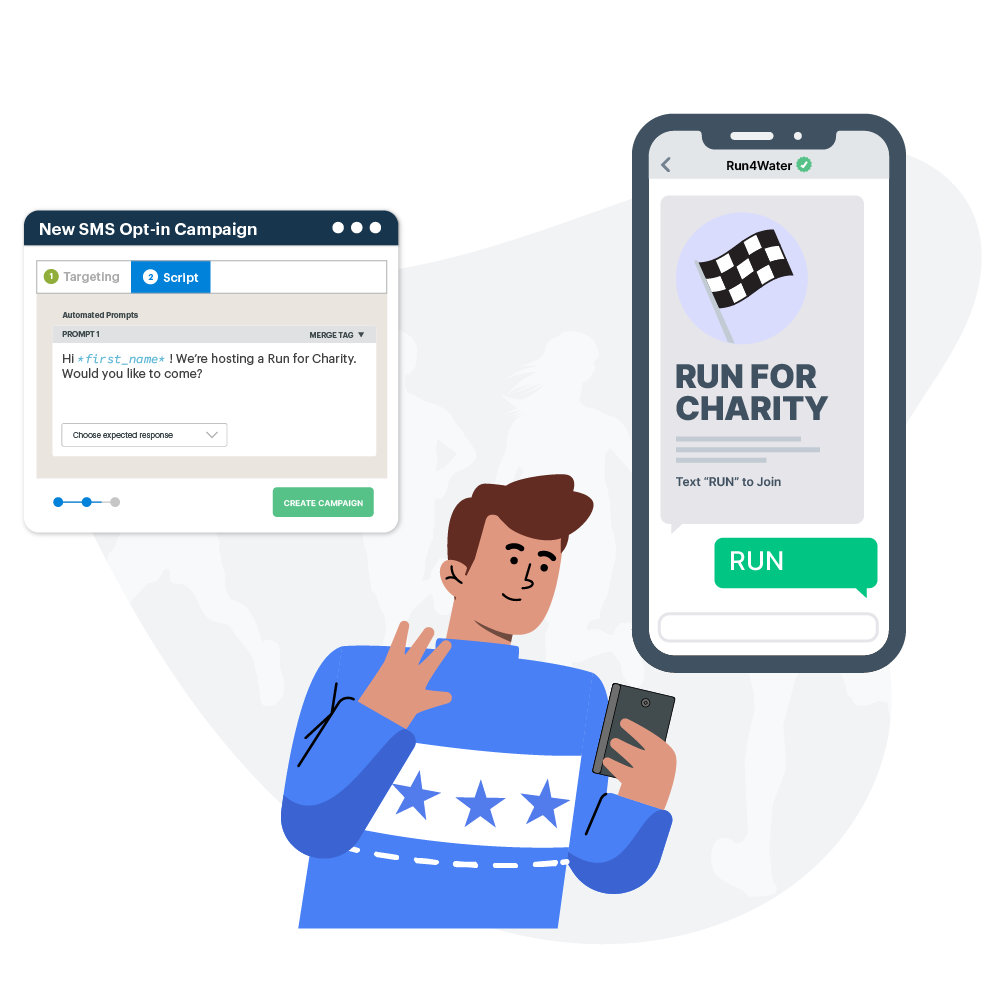 Grow your list by letting people opt-in via a text message
Rent a keyword and number and promote it everywhere to let people opt-in to your sms list. Set up automatic follow-up questions to collect their name, email and other details you want to add to your database. Sync this data with your CRM in real time.
Personalize follow up texts
Since the contact data is synced in real time, you can personalize the immediate follow up texts with this data. Send personalized messages to keep contacts engaged during the opt-in process.
No limits on the keywords you want
Rent unlimited keywords at a fixed price without any hidden charges. Run multiple opt-in campaigns simultaneously using multiple keywords.
Set up nudges to improve conversions
Encourage people who drop off the opt-in process to complete the process with nudges. Set the frequency and timing of these follow-ups to maximize completions.
PEER TO PEER TEXT MESSAGING
Initiate action with scalable two way messaging
Personal conversations have the power to drive action. Send a text broadcast to initiate a conversation and reply to each message as the responses start coming in. Talk to more than 1000 people in the span of an hour with two-way texting.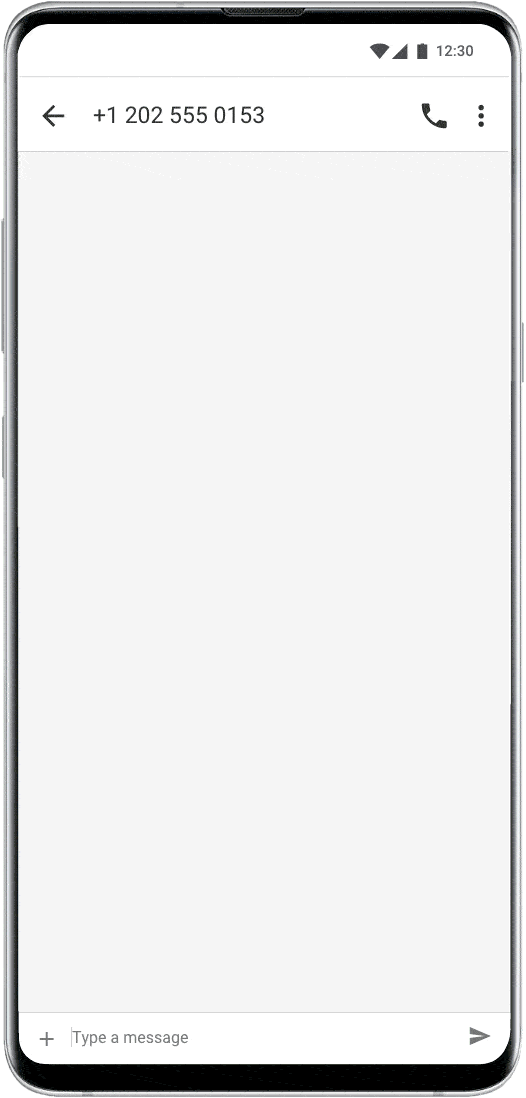 Respond faster with text templates
Save time by creating text message templates for common replies. Send these saved responses with one click. Add merge tags to personalize these templates.
Collect data with texting surveys
Run surveys to collect data with ease. Save answers from contacts using survey forms. Create your own surveys or import custom surveys through integrated third party apps.
Text conveniently from your smartphones
Let your agents join your text message marketing campaigns from anywhere with a mobile app. Run distributed campaigns and save on operational costs.
Set up your text message marketing campaign in minutes
Get started with CallHub's sms marketing software for free.
Key features of CallHub's SMS Marketing Software
A good text message marketing software should do more than just deliver texts. It should help you run campaigns more efficiently without adding to costs or compromising on compliance. Here are some essential features that make CallHub one of the best sms marketing software.
Shorten and track link engagement
Customize and shorten your links to save characters in your sms. Track the engagement on these links to measure the success of your text marketing campaigns.
Automate communication over multiple channels
Want to combine text marketing with email marketing and calling? You can do that with automated workflows. Set up flows to trigger communication over different channels.
Verify phone numbers before sending texts
Filter out invalid numbers from your list and segment mobile and landline numbers before you set up your campaigns. Make sure you're not wasting any resources texting bad numbers.
Get any number of your choice to send texts
CallHub supports 10DLC numbers, shortcodes, and toll free numbers for sms marketing. Rent any type of number that you feel is most suitable for you.
Maintain delivery rates with adaptive block texting
Rent multiple numbers for a specific area and group them into a block. If one number gets marked spam, the other takes over automatically to continue texting and maintain outreach.
Texting regulations keep changing and CallHub ensures that the product is always up to code. Reach out to your audience over texts without worrying about legal issues with our top sms marketing software.
10DLC compliant numbers
Register your brand and get 10DLC numbers. Achieve better delivery rates and higher throughput while staying compliant.
Manage opt-outs
Automatically unsubscribe people who text words like STOP, UNSUBSCRIBE, QUIT, END, etc. to maintain a clean list.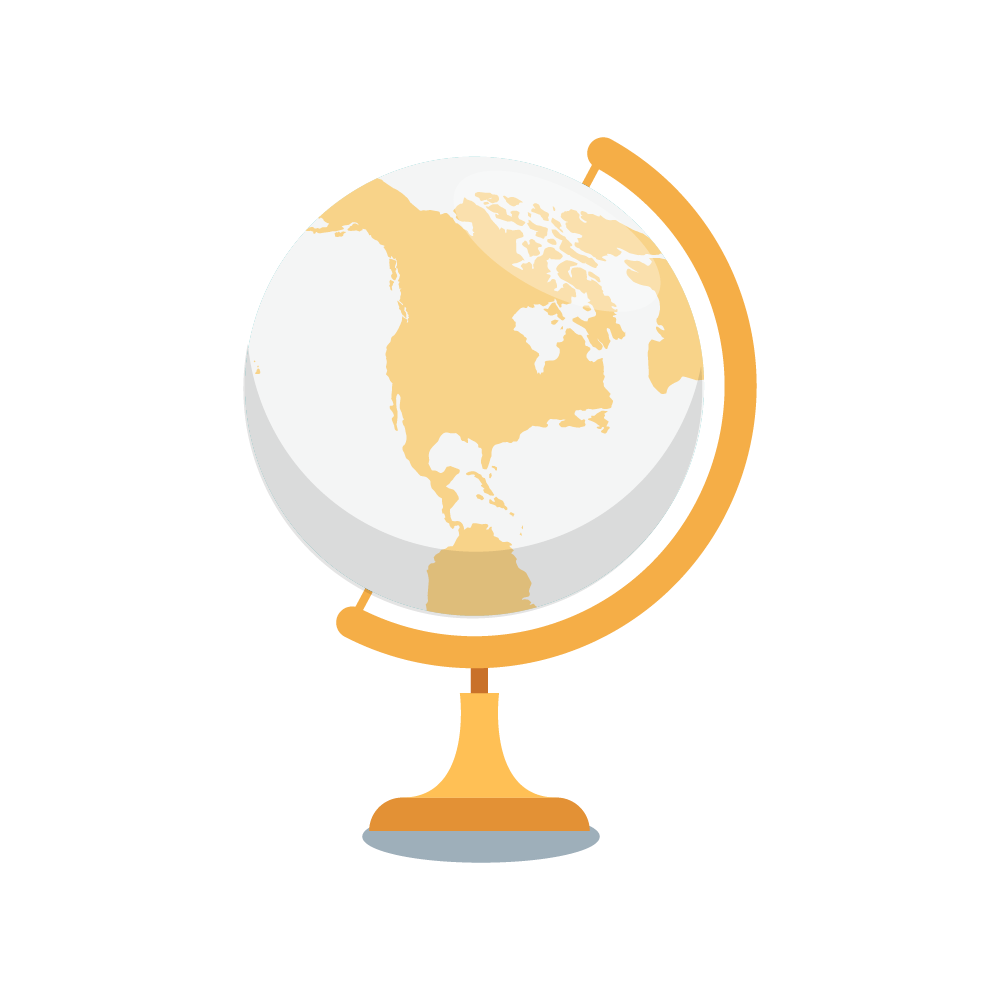 Timezone scheduling
Schedule your campaigns in advance based on your audience's timezone. Ensure no texts are sent outside of the hours mandated by the state.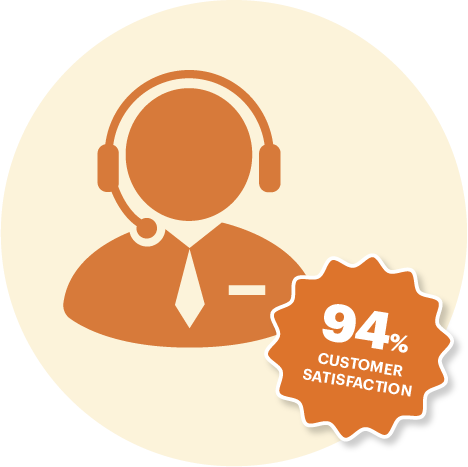 Unparalleled support
Our support team works round the clock to help you. We have a 94% customer satisfaction rate and respond to queries in less than 3 hours on average.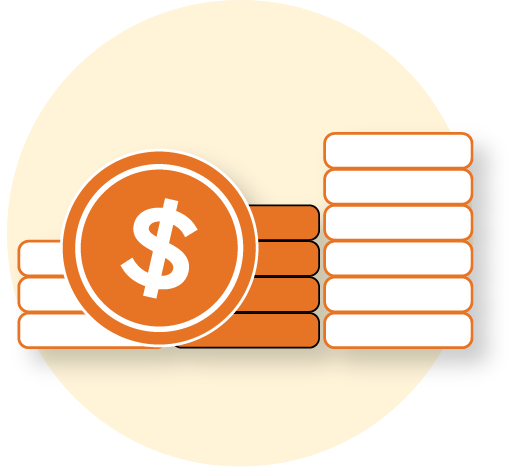 Competitive pricing
Pay only for the texts you send or choose a plan to get bulk discounts. Send texts at unbeatable rates.
Real time reporting
Get insights into your mass texting campaigns as they're running with real time reports. Act on these insights to get the best results from your sms marketing efforts.
Learn how organizations are using CallHub's SMS marketing software
How 350 used text messages to organize the Climate Strike
MN350 built an engaged list of 2919 young climate activists, and organized them to take further action towards climate justice.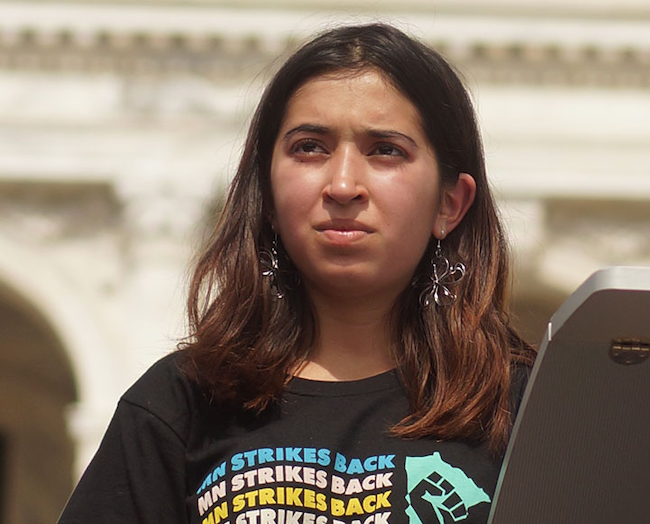 Get Started with CallHub's SMS Marketing Software
Try it free. No credit card required. Instant setup.
Other tools from CallHub to reach your audience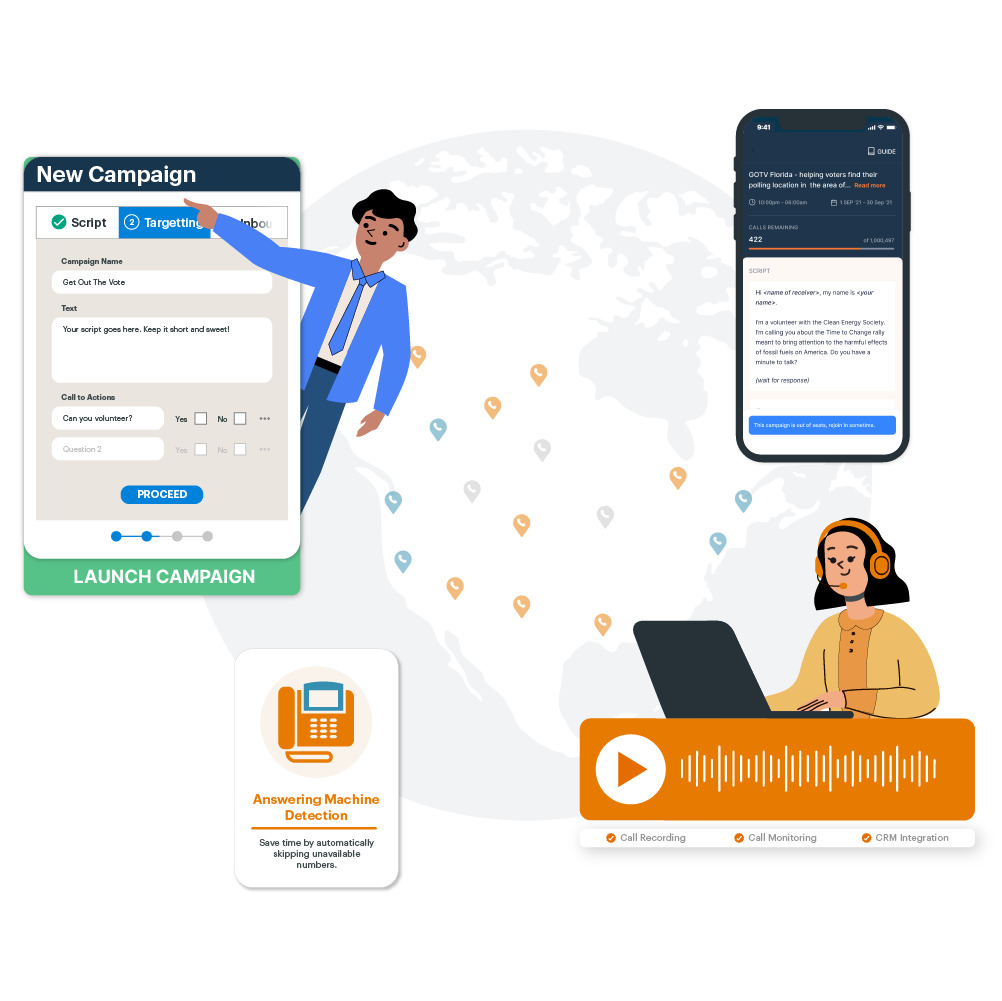 Call Center Software
Cloud call center software for inbound and outbound calling. Choose from auto, predictive, or power dialers based on the kind of campaign you wish to run.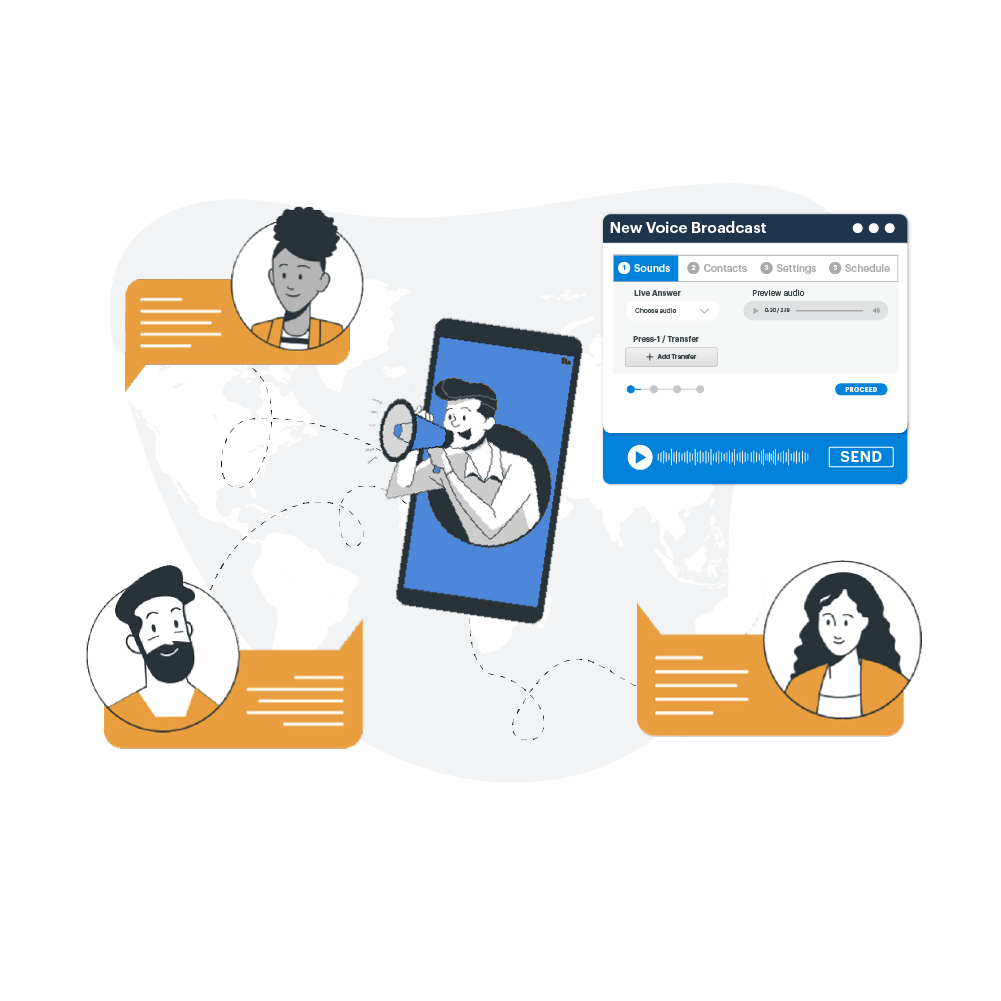 Voice Broadcasting
Relay voice messages to people instantly over a call. Play a pre-recorded audio or type it in the text to speech box. SHAKEN/STIR compliant to improve answer rates.
Email
Have one-on-one conversation at scale over texts. Drive action, collect data, send custom responses, and engage with your audience.