An immediately recognizable example of good text message marketing is short code texting.
Typically, shortcodes are used by businesses and organizations for their marketing campaigns.
Why?
Using a shortcode makes your brand instantly recognizable to your audience.
What is a text message short code?
A shortcode is a shortened phone number that you can use to send and receive text messages.
How short are they?
The most common texting shortcodes are around 5 or 6 digits in length.
They were developed by major wireless carriers like Verizon, AT&T, and T-Mobile to provide an alternative to 10-digit phone numbers.
Chances are, you have received a text message from a short code.
Here's a prominent example of shortcode texting in the political space.
Then-candidate Barack Obama used a short code to alert supporters of his choice of running mate in 2008.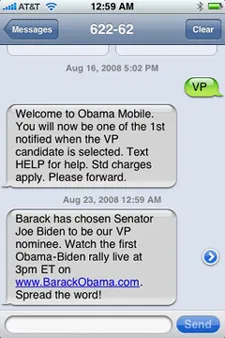 An interesting thing to note is Obama's short code 62262 spelled "Obama" when entered on a telephone dial pad.
Custom shortcodes like these are called vanity short codes.
Other types of short codes for texting that we'll discuss further on include shared short codes and dedicated short codes.
How does a short code help?
They are easy to remember
If you are running an SMS opt-in campaign to gather new subscribers, you want your number to be easy to recall for your audience.

Using a 5-digit text number (or 6 digits) instead of a standard 10-digit one makes it easier for your contacts to remember.
That means your supporters don't have to worry about memorizing a long, complicated number to opt-in to your text messages.
They offer brand recall
Another advantage of shortcodes, especially dedicated ones that are unique to you (take the example of Obama above), is that they make your texts stand out.
If your audience knows and trusts your brand, they are less likely to miss your text messages in their inbox.
They are professional
Anyone can rent a 10-digit long code for text message marketing.
Renting a short code requires an approval process, and needs you to get an opt-in from the audience you are contacting. That makes messages from a short code more trustworthy for the receiver.
Speedier message delivery
Using a short code for mass texting, allows you to send 100 texts per second. Long codes on the other hand are limited to 1 text per second.
To put that into perspective, in 1 hour, you can send over 360,000 texts. That means you waste no time getting important messages to your audience.
Cost of a short code texting campaign
If you want to rent a short code that is unique to your campaigns, you will want to get a dedicated short code.
These short codes range in price between 500$-1000$ a month.
A dedicated shortcode is selected at random and given to you by the Common Short Code Administration (CSCA), available at 500$ per month
Vanity short codes (shortcodes you select yourself) are available on the higher end of the price scale at 1000$.
For shared short codes, the costs are divided between the organizations using them.
You can rent a shared short code from CallHub at 25$ per month.
Shared vs Dedicated Short Codes vs Long Codes
| | | | |
| --- | --- | --- | --- |
| | Shared Shortcode | Dedicated Shortcode | 10 Digit Long Code |
| Cost | 0$ + Cost of Renting Keyword | 500$-1000$ per Month + Setup Cost | 2$ per Month |
| Approval Process | No | Yes | No |
| Approval Time | None | 2-4 Weeks | None |
| MMS | Yes | Yes | Yes |
| Keyword Exclusivity | No | Yes | No |
| Suitable for: | Any campaign size | Large Campaigns | Small Campaigns |
Need more information?
Check out our in-depth comparison of dedicated vs shared shortcode texting.
How to use short code texting
Since mobile short codes are designed to let you send a large volume of text messages at a time, that opens up plenty of possibilities for your texting campaigns.
You can use short code texting to:
Short code texting compliance
Whether you're renting a shared short code or a dedicated one, you will need to meet TCPA and CTIA compliance regulations for your message.
If you're renting through CallHub, we take care of the approval process, as long as the following details are provided:
Message frequency per contact per month
The number of messages you will send to each user from this shared shortcode
Support Number: This number will be provided to users of the shared shortcode when they send HELP
Support Email address: This email address will be provided to users of the shared shortcode when they send HELP
Who uses short code texting?
Short codes are used by organizations regardless of industry.
That includes:
Charitable organizations
Businesses
Schools
Religious organizations
Advocacy groups
How 350.org used short code texting to engage supporters
Climate advocacy group 350.org used a shared short code for their SMS opt-in, mass texting, and peer-to-peer texting campaigns.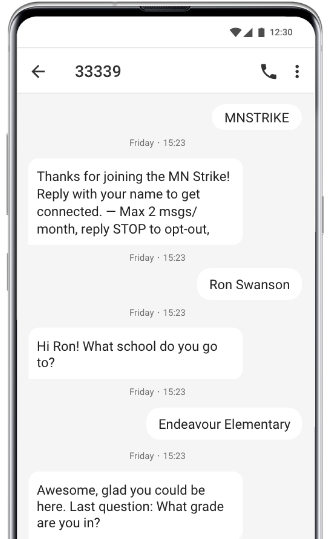 Asking people to opt-in during a protest, they managed to get almost half of their event attendees to text into their short code, allowing them to have follow-up conversations and get them to come to future events.
Read 350.org's complete story.
SMS code list
If you are considering renting a dedicated short code, you might want to check if the number you want is available for use.
The easiest way to do that is to look to online resources, such as the US Short Code Directory, run by the Short Code Registry.
The Short Code Registry, along with the CTIA, looks over the operation of common short code functions. They maintain the database of available, reserved, and registered text message short codes.
The directory allows you to check the availability of any short code number in the United States.
If the number you want is taken, the directory tells you who is currently renting the short code.
How to get short codes for text messaging
Depending on whether you opt for a shared short code or a dedicated one, the approval and renting process varies.
Renting a shared short code with CallHub
CallHub allows you to use a shared shortcode and rent keywords.

Moving an existing short code
Migrating your US short code between different providers takes 8-12 weeks.
But if you're using the same carrier provider as the texting service you are migrating to, such as CallHub, you can get started in a day.
SMS short code service – CallHub
Why choose CallHub?
Renting a short code from CallHub is a cheap and simple process.
The approval takes around 1-2 days, meaning you can start using your short code for texting campaigns in no time.
Learn more about getting a short code with CallHub.
Once you have your short code, you can try it out for your campaigns with the free credits provided upon signing up for an account.
FAQs for short code texting
What is a short code?
A short code is a 5 or 6-digit number that you can use for your mass texting campaigns.
What countries does CallHub offer Shortcodes to?
Short codes for SMS are available for rent in most major countries, including the USA, Canada, and the UK. For a full list, refer to this Wikipedia page.
How long does it take to rent one?
The approval process for dedicated shortcodes can span from 8-12 weeks. A shared short code can take a couple of days depending on your short code service provider.
How many digits can a short code be?
In most cases, you can rent a 5 or 6-digit text short code.
How much do short codes for SMS cost?
Dedicated short codes range from 500$ to 1000$. If you're renting a shared short code from CallHub, it will only cost 25$ per month.
How to get an SMS short code?
In the US you can rent a short code directly from the US Short Code Registry. Alternatively, you can rent a shared shortcode from CallHub.
Can people send texts to short codes?
Yes, people can reply to your short code texts. They cannot however make a call to a short code.
Carrier regulations for short code messaging
You can check the full list of short code regulations from the CTIA website.
Featured Image Credit: No Revisions