An important decision to make before starting a shortcode text marketing campaign is deciding between a Shared shortcode and a Dedicated shortcode.
Both have their pros and cons. Read on to find out which type of shortcode would work best for your organization.
To understand the distinction between a shared shortcode and a dedicated shortcode, let's understand what shortcodes are and how they work:
What is shortcode texting?
A shortcode is a 5-6 digit number that you can use to collect text message opt-ins and send bulk texting campaigns.
How does that work in a text messaging platform like CallHub?
When you set up an SMS Opt-in campaign with a shortcode and a keyword, people can text that keyword to your shortcode and be automatically added to your contact list.
For example:

You can then set up an SMS Broadcast campaign to send out messages to your contacts from your shortcode. Simple.
Unlike normal 10 digit phone numbers, there are some rules and regulations that apply to the usage of shortcodes, which are laid out in the CTIA shortcode rulebook and by wireless carriers.
Read more about the advantages a shortcode can offer here.
What is a shared shortcode?
A shared shortcode is shared among multiple users, making it cheaper and faster to rent for your campaigns than a regular shortcode.
How does this work?
A text message provider (like CallHub) leases a shortcode and lets customers rent it from them for a fee, usually upwards of $25 for a keyword and shortcode.
Organizations rent unique keywords for their campaigns. Someone who sends a keyword to a shortcode in a text opt-in campaign will only be added to the list of the user that is renting that keyword: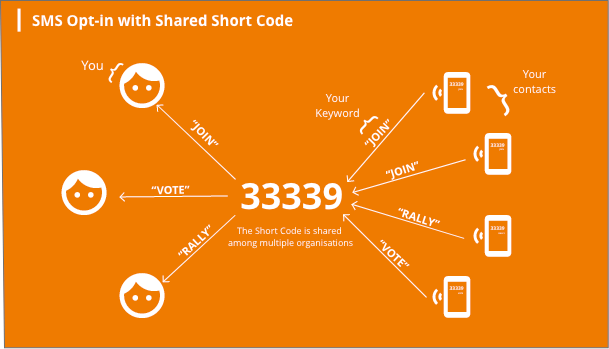 Note: You won't be able to rent a keyword that is being rented by another user. You can usually bypass this issue by choosing a keyword that is highly relevant to your campaign. For example, a charity that funds cancer research could rent the keyword "BEATCANCER" to make it memorable for supporters.
For mass texting campaigns using a shared shortcode, all outgoing messages show up with the same number on the receiver's phone, regardless of the sender.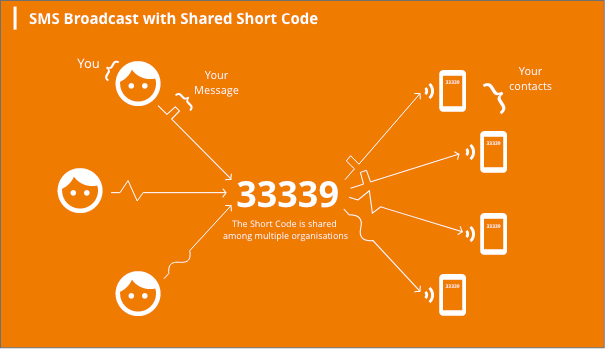 The low price and speedy availability of a shared shortcode makes it one of the most cost-effective ways to send out group text messages.
When renting a shared shortcode from a text messaging service provider, here are the things you should take note of:
Cost of renting a shortcode and keyword
Messaging costs
What is a dedicated shortcode?
Unlike a shared shortcode, a dedicated shortcode is yours and yours alone.
But that also means you are also responsible for the entire lease amount. Leasing a dedicated shortcode can cost you anywhere from a minimum of $500 to $1000 if you opt for a vanity shortcode.

A non-vanity shortcode is selected at random and given to you by the Common Short Code Administration (CSCA).
If you are using a dedicated shortcode, you don't need to worry about the keywords you want already being rented by someone else.
That means you are free to use common keywords like "JOIN" or "DONATE" for your text messaging campaigns.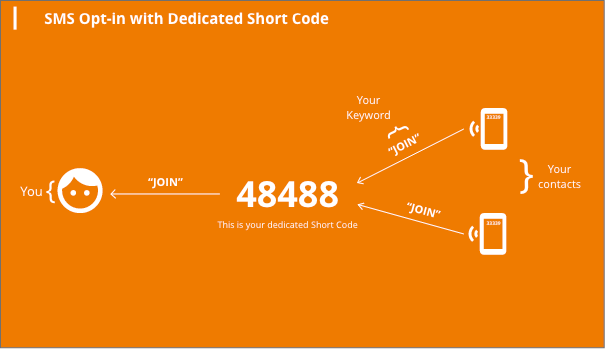 Additionally, only your contacts will ever receive a text message from your shortcode making it a truly unique identifier for your text message communications.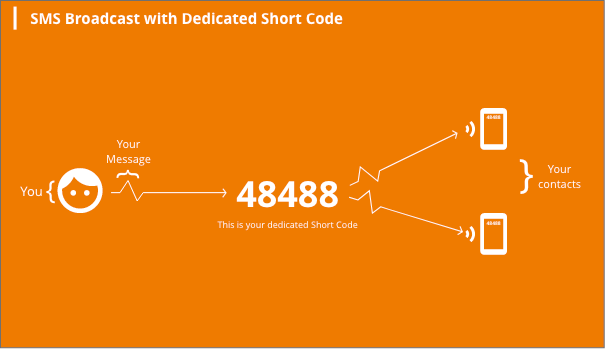 A dedicated shortcode is generally opted for by larger brands, for example, Facebook (32665), Amazon (262966), Twitter (40404), Chipotle (888222) and large political campaigns, like Obama's in 2008 (62262), Joe Biden (30330), in order to avoid any complications that might arise with multiple users.
Smaller organizations and campaigns generally don't have the funds to own a dedicated shortcode or the technical know-how to set it up and get it running.
If you have the funds, but don't have the time to figure out all the details, you might consider hiring a third-party provider to help you.
If you are planning on leasing a dedicated shortcode for your text message marketing campaigns through a third-party, here are the costs you need to take note of:
The cost of leasing the shortcode ($500-$1000)
The set up fee of the third-party vendor
Messaging costs
Platform usage fees
The deposit charged (if any)
Dedicated vs shared shortcode texting
Let's look at the basic differences between a shared shortcode and a dedicated shortcode:
| | | |
| --- | --- | --- |
| | Shared Shortcode | Dedicated Shortcode |
| Cost | 0$ + Cost of Renting Keyword | 500$-1000$ per Month + Setup Cost |
| Approval Process | No | Yes |
| Approval Time | None | 2-4 Weeks |
| MMS | Yes | Yes |
| Keyword Exclusivity | No | Yes |
| Suitable for: | Small to Medium Campaigns | Large Campaigns |

Why would you want a dedicated shortcode?
A dedicated shortcode is a good idea only if you:
Want to avoid any hassle that comes with multiple organizations using the same shortcode, such as CTIA rule breaches by other senders that might temporarily stop the shortcode from operating.
CallHub greatly minimizes the chance of this happening by assisting our customers and making sure they are operating within regulations.
Want a unique shortcode so that your messages won't be mistaken for anyone else. This is especially important for larger text messaging campaigns, where your contact list might overlap with someone else's.
Can afford the monthly lease of $500-$1000 and additional expenses for a dedicated shortcode e.g. If you are a larger business or campaign with a bigger marketing budget.
For smaller campaigns, the price tag isn't cost-effective.
Don't need the shortcode immediately. A dedicated shortcode takes around 2 to 4 weeks to go through the process of leasing it.
Why would you want a shared shortcode?
Shared shortcode are an attractive option for smaller organizations.
Go for a shared shortcode if you:
Want the benefits of a shortcode at a fraction of the price. This is possible because multiple users share the cost of leasing a shared shortcode, usually in the form of renting out keywords. That means you can rent a shortcode without breaking the bank.
Have an urgent need for a shortcode, or simply don't want to wait the 2-4 weeks it takes to for a shortcode to get approved. For example, if you're holding a fundraising event in a week, you could quickly set up a shared shortcode.
Don't need a shortcode for an extended period of time. The process and cost of renting a dedicated shortcode is not worth it for short campaigns. While a shared shortcode can also be rented for extended periods, it requires less commitment.
If you're using a text messaging service like CallHub, renting a shared shortcode is fairly easy:
Interested in renting a shared shortcode and keyword from CallHub?
Navigate to "Numbers" on the CallHub dashboard and click the "Rent" button. Find more details here.

Choose one of the available shortcodes and enter a keyword. Fill in the other required details on the page.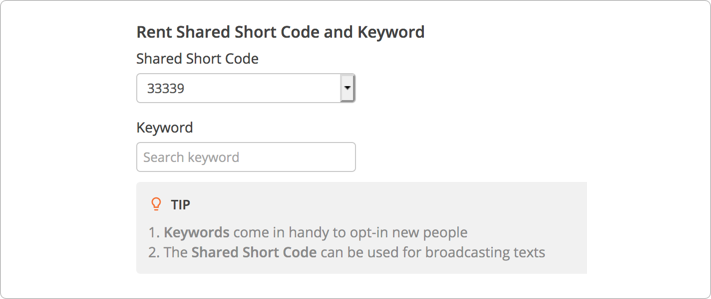 The approval takes around 1 – 2 days, so you can start using a shared shortcode for your campaigns in no time!
If you don't have an account with CallHub yet, get one here.