Staying compliant with SMS is not hard. But it's important that you know the specifics when it comes to making sure your campaigns aren't liable to any legal issues.
By the end of this article, you'll know everything you need to know about staying compliant in your texting outreach, from getting opt-ins to laws around sending text messages.
TCPA or the Telephone Consumer Protection Act regulates the use of text messages, robo-dialers, prerecorded voice messages and fax machines.

What happens if someone violates TCPA?
It means the person who receives the unlawful text message can file a suit in local or state court for damages up to $500 for every violation. That means a fine for every text message that was sent out.
Note: Tax-exempt Nonprofit organizations are free from the Opt-In and DNC requirements of the TCPA. However, we still recommend you follow them to minimize annoyance to the receiver.
Stay compliant by:
Get written consent
In order to start sending text messages, according to the TCPA, an organization must get prior written consent from a prospect before sending them texts.
Written consent can be obtained in the form of permission given on paper or consent given through a website form. The FCC extends the definition to include
Consent given on a recorded verbal interaction
Selecting a key on a dialer when prompted
Texting in a keyword to a number
The thing to note here is that express consent to receive text messages must be obtained. Some businesses and nonprofits might buy, rent or share lists of contacts, but simply having the phone number of contacts does not give you permission to text them.
Have a clear, uncluttered call to opt in to your texts, explaining exactly what the prospect is signing up for.
There are several ways you can get opt-ins:
Enter a phone number on a web form
Send a keyword to a number
Opt in during a call
Subscribe in person
Make giving their consent as seamless as possible for your contacts, for example, If your agent is on a call with a contact, and wants to send a follow up text, they can get consent/collect a mobile number during the call.
Have a descriptive CTA
Here's what a call to action should consist of:
The reason for collecting the number
Tell your potential contacts what kind of messages they are signing up for. Make it clear, whether you are going to be sending them promotional text messages or updates on a donation.
The message frequency
Offer an estimate of how often prospects will be receiving messages from you if they subscribe. By setting expectations in their minds of how many texts they will be getting from you in a week or a month, you reduce inconvenience.
Data rates
While unlimited plans are now common, some contacts may still have to pay a fee for text messages they receive. Make sure your CTA informs them of any charges that may be incurred.
Terms and conditions
Provide a link to your terms and conditions as well as your privacy policy in your CTA.
Here are the points you will have to include in your terms and conditions page:
A brief description of the campaign you're running
STOP and HELP text in BOLD including the shortcode XXXXX
List of Participating carriers – AT&T, Boost Mobile, T-Mobile, Metro PCS, Verizon Wireless, Sprint, U.S. Cellular, Nextel & Virgin Mobile
The statement "The carriers aren't liable for delayed or undelivered messages
Message and data rates may apply".
Mention frequency of messages (For example – 6 messages every 2 months)
Link to the privacy policy
Support email address and phone number
Here's an example of a CTA for a business.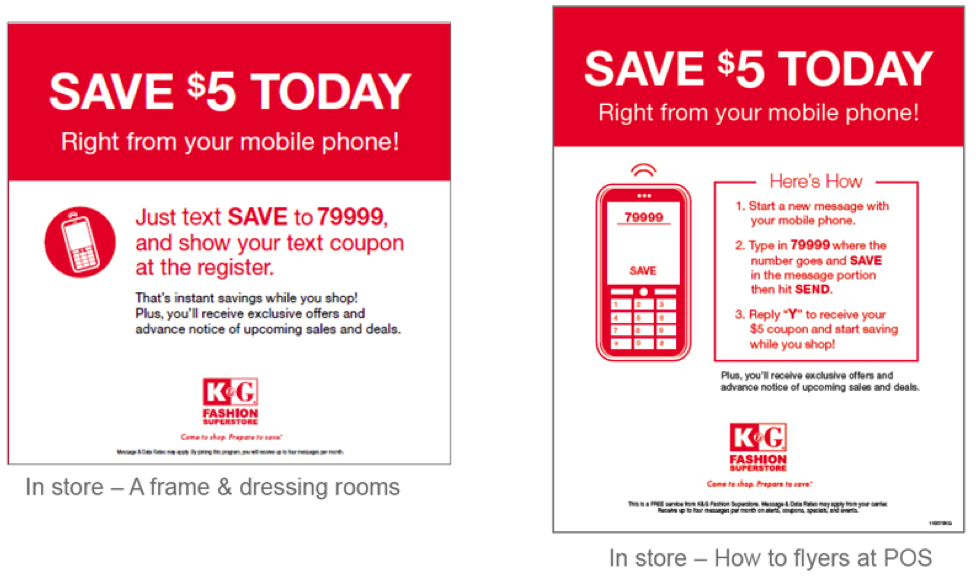 Confirm Opt-ins
The very first message sent out must confirm the contacts opt-in to your communications.
Include details like:
Who you are and the name of the program
Purpose of the campaign
How to opt out – what keyword to text in
Message and data rates
With SMS opt-in campaigns, a message will go out automatically to everyone who texts in with a keyword.
Take the example of the recent presidential campaigns

Making sure existing contacts are opted in
If you have a list of contacts already, you can't just start sending them texts.
An opt-in for text messaging must be obtained from all contacts, even imported ones, before sending them any broadcast text messages. That means making sure every contact on your list has given you their permission before you start texting them.
Although peer-to-peer texts are exempt from needing opt-ins from contacts, it's still a good idea to get their permission anyway, to make sure you have positive conversations.
Making sure you're sending appropriate content
Make sure the messages you send out are compliant with state and federal laws.
Messages regarding firearms, tobacco, alcohol or adult content must be age-restricted. Since most short codes don't support these types of messages, make sure you verify with your texting provider before setting up a campaign or renting a short code.
According to the CTIA short code handbook, your message must not have any elements that can be construed as hateful or intending to incite violence.
Honour Opt-outs
If a contact unsubscribes from your communications, for instance, by texting STOP to your number, it is important to immediately act on that request by removing the contact from your list. Any further communication could put you at the risk of legal action.
Most shortcode providers automatically respond to keywords like STOP, END, CANCEL, UNSUBSCRIBE and QUIT and remove contacts from your list.
---
By following basic texting etiquette, such as making sure you get an opt-in from contacts before sending texts, and making it easy for them to unsubscribe if they want to, you can avoid issues when it comes to using text messaging as a marketing channel.
DISCLAIMER: This article is for educational purposes only and is not intended as a substitute for legal advice. Consult your legal counsel to determine how FCC regulations apply to your situation.