The majority of text messages are read within the first three minutes. Not only that, text message engagement rates are 8 times higher than emails
That means SMS polls are the best way to get immediate feedback from your audience.
Ask the Bernie Sanders campaign. In 2016, they sent over 10 million texts, not just for polling, but for getting supporters to agree to high barrier asks. Following the success of this approach in engaging his supporters, his campaign sent over 88 million texts during his 2020 Presidential run.
SMS polling has continued to evolve, and there are multiple ways to conduct polls through text. Read on:
Who uses SMS polling?
Political polls
Political campaigns generally use SMS polls to determine the level of support among voter groups for a candidate or an issue.
Take the example of this SMS poll from Beto O'Rourke's Senate run: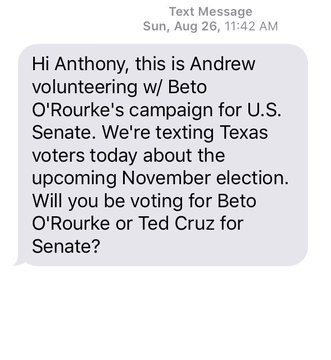 Using this poll, his campaign was able to ID the people in his contact list into supporters and non-supporters.
By identifying supporters, campaigns are able to send more targeted messaging, eventually leading to GOTV campaigns to get dedicated supporters to vote.
Contest voting
SMS polls are the go-to polling method for TV shows and competitions.
Here, shows ask viewers to text a specific keyword to a number (shortcode) in order to vote for a contestant.
Here's an example from American Idol: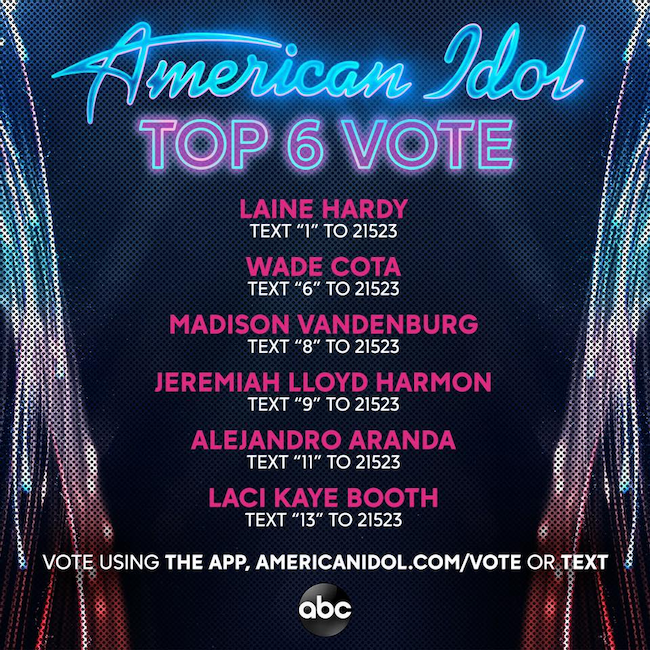 It's as simple as sending a quick text to a number using their phones right when they see the prompt on their TV screen. A testament to that, over 600 million viewers participated in voting by text by the show's 11th season.
Implementing this system even for smaller-scale competitions like school talent shows is easy with SMS opt-in campaigns.
Radio show polls
Radio shows can use SMS to conduct a poll on listeners.
A Radio Jockey can announce an SMS poll on air and get the results of the poll to announce as they come in.
Research polls
SMS polling is the most efficient way for researchers to gather valuable data.
The Detroit Regional Chamber used text messages to gain insight into the struggles of the average Michigan family during the COVID-19 crisis.
50% of the respondents were polled via text messages.
Not all SMS polls are the same, here are the different options you have when running an SMS poll.
Outbound SMS polls
For outbound SMS polls, you need a list of contacts who have already given their permission for you to text them.
Using Mass texts for polling
If you have a list of contacts that you want to poll with a one-off question, outbound mass texts are the best option. You can set up an SMS poll using a mass texting software. Here's how you can do that with CallHub.
Create your initial questions
Your initial mass text should have the question, along with the keyword they have to text in to register their opinion.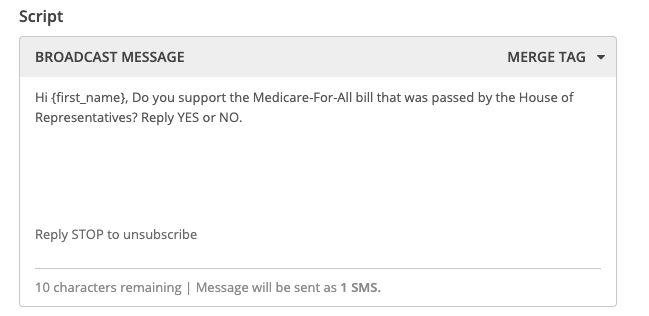 You can personalize this text for your contacts by including details like your contacts' names with the help of merge tags.
Add automatic follow-ups
You can send an automatic reply based on the keyword they send.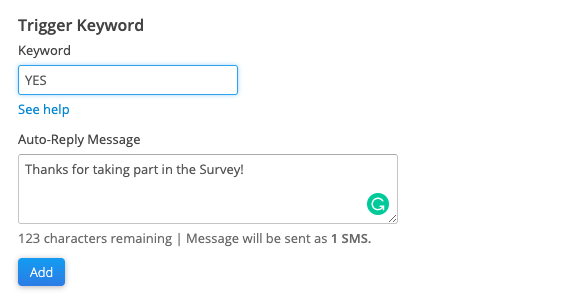 Sync the survey results
If you have synced your CallHub account with a CRM like Nationbuilder, you will be able to add tags to your contacts based on the keyword they reply with.
The other option is to export your campaign data as a spreadsheet and filter based on your required keyword.
Read Next: 11 Top Features of a Political Texting Tool (+ Election Campaign SMS Message Templates)
Using Peer-To-Peer texts for polling
Peer-to-peer texts allow for back and forth conversations between respondents and texting agents. This allows for more in-depth survey questions. The disadvantage is the chance of respondents dropping off between questions.
Here's how you can use peer-to-peer texts for SMS polling.
Create your initial message
Similar to a phone survey, you add a script to your peer-to-peer texting campaign. This will include the initial message agents send out along with survey questions. You can even get a higher response rate by personalizing your messages with merge tags.

Provide reply templates for agents
To allow your agents to quickly respond to incoming messages, you can provide templated replies that they can send out: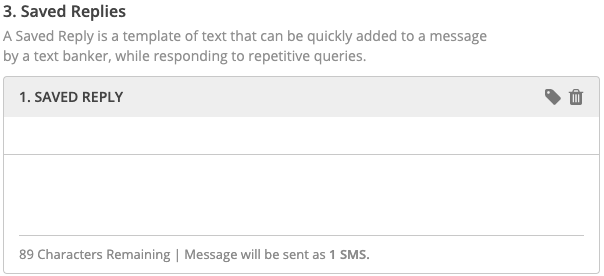 Export the survey results
Like with a mass texting campaign, syncing CallHub with your CRM allows for easy export and analysis of your survey data. For peer-to-peer texting campaigns, agents can add tags to volunteers based on their survey responses.
Inbound SMS polls
If you don't have a contact list that you have permission to send text messages, set up an SMS opt-in Campaign and get people to text to your number.
Using SMS opt-ins with keywords
With SMS opt-in campaigns, your audience text in a keyword to your campaign to register their vote. Here's how you can set up a campaign with CallHub.
Rent a number
In order to be able to run an SMS opt-in poll, you need to rent a number for your contacts to text in to.
This number can be a Short Code (5-6 digits) or a long code (10 digits).

Rent Multiple Keywords
Rent multiple unique keywords for your SMS poll.
Learn more about renting Short Codes and Keywords with CallHub.
Set up Opt-in campaigns for each keyword
Based on the keyword that they text in, your audience will be added to separate contact lists (contact lists), making it easy for you to determine the results of your SMS poll.

Try out an SMS poll for free with CallHub
CallHub makes it easy to start polling your audience. You can get started by signing up here.