When you send a reminder to your contacts, for any reason, you want to be sure that they have read it.
Some tools like email providers, let you check the open rates for your campaigns, but there is no guarantee that your contacts will open them. That is evidenced by the fact that email open rates average around 20%.
Text messages, on the other hand, have a whopping 98% open rate. That means that you can stop worrying about deliverability and spend more time constructing a compelling message.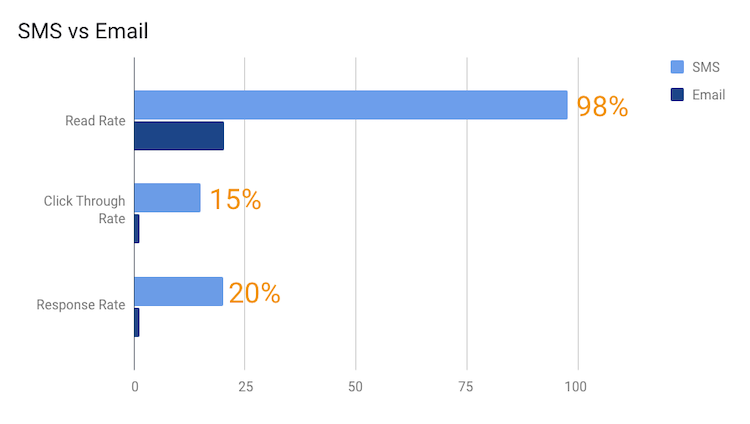 You can considerably increase contact engagement with a simple text message reminder.
Need more reasons to use text messages to reach your contacts?
Look at these 13 remarkable text messaging statistics.
How to write a reminder text message
When it comes to sending a reminder text message, there are only two best practices to keep in mind:
Keep the message short + be precise
Text messaging is a mode of communication that makes it necessary for you to get your point across quickly.
Going over the 160 character limit for texts means you'll need to send a 2nd message to contacts (and spend more to do it)

Keep your messages brief by:
Identifying the main point you want to put across
Recognizing the parts of your message that can be better served by linking to a web page
Using common text message abbreviations to get your message across and reduce reader load
Include a compelling CTA
While any text message can serve as a reminder, if you want to compel the reader to take action, you need to include an effective CTA.
If it applies, make sure you include a phone number or link to your website in the text message. The CTA should be simple and clear enough to encourage an immediate response.
Make you CTA's more effective by:
Use action words
If it applies, conveying the urgency of your message in your CTA can improve conversions.
Here's an example of a text message reminder that implements these best practices: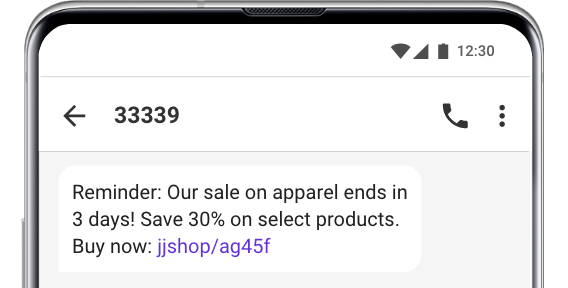 How can text message reminders help?
Text message marketing is a go-to channel for communication for organizations.
We've already talked about their high open rates. In addition, they also let you:
Reach contacts immediately with important reminders
The immediacy of texts is one of the major reasons it is used for text message reminders.
Once you hit send on your message, it reaches them in an instant. Chances are your contact will see it at once if they have their phone on hand.
90% of text messages are read within 3 seconds.
At the same time, they can choose whether they want to engage with the message or not. This offers a level of convenience to contacts that's not possible with a phone call.
Send automated follow-ups when they confirm or want to reschedule
A texting software can allow you to respond appropriately when contacts reply to your reminder text.
You can set up a text reminder campaign to send auto-replies based on keywords that you receive.
Note: Approximate replies can also count as keywords as long as you define them beforehand.
For example, if they want to reschedule an appointment, you can send a link to a web page that allows them to do so.
Personalize messages easily
You don't want your important reminders to get lost in the noise. Text message personalization is the best way to avoid that.
Personalizing the message with details like your contact's name makes it less likely for them to ignore your message. Using merge tags can make sure every message going out from your broadcast texts is personalized.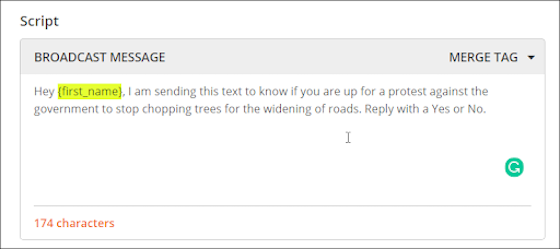 How do text message reminders work?
Text message reminders can be broadcast in a single click. But in order to do that, you need a contact list that has given you permission to send them text messages.
Getting an opt-in from contacts
Depending on how potential contacts interact with your organization, there are several ways to get an opt-in to send text messages.
If contacts are signing up for a product or newsletter through an online form, include an additional field, asking them to opt in to text message reminders. Be sure to specify precisely what they are subscribing to.
If you want contacts who are at an in-person event or meeting to subscribe, you can do that with CallHub's opt-in campaigns. Display or announce the keyword and the number to text in to.
350.org signed up event attendees with SMS opt-in which enabled them to send reminders for future events.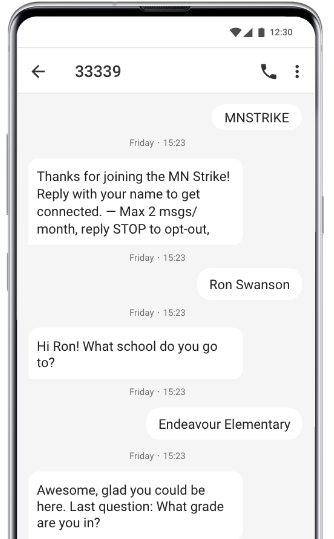 They even collected additional details from their new contacts so that they could segment their future messaging,
Sending reminders to contacts
With your newly acquired list of contacts, you are ready to send targeted text message reminders.
You have the option of sending them reminders through a broadcast texting campaign (automatic) or a peer-to-peer texting campaign (manual with the help of volunteers)
In a broadcast texting campaign, all you need to do is select your contact list, enter your message and schedule a time for it to go out.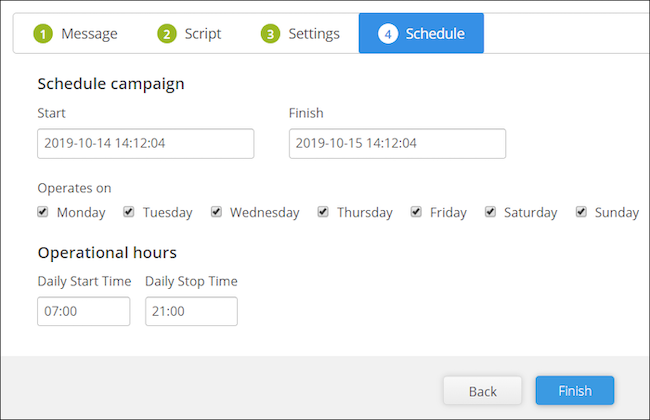 350.org sent event reminders through peer-to-peer texts, having agents engage contacts in a conversation to increase the chances of them attending the event.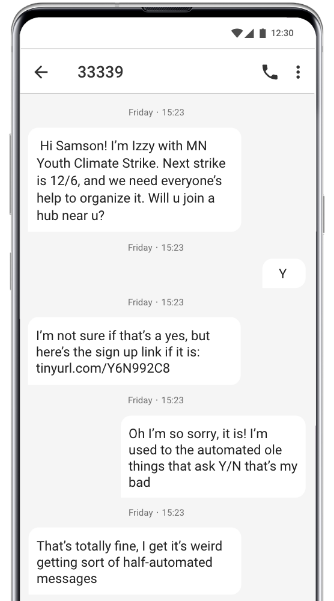 You can onboard texting agents as you set up your peer-to-peer texting campaign and give them templated replies that they can send to contacts.
Learn more about sending broadcast texts and peer-to-peer texts for your text message reminder campaigns
How can you use text message reminders?
In general, you can use text message reminders to send:
Event reminders
Hosting an in-person or virtual event? A quick text reminder can remind contacts to show up or tune in.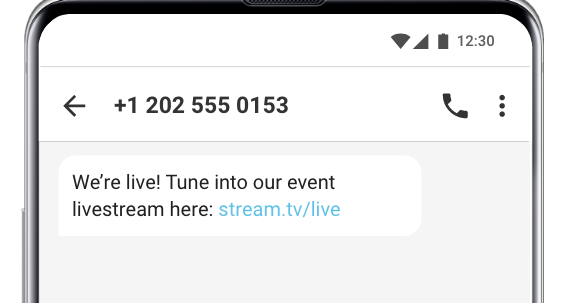 Appointment reminders
Avoid the hassle of forgotten and missed appointments with a text message reminder.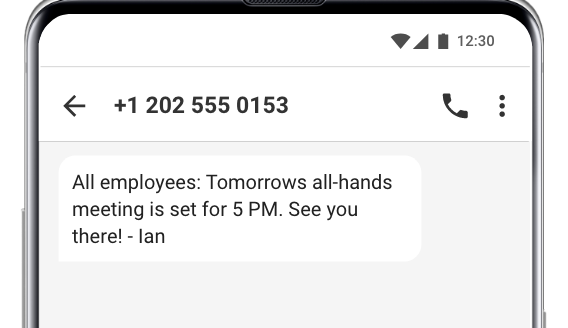 In some cases, businesses rely on phone calls in order to remind prospects about appointments. The disadvantages are clear, however. Phone calls are time-consuming, and you need an agent to make calls.
Internal reminders
You can use texts to send updates to your employees about upcoming meetings.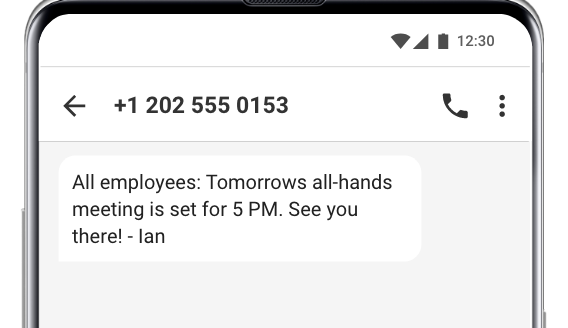 Delivery reminders
Is a package en route to your customers? Make sure they are prepared to receive it with an automated text message.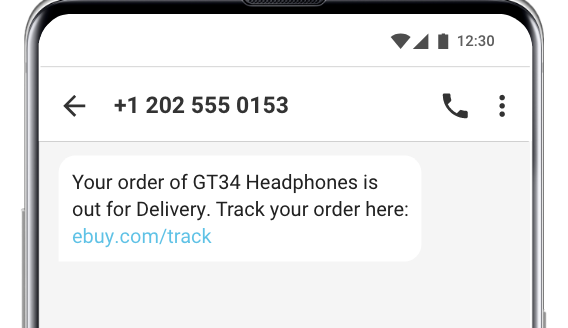 Another way to use texts is to remind customers about abandoned carts. Cart abandonment is an issue all eCommerce businesses have to deal with. Sending a text message is one way to remind customers to finish a purchase.
Missed payment reminders
Send a text message reminder to encourage contacts to make an outstanding payment.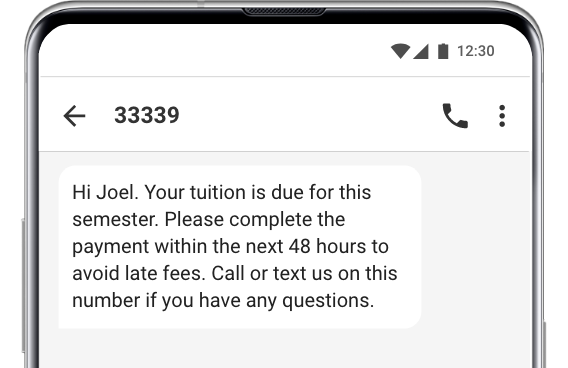 Text reminder compliance:
You can stay compliant in your texting campaigns by:
Getting written consent
Having a descriptive CTA
Confirming Opt-ins
Making sure existing contacts are opted in
Making sure you're sending appropriate content
Honouring Opt-outs
Read our post on texting compliance.
Who uses text message reminders?
We've covered some of the generic ways you can use text message reminders, but how can you use them if you're operating in a specific industry?
| | |
| --- | --- |
| Real estate | They use text alerts to alert prospects about new properties on sale, house viewing appointment reminders. |
| E-commerce | Online stores can send sale alerts to customers, abandoned cart reminders, delivery alerts. |
| B2B | B2B businesses can send appointment/meeting reminders to customers. |
| Restaurants | Restaurants can send a reminder on the date of an RSVP. |
| Political campaigns | They can send GOTV text reminders to voters. |
| Healthcare | Patients can be reminded about upcoming appointments through text. |
| Insurance agencies | Agencies can send insurance policy notifications. |
| Education | Schools and universities can send tuition payment reminders via text, school event reminders. |
| Hotels/Travel | They can send flight timing/hotel check-in/check-out reminders, feedback reminders after they check out. |
How else can you use text messages?
The usefulness of texting isn't just limited to sending reminders. Organizations use text messages whenever they want to reach their contacts in a way that is highly personal and engaging.
Texting is a great addition to your broader marketing campaigns.
You can use text messaging to:
Send welcome messages
Get event RSVPs
Promote products and services
Take a look at our list of ways businesses can use texting to reach out to contacts.
Why choose CallHub as your reminder text service?
There are plenty of tools out there that allow you to send text message reminders. Here's what sets CallHub apart.
Manage opt-outs automatically
You don't have to manually remove opted-out contacts from your lists. CallHub does that for you.
Schedule your texts
Schedule your messages in advance, so they go out when you want them to. This means you can set it and forget it.
No limits to contacts
You can upload as many contacts as you need to the texting software. There are no limits.
Flexible pricing
The pay as you go system means you only pay for the texts you send. If you choose, you can opt for our subscription plan by reaching out to our team.
Set up automatic replies
Set up automatic replies for mass texting campaigns based on how your contacts respond. This helps you keep the conversation going even without your intervention.
Collect data on opt-in
Collect additional details (email, zip code, etc.) from your contacts when they subscribe to your lists through SMS opt-in. You can even send a nudge in case you don't get a reply.
Personalize texts with merge fields
A personal touch can make for more engaging texts. Merge fields automatically populate your messages with contact details.
Get local numbers
Establish trust with your audience by renting local numbers from CallHub. People are more likely to pay attention to a text from a local number.
Rent a shortcode
A shortcode is a 5-6 digit number that makes your brand more recognizable to your contacts.
Sync with major CRMs
Our integrations allow you to sync your lists and import data back to your CRM. Can't find your CRM on our list of integrations? You can even use our Zapier integration to connect your tool to CallHub.
You can get started for free and test out your campaigns with our initial free credits.
FAQ
What does it cost?
CallHub charges based on the texts you send. There are no platform charges for the necessary tools needed for a text campaign. Learn more on our pricing page or talk to an expert.
How long does it take to set up?
Once you've verified your account, setting up a campaign can be done in minutes.
What countries does it cover?
CallHub supports text messaging in most major countries. View the full list here.
How do you import contacts?
You can import contacts from a spreadsheet or through a supported CRM integration.
___
Are you ready to start sending text message reminders to your contacts? Sign up and get started.