Making a case for School Text Messages To Parents: It's hard for schools to stay in touch with parents consistently.
Sure, you may send them emails or flyers that share information about their children, upcoming events or anything else.
But it's far too easy for those notices to go unnoticed or ignored, under a ton of other messages that get sent to them throughout the day.
With a 99% open rate, text messaging is an ideal mode of communication between your school and the parents you are reaching out to. Schools are using texts to send parents quick alerts on their children and urgent school updates.
But just how much better is it than, say, a phone call, an email or a social media update?
This post will help answer that question and get you started on using sms for your school.
To understand what sets text messaging apart, we need to know how parents really want to get important communications from schools, and how schools can best deliver them.
The keys to effective school to parent communication
"As a parent I want to know how my kid is doing at school, but because of work, I just don't have the time!"
Naturally, parents don't want to be surprised at the end of term by their child's slipping grades or the number of times he or she has been absent from class. They want constant updates on how their children are doing at school.
Take the initiative to reach out to parents by sending updates on their children or your school straight to their phones. Avoid making parents have to search through your social media to find important updates.
It's a large time investment for teachers to call each child's parents just to communicate quick updates, and for parents to listen. Your school's mode of communication needs to be able to deliver the message in a way that doesn't take up their time and is unobtrusive.
Parents don't usually check their personal emails at work, which leads to them missing important updates on their children. Parents can receive texts on their phones, even when offline, and are therefore more likely to read them than an email.
Text messaging can help schools avoid these pitfalls when it comes to communicating with parents by letting you send quick and easy updates straight to the parents mobile phones.
Ways for teachers to communicate with parents through text (with sample templates!)
Texts are a great way for schools to send out quick mass updates or even individual, personalized messages to parents.
There are plenty of meaningful ways your teachers can communicate with parents through text messaging and keep them in the loop. Check out some examples along with sample sms to parents below:
Absentee child sms:
Let parents know through text when their child is absent from class.
Collin has missed 2 classes today – 12/04/19. Please contact Ms. Polzin at 202-555-0191 to discuss.
Class cancellation message:
Inform parents about abrupt class cancellations due to emergencies.
Attention parents: Class has been canceled today due to the snow storm. Enjoy the long weekend and stay safe!
Read Next: Unplanned Off-Day? Here's How You Can Send Urgent School Closing Text Alerts
School event sms:
Let parents know about events your school is organizing.
Support our girls football team as they compete for the County Cup! This Sunday at 3pm on the main field.
School reopen message for parents:
Remind parents about important dates like school reopening.
Hi Mr. Jones, Schools back open on the 3 of January. We hope James and the rest of your family have a wonderful holiday.
School fee reminder sms:
Schedule text reminders about notices like tuition payment or application deadlines.
Hi Mrs. Hill, Last date to pay the school fees for the next academic year is on 28th May. Please check your mail for the payment structure.
You May Also Like: How To Use Text Alert System At Your School
Performance update sms:
Send parents a prompt sms update if their child's performance starts to slip in class.
Hi Mr. Moore, Your child has failed to get the passing grade in Social Studies this semester, Please contact Ms. Granzotto to discuss.
Grade alert sms:
Give parents a heads up when grades are in, so they can review them with their child later.
Hi! Results are in for Grades 6-8. Make sure to review them with your child and sign the report card.
Looking for ways to make your text messages more engaging? Watch this video on SMS marketing best practices:
Setting up school text messages to parents using CallHub (it's easy!)
Setting up and using a school sms alert system is simple. The first thing you need to do is getting parents to subscribe to your sms system through an opt in keyword:
1. Set up an opt in keyword and shortcode.
Choose the SMS signup campaign on the CallHub dashboard

To set a text alert system for your school you need to have just 2 elements:
1) A keyword
2) A short code or long code (to act as Caller Id)
For example, Text "JOIN" to 562498 for school updates and reminders. Here, the keyword is "JOIN" and the number is "562498".
Long code (10DLC) — A 10-digit phone number that's tied to an area code. (Eg. 31568 33649)
Short code — A 5 to 6 digit number that can be used nationwide. (Eg. 562498)
You can set a keyword of your choice while setting up your school sms system and rent a short code or a 10DLC number from your text messaging service. If not you can use your cell phone number as the caller ID.
Once you finish setting it up, go ahead and promote your keyword and shortcode. When people text in your keyword to the number, they will automatically be added to your database.
2. Let parents know about your keyword and shortcode.
Let parents know about the sms alert system by advertising it wherever you can:
For new admissions to your school, get parents to opt in or give you their phone number, right as they are filling their admission forms.

Promote you code on your schools website and all your social media channels.

Talk to parents about subscribing at PTA meetings.
Now you're all set to start sending updates straight to parent's mobile phones
3. Send your first school text messages to parents.
You can send messages through the sms broadcast campaign on the dashboard.
Type out the message you want to send, for example, alerting parents about a cancellation:
"Attention parents: Class has been canceled today due to the snow emergency. Enjoy the long weekend and stay safe!"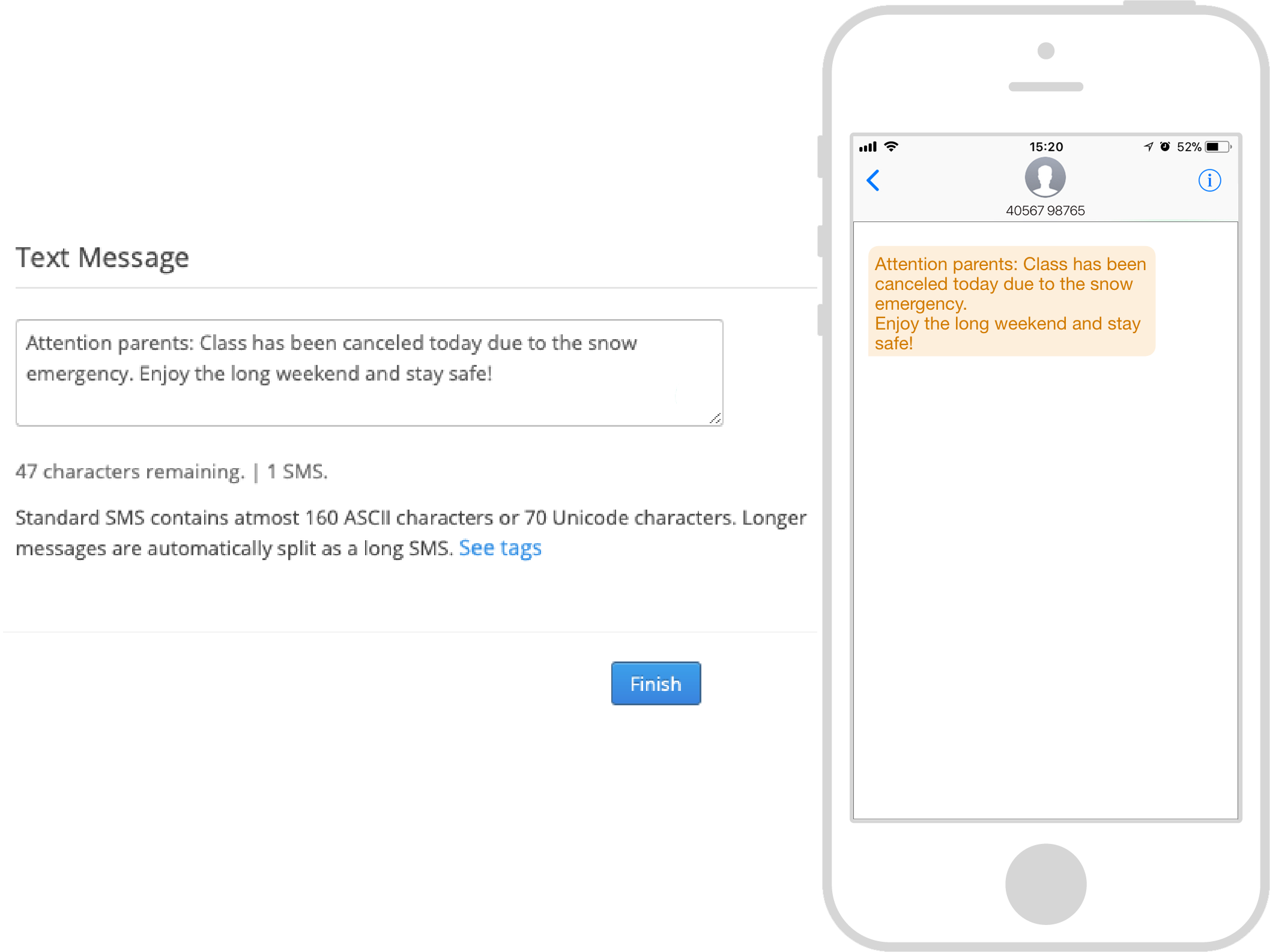 Choose the list with the numbers of the parents you want to send the message to.
Now schedule a time you want the message to go out and hit DONE.
Sending out a group text to parents from your school is as simple as that.
Want to try out CallHub for your school to parent communication? It's easy to get started. You can try it out for free by signing up.