School closing text alerts helped a Saturday School in Canada (name withheld) avert over a hundred students from coming to campus on an unscheduled off-day.
The local schools were closed on October 5, 2019, so the Saturday school classes had to be conducted elsewhere. With a straightforward broadcast, the administration reached 120 contacts just in time. Their broadcast, sent on October 4, read: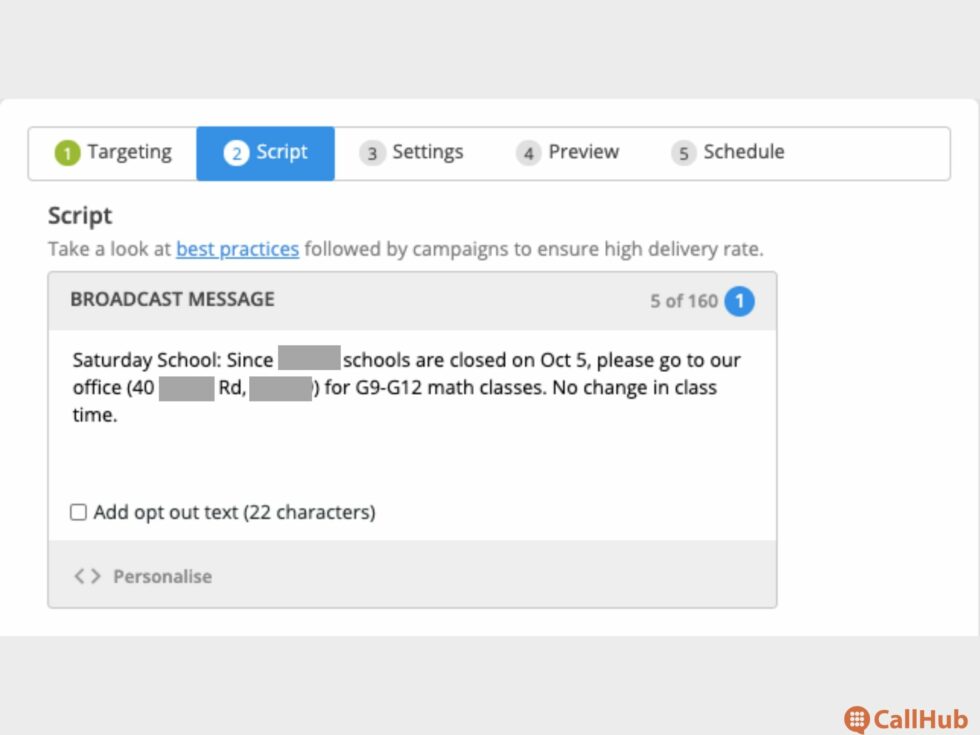 The school had phone calls, social media posts, emails, and other communication channels at its disposal. Why then did they choose to send a text instead?
Four reasons:
Texts have a 98% open rate (and 95% of texts are read within three minutes of receiving).
They reach parents even during office hours (people generally don't open personal emails during work hours).
Internet-connected or offline, your texts still reach parents.
Your message gets sent to contacts almost simultaneously (even when dealing with a list of hundreds of contacts).
So when and how can you send out school closing text alerts to contacts? Let's have a look:
Two types of text alerts for school closings and delays
1. Scheduled days: Apart from weekends and regular off days, the administration also plans for school closing days for certain events or district-specific holidays. You may want to send a school closing notification text to remind parents or students of the holiday. For such alerts, schedule the texts so
The first text goes on the day the holiday is planned (or on the first day of the month).
The second text goes one day before the closing/delay day.
2. Unscheduled days: In emergencies, you don't have much time to inform parents of the school being closed or delayed. Thus, it is essential to employ a channel that guarantees that your messages are read. Texts guarantee that, even if you send it at the last minute.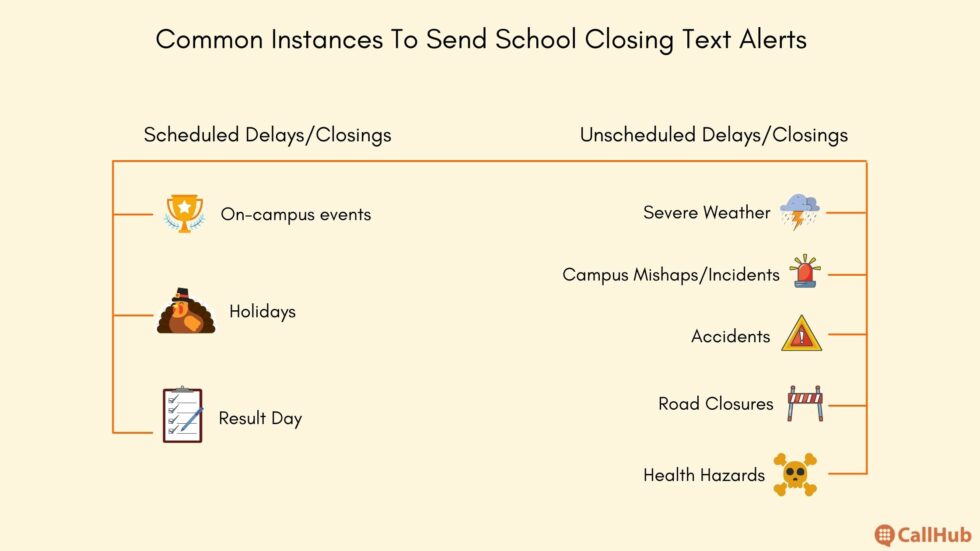 How to send text alerts for school closings
Step 1: Create an SMS Opt-in campaign
You can use a mass texting tool to create an SMS opt-in campaign that allows you to:
Build your SMS list (to whom you'll send out future school closing text alerts and other alerts).
Set up auto-responses to collect additional data from parents.
Send out auto-responses when you expect people to reply with specific responses (with standard keywords that you can set).
How to set up an SMS opt-in campaign and update your lists:
Select the "SMS Opt-in" when you log in to your CallHub account.
Add a campaign name and automatically rent a number available in your country. You can choose an existing number if you've already rented one.
Set a memorable and unique keyword (to distinguish opt-ins for school closing alerts from other opt-ins). E.g., SCHOOLOFF.
Connect with your existing CRM from our list of integrations. If your CRM is not on this list, use our Zapier integration to connect with your app and import data.
If you initiate such an opt-in campaign for the first time, save contacts (people who text your keyword to your rented number) in a new contact list. If the list already exists, append it by saving the contacts to it.
Draft the first prompt (automatic message that goes in response to the keyword). If you are expecting replies (e.g., name when opting in or zip code, address, etc., if you send emergency text alerts), set the next prompt message or thank you message.
If necessary, set up retries for prompts. This is usually done to follow-up with people if they drop-off without completing the opt-in process. In the case of a school cancellation text alert, a retry can avert mishaps (e.g., if you are dealing with a weather crisis, accident, or other unfortunate incidents).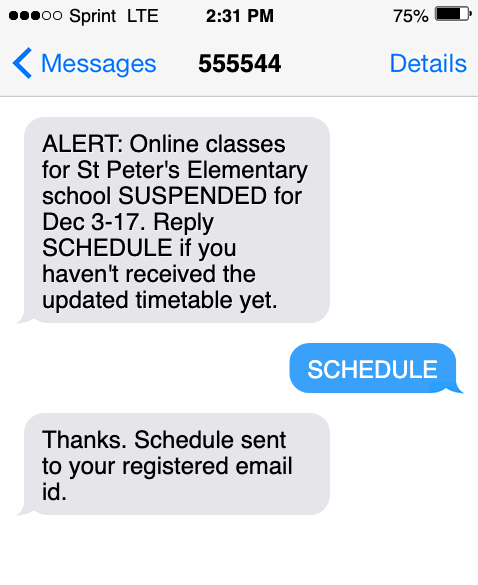 Step 2: Get parents to opt-in to your alerts
How to get parents to opt-in to your text lists:
Promote your shortcode and keyword with parents at the start of the academic year. You can also promote them on your website and social media handles so parents can opt-in in the middle of the year too.
Ask them to text the keyword to your number.
Create a nurturing flow with automatic replies to the keyword that request other primary information (like the name, address, and class of the ward).
At the backend, segment contacts by class, day shifts, etc.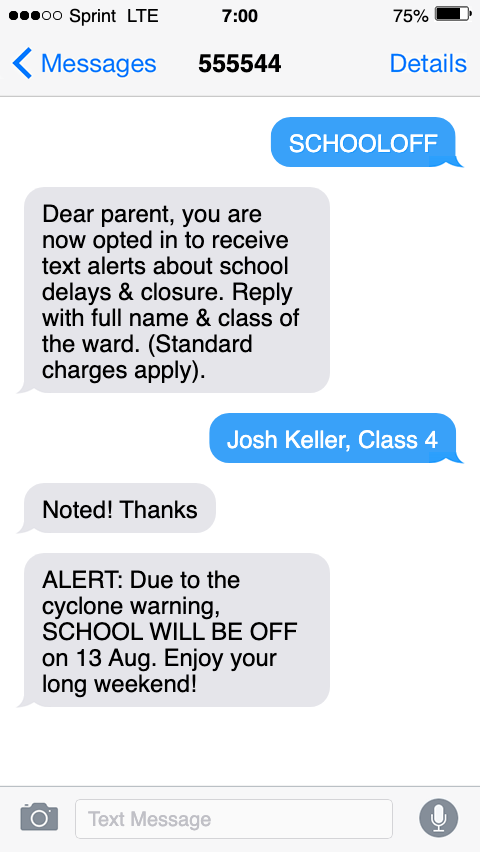 Note: Make sure you inform parents that sending texts to opt-in or as replies may incur standard or special charges.
Step 3: Sending SMS broadcasts to contacts
When sending school closing text alerts, choose the text broadcast feature when:
You want to reach your existing contact list.
You're not expecting responses (the software allows contacts to send replies, but in this case, the responses don't add value to your campaign).
How to send broadcast text alerts for school closings and delays:
Log in to your CallHub account and select the 'Text Broadcast' feature.
Add your campaign name and select the desired contact list(s). 
Rent a new number (from your country) or choose an existing validated number.
Draft your message and add personalization tags (like name, contact details, addresses, etc.)
Add maximum retry attempts and time between each to ensure a better delivery rate.
Schedule the broadcast campaign to send messages immediately or later.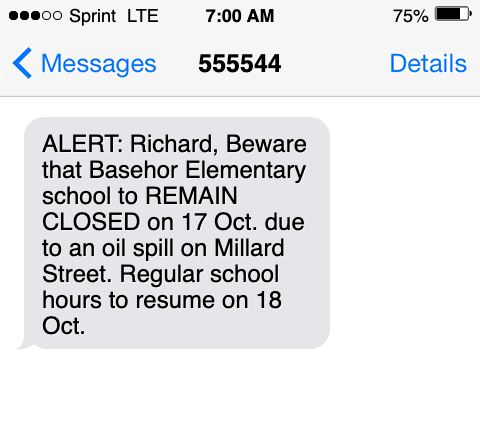 Important features in a text alert tool
When it comes to sending important messages like school cancellation text alerts or reminders, a school text alert system that ensures your messages are received and read helps you stay on top of things. When choosing the right tool for school text alerts, make sure you look out for the following features:
Ability to rent shortcodes
Personalization/merge tags
Automatic retries
Scheduled messages
Automatic replies
Let's look at the benefit of each feature in the context of school delays and closings alerts.
Shortcodes for easier opt-in
Shortcodes are 5 or 6 digit numbers that marketers use to get people to sign up for their contact lists. These numbers are easy to remember and you can rent them from texting tools like CallHub.
For schools with long contact lists, shortcodes provide another benefit– they can legally send up to 100 messages every second (as opposed to a long code, which can send one message per second).
Read More About Shortcodes Here: Short Code Texting – How to Get Started
Personalization or merge tags
Personalization ensures more engagement (consumers prefer content tailored to them). For instance, parents would feel more valued if they receive school closing alerts with their ward's name or class in the message.
Additionally, you can also add the following personalization tags when the need arises:
Email, phone number, mobile number: When requesting a person's or sharing your contact details.
Address, city, country: When your text blast is going to several school branches, and you need to specify locations that will be closed or delayed.
In CallHub, you can find personalization tags when drafting your message script.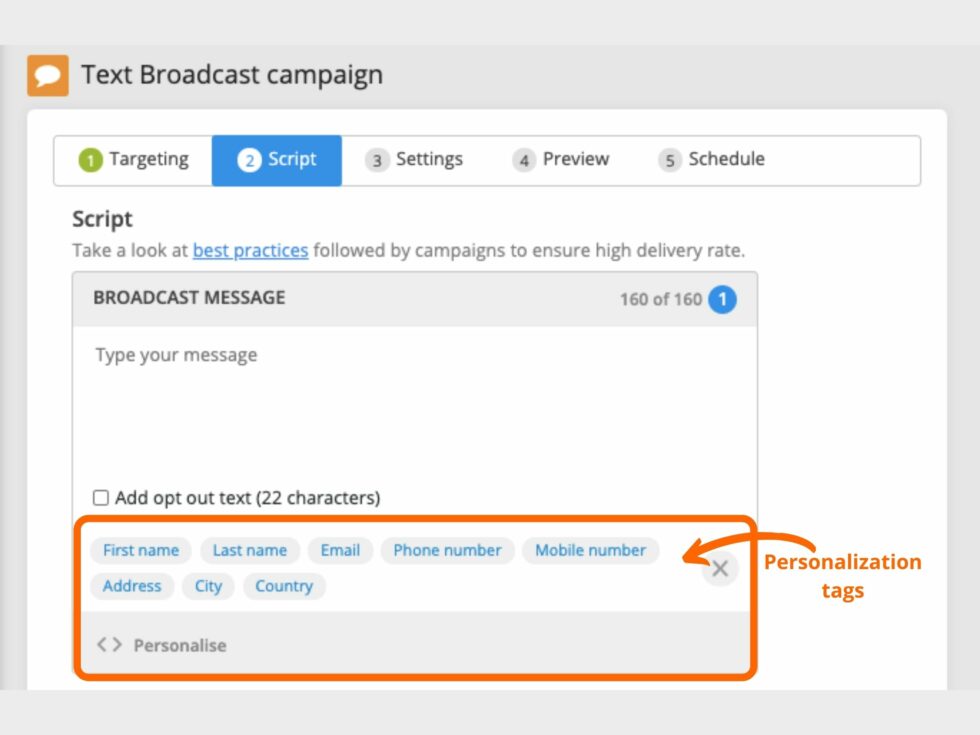 Automatic retry attempts
You don't want contacts to miss out on your text alert even if their number is unreachable when you send the text broadcast. Temporary network congestion may prevent your messages from going through. CallHub allows you to set several retry attempts after intervals, so the message gets delivered at a later time (but before it's too late).
For messages that expect replies, you can set periodic nudges sent automatically to contacts who haven't responded. You don't have to keep checking for responses anymore. Just set your retry attempts and sit back.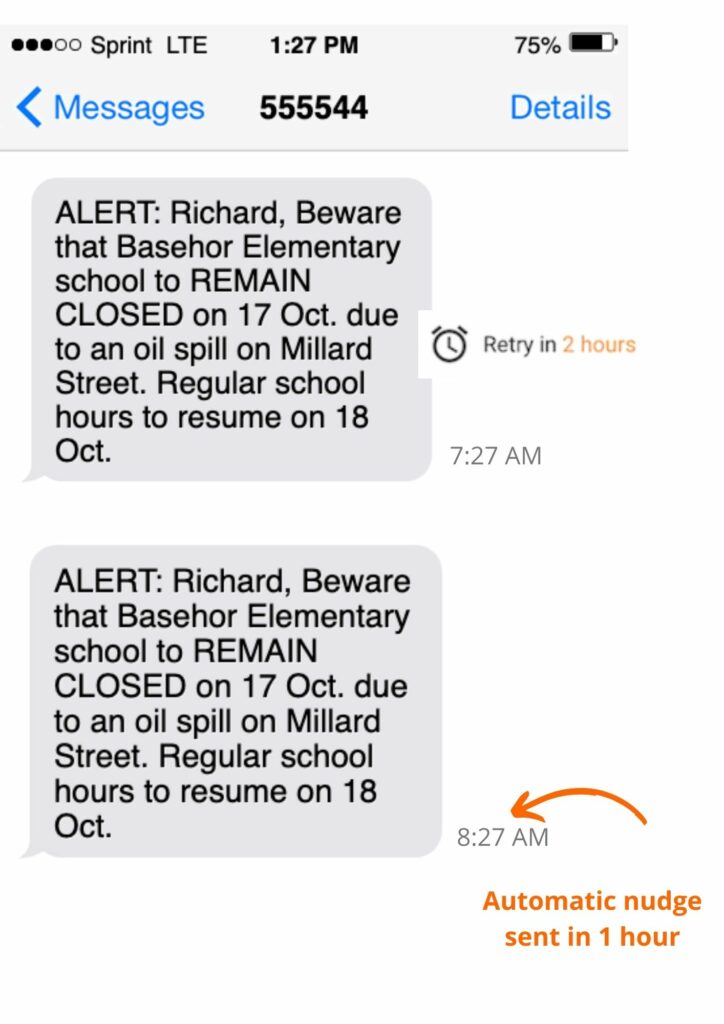 Schedule reminders
If you have a list of school closure/delay dates planned for the week or month, schedule the text broadcasts to be sent in advance. Follow the same steps as explained above but instead of sending the message immediately, schedule it ahead of time.
For example, you can send a broadcast of all upcoming holidays at the beginning of the month. Set a separate text broadcast to go out a day before or early in the morning of the off-day.
Automatic replies to new opt-ins
When a person opts-in to your texting list, they shouldn't feel like they have reached the wrong number. Sending an automatic reply immediately when you receive the keyword prevents the opted person from feeling ghosted.
Set automatic replies to collect more data about the person (e.g., ward name, class, address, parent email ID, etc.) This data can aid future communication and personalization of other text broadcasts.
Draft a thank you message when all relevant information in the current campaign is collected.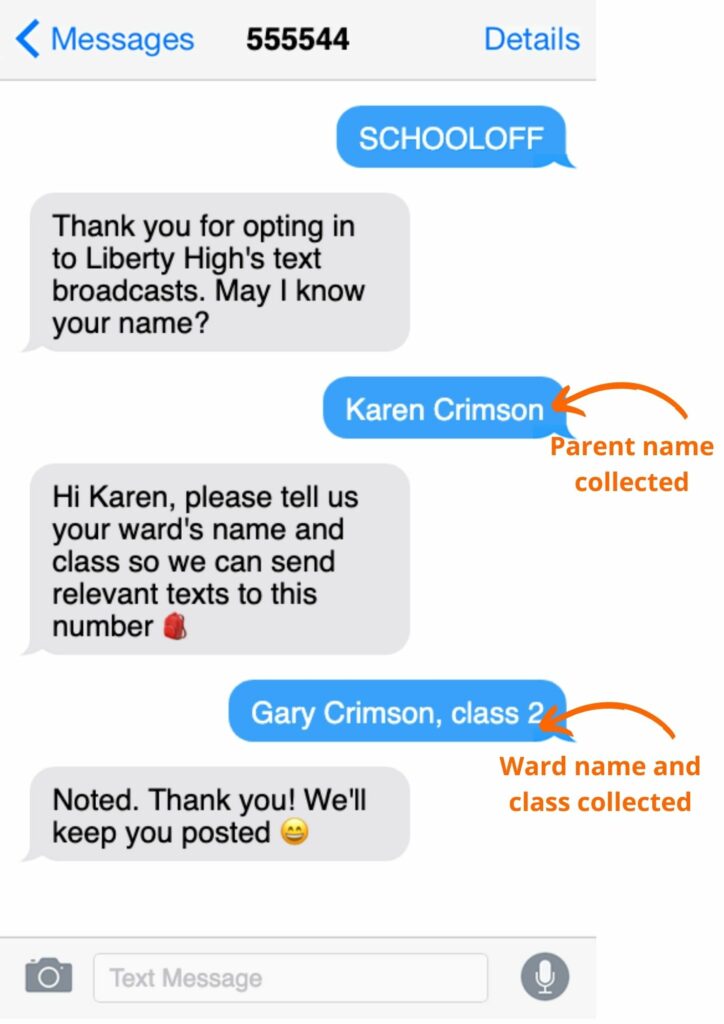 School closing text alerts are important broadcasts for parents– whether scheduled or unscheduled. But as an administrator, you may be wondering if investing in a text marketing tool only for the occasional alerts is worth it.
Well, a text marketing tool can do much more than sending school closing notifications. You can use the same tool to promote events, remind parents to pay fees, carry surveys, and even engage them in conversations. Read here to find out how you can use SMS for school-to-home communications: 25+ School SMS Templates And Usecases That You Must Adopt Now!
Feature Image Source: Ben White/Unsplash.