SMS marketing for insurance agents helps them tackle two major problems in their industry:
The insanely high customer acquisition costs (7 to 9 times higher than in any other industry.)
The abysmally low retention rate of clients (at least 10% lower) compared to other top companies.
This means that as an insurance agent, you have to work hard not just to acquire more clients but retain them too.
In this post, we shall see why SMS marketing plays such a crucial tool for an insurance agent. We will also look at 5 ways you can use SMS for insurance to win more leads and retain them.
Advantages of SMS marketing for insurance agents
Here is an exciting thought my colleague Tony mentions in his SMS marketing guide. Because an average person checks his phone 80 times, you have 80 opportunities in a day to inform, educate, and make an impact on a person via SMS.
In the context of insurance, that means you can inform your prospects about the various policies, educate him about what would make sense for him, and finally impress on him why he should take up a particular policy.
So the scope of what you can achieve via SMS is immense!
SMS marketing also has all the hallmarks of successful communication.

Both these above reasons make SMS an invaluable tool for insurance agents.
Don't get me wrong. You can still use direct mail and emails to communicate with your clients. However, SMS can take it one step further and help you create more impact.
As an insurance agent, text message marketing can help you:
Build a relationship with your clients
Lack of trust is the top reason that stops people from buying health insurance. This can easily be overcome with an open channel of communication (SMS). Through texts, prospects can reach out to you at any time with their doubts and get an instant response.
Cross-sell policies to existing clients
SMS is a great insurance distribution channel to encourage your clients to buy other policies they need. For instance, say you are an insurance agent selling life and health policies. Whenever renewal times roll around, you can pitch annuities to your client so that he can plan for his retirement.
Upsell policies during renewals
Similarly, you can also get more value from the same clients via SMS. If you are selling health insurance, you can also sell dental insurance to your clients. If your clients are senior citizens, you can even sell long-term disability policies to them.
Get referrals and win more leads
Since your clients already trust you, they would be happy to introduce your services to their friends and family. Just send a reminder text to your clients and ask them to refer you to their network.
Practical use-cases in S
MS marketing for insurance agents
Before we go any further, I have an important clarification to make. Every time I say SMS or texting this post, I do not mean using a cellphone to send it.
Instead, I am referring to using a business tool (like CallHub) to communicate with your clients and prospects.

Notice that you have not just SMS, but also calling tools that can make your communication simpler. Here's a guide on crafting a cold calling script for insurance sales.
Having such a common dashboard for the entire team will make it easy for you. You can keep track of the conversations, not worry about data security, and still communicate easily with your leads.
Check out this guide on SMS marketing to learn more about how you can use SMS marketing. It covers a lot of technical aspects you need to know.
In this post, let's look at the various ways how SMS marketing for insurance agents (like you), can work.
Use case 1 – Send notifications about insurance policies
SMS is an excellent channel to send those messages that you want to be read instantly. Because over 90% of Americans have a phone at their disposal, an SMS has a higher chance of being read than say, an email.
What kind of notifications can you send?
Claim notifications: A considerable part of handling claims is the client's frustration on the progress. Instead of waiting for them to reach out to you, you can send frequent notifications via SMS about the status of their claims.
Hi Maryanne, Your insurance claim for $ 5500 has been accepted. We will credit the amount to your account in 3 business days.
Alerts on expiring policies: Retaining your clients by encouraging policy renewal can be done with SMS. The first alert about impending expiration can be sent via SMS. Further follow-up can happen over email or phone.
Hi Maryanne, Your bike insurance policy no. 12345 is about to expire in 30 days. Click on link bit.ly45kl8 to renew it right away.
Disaster and weather alert notifications: This is particularly useful for those clients who have opted for property and casualty insurance. You can send them a text, with details on when the disaster is anticipated and what to do to minimize damages
Maryanne, Hurricane Barry is expected to hit at 06:00 hours on the 29th of August. Follow evacuation plans. Move to a safe zone and stock up on essentials.
How to send such notifications?
Every notification is sent in response to an action (i.e., after claim is submitted/rejected). So, these SMS are set as an autoresponder and not sent in bulk. Just take care that you include personalization in your messages.
Use case 2 – Send reminders about policy meetings
Reminding your clients via SMS about their policies serves two purposes. It helps them remember and complete any pending tasks towards their policies. It creates awareness about your agency (and you as their point of contact). Both of these aspects are crucial for retention.
What kind of texts can you send as reminders?
Reminders about policy payments: Even though your clients are aware of upcoming premium payments, it could still slip their minds (repeatedly). In such cases, sending regular reminders can help them recall and complete payment.
Hi Tom, The premium for your health insurance policy no. 1234JK is due on 15th Oct. Pay on time to avoid policy lapse.
Reminder to update/complete profile: SMS is not just for your clients. You can also send it to your prospects who are in the process of filing an application for a policy. You can encourage them to finish filling up the form via texts.
Hi Tom, Your application no. 789OPL for bike insurance is incomplete. Click bit.ly89LK to complete the application and get your bike insured.
Reminder about upcoming meetings: An excellent way to ensure that your prospects are on time for meetings, is to remind them about it. That way, if something comes up, they can also reschedule immediately, instead of at the last minute.
Hi Tom, Looking forward to our meeting today at 16:00 hrs to discuss your health insurance options. See you then!
How to send such reminders?
As with notifications, reminders can also set up as autoresponders, with the personalization field filled. However, reminders are usually sent in bulk, to a list of contacts. Use your CRM to filter out those contacts who need the reminder. Import them to your SMS tool and set up the campaign.
Remember to get an opt-in from your leads before sending them the texts. Check out the text message regulations that apply to you, just to be safe.
Use case 3 – For announcements about insurance policies
90% of text messages are read within the first 15 minutes. That means if you want your message to be read, sending it via a text is a great idea.
What kind of announcements can you send?
Announcements about new policies: When your agency launches new policy, you can share that announcement with your leads. Remember to segment your clients and send texts only to those for whom the policy is relevant.
Hi Mike, Our new Sukanya health insurance plan will complement your term insurance policy and provide better coverage. Check it out here: bit.ly367k
Updates on existing policies: If your agency announces important updates to existing policies, then you can definitely share the details with your leads. As before, make sure you send it only to those for whom it is relevant.
Hi Mike, The renewal date for your bike insurance policy has been extended by 20 days. We have also made it simpler to renew such lapsed policies. Find out more on bit.ly834F
Any fiscal or economic change that can impact their policies: Admittedly, this is not something that happens every day. However, it is crucial to let your clients know if their policies are affected by government policies.
Hi Mike, As per the new tax amendment, your health insurance policy is now liable for tax deduction. Get the exact details at bit.ly109MS
How to send such announcements?
Use bulk SMS. Set up a campaign to only those users whom you have segmented before hitting send. As before, use the details in your CRM to filter those leads who will benefit most from your announcement.
Use case 4 – Data collection for better targeting
SMS marketing can also be used for collecting more information about your leads. Since it has an 8X times better response rate than emails, you have a markedly better chance of getting your prospects to respond.
What kind of information can you collect?
What policy they are interested in: This is especially true for leads who are in the initial buying stage. Knowing their interest allows you to segment and send them targeted messages later.
Hi Kate, I am @insuranceagentname and want to help you find the right plan. Can you tell me what policy you are looking for?
Information on the client's profile: SMS comes in handy when your leads do not complete their mandatory profile information. It is an excellent way to encourage website drop-offs back to your site.
Hi Kate, I am @insuranceagentname from ABC insurance company. You just opted for health insurance from us. Can you tell me your age so that I can compute the premium for it?
The kind of insurance coverage are they looking for: Even if your leads are sure on the type of insurance they want, you can guide them better if you know what coverage they expect. And of course, SMS is the best way to find that out.
Hi Kate, What kind of coverage are you looking for in your bike insurance? Knowing this will help me recommend the right policy for you.
How to set this up?
Peer to peer campaign is the best way to collect this information. It is conversational and allows the contacts to respond to your texts. When you set it up, use custom fields for the data you request. That way, the response they send will get auto-updated.
Use case 5 – Building relationships to sell policies better
An often overlooked aspect of SMS marketing, is that it is two-way. So, as an insurance agent, you can have a conversation with your leads/prospects to build trust.
Such conversations are a critical aspect of relationship building. Peer to peer campaigns will enable you to have trackable and quick back and forth conversation with your contacts.
What kind of messages can you send?
Schedule meetings and appointments: Though reminders are sent as automated texts, setting up the appointment needs to have a more personal touch.
Hi Ashley, Does 15:00 tomorrow work for you? I can quickly walk you through the various policy options – @insuranceagentname
Check-in during major life updates (birthdays/anniversaries, etc.): Yes, you can set it up as an automated text. But the objective behind a birthday SMS is lost if it is not personal. That is why sending it as part of a peer to peer campaign is better.
Happy birthday Ashely! I hope you have a wonderful day. Don't forget to have the second slice of cake :). Any specific plans? – @insuranceagentname
Encourage customer reviews: Make it easy for your clients to leave reviews about your agency. Instead of navigating your website, they can do it at the click of a button right from their phone. Also, via SMS, you can segment clients whom you have a good relationship with and send them targeted SMS, requesting a review.
Hi Ashley, it was awesome catching up with you today. Would you like to share your experience with others like you?
Help make claims easier: Paperwork is unavoidable to process any claim. However, not all your clients will have the documents on-hand. In such cases, you can ask them to share specific details via SMS.
Hi Ashley. I am processing your vehicle accident claim right now. Can you send me a picture of your driver's license?
How to send such messages?
You can use peer to peer campaigns to set up such messages. Notice that each of the messages above starts off as a conversation. They are casual and expect a response. Based on how the client responds, you can customize your response and have a back and forth interaction with your clients.
Quick note: If you are looking to learn more about the technical details of campaign set up, this SMS guide can help you.
Best practices for SMS marketing for insurance agents
But hey, let's not get ahead of ourselves. Yes, SMS marketing for insurance agents can work, as mentioned above. However, if it was that simple, then the number of people buying insurance would be quite high.
Unfortunately, that is not the case. A new study reveals that more than 40% of Americans do not have any form of life insurance!
That is, even after using SMS, insurance agents are finding it difficult to win more leads and convert them to buy policies.
Why is this so?
Because SMS marketing is just not used the right way. Here is how a typical SMS from insurance agents is received: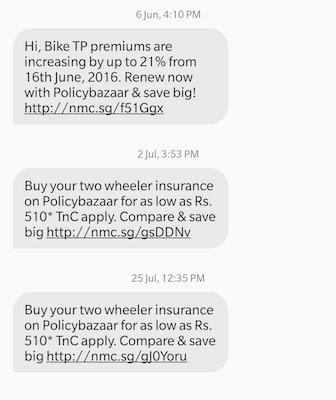 This series of texts came directly from my SMS inbox. What would jump out at you here is that I have not responded to any of these texts!
Now, for specific texts like announcements or reminders, such a lack of engagement from lead is perfectly fine. However, for SMS that requires a response (e.g., to collect information), such unresponsiveness can be quite detrimental.
To ensure that your SMS do not face the same fate, here are some best practices to follow:
Always get an opt-in from your leads before you start texting them. You can get it while they fill a form on your website, or when they download material from you.
Keep your texts conversational, concise, and clear. If your contacts do not find value in your texts, they will not be receptive to future texts.
Personalize your texts. Include the first name, policy number, and their insurance type to make the texts relevant to your contacts.
Ensure that your response time is quick. Anticipate that your contacts will respond to your SMS and get back to them immediately. This is especially true for peer to peer campaigns.
Measure the right metrics. Find out which campaigns are well received by your audience and how you can tweak them to improve your SMS performance.
You can replicate any of the above use-cases for your own sms marketing. I have specifically made the templates copy-friendly to make it easier for you.
How to get started with SMS marketing for your insurance business?
Setting up an SMS alert system for your insurance business is easy and does not take a lot of time. In professional texting tools like CallHub, you can get it done in under 15 minutes.
Step 1: Pick the campaign type
From the system dashboard, first select the kind of campaign you want to set up. For this example, we will go with SMS opt-in campaigns.

That is because, when you begin with SMS marketing the first step is list building. Opt-in campaigns enable you gather leads who would be willing to hear from your business.
Step 2: Select a keyword and a short code
While campaign set up you have to pick the keyword that allows users to opt-in to your SMS service.
Eg. "JOIN" to 33339 for insurance updates and notifications.
Here JOIN is the keyword and 33339 is the short code. Depending upon whether you have a dedicated or shared short code, your keyword options would be limited.

You can also set up a response SMS. That is, once a lead opts-in to your SMS campaign, they get a notification about it.
Step 3: Advertise the keyword and short code
Spread the word about how your clients can opt in to your SMS campaigns. They have to be aware about what keyword to text and how to join your SMS group. Here are some means you can try:
Use the website: Mention the keyword and short code in your website home page and get new leads to opt-in to your messages
Share on Social Media: Share the keyword and short code via instagram, facebook, and other platforms
Send via emails: Get existing customers to opt-in, by giving them a heads up about your new SMS service via emails.
And you are done! You now have a list of leads who have opted-in to your SMS alerts.
Use any of the above mentioned sms examples for insurance to engage with these leads. You can send them texts via peer to peer campaigns or bulk SMS (both are possible via CallHub).