The 13th of March was just a regular Friday for a lot of people. But, for the democrats and Biden's supporters, it was quite disastrous.
It was on that Friday, that Joe Biden's team attempted a public Zoom call. The idea was to connect with supporters virtually while respecting the norms of social distancing.
Here is what the supporters thought of it
Needless to say, the former Vice President's "first virtual town hall" was a technical calamity.
As social distancing forces us to get creative with communication, switching to such virtual events and conducting online rallies are unavoidable.
However, your online events need not suffer the same unfortunate fate as Biden's.
In this article, we'll go over the steps involved in organizing a virtual rally and how to overcome the challenges that accompany it.
What is a virtual event?
A virtual event or rally is a meet-up of a large group of people organized online rather than in a physical location.
Live-streams, online conferences, webinars, etc. are types of virtual events allowing you to connect with people from their preferred locations (usually homes) and win their support.
Bernie Sanders' virtual rally had a combination of some of the above, featuring a completely online concert-style rally.
The event was a well-produced program that smoothly transitioned from multiple locations between performers and speakers.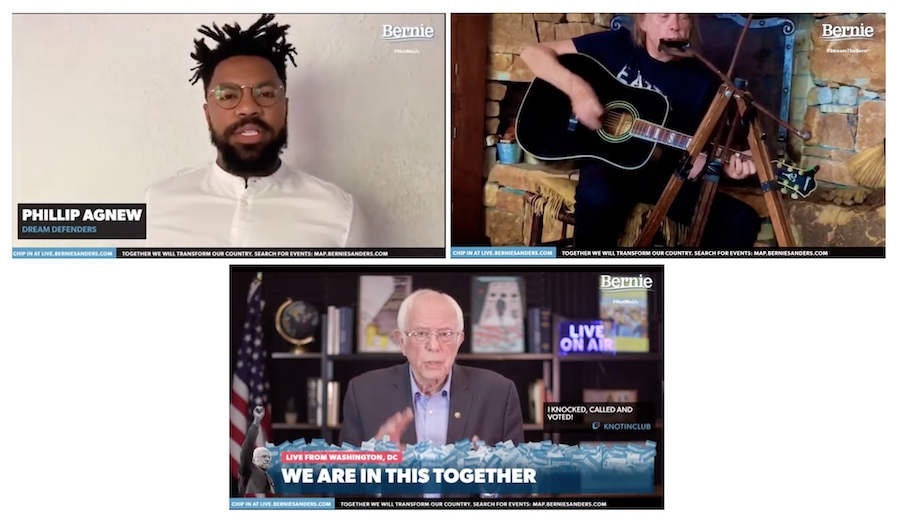 The virtual event, streaming on multiple platforms, was a huge success drawing over 1.6 million views.
Our virtual rally went extremely well because of our experience in planning and organizing digital grassroots movements.

– Faiz Shakir, Campaign Manager (Bernie 2020)
While your organization may not carry a similar experience in online organizing, here is how you can still ensure its success
Planning out a virtual event
Online events have a lot of key decisions to be made (the type of event, platforms, speakers,eetc.) just like for their offline counterparts.
However, it differs greatly in terms of organization and supporter participation.
That means the challenges you face when switching to virtual events are completely different from a physical event.
In this case, developing a plan becomes even more crucial.
To give you some insights, given below are a list of these aspects that you need to plan for:
Before your event
1. Choosing the right date and time
The date and time of your virtual event directly impact attendance.
As per research by GoToWebinars, Thursdays are the most preferred days for webinars.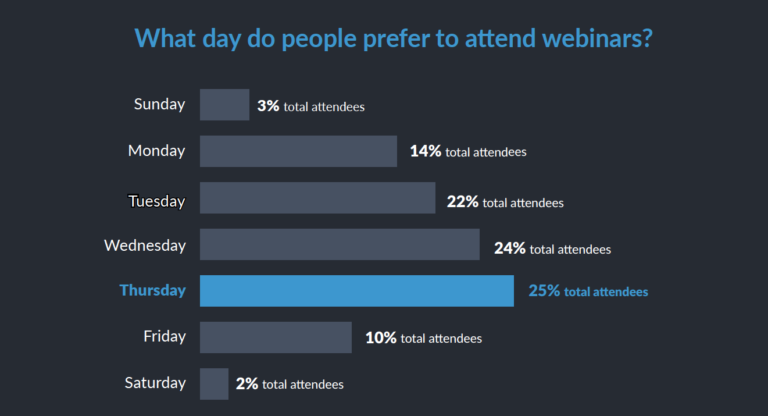 Since there isn't a lot of data to suggest the perfect time for virtual events, you can begin with insights from webinars (since they are a type of virtual event too).
The same research also suggests that the best time to hold a webinar is around 11:00 am and 2:00 pm.
Note: Make sure you don't cut into people's lunch hours which are usually between 1:00 and 2:00 pm.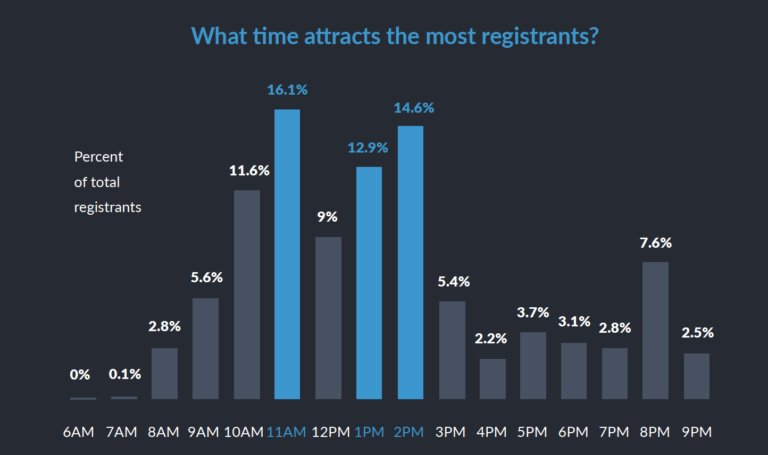 You can start off by planning your events around these days and times and change it later as you get more data.
Another option is to directly ask for suggestions from your prospects and supporters. Facebook and Twitter polls are great tools to help you with this.
2. Create a website/landing page for registration
For both online and offline events, your website (or landing page) serves the following functions:
Provide key information about the event to prospects
Act as a promotional tool (mostly for online promotions)
Collect registrations for the event
Integrate with additional apps (like calendars, email tools, etc.) to enhance user experience
For offline events, there are other alternatives you can use. Brochures and banners for information and literature drops or canvassing for promotions to drive in-person registrations too.
However, the online form on your website is the rallying point for the event.
Hence, it's extremely crucial that you put in the time and effort to make an extremely well thought out website if you want to increase registrations.
3. Preparing the speakers
The speakers are typically the USP that gathers a crowd for your event. In offline events, they may stand on a stage or platform and interact with the crowd.
For virtual events though, there are a few aspects they will have to approach differently.
These are as follows:
Restructure audience activities with apps or add-ons – For example, Zoom Breakout rooms allows you to split the participants into groups that only hosts can hop through. So if you were planning to segment people to prepare for a debate, you can use this.
Focus camera on the whole body (or at least the upper part) – This is similar to having your speaker on a stage. Speakers have to stand out to ensure they have everyone's attention. Plus, body language is essential for expressing emotions and for the audience to visually connect with speakers.
Coordinating with other facilitators – In virtual events, there are multiple things happening simultaneously (chat, technical issues, presentation, etc.). Speakers will have to plan how they coordinate with everyone to pass information or take action.
4. Prepare the materials you'll need
Preparation is key for both virtual and offline rallies. The type of materials that you need for both event formats are generally the same and include the following:
Product prototype or snapshots for demonstration
PowerPoint presentation with visuals
A rough script to follow
Functioning equipment that'll be used (make sure to test them beforehand)
5. Recruit people for the event
For offline rallies, volunteer recruitment is needed to help you with the groundwork or infrastructure.
Similarly, virtual rallies need facilitators to help you with multiple functions during the event too.
Some roles that you'll need volunteers/staff to fulfill are:
Co-facilitators to help you with the script (turn the page/show cue cards), change the slides, etc. They can also oversee other volunteers and relay information to speakers.
Chat lead to manage and collect relevant queries or bring specific things to everyone's attention
Tech leads to help you and the audience with any technical issues privately
Co-speakers to introduce speakers, greet people, or even warm up the crowd before the event. Co-speakers also help break the monotony of the event.
Playlist video lead if you plan to augment your breaks with music or videos
Sign language lead if you plan to address a huge audience and wish to be inclusive of everyone.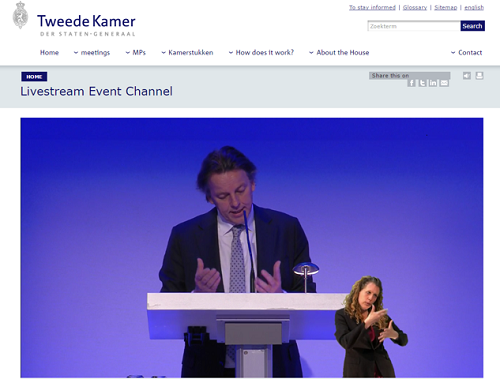 6. Promotion
Once you have all the above in place, you move on to get the word out and gather as many registrations as possible.
While the channels of online promotion would remain the same for both offline and online events, there would be some differences in the type of content. These would be as follows:
Email Marketing
Just like for offline events, your emails would primarily comprise of invitations, reminders and event updates.
For virtual events, however, you will also have to send emails with instructions to join the event and some tips to get people familiar with it. Here's an example of a prep email being used by Blueprints for Change.
Social Media Marketing
On social media too most of your posts will be the same including reminders, volunteer recruitment, event details, etc. You can post event joining instructions, tips, and link other resources too on social media.
Apart from that, it'll also be great if you could create training videos explaining people about the platform to make it easy for them to understand it.
For example, if you're planning an activity during the event, you can post a demo of it for the people to see.
SMS Marketing
For both offline and online rallies, you'll use SMS marketing either to send broadcast messages with event updates or use SMS opt-in for registrations.
The reminder texts you send right before the virtual event, however, would include the link to join the event rather than directions to a location for offline events.
Challenges you can face before the event
A few challenges that you may face before your virtual rally are as follows:
1. Platform participant constraint
Assume you booked a venue for a conference for 500 people. However, on the day of the event, 600 participants came. What now?
Similar to the participant limit in a venue, each platform may have a limit to the number of people it can host too. For example, Zoom has a 1000 participant limit, even with a large meeting add-on.
Solution
You may not face such issues with live-streams which do not require a lot of collaboration. However, for events that do, you will have to use a mix of tools to accommodate everyone.
For example, the Jewish Voice for Peace recently organized a virtual rally with over 30,000 people to end the blockade on Gaza.
500 of them (including speakers) joined the rally through Zoom whereas the others joined in through Facebook Live.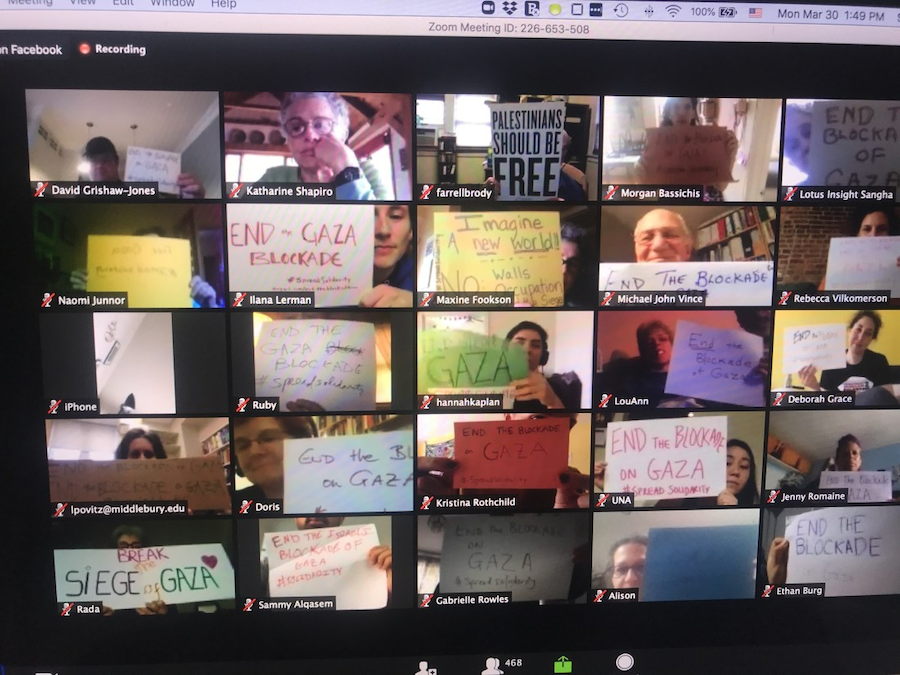 2. Technical literacy
Virtual events are a relatively new concept and both people and organizers may not be as familiar with all the technical aspects.
For instance, in Joe Biden's virtual town hall, a senator's video appears on the display because he probably missed hitting the "join without video" option.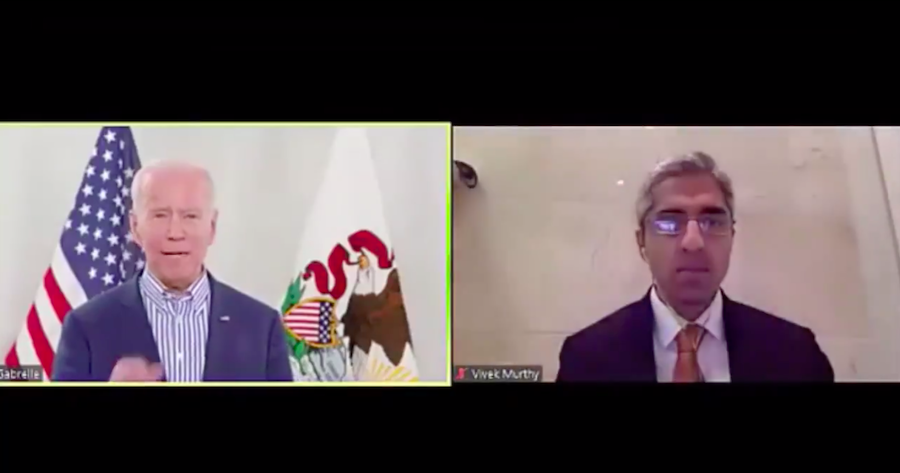 Solution
There are two ways to tackle this issue.
The first is to create brief training guides and distribute them in all your communications. Sending a separate email with these instructions to all registrants also helps.
Second, you can also conduct a brief preparatory meeting for all volunteers a day before the rally. You could also do this 30 minutes before the event to get everyone familiar with all features.
I recommend doing both – as the former focuses on making your audience familiar, while the latter is more to train your volunteers to be prepared to tackle technical hiccups.
3. Low turnout
A huge number of registrations but not as many participants is a challenge common to both online and offline events.
Attending an offline event means planning for dependencies, spending travel time, and working that event into their schedule. At first glance, these could be seen as constraints that inhibit participation.
However, it is undeniable that making such a commitment (of planning) increases the chances of supporters turning out at events.
This means, for an online event, that is a huge disadvantage. Since the audience is participating from a location of their convenience, they don't plan around it extensively – and thus forget about it easily.
Solution
To boost attendance, you will have to push people to come by consistently reminding them about the event and the value they'll acquire from it.
Sending email and text reminders prior to the event is perfect to overcome this.
Instead of having directions to the location in your reminders, you'll be including the link to join the event in them as discussed above.
If your SMS marketing service allows this, you could also create a sense of urgency by including the number of people who already joined the event, like in the example below.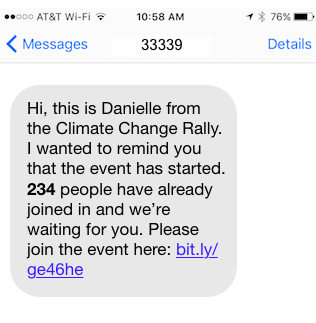 During your Event
1. Check-in early
Some people may arrive earlier than the given time. Check-in early to ensure they don't leave after seeing a blank screen (or a wallpaper) when they come.
By checking-in early you can:
Greet those who come early and engage them with introductions
Use this time for the prep meeting as discussed earlier
Analyze the quality of the event to see if there is a possibility of a technical issue
2. Monitor the chat
All virtual meeting platforms come with chat platforms for participants to interact.
As soon as the event starts, there is a possibility that this chat feature will start flooding. Your chat lead will have to:
Collate relevant questions that may arise (to be asked later or at that point)
Filter out all irrelevant comments
Reply to general queries that may not need the attention of the speaker
Keep an eye out for event-related feedback (especially feedback of any technical issues people might be facing)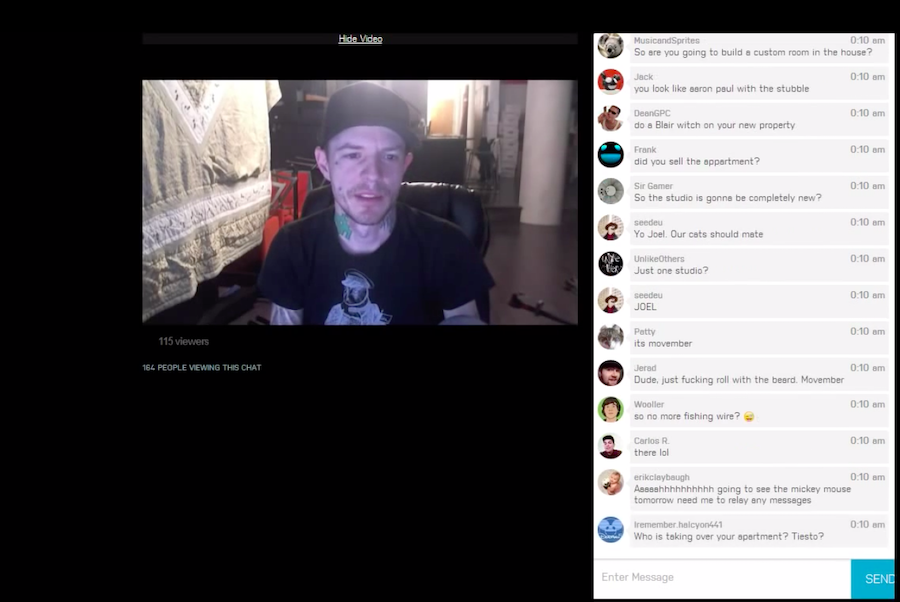 3. Manage user permissions (or tell everyone to keep their audio on mute)
This is a major technical challenge people have to face with virtual rallies (except for live-streams).
Unmuted mics cause a lot of disturbance in between the event and even make it difficult for others to focus.
You can ensure this doesn't happen by:
Having a volunteer manage user permissions to ensure everyone is on mute
Using an add-on (or third-party app) to lock
Highlighting this instruction in the training guide and the email
Pinning this on the chat platform (if possible) or keep posting it regularly
Reminding people about this before the event starts
Reminding people about it during breaks or in between
Asking chat/tech leads to message people individually if they are not following it
4. Encourage everyone to keep the camera on
With everyone's camera on, you can make the virtual rally feel like an in-person event.
While they may shut off their video in between, seeing people for a majority of the time makes the event more engaging and feel less like watching a monotonous recording.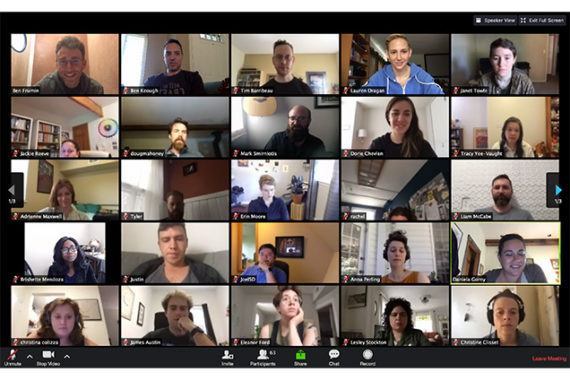 In live-streaming events though, this may not be possible. In that case, you can encourage people to be active in the chat section and engage with each other too.
For example, have people watching the live-stream send an image of the view from their windows in the chat if possible.
5. Promote Sign-ups or opt-ins (during live-streams)
Live-streams typically don't have a registration process. However, the open access does draw a higher visibility than webinars or conferences.
Live-streams give you the opportunity to promote yourself to larger crowds and drive new registrations (and leads).
Some platforms like Twitch have the option to include a news ticker during your virtual event that you can use to encourage people to sign-up.
For example, in their recent live-stream, NextGenAmerica leveraged the news ticker to promote their shortcode to build their SMS list.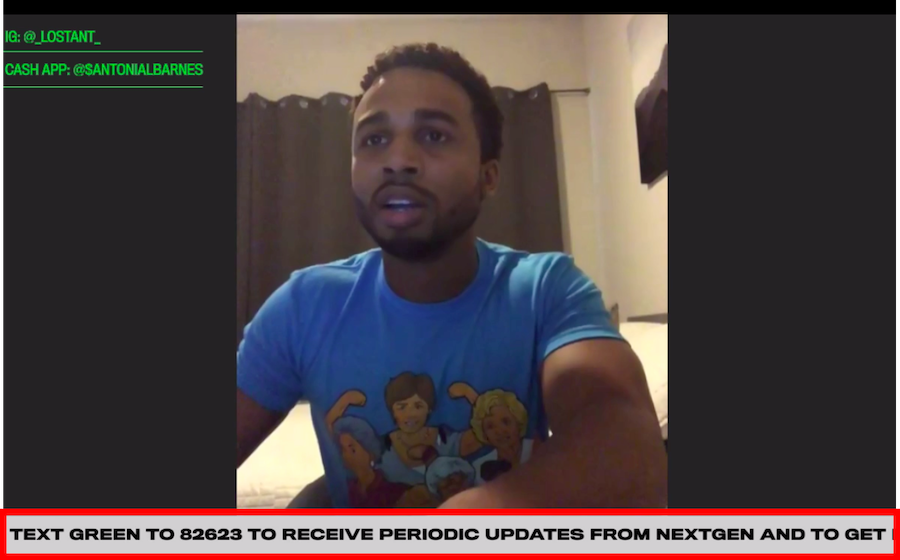 If you don't have the option of using a news ticker, you could also pin a message in your chat for everyone to see.
Alternatively, you could also include these details on the wallpaper you use during a break.
Challenges you can face during the event
1. Lower engagement
Low engagement is common in both virtual and offline rallies. However, during in-person events, people may still remain seated (as they don't have any other choice), even though they might have phased out.
In a virtual rally, on the other hand, they have the option to switch off their video and focus on something entirely different. This diminishes the effectiveness of your whole event.
Solution
One solution to low engagement in online events is giving people short breaks in between.
Encourage them to use this time to walk around or get a snack. You can use this time to fix technical issues. You could even augment breaks with music.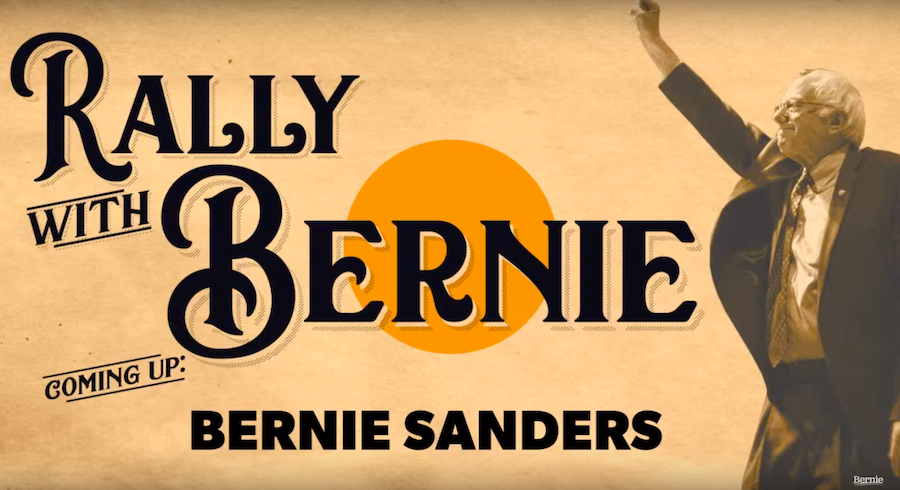 Bernie's rally kept 20-30 second breaks with such wait screens before the next feature came on. You can use a poster maker tool to create graphics and make your wait screen more visually appealing.
Another solution to re-energize is by having two-way conversations with participants in between.
You could even sway a little off-topic in these conversations with them to keep things exciting. Keep it light with some humor.
Alternatively, you could also segment them into groups and encourage engagement among themselves.
2. Technical difficulties
Technical difficulties are exclusive to online rallies. Technical difficulties may occur even during in-person events (like the speakers may stop working), they are visible and can be heeded to immediately.
With virtual meetings, the difficulty could be exclusive to some people and might not even be noticed by others. However, this would spoil their experience forcing them to leave.
Solution
The breaks you take in between will come handy here too. You could also regularly keep asking people if they're facing any technical difficulties in between to give them time to bring it to your attention.
Have your tech lead keep an eye on the chat for anybody requesting assistance. Make sure you highlight that a tech lead is available to help people out.
You could also keep an email or a number that people could contact in case a technical issue cuts them out of the whole program.
3. Drop-offs
Low engagement can also cause people to leave. In offline rallies where someone leaving is quite visible. In fact, this social pressure may be the thing keeping many people back.
However, in virtual meets, this pressure doesn't exist and people can leave anytime without even you knowing.
Solution
Depending on the scope of your platform and your resources, you can keep track of people leaving.
Get in touch with them through a call or a text asking them the reason and if there's any assistance you can provide.
Engagement breaks too may help you tackle drop-offs to some extent.
After your Event
Just like in an offline rally, you are not done once the event is over. It's time to nurture all participants and build a relationship with them.
Here are a few ways to engage with them after the event:
1. Thank all participants
Right after the event, send all participants a thank you message. Making them feel appreciated is the first step to building a relationship with these supporters.
You could do this by either sending them a personalized email or a text (which has higher chances of being read).
If the scope of the event allows you, calling everyone would be the most effective way of showing gratitude.
2. Ask for feedback
Getting feedback from people after your rally is going to boost loyalty by making participants feel heard.
It will also provide you with actionable insights to make your next event even better
You can collect this feedback by:
Sending an email blast to everyone (asking them to fill out a form)
Sending the form link through text
Running a calling campaign and have volunteers collect information over the phone (if possible)
Adding a survey form at the end of the session (get people to fill it while they are still with you)
In your feedback, make sure to ask questions revolving around the content and the technical aspects of the virtual rally.
Apart from that, you can also ask them if they would like to be a part of the next event and start building your audience for it.
3. Have your event available as an on-demand video
A survey conducted on webinar attendees revealed that 26% of registrants sign up only to watch the webinar on-demand later.
Make sure you don't disappoint this audience and send everyone a video of the event. It may even entice them enough to attend the next one live.
4. Create event highlights
Past success and engagement add to your credibility and brand value. Creating event highlights is of tremendous benefit for future marketing efforts.
Typically, the event highlights can include:
Video Snippets of memorable moments (maybe the engagement breaks)
Images of all participants and speakers
Statistics related to the number of attendees, total viewing time, etc.
Challenges you can face after the event
1. Low event retention
During a climate strike in London in 2019, a girl was seen holding a tiny placard with the words "Use Less Paper" written on it.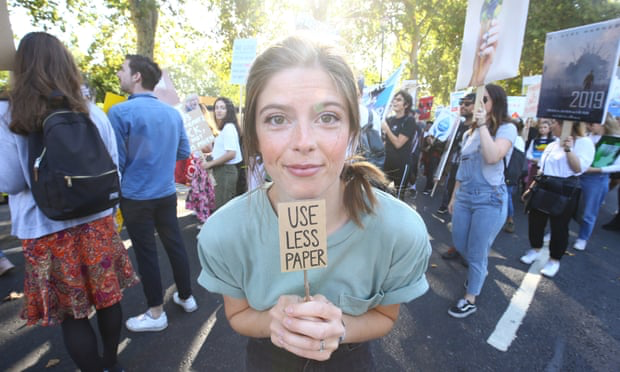 Online rallies are rarely accompanied by such unique experiences or memories.
Hence, after the virtual event, it's highly likely that participants may not recall much about the event (and maybe even your brand)
Plus, with all organizations conducting virtual events now, there is a lot of noise that you will have to get through to maintain their focus on you.
Solution
To make your rally stand out, there are two things you can do
Firstly, you can either conduct it in a unique and memorable way.
For example, Bernie Sanders' virtual campaign featured performances from beloved musicians.
Secondly, you can craft your follow-ups to be unique. For instance, send them video snippets of memorable moments (anything from an interesting question to a goof-up) along with your thank you message.
You could also ask for their feedback through conversational texting by leveraging a peer-to-peer texting tool.
Apart from that, ensure that you leave everyone with a point of contact and email for any queries they may have down the line.
2. Loss of interest
The lack of an effective public engagement strategy is one of the major reasons why people lose interest in a cause (and your organization).
During an offline event, participants meet like-minded individuals, have meaningful conversations, and connect with your volunteers and a lot of others. A virtual rally doesn't provide that opportunity.
Solution
Planning out an effective (and continuous) engagement plan with all participants of your event is crucial to avoid this.
The communications should be triggered right after you send them your thank you message.
Generally, an engagement strategy includes asking for feedback, sending resources (articles, case studies, etc.) that they may find relevant.
Takeaway
I don't have to tell anybody that we're living in a very unprecedented and strange moment in the history of our country. It may be a time to rethink our value system, to rethink many of the systems that we operate under.

Bernie Sanders, Virtual Rally
We most certainly are living in very strange times. A direct result is that it is pushing us to adopt new ways to connect with people.
The transition is not going to be easy, but you can ensure that it isn't disastrous with thorough planning and consistent optimization.
When the world goes back to it's new 'normal', then you'll have two proven methods (online and offline) to scale your activities and enhance your reach. That is definitely something to look forward to.