The stereotype of real estate marketing is a compelling billboard in a good location with the number displayed in oversized white numbers. After all, a key to real estate marketing is simply letting potential buyers know that an option has recently opened.
Now imagine a billboard that 98% look at 80 times a day. (The average American looks at their phone 80 times a day).
Better yet, a billboard that can be customized to what they are looking for, their area, and even their price point. That's precisely what SMS real estate marketing is in the digital age.
Another crucial advantage is that you can collect data about clients and your entire potential customer base through SMS marketing. By setting up text auto-responses, you can collect important data from prospects, including their name and email address.
Broadcast tailored messages and give buyers exactly what they want – via text broadcast on CallHub.
That's why you can't afford to miss out on using SMS for your real estate marketing.
Before starting an SMS real estate marketing campaign
Here are some concepts you need to get a quick refresh on before you can begin using the power of SMS marketing for your real estate business.
Keyword & shortcode texting
An SMS short code is a special number system provided by carriers that allow your organization or company to send and receive a high volume of SMS texts. Short codes are 5-6 digit numbers rented for commercial use.
The earlier 'shared short code' system has been stopped by most carriers and is considered out-of-date. You can still get 'dedicated short codes'. These give you exclusive access to the number and are not shared by any other company or organization.
You can also choose special keywords for each property, which clients can send back to you as replies. Once you get such a message, you can automatically send them further details about the property they are interested in. This is a text-to-join campaign.
Create a free CallHub account and submit a request for a dedicated short code. The process usually takes 6-8 weeks. You can get more details about short code services here.
P2P texting
You can use P2P texting (Peer-to-Peer texting) to engage potential clients in one-on-one conversations. Senders use a P2P texting platform to text SMS and MMS messages to a large group of people, encourage contact interaction, and converse one-on-one.
Using CallHub's mobile messaging app, you can broadcast messages to all your contacts and then send personalized responses to anyone who replies asking for more information.
CallHub's P2P texting platform also has advanced real estate marketing features, including contacting clients, collecting data, providing further information, and clearing any doubts.
You also can:
Save common responses as templates to respond to queries faster.
Enhance engagement by adding rich media with MMS texting.
Run distributed campaigns with a mobile app.
Create a free account and try out the features here
Mass texting
Mass texting is when you simultaneously send out an informative message to all your potential clients or contacts. Mass texting services like CallHub offer immensely lower cost plans than if you tried to send the messages one at a time.
CallHub, for example, would charge around $0.004 per text. In fact, the more messages you send, the cheaper it works out in the long run.
In real estate, this is perfect for informing all potential buyers about new properties that opened up, a drop in prices, open home tours, or even special offers.
Now that we have these concepts cleared let's look at how you can use text messaging to communicate with your clients:
How to use SMS: SMS examples for real estate marketing
Create keywords for each property
By setting up unique keywords with the same shortcode, you can send prospects information about the specific property they are interested in.
For example, the keywords can be "H1", "H2", and "H3" if you are listing three properties in an area. If a prospect texts "H1" to your number, then you can target them with follow-ups specific to that property.
Use real estate text riders to advertise your opt-in campaign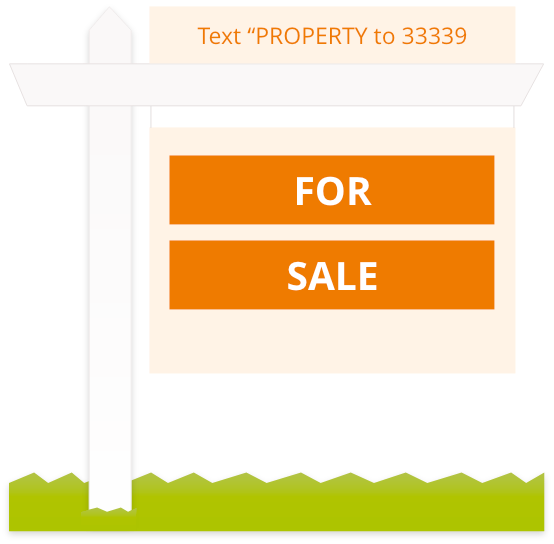 Real estate 'text riders' are signs placed in a yard or some other visible place outside of the property that is for sale. These usually give out a number (a short code) that lets people opt in for further updates.
Text riders are big in real estate marketing, making it easy for prospective homeowners looking for houses in an area to quickly sign up for your communications and get more information on the properties they are looking at.
Some other ways to get the word out about your SMS alerts are on your website or through your email.
Send property information to interested leads
After getting an opt-in, you can automatically send prospects further information. You will have to set up unique keywords for each property, so prospects can reply and get more information about the property they are interested in.
Here are some details you should include in your real estate texts:
Property address
Property size
Property price
Your contact information
Link to your website
Link to Google Maps
Use MMS to display property
You don't need to limit your outreach to plain old text messages. Show off images or a video of the property by using MMS, which would help customers decide without making the trip to the property.
You can send MMS messages that contain:
Images of the property
A video walkthrough of the property
'Before and after' pictures of the property after renovations
Specific images a client may ask for.
Get data from prospects
You can collect data from leads who have opted-in to your SMS communication to make it easier to follow up with them and send them updates. Some data points you might want to get from your real estate prospects include:
First and last names
Email address
Budget
Preferred property qualities
Preffered neighbourhood characteristics
Location
Send follow-up text messages
Using peer-to-peer texting (as mentioned above), you can keep your prospects engaged by sending them follow-up texts and updates about the properties they are interested in.
Peer-to-peer texting is great for engagement. For example, using CallHub's mobile app, you can auto-send thousands of messages to prospects just informing them about a new property that has become available and assign staff to have further conversations with whoever responds.
This way, you send all critical 'follow-up' messages to those who show interest, giving them a personalized sales pitch without wasting your time on dead ends.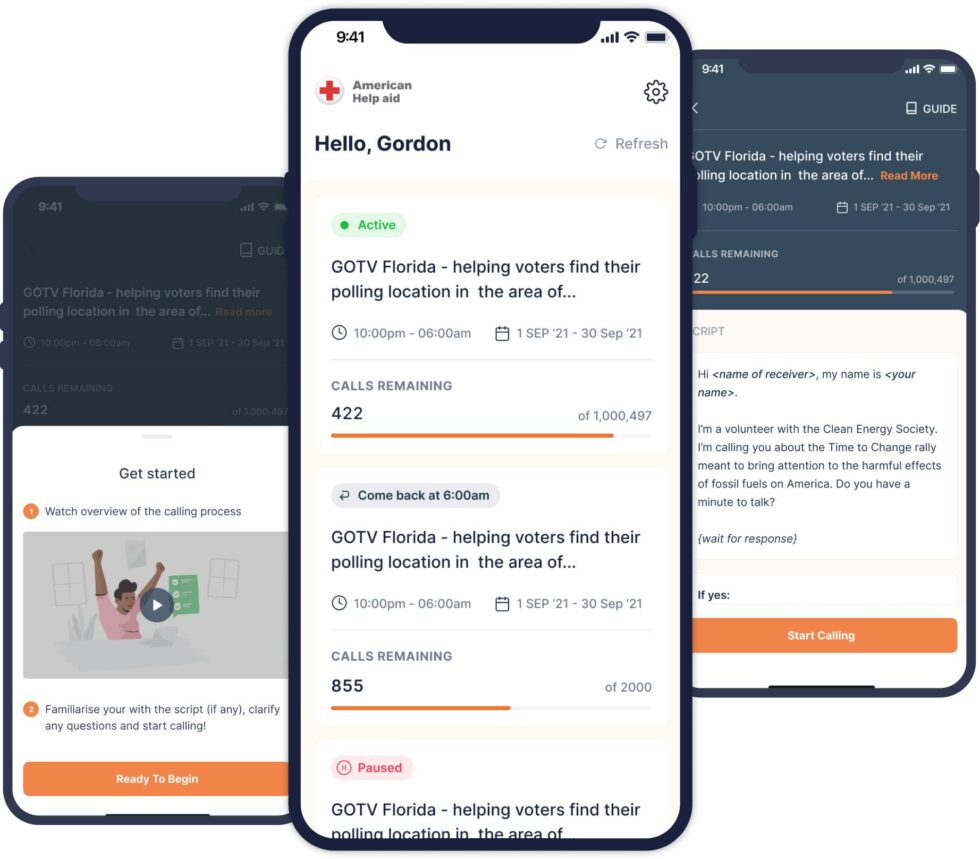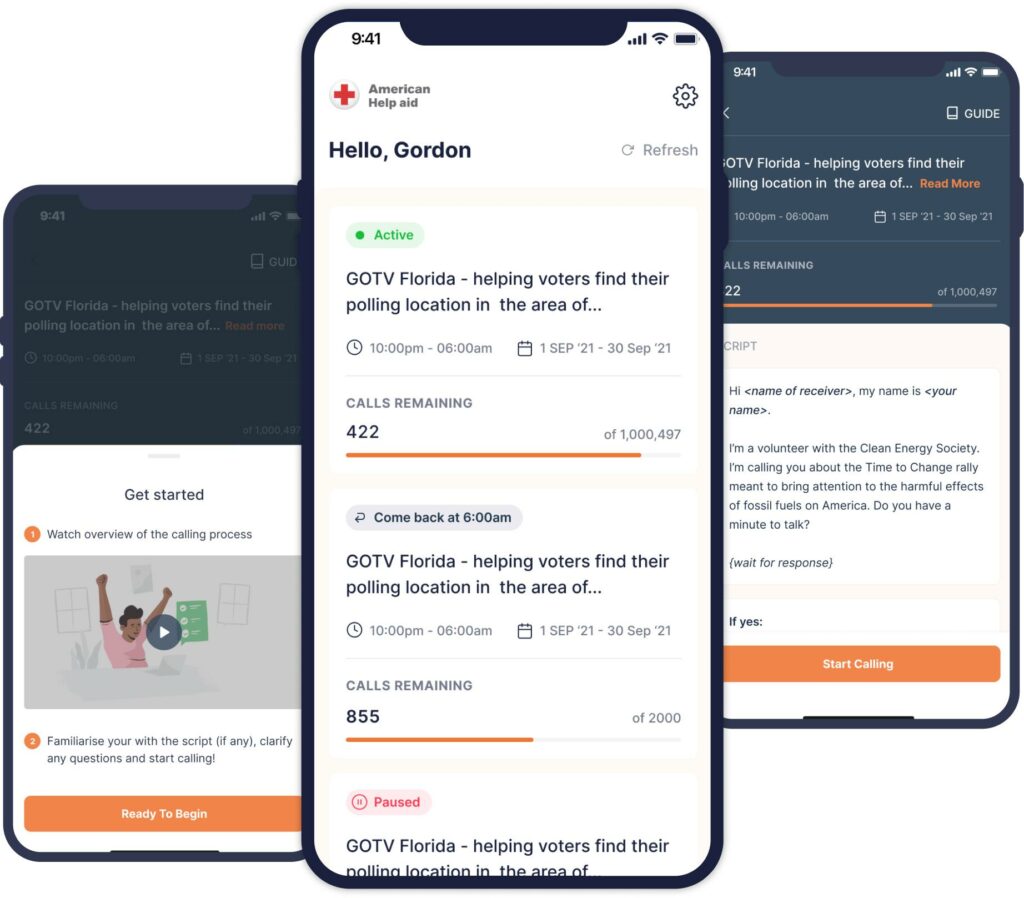 Agent Mobile App: Get your staff to join from anywhere with just a smartphone. With reduced costs and a more optimized calling and texting experience, get the best out of your campaigns.
This kind of personal touch helps converts leads into prospective buyers.
Real estate text marketing templates you can use
Effective real estate text messages should:
Be to the point
Include relevant information
Have a call to action
Be conversational
Here are some templates to help you start your real estate SMS campaigns.
Real estate greeting messages:
Thank you for showing interest in 239 City Lights! Schedule your property tour here: <business.com>
This is a 4 bedroom, 2 bathroom home with a built-in one door garage. Priced at $240,000.
Thank you for your interest in our properties. Reply to this text with your email, and we can send you the top ten recent listings in this area.
Thanks for your interest! Take a virtual tour of the property: link.com. Call us at 415-906-4642 for more details.
Real estate follow-up messages:
You are invited to our open house at 239 City Lights! Come join us between 9-12 AM on 23-9-2019
Hi Mark, The price for the property at 239 City Lights recently dropped from $240,000 to $200,000. Want to talk about it?
Hi Mark, we have an agent who can take you through the property. Are you still interested? Schedule your viewing appointment today: bit.ly/96h36
Here are some properties near 239 City Lights that you may also be interested in: <business.com>
Setting up SMS marketing for real estate using CallHub (it's easy!)

Set up an opt-in keyword and shortcode
To set a text alert system for real estate, you need to have just 2 elements:
A shortcode or 10DLC
An A2P 10DLC number is registered by an organization or business for promotional purposes. A shortcode is a 5 to 6-digit number that can be used nationwide. (Eg. 562498)
You can choose a long code if you want to:
Use the same number to make calls
Speak to your clients through peer-to-peer messaging
Use the same number for all promotions, 'contact us', etc.
Short code is easier to remember but can only be used for SMS messages. However, it is much faster than long code numbers, with the ability to send tens of thousands of messages at once.
So pick whichever works best for you.
Keywords
An SMS keyword is a word (or a combination of letters and numbers) that clients can text back to you, indicating they want to sign up for more messages, stop receiving messages from you or want more information about a specific offer, property, sale, etc.
Ideally, you should strive for 4-7 characters, as this will make it easier for clients to remember the phrase. Your keyword should be relevant to the content you'll be sending out and should immediately communicate the value clients can expect by opting in.
For example, 'Text "NEWHOMES" to 562498 for property updates and reminders.' The keyword is "NEWHOMES," and the number is "562498".
You can set a keyword while setting up your real estate SMS system and rent a short or long code. Once you finish setting it up, go ahead and promote your keyword and shortcode. When people text your keyword to the number, they will automatically be added to your database.
Set up your 10DLC
An A2P 10DLC number is registered by an organization or business for a specific use case. This number is vetted by carriers, and they are less likely to mark your number as spam.
As per the Cellular Telephone Industries Association (CTIA) guidelines, any text (bulk or one-to-one) from a business is considered under A2P (application-to-person) texting. All such texting campaigns must use a registered 10DLC number.
The Campaign Registry (TCR) manages the registration of 10DLC messaging campaigns, working with texting carriers. TCR also assigns a 'trust score' that dictates how many messages you can send per minute.
Registered 10DLC campaigns can get:
Higher Messages Per Second (MPS) by 'trusted' numbers than previously used long code numbers.
Increased deliverability, with fewer instants of being blocked or marked as spam.
Better responses from contacts since 10DLC requires consent to be received.
CallHub is now an official TCR partner so we can complete this registration for you. Sign up today to get started.
Let clients know about your keyword and shortcode
Don't forget to let clients know about your new SMS system by advertising it wherever you can:
By placing real estate text riders at each property that is for sale.
Promote your code on your real estate website and social media channels.
Send it out in your email communications with prospects.
Now you're all set to start sending updates straight to prospect's mobile phones
Send your first message
You can send messages through the SMS broadcast campaign on the Callhub dashboard. Click on the 'Create' button from your dashboard under 'Text Broadcast.'

We have added a mobile view to understand what the message would look like when you send the messages to your contacts.
Please Note: For a detailed, step-by-step guide on creating a text broadcasting campaign on CallHub, please visit here. We cover everything from scripts, sender ID, and responses.
Type out the message you want to send, for example, alerting prospects about an open house:
"You are invited to our open house at 239 City Lights! Come join us between 9-12 AM on 23-9-2019."
Here's how it will look: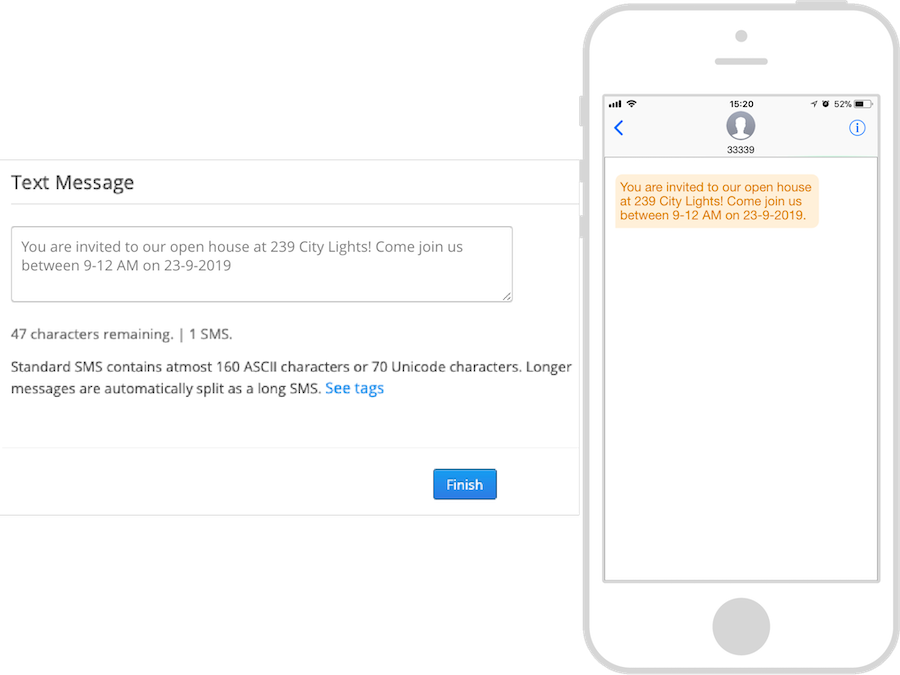 Choose the list with the numbers of the prospects you want to send the message to. Now schedule a time you want the message to go out and hit DONE.
Sending out a group text to prospects is as simple as that.
Unlike many other industries, real estate leads often start looking when they're ready to buy, so appearing in front of buyers at the right time is essential to any real estate agent's success. SMS marketing for real estate is ideal. When you're looking for homes, what are you more likely to do: check your email, or look at your texts?
So don't be left behind. Get started today.
Want to try out CallHub for your real estate client communication? It's easy to get started. You can try it out by signing up for free or talking to a CallHub expert.