The more you engage with customers the clearer things become and the easier it is to determine what you should be doing.

John Russell, President, Harley Davidson
Engaging with customers is key to a successful business. However, for effective engagement, it's critical to converse with them through a channel they are comfortable with.
So what are consumers comfortable with nowadays?
In recent years, texting has come up to become the most preferred channel of communication for people. In fact, messaging has become the topmost use for a smartphone. Here are what the text message statistics show: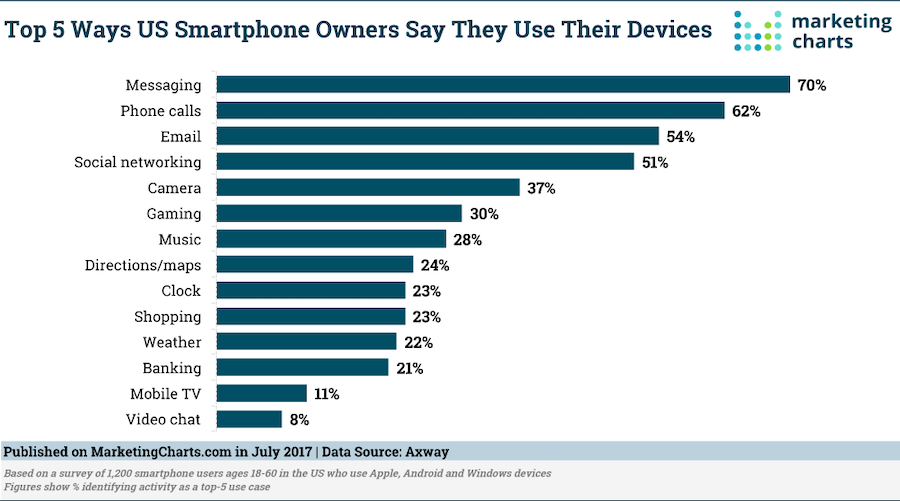 As the world moves towards text-centric communications, it's critical for businesses to adopt it too.
But to switch to a successful text marketing strategy, you need a plan.
This article will help you formulate a text messaging strategy for your business using crucial customer data insights.
Text message statistics by Demographics
1. Best time to send texts
62% of cellphone users check their devices for new messages immediately after waking up.
A majority of Americans follow the 9:00 am – 5:00 pm work schedule. This puts the average time people wake up in the morning around 7:00 am to 8:00 am.
This period, as is clear from the text message statistic above, is the best time for your business to send texts to customers. Typically, you could send texts including:
Promotional/sales offers: But remember, it is highly unlikely that people will visit your website early in the morning. So, reinforce the message with a follow-up later.
Appointment reminders or updates: Send reminders or product updates (like when a package will arrive) in the morning to give customers room to plan it for their day.
General engagement texts – This time is also perfect for sending messages to boost engagement with customers. This engagement helps you build a relationship with them, which later converts to loyalty.
Here's an example of texts that IEHP, a healthcare company, sends to their customers: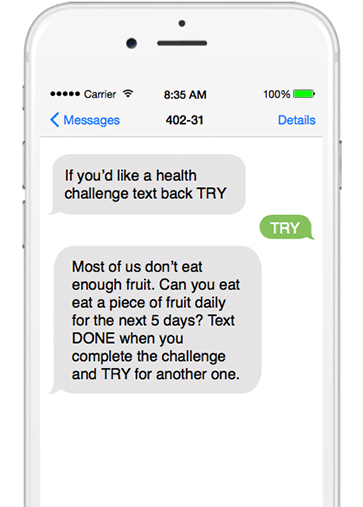 2. Popularity of text vs. social media
95% of people between 18-29 text, whereas only 90% are on social media. For ages between 30-49, 91% actively use texts, whereas only 82% utilize social media.
Texting is the #1 most used communication channel among Americans under the age of 50. As can be seen from the stats, it has a higher penetration than social media for the same age group too.
While it is recommended to use both channels to interact with customers, a business will find texting to be more beneficial because:
Social media comprises a lot of digital noise that can limit your reach. Plus, it also has algorithms regulating what is shown to people. Among the digital noise and the algorithm regulations, visibility on social channels reduces. Texting being personal eliminates this issue.
It's easier to segment and personalize texts to send through texting. Social media does not provide a lot of room for message personalization.
Advantages of texting: Why should you use SMS for business?
3. SMS Notifications are always ON.
82% of consumers keep SMS notifications switched on.
Hence, when consumers receive a notification, they are most likely to see it immediately. Given this practice, sending urgent updates through texts is more effective than any other channel.
These can include:
Details about their purchase (or request)
Promotional offers (with messaging to create a sense of urgency for maximum impact) etc.
4. Text messages are great for sending information.
31% of consumers said they opt-in to a brand's text messages so that they wouldn't need to visit a physical location or website or app for the latest updates.
These latest updates can include:
Opening a new branch at a different location
Introduction of new programs for customers etc.
Expansion of your services/product offerings and inventory
For example, Cariuma, a footwear company, sends consumers SMS broadcasts to inform them about a product being back in stock.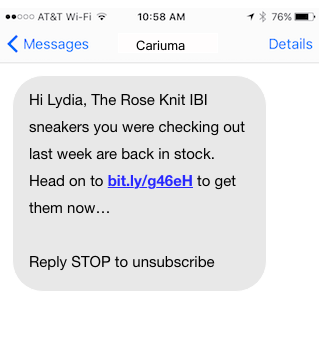 Since most consumers opt-in to receive such information, communicating it through texts promotes better engagement. Moreover, having another channel to spread your message gets you a better reach.
Related Reading: Texts Are The New Support Channel: How to Use SMS For Customer Service
5. Text message statistics show that texts can cut down costs.
Up to 95% of costs due to support calls can be brought down by texting.
A Forrester study shows that the cost of a customer support call is $15.5 per interaction on an average. Messaging, on the other hand, can lower the price to $1-$5, which is clear from this text message statistic. Moreover, automation can bring it down further to 25 cents.
Typically, P2P Texting solution is the best to offer thorough customer support through text. The process for it would be quite simple:
Firstly, you'll have to promote your shortcode through various channels that people can use to get in touch with you.

Then, consumers can send in their queries and other requests to it whenever convenient.

Finally, agents can get back to them on the same thread with a custom reply. For common queries, you can even have templated responses to save the agent's time.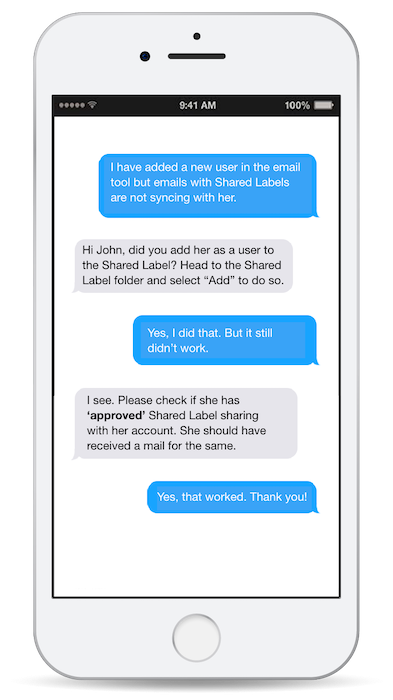 6. Texting increases communication efficiency.
97% of companies found they communicated with consumers more efficiently after launching texting initiatives.
There are two ways texting increases communication efficiency.
Firstly, with texts you can be assured that your message will reach the user. Social media and emails are flooded with marketing conversations which makes it difficult for businesses to stand out. However, texting, being a more direct channel, eliminates this problem and ensures that your message is noticed.
Secondly, since texting is easy, it provides agents/salespeople with more flexibility to:

Get back to customers faster as they spend lesser time on each request

Assist multiple customers at once with the help of templated responses
Text message statistics to prove the advantages of texting over other channels
7. Higher CTR than other popular channels
CTR of SMS is 36% on average, whereas it's a mere 3.4% for emails and around 2% for social media.
Email and social media comprise a lot of digital noise. It's easy for your message to get lost in this noise. Hence the lower click-through rate.
On the other hand, text messages are personal and have a 98% open rate. The more people see your message, the more clicks and ultimately traffic you'll get.
Given the high CTR, texting can be an excellent solution for businesses (and other organizations) to:
Get customer feedback (since more people will click on the link to the form).

Promote sales/offers and drive people to the store/website directly.

Send valuable and intriguing blog snippets and direct them to the website and lead them through the customer journey.
8. Better response rate
Text messages have a 45% response rate, whereas email responses are just at 8%.
It takes 90 seconds for an average person to respond to texts. That is because they are usually short and to the point. In contrast, emails have a lot of details, and replying to them can be a big task.
Hence, it's easier for consumers to get back to you via text than by email.
Given the high response rate, you can use SMS to make interactions more conversational for better engagement.
You can achieve this by leveraging P2P texting or automated responses to:
Get feedback through text wherein customers reply with numbers on a scale.

Send invites to new programs/services and trigger replies as per their responses.

Schedule appointments, meetings, or even phone calls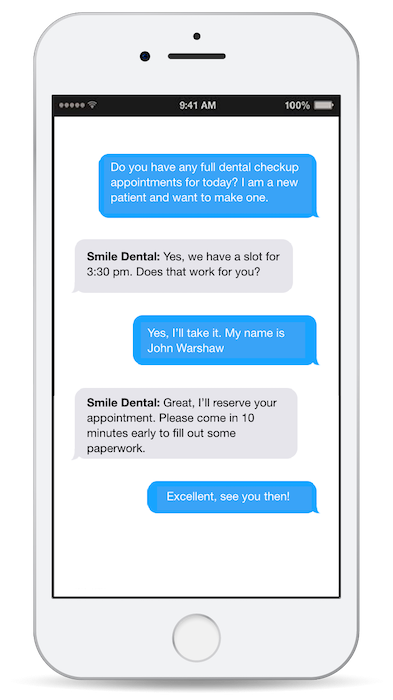 Note: Automated response solutions work well only if there are limited responses (typically numbers or small keywords) that can be received. For more personalized and interactive conversations (like in the example above), P2P texting is recommended.
Texting messaging statistics to shape your messaging
9. Consumers want coupons
77% of consumers said they opt-in to a brand's text messages to receive coupons or deals.
If a majority of your consumers want coupons through text, give it to them. As shown in the text message statistics above, they have a high open and click-through rate and can boost sales. Not just that, by giving them what they want, you also build customer loyalty.
There are a few ways you can enhance the impact of the coupons you send:
Use superlatives like "Last day," "Offer Ends Today," "Only first X visitors," etc. in your messaging to create urgency. It compels people to act quickly.
Leverage a referral program to increase your database. Encourage customers to share the message and get others to sign up to get better deals.
Tie the promotions to special events (birthdays or anniversaries) to give customers a more personalized experience. You can achieve such personalization through list segmentation.
>> Related read: List segmentation in 2020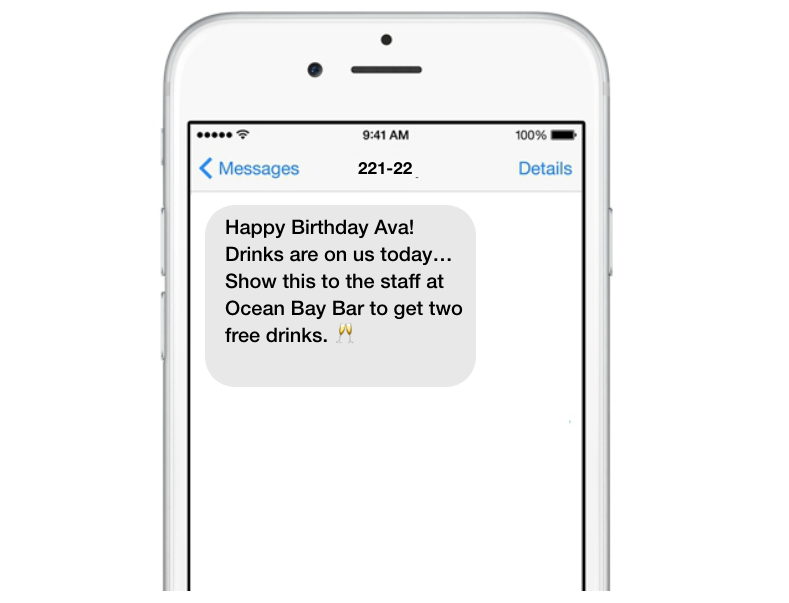 10. People pay more for texting support.
As many as 66% of consumers say they would pay more for something if it were supported by a mobile messaging channel.
Typically, consumers hope to get the following services through the mobile messaging channel:
Scheduling appointments/reservations

Filing complaints/raising tickets

Customer inquiries and support
To effectively implement these, you will need to employ a P2P texting solution. You can promote a shortcode (on your website/other channels) wherein customers can drop their requests. Once they do, your agents/executives can get back to them with relevant replies.
Here's an example of how Uber offers customer service through texts: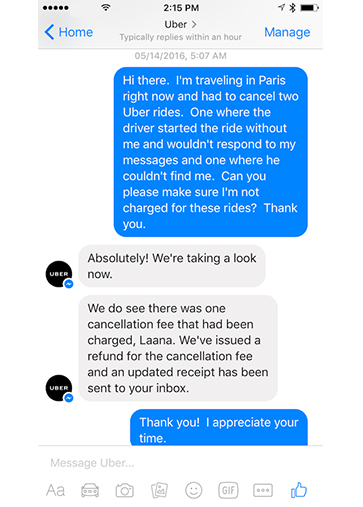 If you want to build a good relationship with your customers, you need to ensure that they can interact with you comfortably. Texting is something they find convenient. So using it to engage with them definitely works to your advantage.
11. Engaging content performs better.
Engaging content (like an MMS) generates conversions 70% of the time compared to passive content which is at 36%
More engaging content boasts higher conversions. MMS marketing has proven to make text campaigns more interactive.
A study showed that MMS had a 20% higher opt-in rate than SMS. The same study also concluded that users were 8 times more likely to share MMS than plain texts.
However, adding a visual to every text may not make sense. An MMS campaign works best when:
You wish to show a product to intrigue customers, typically when sending product updates (or any other details).
Making special announcements or sending valuable deals for them.
Sending valuable information like product tips or blog excerpts (as mentioned before) to direct them to the website.
Here's an example of a restaurant using an image to grab the attention of the customer and redeem a deal: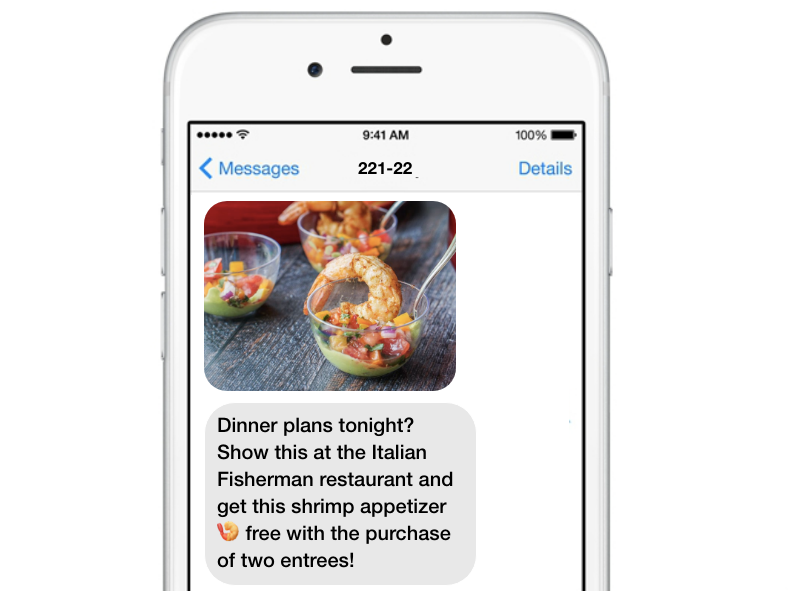 To conclude:
While texting presents so many opportunities and advantages for businesses, it's surprising to see that:
12. About 61% of marketers still don't use SMS.
13. 65% of brands who use SMS don't have a formal strategy in place for bulk messaging
If you've not done it already, right now is the best time to implement SMS marketing for your business.
A text messaging platform like CallHub can help you get started for free.
Apart from boosting engagement and strengthening relationships, you can also gain an edge over your competitors (since most of them might not have adopted it).
All the best with your campaigns! Hopefully, the text message statistics and tips above help you formulate a bulletproof strategy for texting customers.