A 2016 market survey by AT&T studied how mobile phone users prefer to communicate with businesses. 85% confirmed they prefer receiving text messages rather than voicemails or emails. The swift, informal, and personalized nature of receiving customer service over SMS is what makes it so attractive.
Take the below image, for example: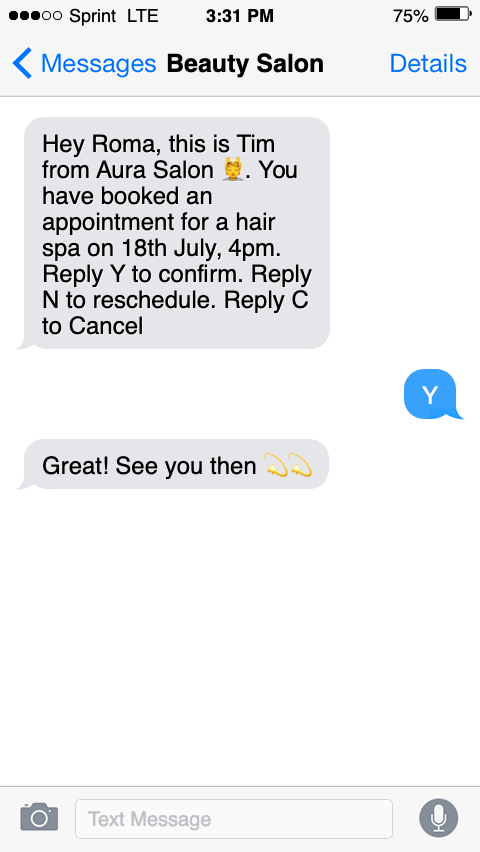 The conversation is quick, informal, and gets the job done without any hassle. Unlike a phone call, this message is hard to miss, even if Roma were busy when it arrived. It makes work easier on both sides!
And yet, 65% of brands haven't adopted a formal strategy to use SMS as a customer service tool. It's a lost opportunity if you aren't where your customers are.
Let's understand why SMS must be in your customer service toolset.
What are the benefits of using SMS customer service software?
More people own phones that support texting than ever before. With Americans sending an average of 94 messages per day, there is no doubt that texting is a popular form of communication. By including this in your business, you show your customers that you are listening where they want to talk, and you are speaking with them the way they want to listen!
Here are the reasons you should use SMS for customer service:
Consumers want customer service over text
Texts have a high open and response rate
Customers prefer texting businesses over emails, calls, or face-to-face interactions
Text programs are great for big as well as small businesses
Texts let you collect relevant information about customers
SMS customer service software is cost-effective
Let's look at these points in detail.
1. Consumers want customer service to happen via text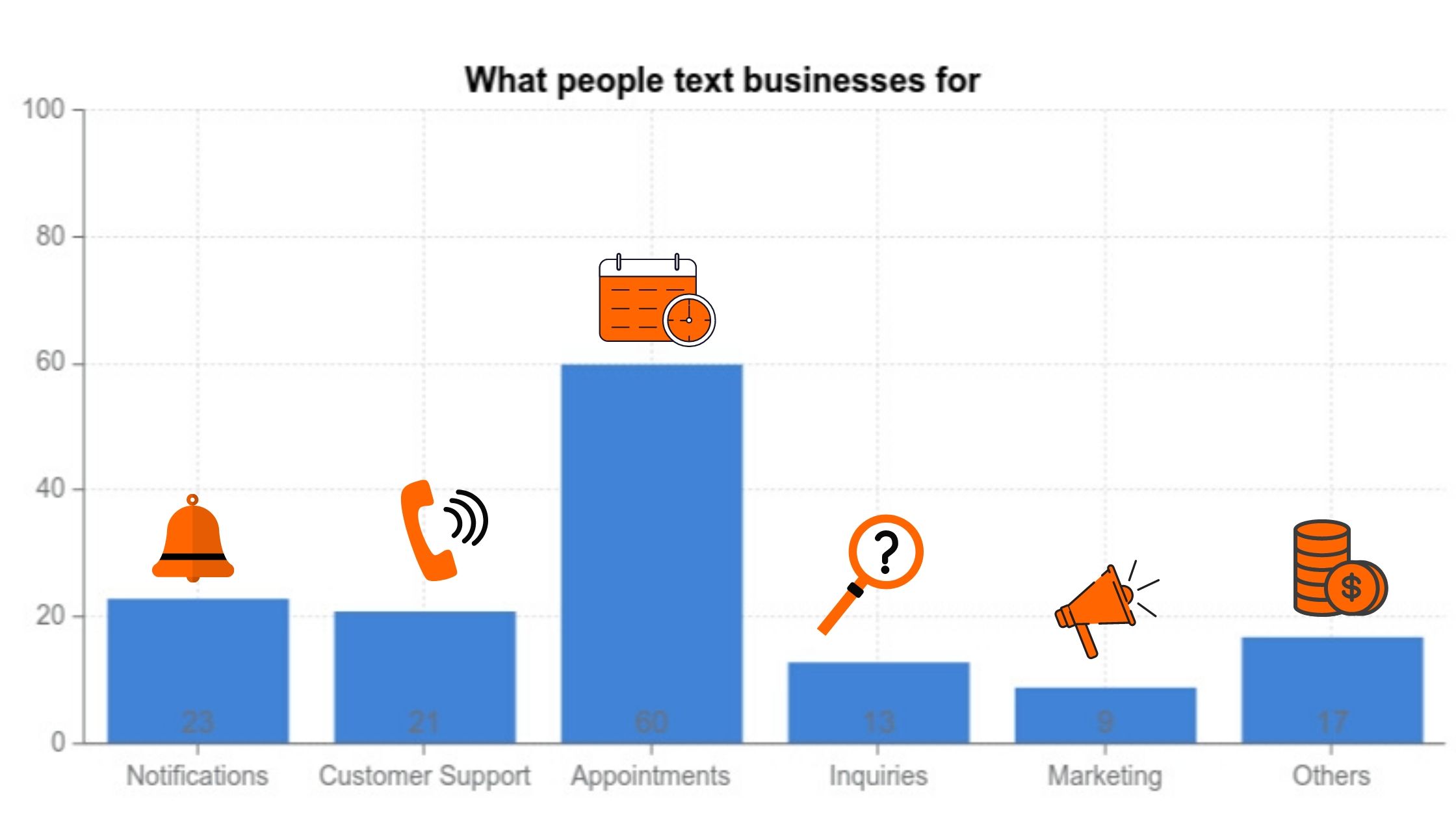 Only about 14% of calls made to businesses are answered without being placed on hold. Customers naturally want a more reliable way to address their queries. SMS services can be that solution.
In fact, about 78% of survey respondents wanted to communicate with businesses over SMS. By incorporating customer service SMS in your toolset, you are offering consumers what they want.
Related Reading: Why Businesses should combine texting with call center campaigns?
Two essential tips for your SMS customer service program:
1. Collect explicit permission from customers before sending texts (SMS opt-in)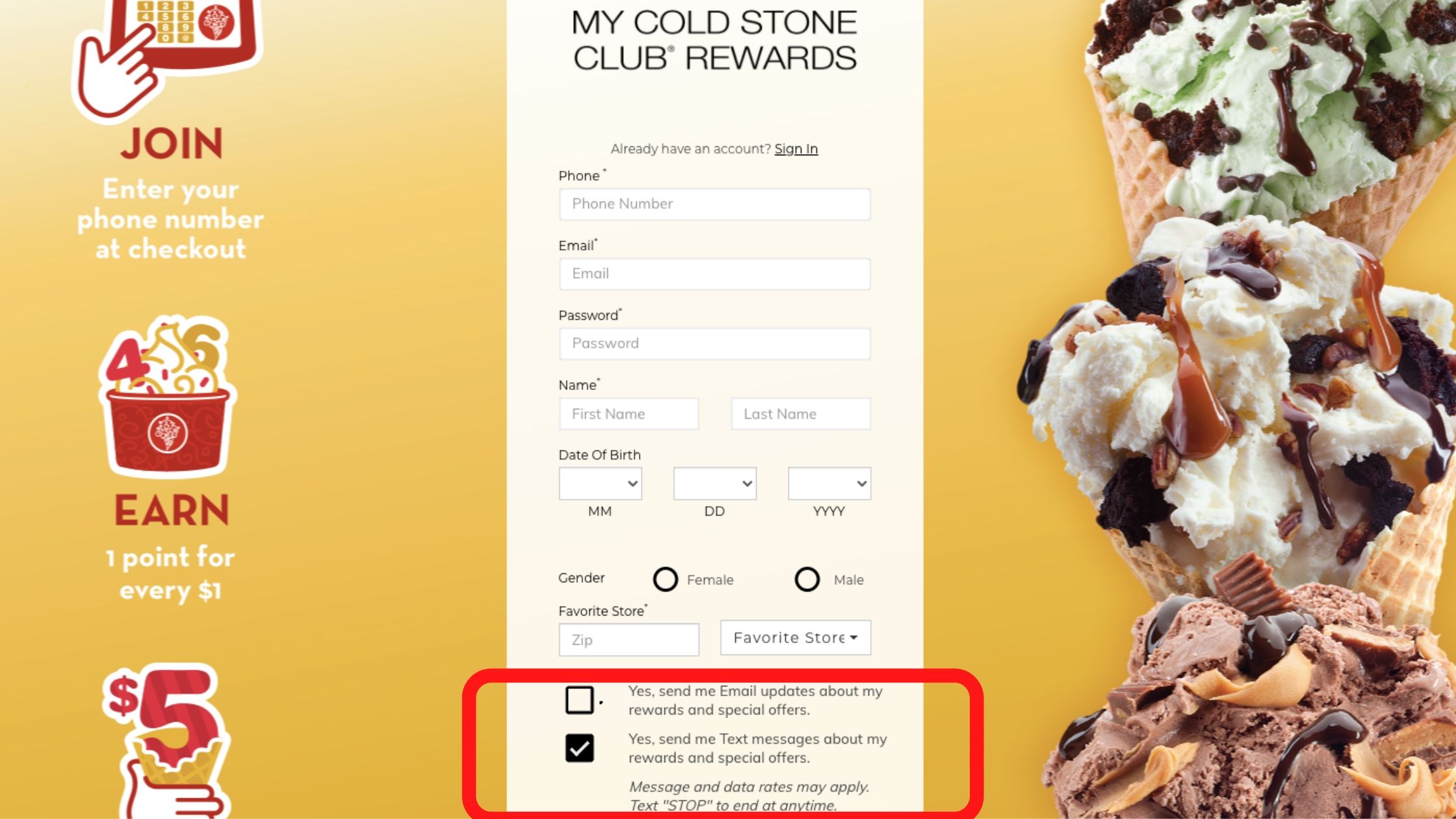 2. Make it easy to unsubscribe or stop receiving messages. Shortcodes like STOP, END, QUIT, or CANCEL can be used to give customers an easy way out. For more details on how to stay compliant with texting campaigns, read here.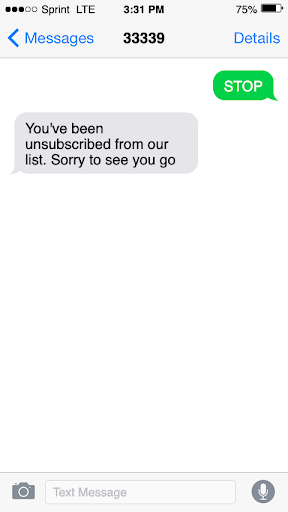 2. Texts have a high open and response rate
Messages like an emergency alert text or an appointment reminder are time-sensitive. As a business offering customer service, you need a near-perfect guarantee that these messages are read. Texts give you this with an incredible 98% open rate.
People don't just open texts, if given space, they also reply. Texts have a 7.5x higher response rate than emails. Why is that important for customer service? Because two-way conversations are pivotal in earning trust. In fact, the 2020 Customer Engagement Report form Twilio puts authentic, two-way communication as one of the top priorities for customers.
3. Customers prefer texting businesses over emails, calls or face-to-face interactions
According to a 2019 study by the State of Texting, here's the difference between SMS customer service Vs. emails:
| | | |
| --- | --- | --- |
| Metrics | Text Messages | Emails |
| No unreads | 74% of consumers said they have zero unread messages | 17% claimed to have no unread emails |
| More than 7 unreads | Only 4% fall in this category | Over 50% say they have more than 7 unread emails |
| When it comes to responding to businesses within an hour | 71% reply via text messages | 41% respond via emails |
| Preferred mode of communication | 67% opted for texts | 33% opted for emails and other modes |
That's not to say that customer service must only use SMS. The idea is to accommodate the preferences of a diverse consumer base.
If you don't already know how a customer prefers talking to you, initiating the conversation with an SMS is a safe bet. You can start by asking their preferred channel. Like so: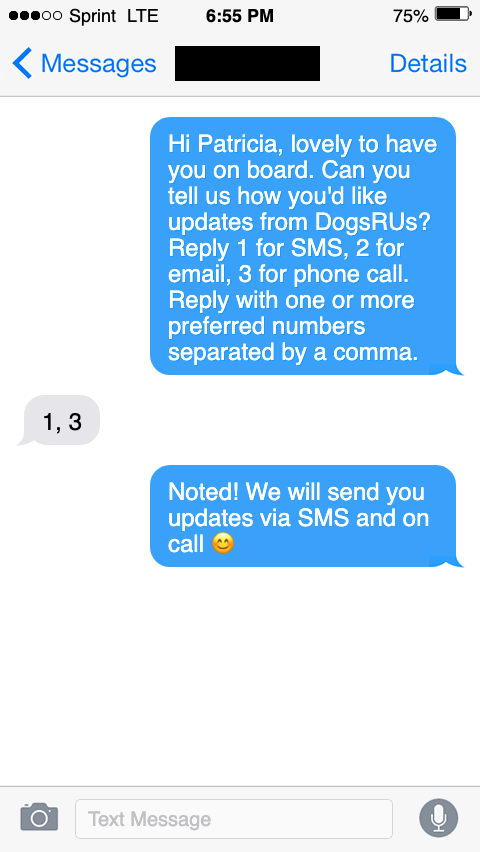 4. Text programs are great for big as well as small businesses
When it comes to customer success, small businesses can ace personalization. They have the bandwidth to have one-on-one conversations with their customers efficiently.
Big businesses, which have a much larger customer base and have to rely on automated broadcasts, which may make customers feel less valued.
Business texting software that enables peer to peer texting and SMS chatbots (aka SMS opt-in) make this process scalable for big and small businesses alike.
| | |
| --- | --- |
| A P2P texting tool: | An SMS opt-in tool: |
| Can send up to 3600 texts per hour | Is initiated by your customers when they opt-in |
| Lets you compose personalized texts, polls or surveys | Enables automated conversations |
| Lets you collect data as part of a 1 one 1 conversation | Helps you collect information about customers and supporters through automated prompts |
| Does not require explicit opt-in since each message is sent manually | Requires subscribers to opt-in |
| Learn more about peer to peer texting | Learn more about SMS chatbots |
5. SMS customer service software is cost-effective
One SMS from a software provider like CallHub costs around 4 cents, and one MMS costs 10 cents.
For reminders, surveys, and such objectives, texts thus become cost-effective.
Over 40% of respondents in a UK survey said they missed an appointment because they forgot about it. A reminder text could have helped these individuals follow through with the appointment and helped the business with revenue.
An SMS costs a few cents and is a small price against the revenues of missed appointments.
Of course, this is just one example of how SMS customer services are cost-effective. Fundraising appeals, GOTV, product launches via SMS all have a high return on investment.
Related Reading: Telefundraising and Text Message Fundraising (Strategies and Tips)
What can you do with SMS customer service software:
Texting is no longer just a means to stay in touch with friends. It has crept into most forms of communication- formal as well as informal. One text is enough to lodge a complaint, get offer updates, receive event invites, etc. Using SMS for customer service, you can do the following (and more!)
Troubleshooting customer problems
Send out reminders
Help customers discover new products and services
Keep customers engaged via polls, surveys
Onboarding and personal assistance
Initiate conversations (to keep in touch, especially during the pandemic)
Let's understand how:

1. Troubleshooting customer problems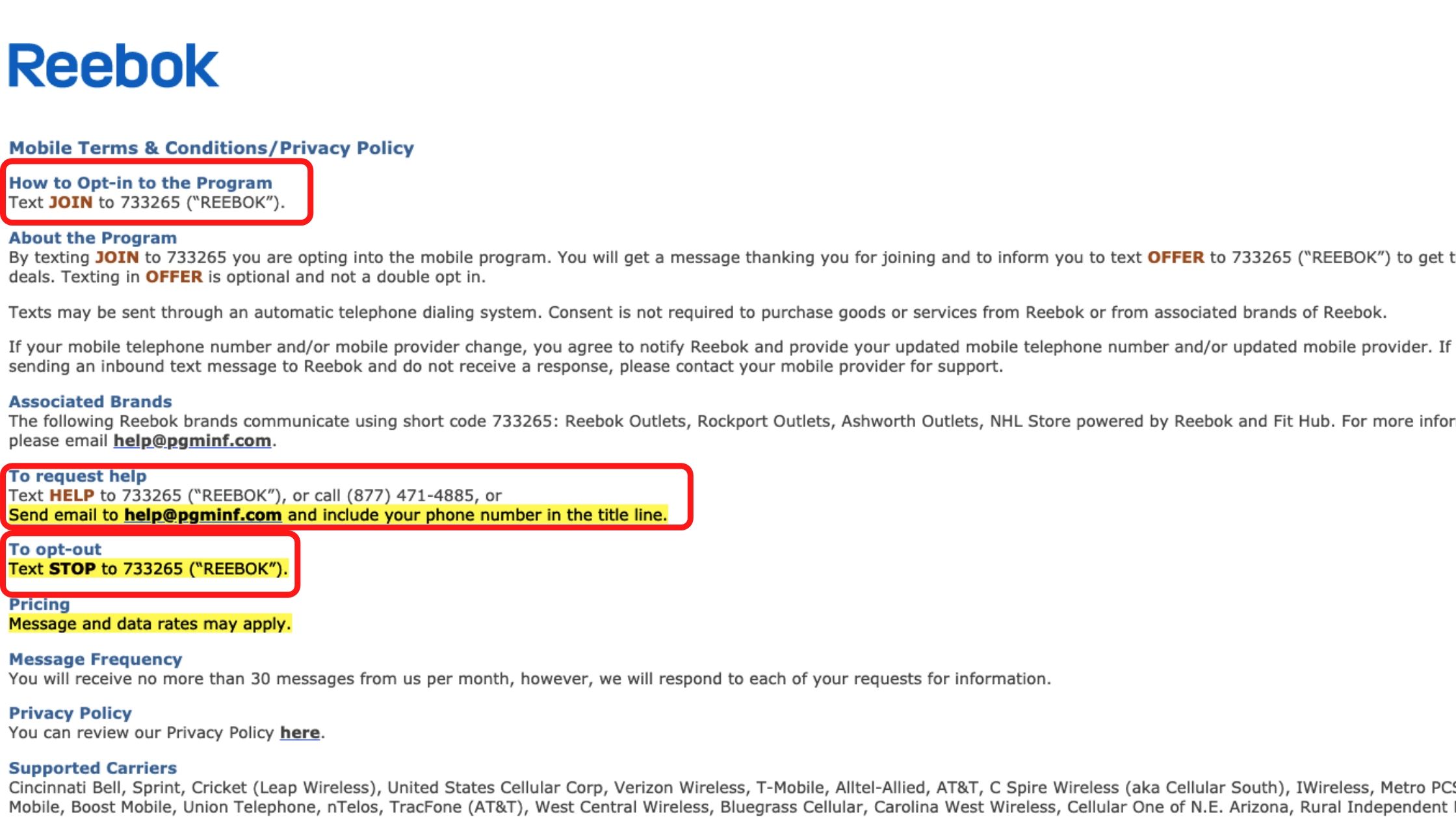 Customer feedback not only makes your supporters feel valued, but it can also help you improve your products and services. This is why it is crucial to have a conversation about grievances with consumers.
Texting makes this easy.
Ask customers to opt-in to your support system by SMSing a dedicated word to your shortcode (like HELP or PROBLEM)
Try to set codes for the various issues they may have
Provide an "other" option to let them elaborate on their problem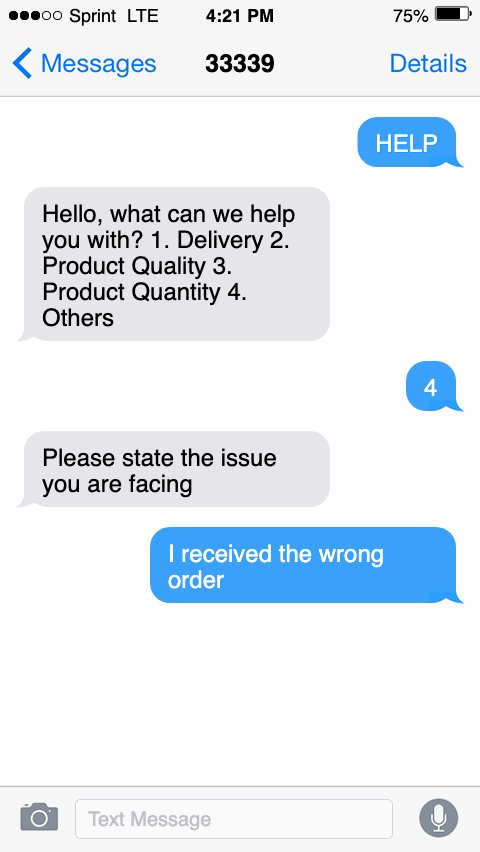 2. Send out reminders (GOTV, events, deadline to fill surveys)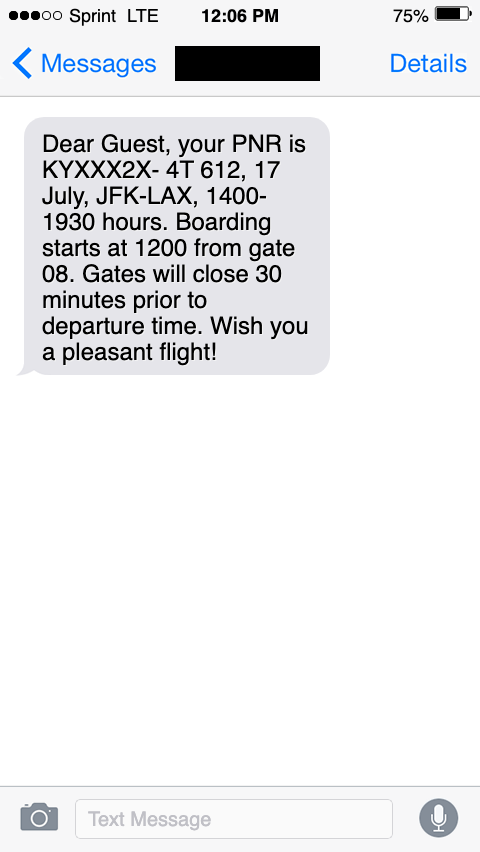 A reminder for an event, to vote on election day or to keep an appointment is always helpful. Sometimes it reassures people that the event is still on (especially in cases where communication about the event was minimal). In some cases, they may have forgotten about it altogether. I know I feel reassured when my airline sends a reminder text about the flight schedule.
Adults who get text reminders voted a 3.1% higher rate than those who did not. Similarly, texts can help you push customers or supporters to attend an event, fill out a survey, or even cast their vote!
Download to Read: Get Out The Vote With Text Messages
3. Help customers discover new products and services
Boomers spend 30 minutes texting, and millennials spend 48 minutes daily. So one of the best ways to get their attention to your new product or service is to text them about it!
For customers or supporters who have already registered their mobile number with you, texting the launch of your latest product is a cost and time-efficient way to advertise.
Sending a bulk MMS text with attractive pictures and videos can also give a further boost to your campaign.
Related Reading: Difference between MMS and SMS – All You Need to Know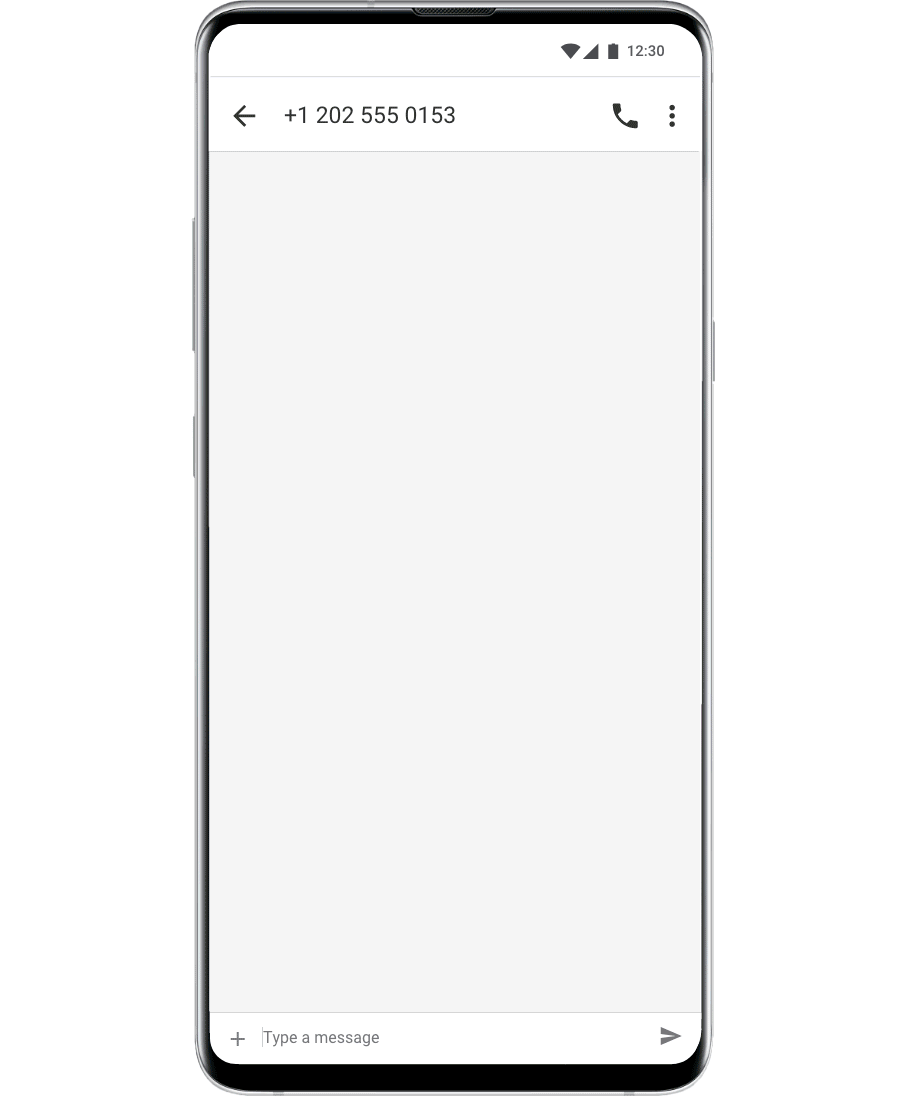 Remember to include the description in your first message- like the date, time and nature of the event in the above example
Motivate people to take action by clearly stating what you want them to do after reading the message followed by a website link or "buy now" link (texts have over 30% click-through rates)
4. Keep customers engaged via polls, surveys
Food delivery apps enrich the experience by sending a survey text almost instantly. I don't have to log in or scour the website or app to share my thoughts about food delivery.
Such polls and surveys keep users engaged and make them feel valued. Make sure your text blasts consist of such polls regularly and design them in such a manner that answering is easy and quick.
5. Personal assistance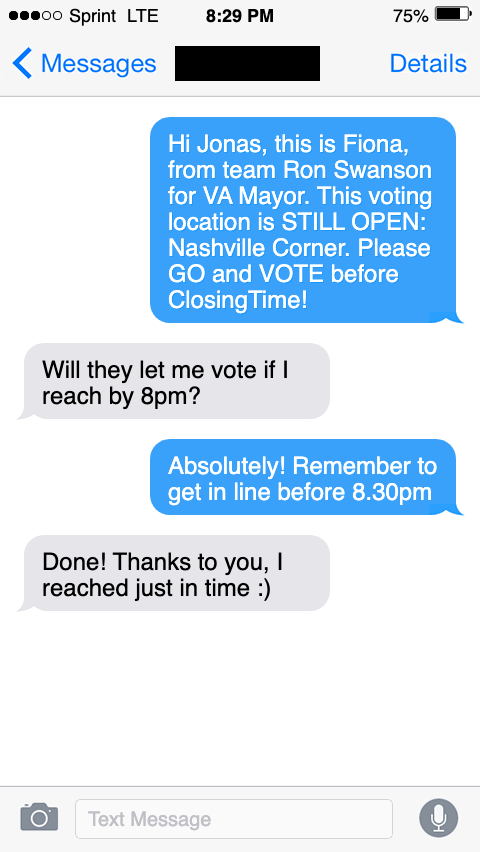 Some conversations need to go beyond a 5-star rating or a quick survey. GOTV is a good example of messaging that requires you to really listen to your supporters, understand their needs, and reply accordingly.
For instance, in the example above, the campaign volunteer made efforts to have a personal conversation with the supporter. The interaction was clearly time-sensitive, but with personal assistance, the work was done, and the vote was cast.
Tools like peer to peer texting lets campaign volunteers and staffers engage hundreds of people at a time in personal 1-1 conversations.
For more details about this SMS Customer Service tool, follow this link.
Tips to help you in using SMS as a customer service tool
1. Set a casual, approachable tone to the conversation
One reason people prefer customer texting service over emails is the informal tone it sets to the conversation. The character limit of texts discourages the use of greetings and other ornamentation. Plus, texting has also given way for wide use of abbreviations and emoticons to get your message across in a compact manner.
Add them to your messages organically to set an informal, approachable tone to your conversations. Read our guide on text abbreviations for further tips.
2. Use short, easy to understand codes to start a conversation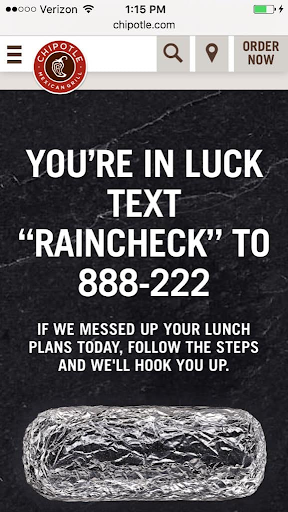 In early 2016, Chipotle had an all-hands meeting requiring its outlets to be inoperable for a while. As an apology to have "messed up lunch plans," they asked customers to text "RAINCHECK" to the Chipotle shortcode (even if you logged in to their website, you were asked to send a text).
A follow-up text asked people to subscribe for regular updates about discounts and even job offers.
Important lessons from the hit campaign:
Set a conversational tone
Use short codes that convey your message or highlight your brand
Offer incentives for the subscription that people will love
Related Reading: Short Code Texting – How to Get Started
3. Keep it to the point
Character count is one reason to keep your texts short. But the other major reason is our diminishing attention span.
The bad news is- technology has made our attention span shorter. From the earlier 12 seconds, we are down to just 8 seconds.
The good news is that we no longer need long emails to communicate. A short text will work.
Make sure your messages are to the point, so your customers read it thoroughly without signing off.
4. Go for message software that helps you put all information in one place
It's difficult, time-consuming, and confusing to manage information when it is scattered across multiple tools.
If you're using a contact management software, make sure that your SMS customer service tool can share data with it. Text messaging Software tools like CallHub let you integrate directly with popular CRMs like Salesforce and NationBuilder or use a third party connector like Zapier to share data. New subscribers, details of customer conversations, and purchase history all sync up without having to manually import and export spreadsheets every day.
Texting has become an integral part of our communication now. However, most brands are yet to adopt a formal strategy for customer texting service. SMS provides an organic platform to keep in touch with your customers and reduces efforts on both sides. Try it out.
Feature Image Credits: Clay Banks/ Unsplash