Yard Sign Template Designs for your Political Campaign
September 18, 2017 - 5 minutes read
For as long as they have been used for campaigning, the humble yard sign and the simple green lawn are still the turf of the mightiest political leaders to wage their electoral battles. Every suburban lawn and strip mall carries them during election season. Volunteers use it to show support and solidarity for the candidate of their choice and this simple campaigning tool hasn't changed much over the years. A basic yard sign typically consists of the candidate's last name displayed in bold and the office the candidate is running for below it in slightly smaller font size. They have to be visible from a distance to drivers passing by at fairly high speeds so the content has to be minimal and the font size large.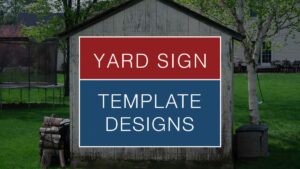 With so many look-alike signs out there, the difference in winning and losing could come from standing out and catching the eye of the voter. Here are some suggestions:
Give context
With just the names and positions displayed, and cars whizzing by, it is likely a potential voter could forget the names. However, at large intersections, while waiting for the light to turn green the driver can look away from a road for a few seconds. This is a good place to depart from the minimalistic design and add an extra line or two. A tagline with pun/humor can bust the stress of a busy day. The human mind is designed to remember stories and experiences. Something that associates the candidate with a witty line will leave an impression.
Attracting the attention of co-passengers
Even if you cannot get the driver's attention at all times, there is potential to influence the other passengers in the car with a message. This is another opportunity to deviate from the standard choice of name and position combination. This message could be a number to text on and connect with the campaign team, link to the campaign website or a short line about the greatest achievement of the candidate, for example, Michelle… Champion of the working classes.
Choose the right fonts and colors
Campaign experts recommend using a certain combination of colors that work best and no more than four colors on a sign. White signs with standard red and blue colored text are most common and can be spotted on the green turf from a distance. But in order to set yourself apart, brighter and bolder colors can be used. Black stands out quite well especially with a bright color like yellow; whether used in the background or text. Purple and green complement white and yellow as background colors too. The font size should be a minimum of 3" or more.
Customize based on location
Posting the same sign everywhere may come at a reduced cost when produced in bulk and takes less effort, but with a little extra thought, a more everlasting effect can be achieved with customized designs for specific areas and demographics. By sticking to the conventional format in high-speed zones where visibility is low, more elaborate signs can be designed for low speed and pedestrian friendly zones in the city.
Play with shapes
How about leaving the classic rectangular sign behind?
There may be restrictions on sizes imposed by local authorities and private communities so they have to be taken into account. Some examples are a circular sign, a party symbol or a picture cutout of the candidate.
While there is no harm in playing it safe and adapting the conventional yard signs with time and budget constraints in sight, wherever possible a little creativity and design can also go a long way.
Tags:
campaign message
,
Tips
,
voter engagement
,
yard sign