You and your staff are looking to pull together the written content you need for your website. Maybe you're embarking on a new web design project or your current site is due for a content upgrade (never a bad idea by the way!), but you want to be sure that this copy for your website resonates and engages. Well, you're in the right place! We've got our breakdown of how to keep your content top notch, so let's get to it!
The first question you want to answer is who you're writing for. We'll call these your "personas." The terms buyer persona and donor persona are big ones used in the marketing world and they help to define your audiences beyond simple demographics. Along with age and location, you'll want all the details on these folks. Are they married? Do they have children? Do they spend time in certain social circles, whether online or in person? What are their daily challenges and how can you help alleviate them? Answering questions like this, along with any others you come up with, will only allow you to detail these personas carefully so you know just how to relate to them with your content.
You might think you're limiting the pool, but you're selecting the most engaged users possible. It's better to have a smaller amount of engaged users than a giant group that don't actually care about your awesome work!.
Next, you'll want to pin down your nonprofit's tone, style and voice. Let's throw it back to middle school English with a little refresher course on these writing essentials. . Think of your voice as how your org would come across in real life but in writing. Maybe you work for a domestic violence organization which calls for a more serious voice as opposed to a performing arts group that would maintain a more casual and fun voice. You can think of it as your organization's personality, something that may shift in different situations but ultimately remains consistent. The big must here is to ensure that your voice aligns with your already defined personas.
Time to tackle tone. Your writing tone will shift based on the situation but your already defined "voice" will stay the same. Personality, remember? The way you address your donors is most likely different from the way you speak to your volunteers. You need different things from them and, therefore, change your tone a bit. You can think of this like spoken tone which changes throughout the day depending on who you are addressing. Your larger voice remains the same (that is why these different groups love your organization), and you only change your situational tone as needed.
Now let's take a look the last of these three ideas, style. This is the part where you will define those smaller details of grammar, naming references and even capitalization. The ideal tool to maintain these decisions long term is to create a brand style guide. This is a space where you will define things like how to use not only your logo but also your writing rules, too. You'll make organizational decisions on how to properly capitalize your name and whether or not to use the Oxford comma. Your grammar battles with coworkers will immediately be settled when you have something to reference.
Beyond defining voice, tone and style, an important aspect of writing for web is scannability. Each section must be split up into small sections of text and short paragraphs so that users can skim and still understand the information. Splitting lists up into bullet points always helps, and adding bolded section headers allows you to see the separation of sections without having to read much to find out. Your users usually need specific information from you and making it easier for them will improve your overall UX.
Adding content with a clear voice that is structured properly not only helps users navigate your nonprofit website, but it also boosts your SEO ranking. Google's crawlers take into consideration how relevant and presentable your content is. Don't let your nonprofit fall rungs down the search engine ladder by cutting corners on content creation.
There are infinite writing tips that can help to make your website content the best on the Internet. But start out with these ones in mind as you begin putting the initial pieces together. Remember, you're writing for a website that acts as the digital arm of your nonprofit extending into the virtual world of web! Let it reflect you and all the good you're doing in your community!
---
Author: Kyle McClure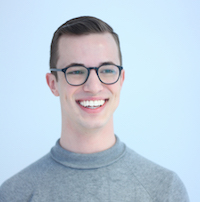 Kyle McClure is the Growth & Partnerships Manager at Elevation, a full-service nonprofit web design agency. Kyle, a born and raised Pittsburgher, started in the nonprofit world during college when he interned for some of the Burgh's favorite performing arts organizations. He began at Elevation as a project manager in 2016 with experience ranging from customer and donor relations to PR & marketing. A culture junkie, you can find Kyle planning trips, trying new restaurants, and searching for shows.