While we are confined to our homes during the coronavirus pandemic, the world still turns. The causes you are working on are still important and the problems that exist are still pressing. Continuing the fight means adapting to the times we live in.
For your organization, running successful campaigns and organizing people online requires changing how you work.
Around the world, we are seeing organizations rapidly adopting and developing a remote culture. Those who fail to do so will be seeing diminishing returns from their staff and volunteers. A reason for this failure is reluctance. Why spend time and resources changing how you work when all of this will blow over in a few months?
Like with most things, we need to think in the long term.
Once the pandemic is past, you will find that the tools and processes you may be forced to adopt now can help you organize better even when things are back to normal.
Here are some things to keep in mind when taking your campaigns online.
Build a digital-to-volunteering funnel
Typically, volunteer recruitment for organizations involves targeted recruitment offline (canvassing and at events), and broadcast messages online through social media.
The percentage of people who convert after seeing a broadcast message will be small.
When moving online for volunteer recruitment, taking supporters through a funnel, with progressively higher barrier asks is going to be more effective than opening with a volunteering ask. This gives people more time to become informed about your cause and build trust.
Your funnel could be as simple as:
Asking supporters to sign a petition in support of your cause.
Later, targeting them with volunteer asks. These asks can be in the form of text messages or emails.
Keep in mind that the more personal your communication is, the more effective it will be.
350.org used text messages in 2019 to recruit volunteers for their climate rallies. 22% of the supporters they reached with engaging text messages agreed to volunteer.
This increased volunteer capacity will allow you to send out more volunteer (and other) asks at the later stages of your funnel, much like it did for 350.org: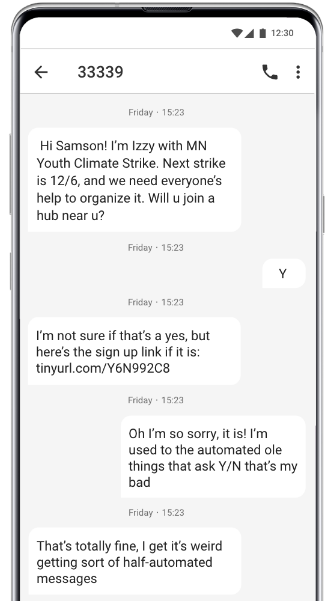 Even a small percentile increase from social media engagement to volunteering could mean hundreds or thousands of new volunteers for your cause.
Start an online community
A physical workplace helps people form the connections they need to function as a team and relate to your mission.
If your staff and volunteers are working remotely, you need a way to fill that gap.
An online forum, or a workspace/chat tool like Slack or Discord can do just that. Since most of these tools are free, organizations won't have to worry about costs when implementing them.
While most organizations use chat tools already, when working distributedly, they become essential.
For example, the ability to set up different channels allows flexibility for teams.
If you are running a distributed campaign, Have separate channels for staff and volunteers operating in each local region, so they can independently coordinate their activities. Create another channel specifically for campaign updates.
The Bernie Sanders campaign set up different Slack channels for volunteer teams operating in different stats, allowing to better coordinate their calling and texting campaigns.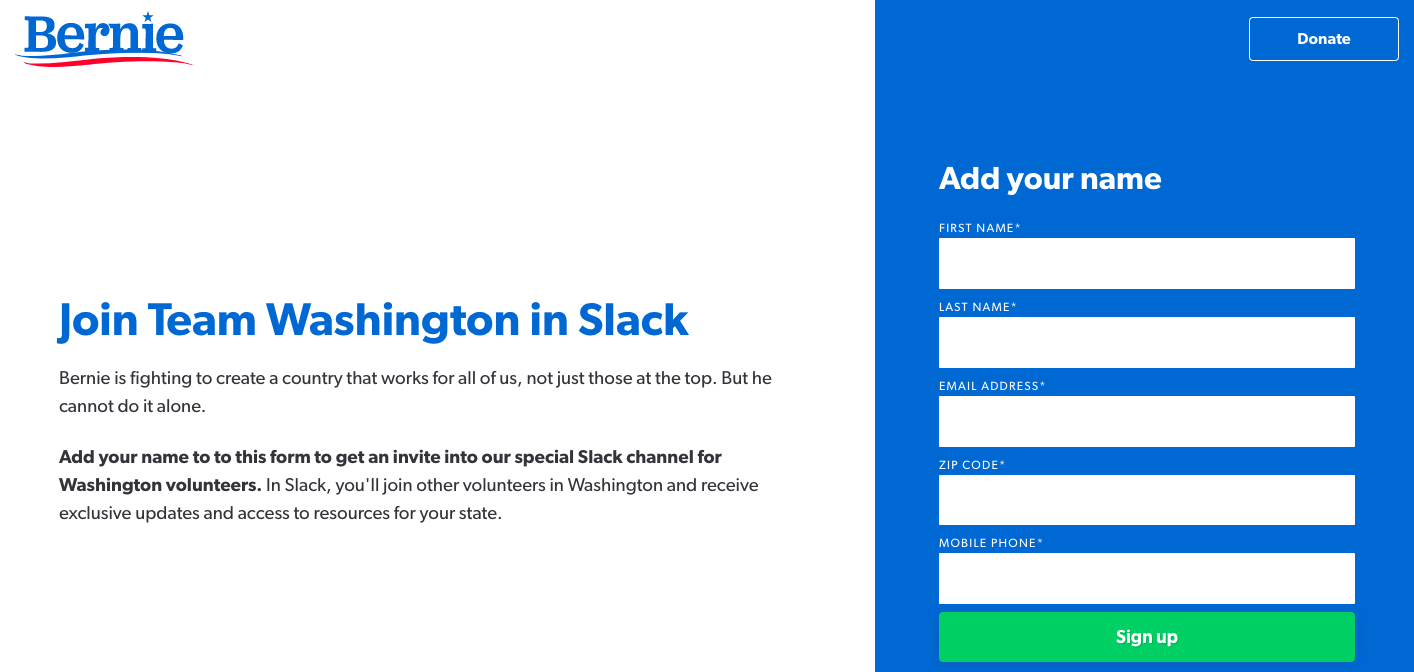 Keep staff updated with online meetings
An online workspace can fulfill the need to keep staff and volunteers in the loop, but what if you need to host a training session, or let them know about an important update?
The alternative to getting the relevant people into a physical meeting room is to have the meeting online, through a video conference. Host online webinars where you keep volunteers and staff updated, answer questions, and accept ideas.
Phone conferencing is an option, especially if some team members don't have a strong internet connection. Some video conferencing tools (like Zoom) have dial-in as an option for meetings.
With that being said, a session is more interactive if people can associate a face to the person who is speaking. If you are hosting a webinar or a training session, you will likely need to share your screen as well.
Thankfully, there are plenty of options when it comes to video conferencing tools, including Zoom, GoToWebinar, Google Hangouts and Slack.
With the Covid-19 pandemic, organizations around the world have started adopting online meetings for communication.
Climate Advocacy group, Extinction Rebellion used Zoom to host a series of online workshops. By taking advantage of online video conferencing, they are able to continue having conversations about the issues that they are fighting for.

Insert yourself into the conversation
The word about your organization and its mission spreads when you put yourself out there. Interacting with attendees at events and conferences are ways to put your brand on the map.
When you are online, the equation shifts. You need to go to where the conversations are happening. That means proactively engaging people online.
Look for conversations that relate to your cause and find ways to naturally add value to them. Identify the most important people (aka influencers) in your space and reach out to them. If your cause is getting media attention, find the right people to talk to get air time.
While pitching your organization is good, especially when you find a good opportunity to do so, it isn't necessary.
In this example, Amnesty International reached out to an influencer to spread awareness about racism during the coronavirus pandemic on Twitter:
While it's important to have your official handles active on social media, like Amnesty International, it is also a good idea to make sure your supporters are too.
Have supporters establish a social media presence
People are often more effective on social media than organizations. It's easier to relate to an actual person than to a brand. While your organization's social media handles are still important, take advantage of those of your organizers as well.
Start by recruiting and training your staff and organizers to grow their individual social media followings.
Here are a few ways an individual can kick start an online persona:
Post content frequently and consistently. The more you post, the more your presence is noted.
Identify people who are likely to follow back if you follow them.
DM followers with an action you want them to take, for example, signing a petition.
Tweet at, or DM influencers to get them to talk about your mission and your organization.
When each of your supporters have their own presence online, they also build their own unique circles. That means the chances of people hearing about your organization are much more likely. Take a look at Sprout Social guide on getting followers online.
Acknowledge mental health
Working remotely can be a hard adjustment for those staff and volunteers who are used to interacting with people in person. If your staff are in a situation where they are forced to work from home, let them know that they have the support they need if they face mental hurdles.
As previously mentioned, providing online workspaces to interact with other members of the organization can help recreate the vibe of an actual workplace. Periodic online meetings can also fulfill the need to maintain a human connection.
While working remotely, it is natural for productivity to decrease for some as they learn to adjust to their new schedules. Plan for these hurdles when assigning tasks to organizers.
Adopting online communication tools
Supporter engagement is the brass tacks of organizing.
When you can't talk to them face-to-face, you need to adopt channels of communication that are just as engaging without in-person interaction.
Channels like text messages and phone calls will help you have these conversations with supporters.
Organizations around the world have been using texting and calling tools during the coronavirus pandemic to:
Reach supporters with important updates
Get petition signatures, and coordinate with volunteers
Getting people connected to their representatives through patch through calling
____
Online organizing is the new normal
With every organization around the world shifting to remote work, now is the best time to start adopting online practices for organizing. In the long term, combined offline and online efforts can lead to better organizing and better outreach for your campaigns.