What is an annual appeal?
There is a good chance that you may mistake your annual appeal with your year-end giving appeals. But that's where you are wrong.
Your annual appeal comprises solicitations for your annual fund.
When it comes to nonprofit fundraising, raising money for your annual fund is often left as an afterthought.
But, your annual fund is the core of your organization, and without enough money for it, you simply won't be able to achieve your objectives. This makes your annual appeal strategy all the more important.
This post will provide you with all the insights you need to build a strong annual appeal program for your organization.
What is an annual fund?
We started by talking about your annual fund. But what is this annual fund?
If you're picturing the money you raise by reaching out to all your supporters once a year, you're wrong again. This would have been the correct answer during the 1960s. Today, in the era of multichannel fundraising, the concept has evolved.
Your annual fund is the money your organization raises (restricted or unrestricted) on an ongoing basis throughout the year, to put it in simple terms.
This money is generally used to cover your everyday expenses like staff payments, software subscriptions, infrastructural costs (HQ rent and electricity), etc. Apart from that, it is also used for your overall efforts towards your cause.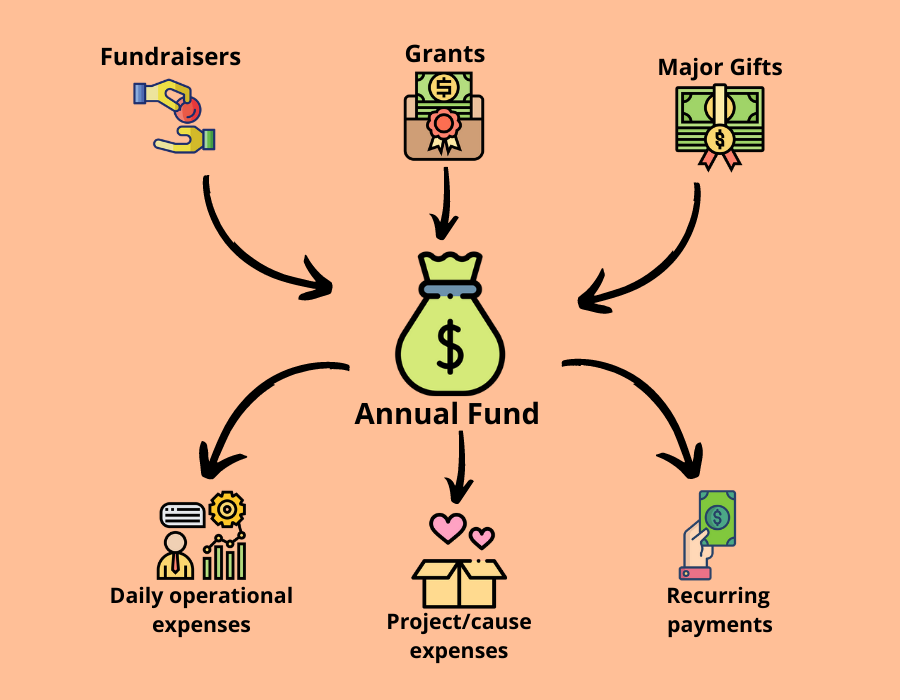 Why do you need an annual fund?
The answer is quite simple. You need an annual fund to cover your operational costs and have a steady income for all your efforts towards your cause. But it does a lot more than that too.
Raising money for your annual fund also helps you strengthen donor relations since you get in touch with donors multiple times throughout the year. A lot of these touches involve nurturing and donor stewardship. This, in turn, helps you:
Build your database with more information on each donor that can be used for more personalized communication.
Track giving behavior over time and provide you with patterns to identify the best source of acquiring new donors.
Encourage donors to give again, thereby boosting donor retention.
Identify strong supporters and move them toward greater involvement like volunteering, major gift solicitation, peer-to-peer fundraising, etc.
This is the reason why your annual fund is the core of your organization and why annual appeals are so crucial.
Building an annual appeal strategy
Building an annual appeal strategy is a five-step process that comprises of the following:
Setting a goal for your annual fund
Creating an annual fund committee
Selecting a signature campaign
Creating a campaign calendar
Evaluating success
Let's take a look at what each of these entails.
Step 1: Setting an annual fund goal
Setting a goal for your annual fund gives you a direction, a target to achieve. Moreover, a set goal motivates people to perform better. This is known as the "Goal Setting Theory."
Having a set goal also helps you allocate your resources appropriately. For example, if the goal is something that you're confident to reach easily, you can allocate some budget towards experimenting with a new channel for annual appeals.
When setting a goal for your annual fund, here are a few things you need to consider:
Overhead costs – this includes salaries and other recurring operational costs.
Plans for expansions/experimentation – renting a new office, subscribing to new software for communication, etc.
Cost of ongoing efforts towards your cause – depending on how many projects you take up in a year and how much money you need for them.
Based on your organization's structure, there may be more elements to consider. But, these are the vital ones. The sum of these costs is your target.
Pro tip: Set a goal that's a little higher than the sum of all costs. It's always good to have a little buffer for any surprise costs that may come up during the year. Plus, it also pushes you to raise more and grow.
Step 2: Creating a committee
Remember how we spoke about annual fund appeals becoming an afterthought? Well, this committee will ensure that doesn't happen.
Your annual fund committee will be responsible for:
Ensuring that all fundraising efforts align with the main objective (raising money for the annual fund).
Allocating the money from the annual fund towards the daily expenses.
The committee typically consists of a few staffers heading different activities (like fundraising, recruitment, accounting, etc.). You need people from different departments, so they have better oversight of all aspects of your efforts.
Step 3: Select a signature campaign
Your signature campaign is the one major fundraising campaign you organize each year. This may vary depending on the cause you're trying to resolve. For some organizations, it may be Giving Tuesday; for others, it could be Winter fundraising.
Your signature campaign will lay the groundwork for all your efforts. The insights from this campaign will help you determine:
The best sources for acquiring new donors (for example, social media).
What communication channels are more relevant for you? How do you create a nonprofit communications strategy?
The fundraising potential of different campaigns – for example, can you raise more money through major gifts, or do micro-donations work better for you?
How many volunteers do you need to execute each aspect of your campaign? This will dictate your volunteer recruitment efforts.
Planning for a signature campaign should be meticulous. If you do this one well, it will be easy to spin off adjunct campaigns during the year.
Step 4: Create a campaign calendar
The insights from your signature campaign will help you determine what sort of campaigns and fundraising methods work best for you. Now, you need to write down these plans on a calendar to guide your efforts throughout the year.
Having a campaign calendar gives you time to prepare for upcoming campaigns. For instance, crafting donor thank-you call scripts for volunteers to refer to when making calls after an event.
Generally, when you create a campaign calendar, this is what it should include:
Types of campaigns you're planning to run and their themes. For example, holiday-themed fundraisers for December.
Key dates – like the start and end dates of campaigns, deadlines for activities like sending out donor acknowledgment letters, etc.
The number of volunteers and staff needed for the campaign.
Approximate cost of the campaign and fundraising goal.
You May Also Like: Tips and Tricks for an Effective Annual Appeal Letter
We recommend creating a quarterly calendar. This way, you can revisit your efforts at the end of each quarter and change them if you're not meeting your goals.
While it may seem complex, building a campaign calendar to guide your annual appeals is pretty simple. You can refer to this post for more details.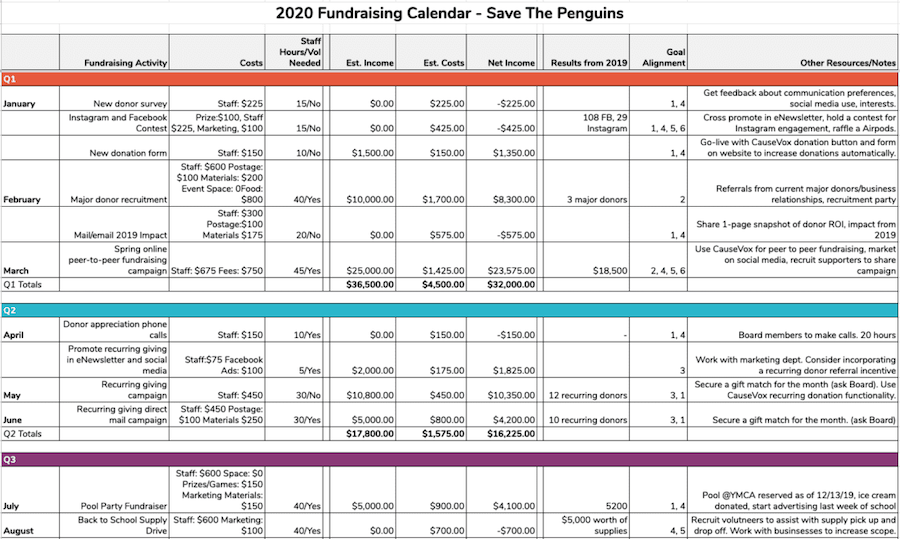 Step 5: Evaluate your success
The final step of your annual appeal strategy is measuring your success at the end of every campaign.
Evaluating your success informs your strategies for the next campaign. For instance, if you didn't reach as many donors, you may need to try another fundraising channel.
Apart from your fundraising goal, there a few other success metrics that you should track:
New donors acquired – how many new donors gave for the first time to your organization.
Donor retention – how many donors from past campaigns gave again.
Average conversion rate of each communication channel – of all the appeals you sent through each channel, how many people responded positively.
Average gift size
Frequency of contact with donors – how many touches did it take to convert a donor on average. The lower the number, the more engaged your donors are, which is good.
All these metrics inform your strategies for the upcoming campaigns and help you determine what you could do better.
Annual Appeal Best Practices
While a great strategy is enough to get you going, you can create more impact with a few tips.
Here are some best practices that you should follow when sending out annual appeals:
1. Have a multichannel approach
Whether you're sending out annual appeals or nurturing donors, a multichannel approach is essential.
Using multiple channels for communication helps you in two ways:
It helps you reach out to a larger audience. For example, some of your prospects may not be as active on social media. So sending them a fundraising text may be a better way to reach them.
Appeals from multiple channels serve as reminders. People jump through multiple screens (mobile, laptop, TV, etc.) nowadays, and it's easy to forget what was on the last one. Seeing the message on multiple channels will serve as a reminder and drive them to act.
Pro tip: All communication channels may not work well for you. However, they may cost you a lot. Therefore, prioritize the channels with the best ROI and leverage the others only if you have the budget. The data from your signature campaign can help you with this.
2. Personalize all communication
Addressing donors by their name, referring to their previous donation/involvement, specifying what impact their involvement made, etc., are simple ways to personalize your annual appeal.
But why is it so important to personalize all communication? Well, for two main reasons:
It helps raise more money. A survey showed that 59% of donors said they would give at least 10% more for a personalized experience.
It builds donor loyalty. Donors stay only if they feel valued. A personalized message ensures that. It shows that you know the donor, care about them, and they aren't just a source of funds for you.
How to personalize communication?
To personalize your messaging, you need more information on donors. Surveys are a great way to get these details. But you can't just send them a form and expect everyone to fill it out. You need to leverage a channel that:
Has a high open-rate and people are sure to read your messageLet's you collect data in a conversational and engaging way.
Texting is a channel that fulfills both requirements. You can set up text surveys with automated responses to collect data. Alternatively, you can also use peer-to-peer texting to talk to donors at scale and collect their details.
Check out this post on text surveys for more details.
3. Use a storytelling approach
Whether it's an annual appeal, a thank-you letter, or a nurturing email, make sure to wrap in a story. Here's' why:
People remember stories better than facts or data. When they remember your stories, they remember your work and the organization. This, in turn, ensures they come back to you the next time they want to donate.
People are more likely to act. When they learn about a victim and relate to them, they are more motivated to give and save the victim, as per a study.
You may have several stories that you can use in your annual appeals and nurturing flows. You just need to learn how to integrate them into your messaging. Check out this article on Nonprofit Storytelling for more insights.
4. Create multiple giving levels
Giving levels are the different donation amounts you showcase on your form or donation page, as in the example below.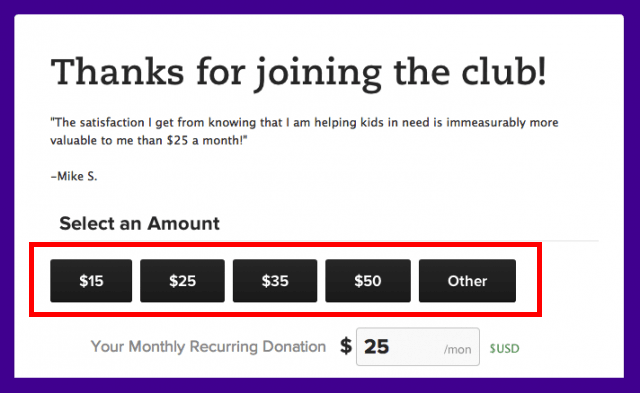 Displaying these options helps your fundraiser in two ways:
Increase the likelihood of donation by conveying that even a small amount can make a difference.
Increase the average gift size by leveraging the price anchoring effect.
Apart from the giving levels, make sure to let people choose a custom donation amount too. Encouraging them to enroll for a monthly giving program is also recommended.
Key takeaway
Your work is important. Several beneficiaries rely on your organization for the most basic needs. You can't stop, and an annual fund ensures that you don't.
A strong annual appeal strategy doesn't just safeguard your annual fund, but the many lives that rely on you too. Hopefully, the insights above help you create strategies that keep you running and growing.
Featured image source: Alexander Mils