On October 2019, Bernie Sanders made a campaign appearance in Marshalltown, Iowa for his Presidential Primary campaign. As expected, he made a hard push for his healthcare reform plan.
What was unexpected was the additional tangent that he included in his campaign messaging.
Without being prompted, Bernie told the crowd that his age is nothing but an advantage for the campaigns.
Why did Bernie bring up his age at all? Because he had important intel.
"Polling has suggested that a significant number of Americans believe a candidate in his or her late 70s is too old to be president.

"Just too darn old", AP news
Realizing that his constituents saw his age as an impairment, Bernie hastened to address the issue and win back popularity.
Similarly, Biden promised to release his health records before the Iowa Caucuses begin in Feb 2020.
The objective remains the same- to reassure the voting public that he is a viable candidate (because) of his age.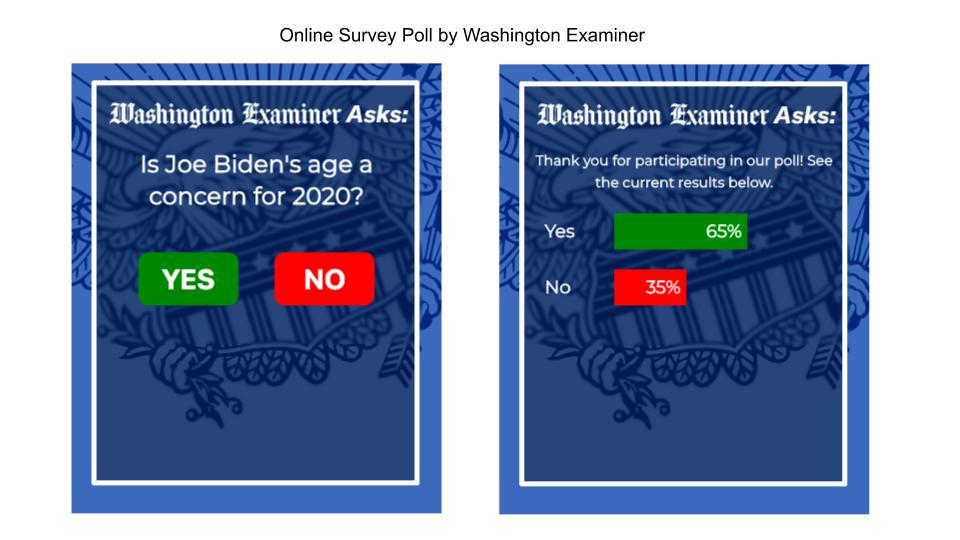 In both these anecdotes there is a startling similarity (I am not referring to the age factor).
Both the candidates trusted their campaign's political political polling companies. They used the intel the polling firm provided to shape their campaigns and get back on track.
If you are looking for such a sound political polling firm to help you in your run, then this post is for you.
We will look at the top political polling companies that have been conducting quality polls in the US for the past elections. They have been chosen based on the accuracy of prediction and their low margin of error.
How accurate is political polling?
TL/DR: Polling as such is trustworthy, despite the allowed margins of error. However, interpreting the numbers is where it gets tricky. So get yourself a good polling firm that gives you contextual information (and doesn't cherry-pick the data you like to hear).
The 2016 US elections gave political polling a bad rep.
Almost every major polling firm gave Mrs. Clinton's winning a 70 to 99% chance. The newspapers steadily proclaimed that Clinton would win the elections – if not in a landslide victory, but at least a close race.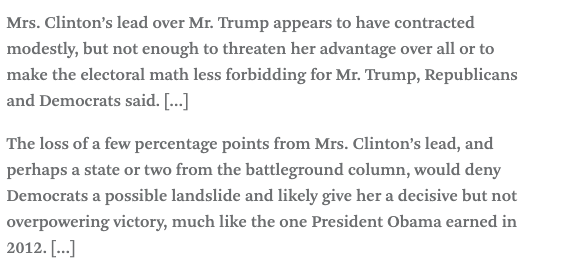 This in turn, lead the public to believe that a democratic win by Clinton was assured – and not just a probability (which is actually what the polling data shows).
So when Trump sailed into his office after these bold predictions, the public (and a lot of political candidates), were not impressed. At all.
It not only called into question the accuracy of polling, but also whether polling in 2016 was as accurate as it was in previous campaigns.
Thankfully for us Nate Silver of FiveThirtyEight answers those questions. Here is a table that they have meticulously compiled based on 8,500 US polls.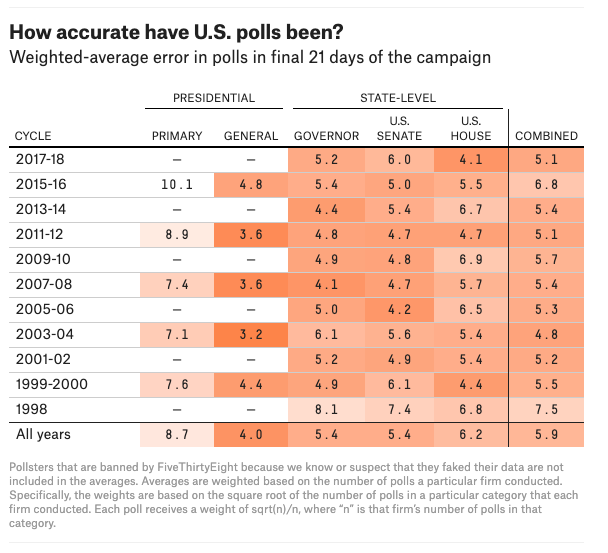 What this data means is that the accuracy of US political polling has been fairly consistent over the years (and has not taken a nosedive).
More importantly, it shows that the average error for the polls is 6%. That means it is quite possible for a candidate who is trailing the polls to turn up as the winner.
This does not make the polls inaccurate. It simply reinforces that these numbers denote a statistical probability and not a definitive outcome.
So when polls showed that Clinton was in the lead, it merely meant that the probability of her winning was higher. It did not say (as media claimed) that her success was guaranteed!
How can political polling help your campaign?
If this is all just a probability anyway, then is it really worth the money (and effort), to use political polling in your campaign?
The answer is a resounding YES.
Political polling can help craft your campaign strategy
Political polling is not just for predicting who will win the election. What such polling tells you is also the public sentiment at a given point, towards the candidate.
That insight can be used to craft a winning campaign strategy.
For instance, take a look at the popularity vote for Trump currently for the 2020 US elections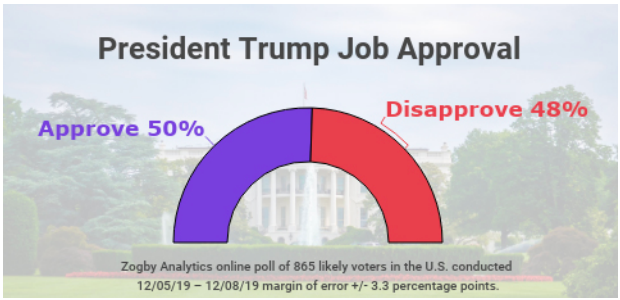 Now, according to pollsters, reaching a 50% approval rate is key to winning a re-election. Since Trump has already worked on that, he can probably go on to reinforce his campaign messaging and GOTV efforts.
For the democrats, it means their campaign should target the swing voters and get them into their camp – thus reducing Trump's popularity.
This kind of insight that gives data-backed direction to a political campaign would be very tough without polling numbers.
Political polling can help shape candidate perception
In the 2008 US elections, one of Obama's pollster Benenson had two crucial insights for him:
Clinton's experience could very well work against Obama
McCain brought in a well-known brand to the campaign
So it was important to portray Obama as an equally viable option (if not better), despite lacking both the experience and the brand appeal.
This understanding was critical in building his campaign messaging – 'For change we can believe in.' It subtly disregards the other candidates' 'advantages', while making Obama's perceived shortcomings more attractive.
And of course like we already discussed, polling can also help you tweak your campaign messaging based on public sentiment (Bernie and Joe's age- battle).
Now that you have a clear picture of what you need from your political polling firm, go ahead, take a look at this list of top political polling companies who can help you win.
Elway Research
Who are they?
Elway Research Inc. is a Seattle based research firm established in 1975. They have conducted research and evaluation projects for governmental agencies, political campaigns, media outlets, major corporations, NGOs, and small businesses. The firm has received an "A+" grade by FiveThirtyEight Pollster Ratings.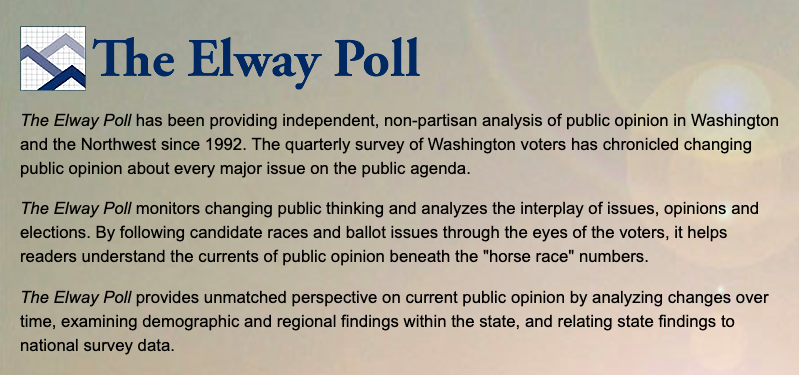 H. Stuart Elway is the founder and president of Elway Research. He has directed hundreds of research projects for businesses, governmental agencies at all levels, candidates, and media outlets across the United States.
Case Study
Governor of Washington Chris Gregoire and State Auditor Brian Sonntag hired Elway Research to conduct nationally acclaimed citizen engagement programs on government accountability and performance measurement. The programs were inclusive of town hall meetings and a statewide interactive survey (first-of-its-kind) on live television.
What do they specialize in?
Focus group design
Facilitation and analysis
Electronic town meetings
Citizen workshops
Administration and analysis of survey research
Harris Insights & Analytics
Who are they?
Harris Insights & Analytics is a market research firm headquartered in Rochester, New York. They have four offices located in New York, Chicago, Arlington, and London.
The firm is known for its "The Harris Poll" which is one of the longest-running surveys measuring public opinion in the U.S. It's renowned for having advised leaders such as John F. Kennedy and Ronald Reagan. They work in a wide range of industries and across countries through North America, Europe, and Asia.
Here is a brief snapshot of their early history in polling:

The key people in the organization are Mark Penn, Chairman, John Gerzema & Will Johnson, co-CEOs, Jonathan Gardner, COO, and Amy Long, CFO.
Case Study
In 1959 former President John F. Kennedy hired Harris to do all his polling for the forthcoming presidential campaign. Harris was paid $400,000 for his surveys, much more than what any political pollster had ever received before.
The only people who had access to the polls were JFK and Bobby Kennedy. And these pools made the difference between victory and defeat in 1960 presidential elections.
They've conducted recent projects or surveys for US healthcare sector, Kaiser Family Foundation, and MetLife.
What do they specialize in?
Public opinion
Reputation & Brand strategy
Societal trends
ALG Research
Who are they?
ALG Research operates as a political research and communications firm. The firm provides a wide range of services including polling, focus groups, dial tests, web bases advertisement testing, and online surveys. They offer services to political candidates, issue advocates, labor unions, and corporate clients. According to FiveThirtyEight's Pollster Ratings, the firm has received an "A" grade. ALG has four offices in Montgomery, AL, New York City and Lanai, Hawaii.

John Anzalone started the firm in 1994 in Washington, D.C. He has twenty-five years of polling experience and has polled for Barack Obama (2008 & 2012) and Hillary Clinton (2016).
Case Study
ALG played an important role in helping elect President Obama in both 2008 and 2012. They conducted polls in nine states for the Obama campaign, including the critical states of Florida, Nevada, North Carolina, and Virginia.
They also developed the campaign's message and targeted women and rural voters. They identified white subgroups and targeted messages that appealed to them, helping propel Obama to a fourteen-thousand vote victory over Mitt Romney.
What do they specialize in?
Message development
Strategic consulting
Online polls & focus groups
Conjoint analysis
Data analytics
SurveyUSA
Who are they?
SurveyUSA is a political polling firm in the United States which conducts custom, local opinion research for universities, nonprofits, governments, businesses, ad agencies, and public relations firms.
Unlike other political political polling companies whose focus is global, SurveyUSA's focus is local. Nate Silver has given the firm an "A" grade.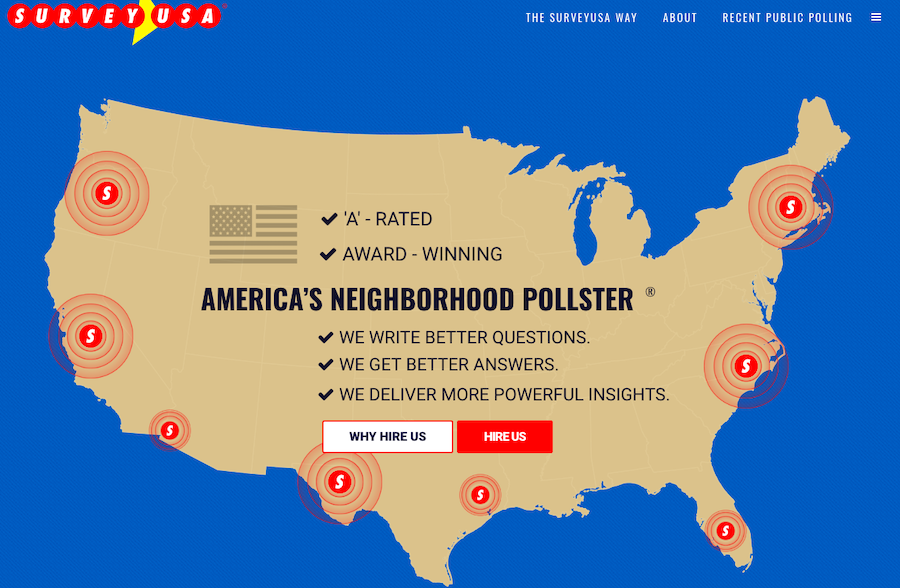 The difference between SurveyUSA and other telephone political polling companies is that instead of using live call center employees, the firm uses an automated system. Taped questions are asked and the respondent has to press a button on their touch-tone telephone to leave a reply.
Secondly, they use simple and concise language for ballot propositions, as compared to their competitors.
The firm has been awarded two QUEST awards, for Questionnaire Excellence, at the annual gathering of the world's largest research trade association, ESOMAR.
Case Study
SurveyUSA was hired to conduct polls related to open Governor's seat in the state of California by Media outlets (KABC-TV, KPIX-TV, KGTV-TV, the Union-Tribune Newspaper, and KFSN-TV).
According to the polls, Democrat Newsom led in each of SurveyUSA's 4 tracking polls, and John Cox, a Republican, finished in second place. Newsom's support was older, high-school educated, lower-income and based in the Bay Area.
And Cox did twice as well among suburban men as among suburban women. Strong support was shown in the Inland Empire and the Central Valley than the metropolitan centers of greater Los Angeles and greater San Francisco. They conducted the survey on 25th May 2018.
What do they specialize in?
Tracking polls
Hyper-local research
Effective communication
Public Policy Polling
Who are they?
Public Policy Polling (PPP) is a political polling firm based in Raleigh, North Carolina. It provides accurate alternatives to traditional telephone surveys. The low-cost and accuracy of their polls make them very appealing for small campaigns and businesses.
The firm offers services to unions, businesses, organizations, local entities, and federal and state governments. Their polls cost as little as $1,500 for clients who range from local candidates to big interest groups. Nate Silver has given PPP a "B+" grade in its pollster ranking.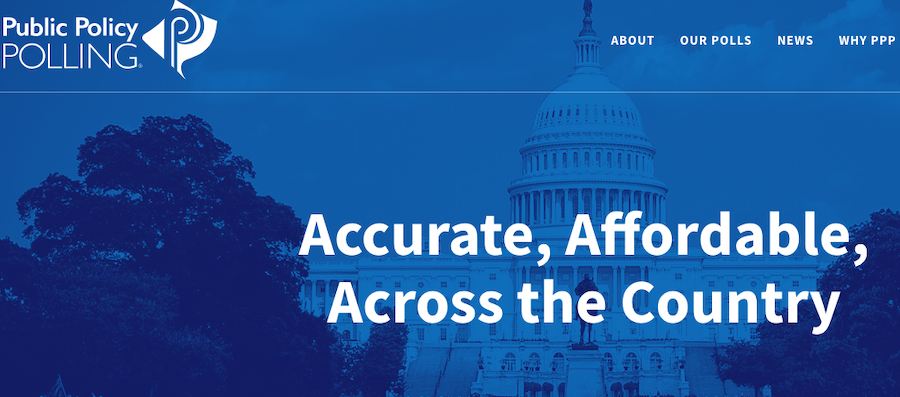 Dean Debnam is the founder and current President of PPP with over 30 years' experience in creating and growing businesses as well as conducting polls in politics and public policy.
Case Study
PPP was hired by Sheriff Alan Norman for his reelection campaign. PPP conducted two polls for him. One showing that he was ahead by 67 points and the other had him ahead by 70 points. Norman ended up winning by a little bit over 68 points. PPP accurately forecasted the pulse of the electorate in Cleveland County.
What do they specialize in?
Push-polling
Measuring and tracking public opinion
Online surveys
Live calls to conduct quick polls
How to pick the right political polling company for your campaign?
When it comes to picking your polling firm, going solely by reputation could be a bad idea. For instance, Joel Benneson, Paul Harstead and David Binder – three of Obama's leading pollsters were relatively low profile public figures when Obama hired them.
Yet, they did a stellar job of not just guiding him through the polls, but also helped shaping messages from the White House.
On the other hand, the reputable Republican Pollster McLaughlin has a history of giving clients bad information. He is famously known for telling the then–House Majority Leader Eric Cantor he was leading his 2014 primary by 34 points. Shortly after this announcement, Cantor lost the primaries and pulled out.
What these anecdotes tell you is that hiring the right pollster is not easy. Hopefully, these tips will help you there.
1. How are the political polling companies collecting data?
Getting an unbiased public opinion, that is representative of the whole country's sentiment is not easy. It means adhering to a strict sample set and asking the right questions – so that you do not bias the voters.
It also means using the right channels of communication. A lot of political polling companies have found that landlines are getting increasingly fewer responses. So they are reaching out to voters with cell phone numbers too.
Similarly, IVR surveys turn out comparatively poorer research quality than those conducted by trained live agents.
Online polling has also been found to result in good data collection – reaching those people who do not have a landline. Zogby Interactive/JZ Analytics does only online polling.
When hiring your polling firm get accurate details on how they are collecting the data. Typically, it is either one of the above. Some firms also offer a combination of methods. Eg. the Republican polling firm Rasmussen Reports/Pulse Opinion Research, uses IVR and online methods to collect data.
(Your political polling company can also use SMS polls for data collection)
2. Do they interpret the data accurately?
Getting responses the survey questions is the easy part – they are just numbers. The skill of the statistician who runs the voter models comes in during the interpretation part.
It is his role to adjust the metrics for any biases that could be encountered. For instance, research says that polls that fail to call cell phones will underestimate the performance of Democratic candidates.
In such circumstances pollsters 'weight' the responses by each sector, depending upon age and demography to make it more representative. However, increasing evidence suggests that this weighting is not sufficient to overcome all the bias that is introduced by polling a select group of voters.
Here is a look at a few pollsters, their average error and biases during the 2012 Presidential elections.
3. Will they communicate it to you correctly?
The 2012 Iowa senate polls tell a very interesting story. Take a look at how the polls predicted results over time: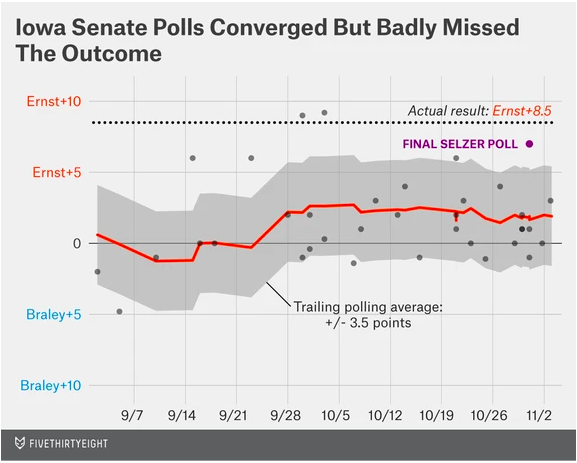 In the early stages of the race between Ernst Vs. Braley, a lot of political polling companies had a clear winner (either Braley or Ernst – by +5 or +6).
However, the closer they got to the race, the more the various polls agreed with each other. Most predicted a close race, and a Ernst win by a narrow margin.
There was one who disagreed. The final Selzer poll showed a clear Ernst win, by a whopping +6 points. This was the poll that was closest to the results.
Ernst won by an 8 point margin.
The take-away here is that pollsters feel the election pressure too. As they get closer to the race, they would be tempted to 'herd' the numbers closer to each other, just to be right.
Clearly, this won't help your campaign. You need to make sure that the polling firm you choose will communicate what they find (like Selzer did), regardless of popular opinion.
What's next?
If this is all too complicated, you can simply check FiveThirtyEight's pollster ratings to get a better idea. Even if you do not pick the top-rated ones, try to avoid the ones they have 'banned'.
If there is any firm here that I have missed out (or you think needs to be on), let me know at [email protected].