Before setting out to brave the storms of political office, political candidates face a lengthy and tiring election cycle. While some campaigns run for weeks, certain others can go on for months or years. Filled with phone calls, doors knocks, meetings, speeches, fundraisers and what not, the election cycle is a hectic time for everyone involved. There is a ton of planning that goes into each of these campaigns, all of it making sure that campaign activities run in cohesion with the ultimate goal of getting the candidate into office.
Although it is impossible to foretell all the possibilities of an election cycle, there are important steps that every candidate should keep in mind before running for office. Here are 6 steps to run your political campaign.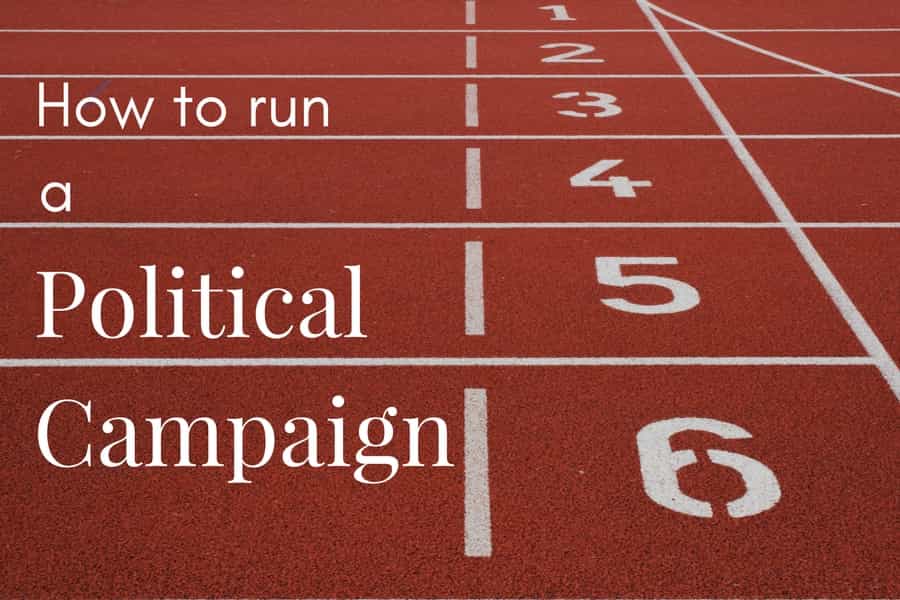 Know Your Electorate
Before engaging your constituents, you have to know where they lie on the political spectrum. How have they responded to issues in the past? Are people generally willing to change their mind about issues?
A candidate will bring a lot of issues that he or she feels strongly about to the table. But if those issues don't align with that of your community or if the community is resistant to changing preconceived notions, you will have a hard time resonating with voters. So, get to know your electorate, the history of past elections, political stances taken by candidates, and how the electorate responds to different issues.
Identify organizations in your community that advocate for the causes you are supporting. Although they cannot directly promote you as a candidate, cause-based campaigns that align with the main issues you raise can get supporters of the cause on your side.
This should give you a good idea of how many supporters you have as well as the number of groups and organizations whose support you can expect throughout the campaign.
Use the Right Tools
In this day and age, if you are not relying on digital political campaign tools, you are going to miss out on connecting with a huge portion of the electorate. There is an enormous disparity between the doors you can knock and calls you can dial with traditional methods compared to when you leverage digital tools.
Email and social are a part of every campaigner's arsenal. That's a given. But in order to ramp up your campaign, you need to look beyond the familiar tools. A lot of campaigning tools are built for nationwide campaigns and may not be the right fit for a local campaign, in terms of cost and effectiveness. But there are still tools that fit the needs of local campaigns that can be availed within stringent budgets.
We've compiled a list of political campaign tools to give you a better idea of the tools available in the market. Combine the list with your own research to find out what works best for your political campaign.
Voter contact
There are 3 types of voters and three stages to voter contact. The three voter types are core voters, swing voters, and opposition voters. The three stages of contact are voter identification, voter engagement, and Get Out The Vote (GOTV). (Bear in mind that this is a gross simplification. With the new age microtargeting methods employed by campaigns, every voter essentially becomes a group of their own.) But for all intents and purposes this categorization will do.
The first stage of your voter contact (voter identification) should identify supporter levels for every voter in your constituency. This is where you split your voters into core, swing, and opposition.
The second stage should involve targeted messaging for each category. For example, ask donations of your core voters, attend face to face meetings with swing voters, and send issue based messages for opposition voters.
The third stage of voter contact (GOTV efforts) should be targeted only at identified supporters to get them out to vote. Elections are often won by thin margins and you need to reach every supporter through a personal form of engagement like phone call, text message, or face-to-face meeting to remind them to vote.
Build voter list
The voter file serves as the contact list for people in your electorate. It includes names, addresses, phone numbers, party registration and sometimes even details like ethnicity, gender and voting history. Throughout the campaign, every point of contact with a voter should feed data into your voter list. As you campaign progresses, the voter list should too, with regards to the number of data points on each voter. This helps create the targeted campaign messaging that will help your outreach resonate on a personal level with voters. You can check the specific rules for getting the voter list for your state here.
Creating your Campaign Message
A campaign succeeds when its message resonates with a majority of the electorate. While every candidate will have ideals and values that they feel strongly about, the campaign message should be structured around what the majority of voters care about. That does not mean that candidates forgo their values, but rather to see which of those values align with popular causes and then prioritise that in campaign messaging. Once a message has been established, stick to it, and reinforce it across multiple points of contact.
"Once a message has been established, stick to it, and reinforce it across multiple points of contact."
Campaign budget
Your campaign should be budgeted around the number of votes you need to win. Identify how many votes you need and set a margin for error. Calculate how much it will cost to reach one voter from the initial stage of the campaign till election day. You will likely contact a voter multiple times across the duration of the campaign through multiple channels. Take all the cases into consideration.
The tools you decide to use for voter outreach should form a fine balance between affordability and effectiveness. Having a budget in place will help you set fundraising goals, assign priorities to campaign activities, and be more realistic about how much you can raise and spend.
These tips should give you a better idea of how to handle the election cycle. Keep in mind, that the essence of all these tips is about understanding your voters, their issues and concerns, and finding the best way to empathize with them through your campaign message. Any candidate who does that, stands a much better chance of securing a win on election day.