To deliver an exceptional event to your attendees or participants, you need a great team of event volunteers to pull things together. Volunteers are an integral part of event planning and operations, and they are the people attendees interact with the most.
So with all that in mind, it's immensely important to ensure that you have an event volunteer management plan and that you equip your volunteers with sufficient tools to help your event run smoothly. This article will offer volunteer management tips for event planning and look at some tools that will help you stay organized no matter what comes your way.
Here is a quick list of what this article covers:
Maintain up-to-date volunteer profiles.
Clearly describe tasks.
Prioritize open communication.
Prepare for no-shows.
Use volunteer management software.
1. Maintain up-to-date volunteer profiles.
There is nothing worse than outdated volunteer contact and qualification data; it can make contacting and scheduling your volunteers an absolute nightmare. If you are still keeping all your volunteer data in a spreadsheet, it's time to rethink what that means. Spreadsheets require manual updates, which take up a lot of time and can result in data entry errors. A web-based volunteer database with volunteer profiles offers a better way to keep data up to date.
Here are a couple of tips to keep your volunteer data up-to-date:
Ask each volunteer to review their own profile and update their information themselves.
Require volunteers to fill out a new form before they can volunteer for your next event, automatically updating their profile information with the new data collected.
When collecting information during your volunteer recruitment or sign-up process, it is essential to consider what information you will need to schedule volunteers, place them in the best roles possible, understand volunteer personalities to create a balanced team, etc.
Here is a quick list of important volunteer profile information to collect during the sign-up process:

General contact information
Availability
Skills & qualifications
Interests
Certifications (if required)
When you have access to comprehensive and up-to-date volunteer profile information, it makes planning and organizing your event volunteers a lot easier.
2. Clearly describe tasks.
Communicating what tasks and responsibilities a volunteer role requires is essential to ensuring your event volunteers are set up for success when they arrive to work their shift. Taking the time to create volunteer roles with detailed descriptions can go a long way when it comes to informing and setting expectations for volunteers before they show up to work.
Here are some details to include in your volunteer role descriptions:
A brief description of the tasks that need to be completed
What skills are required to do the tasks
Any physical requirements (e.g. "Lift 20 pounds," or "Walk/Stand for long periods of time")
Any certifications requirements (e.g. driver's license or CPR certification)
The goal for your volunteer role descriptions should be to provide a quick snapshot of what each role entails and what the skill requirements are. This exercise will also help you better match the right volunteers to the right role, harnessing both volunteer profile data and role descriptions.
3. Prioritize open communication.
Good communication with your volunteers can mean the difference between a successful event and a stressful event. Leading up to the event, open and consistent communication is essential to engage event volunteers and keep them excited and informed during and after the event.
Leading up to the event, it is essential to communicate any important information to your volunteers like where to park, check-in, and all the volunteer perks they have access to. It is also important to notify volunteers when something in the schedule or plan has changed and directly affects them.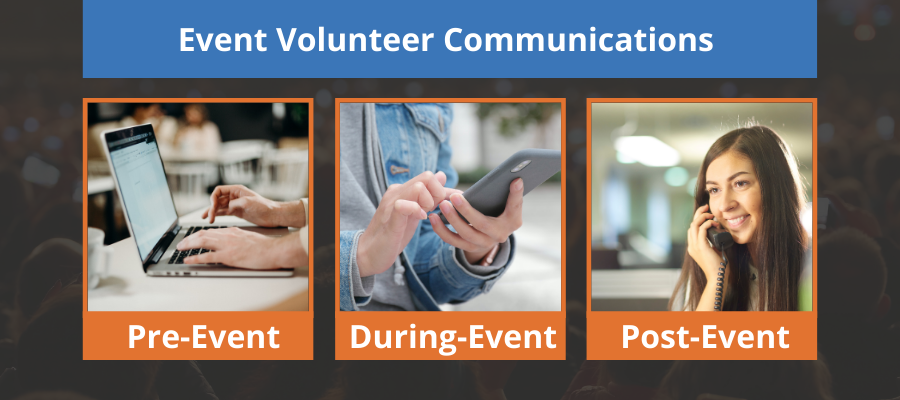 During the event, you should consider equipping your volunteers with a mobile app to contact their supervisor or team if they need help. Open communication during the event is absolutely essential to stay organized and overcome any challenges that might arise. You also should consider how you can send communications to all your volunteers and staff if an emergency or incident arises and requires all hands on deck.
Post-event communication is an important part of retaining volunteers year over year. Sending a simple thank you message to your volunteers once the event has ended can go a long way in making your team feel appreciated. It is also important to routinely keep your existing volunteers updated on the plan for the next event and to let them know if your organization met any milestones like fundraising goals.
No matter how large or small your event is, communication with your volunteer team is essential to ensure it goes on without a hitch.
4. Prepare for no-shows.
All volunteer managers and coordinators know that volunteer no-shows are common, especially when running an event. Things happen, and people forget, get mixed up, or become too involved in the event themselves that they don't make it to their scheduled shift. We all know it happens, so it's important to plan for it and mitigate the impact of no-shows.
It is possible to reduce the number of volunteer no-shows during your event upfront. A volunteer mobile app is a great tool to help remind volunteers of upcoming shifts, access schedule information, and receive and send communication. Communication is key to keeping aware of their commitments, but it is always good to have a backup plan.
Seasoned volunteer managers know it is helpful to have a few extra volunteers on hand to fill in for no-shows. It's a good idea to schedule floater volunteers who have an ideal range of skills to help out whenever and wherever they are needed. Taking a little time to think about the worst-case scenario and plan for it always pays off in the event world.
5. Use volunteer management software.
There is no better way to manage event volunteers than with comprehensive volunteer management software. There are too many variables and volunteers to keep track of with a spreadsheet. So what should you look for in a solution for your event? Well, with so many options out there, it is important to consider what is required for your specific event.
Here are a few core functions to look for in a volunteer management software for your event:
Customizable online volunteer sign up form
Volunteer profile database
Easy volunteer scheduling tool with defined roles
Mobile communication and management capabilities
Mobile volunteer check-in and hours tracking
Finding a system that works best for your event's specific needs is important to ensure that your volunteers have everything they need to run a successful event. The above features will serve as a solid starting point in your search to find a platform that prioritizes the volunteer experience.
Key Takeaway
Volunteers are the main workforce behind most events, and good volunteer management is an important factor in your event's success. Investing in good tools and management practices can make all the difference in delivering a truly spectacular event.
Featured Image Credit: SDI Productions
---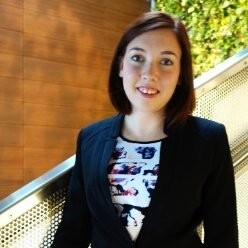 Cassandra is a passionate content creator dedicated to fostering positive impact through thought leadership in both the Nonprofit sector and live events industry. You can find her work at www.initlive.com or on Linkedin and Twitter.