How To run for Mayor
September 28, 2017 - 6 minutes read
Lyndon B. Johnson, the 36th President of the United States once said
"When the burdens of the presidency seem unusually heavy, I always remind myself it could be worse. I could be a mayor."
Being mayor may be tough but it ain't easy getting there either. You have to win over an entire town or city's residents while participating as an active member of the community. On top of that, you have to launch your campaign and stay within regulations to qualify as a candidate.
This could be pretty overwhelming for a first timer. So we have lined out 10 steps to simplify the process for you.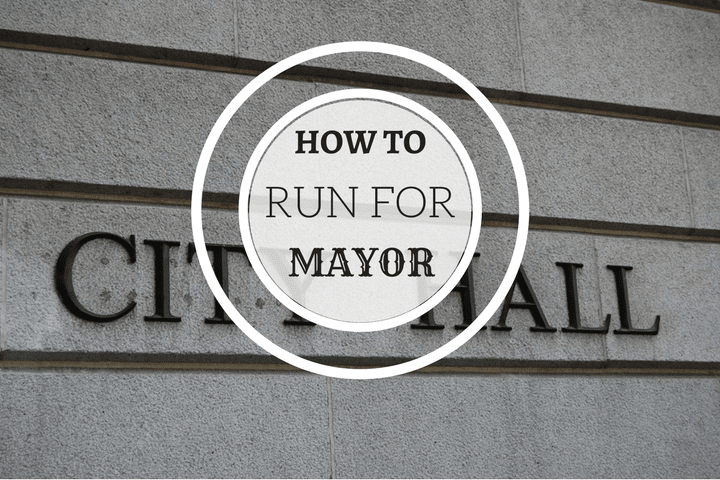 Research the city requirements
Every city would have their own rules and requirements for mayoral candidates. You can collect the charter with the complete details from the County Board of Elections office or the office of the city clerk. You can ask the office to clarify any detail or even turn to someone who takes an interest in city elections.
Form your campaign committee
You would need to create a campaign committee before you declare your candidacy for mayor. The committee is formed by your election campaign team. This must include your campaign manager, your treasurer, the communications director and any other person who would be heading campaign tasks. The committee must be tied to your campaign's bank account so that all campaign funds and expenses can be tracked.
A separate bank account
The campaign account helps to separate your campaign funds from your personal expenses. All donations that you receive and loans you collect should flow into this bank account. Similarly, all payments that you make for campaign tasks should be made out of this account. This helps the government track your finances to ensure it was a fair election.
Start a petition for candidacy
Most mayoral elections require the candidates to get signatures on a petition to be eligible. So start a petition to get your name on the ballot for mayor.  There would be a minimum number of signatures you'd need to collect and even a last date to file the signatures sheet. Get the information so that you can plan out how you'd approach residents to meet the deadline.
Start a supporter group
Now that your campaign is underway, you would need volunteers to run campaign activities. They would help with collecting signatures, getting your name out and bringing others onboard as supporters and donors. Create multiple channels for recruiting your supporter team including web forms, social media pages, and recruitment at popular locations in the city.
Get party supporters onboard
To get the required number of signatures or funds, it is good to be backed by a local party. You can approach past candidates or party leaders to support your candidacy. With them, you'd win over their supporters as well.
Endorsement by organizations and unions
Meet with local organizations and unions and discuss their issues. Explain how your policies would improve their situation and get them to endorse your candidacy. Winning support from these community leaders is beneficial because they would spread the word among their members. This is a fine way to build up your supporter base.
Raise funds to meet your goals
You should ask the people who support your campaign to donate toward the initiative. Start within your circle of family and friends and bring them onboard as fundraisers. Ask for contributions from members of parties and unions who back you in the race. Send out volunteers to raise funds in their community. Direct mail donations are still preferred by the older generation of supporters while young voters go for online donation channels. You have to give the voters all possible options to donate.
Get your name out
For a local election like a race for mayor, the voters prefer someone who is a recognized member of their community. So you have to make public appearances among the voters to get acquainted. Community leaders and bellwethers showing their support in public is a big leg up for the candidate as well. Besides that, you have to get billboards, road signs and door literature to spread the word. It is good to go door-knocking in neighborhoods where you are likely to win heavy support.
Plan your media strategy
Voters often turn to the media to keep track of elections. So you need a proper media communication strategy to get press coverage. This includes
establishing relationships with key political reporters

maintaining a media list for communication

issuing press releases

press conference, radio and tv interviews, print interviews
Keeping all of this in track will help you build your candidate profile for the post of mayor. Create the momentum until the day of the election and you can be sure to win.
campaign
,
campaign plan
,
campaign strategy
,
city election
,
mayor
,
mayoral election