Phone banking and Door-to-door canvassing play a big part in election campaigns. Political campaigns use door-to-door canvassing as the most direct means of communicating directly with voters. How do you choose between the two methods and where do they have the most impact?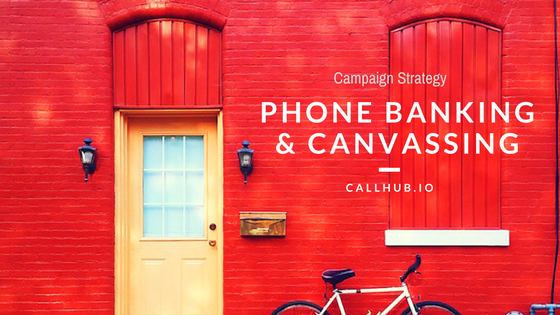 Research shows that canvassing is most effective when canvassers provide polling place information or invite people to make a verbal commitment to vote. The more details you have of the voter the better the outcome. Otherwise, canvassers can seem disorganised, shuffled, and misinformed. Door-to-door canvassing encourages people to at least talk about the issues with their peers. If you don't have voter history or information you would be at a disadvantage. Having canvassers go out twice, first to collect data and then later to discuss would be a lot to ask for, especially, a completely volunteer driven campaign. You risk the possibility of exhausting your most reliable supporters.
Is it practical to canvass your entire voting list? The one thing about door to door canvassing is that you have to be realistic with your targets, says Ciara from Ecanvasser, a popular door to door canvassing tool.
"When hitting the streets, you may be only able to knock on a fraction of the doors compared to how many you phone. Using the information you gain from your phone banking you have two decisions to make:

1. Canvass the houses who have promised you the vote or

2. Attempt to coerce the people who seem undecided.

If you decide to focus solely on those who have promised you the vote, you are really carrying out a GOTV operation. Get the people to the polls.

If you target those who seems undecided and could be swayed towards your candidate, this is where the hard graft comes in. Using data that you have is crucial here. If people shared issues with you over the phone, then you need to follow up about these issues at the door – thus, showing a commitment from your candidate.

Door to door canvassing is a long term operation when used this way."
– Ciara, Ecanvasser
Canvassing is expensive
Canvassing involves a variety of costs and benefits. Experts Gerber and Green explain that costs of canvassing involve start-up costs, such as plotting out the time to walk the routes, obtaining a voter registration list, hiring people to coordinate canvassers, technology, and campaign gear.
Phone banking before canvassing
Campaigns can use a cohesive approach by including both phone banking and canvassing to best spread their message and boost voter turnout. The 2008 and 2012 Obama campaigns had used a similar approach and it worked out well for them.
Related reading: Definitive guide to Political Phone Banking
At the start of a campaign calls could go out to voters in your area. By asking the right questions, you can identify potential supporters and people who are still undecided about their vote. You can also use phone banking to scale your volunteer group. This information gathered and once mined can help create much more effective canvassing strategies. This allows you to "cover more ground" in less time,  and in a time where supportive voters are scattered geographically, it will  save you on gas and wear on your vehicle.
This paper , by Tiffany C. Davenport, reports the results of an experiment that compares the effects of two voter mobilisation interventions:
Traditional canvassing appeals
Face-to-face exchanges in which canvassers distribute a feedback intervention consisting of records of individual voter histories and issues.
The experiment found that the feedback intervention dramatically increased voter turnout. Turnout among those reached by canvassers with voter histories was approximately 15–18 percentage points higher than turnout in the control group.
Where canvassing isn't viable, phone banking steps in to fill in the gaps. Sometimes you won't have volunteers available in canvassing locations and at other times you jut have way too many people to reach in a short amount of time eg: GOTV.
Read more
Why voter canvassing pays off