Distributed Campaigning with Phone Banks (the How To guide)
November 28, 2017 - 4 minutes read
When you hear of political calling, the familiar thought is a group of volunteers sitting in the campaign office hectically dialing numbers. Quite the ruckus. And quite the outdated formula.
Political calling has undergone an overhaul with political campaigns embracing distributed campaigning, letting campaigns harness the power of volunteers regardless of boundary constraints.
We saw it with Melenphone in France and Bernie Dialer in the US, how volunteers are making calls for a candidate thousands of miles away from the comfort of their home.
Let's take a look at how you can run a distributed phone bank with CallHub.
Recruiting callers for your distributed campaign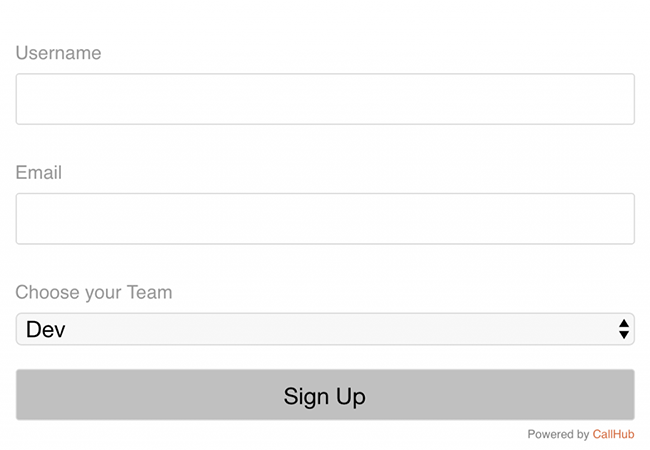 Step 1: Embed a sign-up form on your web page.
Step 2: Interested volunteers sign up on the form.
Step 3: Volunteers are added as agents to your CallHub account.
Volunteers registering on the form can immediately start making phone calls. We've made a custom form that you can embed on your web page. But you can also create your own form and use our Agent APIs to create agents in your account when a person submits that form.
A team for each location
Having locals speak to others in their community is a sure shot way of amplifying voter engagement. And the Callhub Teams feature makes that a lot easier. Campaign managers can create separate teams for agents based on geography, language or ethnicity. If manually adding volunteers to separate teams is a hassle, you can directly allow volunteers to choose a team when they register on your web form.
Establish a local presence
Voters can be apprehensive about picking up out of state calls. The Dynamic Caller ID solves the problem by assigning a caller ID that matches the location of your contact. That means a volunteer in Ohio can make consecutive calls to voters in Florida, Tennessee or Montana, and have each of them see a different caller ID matching their state.
Sub-accounts
Many nationwide campaigns have local leaders to manage location-based phone banks. These local leaders receive funding from campaign headquarters to recruit agents and are provided calling lists pertaining to that location.
The sub-accounts feature helps nationwide campaigns efficiently delegate their phone banking efforts. Sub-accounts which are attached to a single parent account have all the functionalities of a normal account except the controlled access to voter data and campaign funds.
The parent account controlled by the campaign manager can have an unlimited number of sub-accounts attached to it. Each sub-account has its own manager, recruiting and managing volunteers, and monitoring phone calls.
While the parent account has access to all campaign data, the voter data made available to sub-accounts can be specific to a region. The parent account can assign agents to sub-accounts and allocate campaign funds based on requirement.
Now that you know the tools to optimise your distributed phone banks, make sure to apply them in your next calling campaign.
Tags:
distributed campaigning
,
distributed phone banks
,
Phone Banking
,
political calling