Call center gamification is adding games and game-based elements to call center campaigns and boosting productivity. Gamification is a great strategy to improve employee motivation, engagement, and retention.
Calling campaigns can be terrifying, thrilling, and pressure-inducing. Introducing games to the mix can improve your results and make calling fun.
A 2019 gamification at work survey tells us why:
89% of respondents felt that gamification at work helped bring them into a competitive mood and made the activity fun.
85% of employees were more likely to spend more time on gamified software.
90% of employees feel more productive when engaged in gamified tasks.
With these mind-blowing statistics, we explore call center gamification and how you can use CallHub's gamification features to improve your calling campaigns. Read on.
Benefits of call center gamification
To begin with, what are some benefits of introducing games to your call center campaign? These statistics show you–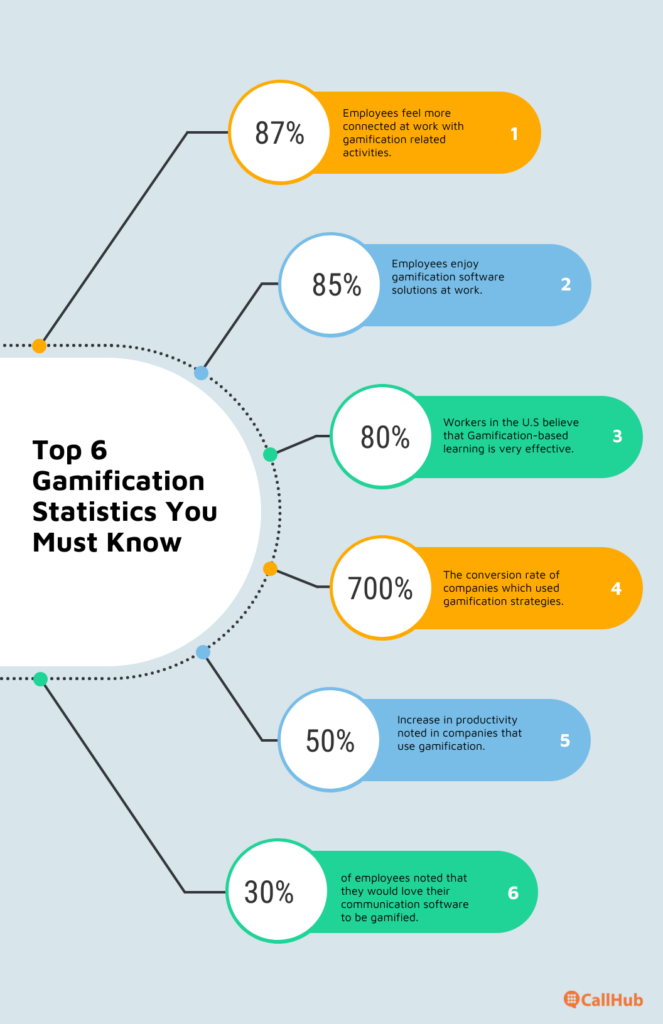 In addition, these are significant benefits of call center gamification–
* Improve call time
Average call handle time is an essential metric in any call center. The lesser your call handle time, the better and more swiftly an agent can handle customer inquiries.
LiveOps MyWork community, which offers remote call center jobs, realized that adding gamification to their call center operations decreased call handle time by 15% – that's a massive improvement.
The learning? When games are added to call center operations, finding new ways to improve calls and decrease time becomes the natural way of thinking. The opportunity to be competitive makes agents strive to be better versions of themselves.
* Increase engagement
70% of people report not being engaged in their job. As call center agents, who are the representatives of your organization and heavily responsible for customer success, these statistics can be disturbing.
Call center gamification helps boost employee engagement by allowing employees to team up or work towards rewards.
* Get better results
Games and their consequent results are an instant feedback mechanism. Either you're performing beyond expectations and topping the charts, or you're struggling to get better each time.
With call center gamification, agents know the areas in which they are struggling and can easily articulate the need for guidance to their managers. Managers can also identify areas for improvement and take necessary action, such as introducing training programs.
* Boost retention
Call center gamification speaks to one of the most essential human wants – the want for recognition. Doing well on these games lets agents gain recognition within the team, which improves employee morale.
Rewarding and recognizing employees who do well is an excellent incentive for them to stay. It also serves to nudge other employees to do better.
You might want to read: The Complete Call Center Software Buyer's Guide: What to Look Out For.
Let's explore some call center gamification ideas for your team.
Call center gamification ideas
30-second pitch
The 30-second pitch, inspired by Steve Jobs' famous 'elevator pitch' theory, is a great game to improve average call handle time.
How to play:
Choose average call time as your metric on your dashboard and let employees know that anyone who completes a call within 30 seconds wins!
The first person and the person with the most consistent 30-second calls get prizes.
Encourage employees who get stuck with tough calls during the games – sometimes, it is just bad luck.
Best of four
Split agents into teams of 4 and reward the team with the highest points on different metrics.
How to play:
Divide your agents into four teams and select essential call center metrics. Your chosen metrics could be average call handle time, good ratings, etc.
Each metric serves as a different mini-competition.
The team with the highest points wins! Select a prize to be split evenly between members.
Call center bingo
Train employees while making it fun for them to participate.
How to play:
Make a box with nine different phrases agents need to use while on a call. Print out copies of this sheet.
After handing over the copies for the day, agents can cross each box when they use a phrase in a call.
The one who crosses all the boxes the fastest wins!
You can also add these phrases to your call center script so agents can easily include them in conversations.
You are all set to lead a fantastic calling team with these few call center gamification ideas and your creativity to boost performance. Now, let's move on to the golden question.
Does CallHub support call center gamification?
The answer, my friend, is yes. CallHub's agent leaderboard feature is an excellent addition to your team. You can track top performers, understand lagging agents, and strategize accordingly.
Once you begin your call center campaign on CallHub, you must go to the analytics dashboard. Here, you will discover the agent leaderboard on which you can keep scores on different metrics, like these–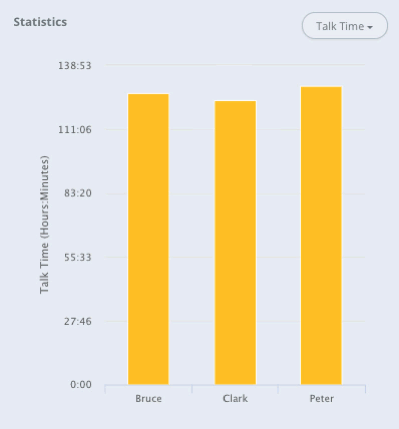 You can compare agents depending on the number of calls they make and their average talk time.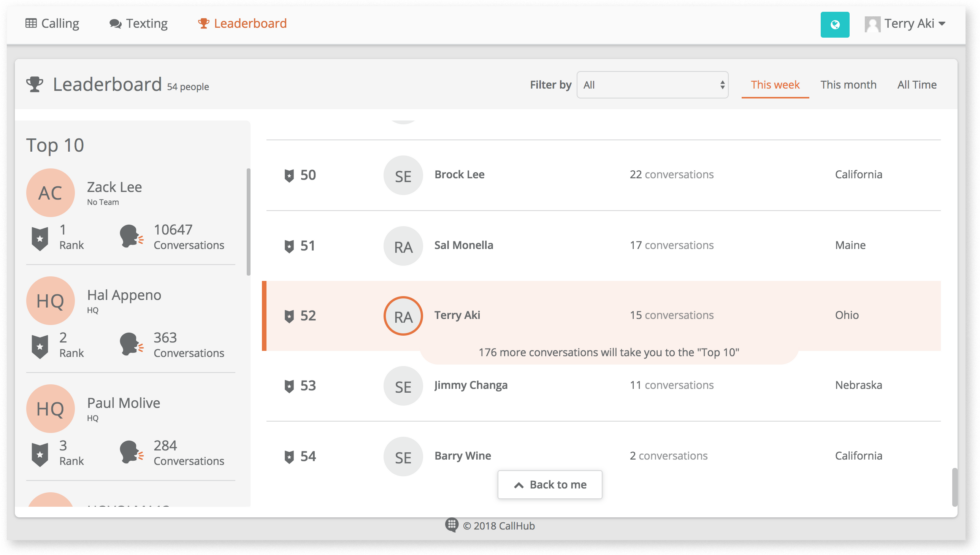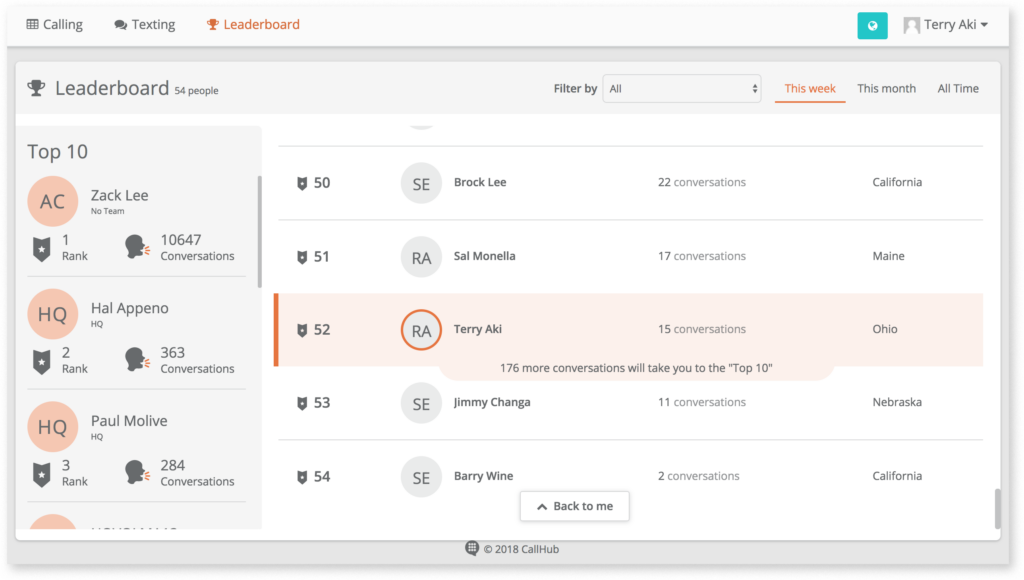 Access the agent leaderboard, where you can see the individual performance. You can also split agents into teams and view overall team performance.
With these features on your calling software, you can easily integrate call center gamification into your team's activities.
What's next?
Call center gamification is an excellent way to boost morale, improve productivity and get your best call metrics. Another area you need to work on is training your call center agents and upgrading their skills.
We've explored 5 Call Center Communication Skills To Train Your Agents On Today in this blog which you can read to know more.
Featured Image Source: Pixabay