Let's try a fun exercise. Whip out your phone (if you don't have it out already) and check the last few texts you have received.
Here is what mine looks like: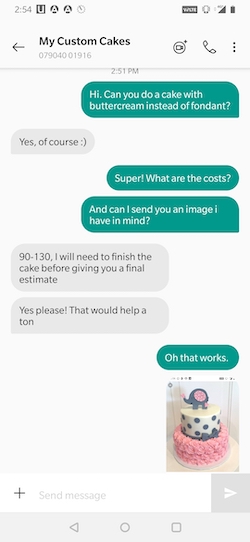 Yours might not have a picture of a cake. But I can tell you what our texts hold in common:
Rarely, if ever has a text been missed: See how I got responses to all my questions.

Each text received an almost instant response
You considered the texts personal – and did not associate them with work (even though the example I shared here was to order a cake).
To contrast, let me show you what my email looks like (please don't judge – I know it's a mess)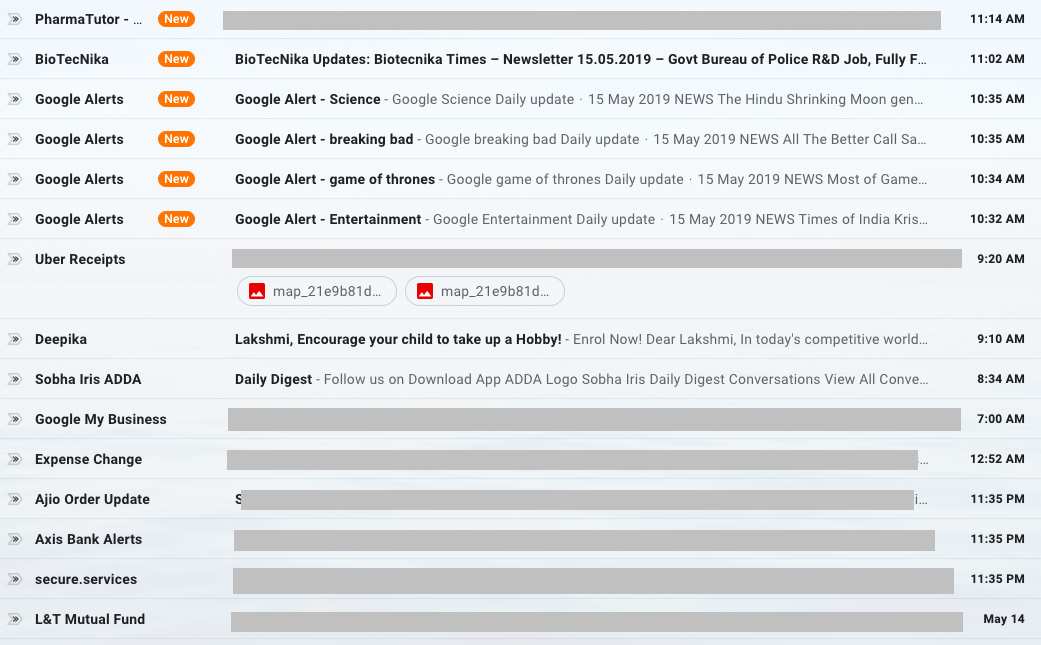 Unfortunately for you, a lot of your audience's inbox would look no different. The sheer number of unread messages means that your email would just be one more to the pile and will probably get missed.
And that is why SMS marketing is the next big thing – because you have a chance of cutting through the noise and reaching your audience via a personal channel.
Statistics support this too. 83% of texts are opened within the first two minutes and 31% of customers respond to the SMS survey in less than six minutes. So your messages will not wait in inboxes gathering dust. Rather, they would get responses instantly.
Armed with these numbers, let us see how email and texts would work for your nonprofit, for different campaigns.
1. Creating awareness:
As a nonprofit, creating awareness for your cause is never ending. It could be to promote a new campaign or get more people involved in existing ones – the fact remains that you will frequently send out messages in bulk to all the contacts in your list.
For instance, you want to tell all your volunteers about the lake cleaning initiative you are organizing the coming weekend. Which channel will you choose?
| | | |
| --- | --- | --- |
| Parameters | Email | Text |
| Content type | A long message, detailing why your cause is important. It can have pictures of the unclean lake and thus appeal to audience's emotion | Can feature limited words – but a website URL linking to more details can be added. |
| Personalization | Yes, can be personalized | Yes, can be personalized |
| Follow ups | Can be personalized based on user behavior | User behavior cannot be tracked. So follow ups will be in bulk |
| Time to read | Will take time to be read | Read instantly |
| Outcome | Your message would be read and could possibly make an impact. However, it wouldn't necessarily be in time for the initiative | Message read well before the initiative. However, might not be convincing enough to attend |
Quick tip 1: Do you know which channel your audience prefer? This information can easily be collected while you gather preliminary donor data. Knowing their preference, will tell you whether to go email heavy or text message heavy.
In short, if you are working with a deadline, text message can work better for you. In this case, as the lake clean up is scheduled in a few days, sending a text and following it up with a reminder would ensure that majority of your audience are aware of the upcoming event.
Before you run with that, let's look at one more use case.
2. Initiating action:
If you want your audience to attend an event or donate for a cause, which channel will you choose?
Honestly speaking, text messages have an advantage here. With peer to peer texting, you can have one on one conversations with every number on your list. The texts would be real time, the responses based on what the prospect says and can easily be done at scale. Here is what a sample conversation can look like:
So yes, in this case, text messages will get you more results.
Quick tip 2: What is the internet penetration in your area? If your audience don't have quick access to internet, your email would take time to reach them. In such cases, having text message as primary form of communication is better.
This does not mean that email is dead
While it is true that emails do not have the same reach as text messages, emails remain a solid channel of communication. 83% of millennials do read emails and in fact clear their inbox every night (obviously, I belong to the other 17% :)). It is not just for 'old people'. And can still get you results. Any other myths you hear to the contrary are just that – myths.
So here's a novel idea – Use both emails + texts
Instead of choosing one over the other, use both the channels together to provide a seamless audience experience. That way, your campaigns have a much better reach and will have greater impact.
For instance, your nonprofit fundraising efforts will now look something like this:
Step 1. Send weekly newsletter, with keyword and short code to know more about fundraising campaign
Step 2. Include keyword and shortcode in all collaterals – print and website
Step 3. When prospect sends in a text, send a text autoresponse with link to donation (landing page)
Step 4. Wait to see whether the prospect has completed donation
Step 5. If not, send email to prompt donation
Step 6. Again, if not donated, send text asking what is wrong
Step 7. After donation, send an immediate thank you text
Step 8. One week later, send an email highlighting the recent updates and progress in the campaign and show how their contribution helped
Quick tip 3: In case of emergency alerts text messages work better (I really hope no one stops to check emails in the case of fire).
In Summary
No. Email is not dead and text messaging is not perfect. You don't have to switch from one to the other to see impact. You can simply add texting to your already existing email campaigns to improve reach. CallHub can help you here. The texting tool is simple and lets you create an SMS campaign in three steps. Have fun exploring and let me know how it works for you.
Now, if you will excuse me, I have some texts to respond to and an inbox to sort.