Promoting your nonprofit online might seem like a daunting task. Designing your online strategy requires knowledge of all types of marketing channels and technologies. Plus, you aren't even sure what you want to say. What is the best way to connect with your audience?
Connecting with your audience digitally doesn't have to be challenging, though. All you have to do is tell your story.
Did you know that messages that are delivered as stories are 22 times more memorable than just facts or calls to action? That's because stories are often more interesting, and when we're interested in something, we're going to remember it. As a result, several brands have capitalized on the power of storytelling to grow their audience and establish themselves within their respective industries. Your nonprofit can do the same thing.
You're likely already using storytelling as a marketing strategy at your nonprofit. Whether you've told your supporters how their donations have helped your beneficiaries or have published an update about progress towards one of your goals, you're telling a story.
If it's time to take your nonprofit's storytelling to the next level, technology can help you do that. By harnessing the right tools, you can use technology to reach more people, create a consistent brand, and spread awareness about your cause. All of these benefits can grow your revenue and encourage one-time donors to become recurring ones.
However, with so much technology at your fingertips, it can be difficult to know the best way to integrate it into your marketing strategy. These 5 tips can help you hone your digital strategy to use compelling storytelling to engage your audience. To tell a better story with technology, you should:
Write your elevator pitch.
Develop a social media presence.
Use digital communications.
Keep it consistent.
The story of your nonprofit is your "why." It explains why your nonprofit's work matters, so it's essential that this story is at the forefront of your marketing and fundraising efforts. Enhancing it with technology will only make your story more powerful.
1. Write your elevator pitch.
Before you start experimenting with any technology, it is crucial that you have written your elevator pitch. An elevator pitch is a short, compelling description of your idea or project — so short that you could pitch it to someone while riding in an elevator.
Your main goal with your elevator pitch should be to quickly capture your nonprofit's brand and mission. For digital marketing, a streamlined pitch is especially important since you may only have a few seconds to get a potential supporter's attention. Because there are so many brands trying to get attention online, your pitch must stand out.
Capturing your nonprofit's entire mission in a couple sentences can be more challenging than you might think. Keeping your message short, though, is key to getting attention online. So, when writing your elevator pitch, ask yourself these questions:
Who am I? Your answer to this question should give your audience a quick overview of who runs your nonprofit and the audience you're trying to reach.
What problem am I trying to solve? This is where you lead into your mission statement and explain the "so what?" of your nonprofit.
How am I solving this problem? Now identify the way that you approach your mission and the tools that you use to tackle the problem.
What do I want my audience to do? End with a call to action so that your audience knows how they can get involved.
Getting your elevator pitch on paper will be extremely helpful as you develop your digital strategy. You will always have a reference point to build your other materials around and can maintain consistency across all of your platforms.
2. Develop a social media presence.
Social media is one of the most popular technologies that people use to communicate, brands use to connect with their audiences, and budding influencers use to rise to fame. You're more likely to go viral and reach people outside of your typical audience.
As a nonprofit, you should do everything you can to incorporate social media into your marketing efforts. When planning your social media content, make sure that you use a specific strategy. This way, you can track your goals and stay on brand. When developing your social media presence, you should:
Keep your audience in mind: While social media is often associated with younger audiences, older supporters still engage online, just with different platforms. For example, you'll want to target a younger audience if you're posting on Instagram but on Facebook, your supporters will likely be older.
Use compelling graphics: Social media is a very visual medium, so eye-catching graphics are essential if you want to stand out. Try mixing images and videos to give your viewers some variety.
Make it easy to engage: Whether it's clearly highlighting your donate or subscribe button or using easily understandable language, convenience is key on social media.
In addition to connecting you to thousands of people online, social media also has several tools designed to help nonprofits like yours. For example, Facebook's fundraising function makes it easy for users to host a peer-to-peer campaign for your organization right from their phone. This GoodUnited guide to fundraising on Facebook can explain all the ins and outs of raising money on the platform.
Although social media might not be the first technology you think of, it is an excellent platform to forward your nonprofit's story. With its wide reach and visual capabilities, you can design an interesting and aesthetically pleasing story to inspire your audience.
3. Use digital communications.
Social media isn't the only way for you to tell your nonprofit's story with technology. Other forms of digital communication, such as email and text messaging, can also help you share your story with your audience.
Just as you need a strategy for social media, you also need one for your digital communications, especially if you're just beginning to incorporate your story into your marketing materials.
For your email marketing, you should:
Include an engaging subject line: A lengthy or generic subject line could land your emails in the trash folder. Keep your subject lines between 9 and 60 characters with an eye-catching title to maximize open rates.
Write interesting preview text: Just as you should use an engaging subject line, you should also write interesting preview text. Preview text is a snippet from your email copy that recipients see in their inbox. If recipients find this text interesting, they are more likely to open and read your email.
Serialize your story: If your nonprofit's story is a bit longer, consider serializing it, or dividing up "chapters" of the story over multiple emails. This way, your readers will become invested in your story and will keep an eye out for your next email.
Direct your readers to other platforms: In your emails, include links to your other platforms, such as your website and social media pages. Now your readers have an easy way to learn more about your organization.
And for text messages, you should:
Keep it short and sweet: We are bombarded with notifications every day. The last thing your recipients want to do is scroll through a long text message to try to figure out what you're trying to say. By getting to your point quickly, you increase the chance that your recipient will read your message and complete the desired action.
Use conversational language: Of all of the different marketing channels, text messages are the most casual. Use friendly and conversational language to engage your recipients.
Make it easy to donate: If you're running a text-to-give campaign, make it as easy and convenient as possible to donate. Contributions made over text tend to be impulse-driven, so reducing the number of steps that your supporters have to take ensures that they don't abandon their donation.
Connecting with your audience digitally is faster and more effective than with printed materials. The more that you can familiarize your supporters with your core story, the better. Plus, with your elevator pitch already in hand, crafting your digital communications should be straightforward.
4. Create online ads.
Although you run a nonprofit, taking up some advertising space can be extremely helpful for spreading awareness about your cause. You may be wondering: "how is my nonprofit supposed to pay for digital ad space?" But actually, there are tons of ad grants available to nonprofits nationwide.
One of the most prominent grants in the Google Ad Grant, which provides ad space on Google's search engine results pages to nonprofits for free.
This way, if a potential supporter searches for a phrase related to your nonprofit, your ad will show up at the top of the results page. For example, if you're a wildlife organization and someone searches for "tree planting volunteering," your organization would show up. These ads can help to increase your visibility online and can direct supporters to your other marketing channels. This DNL OmniMedia guide can help you apply for and manage your Google Ad Grant.
Online ads also have the capability to forward your story. You could include a brief introduction to your nonprofit's story in your ad's meta description (the summary of content that appears below the link to your site on Google) to draw users in.
5. Keep it consistent.
Following these other 4 tips without maintaining consistency across the board will hinder your progress. Consistency is essential to build your nonprofit's brand. Without it, you risk being forgotten or untrusted by potential supporters.
For example, let's say that one of your donors is running a crowdfunding campaign because they're passionate about your cause and want to mobilize their network. However, your branding is inconsistent. Your website has one logo and your social media has another. You don't have a consistent color scheme or font, and your visuals don't look cohesive.
As a result of inconsistent branding, potential donors might not contribute to your organization because they will be unsure if your organization is legitimate or if they are donating to the right place. Conversely, if the visuals that your donor uses in their crowdfunding campaign match up with those on your website, your contributors will know they are donating to the right organization.
Therefore, once you decide on a branding style that you like, use it everywhere — on your website, in text messages, in emails, and on social media. Share it with supporters who choose to host their own campaigns on behalf of your organization. This way, you will establish yourself as a trustworthy brand that supporters won't forget.
---
Storytelling is a powerful strategy to use in all of your marketing materials. Not only will it make you more memorable, but it will also encourage contributors to further engage with your nonprofit. And with the help of technology, you can help you reach thousands of people who you might not have encountered otherwise.
---
Author: Carl Diesing, Managing Director, DNL Omnimedia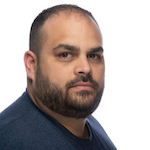 Carl Diesing, Managing Director – Carl co-founded DNL OmniMedia in 2006 and has grown the team to accommodate clients with on-going web development projects. As Managing Director of DNL OmniMedia, Carl works with nonprofits and their technology to foster fundraising, create awareness, cure disease, and solve social issues. Carl lives in the Hudson Valley with his wife Sarah and their two children Charlie and Evelyn.