People love texting. In fact, 78% of people prefer communicating with businesses over text.
This effect is carrying over to nonprofits, too, as in 2019, nonprofit text messaging audiences grew by 26%. This was much higher than that of social media and even more than email.
Clearly, donors are increasingly getting more comfortable connecting with nonprofits over text. It's only sensible to connect back with them over the same channel. This includes fundraising, which forms a major part of all nonprofit communication.
So how do you go about text fundraising and make the most of it? This post will cover everything you need to know to get started.
How does text donation work?
To put it in simple terms, text fundraising is the process of collecting donations through texts. There are primarily two ways to go about this:
Text-to-Give
Text-to-Donate
Here's how they work.
Text-to-give fundraising
In a text-to-give campaign, the donor sends in a keyword to a number, and a fixed donation amount gets added to their monthly phone bill. This donation amount is pre-determined by the nonprofit and mobile carrier when setting up the campaign.
Here's what the conversation flow looks like: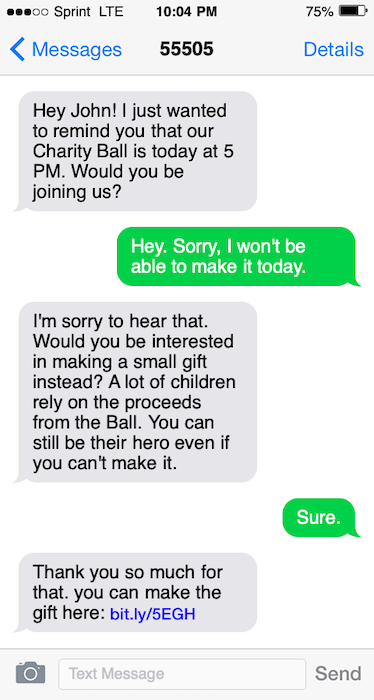 Typically, local political campaigns and disaster relief organizations run text-to-give campaigns to raise quick funds.
However, if you want to launch a text-to-give campaign, you need to go through an approval process that requires you to be:
Exempt from income tax under section 501(c)3.
Registered as a soliciting charity in all states in which the solicitation will occur.
Operational for at least one year.
An organization with a minimum fundraising requirement of $500,000 per year.
While for larger organizations, this may not be an issue, it can be for small and medium-sized nonprofits. In such cases, text-to-donate can be a better alternative.
Text-to-donate fundraising
A text-to-donate campaign also starts with a donor sending in a keyword to express their interest in donating. In this campaign, however, they receive the link to a donation checkout page in response to the keyword. There's no limit to the amount a person can donate.
Here's what the conversation looks like for a text-to-donate fundraising campaign: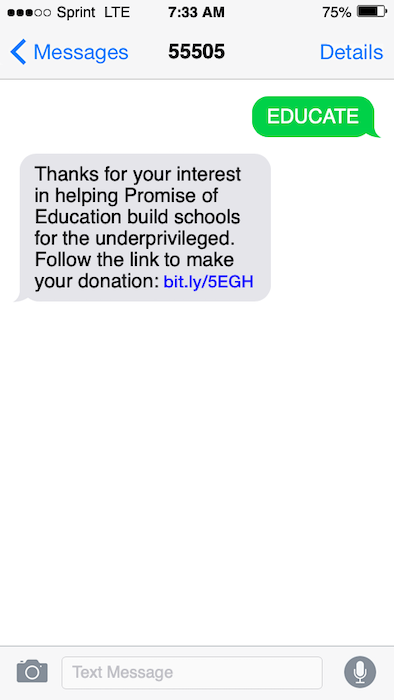 Text-to-donate fundraising is commonly used by nonprofits and grassroots movements to raise money for specific campaigns.
There are two other variations of text-to-donate fundraising that nonprofits can use. These include:
Here's what they entail.
| | | |
| --- | --- | --- |
| Text fundraising type | How it works | When is it used |
| Bulk SMS fundraising | You send out the donation link to a list of contacts. Prospects follow the link and complete the donation. | Typically used to reach out to existing donors to ask them for another donation for a new campaign. |
| Peer-to-peer text fundraising | You engage with your supporters in a two-way conversation and ask them if they are interested in donating. You send out the link if they respond positively. | Typically used in tandem with other conversations like event invites or volunteering requests. |
These were the ways of collecting donations through texts. Now let's look at some best practices that can make each of the text fundraising efforts more effective.
Text fundraising best practices
Just implementing the text fundraising in your campaign is not going to cut it. You need to make sure that you get the most out of it. The following best practices can help you with that.
1. Choose the appropriate text fundraising option based on your campaign.
Applicable to: All text fundraising options.
Different types of mobile fundraising options fit different campaigns. You want to make sure that the text fundraising option you go for is suitable for your campaign and can create the maximum impact.
The type of campaign is a significant factor that affects this decision. Here are the text fundraising solutions and a few campaign examples that form good fits.
Text-to-Give: Since the process is quick and there's not much room for nurturing, this is perfect for quick, one-off campaigns. For example, an emergency fundraiser for disaster relief.

Text-to-Donate: This is suitable for campaigns that last for a longer duration. For example, your year-end giving campaign. You can acquire new donors with text-to-donate and nurture them to make them strong supporters over time.

Bulk SMS fundraising: Bulk SMS campaigns are perfect to drive repeat donations from supporters who already have strong engagement. This is true for both one-off and recurring campaigns. The fundraising text blast can also serve as a reminder for them to donate.

Peer-to-peer text fundraising: P2P text fundraising works really well for campaigns in which you're already engaging with the prospect over text. For example, when collecting event RSVPs from donors, you can send over the donation link too if they'd be interested in helping out more.
2. Prefer renting a shortcode to a long one.
Applicable to: All text fundraising options.
When setting up a text fundraising campaign, you'll need to select a number that you send out appeals from, or people will send the keyword to.
Renting a shortcode for this is recommended for the following reasons:
Shortcodes are memorable and make it easier for prospects to act on them later. People may not donate immediately on seeing the keyword and number. They may need time to think about it. When they do, you want to make sure they know what number to text.

Shortcodes serve as your brand's identity over text, provided you use the same one for all SMS communication. So the next time you send a text, donors will know from the notification itself that it's from you and will be more likely to open it immediately.
Shortcodes are faster. With a shortcode, you can send out 100 texts per second, unlike their long counterparts (sending only one text per second). They allow you to send out a text appeal to a large contact list in a very short time.
You have two options of shortcodes to select from:

Dedicated shortcode.
Shared shortcode.
Check out this post on Dedicated vs. Shared shortcode texting to understand what would be more suitable for you.
3. Select keywords that are memorable and relevant.
Applicable to: Text-to-Give and Text-to-Donate fundraising.
The keyword you choose for the campaign makes a huge difference. A random combination of letters and numbers can raise a number of issues:
People's phones may autocorrect these combinations to something different.
Promoting it orally (for example, over radio) would be challenging. You would have to spell it out.
It wouldn't be easy to recall if people want to act on it later.
In all these cases, you risk missing out on acquiring donors because of a simple mistake. To avoid this, when selecting a keyword, make sure that it is:
Simple and concise: Choose a keyword that you're sure a majority of the population can spell easily. Also, you may want to avoid including numbers.
Not a homonym: You don't want people spelling 'bear' when you want them to say 'bare.'
Relevant to the campaign: It's another way to ensure people remember it well even later on. For example, ENDHUNGER is a good keyword for a food donation campaign.
4. Promote the keyword and shortcode far and wide.
Applicable to: Text-to-Give and Text-to-Donate fundraising.
Similar to any other fundraising method, your text fundraising efforts will not have much of an impact if people don't know about it.
You need to promote the keyword and shortcode everywhere possible to grab the attention of prospects and get them to donate. Here are a few ways to do that:
Put out posters with the keyword, shortcode, and campaign message in high-traffic areas like outside retail stores.
Create and put out posts on social media with these details.
Include them in your direct mail fundraising letters and email newsletters.
Give prominent space for the keyword and shortcode on your website.
Use advertising methods like radio and television as promotion tools.
Check out our post on Nonprofit Advertising for more tips and insight on ways to advertise our campaign.
5. Include all relevant details in the SMS appeal.
Applicable to: Bulk SMS fundraising.
Unlike text-to-give or text-to-donate, bulk SMS is more outbound in nature. People may not be entirely aware of the campaign that you're raising money for, and you'll have to inform them.
So, when sending out a text blast appeal, craft a message that includes the following:
What are you trying to achieve?
The kind of impact you're expecting.
What do you want the donor to do?
It's difficult to include all this in a 160 character limit, but not impossible. One way to tackle this is by combining the first two points into one statement, as in the following example:
"John, each year 10,000 underprivileged youth end up in prison due to lack of guidance. We want to change that. Could you help us by donating $15? bit.ly/5EGH"
You can link out to the donation page that will have more details about the campaign.
Alternatively, you can also send out an MMS with an image or video conveying a majority of the information.
In an MMS, the text character limit is increased to 1600, allowing you to write a more compelling copy. For more details on the technicalities of MMS, check out this post: Bulk MMS broadcast.
6. Build up to the appeal.
Applicable to: Peer-to-peer text fundraising.
Peer-to-peer texting is often used to engage prospects or donors in a two-way conversation.
When you combine fundraising with it, it's important to work that into the conversation naturally rather than just throwing it at them. You risk losing the prospect's interest in the entire interaction if you send out an automated message in the end.
Here are a few things you need to do before sending the donation link during such an interaction:
Make sure it is the right time to make a donation appeal. For example, don't ask for another gift when you're texting to thank the donor for a donation.
Ask them if they would be interested in giving. Don't just send the link without asking. Make sure to highlight the reason why they should give.
If they respond with a "No," make a lower barrier ask, like would they be kind enough to share the donation appeal with their friends. Thank them no matter how they reply.
Here's an example for your reference.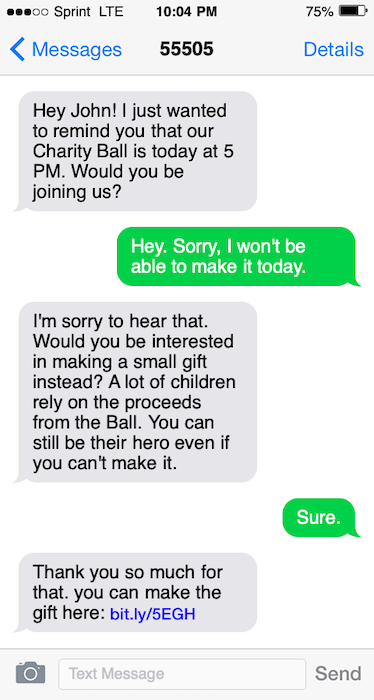 Following these text fundraising best practices can ensure that you get the most out of your fundraising efforts.
While texting has proven its worth in terms of fundraising, there's a lot more that nonprofits can achieve through text messaging. For starters, SMS can make your marketing efforts more efficient and boast a higher conversion rate. To know more about how to do that, check out our SMS Marketing Guide for Nonprofits.
Featured image source: Amol Tyagi