Campaigns that have engaged in a substantial number of phone banking campaigns with supporters know that there are three main pitfalls during political calls to cell phones:
The inability to legally reach mobile numbers who haven't yet consented (due to TCPA restrictions).
A painfully slow process if you dial these numbers manually.
Answering machines and unanswered calls that act as speed-breakers to your campaign.
Naturally, campaigns want to target and tackle such problems and make their political calls more efficient.
Here's a solution: An outbound dialer that fast-tracks dialing without breaching TCPA regulations. CallHub's FastClick dialer is a great example.
The dialer uses human intervention to dial numbers, and the algorithm routes answered calls to free agents. This could be an ace up your sleeve during this election season.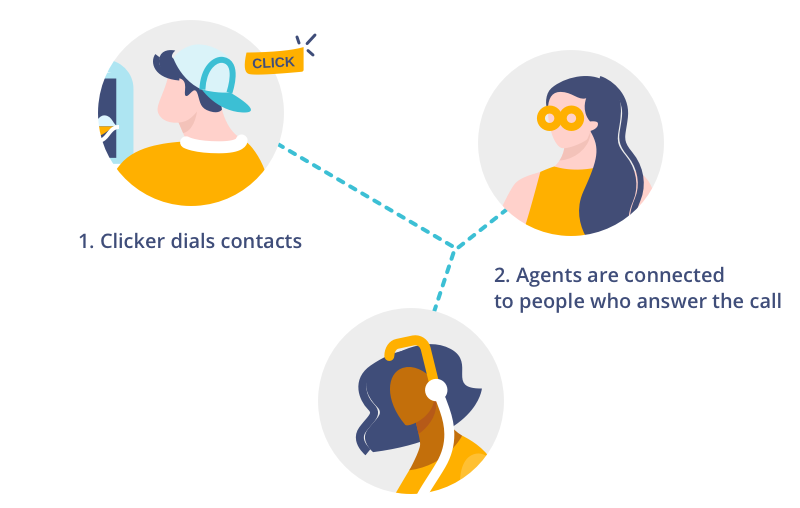 Let's look at the TCPA regulations relevant to political calls and follow with the features of the Fastclick dialer and use case opportunities.
TCPA regulations surrounding political calls
The Telephone Consumer Protection Act (TCPA) regulates telemarketing and political calls to private numbers to reduce spam and scam calls.
While some rules are relaxed for political campaigns (e.g., the National DNC list is not binding to political campaigns), various other outreach, scheduling, and authorization regulations apply.
The regulations are as follows:
Automated dialing is not allowed for wireless (or mobile numbers) without prior consent from the user.
Contacts from purchased lists, too, must have given consent for political campaigns to auto-dial them legally.
Calling is allowed only between 8 am and 9 pm. Some states have stricter regulations and in such cases, the state laws stand above TCPA guidelines. Head here for the list of states with stricter regulations and their respective timings.
Artificial or simulated voices and recordings are not allowed where the contacted person has to pay for the call. These are typically toll-free numbers with the prefixes 1-800, 877, 866, 855, 844, or 833.
If a contact asks not to be contacted by your campaign or revokes consent, all subsequent calls to the number become non-compliant.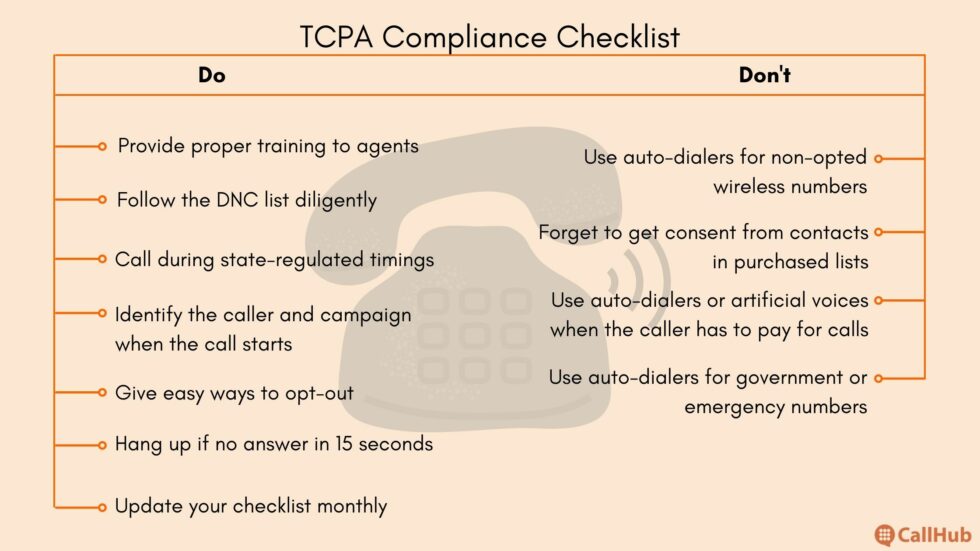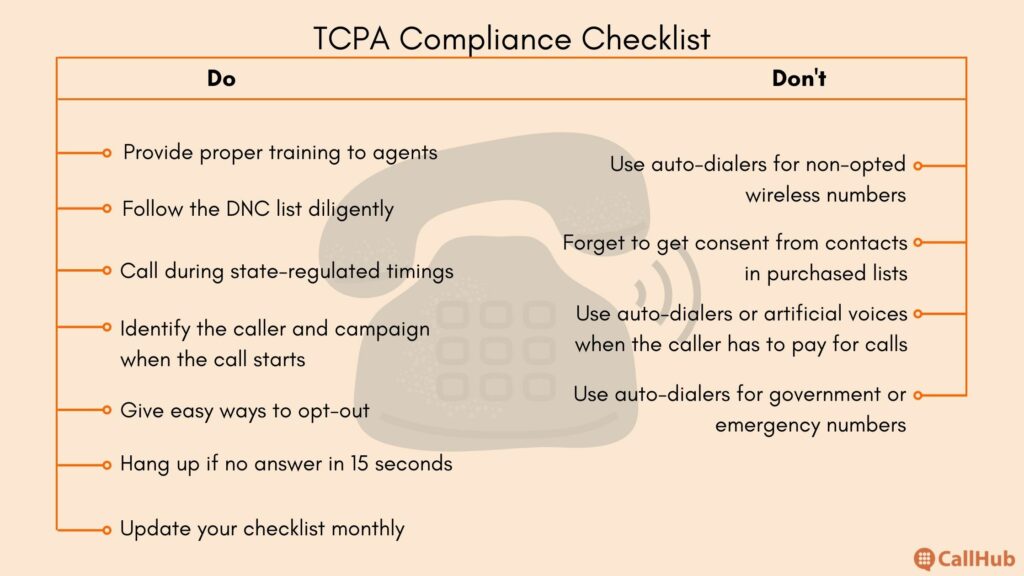 The complete list of TCPA compliance regulations applicable to political calls.
While the regulations may put new talking agents (and subsequently, the campaign itself) in a fix, an intelligent and TCPA compliant phone banking software can minimize trouble. CallHub's Fastclick dialer helps you follow regulations while also allowing fast-paced dialing. Here's how it works.
Features of the Fastclick dialer
The Fastclick dialer is designed to be TCPA compliant and aids political campaigns in reaching new (still unconsented) people faster. Here's how it differs from auto dialers:
| | |
| --- | --- |
| FastClick dialer | Automated dialers |
| The Fastclick dialer uses human intervention to dial and queue calls. One agent is assigned specifically to click on contacts and queue them for dialing. When a talking agent joins the campaign, the algorithm dials the queued number and routes it to the free agent. | Automated dialers use algorithms or other automatic systems to queue, dial, and route calls to agents. |
| Useful for campaigns where contacts are yet to give consent to receive calls on their mobile phone. | Useful for campaigns with a consenting contact list. |
| A must-use for non-consented contact lists with a mix of mobile numbers and landline numbers OR only mobile numbers. | Can be used for landline numbers that are yet to give consent. |
Now, on to the features.
Import contact lists from your CRM
Your organic and purchased contact lists will most likely be on your CRM. You can directly import them to CallHub for your calling campaign.CallHub integrates with NationBuilder, NGPVan, L2 political and many other political CRMs. If you don't find yours in the directory, you can use our Zapier integration to sync data.
Alternatively, you can
Add contacts individually.
Upload contact lists in the CSV file format.
The Fastclick dialer is as fast as (or even faster than) most auto-dialers. So, you can import lists of a mobile-landline mix, entirely non-wired (mobile), and entirely wired (landlines or house phones) lists on the platform and begin your campaign. The first phase of your political calls to these contacts will involve securing consent for future calls (and SMS marketing, if applicable).
This feature helps you reach mobile numbers while staying TCPA compliant and is most useful for cold calling.
Call campaign scheduling
Managers can schedule the hours when the campaign operates. If your campaign is within the state, you can set the hours to suit the TCPA or state-mandated schedule (hours and days). For out-of-state calling,
Switch on the timezone calling feature (in the "schedule" section).
Pick the timezone you are calling in.
Schedule operational hours and days.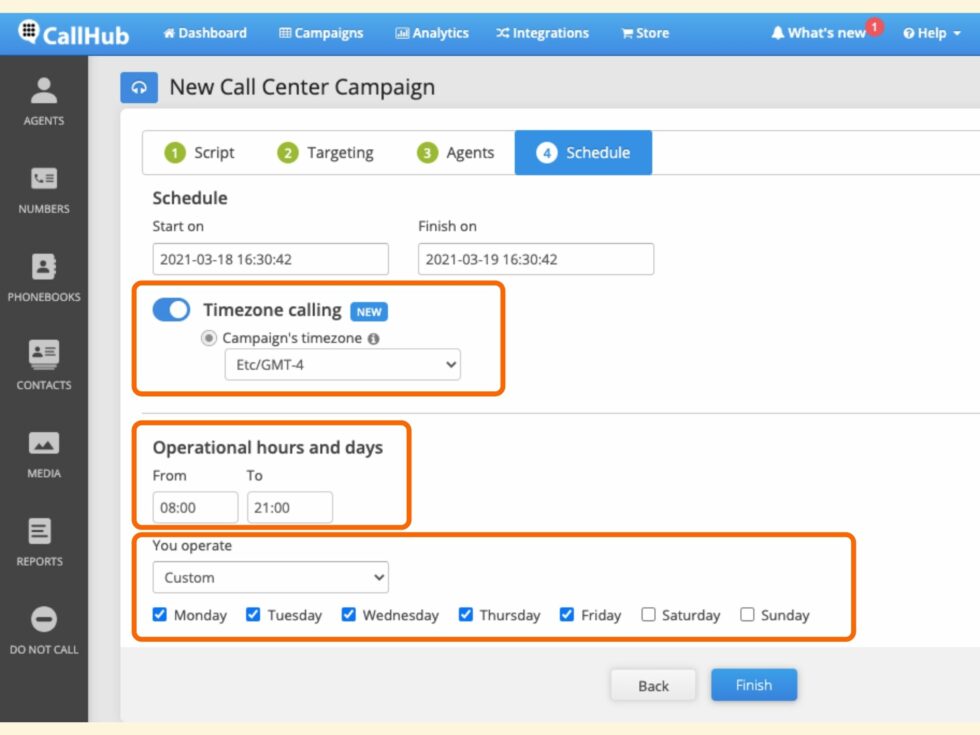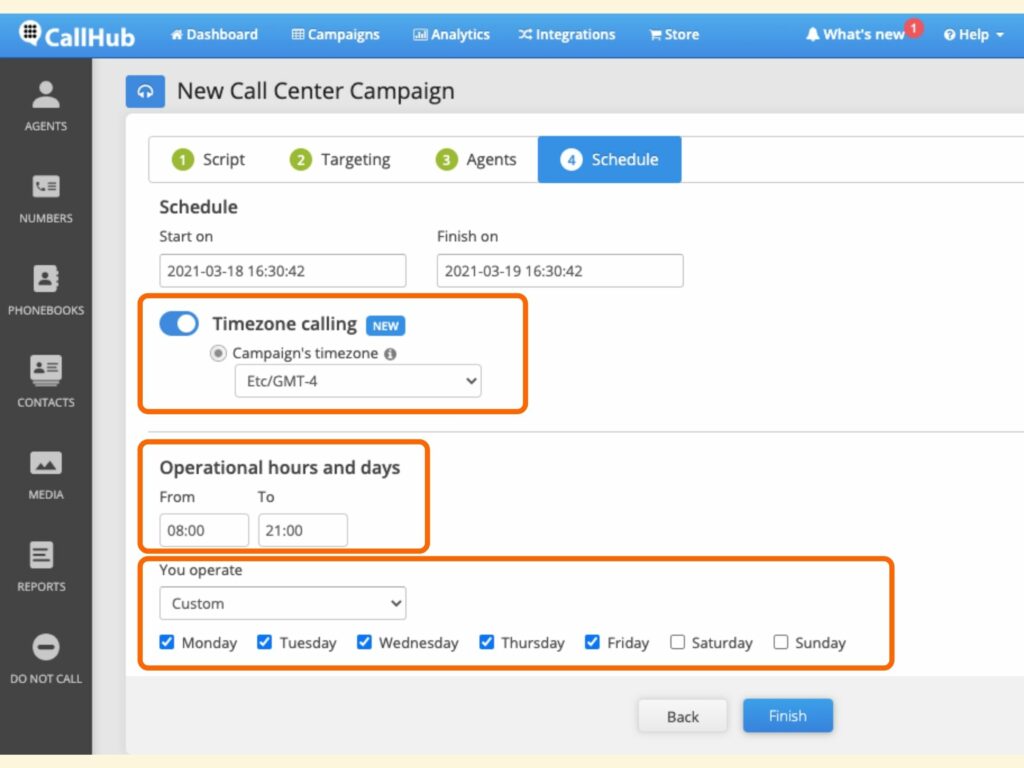 The algorithm will pause the campaign when the operational hour in the set timezone ends. If you're organizing a phonathon in different states simultaneously, you can segment lists accordingly and create separate campaigns for each, to abide by their respective regulated schedules.
This feature helps you stay compliant with the TCPA and state-regulated calling timings and is best used for out-of-state campaigns.
Answering machine detection
The main objective of an outbound dialer is to save you time and make each campaign as fast and efficient as possible. As the name suggests, the answering machine detection feature identifies calls answered by a machine and skips adding them to an agent's line.
Since you won't get consent for future political calls via an answering machine, it's best not to spend time on this call. Thus, the dialer hangs up the call when it detects an answering machine, so the clicking agent is ready to queue the next call to an agent's phone.
This feature is best used for high-volume campaigns, like GOTV or cold-calling.
Scripts with personalization
Have you ever gone on a campaign call frazzled and ended up dissatisfied with the conversation? Yeah, we know how discouraging that is. A phonathon script, complete with all necessary details, personalized for each contact and the right guide-points for FAQs or doubts, can avoid such a situation.
The Fastclick dialer provides the script right on your agent's screen, along with the contact's history and detailed information. Agents can add notes and newly acquired information to the profile, which syncs automatically with your CRM and reflects in future campaigns. Managers can make live adjustments if the script (or other details) need to be changed when the campaign is running.
Personalized scripts are useful for political phone banking campaigns like voter ID and polling.
Unlimited agents
Political calling campaigns typically involve contacting hundreds of thousands of supporters. Naturally, it would help if you had a large volume of agents to cover them all in a short time. The Fastclick dialer allows you to add unlimited talking agents (in addition to one clicking agent) to a campaign.
This way, you can set the dial rate up to 10x once you have a high number of agents. The clicker-agent queues up contacts to be dialed (we recommend at least 20 contacts, irrespective of the dial rate). These contacts get added to a pipeline and when a talking agent is free, the dialer does the last-mile dialling and routes the answered call to them.
Depending on the number of talking agents and your answer rate, you can increase or decrease the dial rate from 1 contact dialled at a time to 10 dialled at a time.
Unlimited talking agents and dialing pace control help in high-volume or last-minute calls such as GOTV campaigns.
SMS follow-ups and callbacks
You do not want to lose out on contacts who did not answer your first call. Or risk losing someone who asked for a follow-up but you failed to provide it. With the Fastclick dialer, you can
Schedule a callback for unanswered calls or special requests.
Send human-initiated texts from the calling interface. With saved templates (with merge tags for personalization), speed up the process even further.
SMS follow-ups and callbacks are particularly useful when the campaign is focused on voter ID, telephone fundraising, or GOTV.
Analytics and live tracking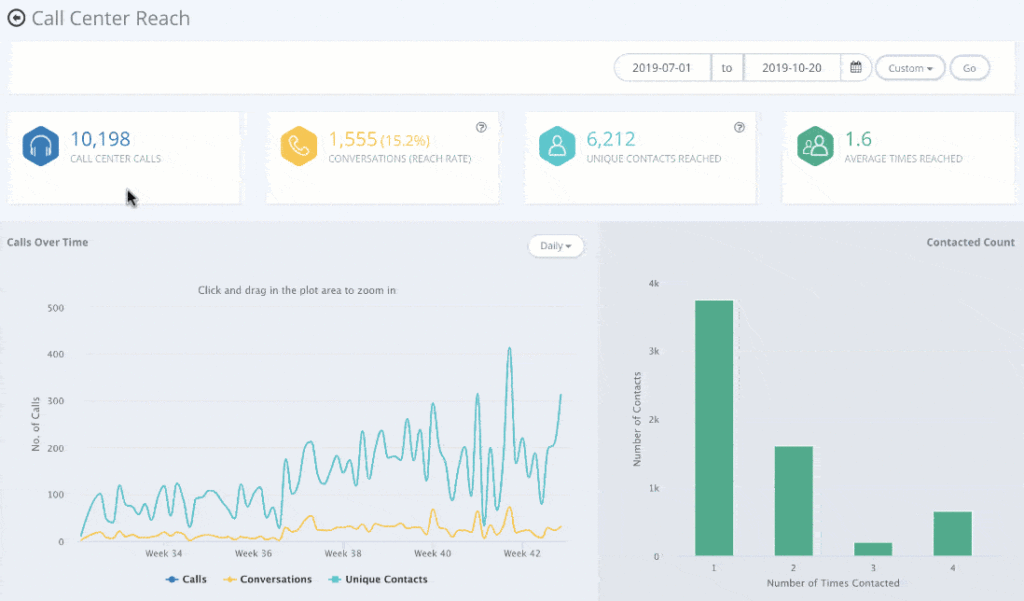 Constant vigilance on campaigns helps you weed out shortcomings and improve performance accordingly. Some key points to track during a calling campaign are:
Answer rate during different times of the day.
Agent performance.
Unique contacts.
Number of contacts dialed.
Number of calls.
Conversation time.
The Fastclick dialer allows you to track such insights during a campaign and make informed decisions.
Analytics and tracking are crucial for every calling campaign but more so when you are optimizing your campaign for results or running an experiment.
To Conclude:
The Fastclick dialer is an essential tool for political calls. Its intelligent, intuitive, and TCPA compliant design helps you make your campaign more efficient. Try it out by signing up for a free account.
Feature image source: Paweł Czerwiński/Unsplash.