Let's begin by asking the most pressing question– why is a TCPA compliance checklist important?
As a political campaign, you have ample resources to check your calls' validity and legality, monitor your phone banking efforts and scrutinize your text message campaigns. And yet, some communications slip by your fingers and you end up calling unconsenting folks or past the admissible timings, thus frustrating electorates.
How does this fiasco occur?
It is so because campaigns knowingly or unknowingly call people who haven't consented to such communications. A TCPA compliance checklist ensures that frustration does not occur due to such an accidental breach of protocol during your communication campaign.
In this article, we cover,
The dos, donts, and consent requirements for TCPA rules.
Outbound dialers and texting tools that help you stay compliant.
How do you comply with TCPA?
A TCPA compliance checklist begins with what you can do to stay legally safe during your calling and texting campaigns. This section covers how you comply with TCPA guidelines even with a large number of volunteers initiating communication with electorates.
Train your agents to learn the TCPA compliance checklist
As the number of callers and texters increases, so does the risk of someone accidentally violating the TCPA rules. To avoid that, every volunteer and calling agent must know the rules and your TCPA compliance checklist by heart.
Set down a process wherein every new volunteer first undergoes process and software training and is well-versed with the TCPA compliance checklist. Ensure that the volunteers are updated with the rules by organizing short-term courses once every few weeks.
Honor your DNC list
While political campaigns are exempt from following the National DNC list, they must abide by their own DNC lists (people they have contacted previously but have chosen to opt-out).
Invest in a call center tool to ensure that you don't accidentally call a person who requested not to be contacted (and risk yourself to a lawsuit). Such a tool allows numbers to be added to DNC lists and weeds them out even if the number appears in a separate contact list.
In CallHub, you can set call dispositions for bad numbers, voicemails, or those who wish to be added to the DNC list. Set the disposition as you see fit (even for other scenarios such as "not interested", originator cancel, etc.) and altogether avoid the risk of redialing these numbers for any campaign.
Call contacts only during state-approved timings
The TCPA guidelines mandate calling contacts only between 8 am to 9 pm in the recipient's location. However, some states have their own approved timings within this bracket. Make sure you stay within those limits. For instance, Alabama and Mississippi allow telemarketing and phone banking between 8 am and 8 pm (Monday – Friday) and no calls on Sunday.
State-wise calling timings that are more restrictive than TCPA:
| | | | | |
| --- | --- | --- | --- | --- |
| State | Mon-Fri | Saturday | Sunday | Holiday |
| Alabama | 8am – 8pm | 8am – 8pm | No Calls | No Calls |
| Connecticut | 9am – 9pm | 9am – 9pm | 9am – 9pm | |
| Illinois | 9am – 9pm | 9am – 9pm | 9am – 9pm | |
| Kentucky | 10am – 9pm | 10am – 9pm | 10am – 9pm | |
| Louisiana | 8am – 8pm | 8am – 8pm | No Calls | No Calls |
| Massachusetts | 8am – 8pm | 8am – 8pm | 8am – 8pm | |
| Michigan | 9am – 9pm | 9am – 9pm | 9am – 9pm | |
| Minnesota | 9am – 9pm | 9am – 9pm | 9am – 9pm | |
| Mississippi | 8am – 8pm | 8am – 8pm | No Calls | No Calls |
| Nevada | 9am – 8pm | 9am – 8pm | 9am – 8pm | |
| New Mexico | 9am – 9pm | 9am – 9pm | 9am – 9pm | |
| Oklahoma | 9am – 9pm | 9am – 9pm | 9am – 9pm | |
| Pennsylvania | 9am – 9pm | 9am – 9pm | 1:30pm – 9pm | No Calls |
| Rhode Island | 9am – 6pm | 10am – 5pm | No Calls | No Calls |
| South Dakota | 9am – 9pm | 9am – 9pm | No Calls | |
| Texas | 9am – 9pm | 9am – 9pm | 12pm – 9pm | |
| Utah | 8am – 9pm | 8am – 9pm | No Calls | No Calls |
| Wyoming | 8am – 8pm | 8am – 8pm | 8am – 8pm | |
Source: Convoso.
When you try to abide by these timings without automation, you run the risk of spilling over (e.g., if you call within the time bracket in your timezone but the recipient lives in a location that is a few hours ahead.)
To ensure such accidents don't occur, it is recommended to invest in a call center software that automatically stops calls outside of the TCPA approved hours. CallHub does that when you schedule your campaign.
Set up your campaign – schedule the date and days of operation – set daily operational hours (the campaign stops automatically when it is past the set deadline in the local time zone you've set).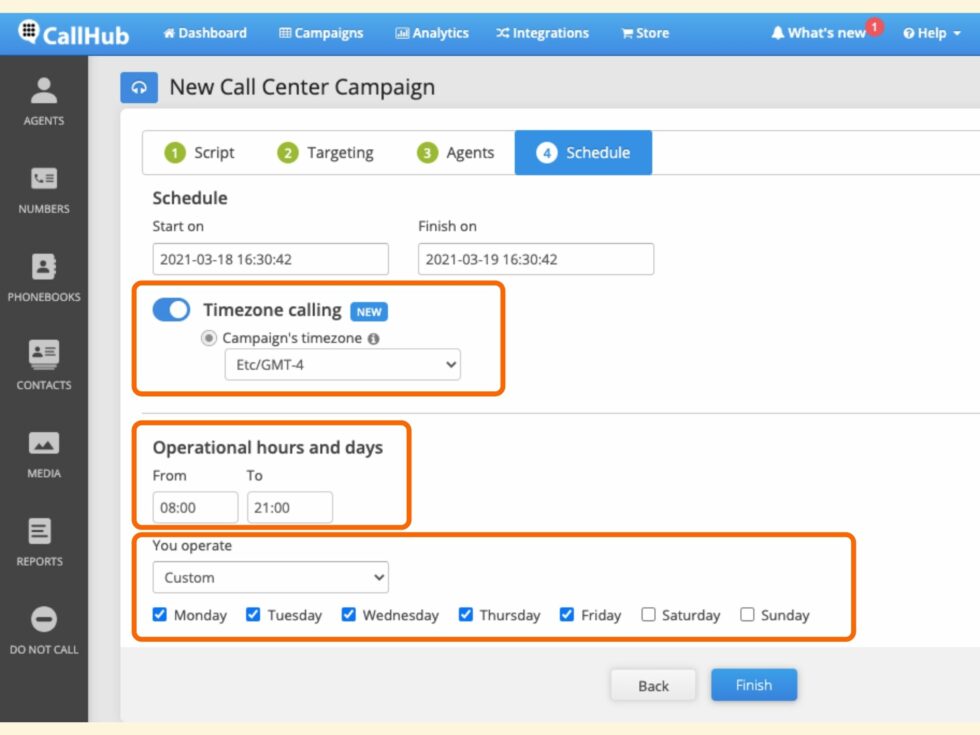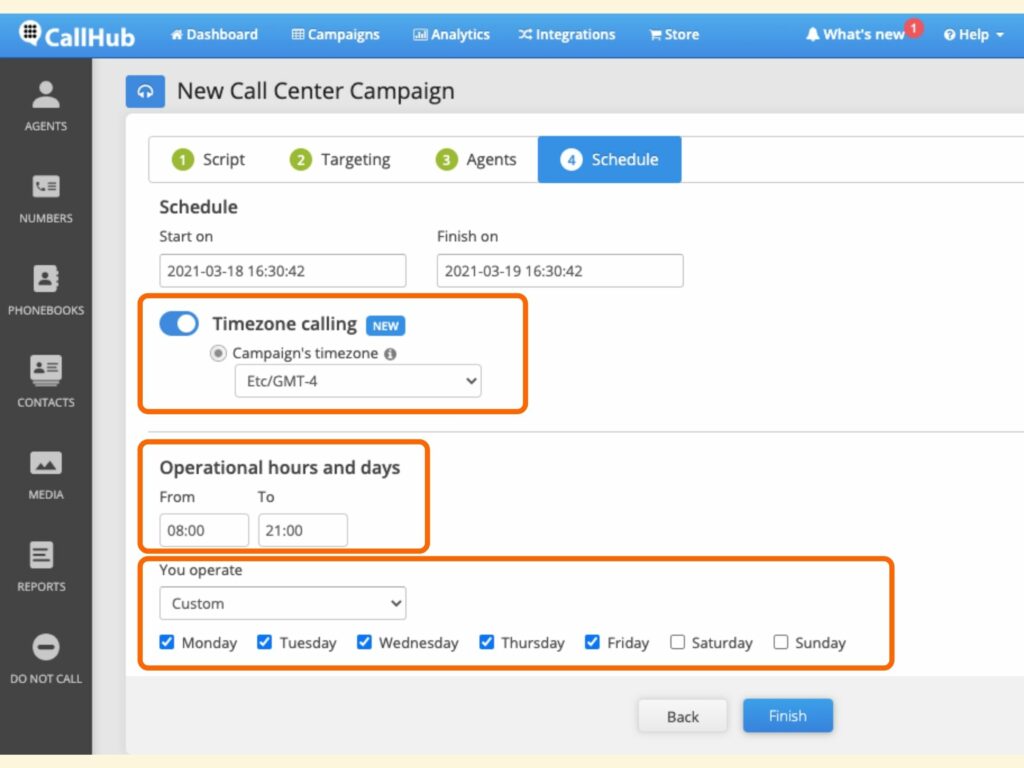 Introduce yourself at the beginning of every call
For one, this is a polite way to start a conversation, but it is also a TCPA mandate that requires callers to identify themselves at the beginning of the conversation. Write a phone banking script that covers the introduction well and ensures that no agent misses this crucial part of the conversation.
TCPA mandates the mention of four points during your call:
Identity disclosure: This includes the name and designation of the caller, and the identity of the organization/campaign.
Purpose of the call: Whether you are calling for donations, voter profiling or GOTV, the purpose of the call needs to be stated clearly and towards the beginning of the call (before you get the information you need or ask questions related to the purpose).
Information about opting out of further communications: You must provide easy ways to opt-out if a person does not wish to be contacted by you. They must be able to do so verbally (mention this on the call) or in writing (text an opt-out keyword to your number). In both instances, you must add the person to your campaign's DNC list immediately.
Sample script:
Hello, [contact's name], this is [agent name], an outreach specialist with the [candidate name] campaign. [Candidate name] will be addressing a rally on St Mark street on the 17th of October and speaking with supporters regarding our economics policy for new small businesses.
Do let me know if you'd like to learn more about the rally. If you wish to stop receiving calls, let me know, and we won't call you further.
Give easy options to opt-out
An opt-out can be verbal, written, or digital. You must provide an easy way out to contacts who have previously consented to receive your communications.
Verbal opt-out: An option to state they want to opt-out directly on the call. Add them to your DNC immediately if they request so.
Written opt-out: By this, we mean if they write to you to opt-out of future communications, via direct mail, or SMS.
Electronic opt-out: If you have a way for people to opt-out on your website or via email, mention the same during your calls.
Providing the details of these electronic or written opt-outs is especially important for texts and prerecorded calls, and voice broadcasts– instances when the contact is not directly engaged in verbal communication with a person.
Hang up if there's no answer for 15 seconds
Hanging up within this timeframe isn't a legal requirement but still a best practice followed by telemarketers and political campaigns. Stop a call ringing without an answer for 15 seconds or four rings, whichever is sooner. This way, you don't waste time on a call and can retarget the contact when they are potentially not as busy to answer.
On a call center software, you can mark such calls as "No Answer" and set a call disposition to retry after a defined time.
Update your TCPA compliance checklist monthly
TCPA may change or tweak its regulations as call frequency increases (typically during election season). To keep up with the changed norms, it's advised to go through the rules every month and update your checklist accordingly.
Make sure to retrain volunteers and update your process accordingly.
You can keep a check on the rules on the FCC (Federal Communications Commission) website or ask your legal counsels to do a thorough check and inform your communications team.
What does the TCPA prohibit?
The list of what the TCPA prohibits is more important than what you can or should do. These "don'ts" need to be high priority points in your TCPA compliance checklist.
TCPA prohibits the use of automated dialers for non-opted wireless number
This is the most fundamental TCPA regulation, to be strictly followed by political campaigns. Campaigns cannot use automated outbound dialers to call cell phones, pagers, and other wireless devices if they don't have the receiver's consent.
So far, this rule is not extended to landlines or wired numbers, and you can make use of an automated dialer to call them.
In summary, here are the numbers you can legally call using an automated outbound dialer:
Wireless numbers (such as cell phones and pagers) who have opted in.
Landline or wired numbers who haven't opted in.
Landline or wired numbers who have opted in.
Note that the rule is valid for live calls (not recorded) and recordings, and artificial and simulated voices. Again, the distinction between landline and wireless numbers stands true and prerecorded calls can be made to wired numbers even without prior consent.
How long does a TCPA permission last?
The consent given by electorates to receive auto-dialed calls, pre recorded calls, or text messages can be:
– Written
– Electronic.
The consent lasts for four years, after which you must ask for their permission again to continue contact with them via calls or texts.
Do not fail to get consent from purchased contact lists
Political campaigns often purchase voter lists from publicly available files. However, these contacts haven't yet opted in to receive your calls or texts.
So, your first contact(s) before they opt-in needs to be via manual dialing or texting because TCPA text message and call rules is still legally allow that. Here's how you can do so:
Manual texting with personal phones (or a tool that only sends one text at a time) can send out requests for TCPA opt-ins.
Campaigns tend to initiate conversations via manual calling or texting and get the user's consent during these conversations. The user may choose to engage or opt out. At every stage, the person is added to the relevant list, making the list for manual contact progressively shorter.
Note that these conversations can initially be about campaigns and a person's support, blending in a request for opt-in when you are confident about their interest.
Related Reading: How To Build Your Voter Contact List
Do not use recordings where the contacted person has to pay for the calls.
TCPA guidelines forbid you from using autodialers or recordings and simulated voices during calls where the contact has to pay for the call.
Incoming calls on toll-free numbers are paid for by the number owners. In such cases, campaigns cannot run artificial voices or recordings. Such numbers typically start with these suffixes:
– 1-800
– 877
– 866
– 855
– 844
– 833
Weed out these numbers if you are using autodialers, recordings or artificial voices during calling campaigns.
TCPA prohibits the use of auto-dialling to emergency and government institutions
If you are using an automated dialing system (which is typically the case) for campaign calls, make sure you leave the following numbers out of the contact list:
Emergency phone lines of fire protection facility, poison control center, law enforcement agency.
Emergency line of phone line of guest or patient rooms in a hospital, healthcare facility, or medical physician.
Numbers assigned to cellular telephone services, mobile radio service, or paging services.
To summarize your TCPA compliance checklist: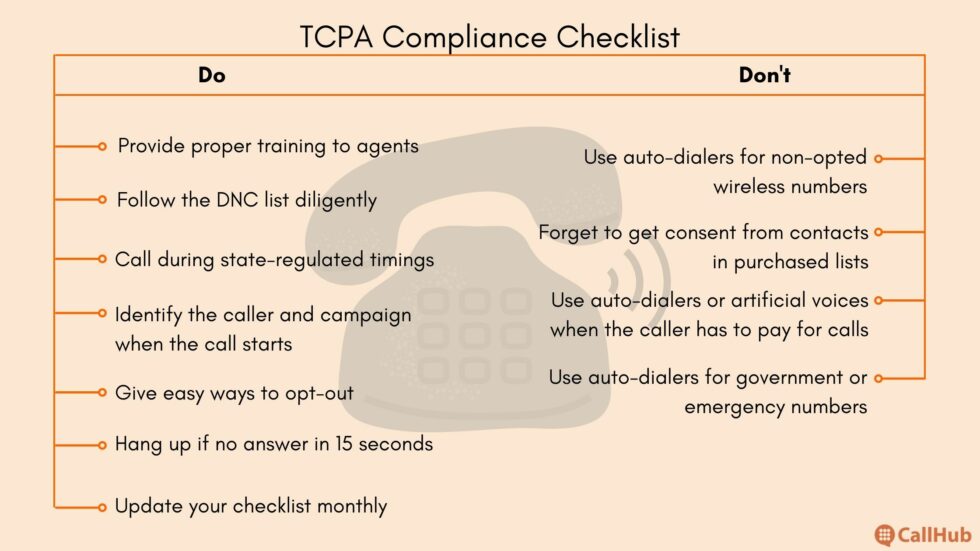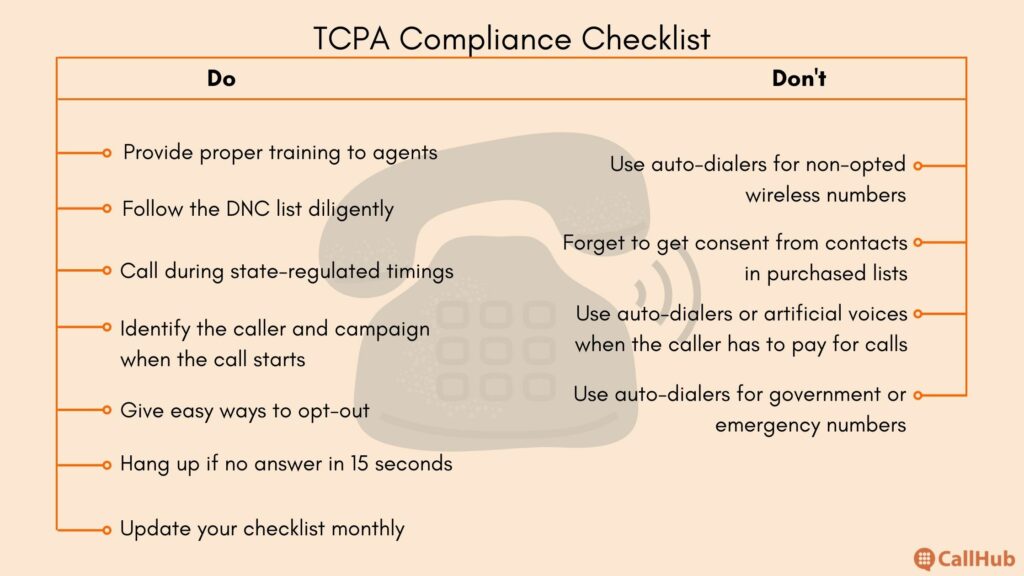 What phone communication tools adhere to the TCPA compliant checklist?
Calling and texting tools help you get through contact lists quicker and more efficiently when you have proper consent from contacts. But how do you reach electorates who haven't given permission yet?
Here are two tools that will help you go through such lists in a fast and efficient manner:
Fastclick Dialer
For high volume or last-minute calling campaigns where the numbers are a mix of landlines and cellphones, the Fastclick dialer is an excellent dialer solution. It uses human intervention to quicken your campaign's pace, so you get the best of auto-dialing and staying TCPA compliant.
How to use it on CallHub:
Create an account to sign up for the Fastclick dialer tool.
Create a campaign, add contact lists and assign calling agents.
Add dialing agents– these agents will click a button to queue up calls once one concludes. This way, the numbers are not auto-queued or dialed.
Set the dial rate to up to 10x when you are short on time, but you want to reach as many people as possible.
Sign up for the TCPA compliant Fastclick dialer here.
SMS opt-in
A TCPA text message consent is the perfect way to start communicating with supporters. And an SMS opt-in is the way to get people to give this permission. It is a handy tool (81% of Americans text regularly) that gets you results (texts have a 98% open rate and 45% response rate).
This is your foot-in-the-door for future communication about your campaigns to supporters.
How to use it on CallHub:
You create an account on a text marketing tool and select the "SMS Opt-in" tool.
Create a campaign and rent a shortcode.
Assign a keyword that is memorable, easy to spell, relevant to your campaign, and, as far as possible, one-worded. E.g., UNITED.
Advertise the shortcode and keyword in all online and offline sources. (E.g., social media posts, posters, during rallies, etc.)
People sign up by texting the keyword to your shortcode. Set up an auto-response detailing expectations from your communications and confirming whether their opt-in is for texts, calls, or both.
Try our SMS opt-in tool for free here.
To Conclude:
A TCPA compliant checklist is a must for political campaigns who want to run a clean show and ensure their messages don't frustrate recipients. Of course, it also keeps you legally safe and avoids any lawsuit that can be damaging both to your funds and reputation.
While the above guidelines cover all grounds of staying compliant with TCPA regulations, it is advised to regularly update your knowledge if any rules change. You can keep a tab on FCC's website for rules about political calls and texts here.
Feature image source: Glenn Carstens-Peters/Unsplash.