A list building exercise typically involves inbound marketing techniques such as SMS opt-ins, webforms and custom bots. The aim is to collect as many phone numbers and emails as possible, confirming their consent to receive your communications on the way. However, one crucial aspect of building your contact list is maintaining its quality.
That means removing fluff and doing a contact list clean up periodically.
Why is a contact list clean up necessary?
Communication platforms typically set a 10% error limit to texting campaigns.
They have a 1% opt-out limit. You risk account suspension if you bypass these limits regularly.
For calling campaigns, the average call duration must be <20 seconds and the unanswered call rate must be below 40%.
A clean list costs you fewer dollars per message (since bad numbers will be eliminated).
It improves your delivery, answer and response rate (even if the total number of calls or messages decreases).
For campaigns with an exhaustive list of contacts, manual inspection of numbers is tedious and time-wasting. But that's what we're here for– to help you do the boring job so you can focus on the campaign. In this blog, we walk you through how to clean an existing list on CallHub.
There are three types of numbers you must remove from a list:
Bad numbers (to reduce error rate).
Unresponsive numbers (consistent busy tone/machine answer/cancelling OR no text replies).
Unreachable numbers (for reasons other than bad numbers. E.g., home number in a texting campaign).
Let's look at how to do it on CallHub.
How to clean your contact list
Before we begin, let's define the various types of numbers that make a contact list messy. In the most basic terms, numbers that don't receive or respond to your communications show unsatisfactory engagement and make your list messy. On the other hand, numbers that take the action you desire regularly enhance the quality of your list.
How do you figure one from the other?
Calling campaigns: The calling tool assigns dispositions such as congestion, receiver cancel, busy, failed etc., after every call. These dispositions reflect in your calling reports. The agent adds dispositions such as DNC manually. These, too, reflect in your reports and the DNC list on CallHub (which comprises all DNC numbers, irrespective of the campaign).
Text campaigns: For texts, the status of a sent message is marked by the tool. Undelivered texts, bad numbers, gateway errors etc., reflect on these statuses to help you understand how well your text campaign is going.
Here are the types of contacts that require review or elimination from your list:
Bad number: These are incomplete or non-existent numbers.
Unallocated number: Numbers that are not allocated or registered to a person.
Failed: Unreachable numbers.
Disposition- Do Not Call: The contact requested you not to contact them again.
Among these, numbers allocated the DNC disposition are automatically eliminated in CallHub from your calling and texting campaigns. You must manually weed out the rest. Let's look at how to do it.
Cleaning lists for calling campaigns
Your contact list clean-up for calling campaigns includes bad numbers, consistently unresponsive numbers, or those that go to machines or voicemails.
To clean them from your list, follow these steps:
Log in to your account and go to Reports – Call.
Filter campaigns by the desired date range or specific name and hit search.
Filter by the relevant preset or custom disposition (e.g., FAILED).
Create a separate contact list from the results and give it a unique, identifiable name.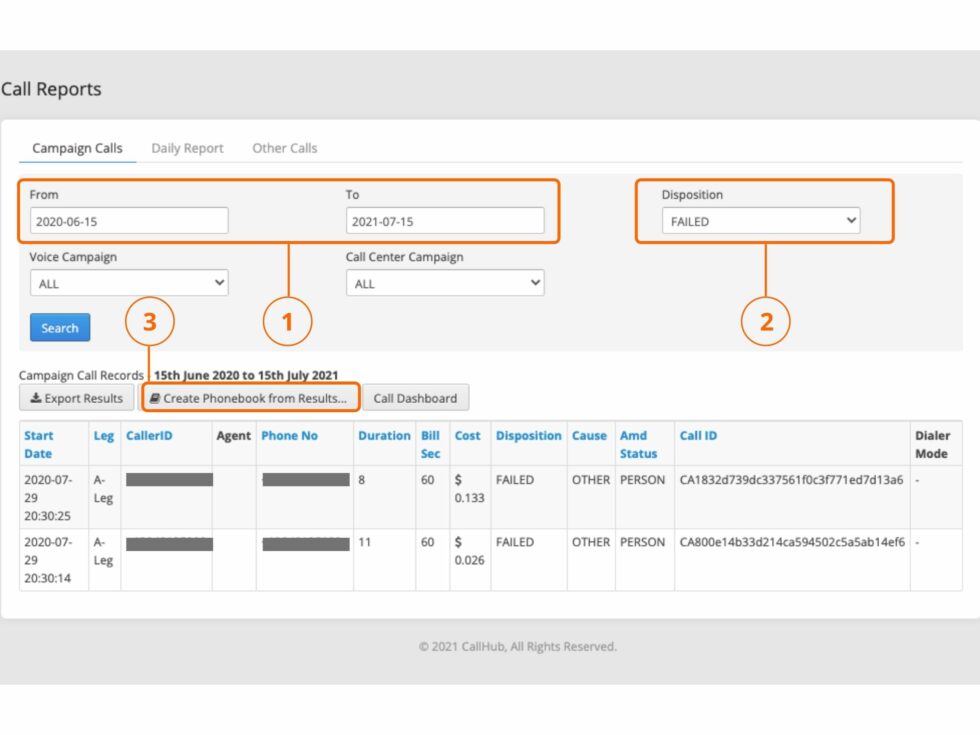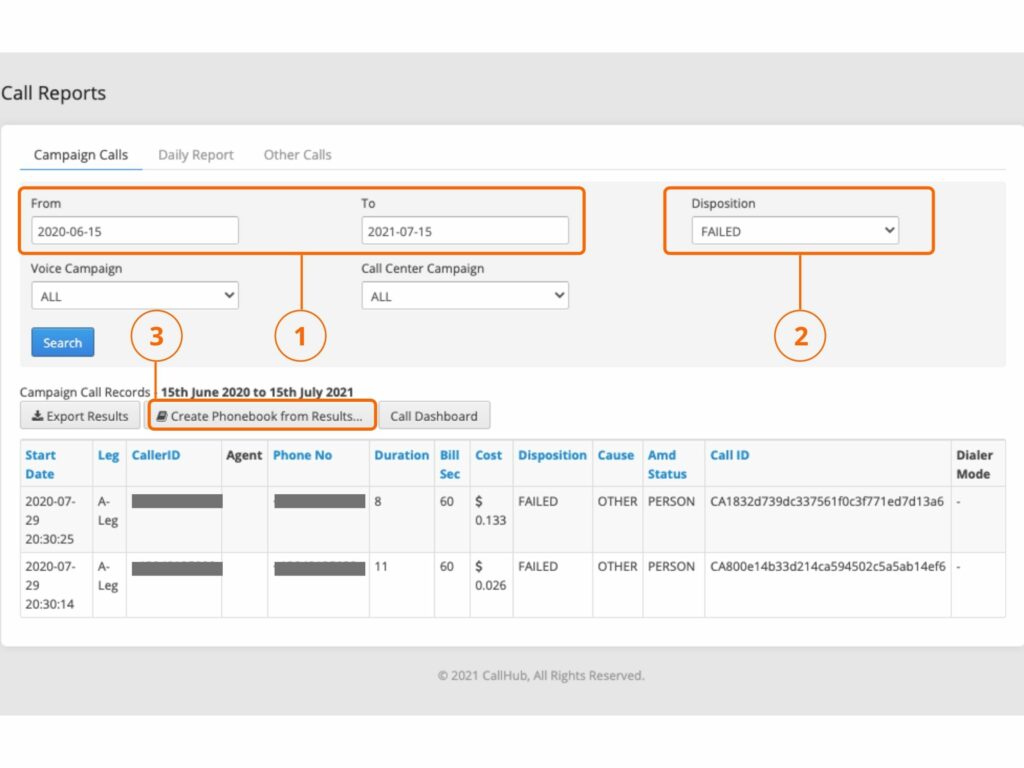 The tool will take a few minutes to import the contacts into a new contact list. You will be notified via email about the same. 
Once the new contact list is ready, go to the 'contact list' section.
Select this new one (I've named it "Failed Numbers") by clicking on the box next to it.
Hit "Delete contact list" on the far right. Note that once removed, the action cannot be undone. 


If you're worried you might need these contacts in the future, do this:
Follow the steps until "6", as mentioned above.
Select the desired contact list by clicking on its name. You will enter the contact list page. Export (download) this file.

Upload this new file and confirm by clicking "Remove Contacts".
This is a longer process but ensures that you have a copy of the deleted contact list and contacts in an offline .csv file for later use.
Important notes:
Once contacts are removed, the action cannot be undone. You must import or add these contacts manually if you want them back in your list.
The tool will only remove those contacts that are not part of an active campaign.
The contacts will be deleted from your account and not just a contact list. 
Cleaning numbers for texting campaigns:
The contact list clean up for texting campaigns involves reviewing and removing permanently unavailable, blocked or consistently undelivered numbers.
Suppose your campaigns aim for responses or specific actions from recipients. In that case, you can enhance the list quality by also eliminating unresponsive numbers (not responding to any messages or have stopped doing so over time).
Follow these steps to clean lists for texting campaigns:
Log in to your account and go to Reports – Text.
Filter campaigns by date range or a specific name.
Filter further by status Failed, No Route or Unauthorized. You could also filter them by one or all error codes (e.g., 50: Invalid destination number). We recommend filtering particular error codes for a list cleaning exercise to avoid deleting temporarily unavailable/undeliverable numbers.
Click on "Export".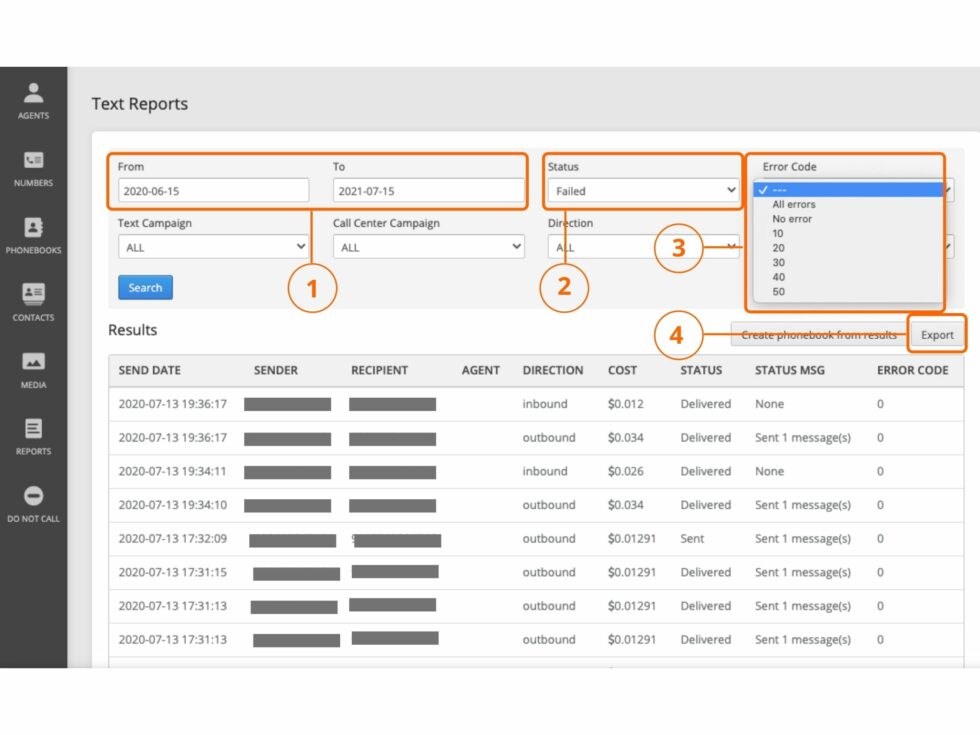 Go to contact lists and select "Delete Contacts".
Upload this exported file and click on "Remove Contacts" to confirm this action.
CallHub's contact list analysis for US contacts
We've made the work of list cleaning easy for you with our feature of contact list analysis. You can activate the feature for free and use it for USA contacts. The analysis costs $0.01 per phone or mobile number. The analysis:
Identifies bad numbers.
Identifies numbers as mobile or landline numbers.
How to use it:
Go to contact lists – Actions – Analyze contact lists. A pop-up will appear with a button to activate the feature. Click on it.

Once activated, select a contact list, click the drop-down arrow next to "Actions".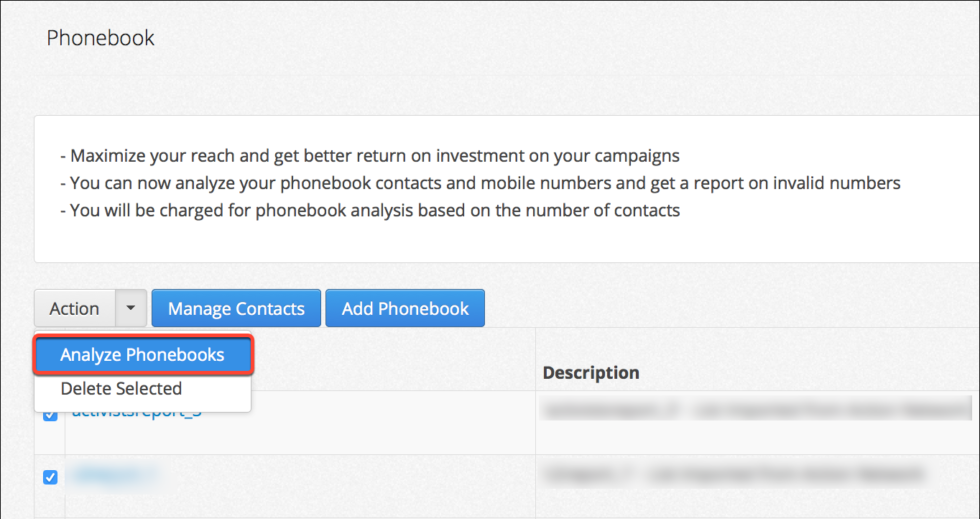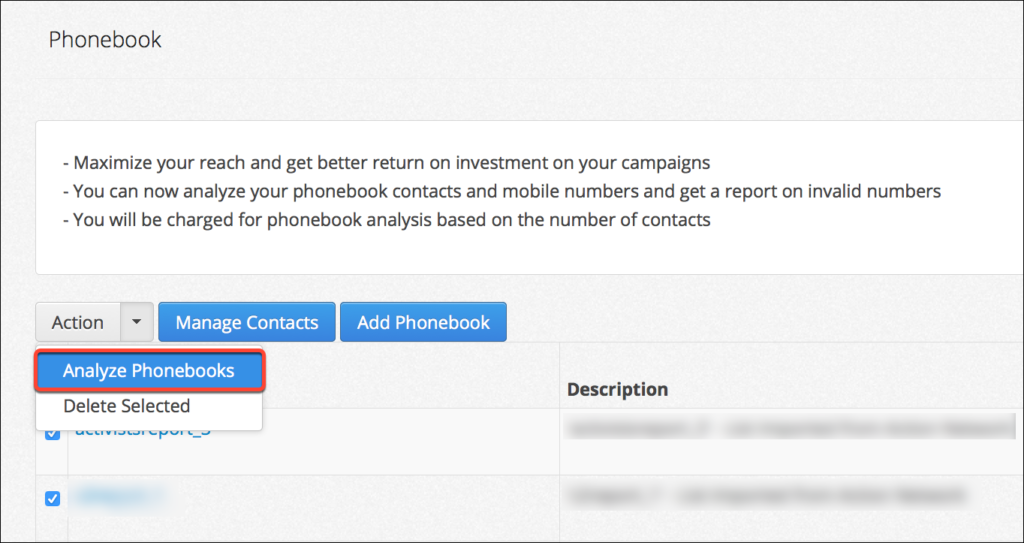 You can choose to analyze all contacts or just mobile numbers or landline numbers. The cost analysis will be given there.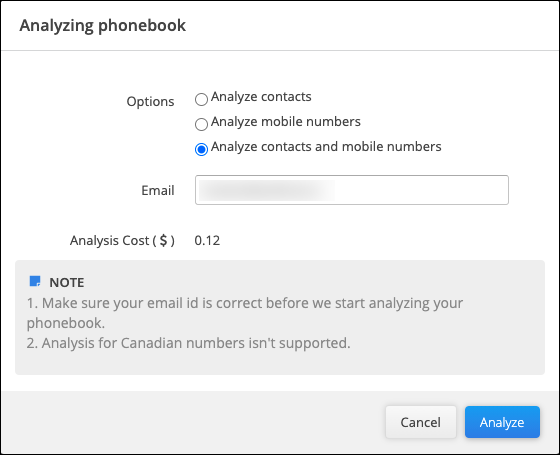 CallHub will analyze the selected numbers and email the report to you.
But, for a list cleaning exercise, you may want to access the analysis right away. For that, go to "contact lists", select the one you analyzed and click on "Analysis".
Now, you can either create a separate contact list of a certain type of numbers (e.g., mobile) or remove invalid mobile/landline numbers directly from this page.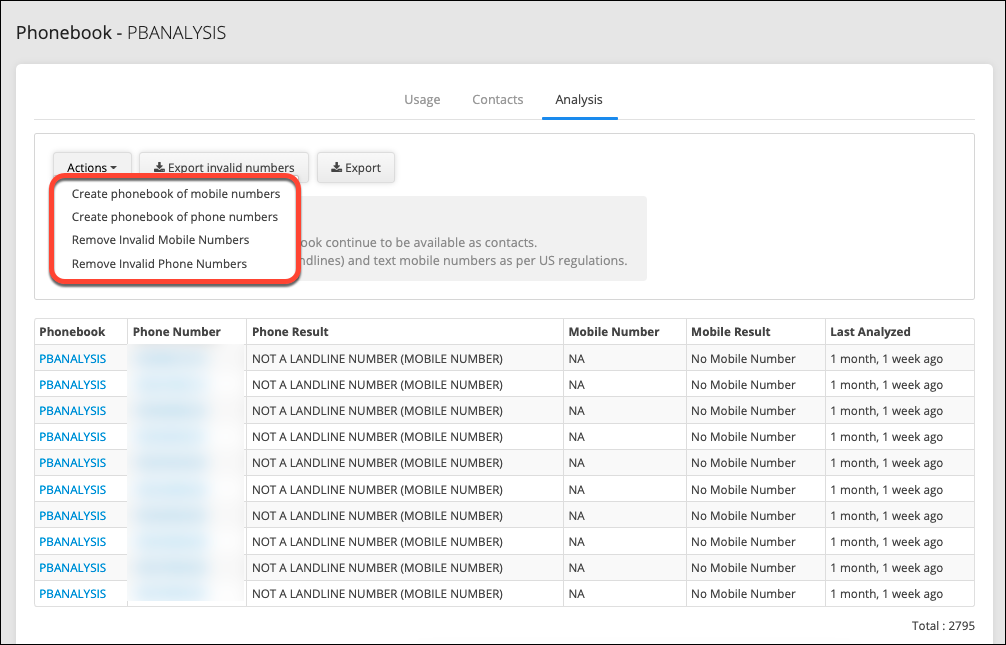 Cleaning individual contacts in a list
Bulk deleting contacts is not always the solution. Sometimes you want to delete just a handful of specific contacts for a list clean up and going through all the above steps doesn't feel right. Additionally, merging duplicate records or combining multiple contacts into one household can also keep your list clean and of optimum quality.
Let's look at how to do this:
Removing individual contacts
Go to Contacts – Type in the number in the search box (this will show all records with the same number) – Click on the x mark under Action to delete the contact.

To delete multiple contacts manually, press the Control or Command key and select those applicable.
Merging two or more contacts
For instances of duplicate contacts (names or numbers).
Go to Contacts – Select one of the contacts you want to merge – Click on the "Merge" button under "Actions" (two arrows going in opposite directions).


The tool will take you to a different page (same tab). Select the contact you want to merge the original with – Click on "Merge".
Connecting households
For instances when several household members share a number (most likely a landline number)
Go to Contacts – Select one member of the household – Click on the "Contact Household" button under "Actions".


When you are directed to the "Household" page, click the "Add" button against the desired household contact.
Building a clean contact list
A list cleaning exercise is a necessary part of maintaining your list quality. However, doing it retrospectively can be tedious. Once you've done the list clean up, adopt best practices to build new lists that are already (relatively) clean. Here are ways to do that:
Keeping import and export easy
The simplest way to do this is to stick to a CSV (comma-separated values) format when exporting or importing data between different services and systems. Compared to Excel or PDF files, CSV is much easier to migrate between systems. Excel's auto-formatting often messes up numbers because there is no clear distinction between numerical values and text. Being a text file, CSV stores data as is, so it is easier to edit manually. It also consumes less memory and makes for faster transfers.
Maintaining address formats
It is essential to have a distinct field for addresses in your contact list. Keep a strict format for inputting addresses finalizing the format of details such as
House number format
Chronology of locality, apartment, street etc.
Spacing between text and numerical.
Street names, districts and pin codes should be clearly separated and given their own column in case you need to sort by location.
Checking contact numbers
Contact numbers are one of the most important fields in your contact list. Check for area codes and whether it is possible to filter accordingly. Inform agents making entries in the contact list of the correct format for entering mobile and landline numbers. Make sure the two columns are clearly marked to avoid mixing them up.
If you convert files while migrating between systems, verify that the contact numbers are transferred correctly.
Related Reading: How to Grow Your SMS Marketing List (With Compliance Tips!)
Maintain date of entries
There are quite a few uses of maintaining proper dates for entries in the contact list. You could specify a certain time period and choose to reach out to contacts made only during that period. Sorting contacts by dates helps in such cases.
Make sure the date formats are consistent throughout the contact list. Specify DD-MM-YY (highlight the use of hyphens Vs dashes, YY or YYYY) or MM-DD-YY so your agents can understand the right way to input dates.
Separate name fields
Your contact list should separate name entries by first name and last name fields. It is helpful in importing the list to a system that recognizes and sorts names accordingly. Additionally, it makes contacts easily searchable when you're merging or connecting them to a household.
Maintain order of first and last name for all entries to avoid confusion.
While building your contact list, these small measures will ensure your list is clean, easy to filter and migrate between systems. While a periodic list clean up is highly recommended, building a well-organized list cuts down cleaning time and efforts substantially.
Feature image source: The Creative Exchange/Unsplash.