Like a one-sided love interest or situationship, one-sided messaging can be painful. You don't know if the other party is interested, would pursue this further, or if this whole conversation will ever go anywhere. This is where conversational text messaging enters.
Conversational text messaging engages your audience in a two-way conversation. It combines the power of personalization, scalability, and engagement to nurture supporters, boost sales, improve customer support, and maximize outreach.
This article explores how.
Benefits of conversational text messaging
Yes, conversational texting is all the buzz in the industry. But how does it benefit your business? Are there concrete indicators to show that your outreach will improve using conversational SMS?
Here are some proven benefits of engaging your audience in a two-way texting conversation.
Increased customer engagement
Improved conversion rates
Better customer service
Increased brand loyalty
Let's explore these benefits in detail below.
Increased customer engagement
89% of people would rather text a business than another communication method.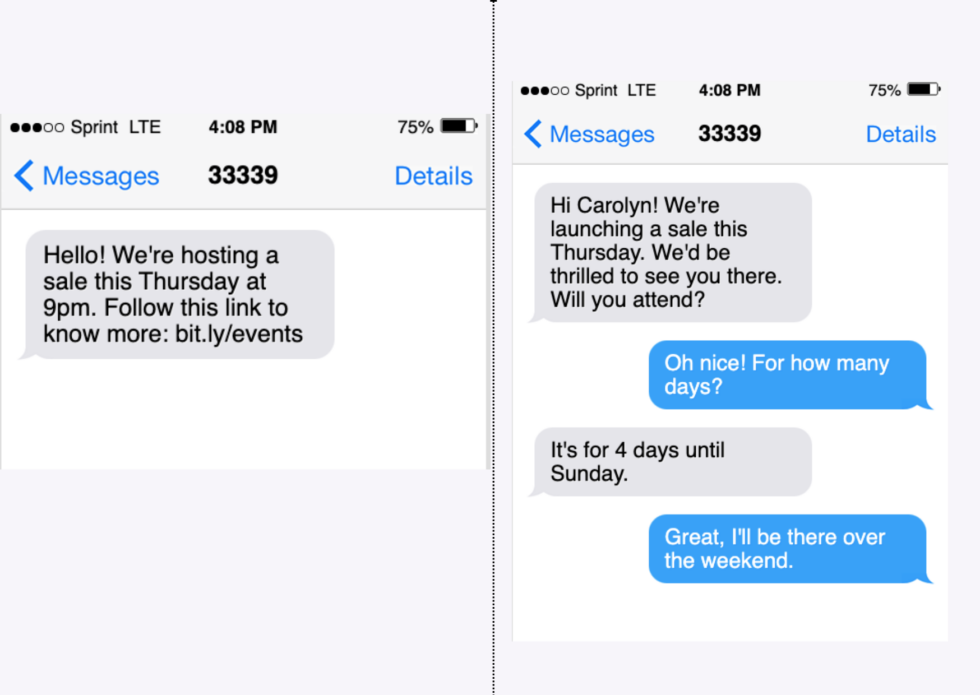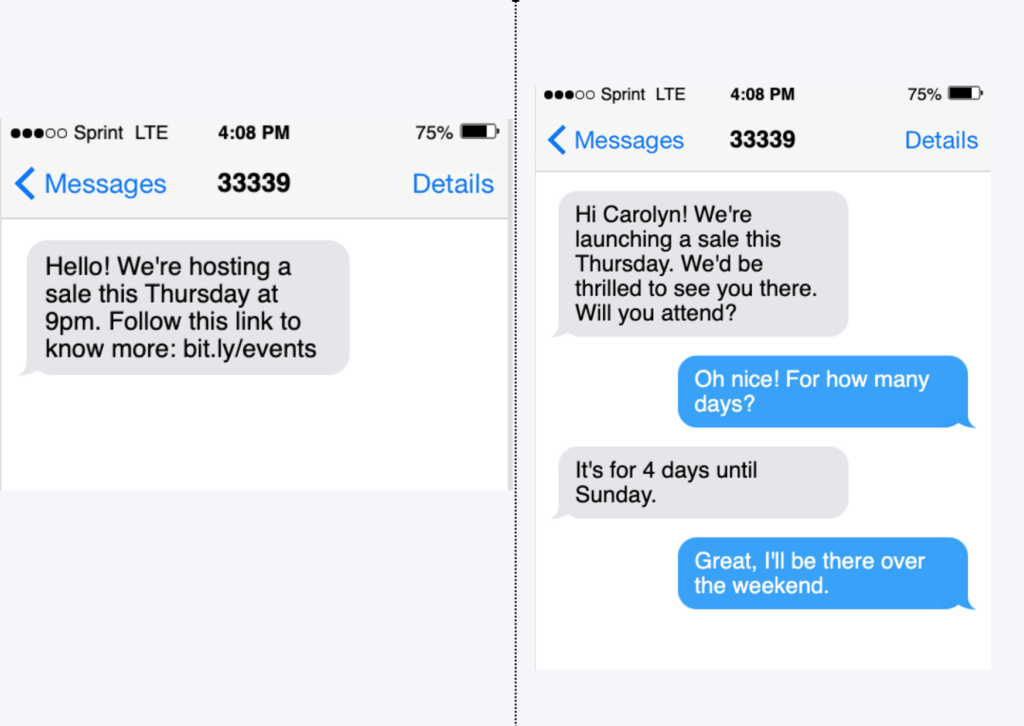 Conversational text messaging is an easy, quick option for your audience to interact with your organization. Within minutes, they can interact with your agents and receive answers to their questions, RSVP for events, or express their interest in what you offer.
Improved conversion rates
SMS outreach campaigns have a 45% conversion rate.
If your audience gets their questions answered and receives prompt customer service, they know they can rely on your organization and will be likely to convert.
Conversational text messaging also allows you to upsell and cross-sell with meaningful interactions with your audience. If they have signed up to purchase one product, you can upsell another by sending them text notifications about your other offerings.
Better customer service
77% of people want to text a business for customer service.
Two-way texting enables everything from appointment scheduling to quick query resolutions for customers. They are just a text message away from the solution if they have concerns. It also helps agents use texting apps for customer service to resolve queries no matter where they are.
Increased brand loyalty
Brand loyalty is built on a combination of the following:
Personalization: Wishing people on their birthdays or anniversaries, using their name, location, and other personalized details when addressing them to build a warm connection. Of late, brands have also started integrating user behavior (e.g., cart abandonment) and intents (e.g., search history on their website) to personalize their experience further.
Timely responses: If your audience can rely on you to be available when needed, it builds trust and brand loyalty.
Empathetic conversations: Conversational SMS allows you to interact meaningfully with your audience. Your audience will appreciate the real human interactions and understanding through these conversations.
Conversational text messaging: Are there additional costs?
It is natural to assume that costs would increase when agents engage with thousands of people in a one-to-one conversation. Organizations often worry that they might need to employ more agents or spend more on text messaging.
However, that is not the case with conversational SMS.
It is a cost-effective means to reach thousands of people quickly.
Text messages cost a fraction of what calling campaigns would cost. In fact, for every $15.5 you spend on support calls, you pay 25 cents per message. And although email is often touted as a low-cost alternative to outreach, Forbes discovered that the return on investment with text messages is significantly higher.
Texting does not require specialized agents or staff members either and has a considerably flat learning curve. Moreover, since one agent can handle multiple queries or conversations simultaneously, it is scalable too.
Lastly, if person-hours are an important investment, the hours saved by manual texting and investing instead in automated conversational SMS is a worthy proposition.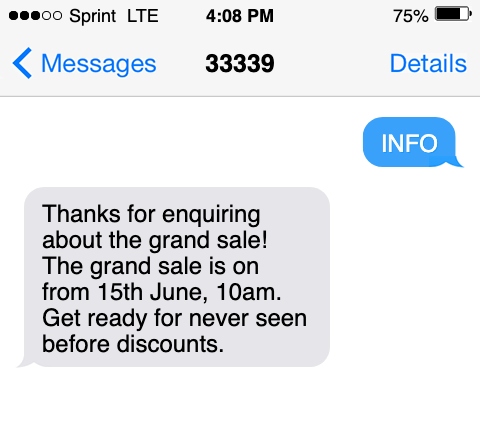 Read Also: 13 text message statistics you need to strategize customer interactions
How does conversational text messaging work?
Conversational text messaging can begin as any other mass text. You develop an SMS script for your audience and send a text blast that reaches thousands of contacts within minutes. Then, your agents respond to anyone who replies to your messages and build personal conversations with them (sometimes handling multiple responses simultaneously).
Organizations use peer-to-peer texting platforms to build and launch their conversational texting campaigns.
Here's how you can adopt this conversational texting tool:
1. Create a peer-to-peer campaign.
Conversational text messaging, popularly known as peer-to-peer texting, is listed among the many tools CallHub offers. Click the 'Create' button under peer-to-peer texting to begin your texting campaign.

2. Set up your campaign and texting script.
At the set-up stage, you can begin with naming your campaign.
You have three options when creating a script:
Text: Send a plain text message to begin your conversation.
Multi-choice: Ideal for surveys and polls, a multi-choice text message allows you to gather quick insights from your audience.
Numeric: Want to save time and receive numeric responses? It helps you collect phone numbers, age, yes or no answers – any information that can be conveyed using numbers.
Do not forget to check the 'set as initial message' box once you finish typing in your message.
Once you create the script, you can choose whether to auto-send this initial text message. If you select this option, the first messages are sent out automatically once your campaign begins. Agents can pick up the thread once the responses start coming in. This option is recommended only when you have confirmed opt-ins and need to scale up your conversational texting outreach.
If you do not select this option and require manual intervention, then once the campaign begins, agents can manually click 'send' on every text message. They get assigned the contacts that they hit 'send' to (although they can't preview the message).
CallHub also offers you the option of saving replies to frequently asked questions. This saves agents time since they can select a pre-written answer to a repetitive question.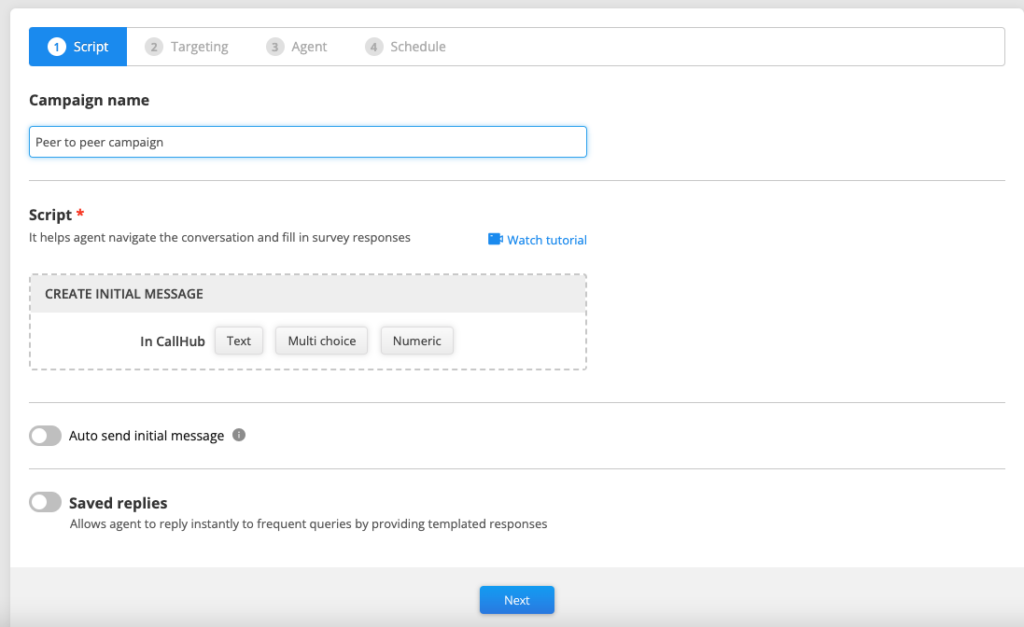 3. Select your audience and targeting
At the targeting stage, you upload or select a pre-uploaded contact list. When uploading a contact list, ensure you fill in all required fields and pay special attention to fields such as 'phone number' and 'mobile number.'
You can check the 'don't text litigators' box to avoid unnecessary legal hassles (recommended when you don't yet have opt-ins). Our system would identify known litigators from a database and remove them from your list.
Next, select the order in which the messages go out.
Lastly, and most importantly, choose which number you would like to use for your conversational texting campaign. In the US, you can use a 10DLC number to avoid filtering and send high-volume messages. In other countries, you can choose to rent a number automatically or use an existing number.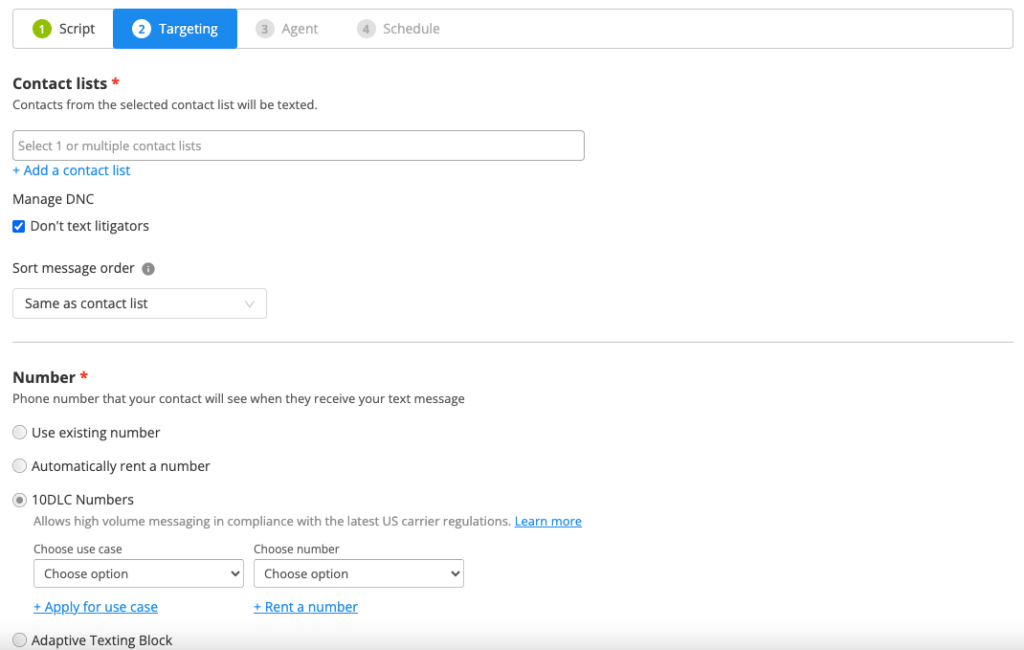 4. Select your agents.
Once you set up the scripts and targeting, select your agents. You can assign this campaign to all agents, choose specific agents, or assign agents later.
On the mobile, you also get to decide what kind of notifications an agent receives, add an onboarding brief, and select whether agents can add notes or receive email notifications.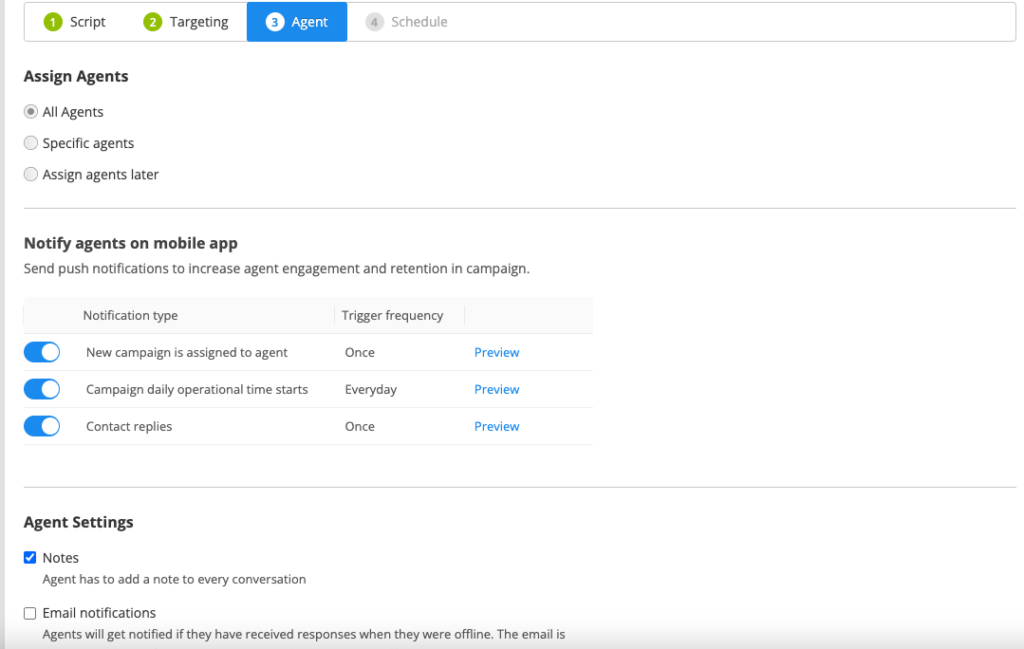 5. Schedule – and you're all set to go!
In the last step, you can select a start and finish time for your campaign. This step is important to comply with local outreach regulations, such as TCPA in the USA.
With CallHub, you can select the campaign's time zone. Timezones are especially useful when setting up this campaign in a different timezone than your target audience.
If you reach out to people in different timezones and have their addresses as part of your contact list, you can also check the box to text people in their time zones. This reduces your efforts in creating multiple lists for a single campaign.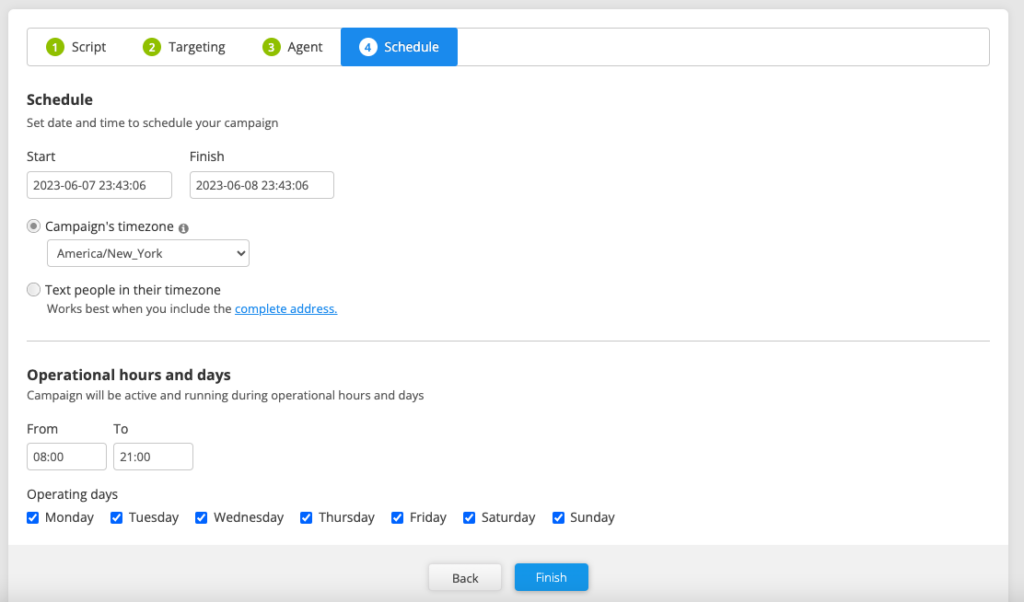 Setting up a conversational text messaging campaign is easy with the right software.
Conversational text messaging with CallHub
Now that you know about the benefits of a two-sided relationship…errr…conversation, here are essential conversational SMS tools that CallHub offers. With these tools, you can begin your campaign's journey to greater conversions and better engagement.
Fast P2P
Importing and creating surveys
Shortcode and 10DLC texting
Auto-agent assign
Opt-ins for compliance
MMS texting
Create automated response templates
Distributed organizing with sub-accounts
Fast P2P
Conventionally, peer-to-peer texting mandated manual intervention by an agent to send every single text message. However, with the recent changes in regulations, campaigns can send the initial message as a broadcast, and as responses stream in, agents can respond to them.
Fast P2P combines the power of mass text blasts and peer-to-peer texting. It brings together the speed of execution of a text blast and personal interactions from P2P texting.
Importing and creating surveys
Conversational text messages are the best platform to gather survey responses immediately. You can import text surveys from your CRM platforms, which can easily integrate with CallHub. Alternatively, you can create text surveys on the CallHub peer-to-peer texting platform and record all responses.
When creating the script for your conversational text messaging campaign, select the 'multi-choice response' option and add options for your audience; through this, they can respond with the appropriate choice.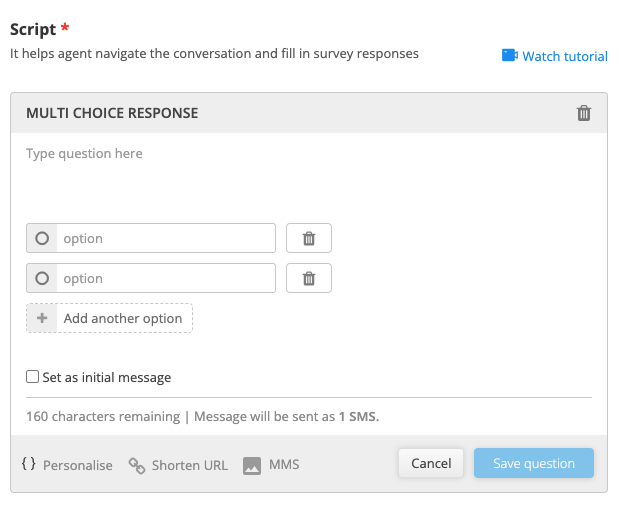 Shortcode and 10DLC texting
If you want to create brand recognition and recall for your organization, you can register for shortcodes with CallHub. They are 5-6 digit numbers, such as '60601', that can be unique to your brand. Shortcodes help with fast delivery rates and credibility.
10DLC is a 10-digit long-code number that is registered to your organization. 10DLC registrations help your organization's credibility since they are based on trust scores assigned by the TCPA. A 10DLC registration improves your delivery rates and ensures you are not flagged as spam.
Longcode vs. shortcode, no matter what you choose, is available to you on CallHub. CallHub helps you register for shortcode or 10DLC to improve your texting campaign.
Auto-agent assign
Peer-to-peer texting with CallHub can help you skip the hassles of determining agent schedules. You can auto-assign agents to the campaign, and they can begin texting their audience—CallHub's platform allows you to select and assign agents during the campaign setup stage. If an agent is unavailable, responsive contacts are assigned to another available agent.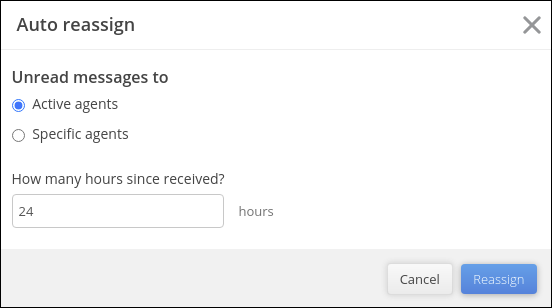 Opt-ins for compliance
When beginning a text campaign, you must be aware of the texting regulations that govern it. The TCPA mandates that campaigns receive consent from their audience before sending them any text communications.
You can receive consent through the use of text message opt-ins. Here's how 350.org began their peer-to-peer texting conversations using CallHub with text opt-ins and continued to have a conversation with their audience. They used and publicized the shortcode 'MNSTRIKE,' which their audience used to opt-in to their campaign: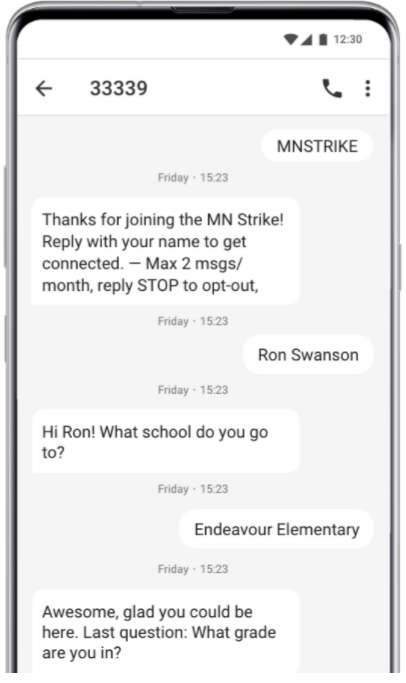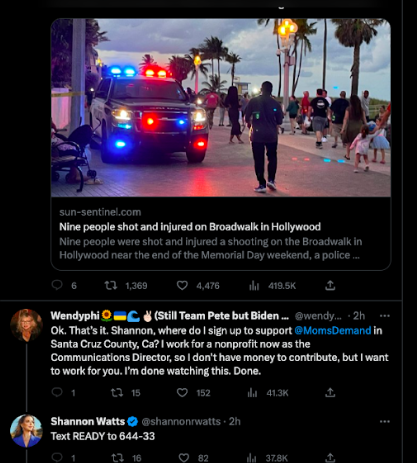 @MomsDemand mobilizing support against gun violence by utilizing text opt-ins and publicizing it on Twitter.
MMS texting
Boost the impact of your conversational SMS campaign with MMS texting. Share images, videos, or gifs to engage your audience.
The benefits? MMS texting paired with peer-to-peer texting gives you the following:
20% higher opt-in than plain text SMS.
Increase in word-of-mouth marketing by 8 times
Improved conversion by 70%.
Distributed organizing with sub-accounts
Do you want to run conversational text message campaigns in different branches of your organization? Then distributed organizing with subaccounts is for you. This means you can create a main CallHub account and assign subaccounts to different branches of your organization in other locations.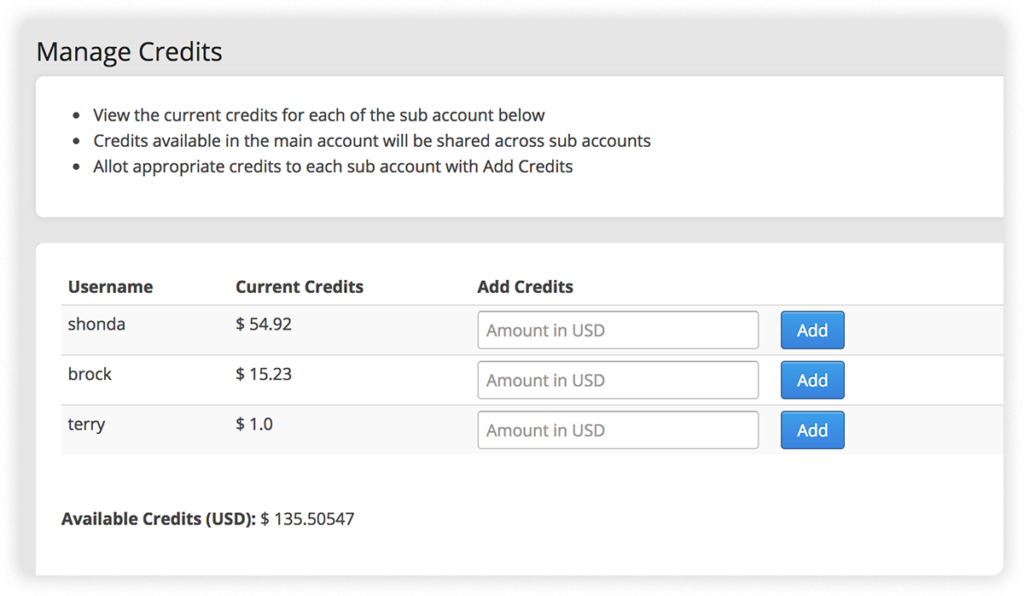 Distributed organizing empowers different branches and leaders to run the campaign smoothly. Local managers are more connected to the nuances of the place and can make your conversational text messaging campaigns more personal. You maintain centralized control to oversee all campaigns.
Other common conversational text messaging features we offer
In addition to the features we covered above, there are some more helpful conversational SMS features CallHub offers.
Let's explore them below.
Merge tags
Mobile app
Link shortener and tracker
Workflows
Merge tags
Merge tags help you customize fields such as the First Name, Last Name, Location, Appointment Time, Amount Due, etc. Any information you add about a contact in the contact list can be used as a merge tag.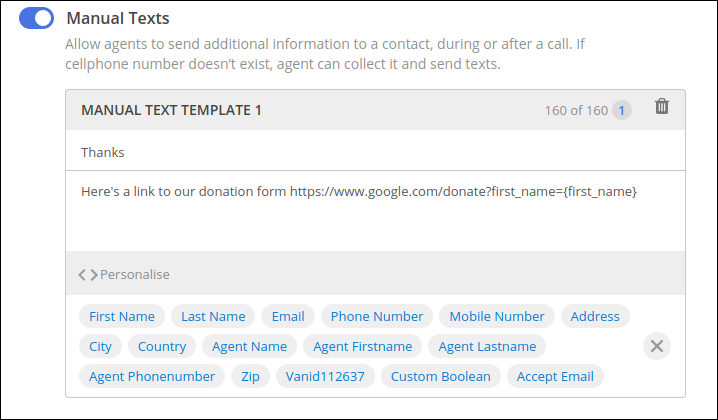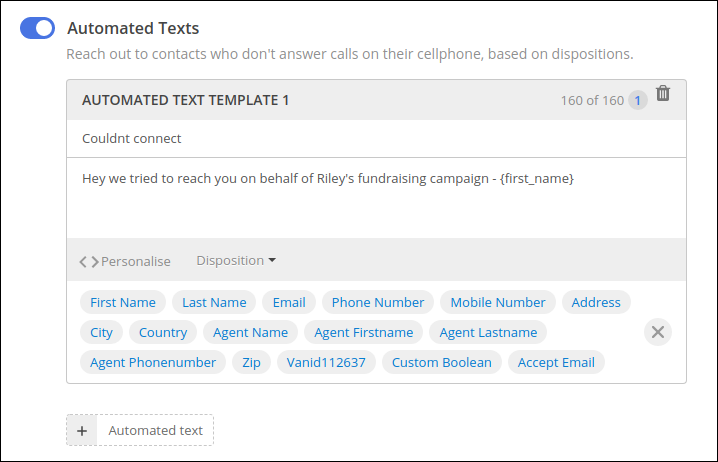 Merge tags are great for personalizing your conversational text messaging campaign. Personal information is most likely to grab a reader's attention compared to a generic message.
Link shortener and tracker
Want to track your audience's behavior on your message while creating brand value and saving on your SMS word count?
CallHub's link shortener and tracker are perfect solutions. You can share shortened links with your audience and measure performance and engagement to know how you can improve your conversational SMS campaign. You can see which contacts clicked on your link and form a retargeting strategy based on that information. A contact's link click history will be added to their profile to help you understand their interests.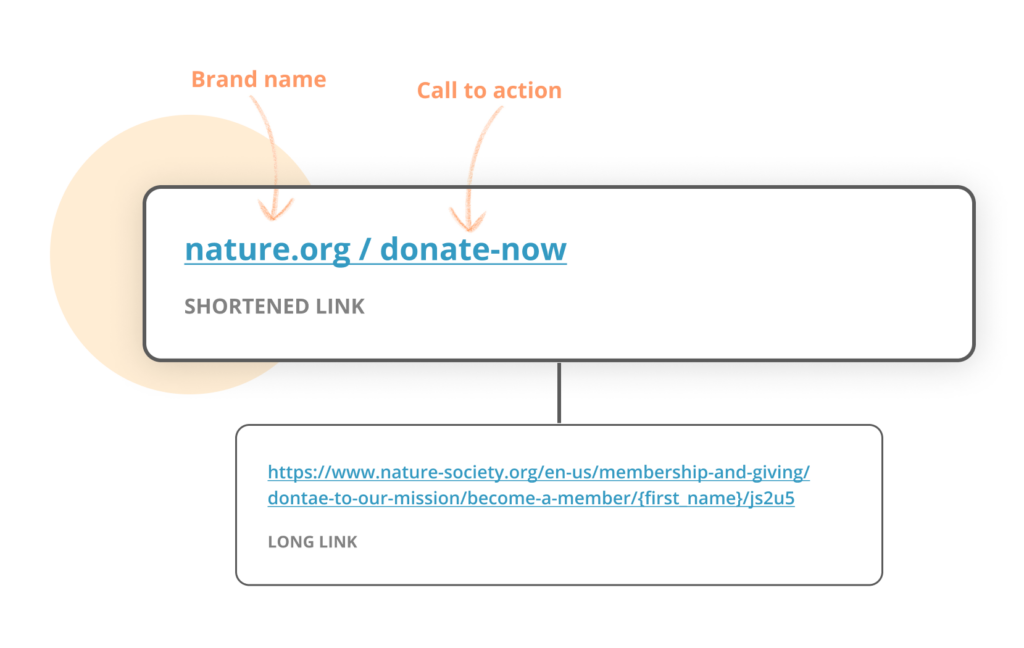 With CallHub's link shortener, you will minimize message filtrations. Shortened and unbranded links lead to text message filtering by regulatory authorities. Such links are almost always viewed as spam. Add your branding using our feature, and you avoid filtering.
Read Also: Link Shortener & Tracker to Measure Engagement in Texting Campaigns
Mobile app
CallHub offers agents a mobile app to run campaigns anywhere. Want to reply to a message on the go? Now, you can.
An on-the-go solution is a great way to manage your resources in a world that is becoming increasingly hybrid and remote for workers.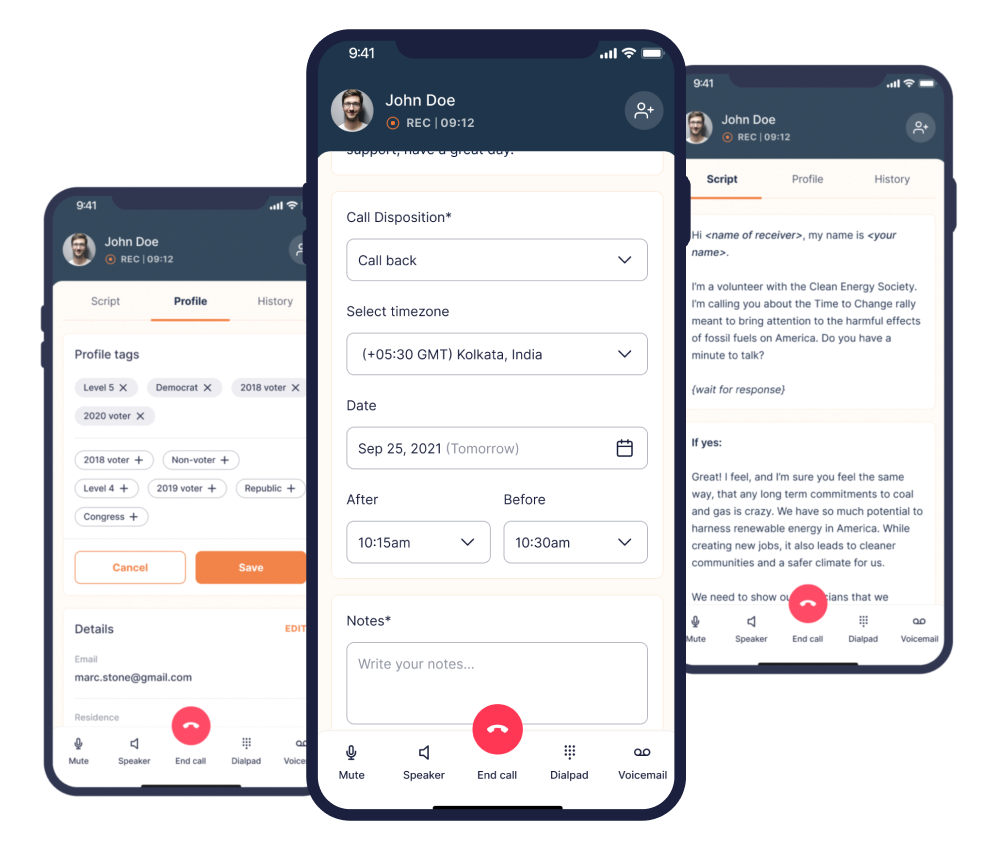 Workflows
Workflows are the secret to smooth-sailing campaigns. What happens next once your audience has had a conversation with your agents?
Do you want to follow up with them at a later date? Do you want to add them to an event invitee list? Are they eligible to be added to the premium customer group and avail of special discounts?
Workflows help you automate what happens once you complete your conversational text messaging campaign.
Now that we've covered the most exciting features, you can review our Peer to Peer Texting Starter Guide to begin your conversational SMS journey.
What you should know before you begin conversational texting
Before you begin your campaign, it is important to know that there are some rules governing text communications. Unlawful text messages are fined upto $500 per violation.
We've already mentioned asking for consent before sharing text communications. In addition to that, you need to ensure that your audience has the option to opt out of communications whenever they wish to.
Lastly, you can apply age filters for sensitive content and ensure the content you share is legal according to State and Federal laws.
At CallHub, we ensure your conversational texting campaigns comply with the law. Want to check it out for yourself? Sign up for a free 14-day trial.