Automate Communication across Calls, Texts, and Emails with Workflows
Automate cross-channel communication across email, text and calls to move people down your conversion funnel. Let Workflows take care of repetitive tasks like filtering campaign reports, segmenting lists, and sending data to your CRM.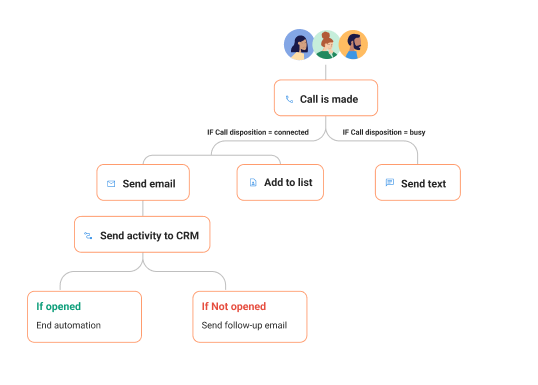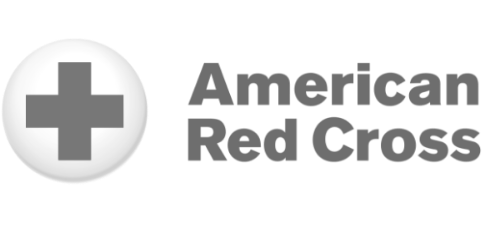 Bring in your large messy cold lists to Workflows and get a highly targeted warm list by automating a series of actions based on conditions and triggers. Following up with leads, sending requested information, adding them to different campaigns; all of this involves repetitive tasks and eats up a lot of your time. 
With Workflows on CallHub, you can automate all of this. From sending reminder messages to event attendees to automating the complete contact journey for voter tripling, CallHub Workflows has got your back.
Avoid the manual efforts involved in setting up multiple campaigns
Automate audience journeys using triggers. Segment contacts based on their responses, automate follow-ups, and sit back and relax while they move through your conversion funnel.
One platform, multiple channels
Eliminate the manual effort to refer to multiple sources for audience data. Send follow-ups on your contact's preferred channel- email, text, or call, all from a single platform.
Unleash the power of data with a 360 degree view of your contacts
Send the data to your CRM or Sheets using Webhooks and track every interaction. Avoid importing and exporting CSVs between systems and automate follow-ups.
Automate actions using triggers and conditions
Build even the most complex automated workflows using triggers, conditions, delays, and actions. Define a series of actions which trigger based on the conditions you define.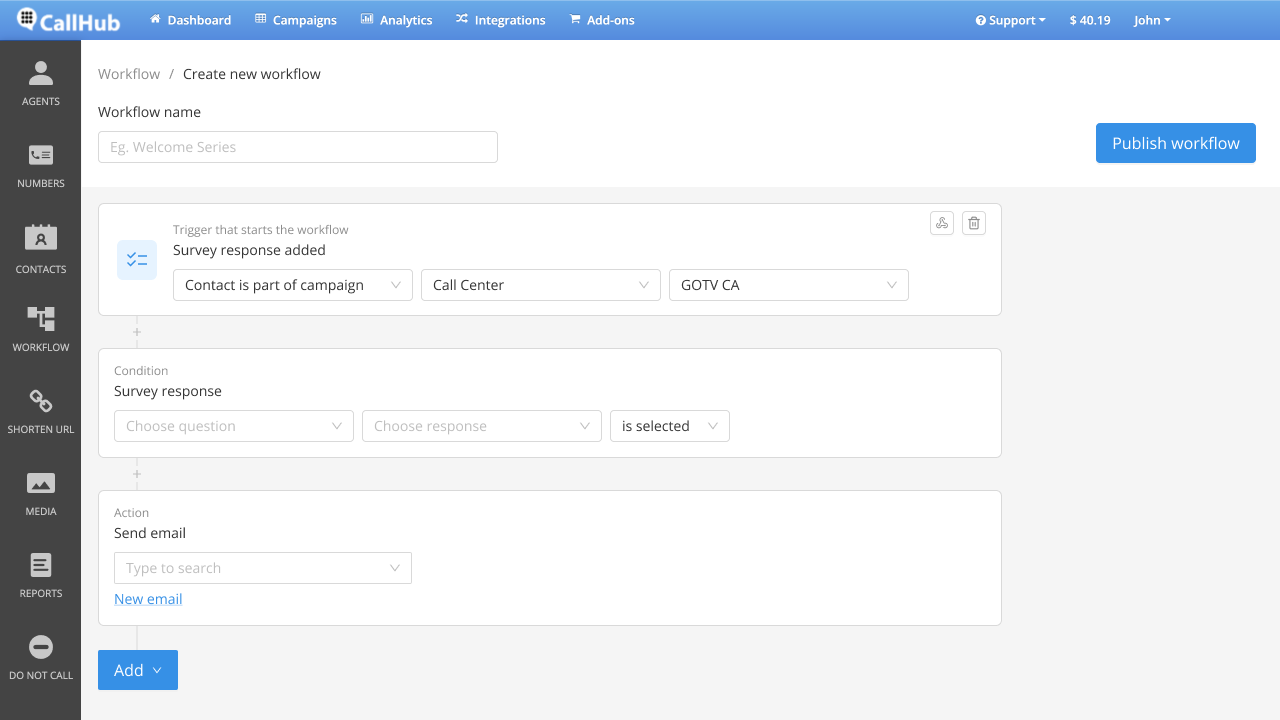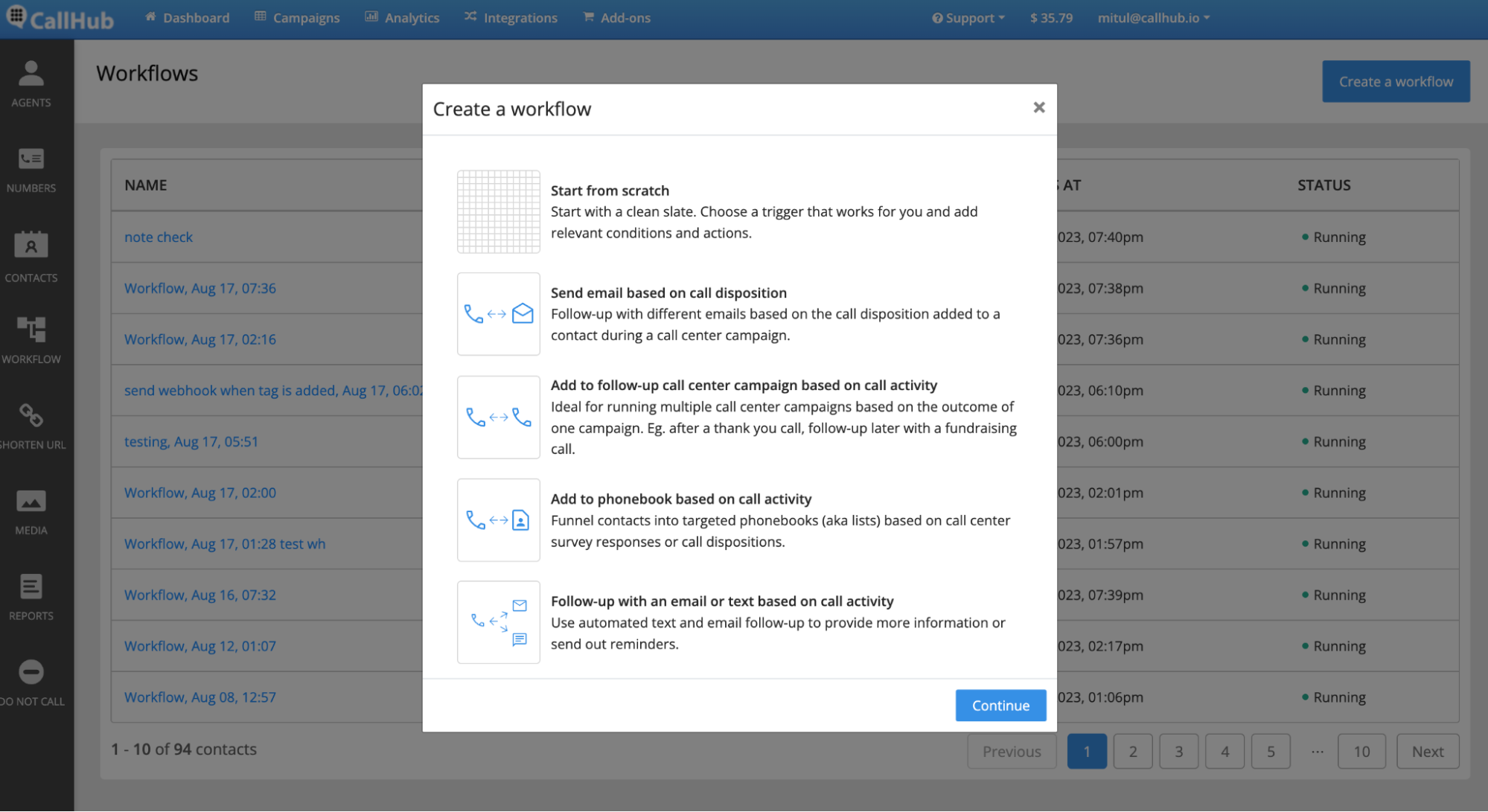 Save time with pre-built workflows
Choose a template to start with and get up and running in seconds.
Follow-up with different actions based on survey responses
Qualify potential conversions by automating the follow-up action based on a specific response. For instance, send email A to survey response A and email B to survey response B.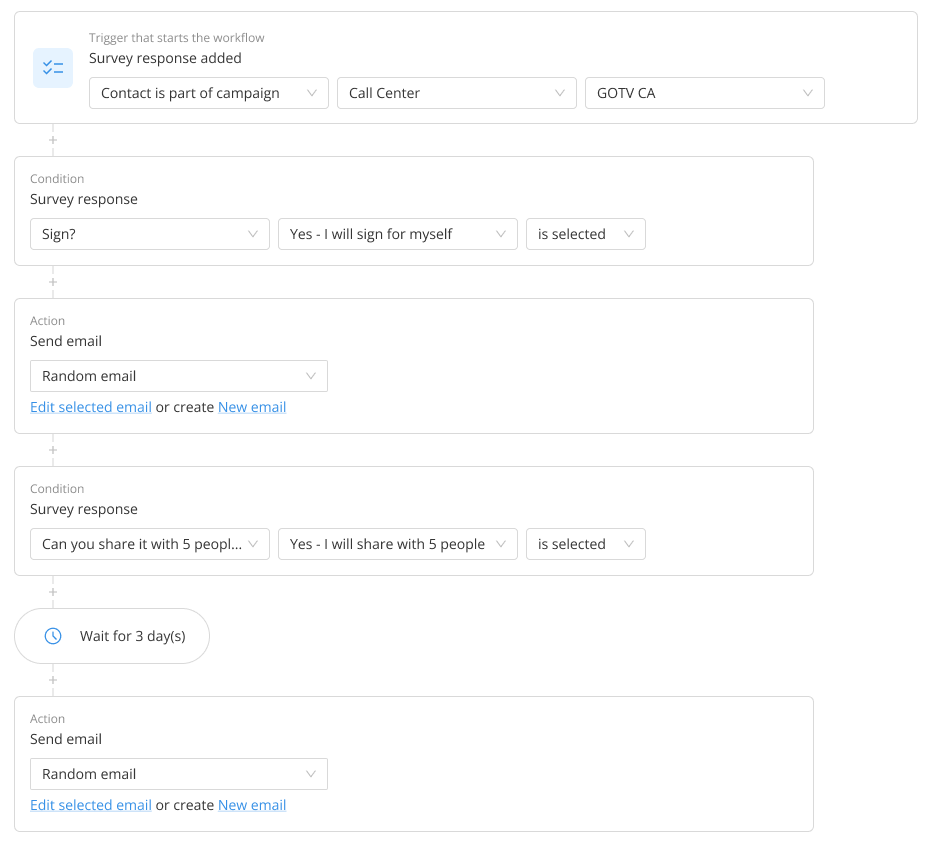 Add contacts into different lists based on their responses to your survey.
Follow up with contacts who don't pick your call with an email or text.
Send a follow-up text to contacts who don't click your email link even after 'x' days.
Move potential conversions from a peer-to-peer texting campaign to a new calling campaign.
Move people that don't pick your calls to a new call center campaign.
Move contacts to different lists based on tags added.
Follow up with an email or text to contacts who don't reply to your peer to peer texting campaign.
Add people who said 'Yes' in a survey to a peer to peer texting campaign.
Add tags based on a contact's call or text activity.
Connect communication channels and
automate repetitive tasks with Workflows
Try CallHub Workflows. Available on request.