Every year about 77% of nonprofits fall short of their fundraising goals.
If you are one among them, then you would know that at least 16 different fundraising challenges could be holding you back.
However, merely having a list of fundraising challenges will not help your cause.
To improve your fundraising efforts, you should answer two pressing questions:
Which fundraising challenge(s) is/are affecting your nonprofit?
What strategy should can you adopt to overcome it?
That is where a fundraising consultant (either a firm or an individual) comes in.
What does a fundraising consultant do?
Fundraising consultants conduct feasibility studies or audit your campaigns to highlight the gaps in your fundraising process. They can also suggest measures to fill the gaps and thus boost your fundraising efforts.
The measures they suggest can involve either process level changes (pertinent only to the campaign). Or, it can be organization-level changes (to improve the leadership) for your whole organization.
Here is a quick summary of the various ways a consultant can help your nonprofit meet fundraising goals:
Identify the root-cause of fundraising failure
Assess your fundraising efforts
Conduct fundraising feasibility studies
Board evaluations
Stakeholder surveys
Directly help with fundraising campaigns
Align fundraising goals and plan of action
Build donor relationships
Specific campaign management (for major gifts, Capital campaigns, etc.)
Campaign planning
Help a nonprofit's leadership team
Training leaders
Board retreats
Implement new practices
Work plan developments
Depending upon your needs, (and of course the contract you sign), the consultant would help you with either one or multiple aspects detailed above.
Related: 24 tested fundraising strategies for nonprofits – Are you using them?
Why do you need a fundraising consultant?
Hiring a nonprofit consultant is a lot of work. You have to do extensive research to identify the right one for your organization.
It is also a lot of extra dollars from your account. Dollars that you can ill afford because your fundraising efforts are already not performing as expected.
In the face of both these (very compelling) reasons, it would be tempting to do the extra work yourself. It definitely won't be the first time you have stepped up to multi-task for your cause.
While both the above are excellent points, it is indisputable that an external consultant will add a lot more value to your cause. Here are a few advantages of hiring fundraising consultants:
Fresh perspective
Diverse skill sets
Better networking
Additional organizational capacity
Hyper-focussed and more efficient to guide you towards the right path.
Say you are looking for fundraising software. You do not have to waste time doing ground research. Or say you aren't sure whether to include text messaging for your campaigns. A fundraising consultant, from his experience, would be able to address your query.
The right consultant will help your fundraising goals – either by helping your organization in general or by just helping each campaign.
How to choose a fundraising consultant? (Firm or Individual)
If you have decided to get the help of a professional fundraiser, you have some crucial decisions to make.
The first of which is – should your consultant be a freelancer (an individual) or a firm? While either of them would help your fundraising efforts, there are some key differences to consider.
The primary difference between an individual fundraising consultant and a consulting firm is available resources. A single person consultant will not have the wide breadth of resources that a company or a firm has at their disposal.
For instance, you can have an individual consultant to help with donor relations for a specific campaign. However, if the need arises, he will not be able to do the same for, say, a capital campaign. Or, he won't be able to train the board members for your nonprofit to see better results.
On the other hand, unlike a company or a firm, he may not charge retainer fees – thus making it easier on your budget.
So, to come back to the question (freelancer or firm?) – it completely depends upon your needs and budget.
For instance, you are sure that you need help only with a capital fundraising campaign, then you can look for a consultant who specializes only in that area.
However, if you are unsure of your requirements and need help identifying the fundraising challenges you face, then opting for a consulting firm can work better for you.
To help you make this decision easier, here is a list of top fundraising consultants you can choose from.
Nonprofit fundraising consultant firms
Changing Our World helps nonprofits, businesses, and philanthropists with their revenue strategies by understanding their work environment.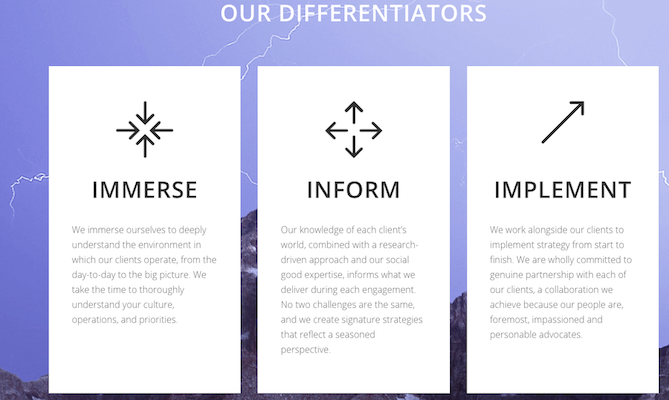 To help clients reach their fundraising goals, they offer:
Campaign services: Provide tailored strategies to design and implement capital and endowment campaigns.
Fundraising programs: Implement annual giving programs, help in partnership development, perform audits, and craft development plans.
Capacity building: Involves strategic prospecting, intense wealth screening, smart gift packaging, and leadership development.
They use well-defined research and analytics to define fundraising solutions with their offices being located in NY, Boston, Atlanta, Austin in the US and London in the UK. Changing Our World has several clients including, UNICEF and World Vision.
Aly Sterling is a fundraising consultant focused on helping nonprofits achieve sustainable solutions by raising money, engaging leaders, and expanding their missions. They ensure that they take your needs into account so that their services are tailored to your nonprofit.

The services they offer are:
Fundraising solutions: where they help you cultivate donors to raise money, determine if you're ready for a capital campaign, and build infrastructure for your campaign.
Strategic planning: by helping you assess your financial health, the effectiveness of your fundraising campaign, and your relevance within your community.
Board Catalyst: to help you improve and maximize the performance of your board.
Aly Sterling aims to provide solutions which can fit in with your existing fundraising plans, and their offices are located in Toledo, Ohio. Their clients include Boy Scouts of America and Habitat for Humanity.
DNL OmniMedia helps nonprofits reach their fundraising goals by offering technology solutions and strategic consulting services. They also help in outreach and constituent engagement through their digital communications.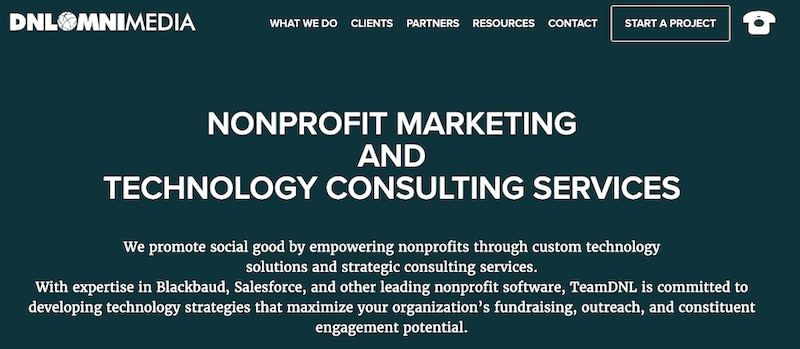 They provide services like:
Blackbaud Solution Provider: Helps customize your Blackbaud strategy and expertise regarding Blackbaud Luminate to manage custom fundraising campaigns.
Nonprofit Technical Strategy: Streamlines your organizational processes. Maximizes your fundraising platforms by using CRMs, targeted communication, and other marketing channels.
Nonprofit Web Development: Helps optimize your online presence and digital strategy.
Nonprofit marketing services: Assess your fundraising goals and building a marketing strategy around these goals.
Fundraising Strategy: to help your nonprofit acquire, steward, and expand its donor/supporter base.
Nonprofit data migration and analytics services.
DNL OmniMedia is located in Arlington, NY, and has worked with clients like Big Brothers Big Sisters of New York City and The Reach Institute.
Graham Pelton is a Fundraising and management consulting firm for nonprofits. They help nonprofits in all stages of fundraising – right from campaign strategy, to interim staffing and so on. Here is a snapshot of the various categories they can assist with: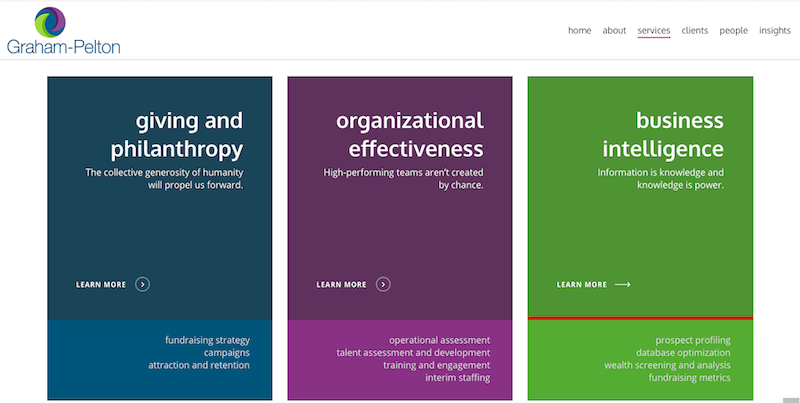 They provide services like:
Fundraising strategy – Help you develop a sustainable fundraising strategy for Annual Giving campaigns or Planned Giving campaigns or even Major Donor campaigns.
Campaigns – Campaign studies (develop a blueprint for campaign success), campaign strategy and counsel, campaign audits, strategic communication, coaching teams, and individuals to increase the impact
Attraction and retention – Building sustainable relationships with donors – alumni, patients, members, and major donors.
Improving organizational effectiveness – starting with operational assessment, assessing talent, and seeing how to develop it, empowering staff, and providing added staffing (interim staffing) to bridge gaps.
Using data to improve strategize – Prospect profiling, database optimization, wealth screening and analysis, fundraising metrics.
They work with nonprofits across sectors specializing in healthcare, education, social change organizations, and professional associations. Some of their clients include Princeton HealthCare System Foundation, United Military States Academy at West Point and the University of Liverpool.
Averill Fundraising Solutions is an expert fundraising consultant who has experience working with various nonprofit sectors right from healthcare and education to faith-based and civic nonprofits. They help with strategies aimed at achieving immediate goals as well as keeping your nonprofit's long-term goals in mind.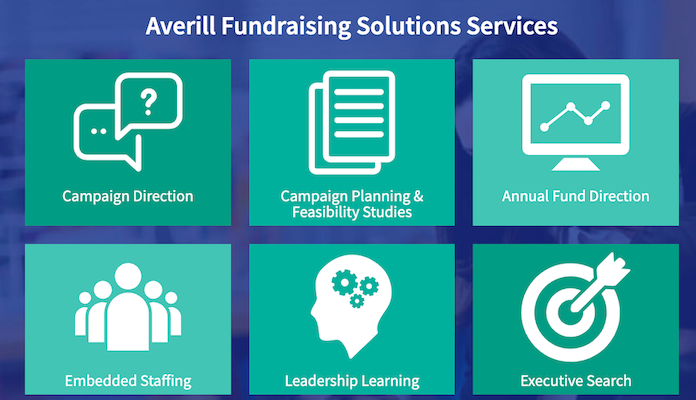 The services they offer are:
Campaign Direction: helps you achieve your fundraising goals by developing a customized solution and management plan for your nonprofit
Campaign Planning and Feasibility Studies: they help you prepare for a capital campaign by assessing your readiness, building fundraising infrastructure, etc.
Annual Fund Direction: help you increase annual fund revenue by engaging new donors, and growing the prospect pipeline.
Embedded staffing: by providing fundraising staffing along with training to your fundraising teams.
Leadership Learning: through leadership workshops and retreats aimed at providing fundraising counsel to leaders and volunteers.
Executive Search: by helping you recruit talented candidates such as Chief Development Officers to aid fundraising efforts.
Averill Fundraising is headquartered in New York, with other offices based in Chicago, LA, and Toronto. Some of their clients include the American Red Cross and The Nature Conservancy.
Aspire Research Group focuses on building and strengthening nonprofit-donor relationships through prospect research.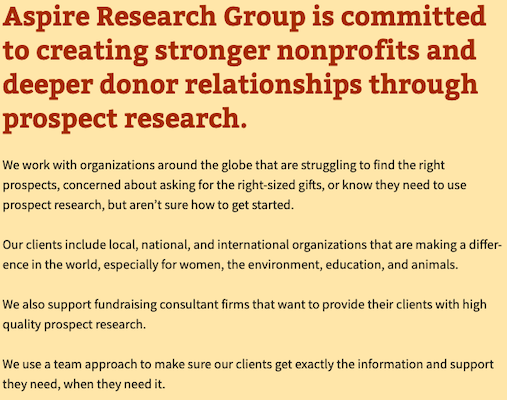 If your nonprofit is unsure of how to go about finding the right prospects, asking for donations, or are looking to get deeper insight out of your donor base, Aspire is a good fit for you. They offer 3 kinds of services:
Capacity Building with Research: provides research support to take your fundraising to the next level. There are 3 types of support—monthly research support, A La Carte support, and Essentials for Successful Fundraising Research program.
Boutique Research: by prospect profiling, identifying your best prospects and gift prospects through data analysis and relationship mapping, and helping you understand donor data and metrics.
Fundraising Initiatives Support: through wealth screening for your fundraising project.
Aspire Research Group is suited for both large nonprofits who buy the tools most suitable for them, and smaller organizations who require hands-on training and support for researching prospects. They are located in Tampa, Florida, and have worked with clients like Cannon School.
Whole Whale provides analytics, content marketing, and advertising services to socially conscious companies and nonprofits. It leverages data and tech to increase the impact of social impact organizations.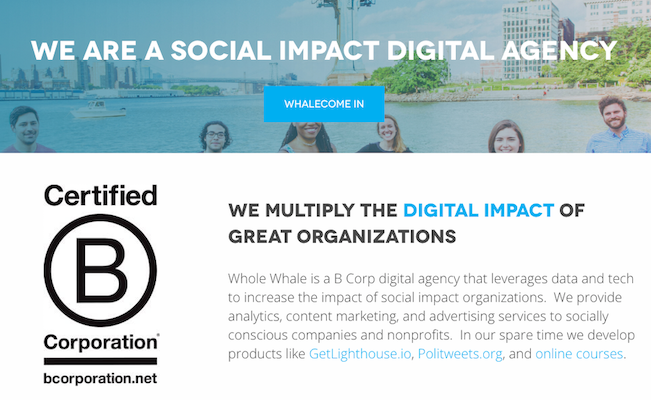 Here is a quick overview of the services they provide:
Google Ad grants
Analytics
Digital Advertisements
SEO and content marketing
Conversion optimization and A/B testing
Digital support
Digital training
Grants Plus is the national leader in nonprofit grants consulting. Since 2007, they have helped organizations secure over $150 million in grant funding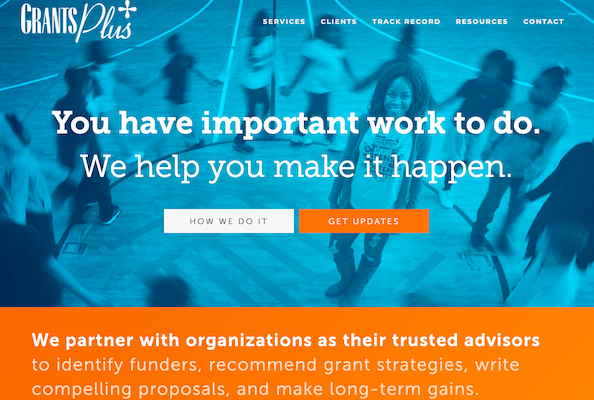 Their signature services include:
Funding scan – Grants Plus researches grant opportunities that will be the best fit for your organization, and your key programs and initiatives. This can help guide your grant seeking efforts for multiple years.
Government grant writing – Grants Plus will project manage the complex application processes for federal, state, and local government grants. They'll handle work plans, staff coordination, application development, and even submission on your behalf. They will help you craft a winning grant proposal that has higher chances of being approved.
Grant review – If you feel your application needs a second set of eyes, Grants Plus can review your proposals before the deadline. The team can catch errors, suggest improvements, and provide recommendations before submission to set your proposal up for success.
Short-term grants consulting – If your grant proposal team is short-staffed, they provide interim assistance to bridge that gap.
Long-term grants consulting – They provide you with your own grants team. Right from prospecting, creating a grants calendar, crafting grant proposal and winning them, they take care of the whole process.
Their notable partners include The Children's Museum of Cleveland, Akron Art Museum, Merrick House, and others.
This consultancy focuses on prospect research. They can work either part-time or full-time with your nonprofit to identify new prospects and tailor-make reports that are useful for your nonprofit.
Here is a list of services they offer:
A-la-carte reports: Provide you with a list of donor names, new prospects, how can you best reach a prospect or any other information that you can need to take off your fundraising efforts.
Wealth screening: After list building, they ensure that you can use it in the best way possible.
Strategic advice and training: Coaching and training on research, relationship management, and analytics are their areas of expertise. They can help your team get 'campaign ready' and position you for success.
Identifying new resources: Is your nonprofit using every possible avenue to increase funds? The team at Helen Brown will tell you – with data analytics, relationship mapping, and alert services.
You can check their blog or their resources section to guide you through the fundamentals of campaign management and prospect research.
Pursuant is a fundraising consultant that uses donor analytics and data to drive your nonprofit strategy. They use your own data – from your database and previous campaigns to get a complete picture of the various donors, and then help you develop a strategy for mid-level and major donors.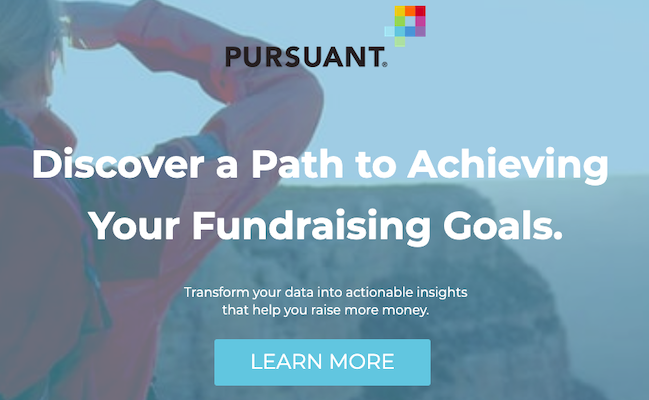 Here are a few services they offer:
Help with new donor acquisition: Understand donor motivations and strengthen engagement via multiple channels.
Retain donors: See which 'bucket' of donors potentially churn faster and see what you can do to prevent it.
Develop mid and major donors: Understand who you have to contact to get your message across. Formulate a custom approach to target prospects at each level of the donor pyramid.
To put it simply, they combine advanced analytics to formulate a strategy that helps you retain your donors. A few examples of nonprofits they have helped are Cystic Fibrosis Foundation, Moody Bible Institute, and the Cleveland Clinic.
As you can see, the above list consists solely of consultancy firms that approach every aspect of fundraising and give you a well-built strategy.
Nonprofit Fundraising Consultants – Individuals
Hailed as one of America's top 25 fundraising experts, Marc is a fundraising coach who helps nonprofits meet their fundraising goals.

He trains teams or coaches individuals to reach their potential. Here are a few examples of the training modules he offers that you can help you:
Ask without fear – To improve solicitation and ask for money the right way.
The power of we – To work together as a team and break down silos
Telling your nonprofit's story – Convey your vision and mission in a way people remember.
Fundraising 101 – Focuses on simple fundraising modules that you can replicate for your efforts.
Board 101: Helps board members understand their roles and perform better.
You can simply visit his Nonprofit Academy that has over 80 tools and templates that can help you with your fundraising efforts.
As a digital marketing expert for nonprofits and charities, John has helped thousands of nonprofits realize their fundraising potential. For instance, he has helped Habitat for Humanity double their fundraising goal in a given day. He has assisted Go East Young dog raise over $200,000 in 10 days to help its cause.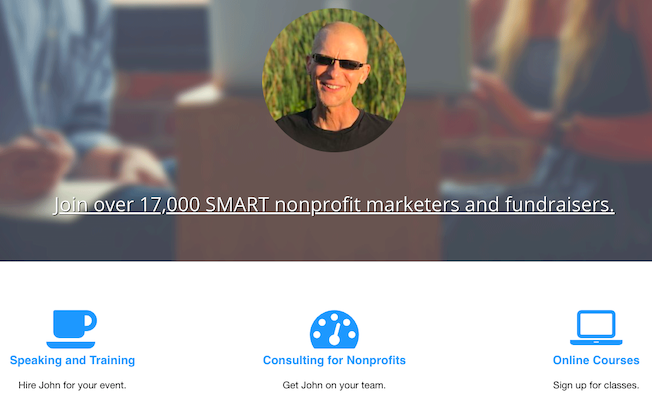 When he consults for your nonprofit, here are the major areas he focuses on:
Content – Whether you are creating/using powerful content to win donors.
Digital strategy – How to increase your reach and impact online.
Fundraising – Specifically online fundraising goals and how to exceed them.
Team coaching – Empower your team to build on the success.
He is also available for a quick free consult, that will help you understand how John can help your organization.
Having been a highly effective fundraiser for over 30 years, Claire is a 'fundraising ninja' who helps nonprofits with their major donor program.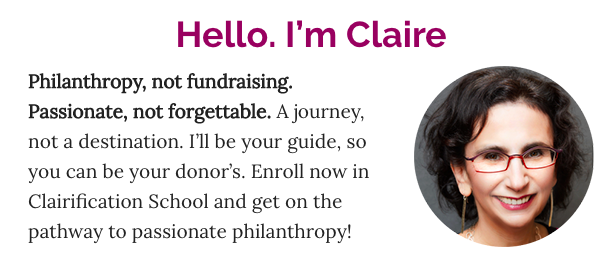 She offers one on one coaching sessions, nonprofit consulting and also an 'hour of power' where you can toss around ideas with her. Her website 'Clairification' tells you immediately why she is successful – she focuses on people, on philanthropy and not on just fundraising. Among her clients are Transforming Philanthropy, VisAbility and OneJustice.
Brady is the VP of Innovation and Optimization at Next After. Having received a Masters in Nonprofit Administration, Brady's career in the nonprofit space began in Zambia – with Spark Ventures. He oversaw the fundraising and marketing there and saw the impact a good fundraising strategy can have on a campaign.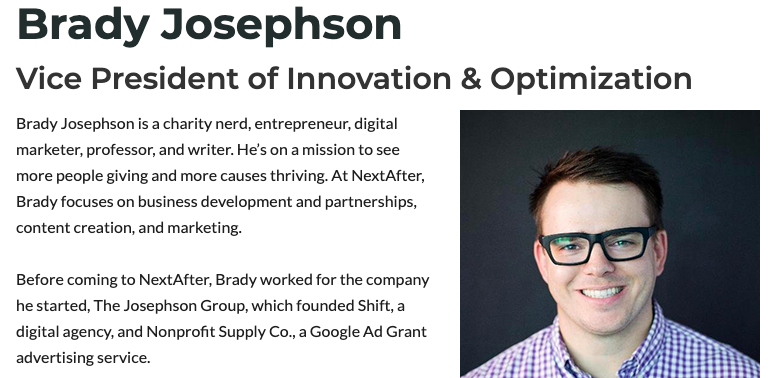 He has also helped nonprofits with Google Ad Grants advertising service and empowering them digitally. Currently, he can help your nonprofit with business development, striking partnerships, content creation, and marketing.
The founder and 'Chief Whaler' of Whole Whale, George Weiner helps nonprofits reach their potential via data and technology.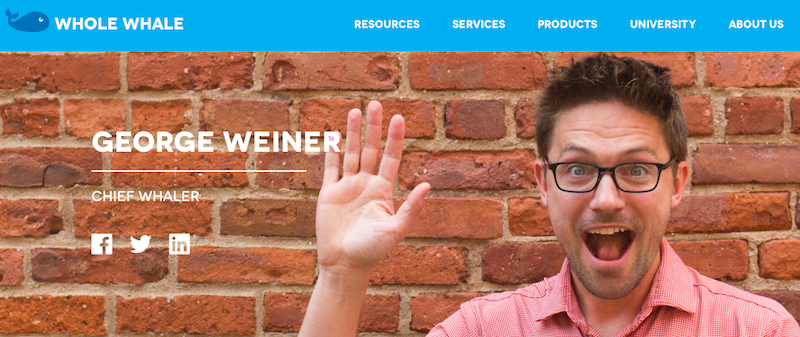 As the CTO of dosomething.org, George recognized the immense potential in technology (like Google Ad grants and data tools) that helped him build a community of 1.5 million people to take action. Now, he simply wants to help nonprofits do the same – use good technology to create more impact.
In the past decade, Whole Whale has worked with over 75 nonprofit and social-impact organizations. They have spent over $6 million in Google Ad Grants dollars and supported 150,000+ organizations through free online content and training.
The best part is they help nonprofits at all stages (be it startups or storied) get the right tools.
With more than 3 decades of helping nonprofits with fundraising, Jay Frost advises nonprofits at all stages – from startups to launching capital campaigns.

As you can see, Jay can help your organization by speaking, training, and coaching your staff to improve their fundraising skills.
He can also provide valuable fundraising counsel to your campaign efforts by:
Conducting feasibility studies: Identify the potential for your next major project by talking to current stakeholders
Executing development audits: Assess various aspects of your development efforts, right from the board, your internal policies to outbound communication.
Providing campaign counsel: Look at the campaign plan for your current or proposed campaigns and see what can be done to get the best out of it.
Being a remarkable speaker, Jay motivates people and enables them to act. So, you can also reach out to him to speak at your next conference.
The author of the book "Prospect Research for Fundraisers – the essential handbook," Jennifer helps small and mid organizations grow their major gifts program.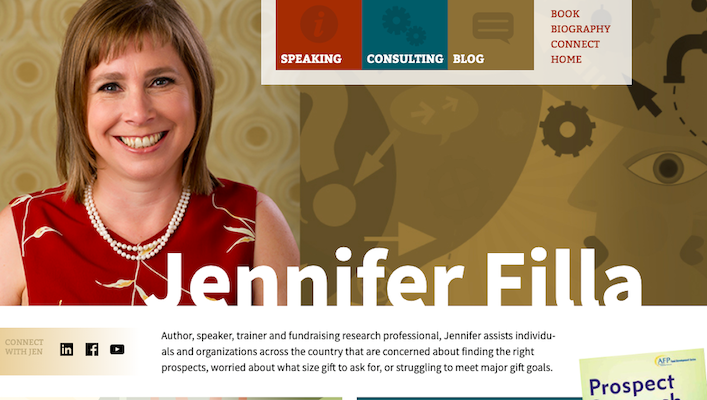 Here is how she can help your fundraising goals:
Crafting prospecting strategies to identify major gift prospects
Empowering the workforce of your nonprofit to do wealth screenings
Training your development team with the prospect research procedure
Sessions on the basics of prospect research for the entire team
Helping you with a relationship management system (software research/set up or tweaking)
She has helped organizations like St.Petersburg free clinic, Easter Seals Florida, and Stetson University.
The President of Evans Consulting group has consulted with nonprofits across the US for more than 20 years. He helps nonprofits with strategic planning, business planning, fund development, and leadership improvement.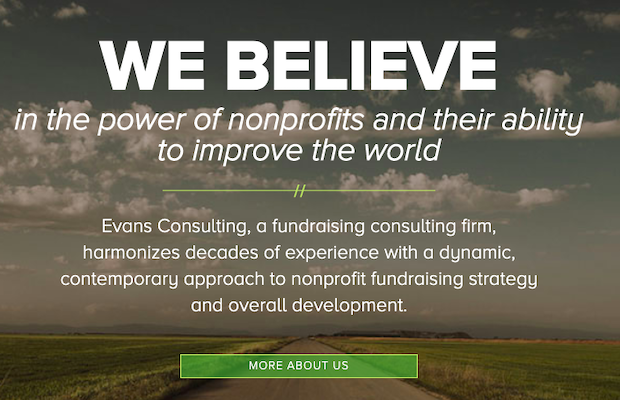 Him and his colleagues at Evans consulting help nonprofits with fundraising, communication, prospect research, and marketing. They help faith-based institutions, Art and culture institutions, Educational institutions, and organizations in the health and social services sector.
The CEO and engagement officer at Getfullyfunded.com firmly believes that fundraising skills can be learned (no one is born with it after all). And she has a well-mapped strategy for new, young, and growing nonprofits.

She and her team of fundraising professionals help with nonprofit fundraising, animal fundraising, and board development for all nonprofits. Draft gratitude Winchester, and Peaceful Passings (senior animal rescue) are among the nonprofits she has helped. Her team also provides coaching and training materials for nonprofit professionals looking to up their fundraising skills.
With nearly 3 decades of fundraising under his belt, Jeffery has helped more than 350 organizations raise more than $1,500,000,000. He specializes in spearheading capital campaigns, major gifts, and endowment campaigns.

He connects stakeholders to missions – with relationship mapping and has a client-focused approach to fundraising. The University of Missouri, The Kansas City Ballet, and Harry S. Truman Presidential Museum and Library are a few well-known nonprofits he has helped.
What to look for before hiring a fundraising consultant?
This is but a mere gist of the numerous fundraising consultants who can help your nonprofit. If you are planning to go with one, then here are a few things to check before you jump on board.
Track record – who have they helped. How successful were they in their mission?
References – were they easy to work with? Even if they did not always help with the fundraising goal, did they give any useful insights that significantly impacted your efforts?
Fees – how are they compensated? If it is on a commission basis, it's a strict no-no.
Contract – what does the contract entail? It is mandatory and cannot be skipped.
Also, ensure that you clarify with the consultant on exactly what his strengths and weaknesses are and how he can help you.
For instance, if you are a fledgling nonprofit who is just learning the ropes, then your consultant has to be specialized in helping organizations like yours. A consultant who is focussed on major donor programs or capital campaigns will not help you reach your full potential.
List of fundraising influencers
If you think your organization is not ready for a consultant just yet, you can look at social media influencers to help you.
In the nonprofit arena, Twitter reigns over other social media networks. Sure, Instagram is popular. But Instagram is more a space to share stories via images. It is via Twitter that nonprofit professionals meet, have a conversation, exchange ideas, and cheer each other on.
Here is a list of fundraising influencers you can follow on Twitter:
With more than 350K followers, Beth is a nonprofit innovator and master trainer. She shares blog posts, re-tweets interesting articles, and also links other's posts that can help your nonprofit.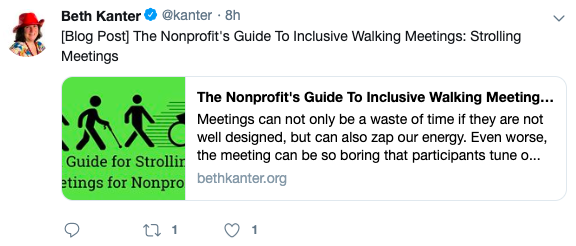 The Co-founder of Kiva.org and Branch.Co has more than 250K followers. Matt was a Skoll Awardee and Ashoka Fellow. He was selected to FORTUNE magazine's "Top 40 under 40" list in 2009.

His tweets are always on top of the recent developments in the nonprofit space.
More than 50K followers look to Amy on Twitter for her insights into the nonprofit space. She is the author of "Simple acts to change the world: 500 ways to make a difference" and helps nonprofit use tech to increase impact.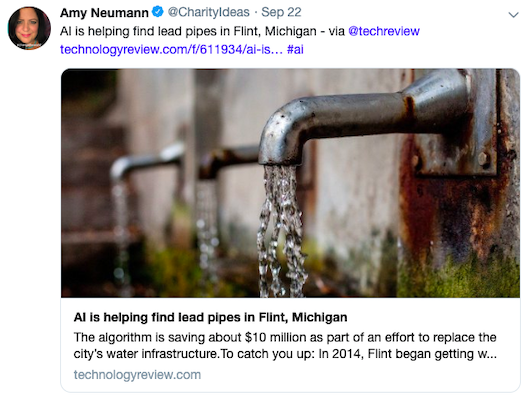 The author of "Your mark on the world center" has 41.5K followers eager to hear what he has to say. Having spoken twice at the United Nations, Devin is a well-known authority on the social impact arena.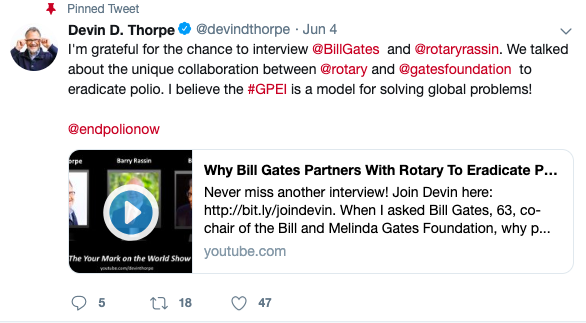 His tweets are thought-provoking, tells you what leaders in each space are thinking and how it impacts the nonprofit space.
If this name is familiar then yes, you have read this post well. This is the same John Haydon, who has his own consultancy.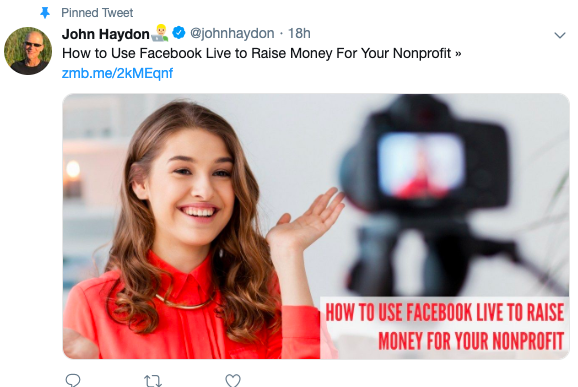 His 41.1K followers get actionable advice about facebook marketing and harnessing the power of digital to create more impact.
The author of "Storytelling in the digital age: A guide for nonprofits" has more than 15 K followers on Twitter. She is the global authority on storytelling. Her tweets reflect it too!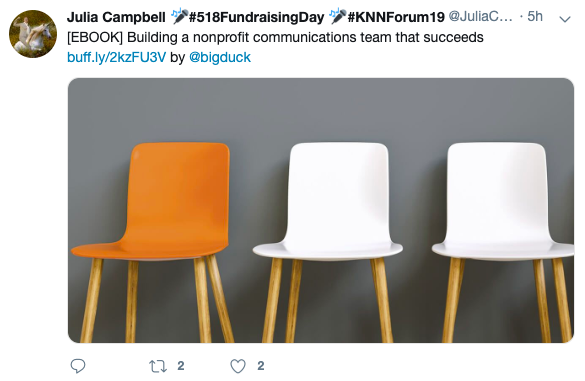 They are an excellent resource on how nonprofits can harness storytelling to get their message across effectively.
The author of "Giving done right" and the President of the Center for Effective Philanthropy has 13.2K followers on Twitter.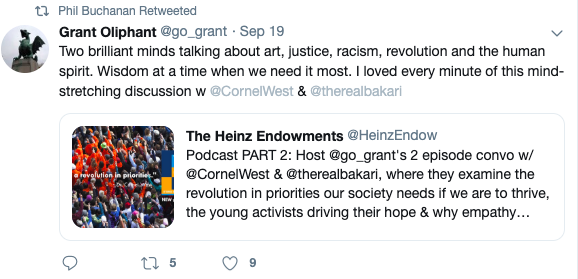 His shares insightful tweets from other thought leaders and keeps you on top of the happenings in the nonprofit world.
The award-winning author of "Donor-centered planned giving" uses twitter to share how nonprofits can put donors at the center of their planned giving efforts.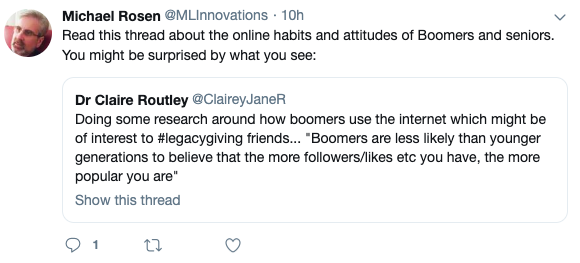 He shares the top news on philanthropy and re-tweets insightful tweets from other influencers.
"Voo lay" the Executive Director of Rainier Valley Corps is the writer of nonprofitaf.com. He shares inspiring philanthropic stories and re-tweets the latest in the nonprofit industry.
The 15.1K folks who follow him get their daily dose of insightful nonprofit news from his tweets.
With more than 20K followers on Twitter, Gail shares useful information on nonprofit storytelling, running capital campaigns, and fundraising.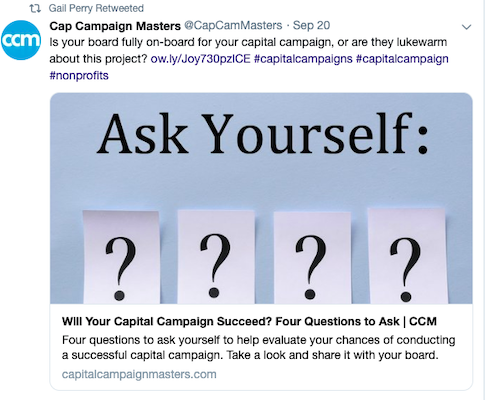 As America's top 10 fundraising expert, she helps nonprofits with their capital campaigns. Her twitter feed gives you an interesting and very real glimpse of how she helps her clients with their fundraising goals.
How can a social media influencer help your nonprofit?
These influencers are speakers or coaches in their own right. Merely following them on social media will give you a wealth of information and tips about fundraising.
Quite apart from their knowledge about the nonprofit and fundraising space, can you spot what characteristics they all have in common?
That's right. All of these influencers have:
Credibility
Reach
Quality contacts
Relevance
So, even if you do not want them directly as consultants for your nonprofit, you can seek their help differently.
Each of these influencers falls under one or more of the following categories. You can harness their connections on social media for your nonprofit. Here are a few examples:
Thought leader – Get them to talk about your cause/mission.
Social butterflies – Get them to share your success story.
Loyal supporters – Make a donation to your cause, inspire others in their network to do so.
Final Thoughts
Whether you go with a fundraising consultant or influencer, know that it is up to you to take the final call on improving your campaigns.
Based on what he observes, the consultant can only make suggestions and offer solutions. He cannot make direct transactions on your behalf with your donors. He (or the firm) cannot also implement campaigns or changes for your goals.
However, since the advice they provide along every step of planning and execution is invaluable, pick a consultant who 'gets' your mission. Both of you should be on the same page about what to improve and how. Otherwise, despite getting expert help, your fundraising efforts will not reach its full potential.