A good website leaves an impression on a visitor's mind. An eye-catching design, intuitive layout, and valuable content all work together to create a memorable experience for the user. Visitors are more likely to spend time on a good website, and new visitors are more likely to return. In some cases, good web content can entice visitors to take action, whether in a donation, newsletter sign-up, or merchandise purchase.
While good web content is essential to any organization, it's vital for nonprofits who rely on maintaining a healthy audience of donors and supporters. One way to achieve this is through the Google Ad Grant. This program allows nonprofits to compete for Google Ads with minimal costs, giving them a valuable opportunity for digital marketing.
Successfully using the Google Ad Grant requires more than skilled advertising and marketing. It also requires a high-quality, optimized landing page. A landing page is any page that a user lands on when they click on an ad or other hyperlinked item. Thus, a landing page is often the first chance your organization has to show a new visitor who you are and what you stand for.
An optimized landing page accomplishes many things quickly and efficiently. It should answer a user's questions, provide information about your organization, and give the user a next step they can take to remain on your website. Doing all of these things at once can be difficult, which is why we're here to share some simple tips that will help you optimize your existing landing pages or design brand-new ones. Today's tips include:
Keep It Simple
Tell A Story
Have A Prominent CTA
Optimize For Mobile
Track Engagement Data
With these tips in hand, you'll be equipped to make your landing pages more effective, boosting the effectiveness of your digital marketing efforts.
1. Keep It Simple
An optimized landing page should be simple in both design and textual content. The visual design should reflect the rest of your website, demonstrating consistency. Do not deviate much from the broader structure of your website when designing a landing page. Feel free to use headers and footers that allow for easy navigation to the rest of your website.
The text copy of a landing page should be short and concise. Before writing the copy, you should consider how a user may land on that page. In our experience, many users click on an ad because they are seeking an answer to a specific question or they want information about a particular topic. With Google Ads, it's easier to track the relationships between search queries and the landing page and the actions a user takes when on the page. The more information you have about how users navigate to and from your website, the more optimized your landing pages should be.
Think of a landing page as your front porch. It's important that it looks appealing for any guest and provides a welcoming space for them. However, as a host, you want your guests to eventually make their way to another part of the house where they can converse and relax. The same is true of your website. Use the landing page to welcome visitors, answer their initial questions, and guide them to another part of your website.
2. Tell A Story
Making your landing page short and simple is important, but can lose effectiveness if the content is dry or boring. Use the limited space available to tell a story or make an emotional connection. Skilled, stylistic writing should be employed to write concise, efficient copy that provides information while enticing a visitor to learn more about your organization and consume your content.
Do this by writing an informative piece that ties in your organization. For instance, if your landing page is on the topic of animal adoption, you should provide some real examples of how your organization has helped animals find homes. If someone is searching for this topic, then chances are good they are emotionally invested in it. Use this information to bridge the gap between their interests and your organization.
3. Have A Prominent CTA
Every landing page should include at least one Call To Action. A CTA is a concise, eye-catching, piece of text that asks the user to take a next step on your website. They link to a more valuable page on your website, such as a donation page, store, or contact page. Wherever possible, your CTA should be relevant to the content of your landing page, even if the destinations are ultimately the same.
CTAs should visually contrast from the rest of the page. Often, designers will create buttons or other web elements that specifically house CTAs. These design elements ensure that the CTA is prominently displayed. Here's how to do so effectively:
Display the CTA more often depending on the size of the page.
Place a CTA near the beginning of the text copy and again at the end.
The landing page copy should be the catalyst for the user wanting to take a next step.
These tips will ensure beneficial placement. Remember, if users are so distracted by the CTA that they don't read the page, you may have missed a valuable opportunity.
Calls To Action should use strong, concise language. Especially if using a button or other web element, make the most of the limited space available. Further, emphasize the active part of a CTA. Use active verbs that appeal to the user and create a sense of urgency.
4. Optimize For Mobile
It's increasingly important to be aware of the myriad of ways users will engage with your content. While web traffic used to be exclusive to a desktop computer, mobile devices are the main way people access the internet.
As such, there's simply no excuse for not optimizing your website for both desktop and mobile devices. Because the layout and browsing experience differs wildly between the two kinds, the user experience can differ just as much.
Most web design platforms allow you to easily convert, optimize, and tweak both the mobile and desktop versions of your website. However, be sure to check the high-value areas of your website to ensure that the user experience is retained. It may be worthwhile to design these pages specifically for one platform or another, especially if the default optimization leaves something to be desired.
Donation pages, contact pages, or stores are extremely valuable for any nonprofit organization, and you never want to see a user abandon their session due to a frustrating or non intuitive user experience.
5. Track Engagement Data
If you've followed all of the tips above, you'll hopefully start to see some benefits of high-quality, optimized landing pages. However, it's important that you are able to accumulate data on their performance. This data will allow you to compare, tweak, and measure the performance of landing pages over time. With the right metrics, you can determine which pages are underperforming and whether pages directly contribute to a high-value action such as a donation.
These high-value actions are called conversions. What a conversion is or is not is entirely up to you and your organization's priorities. Common ones include successful donations, spending more than 5 minutes on your site, or watching an embedded video. So long as your conversions are valuable, they can be used as a primary metric to determine landing page performance. Landing pages that lead to conversions are performing well. Those that do not need to be modified in some way.
A common tactic to tweak underperforming landing pages is to use A/B testing. This is the practice of designing two very similar landing pages, but differ in one key respect: the copy or CTAs Here's how:
You use both pages, swapping them out on a set interval.
After time passes, you then compare their performance.
If A performs better than B, you know that the difference between them was meaningful.
You then can then begin another test.
This scientific approach will help you hone your landing pages over time and develop a selection of proven, high-performing landing pages.
---
Landing pages are important because they give you multiple opportunities to interact with new visitors. With specific, optimized landing pages, you can pounce on every conceivable topic that may intersect with your organization. From there, your landing pages can answer the visitor's queries and introduce them to your nonprofit.
With these tips, you'll be in a better position to appeal to these visitors. Creating optimized landing pages is as much an art as it is a science. Creativity, analysis, and persistence are all required to create great landing pages. With these skills and time, your organization will take your digital marketing to the next level.
---
Author: Grant Hensel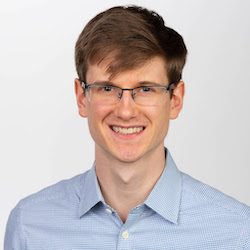 Grant Hensel is the CEO of Nonprofit Megaphone, an agency focused 100% on Google Grant Management for nonprofits. NPM is honored to manage the Google Grant for 370+ leading nonprofits worldwide and to be an inaugural member of the Google Ad Grant Certified Professionals community.