Real estate advertising can be super intuitive and compelling if you know how to attract, track, follow-up and nurture using the right strategies.
There's substantial evidence (as we will discuss below), but I also speak from personal experience. The other night, I started searching for a rented property for two. I glanced at a few properties on a well-known real estate website, shortlisted a couple and halted my search for the day. The next day, when I logged on to Facebook, the same properties appeared as an advertisement on my timeline, along with a carousel of a few more properties with similar features and locations as I'd shortlisted.
Each photo was attractive and compelled me to click on the website and resume my search. Now, there were three more properties on my shortlist.
That evening, I got a text from this website saying, "Great choice on the 2BHK flat in Hartford! 3 more people are looking at this house. Would you like more information on the property before someone else bags it? Reply Y to confirm."
Instantly, I felt like I might miss the house if I didn't confirm my interest. Without hesitation, I hit "Y".
From a client perspective, such strategies are super convenient and compelling. The targeting and switching from social media to personal texts and messaging were crucial elements in nurturing me to make a decision quickly.
It's important not just to have creative real estate advertising but also to use different channels intelligently. In this post, we take inspiration from clever real estate advertising and discuss how you can strategize your marketing for guaranteed success.
Online real estate advertising
Online is where the world is. Real estate online advertising has the obvious advantage of reach. Additionally, it helps you:
Target audience with precision.
Achieve higher ROI.
Put out a variety of content.
Use nurturing tools to track audiences and nurture lapsed individuals.
Here are some actionable and effective online advertising ideas for realtors.
Use your website to collect contact information
Your website will be an essential pitstop to introduce people to your business. This is the place to showcase your inventory, features and services to leads. Starting from this point, you begin nurturing visitors into prospects.
When a person lands on your website, they are interested (or at least curious) about some aspect of you– most likely your services and properties. Leverage this curiosity for a seemingly small ask, like their contact details, which is valuable to your business.
For instance, you could lock a few photos, the agent's contact information or such valuable details on the website. When they request this information (e.g., by clicking on a purposely blurred image), trigger a form requesting their email ID or phone number to access the restricted information.
On the backend, set up an auto-response and nurturing flow on your email or text marketing software to send a "Hello!" and request further details as soon as you receive the information.
Here's an example:
Welcome to Reagan Realtors 🏡 You made the right choice for property dealings in Wisconsin. Please reply with your full name.
Nicky Jordan
Hey Nicky, are you looking to sell, buy or rent?
The market's just right to purchase a property in Wisconsin. Can you tell us what kind of property is on your mind so we can help you more efficiently?
CallHub's SMS-opt in tool helps you build such an automated nurturing flow to collect vital information for your real-estate business. Try it for free here.
Integrate valuable valuation features on your website
Your website can be structured in two ways:
A static site that lets visitors explore as they wish.
An interactive website that offers added features and directs visitors to the most relevant pages.
We recommend the latter for obvious reasons:
The first 10 seconds determine a person's will to stay on the website or leave.
It helps you increase engagement using consumer psychology (a visitor is more likely to engage if they get something of value before giving something of value).
It improves personalization opportunities.
It saves the visitors' time and thereby builds trust.
Here are some features that can make your website interactive:
Home valuation for sellers.
Cost estimation for renters/buyers.
Pop-up quizzes to help visitors determine the course of action (e.g., should you rent or buy in this economy?).
Comparison of different properties.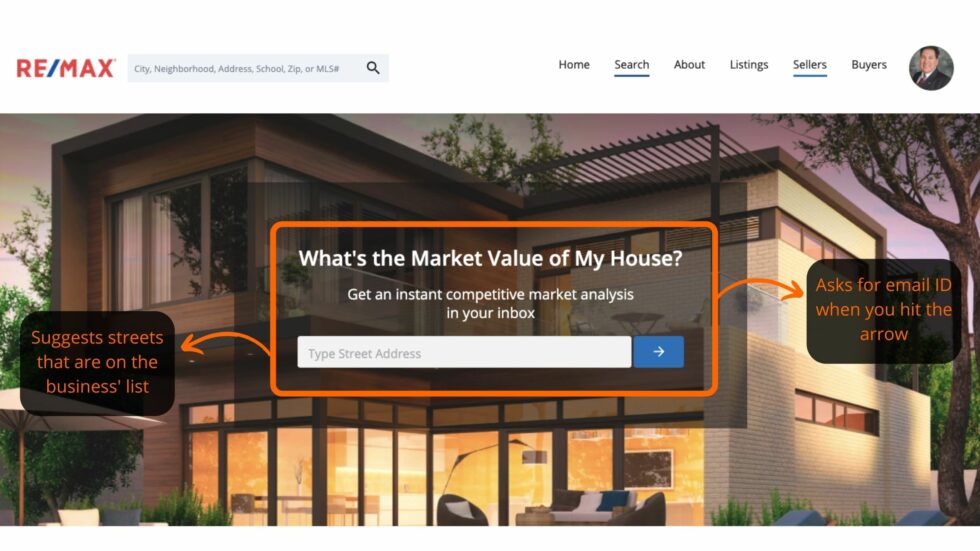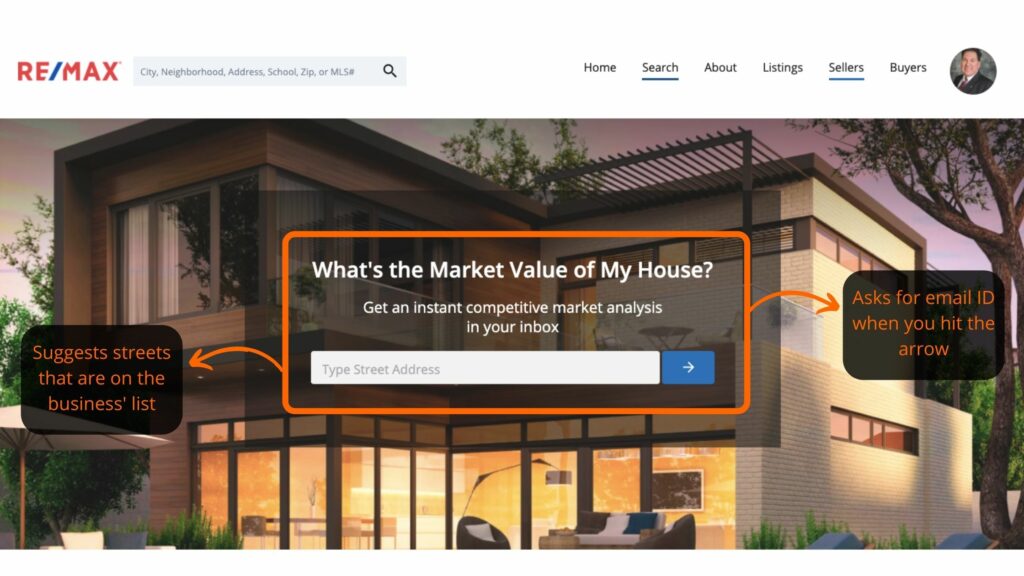 Related Reading: Top 11+ Communication Strategies to Help You Answer "How to Get Real Estate Leads?"
Utilize Facebook and Instagram to target lapsed visitors
Special shoutout to Facebook and Instagram because they have fantastic targeting tools and let potential leads browse through photos to make a decision.
Since people spend about 38 minutes on Facebook and 53 minutes on Instagram daily, these social media platforms are great places to remind lapsed leads (like me in the earlier example!) about the properties they liked.
How to target website visitors on Facebook and Instagram:
| | |
| --- | --- |
| Facebook | Instagram |
| Install Facebook Pixel and a website conversion tracking tool of your choice. | Since Instagram is a partner of Facebook, you must install Facebook Pixel for Instagram targeting. |
| Go to Facebook Ads Manager and click on "Create a Custom Audience". Select your sources (e.g., website) or Facebook sources (e.g., Facebook/Instagram page). | Follow the same steps to create your custom audience as for Facebook. |
| Facebook will redirect you to a pop-up where you add the specifics of the target audience (e.g., all website visitors in x days or visitors to a specific web page). | Choose your objective (e.g., website conversions, video views etc.) |
| Hit "create the audiences". | Design and launch your ads! |
Use emails sparingly, and only to relevant leads
An average office worker receives about 121 emails per day. These include business emails, subscribed emails, and marketing emails too. Out of the massive influx of emails received per day, which ones do you think a person will open and which ones will they ignore?
That's right– those emails they did not subscribe to, or do not find valuable, will be ignored or trashed. Your real estate advertising shouldn't be among these.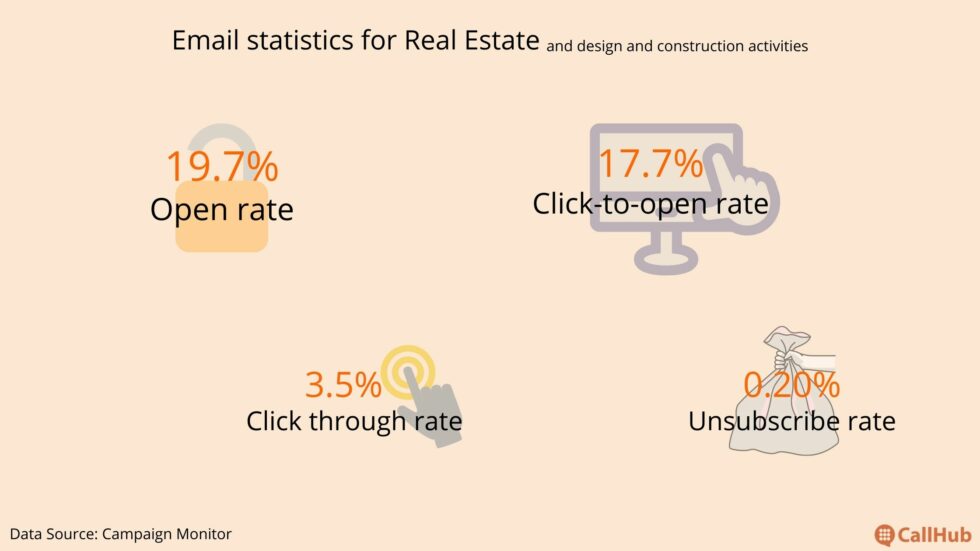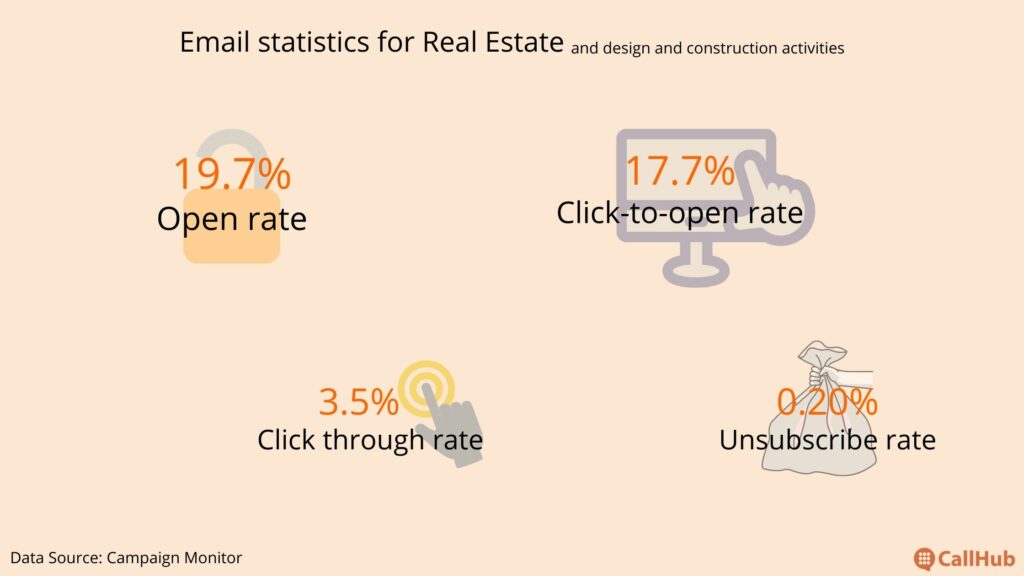 To the most effective real estate advertising via emails, you must strategize intelligently. Here are some tips to follow:
Segment only engaged and subscribed leads for email marketing.
Use catchy subject lines (they must be short, generate curiosity, and (optional) contain emojis!).
Personalize content (e.g., use merge tags to add their name automatically).
Segment your email list and target different content to provide value for each person (e.g., "Steps to take after you purchase a home" for buyers.)
Make sure you don't send emails too frequently. That can increase unsubscribe rates.
Maintain a clean list. Track folks who don't open or engage with your content and filter them out.
Bank on videos to capture leads
According to the National Association of Realtors (NAR), 37% of all buyers used online video sites as an information source for home search. Moreover, videos can increase organic traffic by about 157% and can drive 403% more inquiries.
Today, some of the best real estate ads are video ads. Take The Corcoran Group's "Local Next Door" videos, for example.
They give a tour around the locality by scripting the video like a conversation between two individuals. The videos are short, informative and make the locality look super desirable. They have other video series, too, including market reports and expert interviews.
Here are some ideas for short-form and long-form videos for real estate advertisements:
Short form videos
Long form videos
Neighbourhood glimpses
Expert interviews
Quick tutorials
In-depth tutorials
Listing ads
Virtual home tours
Reels
Meet-your-agent
Best channels to use:
– Instagram stories, posts and ads.
– Facebook stories and ads.
– Twitter.
– Your website.
– Marketplaces.
Best channels to use:
– YouTube.
– Facebook ads.
– Instagram IGTV videos.
– Your website.
Note: Like Facebook and Instagram, you can also use YouTube for conversion tracking and ad targeting. Click here to set up your real estate ad campaign.
Register on marketplace companies
Real estate advertising on a marketplace has some undeniable benefits:
Scalability.
Expands your reach.
Data-smart business.
Added credibility.
Follow these best practices while choosing a marketplace for your listings:
Choose ones that offer essential features like filters, Google Map integration, and valuable insights like market trends, school ratings etc.
Include basic features (e.g., square footage, beds and baths) and look at the listing from a buyer's POV to see if details like furnishings, parking space, distance from school etc., are relevant. Add them accordingly.
List your properties on as many relevant marketplaces as possible. You never know where your next client comes from. However, make sure you delist a property from all places once your escrow is confirmed.
Marketplaces have an influx of properties and agents. Ensure your stand out by adding bright, aesthetic and attractive photos, providing accurate information (instead of fluff) and actively seeking leads on the site.
Check out this list of real estate listing and agency sites for better reach and scalability.
Offline real estate advertising
Offline real estate advertisements carry the power to make a direct, personal impression with prospects. It has limited reach compared to the online platforms but can push leads further down the sales funnel.
Here are some advertising strategies you can use.
Make a business card that stands out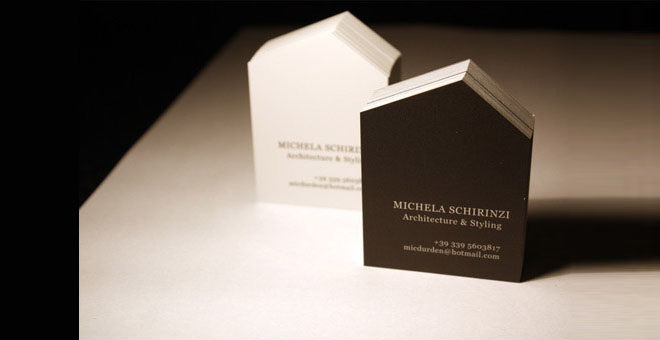 Would you throw out such an attractive, unique business card? Most likely not. It will also not get lost among the heap of plain, bland cards. It is important to invest in a creative business card to form a lasting impression on your clients.
The three most essential details in any business cars are your name, expertise and easiest way to reach you.
Additionally, you can also add the following:
Location of operation.
Your photo.
Website.
Embellishments (e.g., seeds if you deal strictly with eco-friendly real estate).
Your address.
Social media handles.
Get your shortcode and keyword on prominent billboard sites
If there's one place you don't want to lose clients in, it's the neighbourhood and district where you operate. Park benches, billboards, yard signs and bus signs need to display a way to get in touch with you seamlessly.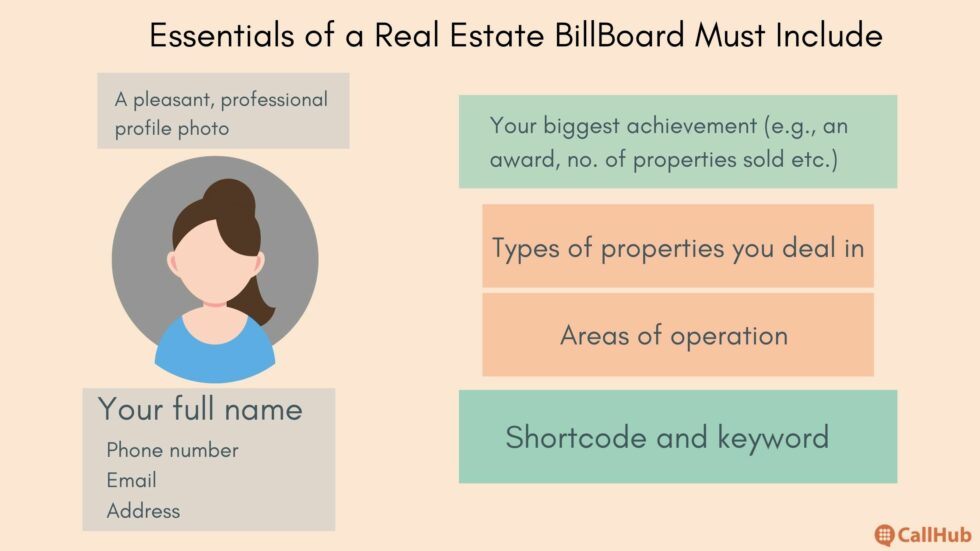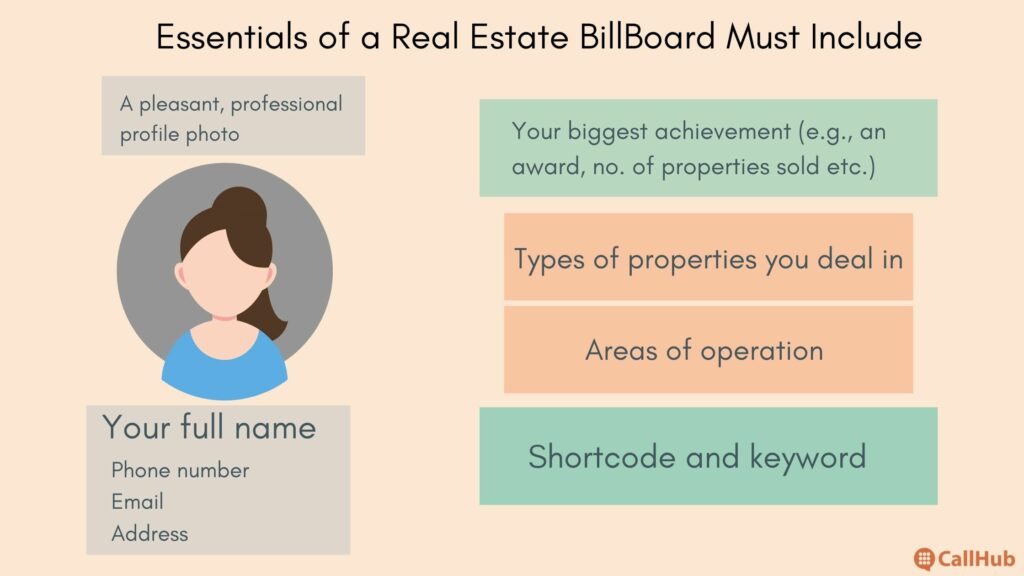 The billboards must contain:
Your name and contact information.
Properties and locations you operate with.
Shortcode and keyword for SMS opt-in.
SMS opt-in is highly recommended in the real estate universe because
Texts have a high open-rate (98%),
They are convenient for the client to follow and
They can be personalized and automated, following a nurturing flow.
The details of SMS opt-in take precedence over your contact information because they not only let folks connect with you, but text marketing can also begin the nurturing process for leads.
You require a shortcode and keyword to get folks to opt-in to your text marketing. An SMS shortcode is a 5-6 digit number where people text your chosen keyword (e.g., HOME) to opt-in to your text messages. This is one of the easiest ways for people to reach out to you and for you to add contacts to your lead list.
Using an SMS opt-in tool, you can add a nurturing flow; When a person sends in the keyword, autoresponders immediately confirm their opt-in and ask for other important details (like in the example we saw earlier).
To know more about shortcode marketing, read Short Code Texting – How to Get Started.
Use texts for personal real estate advertising
You know your real estate advertising is successful when it progresses from generating awareness to personal communication. There are two viable options for such communication at scale: Texting and calling.
In this case, calling falls a bit behind texting. About 38% of clients talk to their realtors on the phone, but only 11% prefer this. So, although calling your prospects shouldn't be eliminated entirely, you can reserve it for clients who appreciate or prefer it.
Texting trumps where calling lags. According to Latife Hayson, 40% of buyers prefer communicating with their realtors via texts. And why not? Texts are convenient, non-invasive and can be undertaken at scale with the proper real estate SMS marketing tool.
Use the two forms of texting– SMS and MMS– in these circumstances:
SMS

To follow up with lapsed visitors.
To nurture potential leads.
To send updates during the sale process.
To alert clients about progress.
MMS

For event invites.
To send nudges for lapsed clients.
To send property photos and videos to leads.
Related Reading: 13 Real Estate Text Scripts You Can Use To Close More Deals.
Host events and seminars
Events (such as open houses) and seminars are excellent ways to gather a large number of prospective leads and clients under one roof. However, to ensure people attend, you must ensure they get some value out of it. Here's when to organize both types of events:
Seminars: To establish yourself as a thought leader in the real estate industry and to give tips to buyers/renters to make informed choices.
Open houses and such events: More targeted towards specific properties. Such events are typically organized for high-end or "difficult" properties (e.g., high-end properties or homes that aren't generating traction online.)
Now that we know the best strategies for real estate advertising let's look at some best practices that make real estate ads more effective.
BONUS! Tips for creating real estate ads that work
These tips will give your advertisements credibility– a critical aspect to nurture leads down the sales funnel.
Use authentic images: Avoid stock images like the plague. Hire a professional to click location, property and other photos.
Use communication channels for more than business: Give folks something valuable (e.g., tips via SMS or expert tutorials on social media).
Create valuable content: Write blogs on your website, contribute expert content for the marketplace and related sites, send out newsletters and create informative videos for your social media. This also includes short form, catchy content to get folks hooked to your business.
Add attractive elements in photos: Feature pets or a carefully curated room (looks much better than an empty room. But don't overdo it because buyers should be able to imagine their own place there.)
Mix up your content: Whether it's your text marketing efforts, newsletters or social media posts, ideate various topics to attract different audiences. If you discover that more than one type of content is working, create series to expand them in an organized manner.
Real estate advertising is a competitive space online and on personal communication channels. To ensure you have the upper hand among competitors, invest in a marketing tool that helps you:
Generate leads.
Follow up.
Nurture.
Get data insights.
Feature image source: Breno Assis/Unsplash.