According to the National Association of Realtors, 90% of realtors prefer to communicate with their clients through text messages. That's right behind emails at 94% and phone calls at 91%.
It's no surprise why.
SMS is an easy to use and reliable way to communicate with prospective homeowners #marketing #realestate
Click To Tweet
SMS is an easy to use and reliable way to communicate with prospective homeowners, with the highest open rate, the highest engagement rate, and the highest conversion rate among all communication channels.
Clients love it too. In another report by the NAR, they found that 62% of clients prefer that realtors communicate property info through text messages.
That's why you can't afford to miss out on using SMS for your real estate marketing.
Before starting a real estate SMS marketing campaign
The type of campaign you want to run
There are three main types of campaigns you can run with a texting software like CallHub:
Keyword & shortcode texting
A shortcode is a 5-6 digit number that replaces the normal 10-digit phone number. A keyword is used in SMS opt-in campaigns. Clients can text a keyword to a number (shortcode or long code) to learn more about a property.
Related reading: Check CallHub's shortcode texting platform.
Collecting data through SMS
You can collect important data from prospects, including their name and email address, by setting up text auto-responses.
Learn more about the ins and outs & best practices of SMS marketing.
Let's look at how you can use text messaging to communicate with your clients:
How to use SMS – SMS examples for real estate marketing
The number of ways you can incorporate SMS into your real estate marketing campaigns is boundless.
Use real estate text riders to advertise your opt-in campaign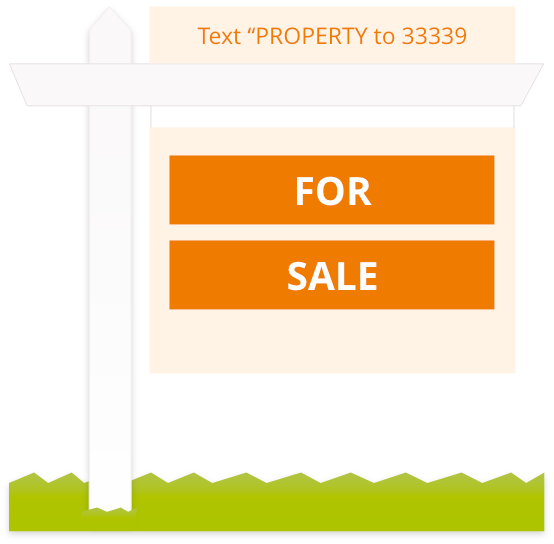 "49% of all homebuyers use yard signs as information resources."

PSPrint
Real estate text riders are signs that are placed in a yard or some other place that is equally visible outside of the property that is for sale.
Text riders make it easy for prospective homeowners that are looking for houses in an area to quickly sign up for your communications and get more information on the properties they are looking at.
Some other ways to get the word out about your SMS alerts are on your website or through your email communications.
Send property information to interested leads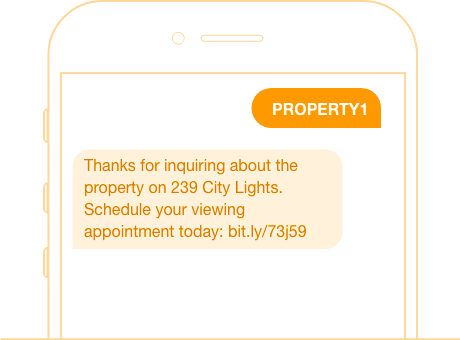 As prospects opt-in to your SMS campaign, you can send automatically send them property information, if you have a unique keyword for each property.
Here are some details you should include in your real estate texts:
Property address
Property size
Property price
Your contact information
Link to your website
Link to Google Maps
Use MMS to display property
You don't need to limit your outreach to plain old text messages.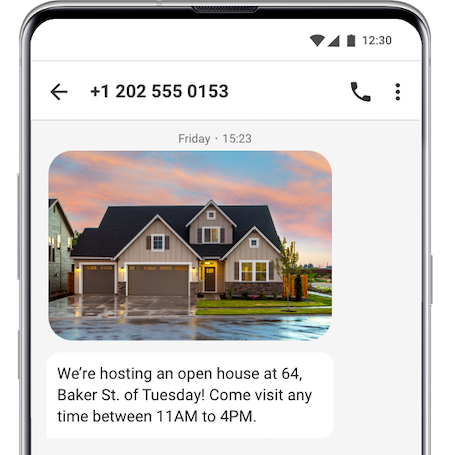 Show off images or a video of the property by using MMS.
Send an MMS:
With property images right when they text in
Taking a video walkthrough of the property
When renovations occur and you want to alert prospects
Get data from prospects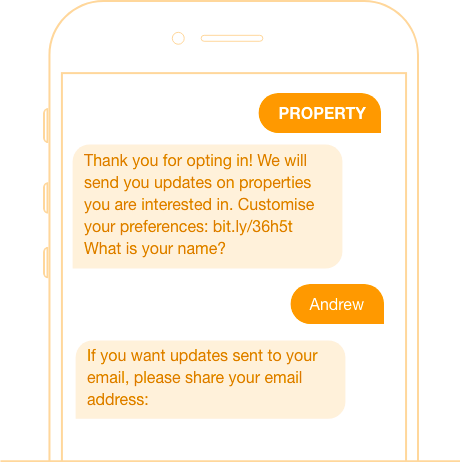 You can collect data from leads who have opted-in to your SMS communication to make it easier to follow-up with them and send them updates. With text messaging software like CallHub, you can easily import and export the data you collect.
Some data points you might want to get from your real estate prospects include:
First and last names
Email address
Budget
City
Create keywords for each property
By setting up unique keywords, with the same shortcode, you can send prospects information about the specific property that they are interested in.
For example, the keywords can be "H1", "H2", and "H3" if you are listing three properties in an area. If a prospect texts "H1" to your number, then you can target them with follow-ups specific to that property.
Send follow-up text messages
Using peer to peer texting, you can keep your prospects engaged by sending them follow-up texts and updates about the properties they are interested in.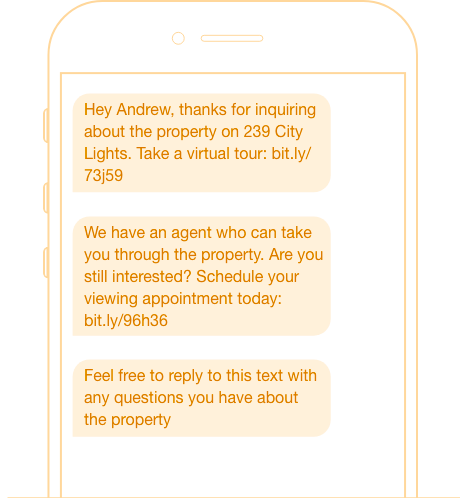 Related watch: Fundraising with SMS – Webinar
Real estate text marketing templates you can use
Effective real estate text messages should:
Be to the point
Include relevant information
Have a call to action
Be conversational
Here are some templates to help you get started with your real estate SMS campaigns.
Real estate greeting messages:
Thank you for showing interest in 239 City Lights! Schedule your property tour here: <business.com>
This is a 4 bedroom, 2 bathroom home with a built-in one door garage. Priced at $240,000.
Thank you for your interest in our properties. Reply to this text with your email, and we can send you the top ten recent listings in this area.
Thanks for your interest! Take a virtual tour of the property: link.com. Call us at 415-906-4642 for more details.
Real estate follow-up messages:
You are invited to our open house at 239 City Lights! Come join us between 9-12 AM on 23-9-2019
Hi Mark, The price for the property at 239 City Lights recently dropped from $240,000 to $200,000. Want to talk about it?
Hi Mark, we have an agent who can take you through the property. Are you still interested? Schedule your viewing appointment today: bit.ly/96h36
Here are some properties near 239 City Lights that you may also be interested in: <business.com>
Setting up SMS marketing for real estate using CallHub (it's easy!)
Setting up and using a real estate SMS system is simple. The first thing you need to do is getting prospects to subscribe to your SMS system through an opt-in keyword:
1. Set up an opt-in keyword and shortcode

Longcode vs shortcode
Long code — A 10-digit phone number that's tied to an area code. (Eg. 31568 33649)
Shortcode — A 5 to 6 digit number that can be used nationwide. (Eg. 562498)
Choose the SMS Opt-in campaigns on the CallHub dashboard
To set a text alert system for real estate, you need to have just 2 elements:
A keyword
A shortcode or long code (to act as Caller Id)
For example, 'Text "JOIN" to 562498 for property updates and reminders.'
Here, the keyword is "JOIN," and the number is "562498".
You can set a keyword of your choice while setting up your real estate SMS system and rent a short code or long code from your text messaging service. If not you can use your cell phone number as the caller ID.
Once you finish setting it up, go ahead and promote your keyword and shortcode. When people text in your keyword to the number, they will automatically be added to your database.
2. Let clients know about your keyword and shortcode
Let clients know about the SMS system advertising it wherever you can:
By placing real estate text riders at each property that is for sale.
Promote your code on your real estate website and all your social media channels.
Send it out in your email communications with prospects.
Now you're all set to start sending updates straight to prospect's mobile phones
3. Send your first message
You can send messages through the SMS broadcast campaign on the dashboard.
Type out the message you want to send, for example, alerting prospects about an open house:
You are invited to our open house at 239 City Lights! Come join us between 9-12 AM on 23-9-2019.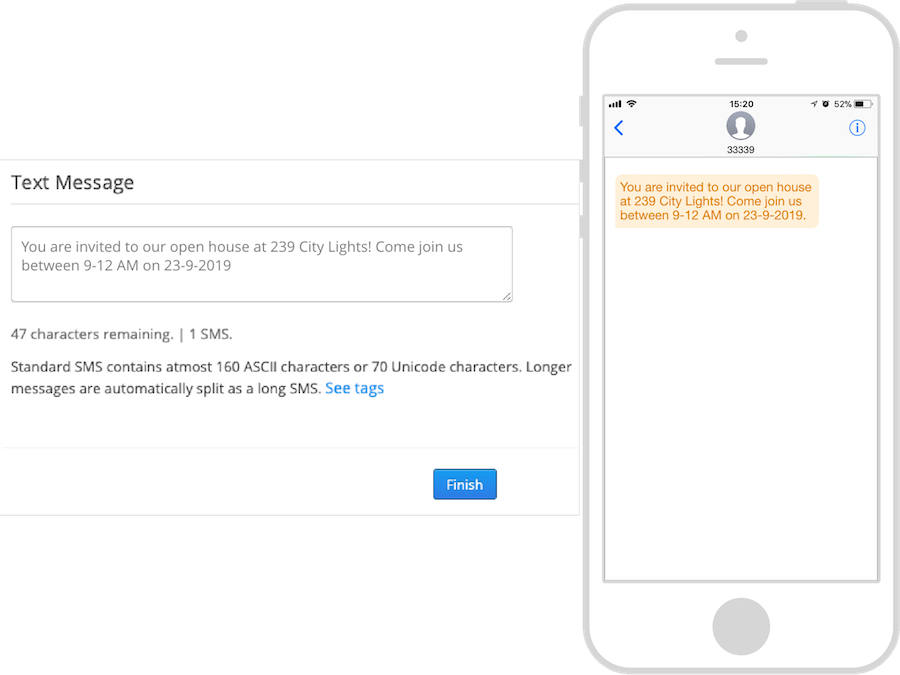 Choose the list with the numbers of the prospects you want to send the message to.
Now schedule a time you want the message to go out and hit DONE.
Sending out a group text to prospects is as simple as that.
Want to try out CallHub for your real estate client communication? It's easy to get started. You can try it out by signing up for free or talk to a CallHub expert.