Grassroots Advocacy Definition, Strategies and Tools
October 23, 2017 - 8 minutes read
Grassroots Advocacy Definition
Grassroots advocacy involves communicating with the general public and prompting them to engage elected officials at the local, state, and federal levels. Grassroots advocates raise public awareness on issues so the general public can influence public perception, regulations, and public policy. While direct lobbying is conducted by professional lobbyists who bring arguments for or against a specific measure to legislators and government officials, grassroots advocacy relies on citizen-based activism.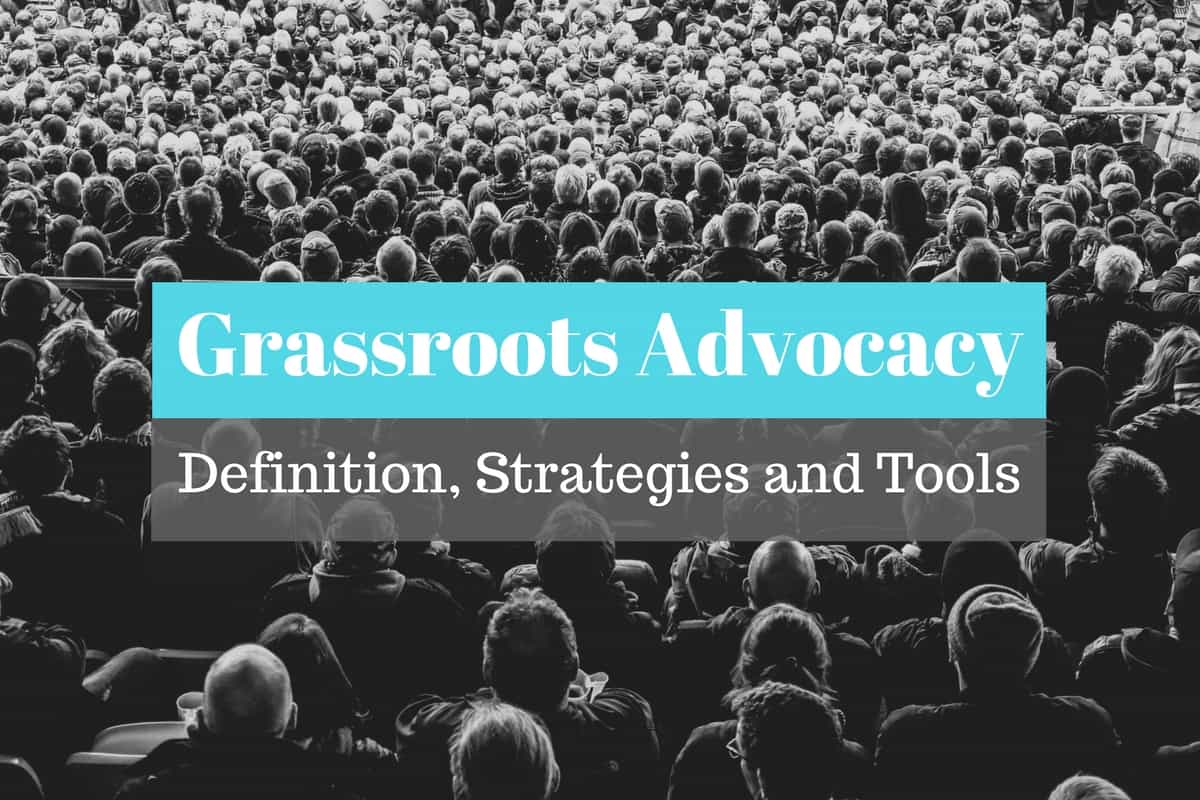 Grassroots Advocacy Strategies
Consistent contact
With campaigns stretching on for upwards of a year, there's a good chance that your supporters won't retain their motivations throughout. When creating your voter contact plan make sure that you reach your supporter base atleast once every month with some form of communication. With time-sensitive campaigns that last for shorter durations, you'll need even more consistency with your contact. It can be an email, text message, or phone call, as long as your mode of contact reaches out to each individual supporter.
How to keep your volunteers motivated
Online and offline engagement
Online offers a plethora of channels for you to engage advocates, volunteers, and the voter base. While online channels help you reach out to a mass audience they aren't always effective in engaging voters on a personal level. Balancing your online activities with a fair share of offline activities lets people give a face to your campaign and attach your activities with real-life impact. Offline activities can include phone calls from volunteers, personal text messages, door-to-door visits, town halls etc which should form a balance with online engagement activities through your website, email, online fundraising etc.
Combine team building with supporter engagement
Running an advocacy campaign requires you to manage events, run phone banks, do door-to-door canvassing and many more activities, all of which require dedicated staff and volunteers. Advocacy groups often run lean, minimizing the number of paid staff and relying on volunteers to do most of the work. But rather than running separate volunteer recruitment drives, you can combine team building with supporter engagement to save on time, money and effort. For example, the initial days of a campaign involve voter identification campaigns where voters are contacted from expansive voter lists to identify supporters and assess voter sentiment about the cause. If you are running a phone banking campaign to do this, make the call to action to volunteer, immediately after a supporter has been identified. Much like this, your call to action to volunteer should be a part of all supporter engagement.
How to recruit volunteers in 8 swift steps.
Clear and specific actionables
While supporters share similar sentiments about your cause and are willing to take action on behalf of it, they are often unaware of how to go about those actions. With all campaign activities aimed at getting supporters to take action, provide clear and specific instructions on how to achieve them. Provide educational material around the topic if the issue is complicated. Take the cue of Indivisible and the Indivisible guide. At a time when voters were being told to contact their reps, Indivisible tackled the issue that most voters were unaware about how their representatives stand on issues, how they vote, and their role in the larger picture. Indivisible broke down each important event in the US, or vote taking place in Congress, and outlined specific guidelines for how voters can hold their reps accountable. Indivisible now has thousands of local branches in congressional districts across the country empowering tens of thousands of liberals and progressives to take action.
4 Grassroots Movements working for Political Change
Multi-channel engagement
While email and social media form an intricate part of advocacy efforts, you can increase the effectiveness of your voter engagement by bringing in more engagement channels into your voter contact mix. Experiment with different outreach channels like phone calls, text messages, in-person contact, patch-through calls, and direct mail to identify which channels give you the best returns. When trying out new channels, also experiment with different ways to frame your message and word your call to actions.
Targeted outreach
Without a targeted approach to voter contact, the majority of your outreach material will end up being ignored or in the trash. The first phase of your voter contact should involve voter identification campaigns where you identify the level of support for each voter. Future campaigns should be tailored based on this information. Fundraising appeals should go out only to supporters, educational material to swing voters, and more subtle forms of engagement for your opponents. As your campaign progresses and you learn more about your supporters, each channel of outreach should be further personalized based on voter support and interests.
Grassroots Advocacy Tools
Online Campaign management tools
Campaign management tools are built to manage the entire online presence of your advocacy campaign. These tools come fitted with a range of digital tools for event management, fundraising, donor management, website design, volunteer organizing, social media and more.
Tools: NationBuilder, Blue State Digital, The Action Network
Outreach tools
Outreach for you advocacy campaign can include phone calls, text messages, email, and direct mail. When campaigns have to reach out to a large voter base, it can be a cumbersome process to manage outreach activities. The right outreach tools offer scalability, personalization, and tracking for all your outreach at affordable costs.
Tools: CallHub (phone banking, text messaging, voice broadcasting), MailChimp (email), Buffer (social media)
Canvassing tools
Canvassing tools helps advocacy campaigns maximise returns from their field operations. These tools make it easier to manage door-to-door canvassing through features like intelligent maps to find voters, real-time tracking of canvassers, surveys etc.
Tool: Ecanvasser
Volunteer management tools
Grassroots advocacy movements need to recruit a lot of volunteers as the campaign progresses. Volunteer management software provides tools for signing up, managing and tracking your volunteers. While many campaign management software come with volunteer management features, CiviCRM is an open source tool that does a good job of it.
Tool: CiviCRM
---
Planning your advocacy campaign? Check out phone banking, text messaging, and SMS data collection software from CallHub. Get started for free.
advocacy tools
,
Grassroots Advocacy