A patch-through call is one of the most effective ways for political and advocacy campaigns to ensure that the grassroots voices are being heard.
Organizations and movements use patch-through calling when they need to drive hundreds or even thousands of calls to elected officials to support or oppose a bill, pass certain legislation, etc. Volunteers upload contact information to the calling software and reach out to them using an outbound dialer.
When the call connects, the volunteer carries out a live conversation with the contact and patches the call to the concerned representative. The volunteer then moves on to the next contact.
By placing volunteers as a liaison between citizens and their representatives, patch through calls eliminates people's innate dread of making calls. Volunteers tutor supporters about concerning issues and take them through exactly how to carry out a conversation with their representative.
It is worth learning how to utilize patch through calling as a calling tool that enables large-scale activism and leverages grassroots organizing. This article explores patch-through calling campaigns and how they aid advocacy groups. We also explore how you can set up a patch through a calling campaign on CallHub to begin your campaign in no time!
How to make effective patch-through calls?
In any given list, about 10-15% of callers could agree to a live patch. When you run a patch-through calling campaign, the number of people who agree to patch their calls immediately depends on–
The quality of your list and how clean it is. Depending on how you procure your list and the degree to which you vet it before your campaign, you will reach people who support, oppose, or may feel neutral towards your cause.
How pressing is the issue. Issues that have the potential to harm or severely hinder the lives of people in the near future will take precedence and instill a sense of urgency.
The sentiments of the community. You might be lobbying for a just cause but if the community does not agree with you, you might be in a sticky situation.
If you want to increase the number of people who agree to live patch, we have a list of best practices for you to follow. They are–
Build your strategy.
Run a distributed campaign.
Call the right representative.
Handle full mailboxes or answering machines.
Tutor supporters about the specifics.
Make a follow-up plan.
Let's explore these in detail.
Build your strategy
Building a strategy involves:
Knowing the ultimate goal of a call and what you are advocating for.
Understanding your audience and how you can influence them.
The first step at which campaigns fumble is not knowing exactly what a patch-through campaign should achieve. For example, the goal of a climate change awareness campaign could include–
Letting representatives understand that people care about climate.
Lobbying for laws that address climate change.
Calling for prohibitions on industrial activity in your community.
Protesting infrastructural activities that harm the environment.
Each of these scenarios is different from the other, even though they address a common problem. Knowing what you want to achieve from a campaign and working towards it is the first step to building a solid strategy.
There is no point in ringing up your call list unless you are very clear about your question, and the issue at hand, and can possibly suggest the best solution to the problem. Being clear on these will help you get more people to live patch.
Run a distributed campaign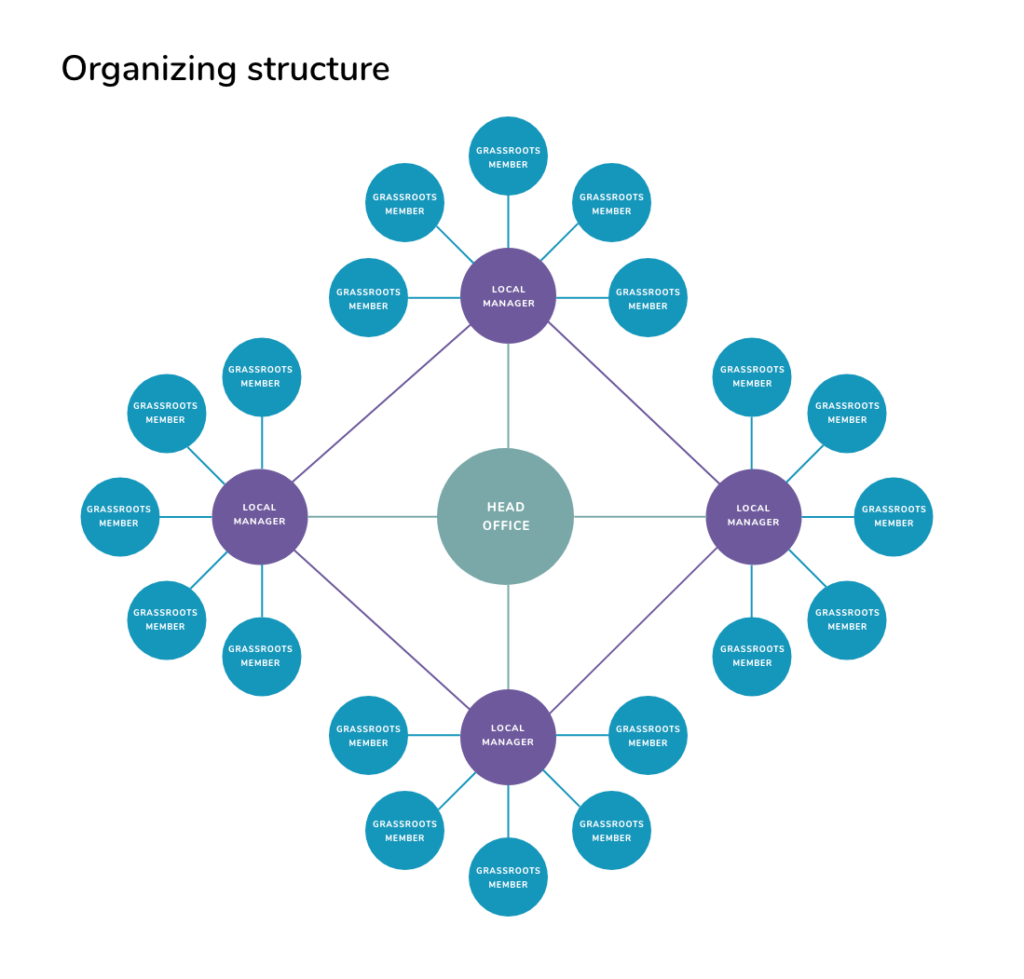 Distributed organizing has gained momentum in the advocacy community because it leverages the power of local volunteers in running campaigns. Under distributed organizing, sub-sets or local branches of the organization run smaller campaigns in their locality that tie into the more extensive campaign.
The distributed organizing model improves community engagement and responsiveness and gives control of everyday activism to local volunteers who are familiar with the community. This is because they know the community's pulse, understand their concerns, and speak their language – catchphrases and all.
You can apply the concept of distributed organizing to your patch-through calling campaign. Assign volunteers to regions based on their fluency with that constituency's issues. This effectively increases response rates and allows agents to focus on matters of their calling area.
Call the right representative
In the case of a political or advocacy campaign, connecting your callers with an extensive list of senators and representatives and tying up their phone lines is not the way to run your campaign. It wastes time and money and hinders offices from communicating with their constituents. So, make sure that supporters are connected only to one representative.
Understand challenges
Most congressional offices only have 4-7 phone lines, and most of their voicemails are full after 100 calls. When many people begin calling a representative due to your calling campaign, it is no surprise that their voice mails will be full.
Reaching representatives can sometimes be so challenging that people have had to write their message on a pizza to get their voices heard: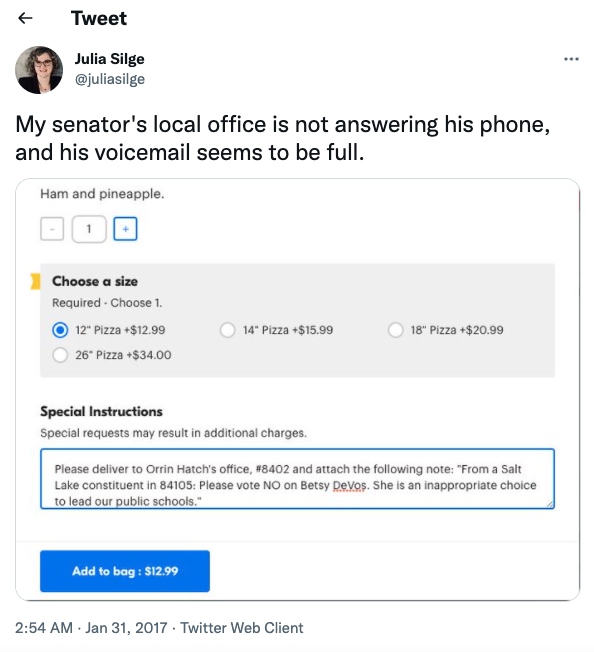 However, a phone call is still your best shot at getting your voice heard. Don't let the opportunity pass. Ask supporters to leave a message anyway. You can record this message and use it later in your campaigns.
Once you do that, send the recording over to the representative by email or post. Make sure that every voice is heard.
We will show you how to record calls when we demonstrate setting up a patch-through campaign on CallHub later in the article.
Tutor supporters about the specifics
When you are running an advocacy campaign, the supporters you are putting through to representatives may not be well versed in the etiquette or specifics of conversing with their representative. It is up to volunteers to ensure that supporters get their message across in the best possible way.
Here's what you need to tutor supporters about carrying out the conversation:
* Know your contacts.
To begin with, your agent needs to understand who they are speaking with. The staffer must know that the supporter is from the relevant district. Make sure they state their name. If they are uncomfortable giving their name, offering their town and zip code is a good start.
* Being polite and respectful
Callers may disagree with their representative on certain issues, but it is not helpful to yell or use profane language. Keeping an even tone and using clean language is the best way to get your representative to listen to you.
* The issues
Callers need to be specific about how particular legislation affects them. If they are unaware of the specifics, tutor them about it by sharing–
The related bill number,
What the government is doing (or not doing) about it,
The specific action they should be taking,
Verifiable facts about the issue, and
Its importance to the constituency.
Make a follow-up plan
A follow-up plan is not meant only for the representatives to whom your calls were targeted. Create a follow-up plan for the people you got in touch with and who agreed to live patch for your cause.
Often, you would notice that a patch through calling campaign is an individual's first touchpoint to your organization. If they are inclined to support you during your patch through the campaign, you can leverage their interest and convert them into long-term supporters, donors, or activists.
Common FAQs for a patch-through calling campaign
We studied several campaigns on our platform and collated a list of the most frequently asked questions. These questions will guide you if you plan to run a patch through calling campaign.
Queries
Answers
Can I pair patch-through calls with voice broadcasting campaigns?
Patch-through calls are warm transfer calls. They require an agent to speak to your supporters first and then patch them through to the number you select.
Sometimes local representatives take a long time to answer a call. Can I increase the ring time for my callers?
You can increase the ring time for your callers to ensure that local representatives and their office staff have enough time to answer your call.

We show you how in the 'How to set up a patch through campaign' section below.
Can I record patch-through calls?
Yes, you can record patch through calls on the CallHub software.
Can I have one National account under which there are sub-accounts for patch-through calls? Will we be charged for subaccounts?
Your pick-up rates improve when you use local representatives and numbers to conduct your calling campaign. This is why CallHub allows you to create subaccounts under one central account.
You can share credits with all your subaccounts or let them individually add call credits.
Can I share an SMS text with supporters through which they can patch to an official?
No, you cannot work with SMS. Patch-through calls can only be facilitated through an agent on call.
Do agents have to stay on the line throughout the call?
This depends on the campaign. CallHub provides two options:
1. The agents can stay muted while callers speak to elected representatives. They are unmuted automatically once the call is over, and they can redirect your supporters.
2. Agents can choose to leave the call and call the next number on their list.
How to set up a patch through campaign on CallHub
We take you through steps to easily set up a patch through calling campaign on the CallHub platform.
Step 1: Create your CallHub account
Log onto www.callhub.io to sign up.
Step 2: Create a call center campaign
Once you log in to CallHub, you will see these options on the page: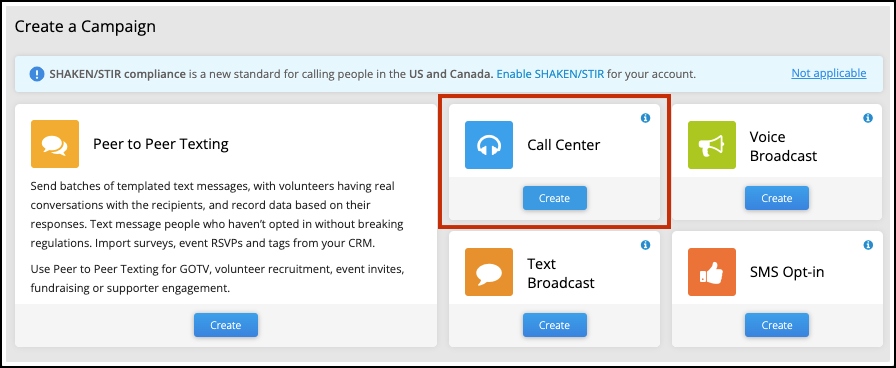 Click on the 'Create' button under Call Center to begin creating your calling campaign. Next, prepare your campaign brief: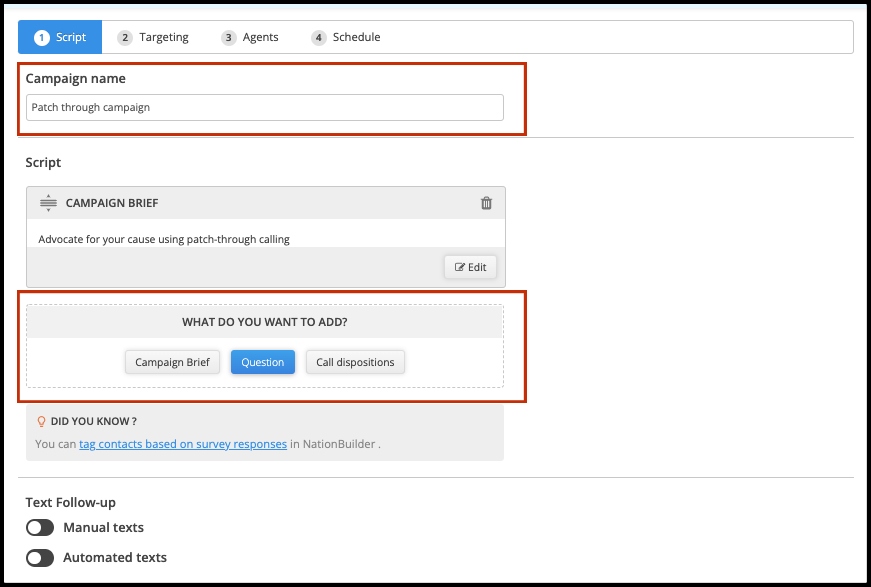 Add a campaign name, for example, 'Save The Planet Patch Through Campaign.' Add a script that your agents will follow. You can also choose to add questions or enter call dispositions. Call dispositions indicate the call's outcome, such as 'DNC,' or 'Call Back,' for scenarios like no answer, bad numbers, etc.
Step 3: Target your campaign and add a patch-through number.
You can now select a contact list, that is, a contact list to direct your calling campaign toward.
You can use the Dynamic caller ID feature, which shows a local number to your contacts, irrespective of where you are calling from. Local area codes increase pick-up times by 20x. CallHub will reflect an area code from the Capital city or largest city in your target State to your contacts.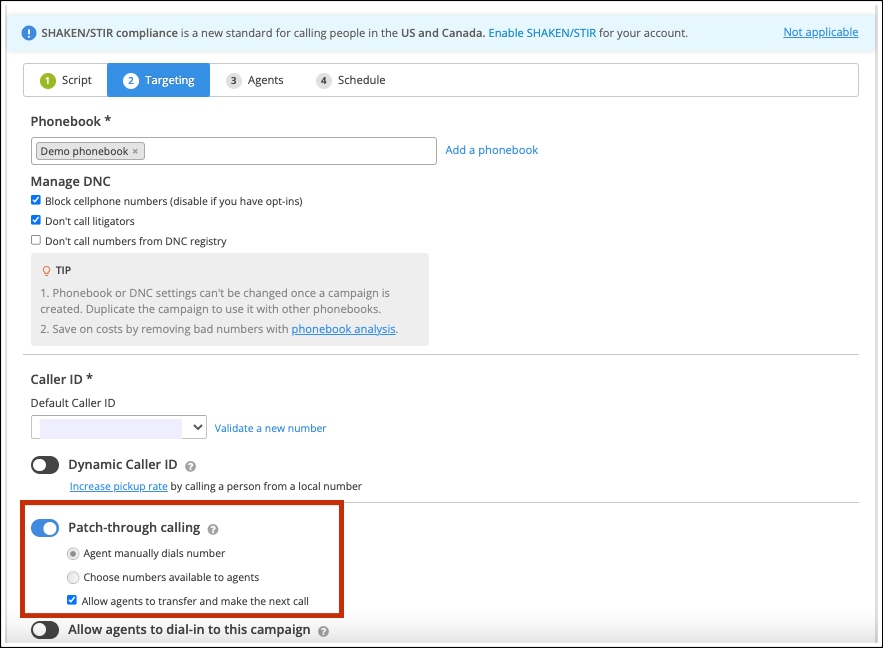 Then, for the star of the show, enable patch through calling by scrolling down on this page. CallHub allows you to conduct patch through calling in two ways, depending on which suits your campaign:
Your agent can manually enter a phone number to patch through when they are on call.
The agent can select from a list of contacts to connect supporters to.

Step 4: Add a patch-through number (optional).
Select 'choose numbers available to agents'. Click on the 'add patch-through number' link next to it.

You will be redirected to the settings page. This is where you can add the number of the representative to whom you will direct the patch through calls.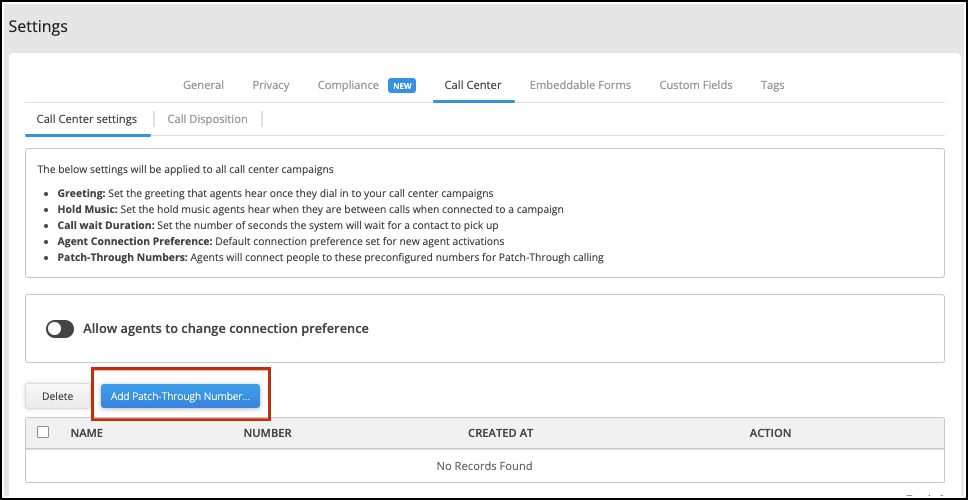 Here's how to increase ring time on a patch through call. You can select the 'duration' option when you scroll down and set how long a phone will ring before dropping the call.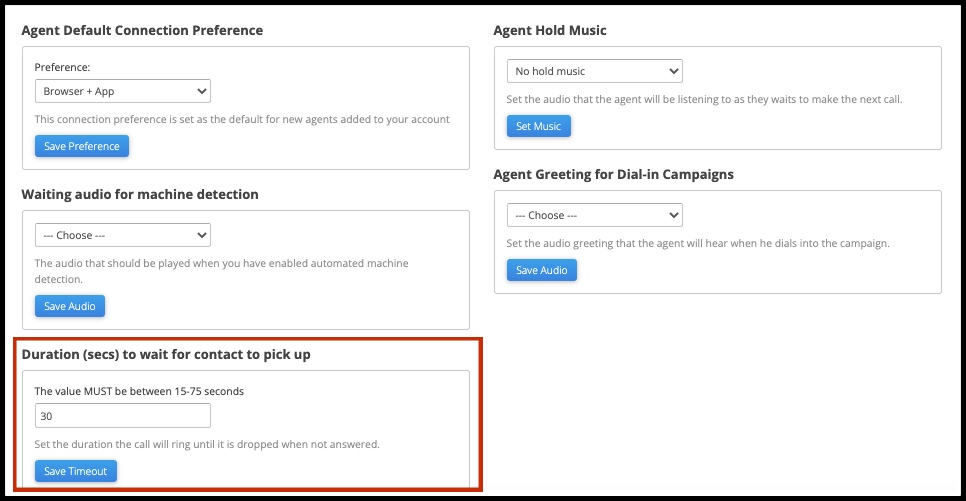 Step 5: Select agents
Every campaign has different needs. Sometimes, you might require local volunteers to make calls. Other times, your campaigns might have call agents spread across different states. Sometimes, you may not be able to employ all available agents to make calls. These decisions are often dictated by the number of calls you need to make and budget constraints that only allow you to hire/pay a few volunteers, etc. This is where the 'select agents' feature becomes significant.
Depending on your campaign's needs, you can choose to distribute your lists between a few agents or assign contacts to all agents.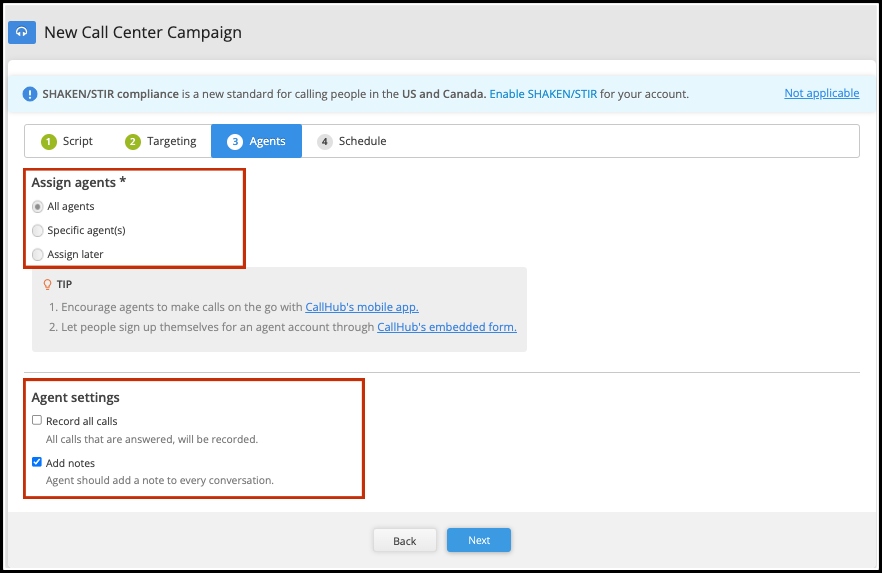 Allow them to record calls if you want to leverage your patch through the campaign by sharing recordings with representatives. Share it on social media to engage more people, but remember to take necessary consent before doing so.
Step 6: Schedule the campaign
Your final steps include scheduling the campaign. You can:
Determine the campaign start time and stop time beyond which agents cannot make calls.
Enable timezone calling to make calls only during permitted hours in particular states. It helps your campaign if the location you are targeting is in a different time zone. Your agents do not have to check compliant timings and calculate the time difference constantly.
Select timings and days you operate, and voila – you're all set to begin by clicking on 'Finish'.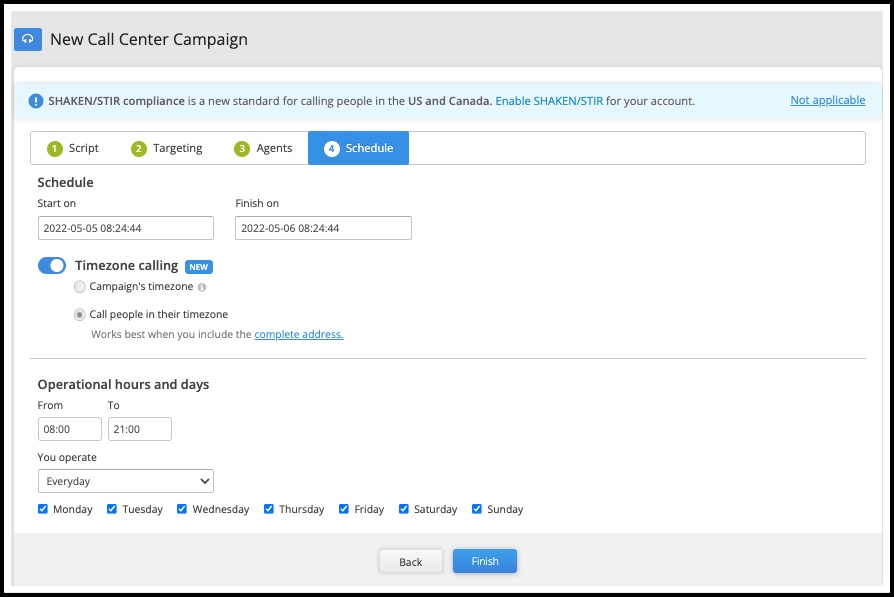 Once you click on 'Finish', you will be redirected to the campaign dashboard, and you can start your patch-through calling campaign to bring in some real change! You will now be redirected to the analytics dashboard, where you can track your progress–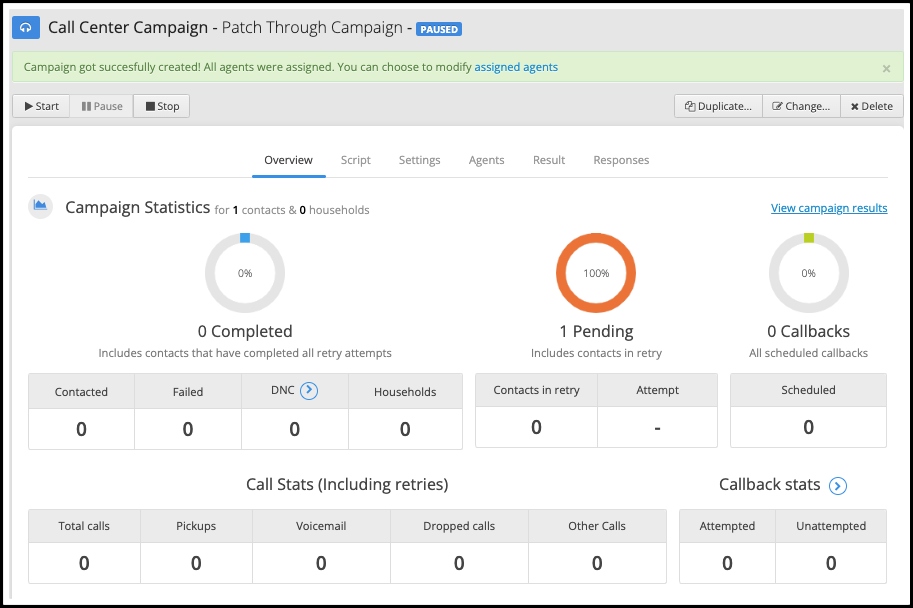 CallHub's analytics dashboard begins tracking campaign progress as soon as you start your campaign.
How much do patch-through calls cost you?

Patch-through calls start at $0.046/min in the US. This is an add-on feature.
The way forward
Patch through calling is the cornerstone of advocacy campaigns looking to make real change. Change in legislation and policies is possible only when the masses are on your side and your collective voice is heard.
CallHub's patch through calling feature helps you:
Easily set up and conduct patch through calls.
Integrate with your CRM, so your data is easily accessible.
Get immediate support from our customer service team.
Explore our call center software and patch-through calling features. Book a demo with us today.