Set a local presence when calling by changing your CallerID to match the location of your contacts. Increase your engagement rates by upto 20%
Increased engagement with Dynamic CallerID
Maintaining a local presence no matter where you are calling can have a huge impact on your campaign. Improve engagement and pickup rates by upto 20% on your voice broadcasting campaign and call center campaigns
Whether you are calling a particular region of the country or calling from a separate location, this dynamic feature empowers you to present a local presence to your customer without the need for additional phone lines.
We match your CallerID to the region (State/Capital/Largest city) of the person called. Studies have shown that people are more inclined to pick up calls from callers in their own region.
Let sales employees in different locations project a local presence to the people they call.
Zero manual involved. Phone numbers are rented and assigned to your callers dynamically.
Automatically rent the numbers you need based on your campaign phonebook.
Use dynamic caller ID in your call center campaign and increase the answer rate on your campaigns by upto 30%. Through a single campaign, call your contacts using dynamically set call IDs. It saves you time and effort in setting this up manually.
Get the Dynamic Caller ID plugin
Dynamic Caller ID is a free plugin on CallHub. Add this advanced feature to your voice broadcasting campaigns and increase your engagement.

"We can make calls at about 5x the rate that we would with a manual dialer, getting through a list of 100 calls in just over an hour. This has been a huge capacity saver in our organization."
Amanda Destefano, Leadership Organizer, United Workers
"I really love your team. You are just super responsive and super friendly and nothing's too difficult! It's been a really good experience."
Shaun Murray, Senior Organizer, GetUp
"A lot of our folks are volunteers, a lot of them are retired, they are often anxious with technology and they were able to use CallHub easily. It's empowering for volunteers who don't see themselves as very tech savvy to be able to pick up a new piece of software and a new program and just use it, so that was great."
Celine Trojand, Digital Organizer, Organizing for Change
"I love this product. It's so easy to use with a very clean user interface. The price is the most economical I've seen in the industry and last but not least is the wonderful customer support. They answer all questions very quick."
Ronald Hart, Marketing, The Cloud Marketers
"Solid dialer, responsive support, and awesome CRM integrations!"
Django Merope Synge, Campaigns Director, GetUp
"CallHub made my marketing program easy and also affordable. I love the dialer, the SMS marketing program and the voice broadcasts. The CallHub team is doing a wonderful job!"
Wendy Mathis, Global Quest Services
CallHub has become my go-to platform for affordable phone canvassing campaigns, voice broadcasts and text message blasts. In particular, text message blasts are the single most useful tool for volunteer mobilization that I have used in recent years.
Jordan Bober, Director of Development and Election Readiness, Green Party of Prince Edward Island
AUTOMATED DIALER WITH 3 DIFFERENT DIALING MODES
Use our predictive dialer to increase your agent occupancy by over 150%. Use a power dialer to call contacts only when agents are free. You can even set a dialing rate to improve agent efficiency. A preview dialer is perfect for those teams that need to learn about the contact before calling them. Search through the phonebook and dial any contact. All calls are tracked, measured and can be monitored by a manager.
Create an unlimited number of agent accounts and assign them to your campaigns. Perfect for volunteer-driven campaigns where the number of callers change every day. Perfect for phone banking campaigns.
Organise campaigns to connect supporters with their representatives. Patch contacts to their representative during a call center call and run a more proactive campaign.
EASY TO SET UP AND SIMPLE TO USE
Automated Voice Messaging
Choose a transfer number for a block of rented phone numbers. Any call transfer request on a call from these numbers will transfer to your chosen phone number.
Use our advanced text to speech engine to record your own audio or upload any audio files that you already have.
Create custom polls in minutes. Measure sentiment or collect feedback with automated polling questions. Analyse your conversion rate for with the daily reports.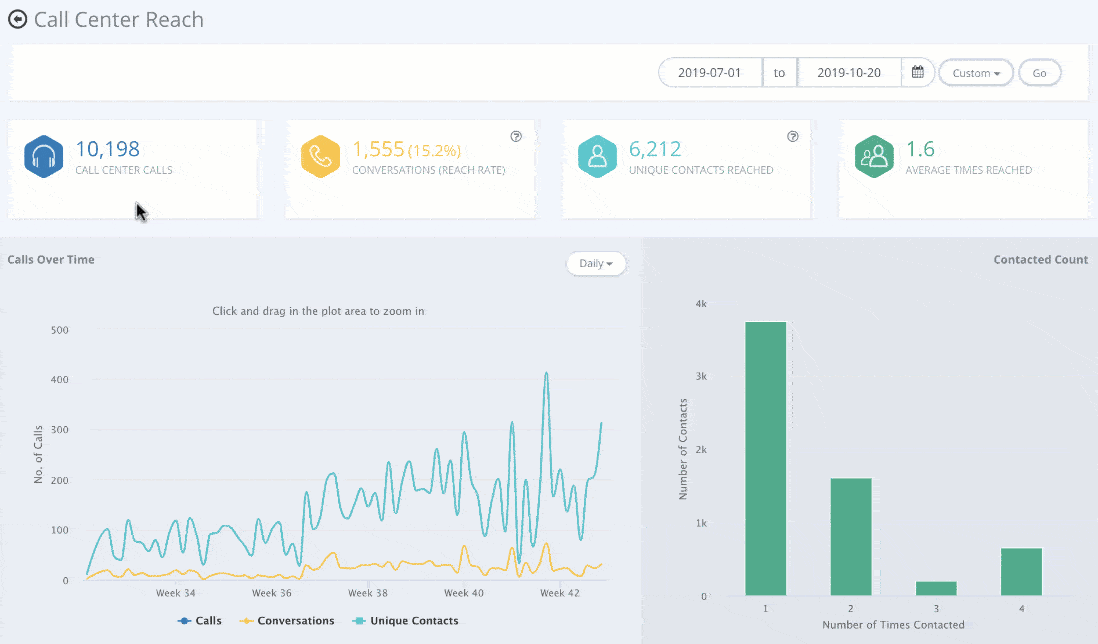 Detailed Reports and Call Analytics
Detailed reports about your automated voice messaging campaigns help you plan effectively. You'll get real-time campaign report, detailed call report and daily performance report.
Integrations tie it all together
Connect with the business tools you use every day. Bi-directional integrations with popular CRM software such as NationBuilder, Salesforce, Blackbaud, NGP VAN, ActionNetwork and more.
How to setup Dynamic CallerID
Dynamic CallerID is very easy to setup and manage. Don't worry about managing a large number of phone numbers or assigning them to campaigns. We manage it for you.
Automated dialers for every use case
Text messages are the quickest way to reach your audience. Easily personalize your messages for each contact. Use tags to address people by their first name or send custom urls for people to click.
Save time and money with a virtual automated dialer. Add surveys to your campaign and make sure every call by an agent is recorded, monitored and saved.
3000+ of the world's biggest organizations trust CallHub for engagement




Try it free. No credit card required. Instant setup.