Volunteers are the lifeblood of many organizations, driving your missions and initiatives forward.
But here's the burning question: How do you attract and recruit volunteers efficiently, ensuring you get the right people on board to support your cause?
It's not just about recruiting volunteers; it's about recruiting exemplary volunteers who will be passionate about your cause, dedicated to your mission, and enthusiastic about making a difference. We'll equip you with the knowledge and steps to achieve just that.
This comprehensive guide will take you through the actionable steps to recruit volunteers effectively.
You'll learn how to
Create compelling volunteer sign-up forms,
Welcome and onboard new members,
Provide effective volunteer training,
Set meaningful volunteer goals,
Manage your volunteer team and
Show appreciation where it's due.
Recruit volunteers in 6 steps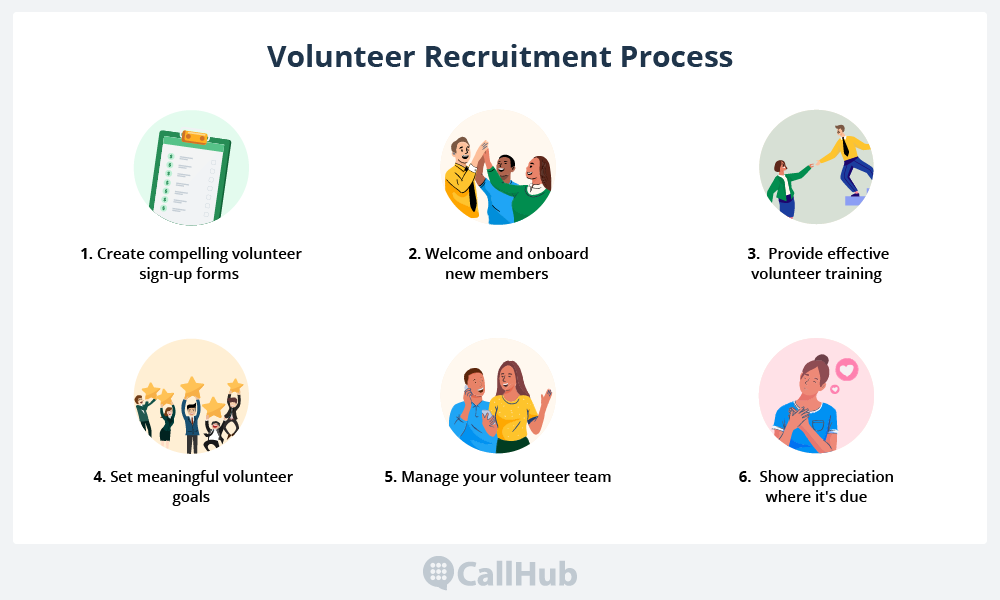 Recruiting volunteers is a critical process for any organization in the political, advocacy, or nonprofit organizations sector. Volunteers bring energy, dedication, and expertise to your cause.
We've broken down the recruitment process into six easy-to-follow steps that can be applied across various industries.
Step 1: Create a volunteer sign-up form
The journey of recruiting volunteers begins with a well-crafted volunteer sign-up form. This form serves as the gateway for potential volunteers to express their interest in joining your cause.
Mandatory fields for your volunteer sign-up form
To ensure you gather essential information from potential volunteers include the following mandatory fields in your sign-up form:
First and last name of the volunteer.
Email addresses and phone numbers to maintain communication.
Volunteer's city or area to match them with local volunteer opportunities if applicable.
Days and times when the volunteer is available to participate.
Volunteer's qualifications, skills, and areas of expertise and interest to match them with suitable roles.
Preferred volunteer roles [Provide a list]
Name and contact information of a person to contact in case of an emergency.
Integration options for your volunteer sign-up form
To streamline your volunteer recruitment efforts and management processes, integrate your sign-up form with your CRM (Customer Relationship Management) system.
Here's how to create volunteer sign-up forms on NationBuilder:
Navigate to the "Website" tab and select "New page."
Choose "Volunteer signup" as your page type and click the "Create Page" button.
You'll be directed to the Volunteer Settings > Basics page.
Designate a point of contact for all new volunteer signups by choosing them from the dropdown menu located under Volunteer Settings > Basics.
You will see fields for first name, last name, email address, and mobile phone number. Customize the form by adding fields for address, availability, etc.
Configure any additional settings, such as tags, role they are signing up for, confirmation emails, etc.
Save the page and publish it.
Share the link with potential volunteers to allow them to sign up.
Find out more: How to create a custom volunteer signup page on your website
Here are some additional CRM platforms that offer similar capabilities which are commonly used in the advocacy, nonprofit, and political campaign sectors.
NGP VAN: Creating Online Action Forms
Salesforce Nonprofit Cloud: Customize the Volunteer Signup Page
Salsa: Create a Sign-up Form
Note: If you don't use a specific CRM, you can link your sign-up form directly to your website. Many website builders and content management systems offer simple form integration options.
The best volunteer sign-up sites
When it comes to recruiting volunteers, making use of the right online platforms can significantly boost your efforts. Let's see some of the best volunteer sign-up sites that can help you connect with potential volunteers.
For a comprehensive list of the best volunteer sign-up sites and CRM options, check out our article 23 Best Volunteer Management Software to Recruit and Organize Volunteers.
Step 2: Welcome new members and plan for onboarding
Welcoming new volunteers and effectively onboarding them is a crucial step in ensuring their engagement and long-term commitment to your organization. A well-structured onboarding process sets the stage for a successful volunteer experience.
During this phase, ensure that volunteers:
Meet with a team leader or coordinator: Assign each new volunteer a team leader or mentor who can guide them through their initial experiences. This connection provides a valuable support system and helps volunteers feel integrated into the organization.
Complete orientation and basic training: Many volunteers are motivated by a deep conviction in the organization's mission and purpose, making it a decisive factor for their involvement.
Start with an orientation session to introduce volunteers to your organization's mission, values, and culture. Basic training should cover essential skills and procedures necessary for their roles.
Participate in at least one activity or project: A study's findings revealed a favorable connection between volunteer management practices and volunteers' inclination to sustain their volunteer commitments. This connection was fully mediated by the influence of job satisfaction on volunteers' intention to continue their volunteering efforts.
Encourage volunteers to actively participate in at least one project, event, or campaign as soon as possible. Hands-on experience reinforces their training and allows them to make an immediate impact.
Log their volunteer hours accurately: Implement a straightforward system for volunteers to log their hours accurately. This information helps you track their contributions and provides insights into their availability.
Provide feedback through an engagement survey: Breitsohl and Ehrig (2017) emphasize that insufficient engagement levels can result in a volunteer shortage and place additional burdens on paid staff, ultimately diminishing overall management efficiency.
Regularly seek feedback from volunteers to understand their experiences, concerns, and suggestions. An engagement survey can help you gauge their level of satisfaction and identify areas for improvement in your volunteer program.
Step 3: Train volunteers
One author states, "A trained, skilled, and committed volunteer has always been a piece of gold for cash-strapped nonprofit organizations, including treatment programs" (Wenger, 2000, pp. 6–7). [Source]
Effective volunteer training is the cornerstone of a successful volunteer program. It empowers volunteers with the knowledge and resources they need to carry out their tasks effectively.
Here's what you need to do:
Clearly outline role expectations, responsibilities, and tasks. Findings of this study show that clarity of their job ties to satisfaction and commitment among volunteers.
Establish specific volunteer objectives. Alfes et al. (2017) research findings indicate that when volunteers establish a strong sense of connection and belonging to the organization, they are more inclined to extend their tenure and remain associated with it for an extended period.
Familiarize volunteers with tools and procedures they'll use in their roles. This includes any software, equipment, or communication platforms.
Identify any knowledge or skills gaps and provide training to fill those gaps. This assessment allows for targeted training and support.
Training should not be a one-time event. Create a framework for ongoing evaluation and improvement.
Now, let's delve into what specific areas you should consider when training volunteers in CallHub:
Training volunteers on CallHub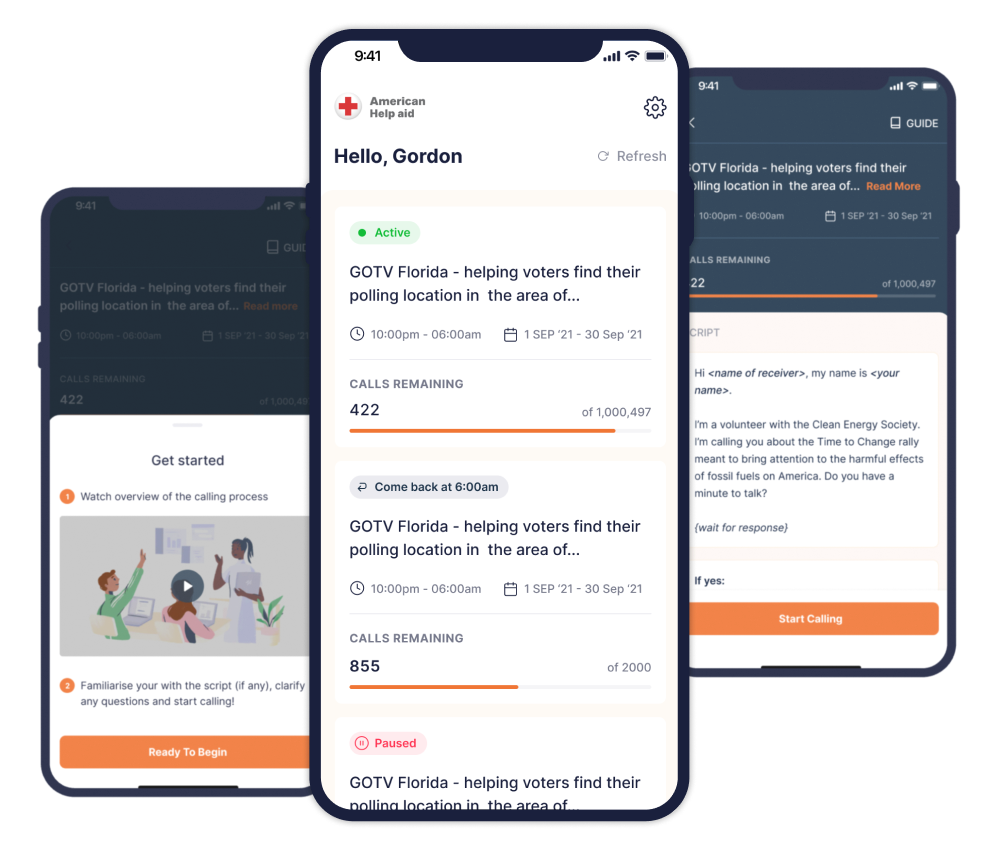 Platform navigation
Ensure that volunteers are comfortable navigating the CallHub platform and find the campaigns assigned to them.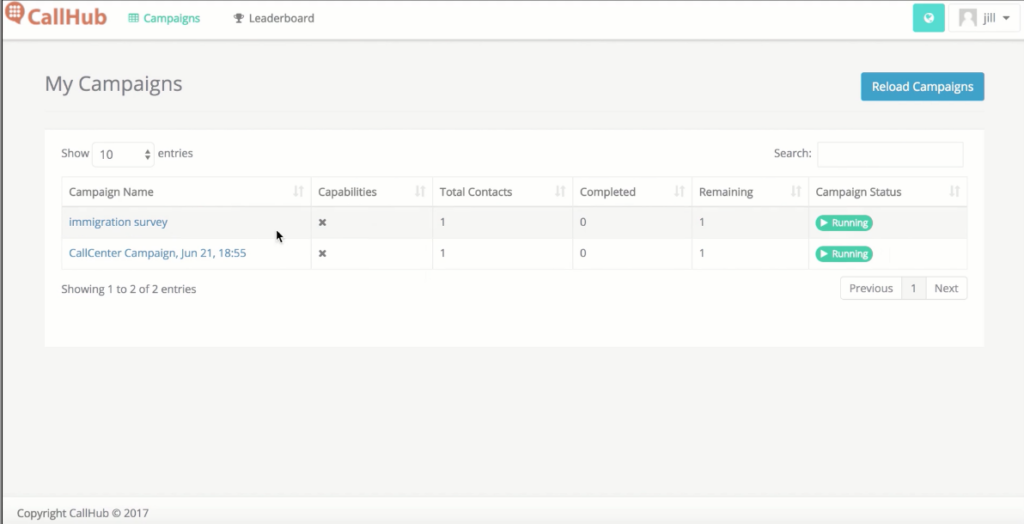 Desktop app view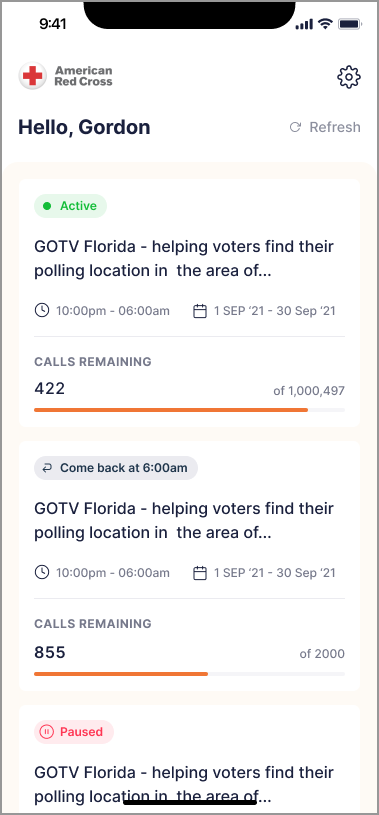 Mobile app view
Joining a calling campaign
Volunteers need to click the 'Join Campaign' button and click 'Next Call' to start making calls. The 'Dialpad' helps enter extensions they encounter during calls.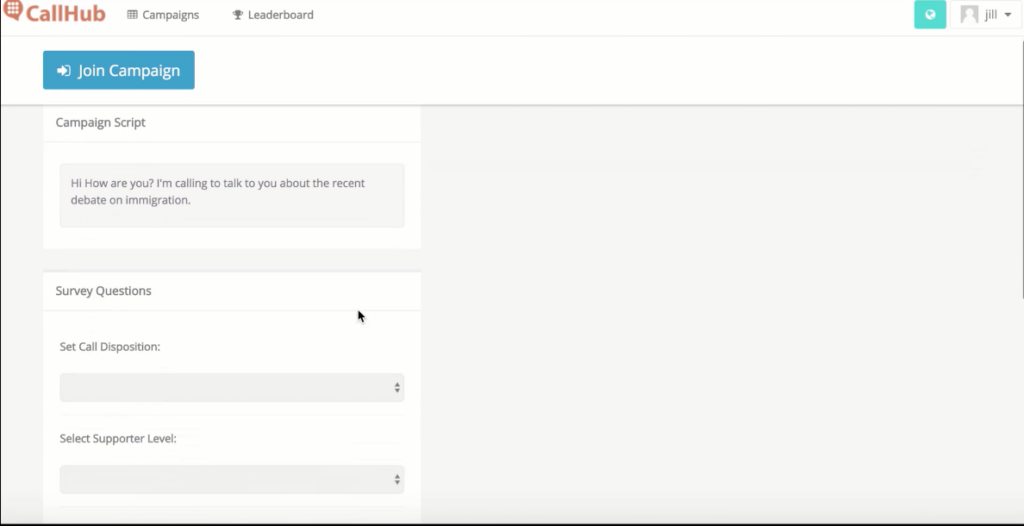 Desktop app view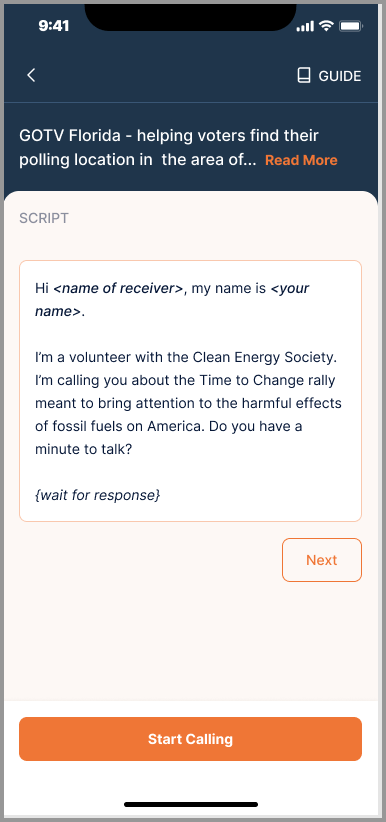 Mobile app view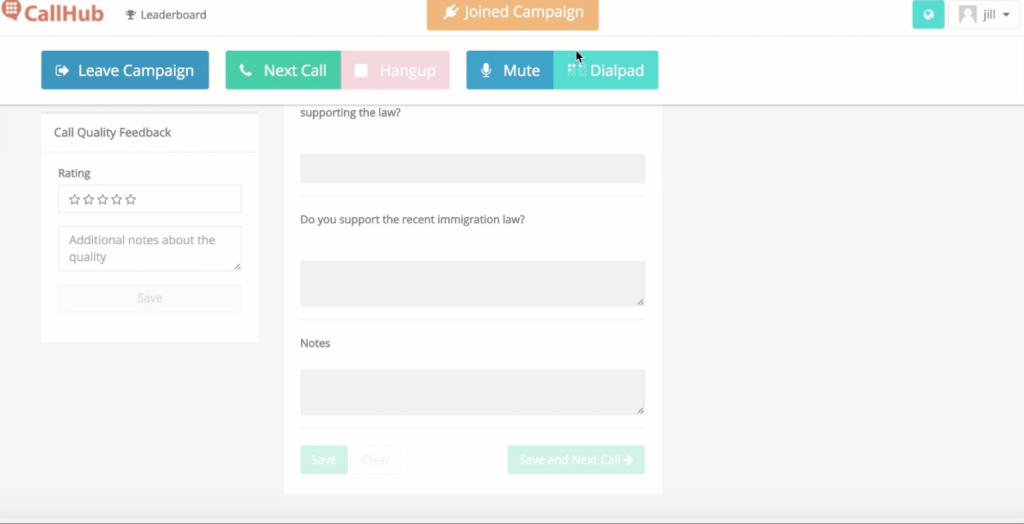 Script navigation
Provide guidance on accessing campaign scripts and using them effectively.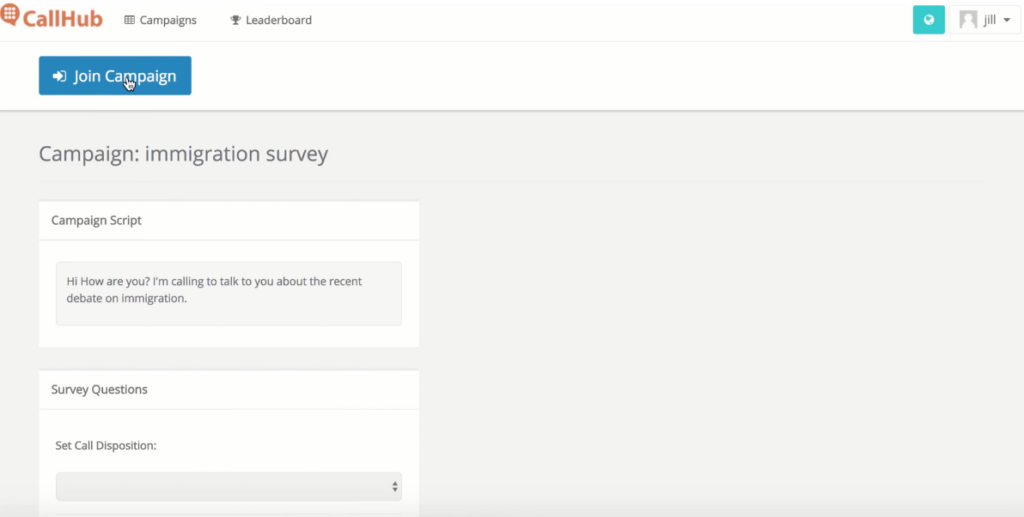 When using branching scripts, the volunteer will have to use the 'Next' button to navigate to the next part of the script.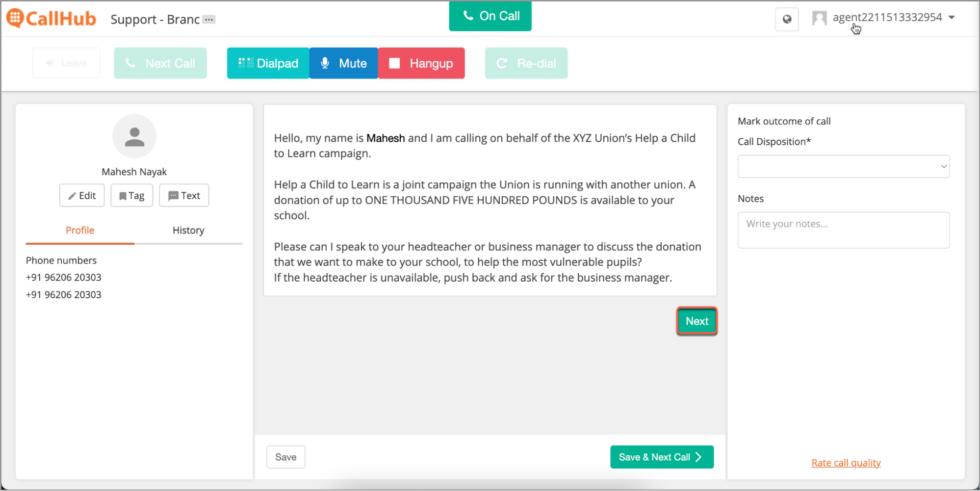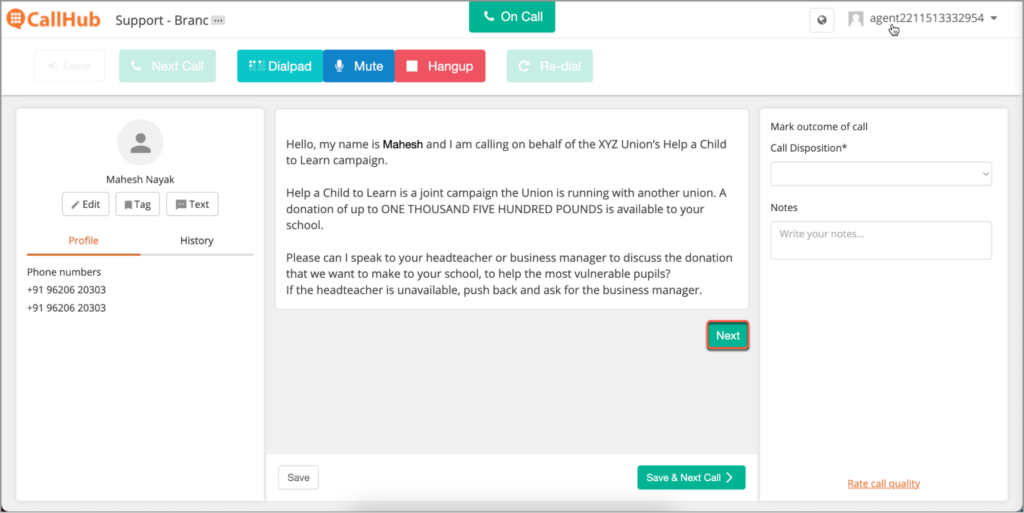 Desktop app view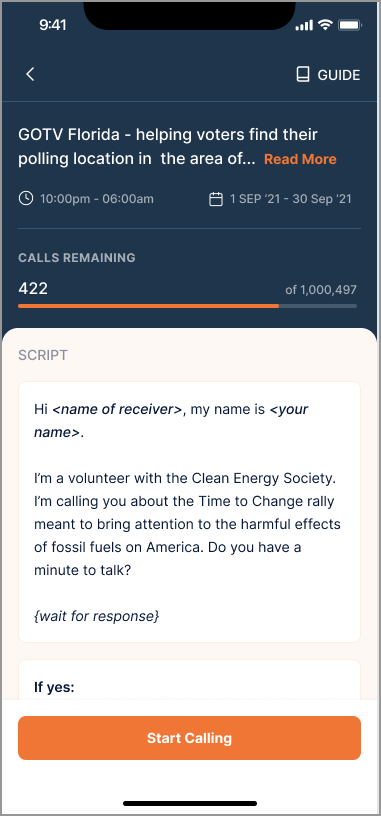 Mobile app view
Recording survey responses
During surveys, volunteers should choose an appropriate response based on the contact's answer.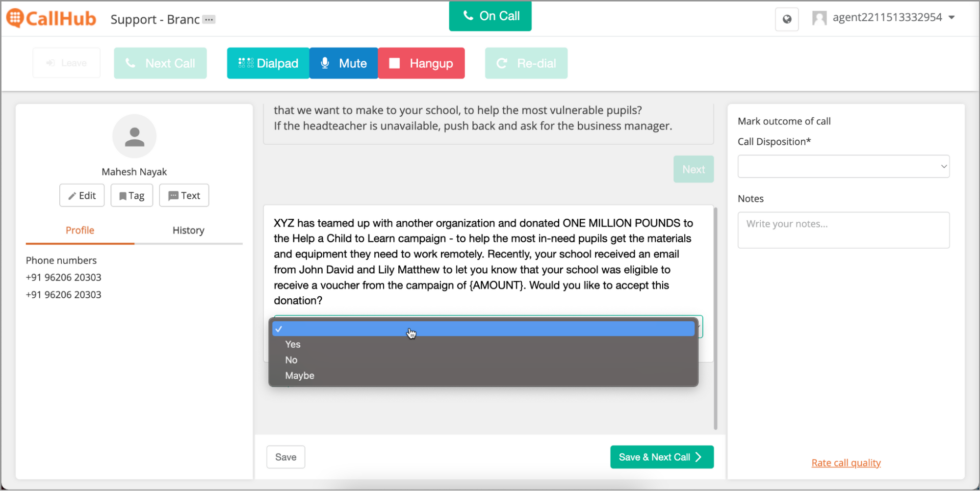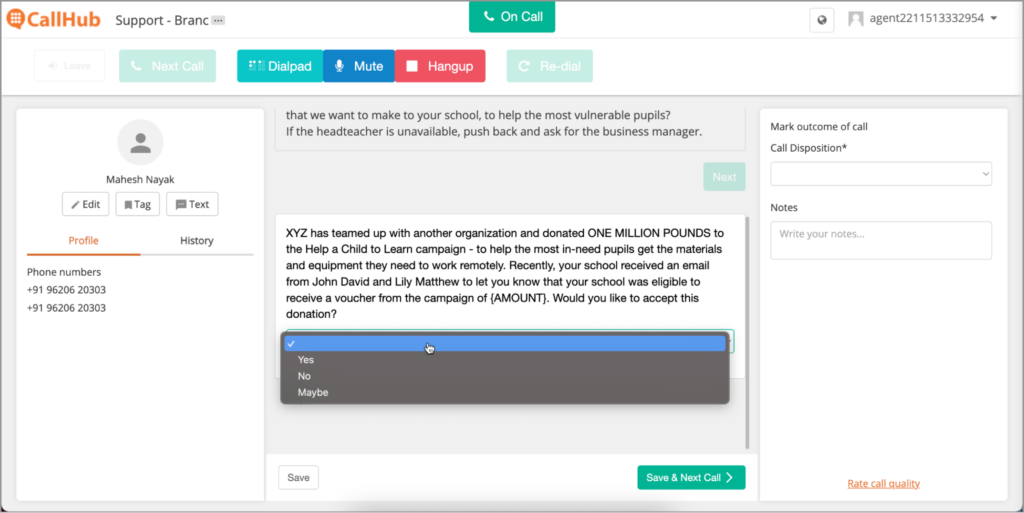 Desktop app view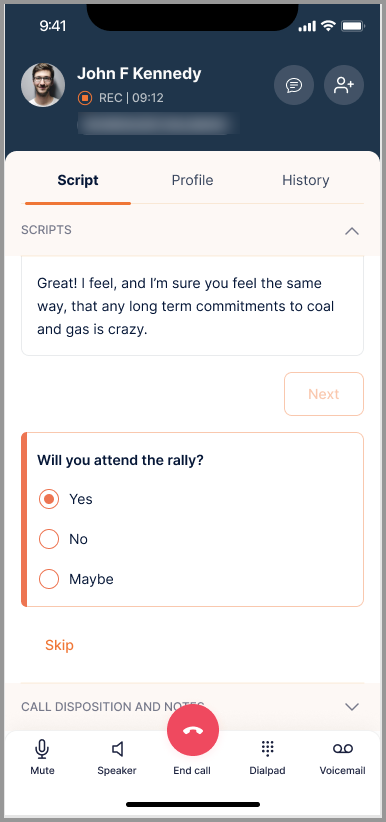 Mobile app view
If the contact responds with a "Yes," the volunteer should choose the "Yes" option within the script. Subsequently, the next script will be displayed, tailored to the response provided.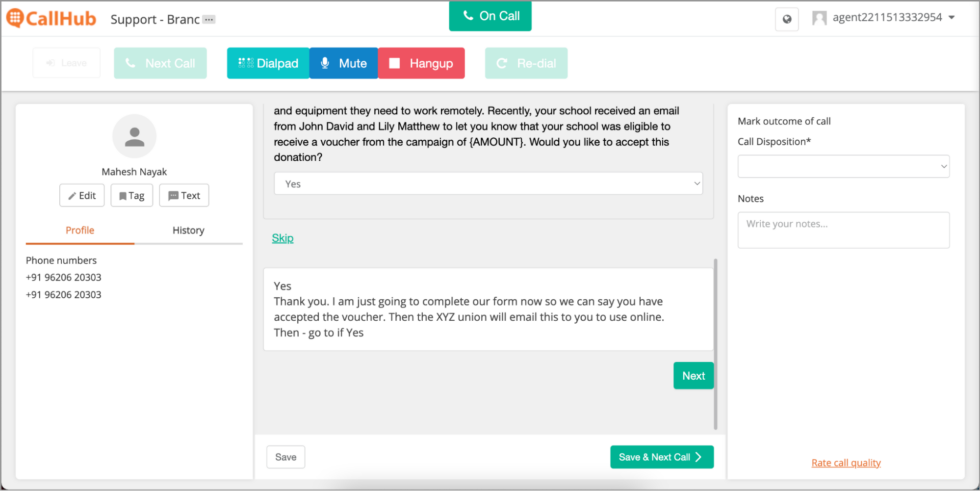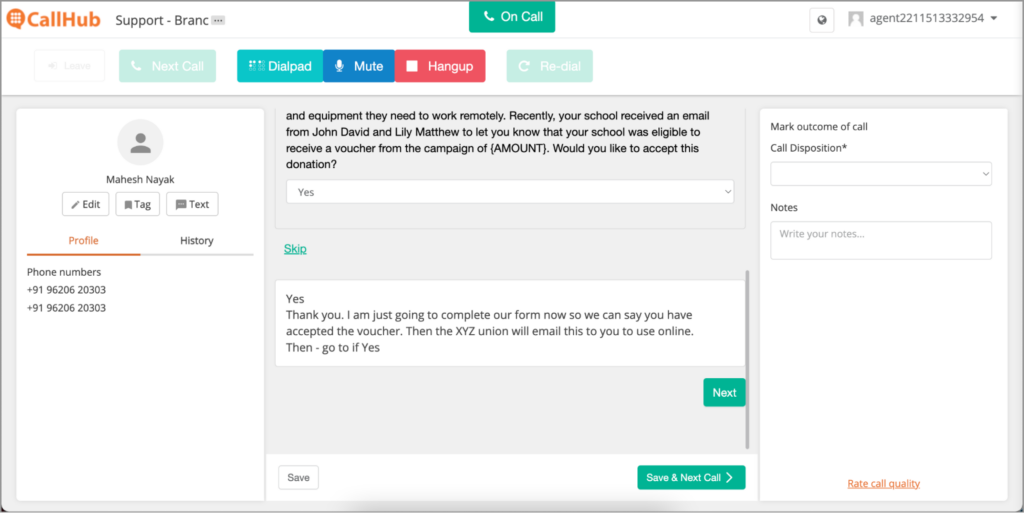 In cases where the contact prefers not to answer a question, volunteers can click on "Skip," at which point the system will prompt the display of the "End Call" script.
Using call dispositions and notes
Teach volunteers how to check and update contact information as needed. Volunteers are required to record the appropriate call disposition and input any necessary notes in order to update the contact profile based on the conversations.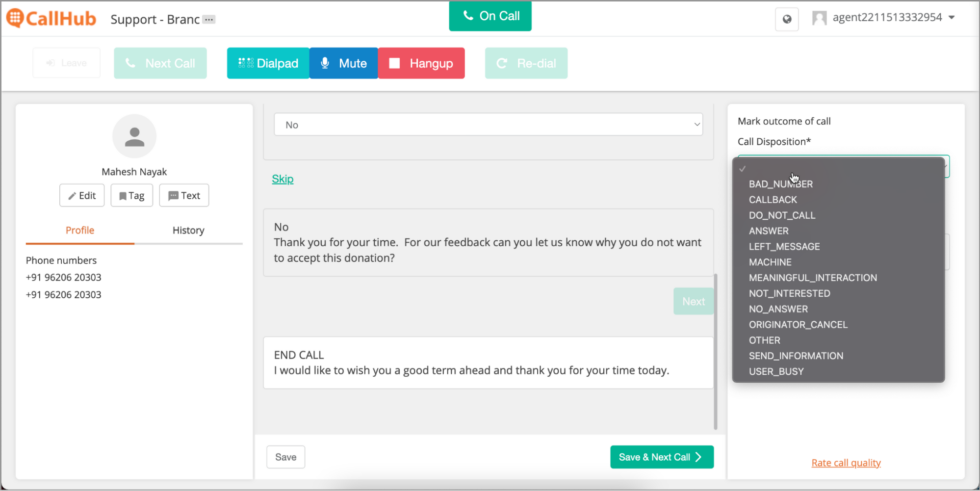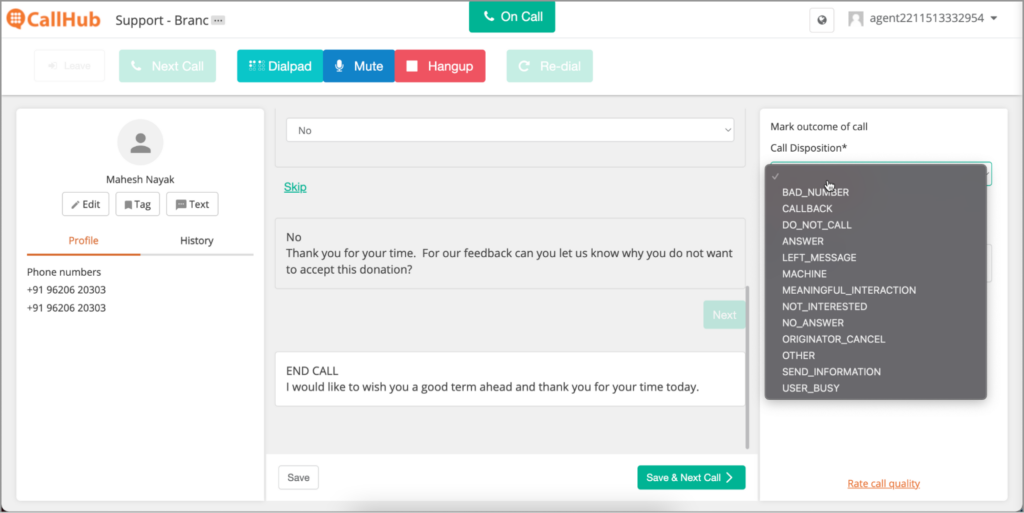 Desktop app view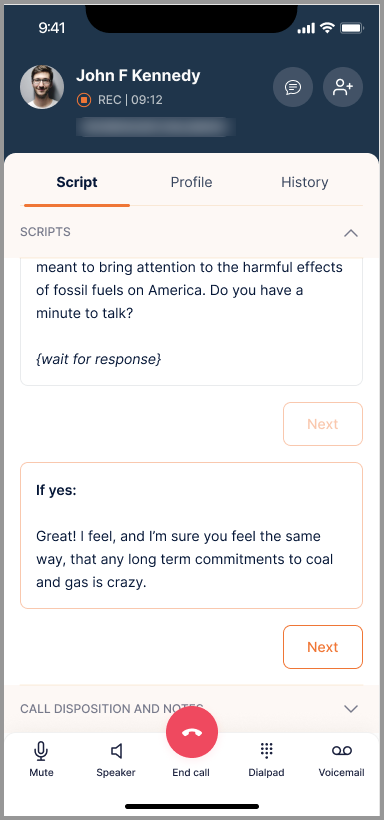 Mobile app view
Saving the call details
Volunteers have the option to select "Save" if they intend to exit the campaign or "Save and Next" to both save the current call details and proceed to the next call.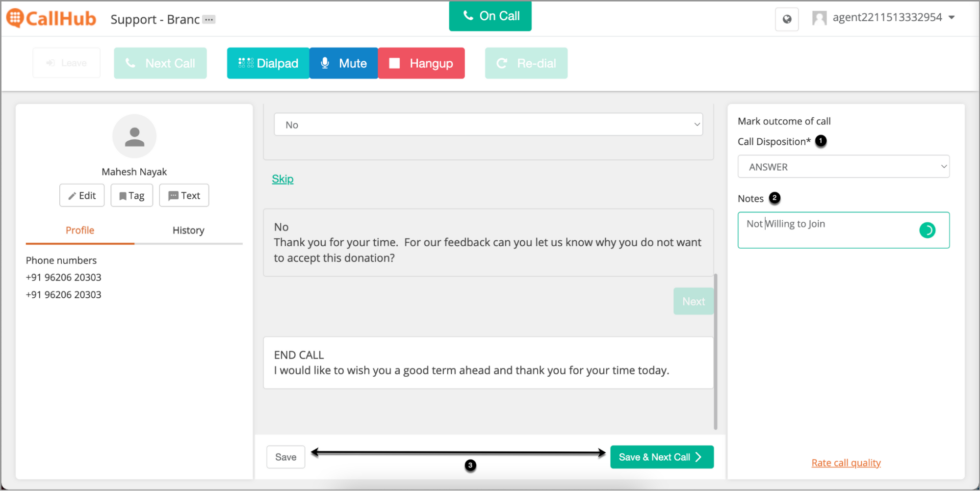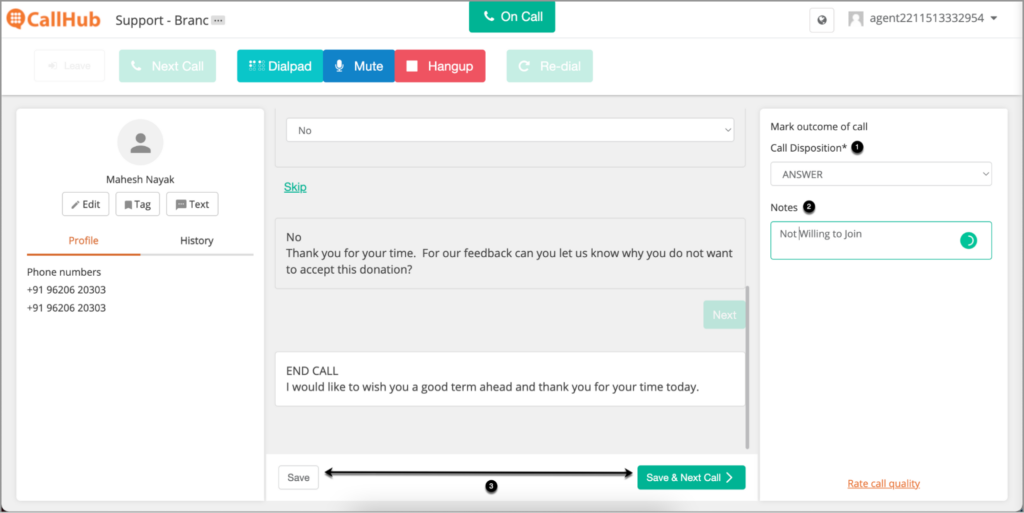 Desktop app view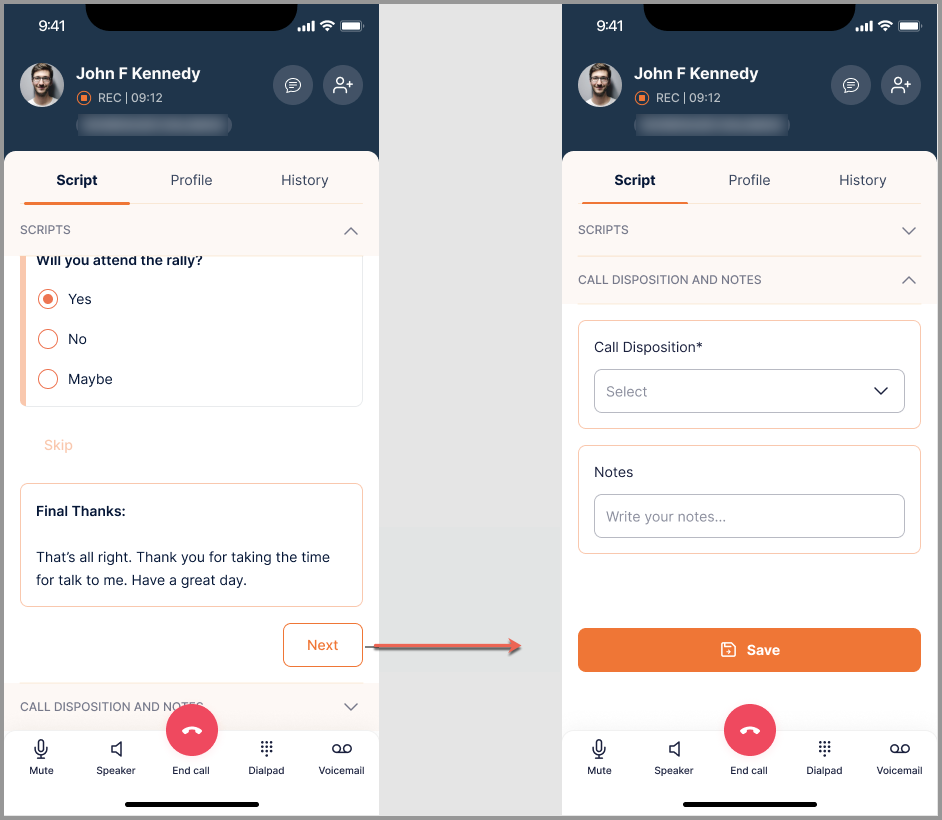 Mobile app view
For Auto Dialer and Predictive Dialer, if volunteers want to save the call details and exit the campaign, they should opt for the "Save and Leave" option.
Answering incoming calls
During an inbound call, it will be marked as "Incoming Call" on the agent's console. Additionally, a banner will appear at the top of the calling screen to clearly indicate that the ongoing call is an incoming one.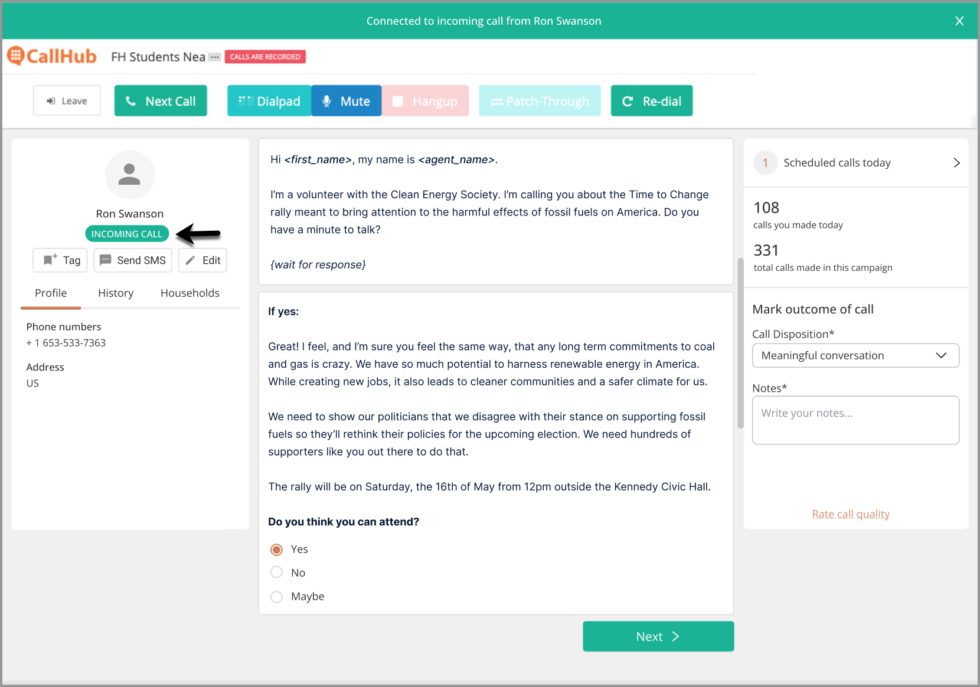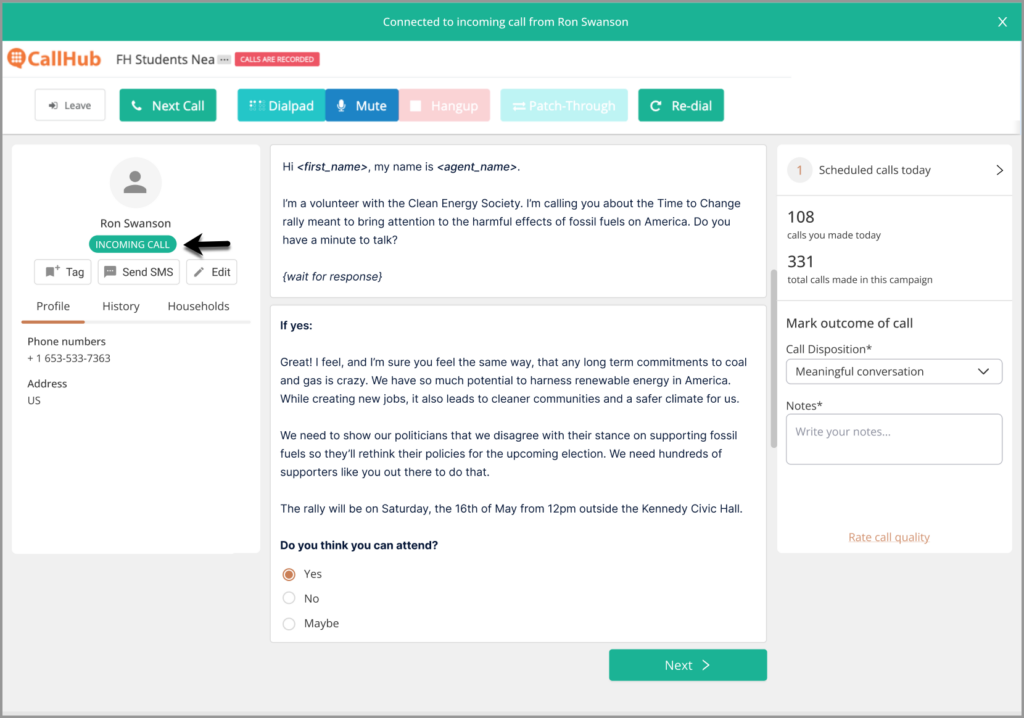 Likewise, if your volunteer misses an incoming call from the contact, the system will wait for the campaign's designated hold time before disconnecting the call. Subsequently, the contact will be requeued and dialed again shortly after an agent completes a call.
This type of call will be identified as an "Automated Callback" since the system initiates a callback to the contact automatically once an agent becomes available.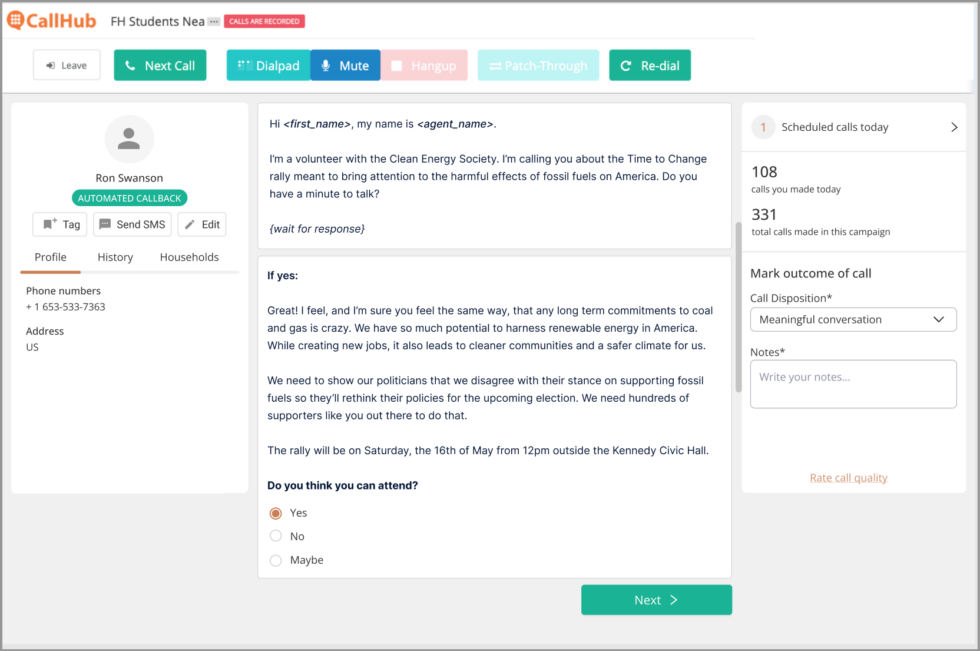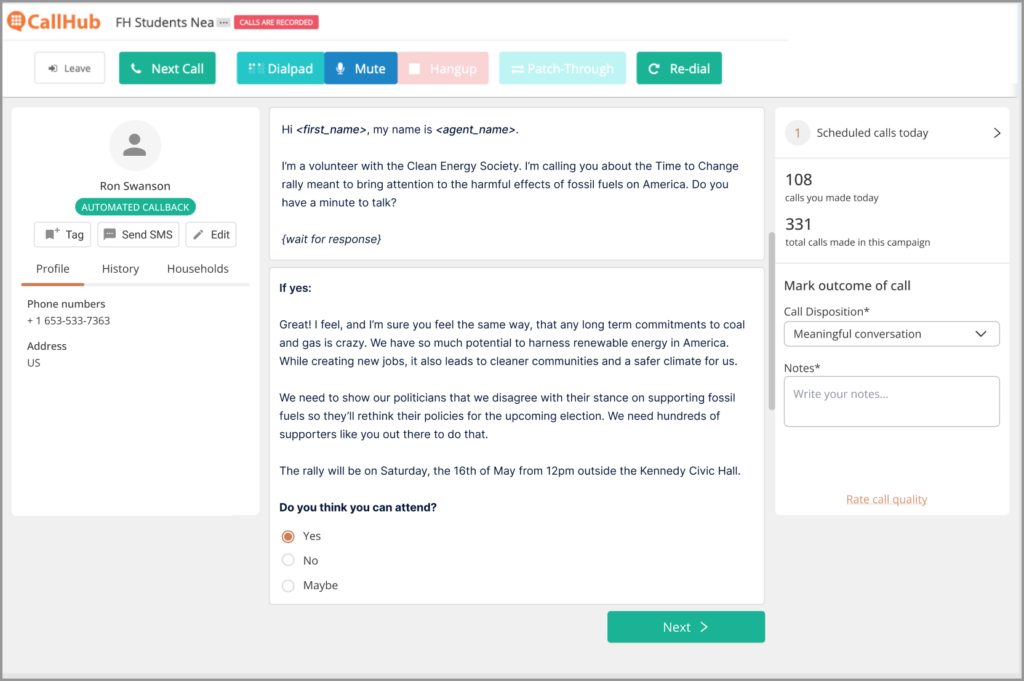 Redialing a contact
If a call is unexpectedly disconnected, volunteers have the option to reconnect with the contact using the Re-dial button.

Scheduling a callback
Did a contact request a call at a later time? With CallHub's call center, you can schedule a callback, and the system will automatically initiate the call.
Your volunteers can schedule a callback by specifying the date, time, and timezone according to the contact's preferences.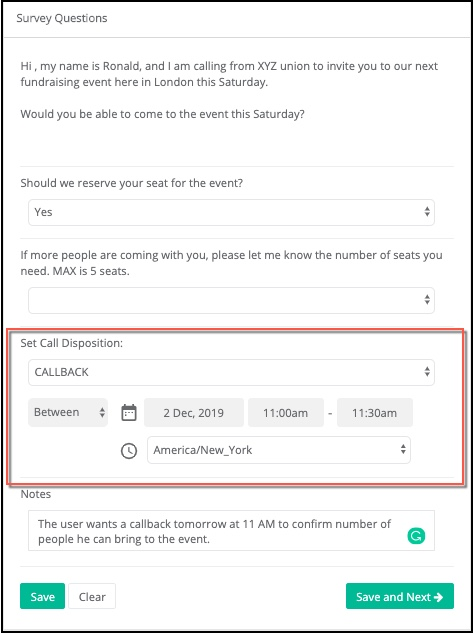 Desktop app view
Mobile app view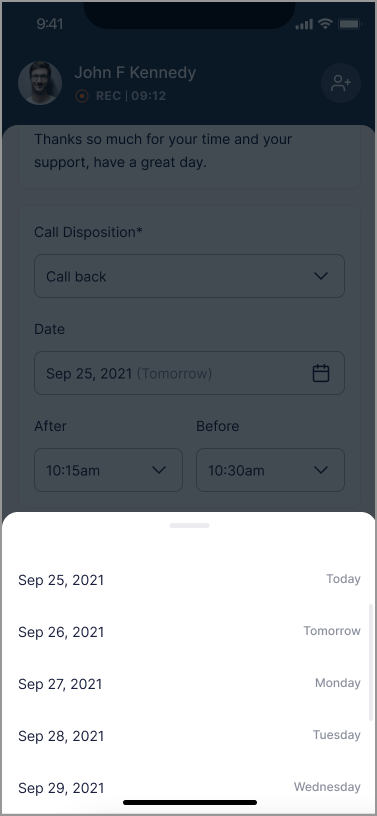 Mobile app view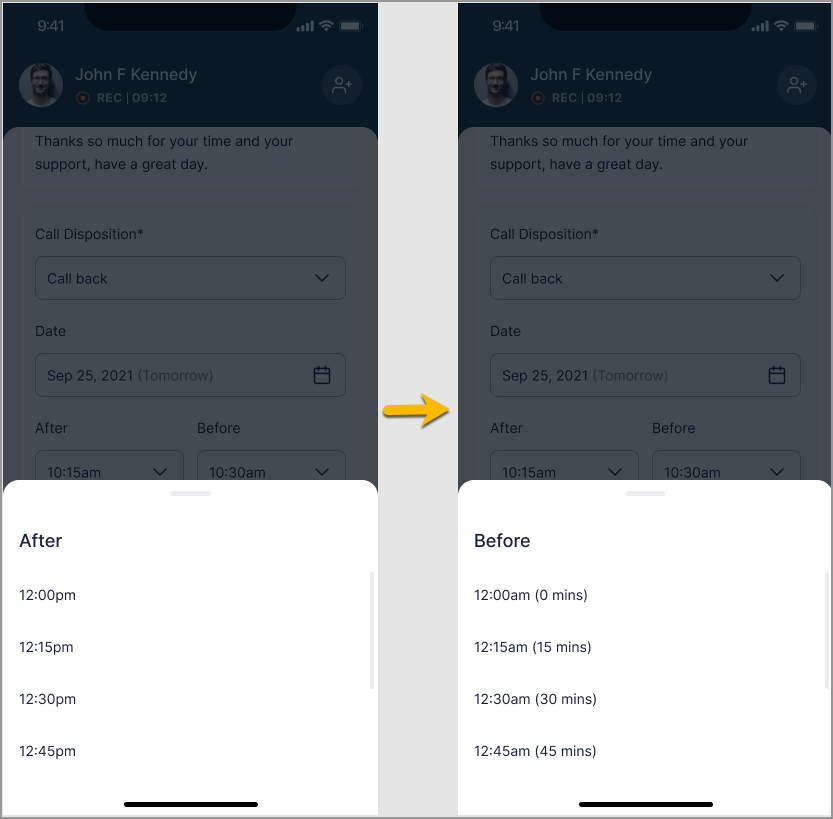 Mobile app view
Editing contact details
The "Edit Contact" feature allows volunteers to update contact details during a call.
You can access the feature through your campaign's privacy settings in the "Settings" section to enable editing for volunteers. Once the fields are enabled, volunteers can use the "Edit" button as shown in the screenshot below.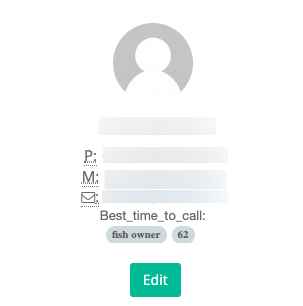 Tagging contacts
In a Call Center campaign, volunteers can apply tags to contacts by clicking the '+Tag' option located under the contact's name.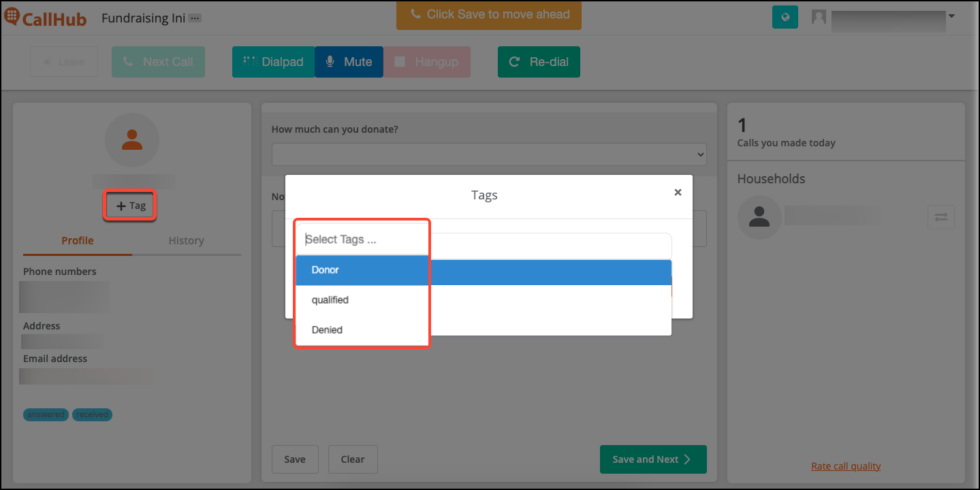 Desktop app view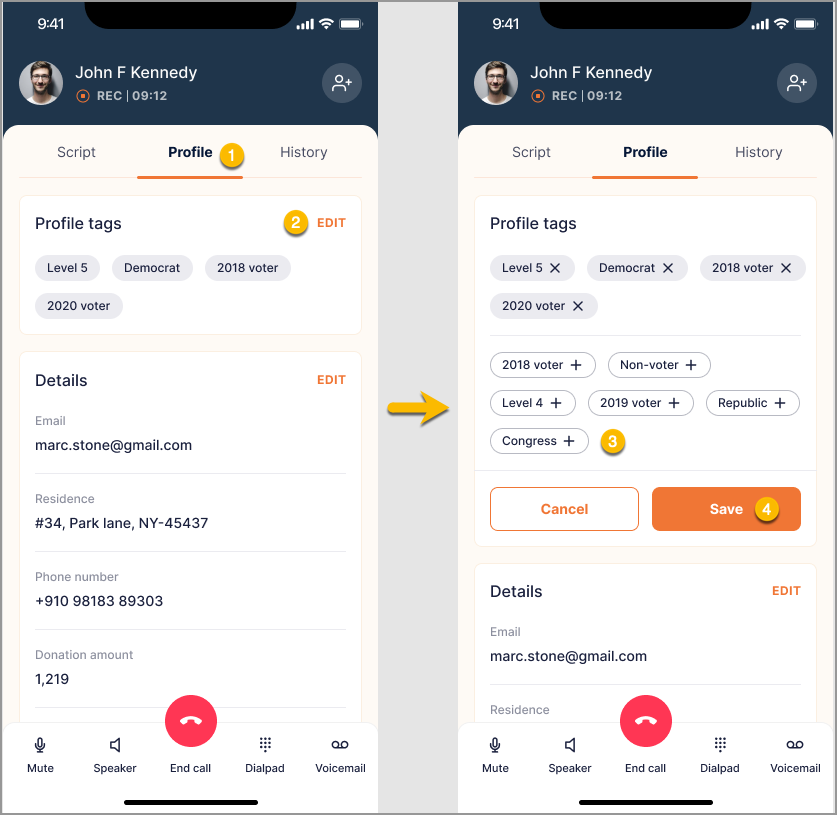 Mobile app view
In a Peer to Peer Texting campaign, volunteers can add tags from the upper right corner.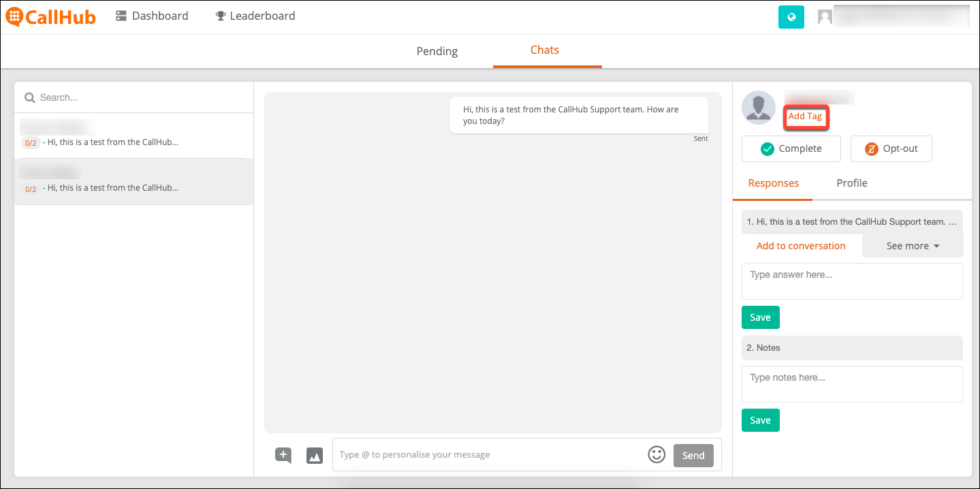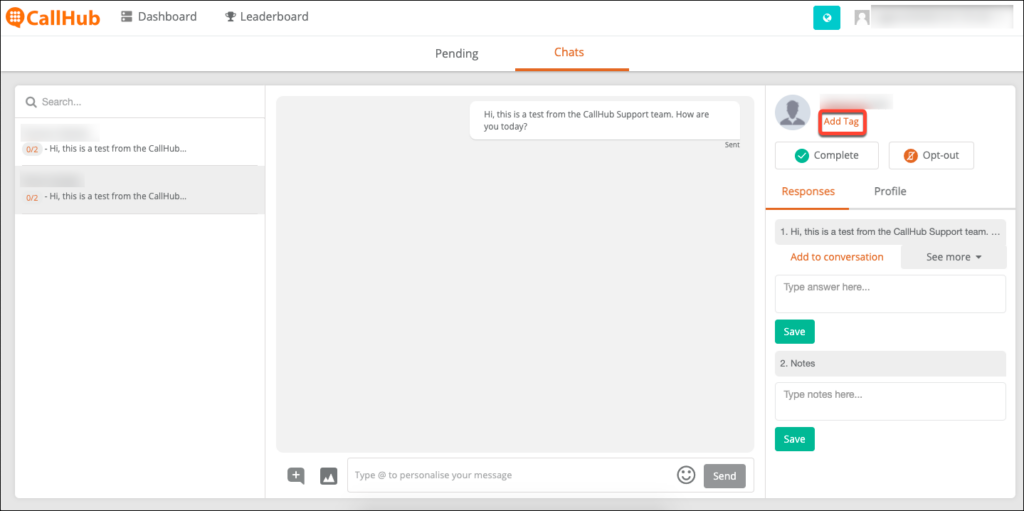 Sending messages from a call center campaign
During an ongoing call, volunteers should click the "SMS" button to send messages to the contact.
Desktop app view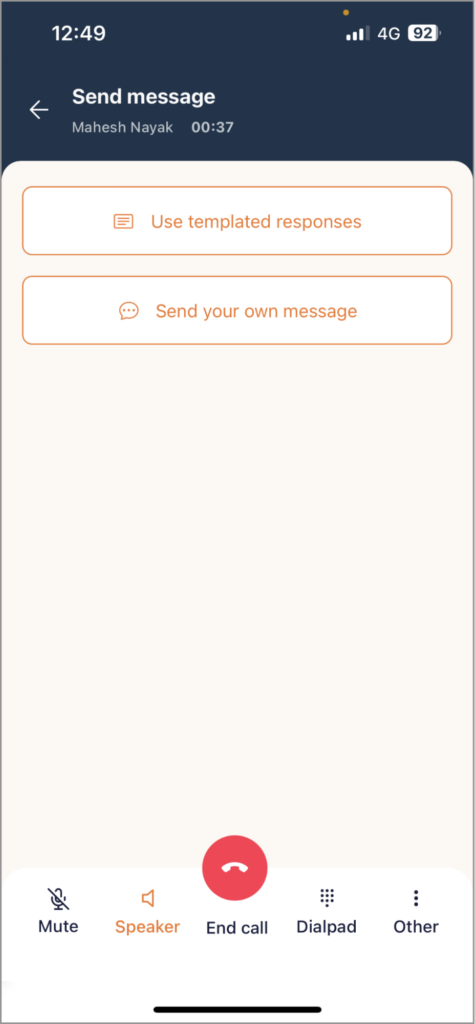 Mobile app view
Here, volunteers have the option to choose from predefined message templates created by you or compose their own message. They can also create a new template by clicking the "New" button.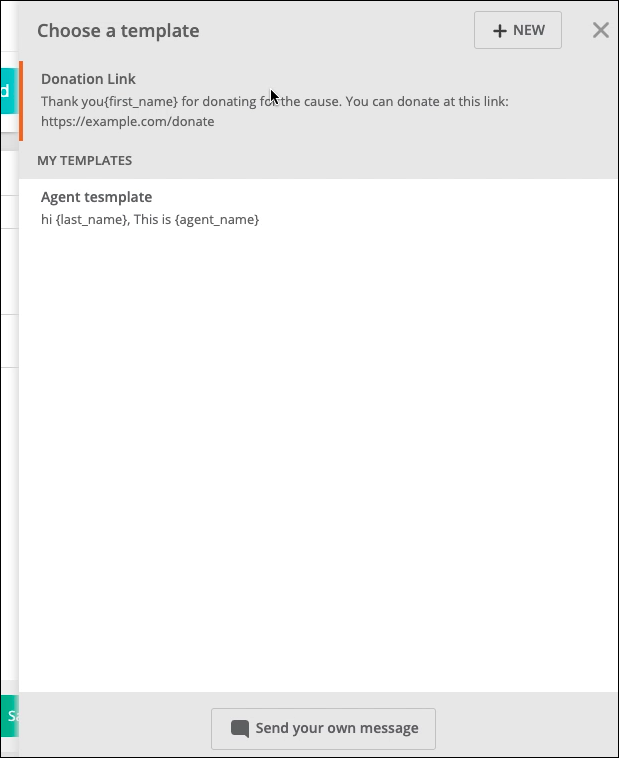 Desktop app view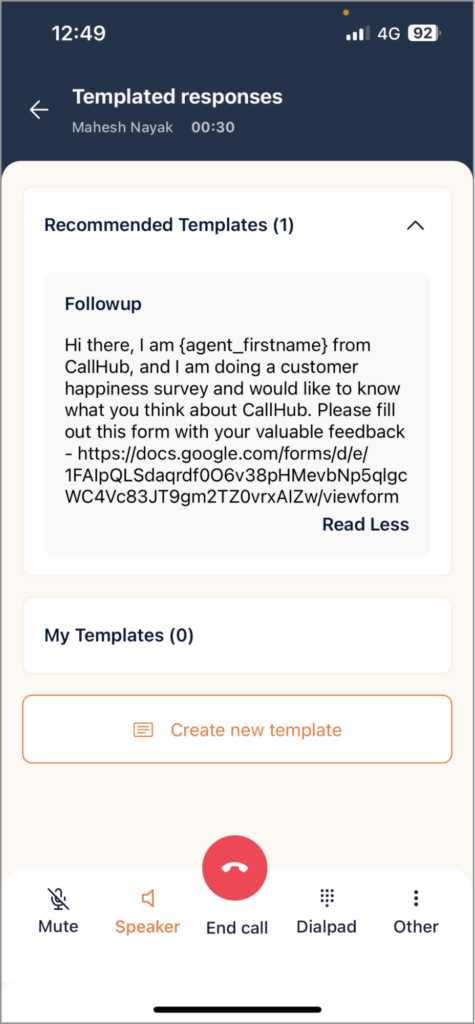 Mobile app view
When a volunteer selects a predefined template, they can choose to either modify the template or update the contact's phone number. If the phone number is not readily available, the volunteer can request it from the contact before sending the message.
Volunteers also have the option to personalize the template using merge tags from the "Personalize" feature.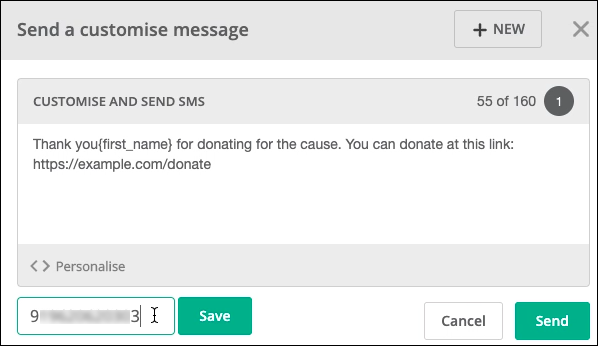 Patching through calls
For a patch-through calling campaign, your volunteer will see the label 'Transfers enabled' next to the campaign name once they join the campaign.

Once the volunteer has initiated calls, the patch-through option becomes available, allowing them to transfer calls.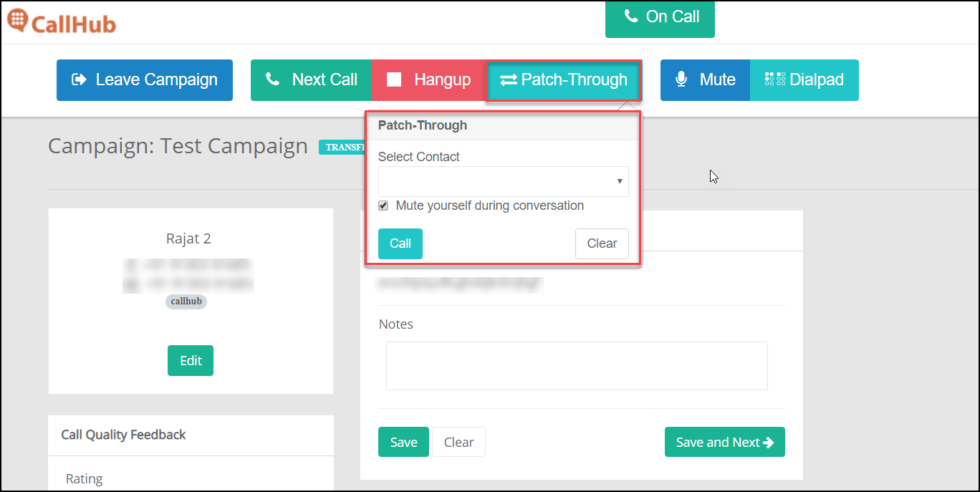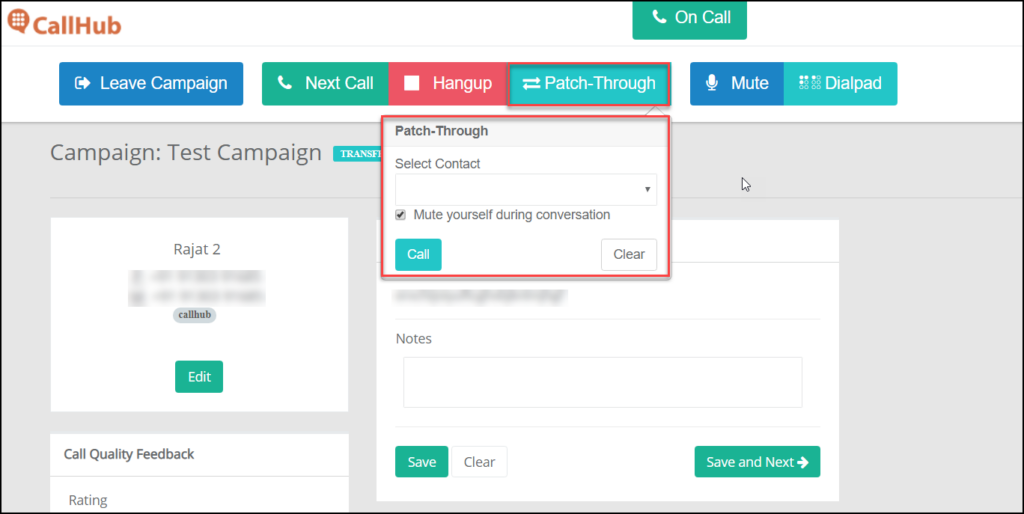 Desktop app view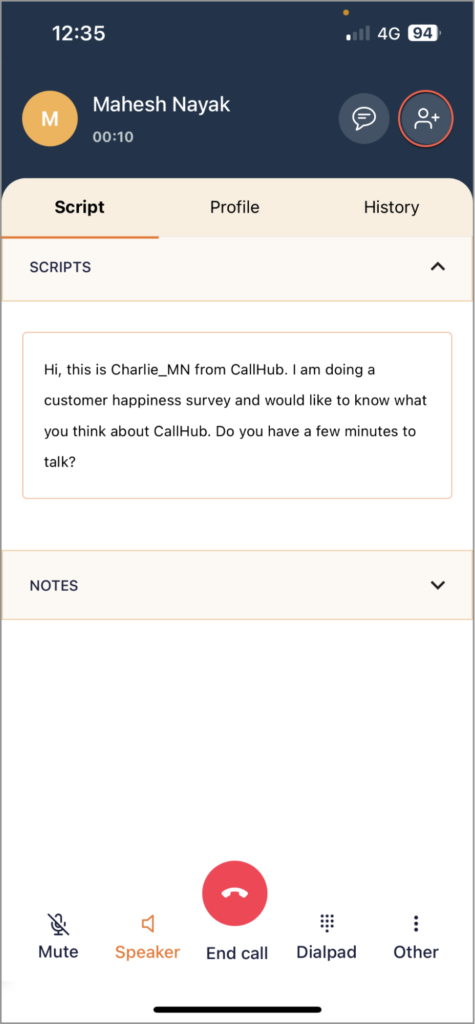 Mobile app view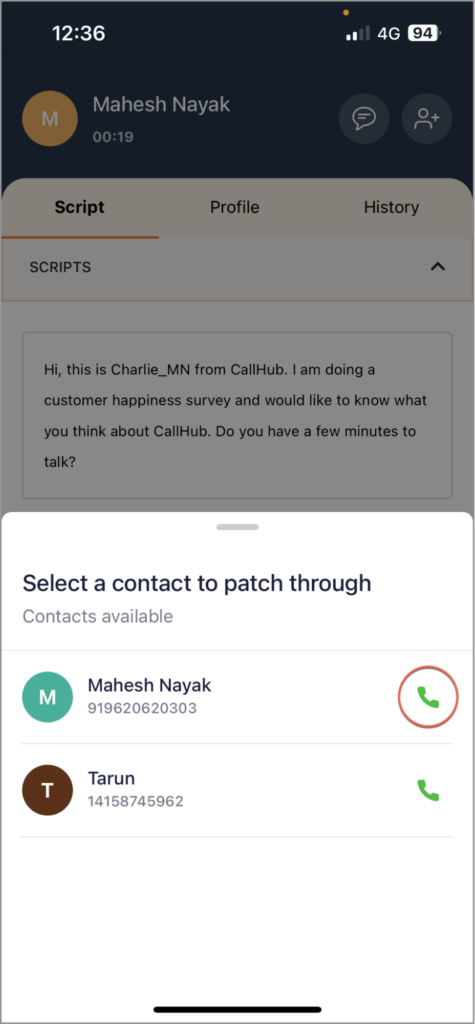 Mobile app view
Calling on a TCPA Dialer
In a Call Center campaign with the TCPA Dialer, there are two distinct roles for volunteers:
Talker Agent: This volunteer engages in conversations with the contacts added to the campaign.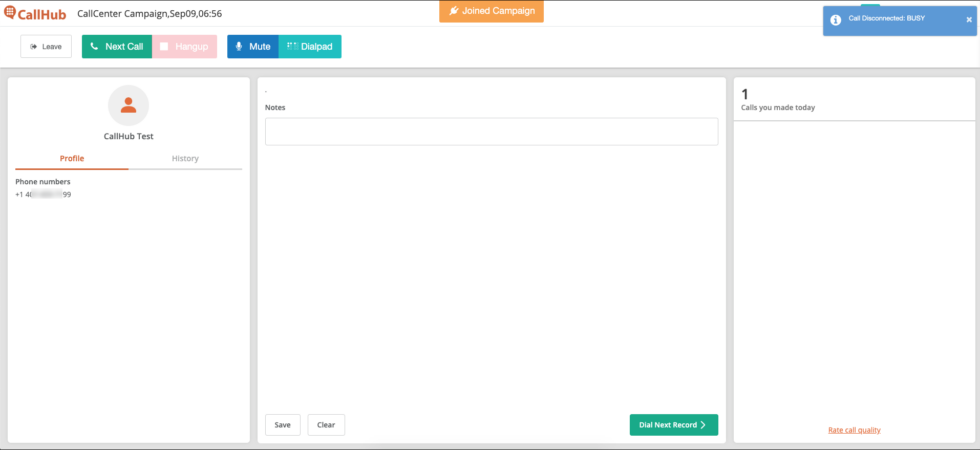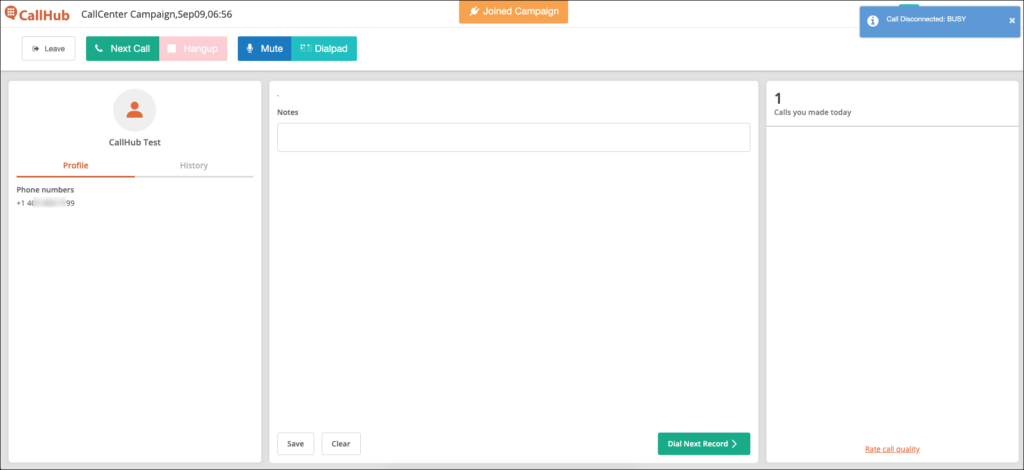 Clicker Agent: This volunteer's role is to click on contact cards to add them to the queue.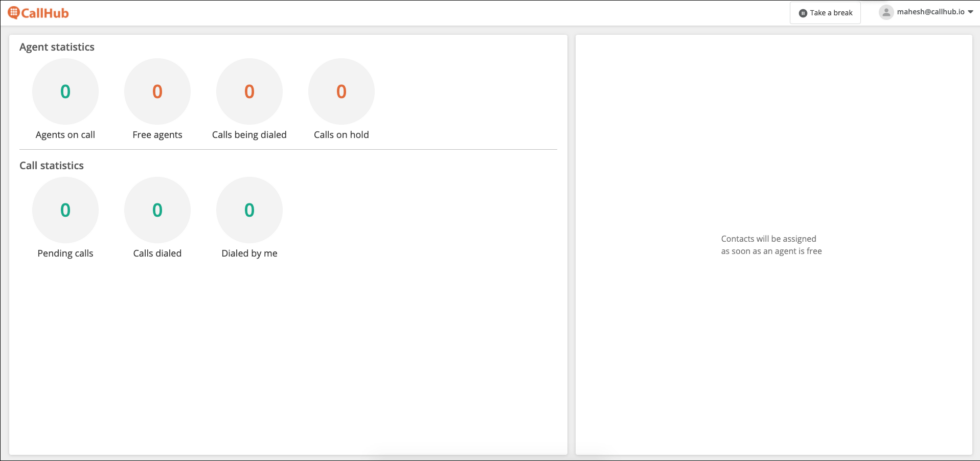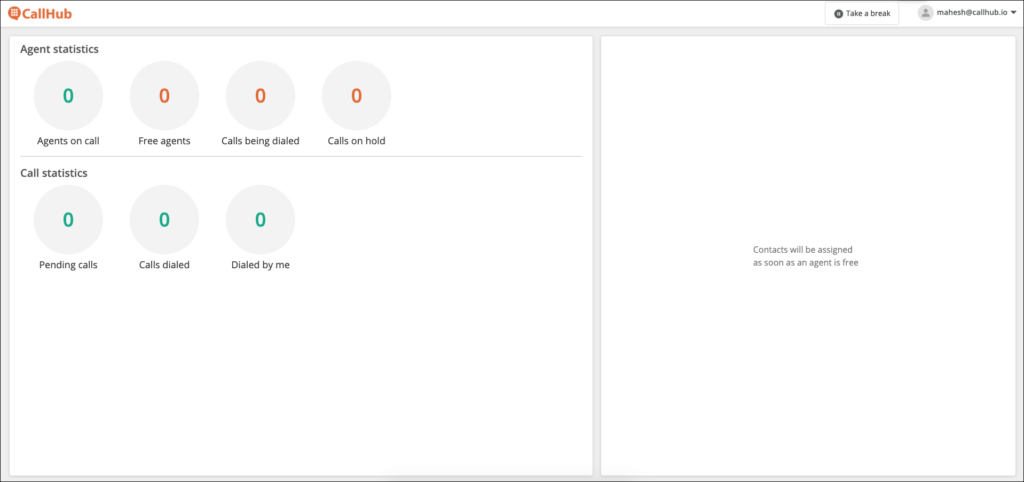 Joining a Peer to Peer Texting campaign
Volunteers need to log in and click "JOIN." Then, they need to select the "Start Texting" option. Volunteers will initially receive 100 contacts under the "Pending" tab from the contact pool. Once the first message has been sent to these 100 contacts, another batch of 100 contacts is automatically assigned. Volunteers can continue selecting contacts in increments of 100 from the pool.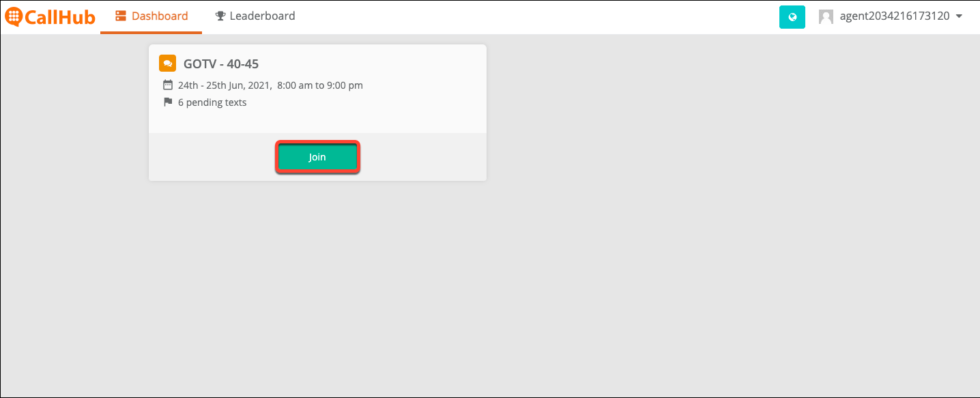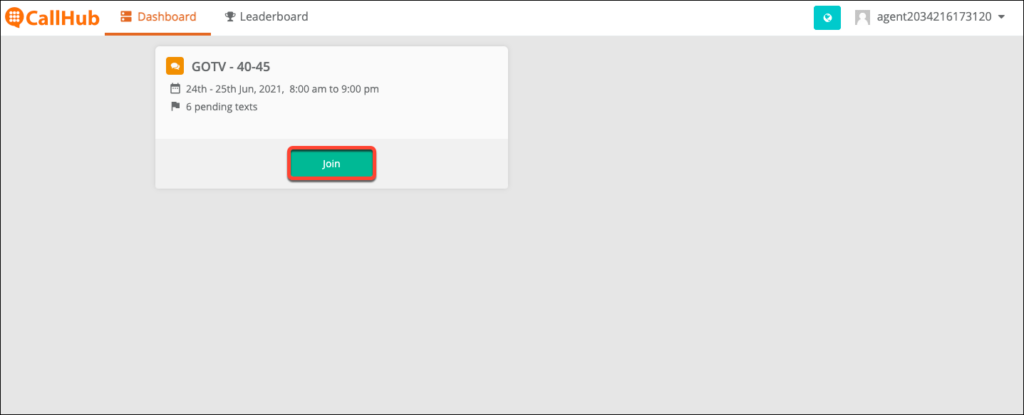 Desktop app view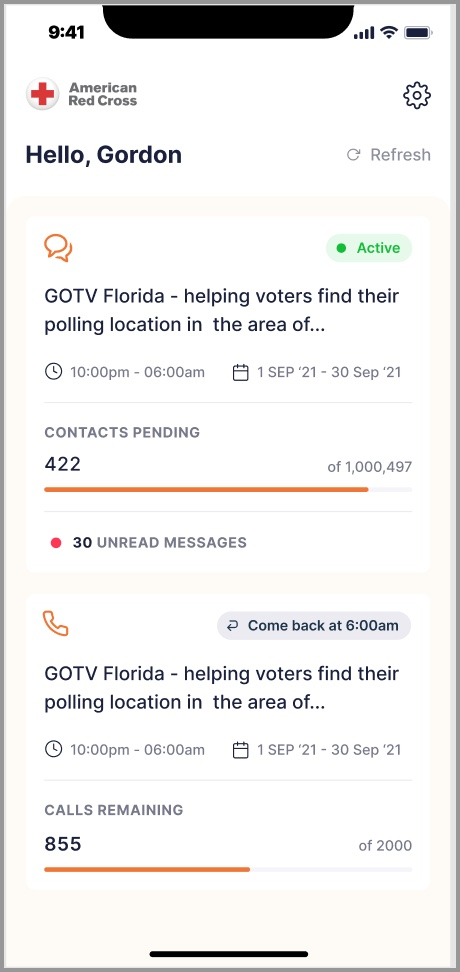 Mobile app view
After they've messaged all the contacts on the list, they can go to the "Chats" section and respond to those who have replied to the messages.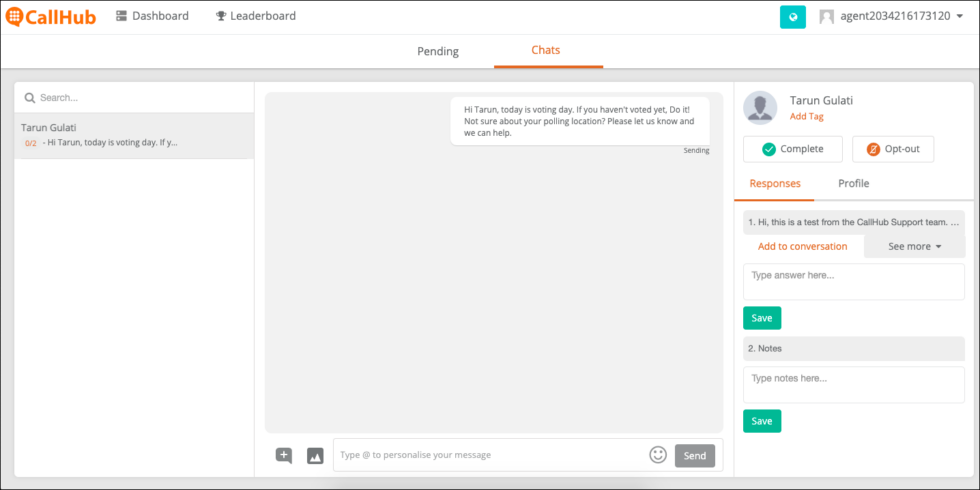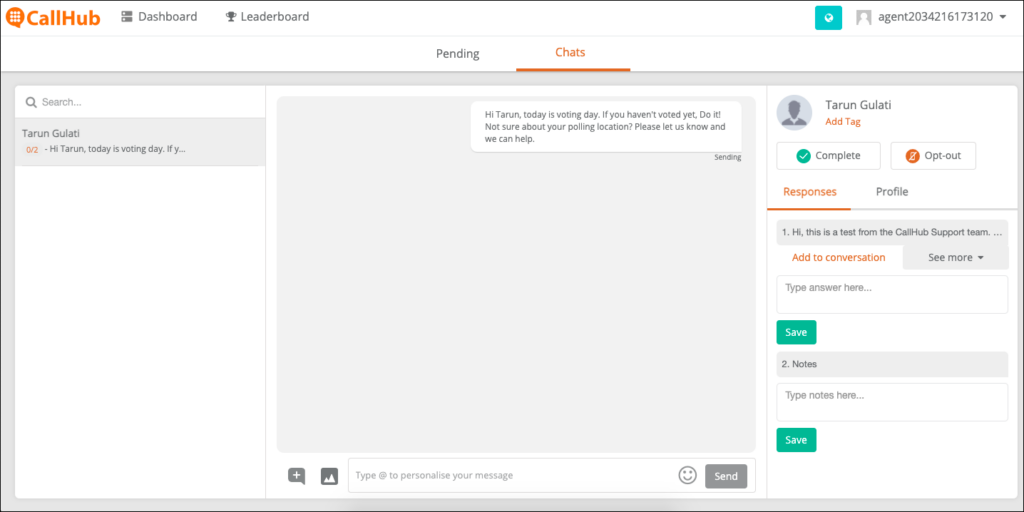 In this scenario, if you have prepared specific responses in advance and created "Saved Replies," these can be used when sending messages to contacts. Volunteers just need to click on the "Saved replies" option within the text editor, as shown in the image below.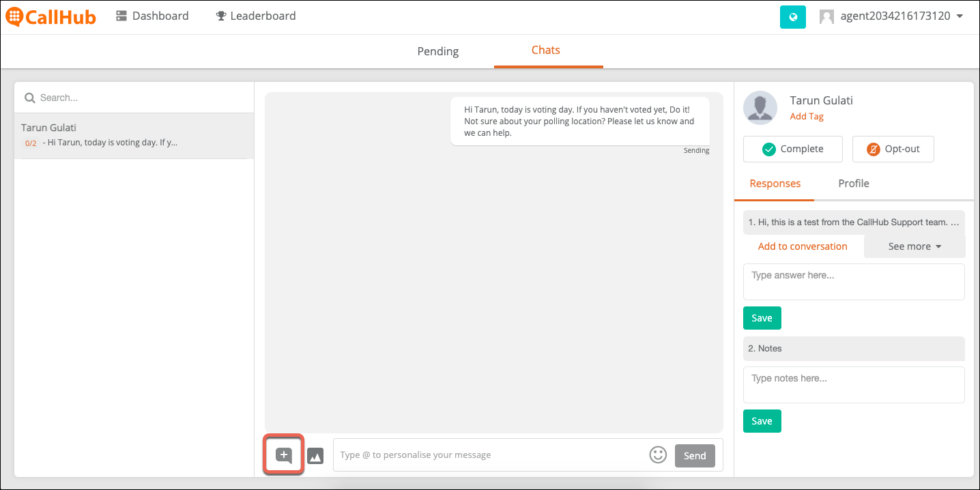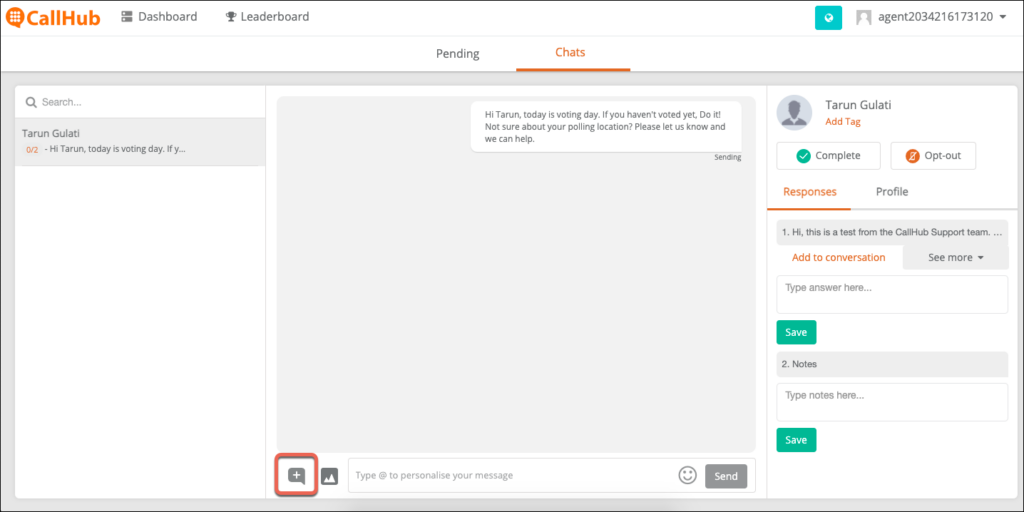 Desktop app view
Volunteers can mark the conversation as "Completed" once they have sent the messages and replied to the contact.
If a contact no longer wishes to receive messages, volunteers can select the "Opt-out" option.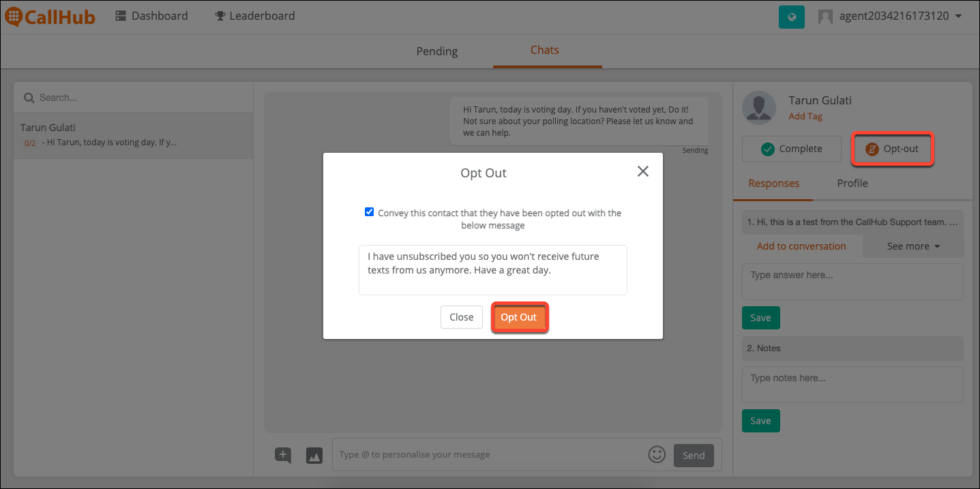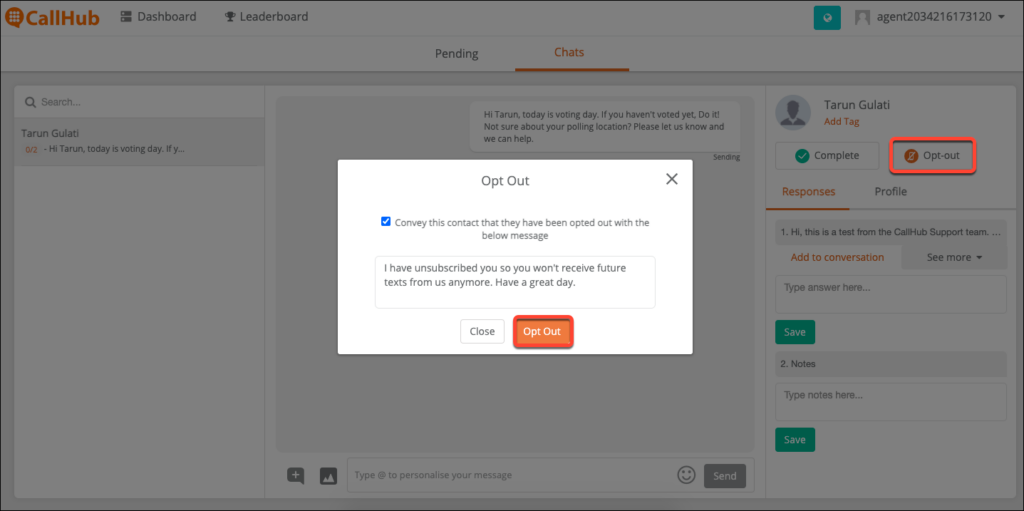 Joining a Relational Organizing campaign
Upon logging in to the CallHub Mobile App, your volunteer encounter the campaign card for the Relational Organizing Campaign. They need to tap on the card to proceed.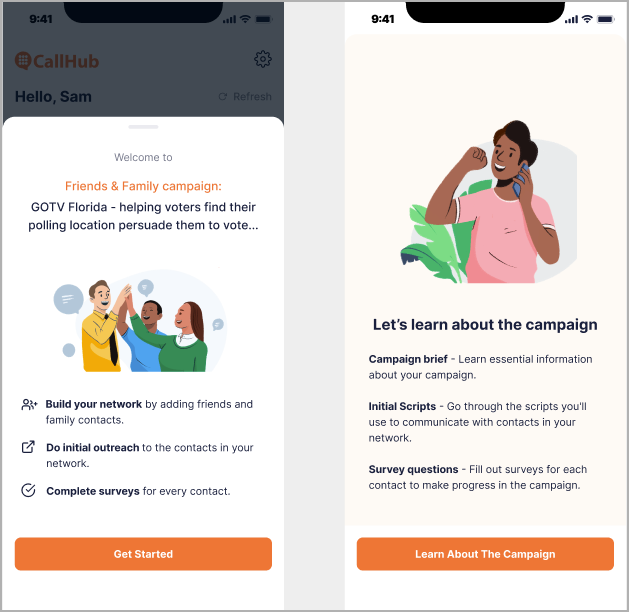 Following that, the system will guide them through building their network by suggesting additional contacts. This process starts by cross-referencing their cellphone's contact list with the campaign.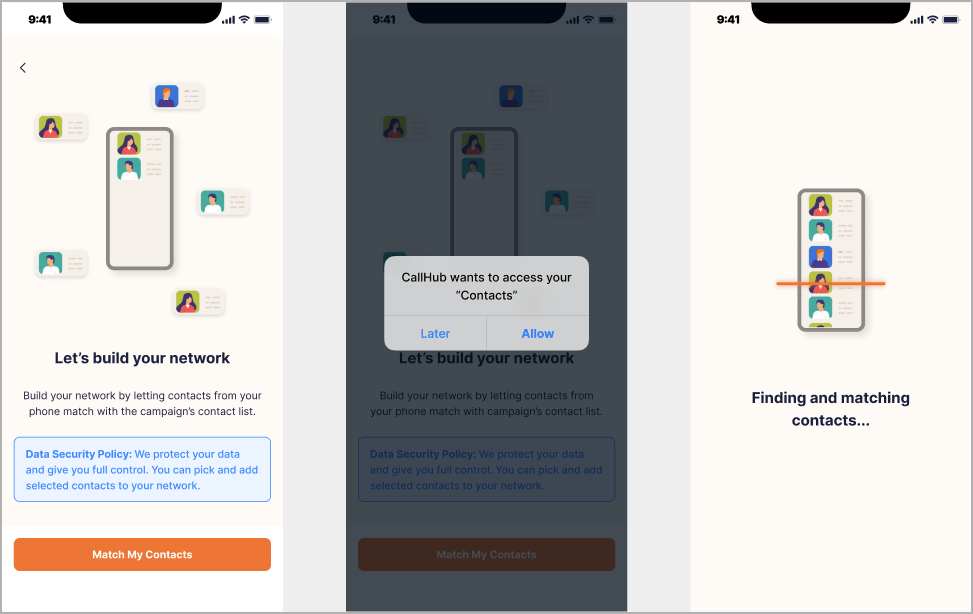 Should they desire to review the matched contacts, they need to click on "View contacts" to access the list. Within this interface, they have the option to deselect any contacts they do not wish to engage with.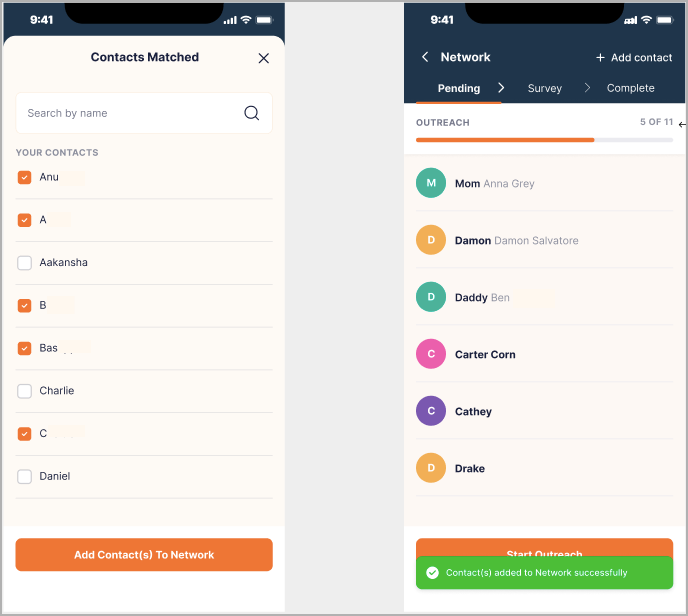 In the event that no contacts are initially matched, and should they wish to augment your campaign with additional contacts, they have the option to manually add them from their contact list or create new contacts.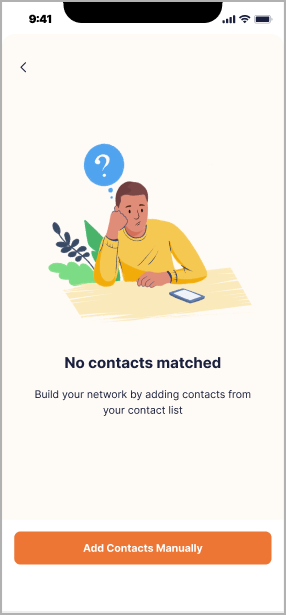 Volunteers have the flexibility to engage with these contacts through various outreach methods, although a particular outreach method is designated as the default for the campaign. They can employ the Message, Call, or Share option to carry out the outreach efforts.
The CallHub system use the native calling and texting app on your device for making calls and sending messages. The Share option operates akin to the app sharing functionality commonly found on mobile devices.
Contacting household members
When your volunteers reach a household member during the call, CallHub provides the capability to record survey responses, disposition details, and notes for each individual within the household.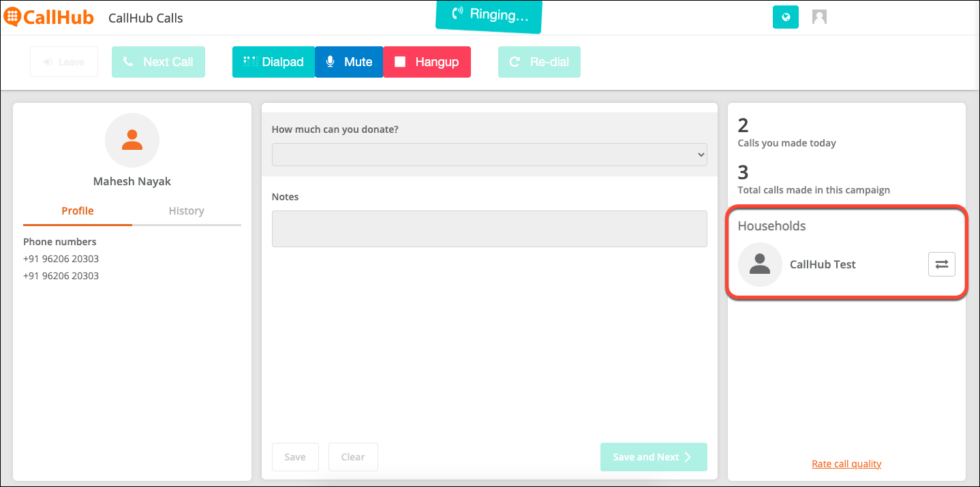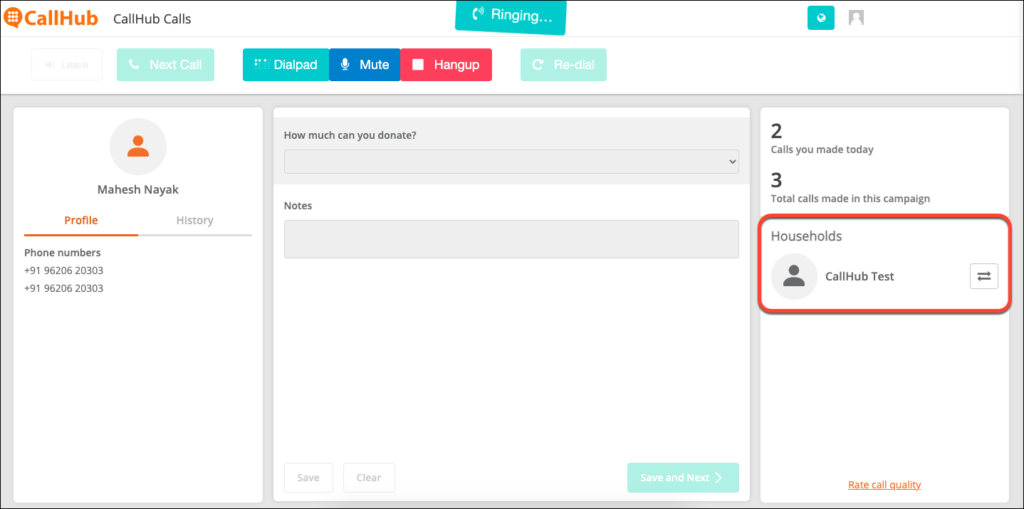 Accessing campaign leaderboards
Volunteers have access to the campaign leaderboards which ranks them based on calls made.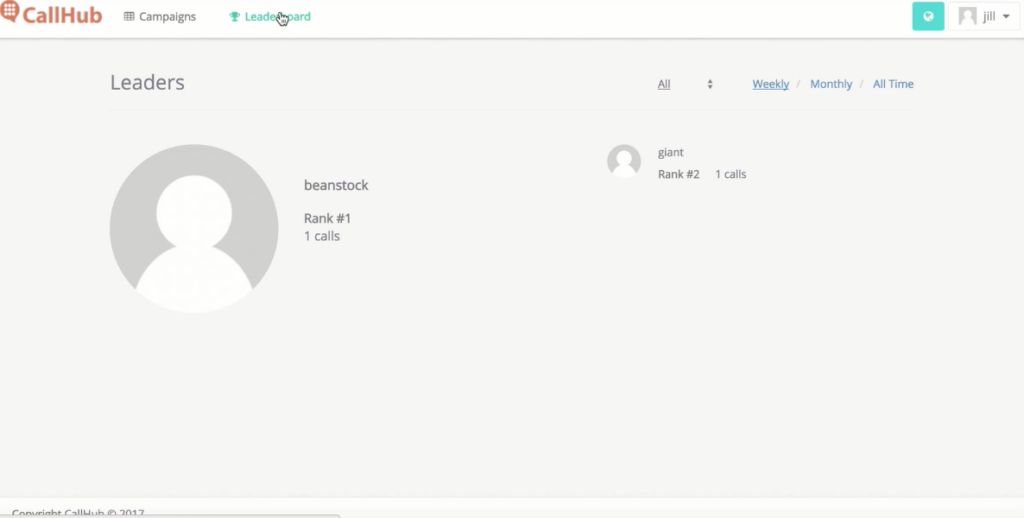 Step 4: Set volunteer goals
Establishing clear volunteer goals is essential for aligning their efforts with your organization's mission and objectives. Goals provide volunteers with a sense of purpose and direction, motivating them to contribute meaningfully.
Setting volunteer goals
Align with organization objectives: Volunteer goals should directly support your organization's overarching goals and mission. Ensure that each volunteer's contribution serves a larger purpose.
Be specific and measurable: Goals should be specific and quantifiable, making it easy to track progress. Avoid vague objectives and instead opt for concrete, achievable targets.
Consider individual skills: Hustinx (2010) emphasizes that effective volunteer management involves skillfully aligning volunteers' abilities with their assigned tasks.
This strategic matching enhances their confidence and significantly elevates their overall satisfaction levels. Tailor goals to individual volunteer skills and interests.
Time-bound: Set a timeframe for achieving goals. This creates a sense of urgency and helps volunteers prioritize their efforts.
Examples of volunteer goals
Recruit 50 new volunteers for an upcoming community event within three months.
Make 500 phone calls to engage voters in a political campaign by the end of the week.
Collect 1,000 pounds of donations for a food drive in one month.
Relaying volunteer goals during recruitment and onboarding
Effectively communicating volunteer goals during recruitment and onboarding is key to motivating and guiding volunteers.
Here's how to do it:
Mention specific goals in your volunteer recruitment materials, such as job listings, website content, and promotional materials. Highlight the impact volunteers can make by achieving these goals.
During interviews or assessments, discuss the organization's goals and how each volunteer's role contributes to achieving them. Be transparent about expectations and discuss the significance of these goals with prospective volunteers.
Dedicate a portion of the orientation session to goal setting. Explain the significance of goals and how they tie into the organization's mission.
Integrate goal-related training into your volunteer onboarding process. Provide guidance on the specific steps and actions required to reach their goals.
Throughout a volunteer's journey, provide regular updates on goal progress. Celebrate milestones and recognize volunteers' contributions to maintain motivation.
Step 5: Manage volunteers
Let's see the steps for managing volunteers, including monitoring their progress, providing support, and addressing both surplus and scarcity of volunteers.
Monitoring volunteer progress
67% of charities report that they regularly engage in volunteer supervision and communication to a significant extent. To monitor the progress of your volunteers and ensure they are meeting their goals and objectives, implement the following:
Agent reporting: Utilize agent reporting tools to track and analyze volunteer performance. These reports can provide insights into call metrics, response rates, and overall effectiveness.
Regular check-ins: Schedule regular check-in meetings with volunteers to discuss their progress, address any challenges, and provide feedback.
Feedback loops: Create feedback loops where volunteers can provide input on their experiences and suggest improvements. This can help identify specific skill gaps and fine-tune your volunteer management approach.
Tailored training: Offer additional training or resources to address these skill gaps. Tailor the training to the volunteer's needs and learning style.
Role reassignment: A study shows that volunteers who remained committed were more likely to have a personally meaningful motive for volunteering, such as skill enhancement. If a volunteer continues to struggle despite retraining efforts, reassign them to a different role that better aligns with their skills and interests.
Managing surplus of volunteers
When you find yourself with more volunteers than available tasks, do these:
Create additional roles: Develop new volunteer roles or projects to accommodate the surplus of volunteers. These roles could include specialized tasks or expanded outreach efforts.
Rotation schedules: Implement rotation schedules that allow volunteers to take turns in active roles. This ensures that everyone has a chance to contribute and prevents burnout.
Engagement opportunities: Offer opportunities for volunteers to engage in other valuable activities, such as training sessions, knowledge sharing, or planning for future initiatives.
Managing volunteer scarcity
In situations where you have a shortage of volunteers, it's essential to make the most of the resources you have:
Prioritize tasks: Identify critical tasks and priorities and allocate your limited volunteer resources accordingly. Focus on activities that directly impact your organization's mission.
Community outreach: 41% of individuals are receptive to on-demand volunteering, wherein a nonprofit contacts them for a particular skilled service when needed. Reach out to your community, existing supporters, and partner organizations to recruit additional volunteers or seek temporary assistance.
Skill-based roles: Leverage the specific skills and expertise of your current volunteers in different capacities to fill essential roles.
Efficiency measures: Streamline processes and workflows to maximize the impact of your volunteer team, even with limited resources.
Step 6: Appreciate volunteers
Recognizing and appreciating your volunteers is fundamental to building a motivated and committed volunteer base.
The significance of volunteer appreciation
The current estimated national value of each volunteer hour stands at $31.80.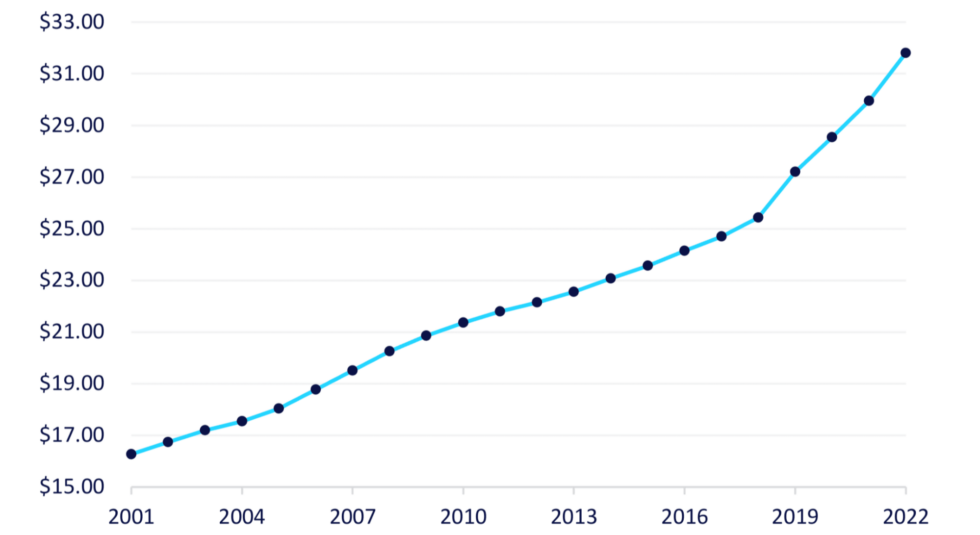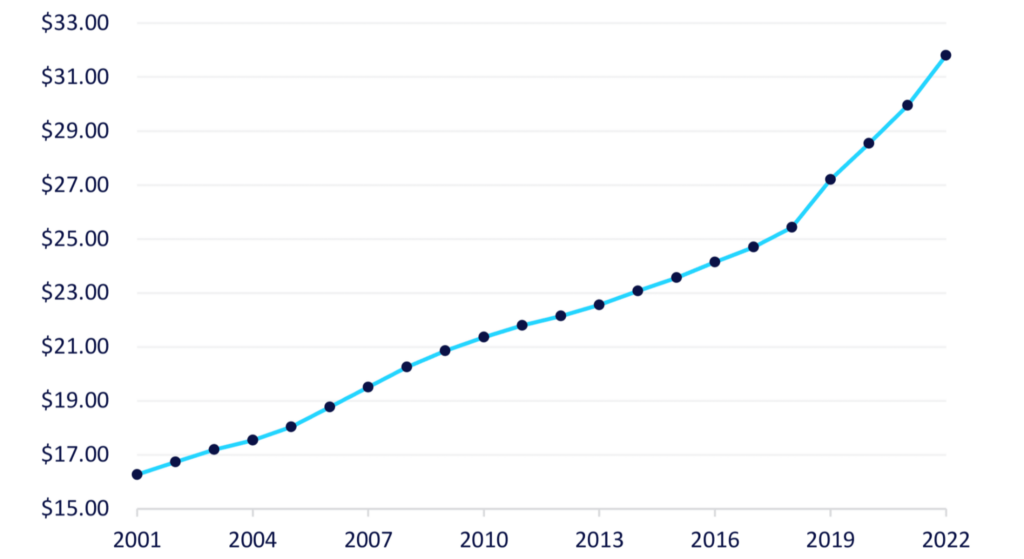 Source: Independent Sector
Volunteers are the lifeblood of many organizations, dedicating their time, skills, and passion to support your mission. Showing appreciation is not only a way to express gratitude but also a strategy for retention and continued engagement.
When to appreciate volunteers
Upon onboarding: Appreciating new volunteers at the outset sets a positive tone for their volunteer experience. A warm welcome can make them feel valued and eager to contribute.
After significant contributions: Recognize volunteers when they achieve milestones or make substantial contributions to your organization. This could include completing a major project, reaching a certain number of volunteer hours, or achieving specific goals.
Regularly and unexpectedly: Don't limit appreciation to specific occasions. Surprise gestures of gratitude can boost morale and motivation. Sometimes, a simple "thank you" can go a long way in showing appreciation to both current volunteers and prospective volunteers.
How to appreciate volunteers
"Some volunteer management practices are important to the operations of charities, and some are important for providing good experiences for volunteers. The ones that focus on volunteers are the ones that keep volunteers interested and involved."

– Urban Institute
Personalized handwritten thank you notes or emails expressing your appreciation.
Public recognition on your organization's website, social media platforms, or newsletters.
Volunteer awards or certificates for outstanding service.
Small tokens of appreciation like custom-branded merchandise, gift cards, or event tickets.
Words of encouragement verbally during meetings, events, or one-on-one interactions.
Feedback and involvement in decision-making processes.
For more in-depth guidance on volunteer appreciation, check out our comprehensive resource on volunteer appreciation. This article explores various appreciation strategies and provides additional expert insights to help you create a culture of gratitude within your organization.
Wrapping up
In this comprehensive guide, we've walked you through the essential steps to recruiting volunteers effectively.
To continue making a lasting impact and achieving your organization's mission, take these insights and put them into practice. Keep the focus on finding the right volunteers who will make a real difference.
Now, go out there and recruit volunteers who will help you change the world!