So you want to attract volunteers—the kind of passionate supporters that drove Obama's presidential campaigns in 2012 and 2016. Great! Volunteers are your heavy lifters in a political campaign. They run your ground game, knocking on doors and making phone calls to get your base out to vote.
Trouble is, your campaign's potential volunteer strength is more a result of your passive efforts than your active ones.
A large part of your candidate's appeal is the image they have in the minds of potential voters and volunteers. There are, of course, ways to fine-tune your candidate's image to convert undecided voters into supporters, and even more ways to convert those supporters into voters.
Read on to find out what it takes to build a solid volunteer base.
Reach out to communities to attract volunteers
While online volunteer recruitment through social media works well to recruit individual volunteers, getting the endorsement of a community or a union that aligns with your cause, in the area you're running in can boost your volunteer base significantly.
These groups can mobilize their supporters to take part in on the ground activities for your campaign. And since your campaign's values align with theirs, you can be sure they are willing volunteers.
Reach out to:
Unions
Political parties
Colleges and Universities
Advocacy groups
Religious communities
Endorsements from local communities can increase the visibility of your campaign, as well as improve your organizational and fundraising capabilities. Make it a priority for your volunteer recruitment campaign to identify key communities in the places your campaign is operating in and gathering their endorsements.
Take for example on a national level, the Sunrise Movement's endorsement of Bernie Sanders in his 2020 presidential run.
They endorsed Bernie, believing he was the candidate who would fight hardest for the Green New Deal, the organization primary agenda.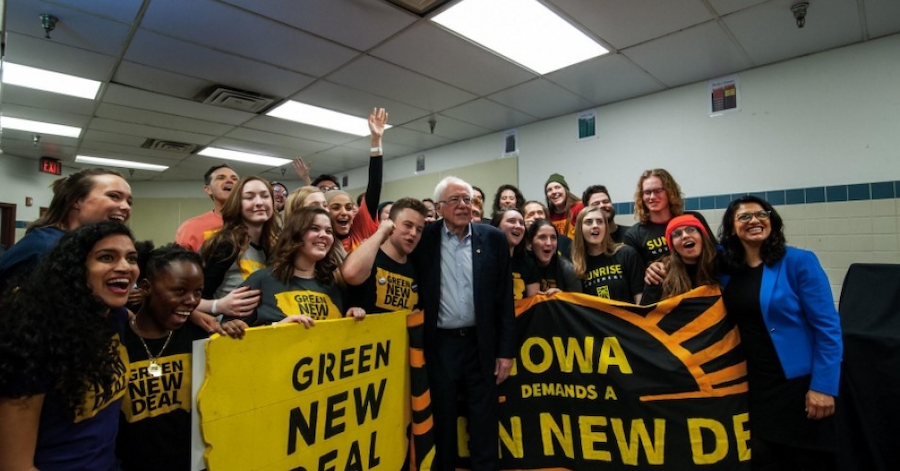 After the endorsement, the group mobilized their members and started organizing support for Sanders in Iowa before the primary caucuses to attract volunteers.
Utilize your campaign website
Your election campaign website is the hub of your online campaign. All your communication online, especially through various social media platforms, need to link back to your website.
The first step is to create a volunteer page for your posts to link back to.
Take for example Elizabeth Warren's volunteer recruitment page. She offers multiple options for supporters to get involved and even differentiates them based on priority level. From her page, it's clear that her campaign is in need of on the ground, door-to-door canvassers over other forms of volunteering, like phone banking or peer-to-peer texting.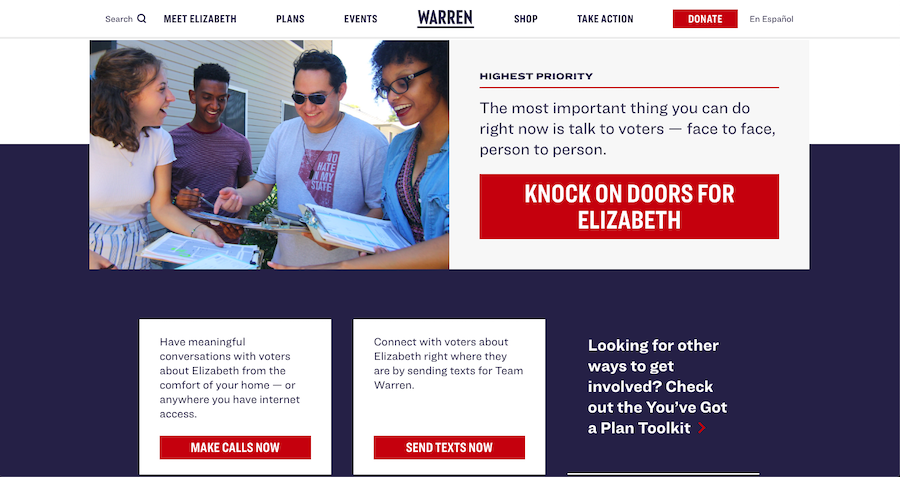 For the supporters who visit your website for other purposes, such as donating or learning your candidate's policy positions, make sure the option to volunteer is clearly visible. Taking another example from Warren's website, she has a banner calling for voters to phone bank on most of her other pages.

It's clear that for her campaign, the website is key to converting online supporters into volunteers.
Promote your call to action
There is no doubt that a social media political campaign can be a way to expand your supporter base and to attract volunteers.
Post about upcoming canvassing events or other volunteering opportunities to your followers on social networking sites Facebook, Twitter, and Instagram.
Find local groups on Facebook that are interested in the issues that your campaign is working for. Posting about volunteering opportunities on these groups yourself or collaborate with the organizers of these groups to leverage the power of their supporters.
Celebrating your existing volunteers on social media is a great way to use these online platforms. People that see their friends and family volunteering are more likely to volunteer as well.
Read Next: What Is Recruitment Marketing And How Can You Use It To Hire The Right Candidates
Project the objective you need help with
Your volunteers would be more likely to step forward if they feel like their help is necessary to make the end goal. For that to happen, you have to show that you are a person working toward a greater public cause and require all the help you can get.
The objective you are working toward should project a future that the volunteer can envision as better than their present condition and inspire them to help. If you could do that, people are going to be willing to take time out of their lives to lend a hand in the campaign.
The objective you invoke to inspire your supporters is oftentimes situational, especially if there are multiple issues that are important to your base. Your objective can also be a distilled version of your campaign message.
Take this example from Bernie Sander's 2020 campaign: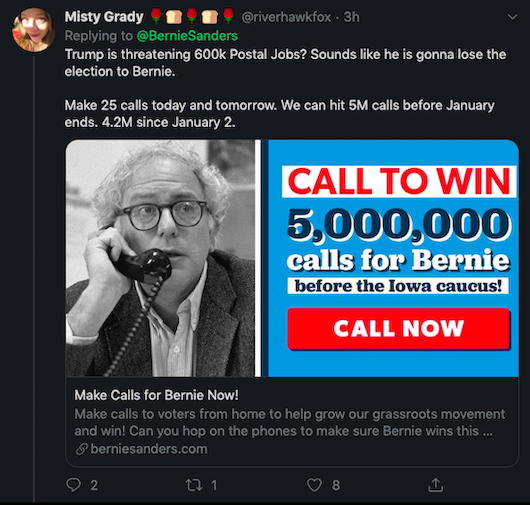 Share stories of existing volunteers
Social proof is a driving force behind most of our decisions. People are likely to try something if the existing evidence suggests the ones who did it before had a good experience. That is why we have ratings and reviews for every product and "tried-and-tested" occurs to us as a synonym for 'trustworthy'.
So share stories of other volunteers working in your campaign. Publish photos on your social media pages and talk about how an individual volunteer came to make a difference for the campaign. Sharing these individual stories will convince others like them to come forward and volunteer.
Here's how Amy Mcgrath of Kentucky promoted volunteer opportunities in her run for Congress.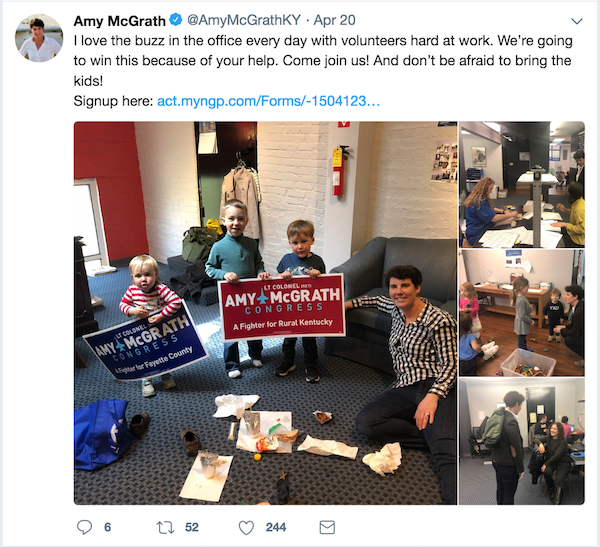 Not only does the post talk about, and thank volunteers, it also shows the candidate herself meeting her volunteers on the ground and working alongside them.
Identify the demographics of existing supporters
Most likely, you'd notice your active supporters fit into certain age or work groups, which would suggest other people from the same demographic would be able to participate as well. Reach out to them directly and you'd have more chance of increasing your volunteer base.
Your volunteer recruitment messages broadcast all over social media and throughout your community tend to bounce off because it isn't targeted at anyone in particular. Identifying the common volunteer demographics help you come up with specific approaches for every type of supporter. They may be millennials, young retirees or older folk who have free time to offer. Know your volunteers to be able to reach out to others like them.
Provide volunteering options to choose from
A lot of people who would back your campaign and have some free time to offer as well do not come forward because they feel it's going to be a longstanding commitment. Maybe the volunteer rallying call you send out is being vague about the time and task you need volunteers for.
You should provide options for volunteering activities so the interested ones can choose upfront when they could help out. Show that it is a limited period activity (volunteer on weekends, volunteer during summer ) or convey the urgency by stating the campaign deadline to attract volunteers. People are likely to step up for such short-term commitments.
Take this example from Pete Buttigieg's volunteer page on his website, where he offers plenty of options for his supporters to get involved.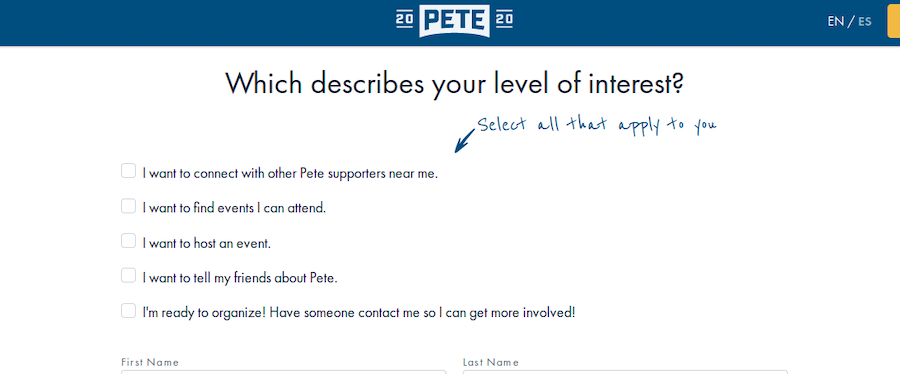 Have a volunteer management strategy
Once people show up or inquire about volunteering, you should have a plan ready to engage them. A volunteer training and allocation strategy will ensure that all volunteers understand the overall work of the campaign, their place within the grand scheme and the actual task they would participate in.
There would be different campaign tasks and responsibilities for volunteers. Explain to them in training what they are, when those tasks are performed and where the volunteers need to be. Some volunteers might have reservations. Be smart about allocating duties based on their age, ability, etc.
For example, when training volunteers for door-to-door canvassing, make sure they are aware of:
The main talking points for the campaign
The designated area they are canvassing
How to answer questions from constituencies
Splitting into teams for canvassing
Where and where not to place campaign literature
Keeping notes while canvassing
Another thing to consider is using a volunteer management software to help you attract volunteers, train them and manage the team.
Your campaign needs a volunteer management software that's:
Easy for your volunteers to use.
Lets you view a report of volunteer activity.
Integrates with your CRM.
Fits your budget.
Retain existing volunteers
Remember when we discussed social proof in decision-making? Your existing volunteers would be a big factor in attracting new ones to the campaign. Maybe they would bring their friends in or maybe they would spread the message in their community.
However, first, you need to ascertain that the volunteers who come in are satisfied with their work. Your volunteer management strategy would already allocate volunteers to activities that they are comfortable doing. Give them regular updates on the progress of the overall campaign and the task they are a part of. Let them know that their contribution was a part of the progress.
Here's an update sent out by the Bernie Sanders campaign when they reach a calling goal in record time: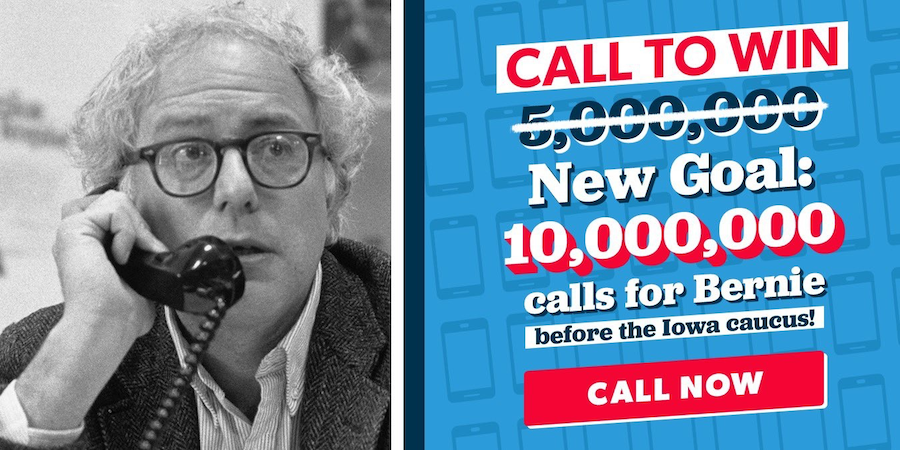 Establish a culture to attract volunteers and get them rooted
It is certain that the new volunteers would take a while to get comfortable with the task and the team they join. So you need to take an extra step to make sure the volunteers have a fine time in return for their commitment.
The good thing is all the participants are already united by a common cause. Get them to interact, have recreational activities to get them refreshed and build a culture so the participants feel like they are a part of a significant change.
All these steps will ensure that you attract volunteers and that the ones who offer to volunteer, stay on board. Plus you get your volunteers to consider the goal you are working toward as a personal one so they give it their full dedication.