We've compiled a list of the best volunteer management software available for your organization.
Recruiting, training, managing, and scheduling volunteers, no matter how many your organization has, probably takes a chunk of your time. 
The people at Meals on Wheels figured that out when they tried to do the whole process manually.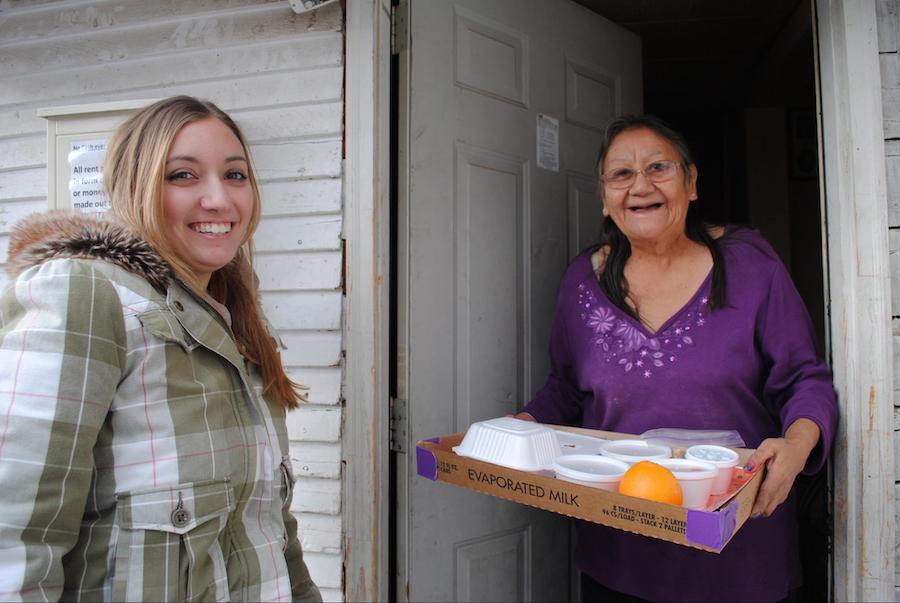 According to them:
"The process consisted of countless spreadsheets, paper sign-ins, phone calls, and tools in order to be sustainable. It was organized chaos and required a substantial time commitment to run effectively."
The solution is a tool that can help you register, schedule, and communicate with your network of volunteers by storing contact information, a participant's history, their availability, and more. A volunteer management system.
There are so many tools that can help you manage your volunteers. We know it's hard to find one that's right for your nonprofit's needs. Read on for a list of the top volunteer management software.
How does a volunteer management software help?
A volunteer management tool can make it easier for you to find and coordinate your volunteers, but how? A large part of it is removing the need for offline tools like spreadsheets.
A volunteer management software can help you:
Recruit and track new volunteers
When the recruitment process goes online, you can find volunteers without the need for either party to step out of the comfort of their homes.
Create and manage volunteer shifts
Most tools allow you to create shifts for volunteers individually or as a group. That means you don't have to deal with the hassle of spreadsheets.
Real-time volunteer reports and data analytics
Most volunteer management software allows you to access data on your volunteers and their engagement with your organization. This data can help inform future volunteer management efforts.
How to choose the best volunteer management software
You need a volunteer management software that's:
Easy for your volunteers to use.
Lets you view a report of volunteer activity.
Fits your budget.
The following are our picks for the best volunteer management tools.
We've categorized the list into:
Volunteer management software
Volunteer recruitment/registration software
Volunteer database software
Volunteer scheduling/coordination software
Event volunteer management software
It should be easy for you to find the specific tools that fit your needs.
Want to try one of these tools for free? Volunteer management software providers often have free trials so that you can be certain that it's the tool for you before making a purchase.
Volunteer management software
NationBuilder
NationBuilder provides nonprofit organizations with the tools required to build websites, move volunteers to action, manage events, and raise funds.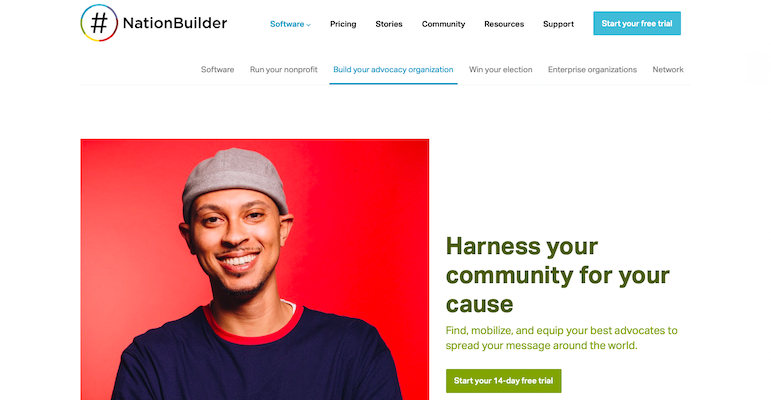 It also lets you schedule shifts, run background checks, conduct volunteer reviews, and build reports on all volunteer activities. Along with the ability to send out emails, integrations with tools like CallHub also let you manage volunteer communication.
Notable features
Schedule text messages or calls to go out in advance before a shift or reach out to volunteers with campaign updates.
Customizable pages to engage volunteers.
Pricing
Starts at $29/month.
Action Network
Action Network is an organizing tool that can be used to recruit and organize volunteers both online and offline. The tool can also be used to fundraise while enabling your nonprofit to create different types of activities, roles, and track volunteers and the work done.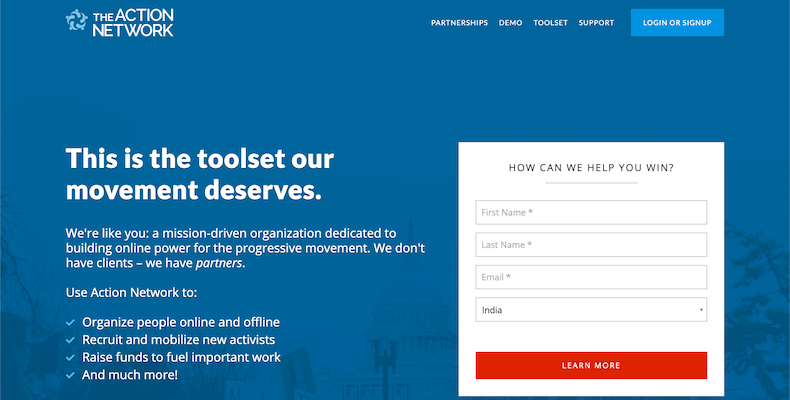 Dynamic integrations with tools like CallHub makes running campaigns and communicating with your volunteers so much easier. You can make phone calls or send texts to remind and keep volunteers updated with your campaign. As such, Action Network's functionalities go beyond a simple volunteer management platform. 
Notable features
Build an automation ladder to move volunteers and activists through when they subscribe or take an action.
Pricing
Based on the size of your organization. If you're sending emails to volunteers and supporters, take a look at their email pricing.
DonorPerfect
DonorPerfect is a comprehensive solution for nonprofits seeking donors, fundraising, and volunteer management.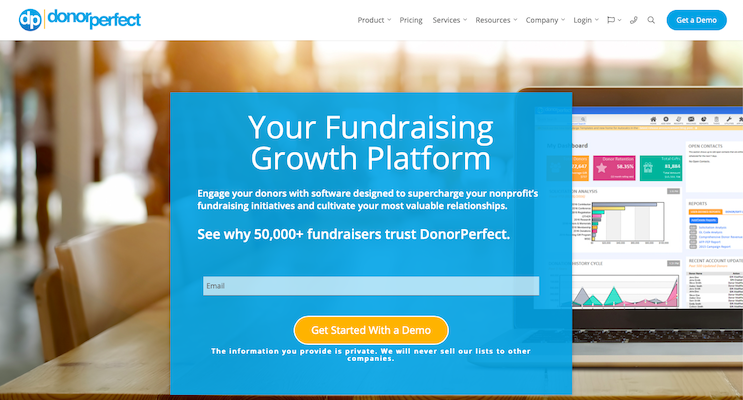 The volunteer-specific features of the tool include assignment and skill tracking, hours served, and solicitation reports. Apart from that, the volunteer software tool is best suited for fundraising. It helps you manage gifts and pledges, campaigns, donor retention, emails, and event registration.
Best Features
An all-in-one platform if you want additional capabilities for fundraising and donor engagement.
Pricing
DonorPerfect offers pricing packages to meet organizations of any size and any budget.
Lite at $89 per month
Express at $159 per month
Essentials at $289 per month
Premier at $479 per month
Enterprise at $799 per month
Volgistics
Volgistics is an online volunteer management software that allows organizers to register, schedule, manage, and communicate with their volunteers. Since it's a browser-based volunteer management system, there are no installs or downloads needed.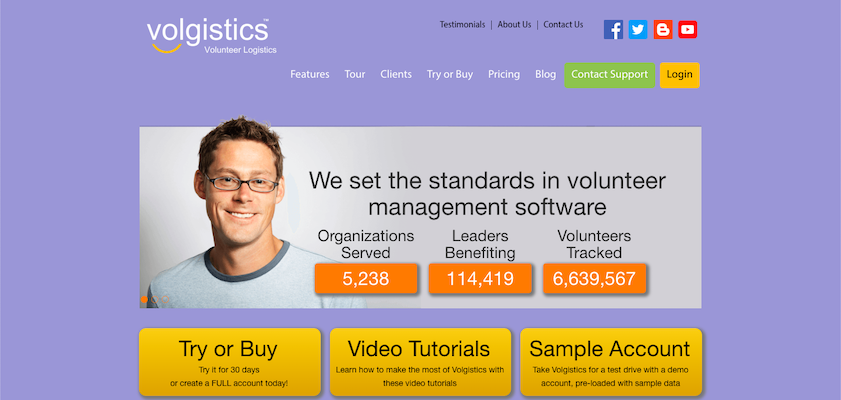 Volunteers can submit their shift preferences or schedule it themselves. The tool helps you keep records of your current and past volunteers and communicate with them via email or text message.
Notable features
Create custom reports with an easy-to-use interface
Let volunteers view opportunities and submit applications through your website
Schedule reminders to volunteers through text or email
Pricing
Pricing scales based on the size of your organization's volunteer community, starting at $9/month.
eCoordinator (from Samaritan Technologies)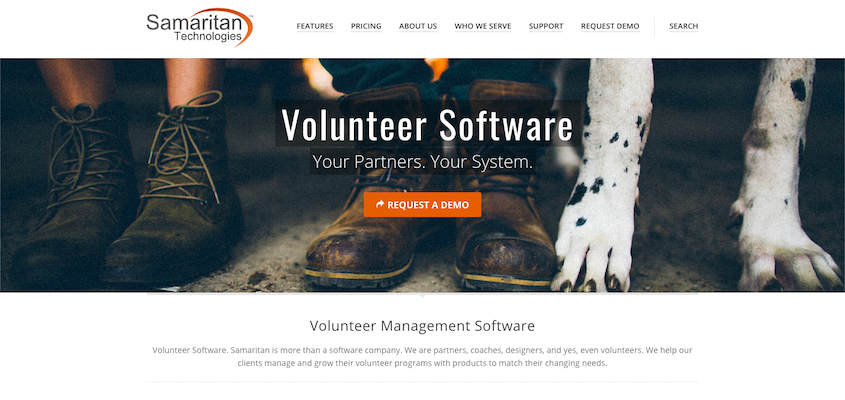 eCoordinator can be used to recruit, manage, and measure tasks done by your volunteers. The volunteer management system comes with a built-in background check, reference check, e-campaign support, and survey tools. It helps organizers manage and grow their volunteer programs with products to match their changing needs.
Notable features
Automate emails to volunteers
Embed registration forms on your website
Track volunteer hours through analytics
Pricing
You can either use the free account or the premium account, which starts at $208/month.
You May Also Like: Top 17 Online Donation Tools for Nonprofits (2020 Update)
Giveffect
Giveffect boasts the ability to connect your volunteer management system with multiple other modules.
In addition to volunteer management, the tool allows you to manage online giving, membership, events and fundraising, wealth screening and major gifts, and more.
Notable features
Custom online application form for easy volunteer recruitment
Create volunteer opportunities and send out calendars
Pricing
Get a quote from them here
Volunteer recruitment/registration software
VolunteerHub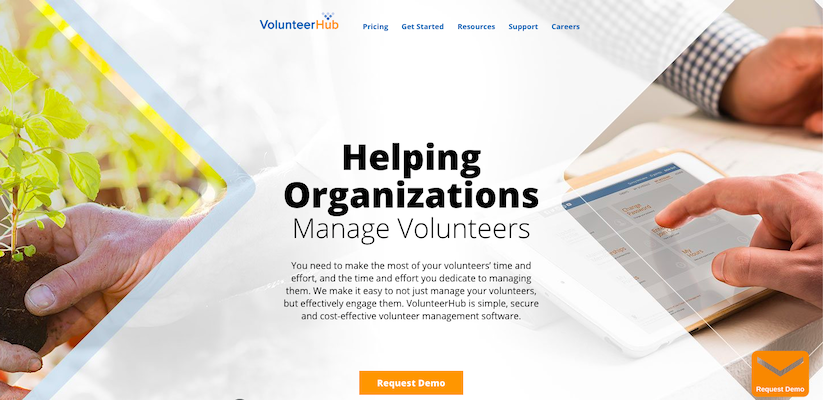 VolunteerHub covers everything from recruitment, registration, management, and communication of volunteers. Organizers can use the volunteer management tool to increase event participation by empowering volunteers to view and sign up for events.
Notable features
Organize teams for specific events based on their location, interests, skills, etc.
Reports and insights on volunteer activity
Pricing
Starts at $69 per month.
VolunteerMark
VolunteerMark is a volunteer management software created to simplify how organizations run a volunteer program. With VolunteerMark, you can recruit and manage volunteers, schedule volunteering opportunities, and manage events and volunteers through the dashboard.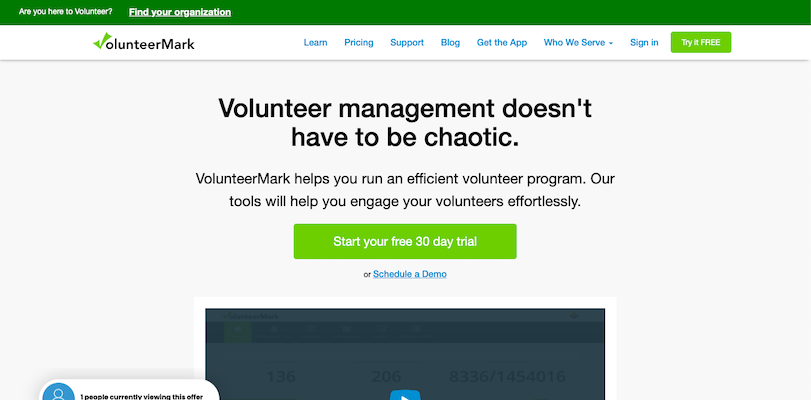 Best features
Simplify communication with volunteers
Recruit and manage volunteers
Schedule volunteering opportunities
Easy and elegant event sign-up views
Best in class management dashboard for events and volunteers
Pricing
There is a free plan for up to 50 volunteers.
For the paid plans, you can opt to pay yearly or monthly. The plans start from:
Basic at $34/month
Essential at $75/month
Royale at $125/month
Mobilize
Mobilize is built to help you engage event volunteers and accomplish your mission.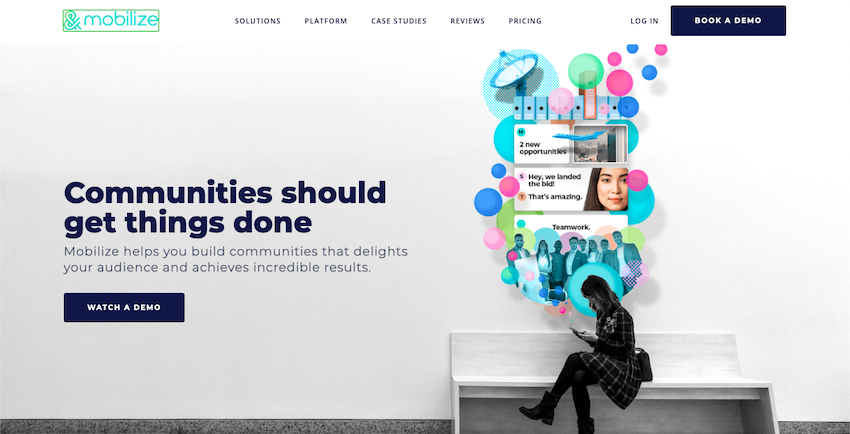 Mobilize provides simple management tools for communities. You can build connections and facilitate relationships between your organization and its members and volunteers.
Notable features
Integrated event management
A mobile app to boost engagement
Allows for community discussion and shared resources
Pricing
Paid plan starts at $800 per month and is billed annually
TeamKinetic
TeamKinetic is a volunteer management system optimized for recruiting and retaining volunteers.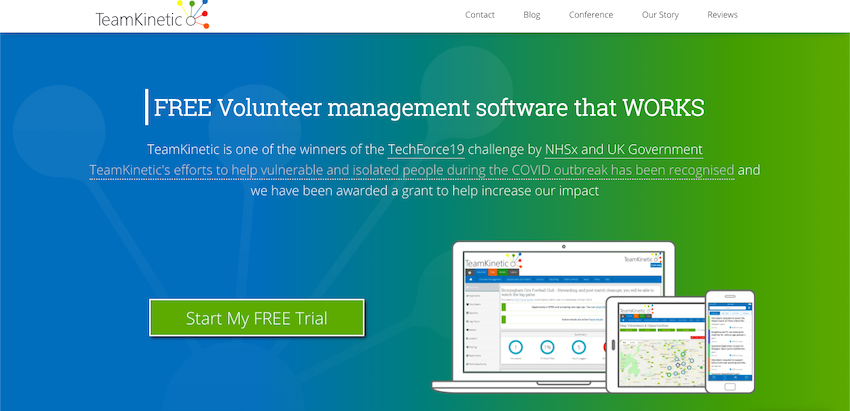 It allows you to manage all aspects of volunteer recruitment and registration with customizable registration, auto-approval, and opportunity sharing to Do-It and Salesforce.
Notable features
Email and text your volunteers
Provide instant feedback to volunteers
Measure impact with real-time reports
Pricing
There is a free option, with paid plans starting from £19 and going up to £149
SignUp.com
SignUp is a web-based volunteer management software. The platform simplifies the coordination of big and small volunteer groups.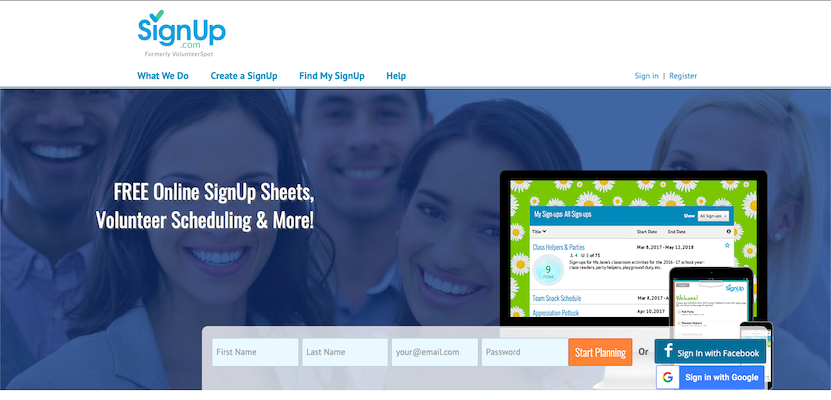 Notable features
Organize volunteer activities by creating a volunteer calendar
Collect contributions and send alerts and updates to volunteers
Pricing
The pricing is as follows:
The basic plan is free
Starter at $9.99 / per month
Plus at $24.99 / per month
Max at $49.99 / per month
Campus at $99 / year
SignUpGenius
SignUpGenius makes the process of organizing events and people simple by providing online sign-ups & registration for nonprofits, schools, sports, faith groups, colleges, businesses, and organizations.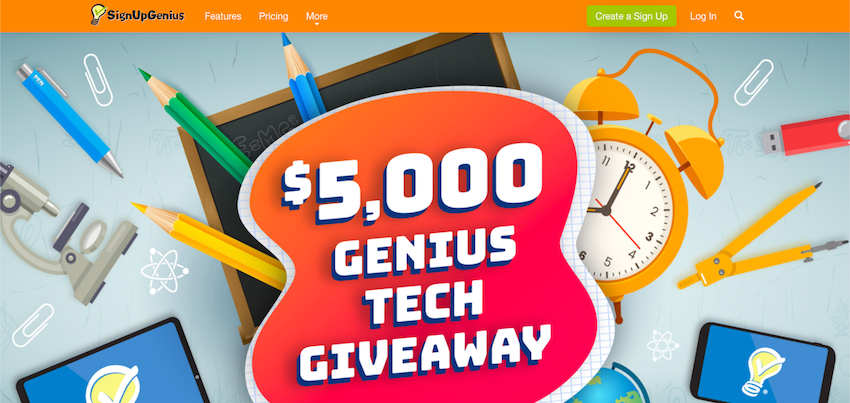 Notable features
Online signup tool for efficient volunteer recruitment
Send automatic reminders to volunteers prior to an event
Easy-to-use admin tools
Pricing
Pricing plans start from $8.99 up to $44.99
Volunteer database software
DonorSnap
DonorSnap is an easy-to-use online donor/membership management system.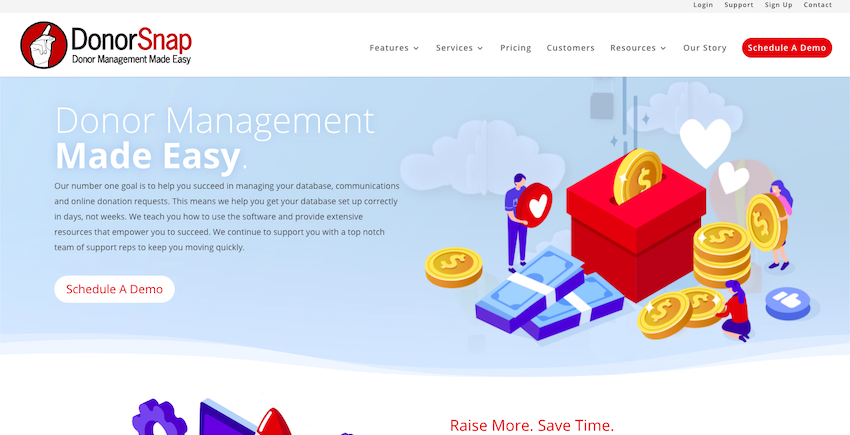 The volunteer management tool helps thousands of organizations and associations track volunteers, engage with donors, manage memberships, plan events, and make online donation requests.
Notable features
Send mass emails to your contact database
Prevents duplicate data, keeping your list clean
Pricing
Pricing options start from $39 going up to $199 per month.
You May Also Like: Essential Strategies For New Donor Acquisition For Your Nonprofit
WildApricot
WildApricot is a membership and volunteer management platform, specifically designed to manage large amounts of member data.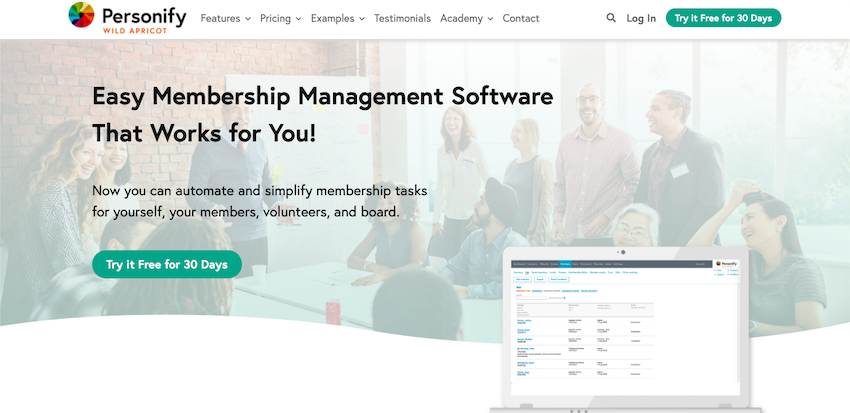 Notable features:
Easy to manage database
Searchable online member directory
Automatic database updates in real-time
Pricing
WildApricot offers plenty of pricing options starting at $40 per month. Take a look at their page.
Better Impact
Better Impact offers a volunteer management database system for non-profits, small and large. They have customizable volunteer and organization profiles, and an easy-to-use interface. They serve nonprofits and government agencies with 50 -150,000 volunteers.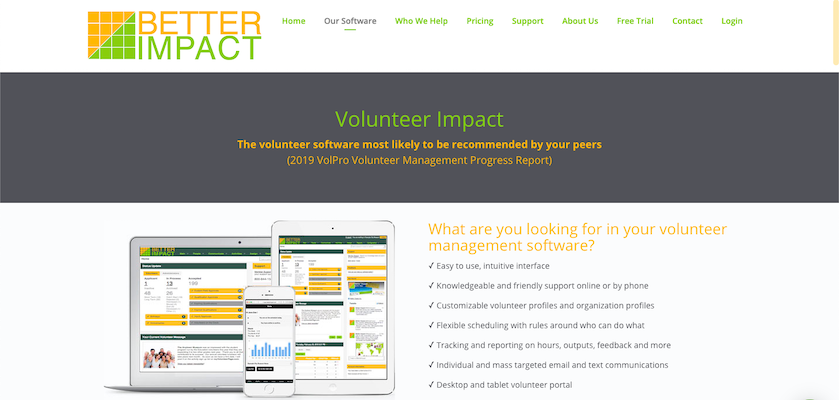 Notable features
Flexible scheduling and conditions to control who can do what
Targeted email and text communications with volunteers
Pricing
They have multiple pricing options, with the standard edition starting at $8 and the enterprise editions starting at $12.75.
Volunteer scheduling/coordination software
Boardable
Boardable is a nonprofit volunteer and staff and board management software that makes it easy for nonprofit staff to schedule, meet, and communicate.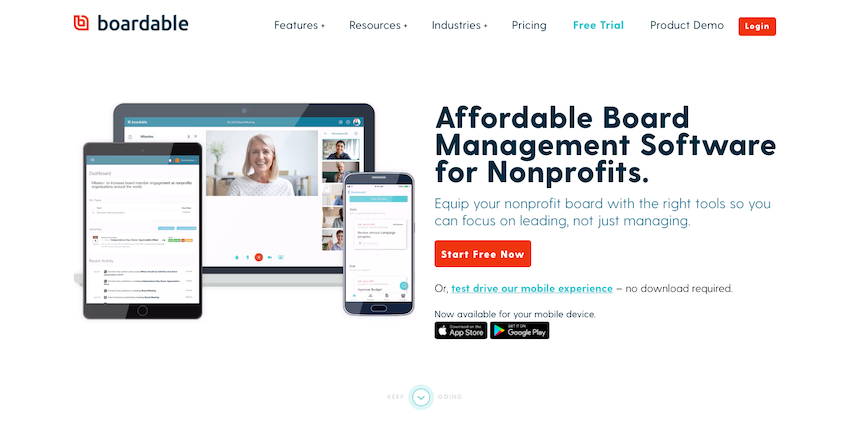 The tool is available as a mobile app, making it easy to manage staff even when on the go.
Notable features
Build an agenda for meetings with templates
Get insights into staff engagement with analytics
Track and measure the success of initiatives
Pricing
Pricing options range from $79 to $299
Track It Forward
The Track It Forward volunteer tracking software allows volunteers to track their own hours with a simple-to-use tool.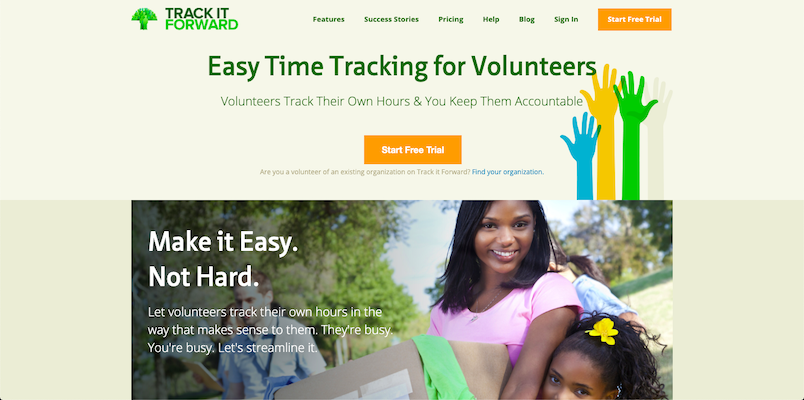 Notable features
Integration with your website for embedded time tracking and volunteer registration
Event scheduling, with time tracking for each event
Instant graphs and customize reports
Pricing
They have multiple pricing options:
A free plan for up to 25 volunteers
Basic tracking at $12 per 100 volunteers/month
Premium tracking at $24 per 100 volunteers/month
A custom plan
Timecounts
Timecounts is a cloud-based volunteer management solution with flexible tools.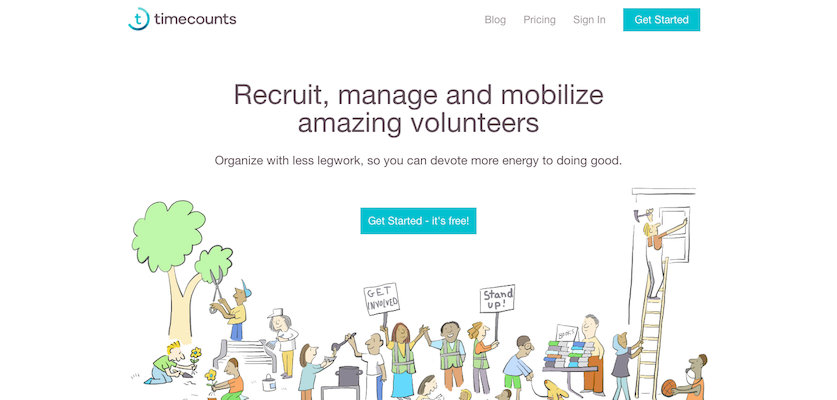 You can create beautiful event pages, and assign shift schedules, and applications with this tool. You can store your supporter information into a smart directory with profile cards which will help your volunteers make calls.
Notable features
Organize events, orientations, signups, ongoing schedules, and assignments.
Auto confirmations and reminders are sent to volunteers to make scheduling a breeze.
Pricing
They have four options to choose from:
A free plan
A premium plan at $50/month
A growth plan at $125/month
An enterprise plan for a custom solution
VolunteerLocal
VolunteerLocal is a cloud-based volunteer scheduling solution that helps nonprofit organizations organize, manage, schedule, and communicate with volunteers.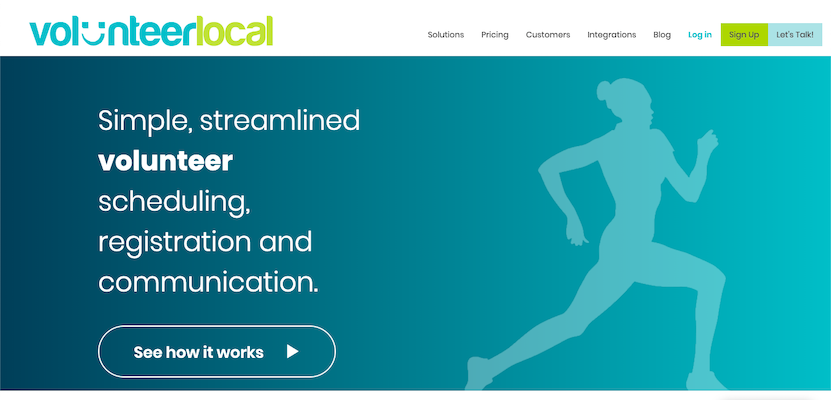 Its key features include real-time reporting, volunteer data collection, and onsite check-in. The tool also helps with contacting volunteers to update them about events or tasks.
Notable features
The real-time reporting feature to help you review jobs and shifts
Re-assign, blacklist, or remove volunteers
Modify security settings to grant role-based access to employees
Pricing
You can choose from three plans:
Discover at $200/event or $600/year
Grow at $800/event or $2,400/year
Conquer at $3,000/event or $10,000/year
All of their plans include unlimited jobs, unlimited shifts, and unlimited volunteers.
YourVolunteers
YourVolunteers is a free cloud-based volunteer management solution.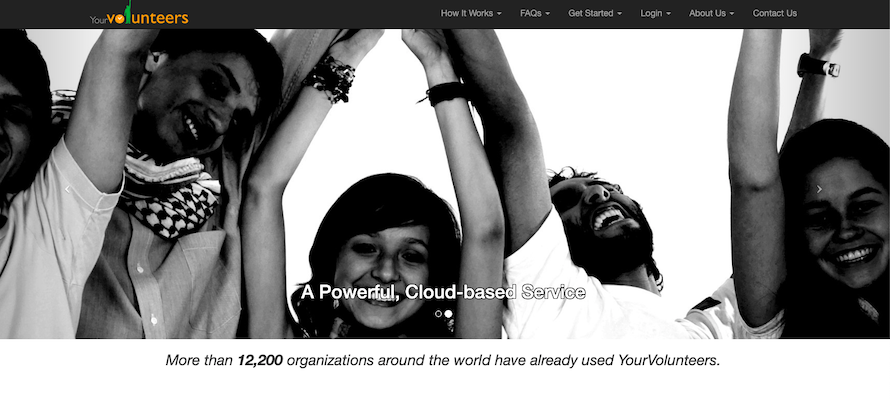 Its features include scheduling, engaging, and tracking services that have been used by more than 6,000 nonprofit organizations worldwide.
Notable features
Track work hours and no-shows for individual volunteers
Create shifts for your volunteers to choose from, or find those who are available for a shift and assign it to them
Pricing
The premium account is priced at $20/month.
Event volunteer management software
InIt Live
InIt Live lets you streamline your event volunteer management process. That means you can stay connected with your team in real-time and build your event schedule faster.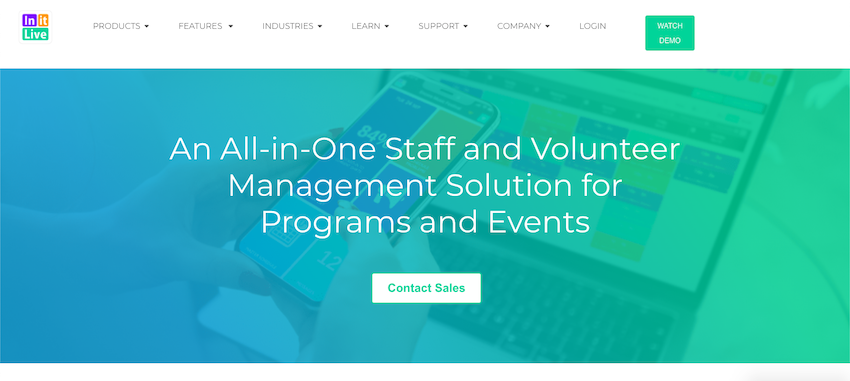 In addition, you can track key metrics like hours worked, shift attendance, and communication logs, providing you the visibility needed to scale up your event.
Notable features
Create a branded sign up page
Create defined roles for event staff
Staff can select their preferred language on the app
Pricing
Reach out for a call with their sales team here.
TRS Volunteer Management
The myTRS software is designed for mid to large events. Event managers can use the tool to manage their volunteers and short-term employees.
It also offers a ticketing system for general admissions, connecting the payments straight to your events bank account.
Notable features
Easy volunteer application from a computer, phone, or tablet
Online volunteer scheduling
Ticketing for your events
Pricing
Get a quote from them here.
QuickStaff
Quickstaff is an easy-to-use volunteer scheduling software that is specifically tailored toward event professionals.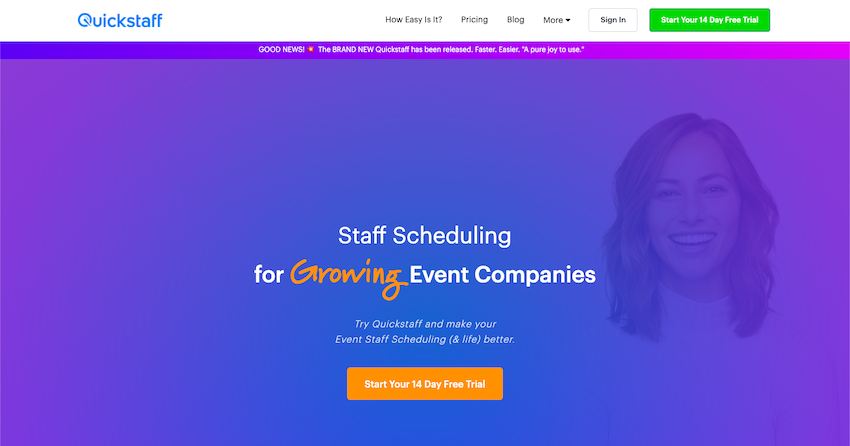 The tool lets you create events and invite your staff while monitoring their responses. The dashboard and calendar give you a snapshot of your upcoming events and an indicator for each event to let you know where you stand at a glance.
Notable features
Send alerts and notifications to staff
Real-time task scheduling for volunteers
Swapping shifts between staff is easy
Pricing
Pricing plans start at $59 per month and go up to $99 per month
What's next?
Once you've chosen the best volunteer management software for your needs, be it to recruit or mobilize volunteers, it's time to put them to use.
Get a head start by reading these articles on volunteer recruitment and management from CallHub:
Volunteer management strategies for nonprofits
Volunteer Management Best Practices For Each Stage Of The Volunteer Lifecycle
How To Recruit Volunteers for Political Campaigns
9 Volunteer Recruitment Ideas to Attract Talent During Pandemic
The Most Effective Volunteer Recruitment Methods and Tools for Your Cause