As a nonprofit, are any of these issues nagging you?
People visit your website but drop out at the most crucial point- the donation page
You have built strong relations with supporters. But even so, you are struggling to raise funds online
You have high fundraising goals, but the current online donation tool cannot meet them
Your website is brand new, and you are searching for a donation platform to partner with
Trusted online donation tools are the answer to your question, "How can I fundraise a lot of money fast?"
Here is a list of 17 online donation platforms that help nonprofits raise money.
Is there a free online donation platform?
Tempting as it sounds, every online donation platform requires at least a small payment.
However, some online donation tools charge you only transaction fees and may ask donors to give a voluntary gift.
These tools are a great fit for organizations that
Have limited funds
Want to cut budgets for donation tools
Are open to using tools with limited customization options
1. Donate Kindly
Embedding a donation form on your website encourages visitors to give without demanding additional efforts. Donate Kindly's intuitive widget editor makes embedding this form as easy as copying and pasting a code on your website.

Notable Features:
Customizable donation forms that can be embedded on your website
Encryption system keeps donor data secure
Helps you keep track of donor data and giving history
Pricing:
Donate Kindly takes 0% platform fees. They charge 2.9% + $0.30 per donation as a processing fee.
2. FreeFunder
FreeFunder allows you to create crowdfunding pages and share them among supporters. This online fundraising platform asks for voluntary micro-donations from your donors, and the platform runs with these gifts.
Notable Features:
Customizable, mobile-friendly crowdfunding pages
Thanking your donors and sending progress updates can increase donor retention. FreeFunder enables you to post and email updates to all your supporters.
Offers a text-to-donate feature so you can take your fundraiser offline too
Pricing:
FreeFunder charges 0% platform fees. They ask for voluntary gifts from donors.
Related Reading: Telefundraising and Text Message fundraising (Strategies and Tips
3. 99Pledges
99Pledges is designed for fundraisers related to education and school activities. Register both online and offline gifts to get an accurate measure of your campaign.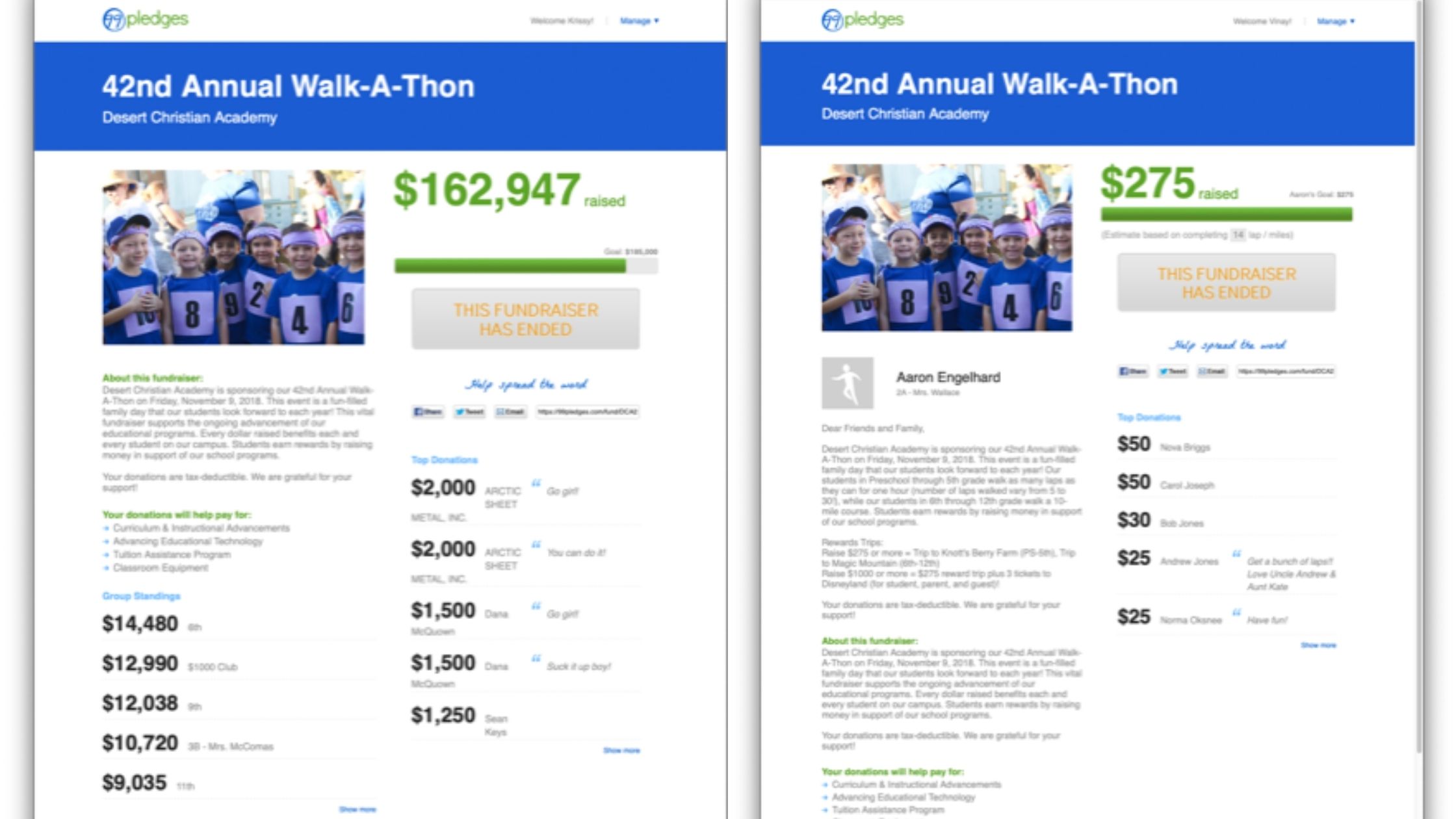 Notable Features:
Each participant gets their own donation page where individual goals and progress are marked. Set up is done by 99Pledges
The platform processes the entire donation amount within 24 hours of the fundraiser ending
Helps you track and share progress among peers.
Pricing:
99Pledges charges 0% platform fee. They charge the standard 2.9% + $0.30 per donation as a processing fee.
Read Next: 3 Creative Ways to Keep People Involved in Your Cause Online
4. Stripe
Many online donation tools are built atop Stripe- a payment platform active in 39 countries. They offer a subsidized transaction fee for 501(c)(3) organizations, and if you have an in-house developer, Stripe can be a great fit for you.
Notable Features:
Prebuilt integrations with hundreds of cloud and software companies that you can access without additional coding
They report a 24% lower cost of operations and 81% fewer unplanned outages- translating to an increase in your revenue collection
Stripe accepts payments in 135+ currencies and payment methods
Pricing:
Stripe takes 0% platform fees. They charge a discounted rate of 2.2% + $0.30 (for credit card transactions) and 3.5% on American Express cards to nonprofits with a 501(c)(3) status.
Note: Some online donation tools charge transaction or platform fees because they are built on top of Stripe. These platforms offer more customization options or additional features that do not require coding.
5. PayPal
If you don't have an in-house developer team and want to accept donations directly on your platform, PayPal is a good fit. The payment platform suits the needs of small, medium as well as large nonprofits.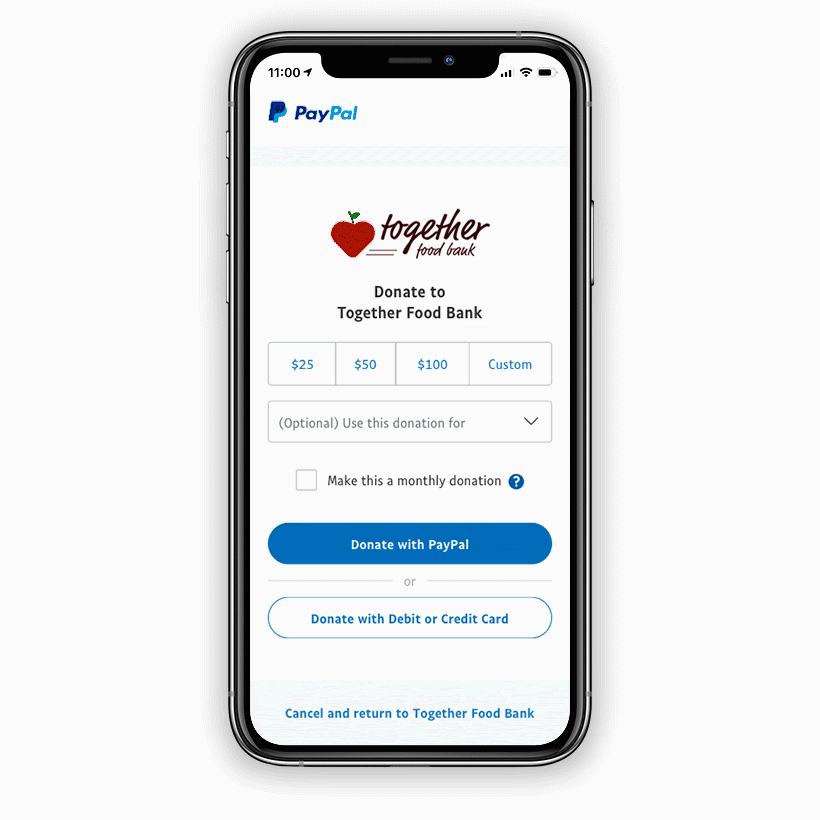 Notable Features:
Integrates with your app or website and adds a "donate" button. PayPal also offers other donation appeals like PayPal Checkout, Invoicing Tools, etc.
The "PayPal Giving Fund" integrates with other apps and gives better visibility to your nonprofit
Donations are processed to the registered bank account within minutes.
Pricing:
PayPal charges 0% platform fees. For nonprofits with a 501(c)(3) status, PayPal offers a subsidized transaction rate of 2.2% + $0.30 (for domestic transactions). For organizations without this status, standard rates of 2.9% + $0.30 per transaction apply.
Online donation tools that charge platform fees and transaction fees:
To ensure your goals are met, you need online donation tools that
Can target donors based on their giving history
Promise a high return on investment
Enable sharing of appeals with a variety of tools
Here are four such giving platforms:
1. Donately
Donately helps you build branded forms or pages and embed them on your website or launch the page. As they charge based on specific tools, Donately is an excellent option for small nonprofits focused on updating their online donation pages and systems. They provided embedded donation tools and peer-to-peer fundraising options.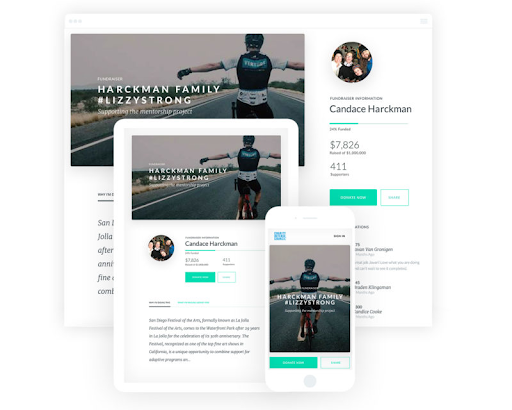 Notable Features:
Many customization options while being user friendly
Detailed donation tracking
Share donation appeals via text
Pricing:
For start-ups, Donately charges a 4% platform fee. For bigger organizations, they charge a $49 monthly fee (billed annually) and a 2% platform fee.
2. GoFundMe
GoFundMe has raised $9 billion in 10 years. Secure donations from this online giving platform via events, online donations, and more.
Notable Features:
Track and manage data with a mobile app
Get started on your donation appeals within minutes!
Email updates to donors and those who have registered on the platform in the last six months. Such updates increase your chances of getting new donors and retaining old ones.
Pricing:
GoFundMe has a paid plan for charities that charge a 3% platform fee + 2.2%+$0.30 processing fee.
3. Click & Pledge
Click & Pledge offers innovative solutions like TV Player, cloud fundraising, and card reader to reach donors. Its integration with the Salesforce CRM makes the online donation platform user-friendly and affordable.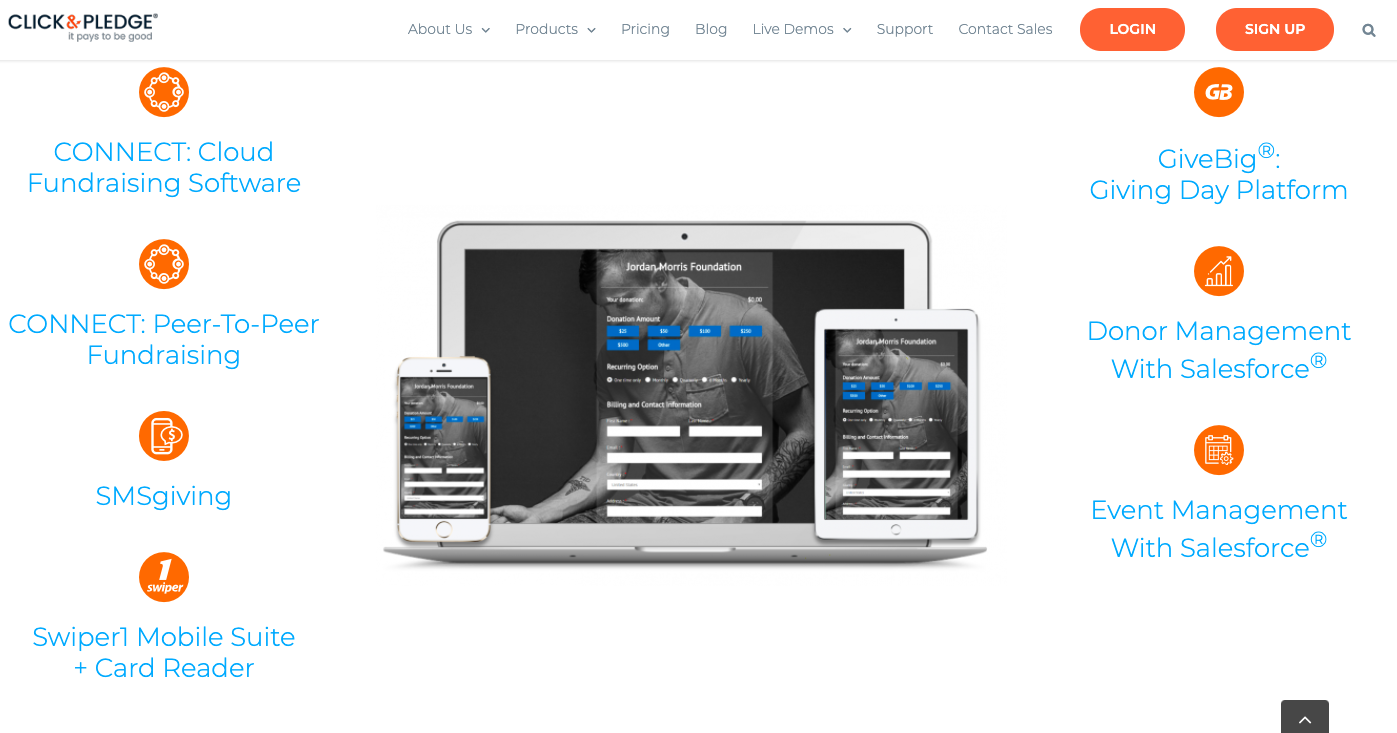 Notable Features:
Recurring donation option with weekly, monthly, quarterly, and yearly scheduling options
SMS giving and peer-to-peer fundraising
Create ads on Facebook and target your potential donors.
Pricing:
USA: Free merchant account with transactions charged at 3.75% + $0.37 and batch deposits, $1.50 per day. Pricing varies by country.
4. DonorBox
DonorBox, an online donation tool trusted by 35,000 organizations lets you integrate donation forms as fundraising pages, pop-up forms or widgets embedded in your website. These pages are mobile-optimized and can be localized in Spanish, French, German, Italian, Portuguese, Danish, and Swedish.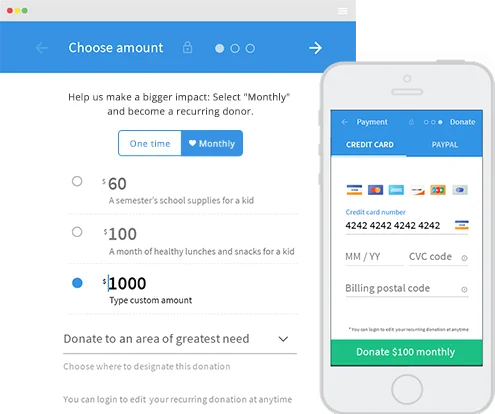 Notable Features:
Pop-up forms for websites.
Social media integration to Facebook, Twitter, and LinkedIn. Create a donor wall to display messages and feedback from supporters
Company donations and gift matching
Pricing:
DonorBox charges a 1.5% platform fee + processing fee of 2.2% + $0.30 (for PayPal) or 2.2% + $0.30 (for Stripe credit cards). Integration with CRMs are charged extra.
Related Reading: 4 Fundraising tips to guarantee Digital Fundraising success
Online donation tools with in-built integrations with popular tools:
Using tools that integrate with each other can save staffers a ton of time from shuffling data around in large spreadsheets. Integrations help you:
Centralize donor data
Improve communication with supporters by understanding your shared history
Equips you to identify repeat donors and prioritize them
We have shortlisted eight such CRM-integrating online donation platforms:
1. Blackbaud
Blackbaud is an all-encompassing platform that offers marketing, financial management, organizational, and payment service support. Its integration with CallHub– a text marketing and call center tool keeps your communication relevant to donor behavior and history.
Notable Features:
Access your contacts via CallHub and send personalized donation appeals through texts and phone calls
Peer-to-peer fundraising solutions that enable your supporters to appeal for donations on your behalf
Deep insights into your donors' financial, demographic, and lifestyle characteristics.
Pricing:
Fundraising pricing starts at $119 per month.
2. Anedot
Anedot offers nonprofits, political campaigns, schools, and churches a full suite of online fundraising tools. Their upsell features are particularly interesting, allowing you to make follow-up asks once someone donates. Data from Anedot suggest a 25% conversion rate for follow-up asks to nudge donors for recurring donations or gifts to partner organizations.
Notable Features:
Offers a text-to-give feature so you can share donation links via SMS
Anedote promotes donor retention with reminder emails for incomplete donation forms, recurring donation options and more
Integration with about 20 popular tools keeps donor data centralized. Integrations with tools like NationBuilder and i360 are especially helpful for political campaigns.
Pricing:
The online donation tool charges a 4% + $0.30 processing fee. Due to COVID-19, Anedot has reduced its pricing. To inquire, mail them on [email protected].
3. Classy
Nonprofits can use Classy to manage all of their online fundraisings in one place. It's a combination of acquisition tools, relationship builders, collaboration, and online donation tools. Classy also offers crowdfunding campaigns and peer-to-peer fundraising methods.

Notable Features:
Peer-to-peer fundraising, recurring giving, website donations, and international fundraising. They also offer an integration with Facebook to receive payments.
Integrates with Salesforce, MailChimp, Kindful, and other popular tools.
About 19% of first-time donors are retained by nonprofits Vs. 63% of repeat donors. Classy's 'recurring giving' option can help you retain more supporters.
Pricing:
Classy charges 0% platform fees and 2.2% + $0.30 transaction fees for Visa, Mastercard, and Discover, and +1% for American Express. There's also a monthly subscription fee. You can get in touch with them for more details.
4. CauseVox
CauseVox is designed to raise funds through different mediums like peer-to-peer fundraising, events, and recurring donations. It's a user-friendly platform that you can customize to keep your brand in focus.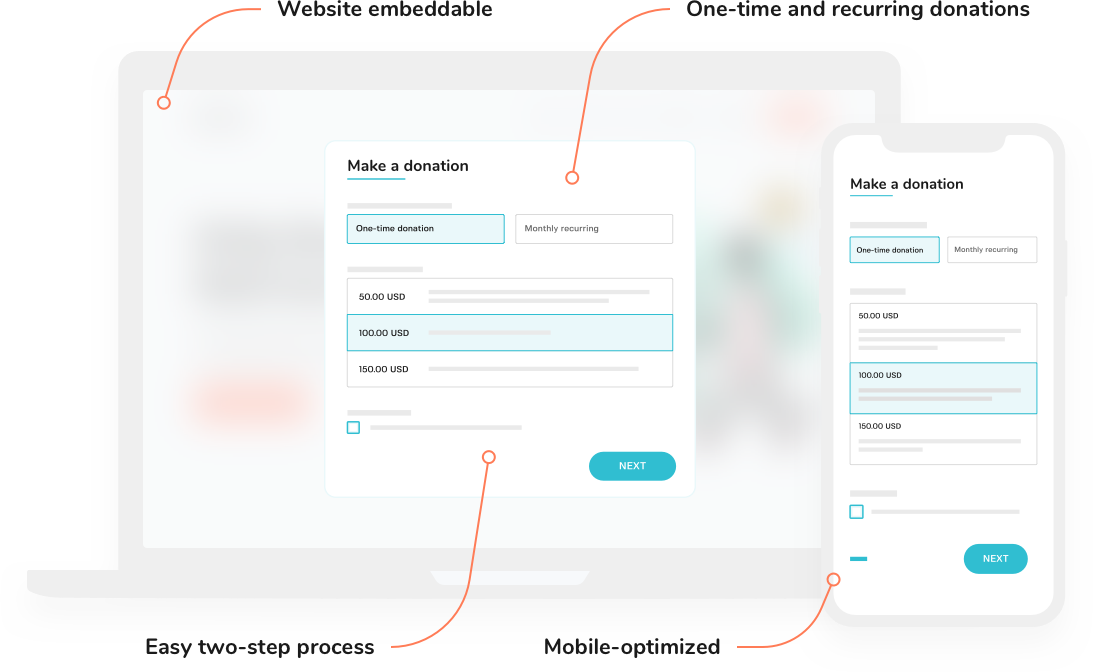 Notable Features:
Free 15-minute consultation to improve donation form designs
Their two-step donation process is time-efficient. Donors take less than a minute from start to finish- decreasing the chances of drop-offs.
CauseVox allows you to track campaign performance in real-time through automation.
Pricing:
The basic account is free and charges a processing fee of 2.2% + $0.30 per transaction (through Stripe and PayPal). However, if you want pro features and support, pricing starts at $135 per month + a processing fee.
5. DonateNow by Network For Good
DonateNow has a track record of raising $2.5 billion from individual donors to benefit 125,000 nonprofits. With features like email blasts, peer-to-peer integrations, bulk text messaging, and more, they improve your reach to donors.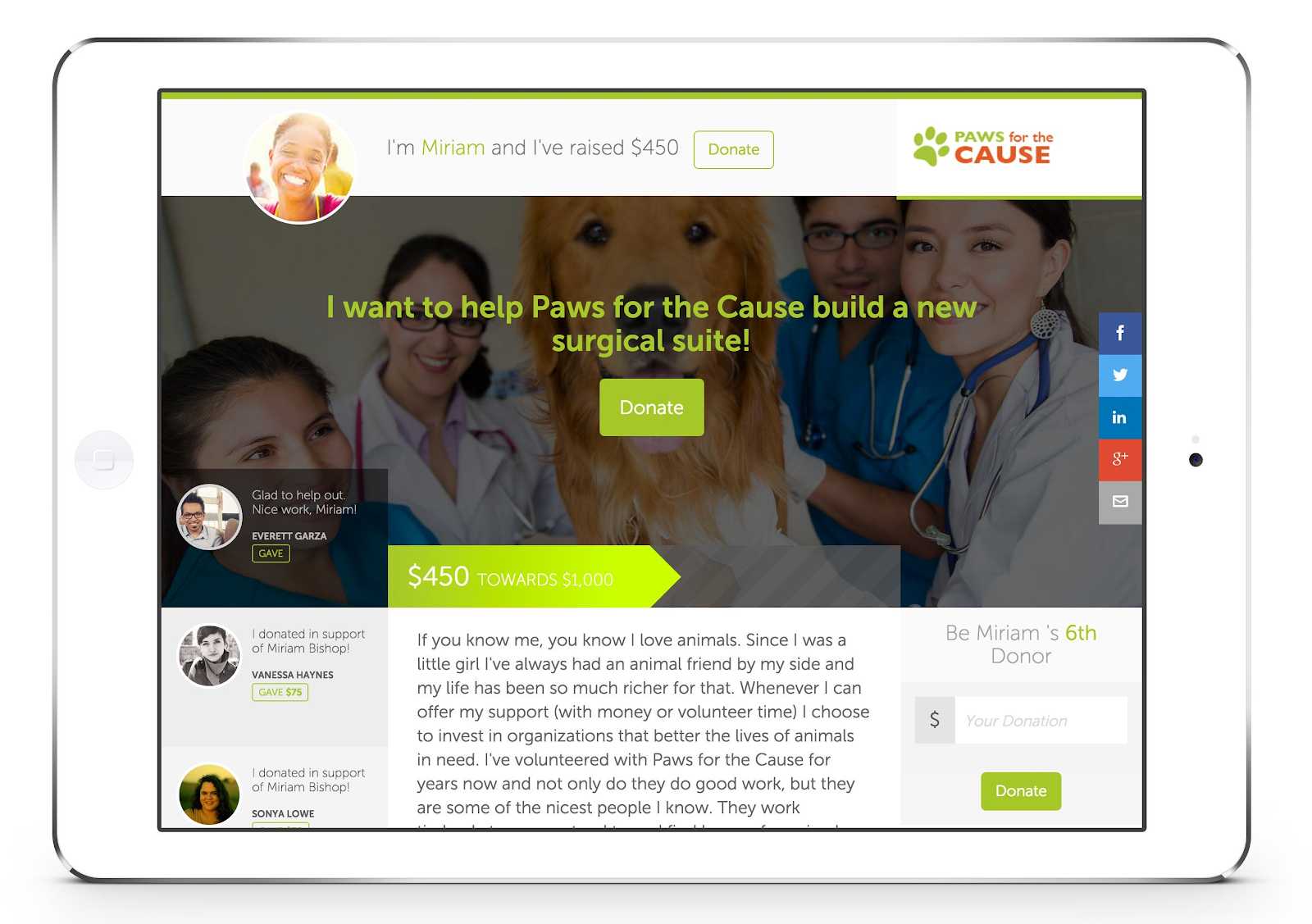 Notable Features:
Get tips and coaching from a fundraising expert to make the most of your campaign.
DonateNow creates donor lists based on behavior and categorized by demographics. This helps you find potential givers without much effort
They give step-by-step guidance to your donors and provide a one-click option to decrease drop-offs
Pricing:
Pricing starts at $200 per month and is billed annually.
6. CiviCRM
CiviCRM is an open-source customer relationship manager that comes with a full suite of donor management and online donation tools. It's an open-source tool that's going to require some effort to set up and maintain. They've built a solid support ecosystem around the tool over the years with integrations with tons of popular tools. So if you're a large organization with an in-house developer and want to save considerably on your fundraising management costs, go for it.
Note: The tool has been added in this section because it requires spending on maintenance and customization.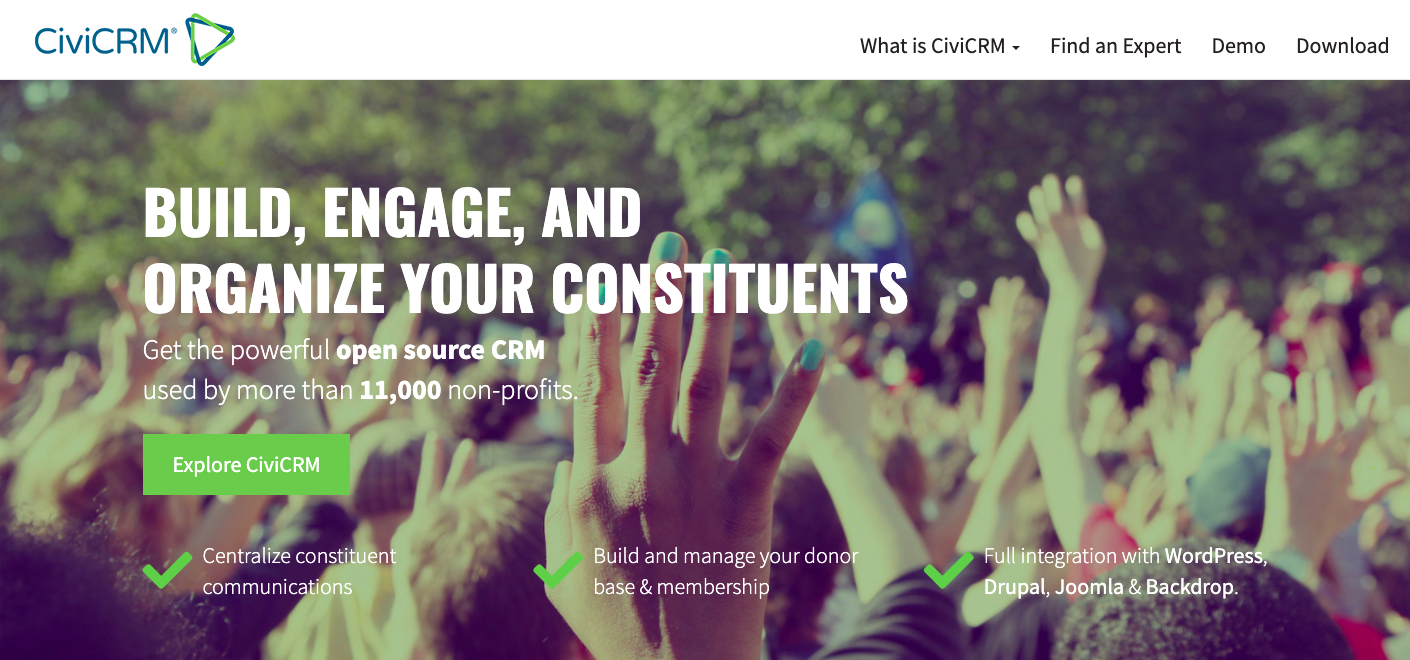 Notable Features:
Once donors contribute, they can set their own appeal pages for your fundraiser and invite friends, family, and peers to donate.
An extensive directory of extensions including call center software like CallHub, to improve communication with donors.
Integrates with Drupal, WordPress, Joomla, and Backdrop to allow donations, display event notifications, and more.
Pricing:
CiviCRM charges only the fee that your payment processor charges.
7. Fundly
Fundly's USP is its social media outreach. Their Facebook OpenGraph integration automatically broadcasts key progress of your campaign, improving social impressions. Donors are displayed on your activity feed, making new visitors more likely to engage with your posts and donate to your cause.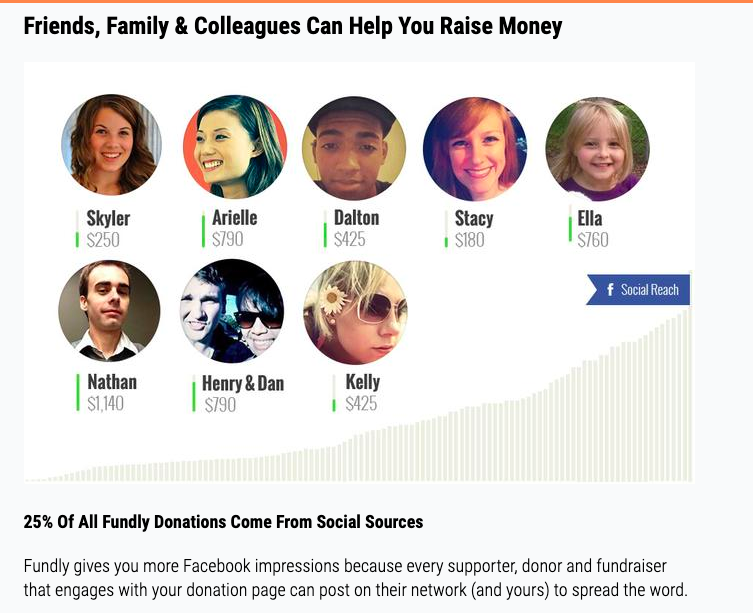 Notable Features:
Connects contacts via Gmail, SurveyMonkey, and Facebook. Peer-to-Peer fundraising via Facebook makes donor outreach easy
Fundly integrates with Stripe and processes your funds quickly. You can access them within seven days of the initial donation
Their free app lets you thank donors, increasing your chances of retention
Pricing:
Fundly charges a 4.9% platform fee. Standard transaction charges of 2.9% + $0.30 apply.
8. Snowball
Snowball is a mobile phone-optimized online giving tool designed for nonprofits. Their two-click features and text-to-give options makes giving easy for donors. Moreover, you are given the choice to opt for Snowball's payment getaway or integrate your existing one in the donation pages.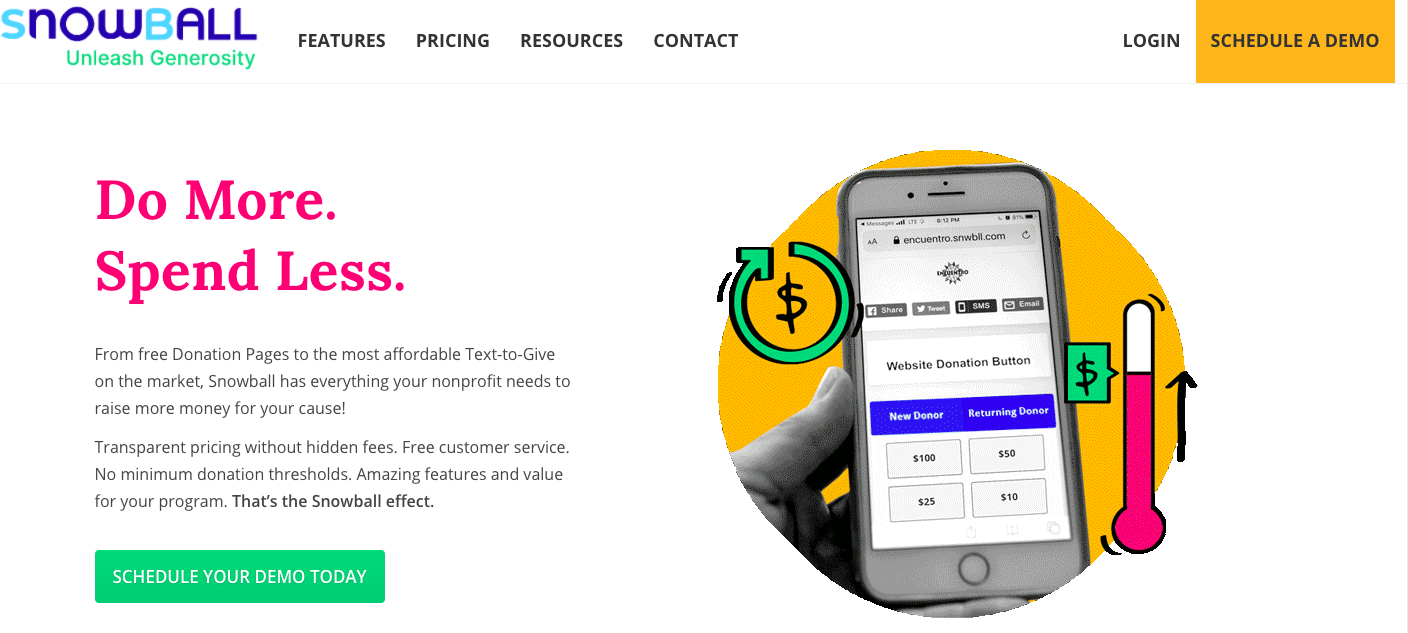 Notable Features of this online donation tool:
Donation button, donation pages, and text-to-give options
Real-time tracking of donations
Their premium account gives you unlimited text-to-give keywords, unlimited campaigns, and unlimited donation pages.
Pricing:
Premium account costs $549 per year (+2.2% + $0.30 per transaction). The enterprise account starts at $999 per year.
In Conclusion:
Online donation tools equip you with a broad reach to donors and guidance to make donation appeals more effective. However, as a nonprofit making these appeals, you must also know how and where people are willing to donate.
Mobile payments have increased manifold in the past few years and are set to contribute $274 billion by 2021. SMS marketing can be a game-changer for nonprofits raising funds.
To know more, read SMS Marketing: The Definitive Guide for Nonprofits and Political Campaigns or download our e-guide for more in-depth information: A Pocket Guide to Text Message Marketing for Nonprofits.
Feature Image Source: Melissa Walker Horn/ Unsplash