Almost all donations from new donors are impulse decisions.
If you want to ensure this impulse doesn't die down before the donation is made and you acquire the donor, you need to facilitate it over a platform that is:
Quick: it shouldn't take more than a couple of steps to complete the donation.
Easy to use: people should be comfortable with it and not have to learn anything new.
Texting is that platform.
People love texting, even prefer it. Everyone is extremely comfortable with it. Over 68% of consumers say they text more (at least 5X more) than they talk on their smartphones.
So it's only sensible that you need a way to collect donations through SMS. A text-to-give platform can help you with that. Here's everything you need to know.
What is Text-to-Give fundraising?
In text-to-give fundraising, a donor sends in a keyword to a shortcode expressing their interest to donate. When they do, a specific donation amount gets added to their mobile carrier bill.
The donation amount is pre-determined by your nonprofit and the text-to-give platform you choose. Carriers often limit this amount to $5 or $10 or $15. That's the amount you get each time they send a text.
For example, during the pandemic, the COVID-19 Response Fund raised $207,311,200 from more than 282,000 donors giving $25 or $50 through text-to-give.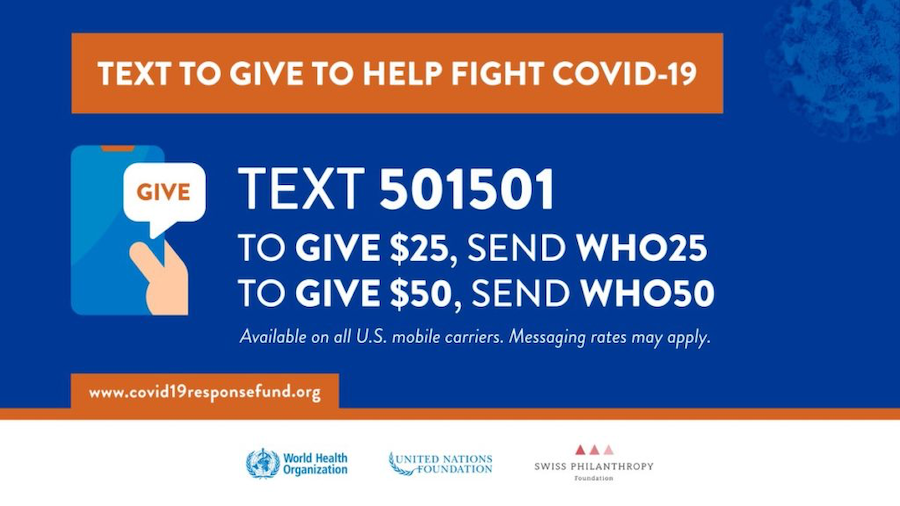 Pros and cons of Text-to-Give fundraising
Like any other fundraising strategy, text-to-give has its own set of advantages and disadvantages:
Text-to-Give
Pros
Cons
Quick and user-friendly process.
Delay in receiving donations. You only get the money after users pay their phone bills.
The absence of additional requirements (like credit cards or the internet) increases its reach.
Restricted donation amount. People can give only a specific amount with each text. They can send multiple texts, though, to donate more.
Flexibility – can be used to complement other fundraising formats (like emails, events, etc.)
No option for recurring gifts or acquiring donor data.
Most of the shortcomings of text-to-give can be tackled by using text-to-donate, another text fundraising method that people often mistake it for.
Text to give is also referred to as "Carrier Billing." But, organizations often use the term synonymously for text-to-donate, which is completely different.
In text-to-donate, people receive a link to the donation checkout form when they send in the keyword, instead of the amount being added to their bill.
Here's an example of the difference in the conversation flow of both:
To set up text-to-give, you need a text-to-give platform that partners with mobile carriers to collect donations. A text-to-donate campaign, on the other hand, can be easily set up using a dedicated platform or even a mass texting tool, like CallHub.
However, text-to-donate too has its advantages and disadvantages.
Text to Donate
Pros
Cons
Immediate impact. Funds are processed immediately.
Lack of branding in the checkout process.
Option to give a custom amount. People can choose from your recommended giving levels or enter an amount of their own.
Slight longer process. Has An additional step (to fill out the form) to complete the donation.
Engagement and SMS data collection. You can set up automated responses to follow up after the donation appeal and collect data and engage with donors.
Whether you decide to go for a text-to-give or text-to-donate campaign depends on your requirements. Here's a post that can help you make that decision: Text-to-Give vs. Text to Donate.
If you've decided on text-to-give, here are some of the best text-to-give platforms that you can consider using.
Best text-to-Give platforms for nonprofits
1. QGiv
QGiv is a nonprofit fundraising technology organization that provides tools to support a range of fundraising methods with a primary focus on event fundraising. One of these tools is a text-to-give platform that you can use to set up an independent campaign.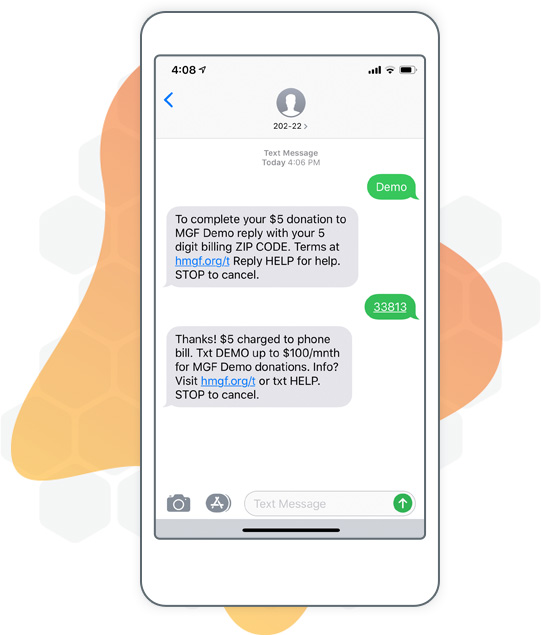 Notable features
One of the notable features of QGiv is its option for recurring giving. You can set a keyword for a monthly giving campaign, and when donors send in that keyword:
Their carrier will be automatically billed each month
They'll receive a helpful reminder message before each donation is billed
Donors can opt-out of this recurring giving option by replying STOP.
Pricing
There are three components of the pricing for QGiv's text-to-give platform:
Fee for first keyword: $1,788 (billed annually). They charge $1,188 for additional keywords.
Fee for each transaction: $0.5
Mobile Giving Foundation Application fee: $350
Text-to-Give approval requirements

All nonprofits need approval from the Mobile Giving Foundation to use a text-to-give platform and set up a campaign. There are certain mandatory requirements for this. The organization shall be:
Exempt from income tax under section 501(c)3.
Registered as a soliciting charity in all states in which the solicitation will occur.
In compliance with all applicable state and federal laws.
Operational for at least one year.
Transparent to the public with respect to its fundraising, finances, operation, and solicitations. It should also make its annual reports openly available to the public.
For more details, you can refer to their documentation here.
2. Give By Cell
Give By Cell is a predominantly mobile donations platform of which text-to-give is a huge part. The tool also offers a few add-ons like web-widgets that allow users to enter their phone number on your website and get the donation amount added to their bill.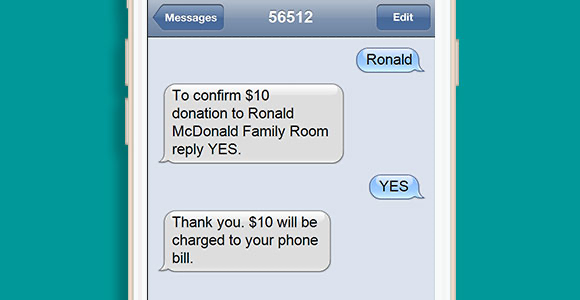 Notable features
One feature that stands out in Give By Cell is their "Fifth Message" add-on that you can use.
This feature can help you drive further action after the donation by allowing you to send a follow-up message. This message can drive donors to:
Subscribe to your mailing list or blog.
Opt-in to another text message flow.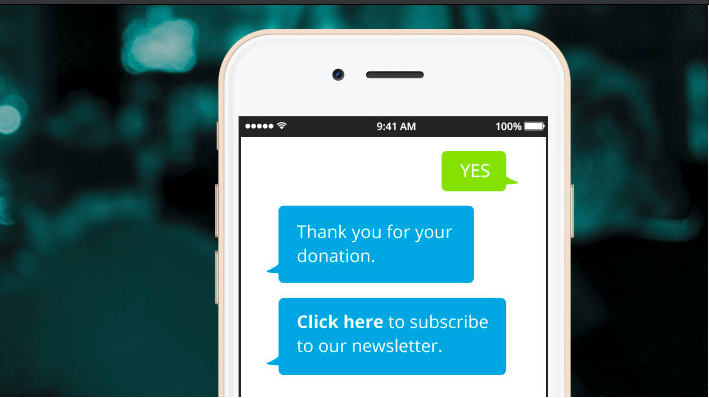 Pricing
Unfortunately, the platform doesn't have a fixed pricing structure. They create a custom plan for each organization based on their needs.
You can head on to their site and let them know your requirements and request a quote.
3. Donr
Donr is a platform that specializes in text-to-give. Given that their only focus is text-to-give, they are able to offer a few extra features that general platforms may not be able to. Most of these features are available as a part of the platform and not as add-ons.

Notable features
The most notable feature of Donr is its customizable messaging option. You can craft responses (which is a confirmation message followed by a thank-you) for when a donor sends in a keyword.
In most other platforms, the responses are standard statements.
Pricing
The straightforward pricing is another advantage of Donr. Here's what it is:
Fees per donation: 5% of the donation amount
Keyword fee: $0
Set up fee: $0
Monthly fee: $0
*Note: Donr is a UK based company, and their services are limited to the region.
4. The Mobile Fund
The Mobile Fund is also a dedicated text-to-give platform. Their "Engagement Platform" offers text fundraising and engagement services to nonprofits of all types.
Notable features
Apart from text giving, The Mobile Fund platform also enables you to collect donations over text through:
Credit cards
Mobile wallets
If you don't have these features set up currently, the organization can help you with that for an added price.
Pricing
The text-to-give feature is only available as an add-on, so you will have to sign up for their entire engagement platform. Here is what that costs:
Set-Up Fee – $99
Monthly Access Fee – $149/month (includes 5,000 outgoing SMS messages, 2 keywords, unlimited inbound messages)
Carrier Billing Application Fee – $350 non-refundable
Donation Processing Fee – 3% of the donation amount
Text to Donate: A text-to-give alternative
As mentioned earlier, a lot of limitations related to text-to-give platforms can be overcome by using a text-to-donate campaign.
To set it up, you can either look for a dedicated text-to-donate platform or use a mass texting solution.
Generally, organizations prefer using a mass texting solution, given the additional functionalities. With a dedicated platform, you'll be limited to collecting donations. With a texting tool, you'll be able to engage and mobilize supporters too using:
Setting up a text-to-donate campaign is a simple four-step process. Here's how to set up text-to-donate on CallHub.
Step 1: Select the option to create an SMS Opt-in campaign.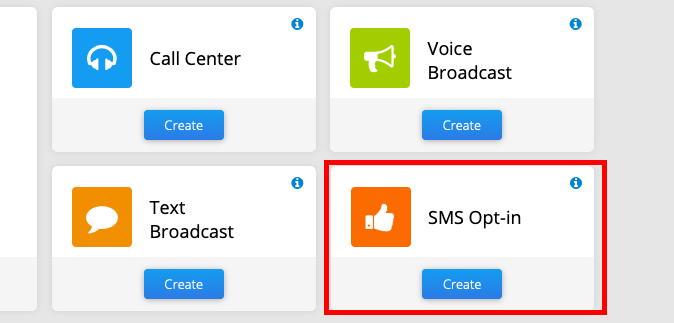 Step 2: Select a phone number and keyword of your choice for the campaign
You can rent a shortcode or a long code and a keyword of your choice automatically.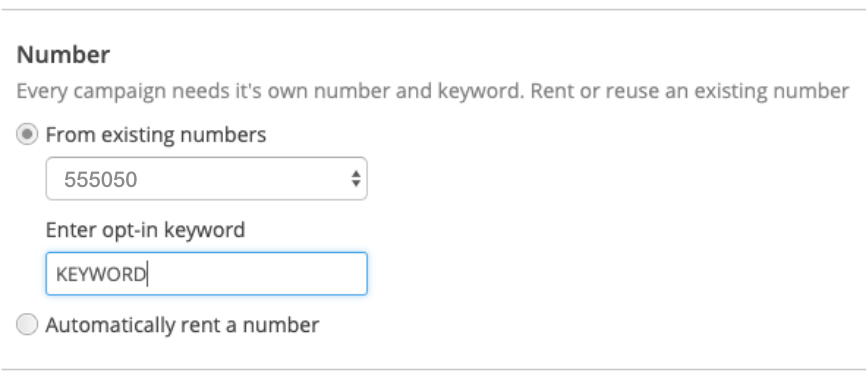 Step 3: Create a new contact list to save all the contacts that send in the keyword. 
The next step in setting up the campaign is creating a new contact list to save the numbers of those who opt-in. This makes it easier to export these contacts to your CRM and add them to a nurturing flow. 

Step 4: Craft the message (which includes the link to the checkout page) to be sent to the donor when they send in the keyword.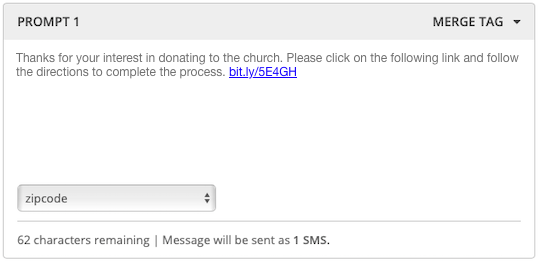 Set a schedule for the campaign and hit start. That's it; the rest is taken care of automatically.
Takeaway
Having a text fundraising strategy is essential for nonprofits today. It is the quickest way to donate and can be integrated with other fundraising methods too.
For example, you can display the keyword and shortcode to collect donations during a virtual event.
The tools we listed above are some of the best text-to-give platforms that can help you with that.
But, if it seems complicated, you have the alternative of using text-to-donate. Sign up for CallHub for free to try out a text-to-donate campaign and see your fundraising efforts shoot up.
Featured image source: Pixabay