Selecting a great church gift software is a significant decision to make. If you get it right, you'll have a setup that takes care of all your fundraising and donation initiatives, generates reports, and aids the church in making decisions.
No matter how basic or advanced your needs, a church gift software is definitely worth exploring.
Here's why a church needs to look into a good church gift software:
It makes donating virtually easy and convenient. It allows for quicker decision-making on donations.
Nearly 72% of the population carries less than $100 in their wallets. Online giving increases the chances of a more significant donation than in-person, cash-only donations.
Considering online giving is a great way to collect donations and a church gift software is essential in making it possible, what are some features you must consider before selecting one?
What are some features you must look for in a church gift software?
Helping your administrative staff make quicker and more efficient decisions requires a software that addresses the challenges uniquely faced by your church. We've compiled a list of features that might resonate with your requirements. Here's what you should look for in a good software:
It is focused on your church.
A good church giving software must be easy to customize as per the needs of the church. In addition, a swift and responsive customer support team is a must to guide you to get the best results.
Less manual, more automated process:
The church is paying for a great software to help ease its process. It would be counter-intuitive to spend more manual hours making the system work better. A good software must make your work easier, not more complicated, and time-consuming.
Allows check scanning:
Checks are a popular way to donate money to the church. Allowing check scanning and envelope numbers are a great way to ensure more people have access to donate money easily. Find a church giving software that provides this feature.
Keep track of donations:
You may receive a lot of donations, but with it come many questions:
Who donated the money?
How much money was donated?
How much money does the fund contain at a certain point in time?
Which is the best time/season for church giving?
These and many more metrics can be taken care of with a good church offering software that tracks donations.
You May Also Like: How to Write a Great Phone Script for Ministry Fundraising (Sample Scripts Included)
Dashboards for the admin, staff as well as givers:
Different dashboards allow clarity and enhance collaboration between team members. The admin holds control over the kind of information available to the staff and volunteers and can assign work to everyone.
Bonus points for a giver dashboard with features that show their lifetime donations, attendance and other such statistics.
Should enable personalized communications and acknowledgments:
72% of consumers engage with marketing messages that are customized to their specific interests. Including their name, the name of the group or church they belong to will make your messaging more meaningful to your audience.
Whether they are email communications, text messaging or phone calls, a software that enables personalization is a great investment. Keep in mind that any software you select must either provide a range of communication tools or integrate with a communications tool such as CallHub easily.
Should enable mobile giving and text to give:
Mobile giving and text-to-give options are increasingly in demand. With everyone owning a smartphone, donations via text message are easy to acquire with the proper messaging. In fact, in 2018, faith-based organizations saw the greatest increase in giving with an 18.1% increase in mobile giving. See if your church giving software supports this feature.
Generate reports to suggest areas for improvement
The most important feature in a church offering software is its ability to generate reports that can be easily read and understood. Reports will help you analyze what is working for the church and which initiatives are not worth pursuing anymore.
Reports will also help you identify members of the church who are the most active and more willing to donate and volunteer.
There are many more metrics you can know from a good church gift software, such as family connection, attendance, etc., which is different for each software. Determine the needs of your church and look for features that align with the needs.
For example, if you need to increase fundraising, find out if the software you are looking at offers an in-built fundraising dashboard.
Now that you know some features to look for let's explore some of the top church gift software available in the market.
Top 7 church gifting software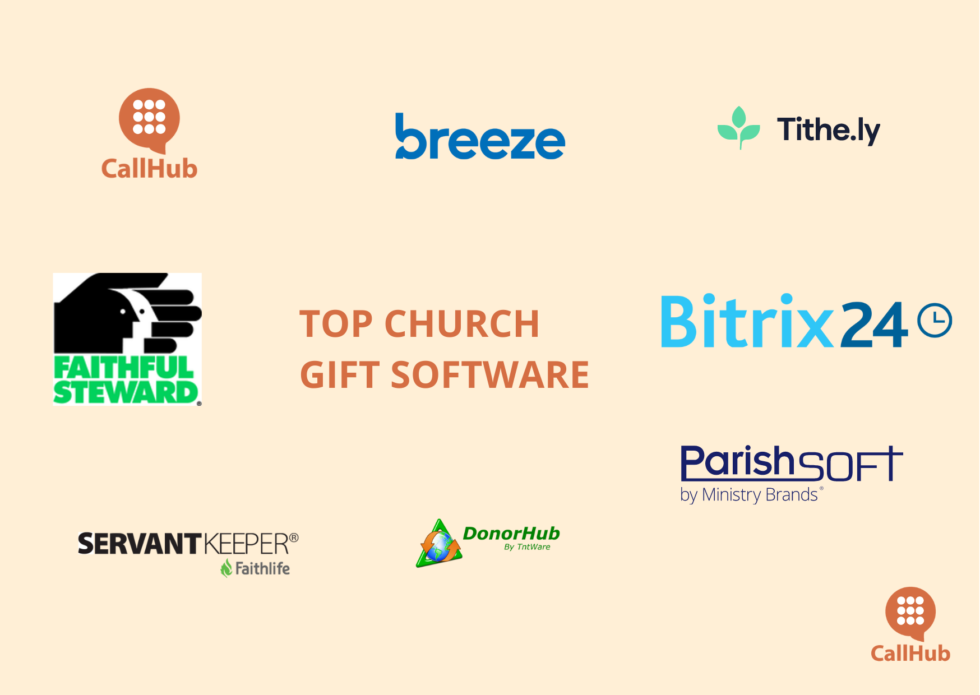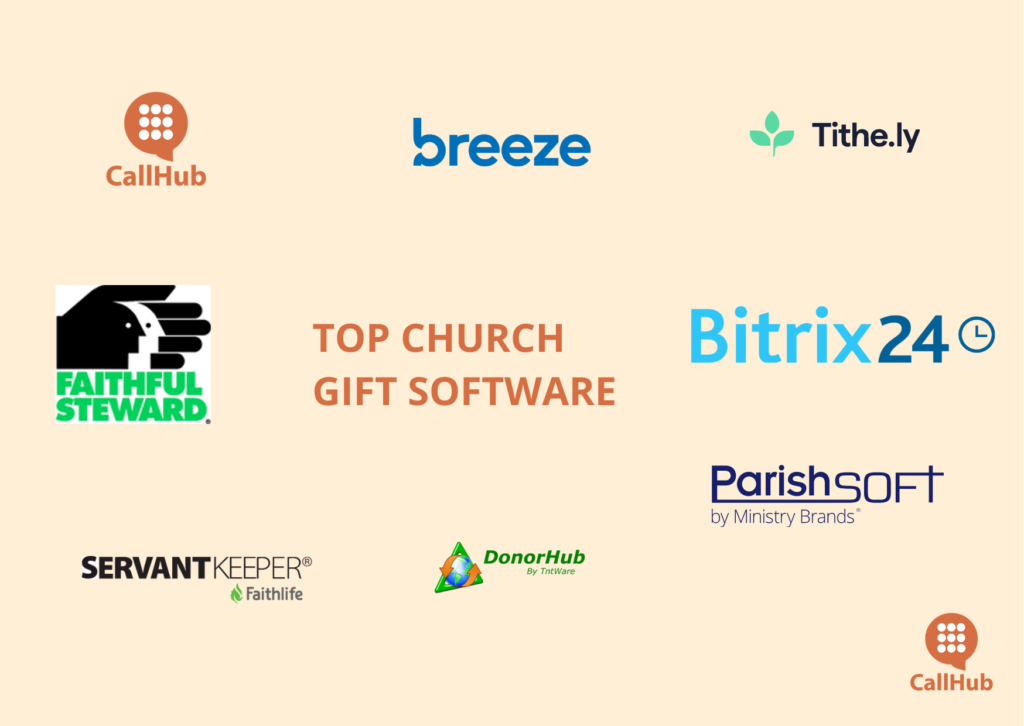 From comprehensive church management software to specific need-based software, we've compiled a list of the top church giving software you need to know about.
Breeze
Breeze is a cloud-based church management software that is focused on four primary sections:
People: This section helps a church manage people connected to it. They have great features that will help you manage all your contacts:
Individual profile views: The administrator can click on any contact and reveal all information related to them, including their family, the groups they are a part of, the donations they have made and events they have attended.
Filters: Easy filters to assist you in knowing more about your church's demographics and target your outreach initiatives.
The number of contacts: Add as many people as you like with no changes in price.
Tags: This section allows you to organize the groups within your church and keep lists up to date by categorizing each contact according to different variables/tags you choose.. With tags, you can:
Group volunteers and members into different lists.
Schedule messages and see who has read them.
Events: Events helps you manage everything related to calendar management, volunteer schedules and event check-in.
With check-in, you can keep a track of who attended which event and when.
You can pull out child tags and corresponding parent tags to ensure that the right person picks up the right child.
Set up email alerts if people stop coming.
Contributions: The most important section when speaking about a church gift software. Contributions help a church easily record gifts and who they came from. You can generate donation reports, create customized giving statements, and offer online giving and text-to-give. With this feature, you will be able to:
Know who gave what, when, how much and where.
Develop monthly, quarterly and yearly reports.
Use envelope number or check scanner.
Link the fund to which the donation is going.
Pricing: Breeze believes in one price for everyone model, aiming primarily at small and medium-sized churches. They charge $50 per month irrespective of the size of your database.
ParishSoft
ParishSoft is specifically designed for the catholic church.
With ParishSoft, you can:
Track the contributions of your family and other member contributions and manage pledge campaigns.
Get the information you need to send out thank you letters, reports, and statements.
Itemize all income to proper funds and connect it with correct donors. This is doubly ensured through their audit trail document.
Get in-built tools like quick reports, dashboard search, and expert reporting.
View data on the page you are currently viewing and not have to navigate elsewhere.
Easily access offering and pledge data from the office or home as long as you have an internet-connected device.
Features:
Donor information is saved in the ParishSoft family suite. So you do not have to enter donor information multiple times.
You can access census, record management, and communication tools from anywhere and any device.
It enables predictable income, easy setup, and more ways to connect your parish than ever before.
Members have the option to either give one-time or set up recurring giving.
Online forms track registration for classes and events for registration and payment tracking.
Set up alerts as well as create efficient reports.
Pricing: ParishSoft's giving software starts at $19 per month. Its most popular plan costs $49 per month, and prices can go up to $25k+ Per Month for high-volume clients.
Faithful Steward
Faithful Steward is a desktop-based software solution that works on your local computer. They also have web-based church gifting software called Faithful Steward Web.
They provide unique church management software features and help manage church administrative tasks.
Features:
The flexible group feature helps you manage the church's small groups
The church bookkeeping software posts your donations into Quickbooks or Peachtree.
Faithful Steward Desktop allows users who are using the Windows version to share information with users that are using the Mac version of the program and vice versa. It helps when a church decides to shift from one type of system to another.
Pricing: Faithful Steward charges on a per-system basis. The prices start from $199 for 1 computer and $597 for 3 – 5 computers.
Tithe.ly
Tithe.ly has tools specifically built for churches and ministries to increase giving and engagement. It enables the church to give securely from anywhere and at any time.
Tithe.ly has some unique features that have been built keeping in mind the unique needs of a church, especially as a church gift software. Some of its best features are:
Accommodating six ways to give (mobile, text, online, kiosk, check-scanning, and offline) into one easy-to-use platform.
Funds can be deposited daily, weekly, or monthly into the bank account.
Creates in-depth reports to track donations, funding, transactions, and deposits.
You can record your online and offline transactions onto a singular consolidated system with Tithe.ly's cash and check gift entry tools.
Donors can set up auto-recurring donations with just one click to improve giving consistency.
Its Cover the Fees™ initiative allows donors to cover the processing fee of the donation, so the church receives 100% of the donated amount.
Donors have the option to text-to-give. They can simply text an amount to the church's custom number, and the contribution will be made.
Its QuickGive™ feature allows donors to donate in just a few seconds with just one tap.
Pricing: For the church apps, Tithe.ly costs $59/mo with $149 as the Setup Cost. Users could also choose to include the ChMS, messaging, and sites features with additional charges. A complete Tithe.ly software package comes at $99/mo and $149 Setup Fee.
DonorHub
DonorHub is managed by TntWare and is responsible for sharing information about donations and accounting systems with your staff. It integrates with fundraising management programs like TntConnect, MPDX, Karani or DonorElf so that data is automatically uploaded on the system.
DonorHub generates an online report on current balance and transactions, eliminating the need for your office staff to add more work to their plate. The data is directly fed into DonorHub's systems.
Features:
DonorHub is built on the foundation of Tntware applications and hence is fully reliable and secure.
You have the option to change your donating system without changing the support-raising tools for your staff.
Pricing: The cost to subscribe for DonorHub is $65/month, plus $1/month for each staff unit (missionary family). The Account Report is an additional $35 per month (optional).
Servant Keeper
Servant Keeper is the complete solution for your church database management needs. Its church giving software, has features such as contribution tracking, which keeps track of your donors and transactions quickly, efficiently, and accurately.
Features:
Entry screens that enable easy recording of giving by name or envelope number.
You create your own customized giving page.
Your donors can donate with an online check, debit card, or credit card – whatever suits them best.
Auto-entry of any gifts previously given, saving time for employees.
Comprehensive reports so you can quickly analyze the contributions.
Helps audit trail by keeping track of everything before and after contributions.
Links to any Quicken/Quickbooks compatible accounting program. No double entry is required!
Enables paperless statements through email to save time, money and helps you "go green."
Pricing: Servant Keeper pricing starts at $9.99 per feature per month. They do not have a free version. Servant Keeper offers a free trial.
CallHub
Text-to-donate platform
CallHub is a more cost-effective cousin to all the other comprehensive solutions mentioned above. If you haven't totally bought into the idea of management software, CallHub serves as an excellent stepping stone while providing an effective gifting solution.
Read Also: Text-to-donate VS text-to-give, which to use for nonprofit fundraising?
A text-to-donate campaign is a simple, uncomplicated way of getting your congregants to donate. Your supporters text in a keyword to your number, and a link to the donation page is automatically sent to them. They just need to click on it and fill the form to complete the donation.
This makes it extremely easy for people to donate to the church as compared to any other method of donation.
All you need to do is set up the text-to-donate campaign and promote it across all your channels!
Here are some advantages of the text-to-donate campaign:
Ease of donation process.
Encourages receivers to donate immediately sitting on their couch or at their office desk – anywhere, anytime!
Suitable for both big and small donations.
If you are prepared to take your church giving initiatives a go but aren't sure about the platform, we say you give CallHub a try!
Sign up for a free 14-day trial to get your church giving initiative going!
All the best for selecting the best church gift software for your church!