More often than not, nonprofits view a donation as a one-time transaction between a donor and a charity. Without systems in place to keep interacting with donors after the first donation, most nonprofits have a hard time with donor retention. Hence, it is essential as a nonprofit to have a plan to keep in touch with the people who matter – Donors.
What is donor retention?
The essence of donor retention is bringing donors back to your organization to make donations periodically.
When donor retention is high for a nonprofit, it means they have established a level of mutual trust and respect with a majority of their supporters.
Donor Retention vs. Donor Acquisition
Naturally, as a nonprofit, you need to do both. Getting new donors is just as important as keeping the old ones.
However, if you had 100 donors last year, and more than half of them did not give again this year, then the new donors or first-time donors you are acquiring are just replacing the old ones. That means your growth as a nonprofit stagnates.
"In 2017, every 100 donors gained was offset by 99 donors lost"

Fundraising Effectiveness Project
Besides, the cost is also a factor.
It typically costs around five times as much to solicit a new customer as it does to do business with an existing one.
Dr. Adrian Sargeant, Fundraising Pioneer
In short, with a focus on donor retention, you spend less to get more.
You can calculate your donor acquisition cost yourself by using this formula:
DAC = $ spent on new donor acquisition / # of new donors acquired
All you need to do is look at your marketing/acquisition expenses, as a whole or per channel, and divide that by the number of first time donors acquired to get your organization's donor acquisition cost.
Why donor relations matter
Donor loyalty is vital for donations, and the stats back that up.
Let's assume you have 10,000 donors giving an average of $50 in a year. That's $500,000 in a year. If you retain 40% of those donors, with the same average donation, that's $200,000 for the next year.
With just a 10% increase in your retention rate to 50%, you would net $50,000 more. That's a considerable increase in donations, especially when compounded from year to year.
However, building a good relationship with your donors is not just about getting them to donate year after year.
A long-term partnership with your donors stands the chance of them becoming volunteers, fundraisers, and ambassadors/promoters for your cause.
That's not something your nonprofit can stand to miss out.
Read Next: Make Calls and Retain your Supporters.
What is the secret to donor loyalty?
You have probably seen how the for-profit sector goes about creating customer loyalty with things like loyalty cards, cashback, or frequent flyer miles. Most of these methods are based on the premise that customers love personalization, caring & appreciation. And it's true.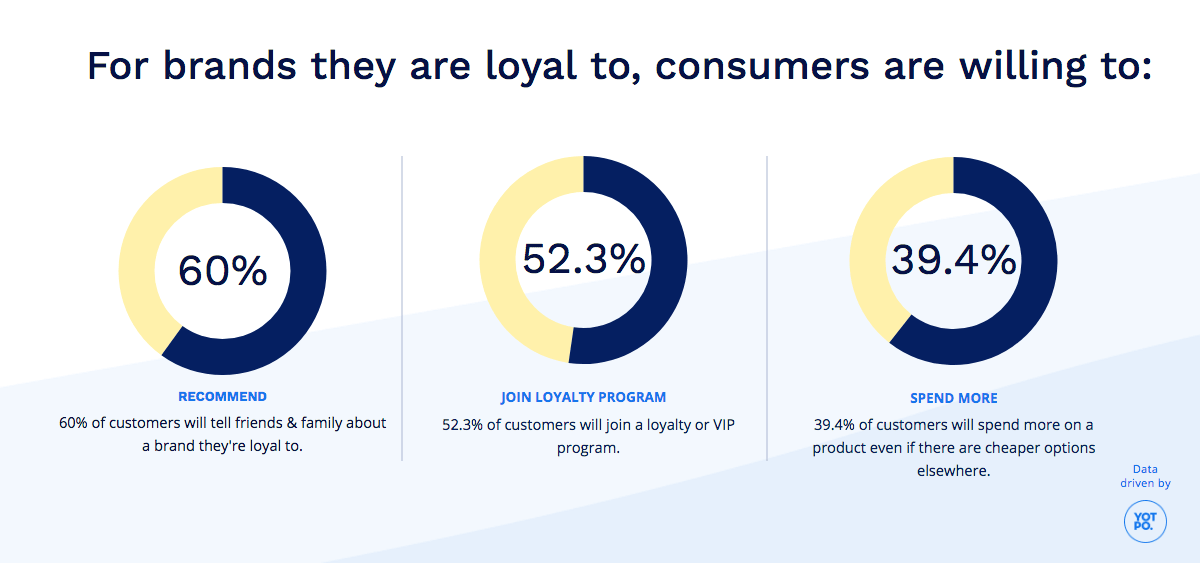 52% of American customers said they would join a loyalty program with a preferred company.

Yopto, State of Customer Loyalty in 2018
Can nonprofits learn something from businesses to acquire loyal donors? When it comes to sheer persistence, yes. However, the approach to donor loyalty is entirely different.
The practice of fostering trust and respect with your donors helps make them feel comfortable enough to donate.
Understand donor behavior – Why donors give?
Understanding your donors and what motivates a contribution to a charity is necessary to start building donor loyalty.
Here are the most popular reasons that motivate someone to donate to your charity.
They trust your organization and believe that their donation will make a difference.
They care deeply about the cause and your mission.
They want to feel good.
They are influenced by their peers to give.
They get tax breaks for donating to charity.
Let's dive into the details.
1. They trust your organization and believe that their donation will make a difference
Trust is built through transparency, showing impact, and regular communication with your donors. Showing donors exactly how their donations are being put to use to further your organization's cause goes a long way in encouraging donors to give again to your charity.

Charity: Water does this exceptionally well with its Dollars to Projects feature, which allows donors to track their donations and see what projects their money is funding.
2. They care deeply about the cause and your mission.
Some donors come looking for nonprofits that serve the cause they care about. They will donate and continue to do so. For others, you will need to communicate the importance of your purpose continuously.

Tell a compelling story about the people you are helping and get that in front of your existing donors.
3. They want to feel good.
Acknowledgment feels excellent for everyone. This is why thanking your donors as soon as they donate is so essential.
Make sure to send a prompt email or text, thanking them and showing them how their contribution will help the cause.
4. They are influenced by their peers to give.
Donors are more motivated to give If a friend or family member is involved with a nonprofit.
Have your existing volunteers and fundraisers reach out to the people they know and ask them to donate or re-up their donation to your nonprofit.
5. They get tax breaks for donating to charity.
For some donors, tax benefits are a factor that might convince them to donate again.
Make sure you communicate those benefits in your correspondence with your donors, via e-mails and in your annual appeal letter.
Building donor loyalty
A relationship between nonprofit and donor takes time and effort to build.
As a nonprofit, one of the most important things you can do to build loyalty is to communicate.
Here are some popular donor communication examples.
Sending a text to thank them for a recent donation
An email on how your campaign is doing
A social media update that shows how much impact your nonprofit has had so far.
These are just a few examples of how you can craft your nonprofit's communication strategy to engage your donors. We will explain how to do this, keeping your organizational goals in mind.
In order to improve retention, you would also need to understand donor churn.
What is donor churn?
Donor churn or attrition is the percentage of donors that donated to you last year that didn't donate this year.
These donors are often referred to as lapsed or churned donors.
Here's a trend of donor attrition rates from 2007 to 2017.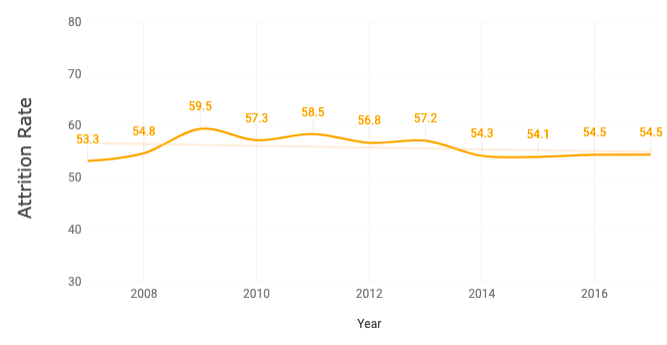 More than half the donors for the average nonprofit leave every year. This attrition data gives you a solid case for focusing on donor retention for your nonprofit.
There are many reasons why previously active donors might lapse for your nonprofit. Here are a few common ones.
They think the charity didn't need them
They don't feel appreciated for their donation
They received no information on how their contribution created impact
They don't remember giving to your charity
They can no longer afford to donate
Fortunately, a lot of them are under your control.
Steps to improve donor retention rates
A suitable donor retention plan is informed by the data that your nonprofit is collecting from its campaigns and donors.
Calculating donor retention rate
As a fundraiser, there are a few metrics that determine the overall health of your fundraising programs.
One of those is your donor retention rate – The percentage of donors who have donated previously, also referred to as the repeat donors.
You can calculate donor retention rates for different categories of donors:
First-time donors are new donors from last year who donated again in the subsequent year.
Repeat donors are those donors who were retained last year and donated again in the subsequent year.
Reactivated donors are those that lapsed for a period of time and later started giving again.
How to calculate donor retention rates
The first step to measuring your donor retention rate is gathering data. You need to identify the groups of donors that donated the previous year and check if they have given again for the subsequent year.
Now, depending on which group of donors you choose, you can calculate the overall retention rate, first-time door retention rate, or the repeat donor retention rate; however, the basic formula remains the same:
Donor retention rate formula
DRR = (Number of returning donors (current year) / Number of previous years donors) X 100
Average donor retention rate
The average total donor retention rate for nonprofits in 2017 was 45.5% – That is, only 45.5% of donors who made a gift in 2016 gave again in 2017.
Besides, the average first-time donor retention rate was 28.70%. The reactivated donor retention rate was 39.28%, and the repeat donor retention rate was 59.88%.
We can see those repeat donors have a higher percentage of giving again in subsequent years.
Read Next: Everyday Strategies for Small Donor Retention You Need To Follow
Collecting Donor Data
Researching donors – know your donors.
The data you track will provide the foundation of your donor retention strategies and how you engage every donor. Some useful data points to note are:
Donor's preferred medium of communication
Donor's preferred communication frequency
Donor contact details
The average donation amount for each donor
Frequency of donations
Donor's motivations for giving
Every nonprofit communication caters to a unique audience. Figure out what can help you deliver more personalized messaging for your audience and collect the data accordingly.
Managing donor data
Putting together an effective donor retention strategy for your nonprofit needs you to store and access a ton of donor data. That calls for you to invest in a way to manage all this data for your nonprofit.
Donor management spreadsheets
Spreadsheets for donor management are a common way of keeping track of essential data like donor names, contact details, and gift amounts. Spreadsheet tools like excel and google sheets are simple to understand and easy to set up.
Pros
Not much training is required to handle a spreadsheet
Free to set up
Cons
Not easy to track relationships between data in different spreadsheets
There are no tools to ensure data integrity
Manual data entry may result in errors
Donor management software or Donor based CRMs
Donor management software is a CRM tool for nonprofits that allow you to store not only your data but also track your supporters.
It helps you organize, analyze, and strategize how you communicate with anyone who has donated to or otherwise supported your organization.
Pros
Consolidate all your data without the need for multiple sheets
Automate donor follow-ups from within the software
Cons
Some training may be required to navigate the software
Most fully featured CRMs cost money
Read next: Benefits of a Donor Management Platform
Choosing a donor database management software – What to look for?
Some software are more robust than others, with different features, but they all have some donor management tools in common. Depending on what your organization needs, you might look for:
Donor segmentation
Personalized communication
Payment processing
Email Marketing – Among other things
Segmenting donor data to make informed decisions
Segmenting donors
Divide your donors into groups. Find your major donors – the ones who make the most substantial contributions to your fundraising campaigns. Find those donors who donate the most frequently to your nonprofit. Here's a guide on building donor personas for your nonprofit.
Here are some meaningful ways to segment your donor data:
Donor type
You will find it helpful to categorize donors by the kind of gift they provide to determine the resources you put into communicating with them. Do it based on whether they have made major gifts to your organization, or they are part of your recurring giving program.
Demographics
Segmenting your donors according to age, location, or household income will allow you to plan your donor retention strategies according to those segments. For example, your millennial donors would be more receptive to calls to action on social media or text than baby boomers.
Engagement
Look at the donors who are engaging with your nonprofit. If they are engaging with your social media, signing up for your emails and texts, or even volunteering for events. Segmenting your donors according to engagement level can help focus on moving your donors up your engagement ladder.
Donor retention is all about prioritizing communication with the donors that matter most to your nonprofit.
Read Next: 3 Pro Tips for Driving Donor Engagement and Boosting Revenue
Building a donor communications strategy
It's not practical to use the same strategy for all of your donors. From the above data points, it is clear that every donor has their preferences when it comes to communication. Your nonprofit should be able to tailor your strategies to donors' preferences.
Changing the focus of your organization from acquiring new donors to reducing attrition requires a shift in the mindset.
Have a Major donor strategy
Like most things, Pareto's principle holds here too – 80% of your income will come from just 20% of your donors. That means those major donors are vital to the success of your campaigns.
So that is where the bulk of your efforts must go when it comes to donor retention. It is crucial to develop a personal connection with each of your major donors, which involves assigning a major gift officer, scheduling personal visits and calls and sharing results.
Give donors more choices
Give power to your donors by letting them choose how they want to donate. It gives them control over their gifts and motivates them to return to your nonprofit.
Let donors choose which campaigns or specific causes that they want to donate to — reassure them that their money is being spent on what they care about the most.
Create a membership program
Implementing a membership program is an excellent way to motivate donors to give more and give more often. Let the program reward donors who are already contributing to your nonprofit, and push donors who are falling behind to give a bit more.
In addition to a closer relationship with your nonprofit, your membership program should offer advantages to donors, like merchandise from your campaigns, parking spaces at your events and updates on your work in advance.
Give choices beyond fundraising
Similar to offering donors options in donating, you also need to provide them opportunities beyond it. This lets them know that you are willing to take steps to form lasting relationships with your donors.
One great way to do this is by holding a donor stewardship event. Face-to-face interaction with donors can go a long way in getting them more invested in your cause.
Some donors may not have the funds to spare, but they may have time. Let donors know about volunteering options with your nonprofit. Volunteering lets donors take a more active approach to support the campaigns they care about.
Build a strong brand
Not only do you want your donors to remember your cause, but you also want them to remember your organization too.
Branding, for nonprofits, is of paramount importance.
It helps in building build confidence in your nonprofit and goes a long way to boost donor retention.
That's why having consistent & powerful branding across all of your channels is essential. Have a style guide that dictates how your logo, brand colors, fonts, images, and tones should be like for anyone that creates content for your nonprofit.
Consistent branding will help donors remember, recognize and trust your organization.
Survey donors
Often there is a disconnect between nonprofits and donors. They feel isolated from what happens within your organization.
Donor surveys are a way to let your donors speak up. Let their voices be heard. Collect feedback from your donors and make sure to act on it, allowing your donors to know that they have an essential role in your organization.
You May Also Like: The most important questions to get started with donor retention
Demonstrate the impact
Communicate the impact your nonprofit has created. Then connect that impact directly to your donor's contributions.
Show donors exactly how their donations are being put to use for your campaigns.
There are plenty of ways your nonprofit can highlight impact. You can use social media shares, email newsletters, annual appeal letters, first-person testimonials, or on your website.
Remember to use a combination of images or videos to tell your stories.
Recognize and thank donors whenever the time is right
A thank you page after a donation is not enough. To convert first-time donors into repeat donors, you need to make them feel special, and that means making your "Thank you" memorable.
It is vital to thank donors as soon as they donate. Thank you email should reach donors within a week if not before. For online donations, this means an immediate follow up through email or text message.
A prompt, polite, and personalized thank you message will give donors a sense of satisfaction and encourage repeat donations.
Admittedly, sending out personalized thank you messages to all your donors is a big task. Automating your text and email messages are almost necessary to reduce the effort for your nonprofit.
Ask them nicely once again
It's easy to forget that your cause is not always at the forefront of your donors' minds. Unless donors have opted-in for a recurring donation, it is not uncommon for first-time donors to have forgotten about repeating a donation/gift.
Make sure that your donors receive prompt communications with information about your next fundraising campaign with a donation request. Again, social media updates, email, and texts are all good ways to reach your donors.
Putting your donor retention strategies to work
Using peer to peer communication
P2P donor retention lets you engage two brackets of your supporters, your donors, and your volunteers, who may also be donors.
Having volunteers interact with donors, maybe through peer to peer text messages or phone calls is a great way to engage your donors because it adds a personal touch to your communications.
With social media
Not only does social media allow you to reach out to large swathes of your supporters, but they also let donors share stories about the causes they care about.
The people who donate money to your cause will care enough to share your purpose on Facebook, Twitter, and Linkedin. It's essential to make it clear that you want them to share your campaign.
Social media is also a great way of giving recognition to your valuable supporters, inspiring others to get more involved in your cause.
Read next: Boost Your Fundraising Today with These Social Media Fundraising Tips
Through direct mail and email
These are the bread and butter of your donor retention strategies.
When you are not expecting an immediate donation, direct mail is an excellent way of building donor relationships, letting you create a rapport that could lead to something more substantial down the line. For long-form impact statements, such as in year-end appeals, direct mail is the way to go.
Unlike direct mail, email is immediate. All you need is to schedule your emails to go out after every donation. Also, whenever you are promoting an event or volunteer opportunity. They also give you the convenience of including images and other multimedia.
Using text messages
98% of recipients open SMS.
Text messages are personal and instantaneous, making them an excellent platform for engaging your donors.
Having direct conversations with donors is crucial in building a lasting relationship. Texting lets you have that direct, one-on-one, real-time communication with your donors.
There are a ton of different use cases where you can implement texting for donor retention and in general. Sending out thank you's after a donation, event reminders, post-event surveys. You can even let your donors donate to your through text. It's up to you to determine where you can best fit text messaging into your campaigns.
A Pocket Guide to Text Message Marketing for Nonprofits
This free guide packs practical how-tos that are easily replicable. Read now to get started with SMS marketing.
What if it's too late? Bringing back lapsed donors
It's easier to retain existing donors than to bring back churned donors. However, that doesn't mean you should just let them go.
To start, you need to understand why these have stopped giving, and that involves asking them directly and making a commitment to each of them.
However, if you want to bring back your major lapsed donors, these extra steps are worth it.
In Conclusion
Recognizing that donor retention is a problem is the first step towards taking steps to combat it for your nonprofit.
Naturally, there is no surefire way to make your donors donate to your charity. Although, with proper planning and allocation of the resources your organization can provide towards donor retention, you are sure to improve relations with your donors.