One phone call can make a difference for your donors. Calling for donor retention is a proven strategy in the nonprofit sector. Here's what a study by Bloomerang found: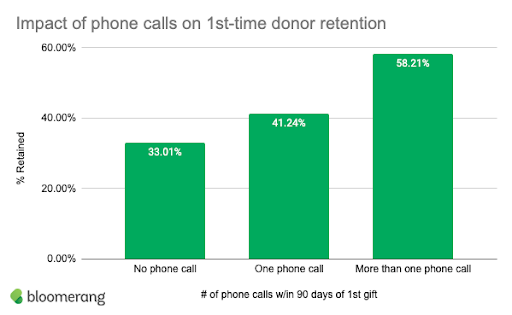 That is an ~8% increase in retention from just one call, and a whopping ~25% increase with more than one.
It's clear that calling your donors to thank them significantly impacts donor retention rates (and multiple calls work better). Here are the tools you need to start making calls and retaining supporters:
Types of calling tools for donor retention
CallHub's calling tools come under two categories:
Make calls to your contact list with the help of staff and volunteers with the call center software. Outbound calls are great when you want to reach out to supporters with personalized thank yous.
Use voice broadcasts to send out a prerecorded message to all your contacts. Your message will play when a donor picks up their phone. You also have the option of converting text to speech by entering your call script.
Make calls to reach out to high-value donors/supporters
If you have a small-to-medium-sized contact list, calling campaigns are a great way to appreciate donors personally (this is taking into consideration the capacity of an average nonprofit to spend time calling all their supporters.) For larger contact lists—Let's say in the range of thousands—you can segment your list for targeted outreach.
Major donor appreciation
The more important a donor is for your cause, the more personalized your messaging needs to be. Calling your major donors (usually the top 20% of your donors) can be the most important thing you do. Show appreciation by asking board members to call your major donors and thanking them. Additionally, you can partner a board member with a few top donors to improve your retention rates and increase the donors' lifetime value.
Conducting surveys
Let's start calling donor retention what it is—a way to keep supporters engaged with your cause and compel them to keep giving. One aspect of donor retention strategy is making sure your supporters feel heard—this is especially true for first time donors because they are yet to be fully engaged with you. Your initial investment to hook them can ensure the next gift from them. Surveys are one way to thus increase your donor retention rate.
Call center software with built-in survey tools like CallHub can be a major aid when it comes to collecting your supporters' opinions and managing them.
Event invites
A personal invite to a charitable event is an offer that is hard to refuse. You can use phone calls to reach potential attendees and collect RSVPs. Nonprofit events form an integral part of maintaining and improving donor retention rates because they show appreciation for a donor's gift. It is a time dedicated to celebrate your donor base, and if this premise itself doesn't compel supporters to attend, a personal phone call from your nonprofit organization will do the deed.
Read Next: The most important questions to get started with donor retention
Send voice broadcasts for urgent updates
Maybe you don't have time to make thank-you calls to all of your donors.
Event updates via calling for donor retention
Keep the people who have RSVPd to your event up to date on venues, timings, and any rescheduling you might have to do. Since these messages are purely informational, voice broadcasts are a great way to communicate them with supporters.
You May Also Like: The Art Of Better Conversations: 10 Donor Communications Best Practices You Need To Follow.
Emergency alerts
Voice broadcasts are also perfect for when you need to send supporters urgent updates/alerts. Say the deadline for a petition is approaching, or you want to share safety information during a pandemic.
You May Also Like: Everyday Strategies for Small Donor Retention You Need To Follow
Setting up a call center campaign
Here's how you can set up a call center campaign in CallHub:
1. Create campaign
Select a number, choose an auto dialer, and upload your contact list to create a call center campaign.
2. Add your script
Personalize call scripts by using custom fields.
3. Add agents
Add the agents who are going to talk to your contacts
4. Set operating hours
Agents cannot make calls outside the times you set
Send follow ups to supporters through text: Send followup information directly to donors during or after a call. In CallHub, you can create text templates for your callers to pick and send out. Ex. A donation link. Know more on Texting for Donor Retention and Engagement – Strategies and Templates.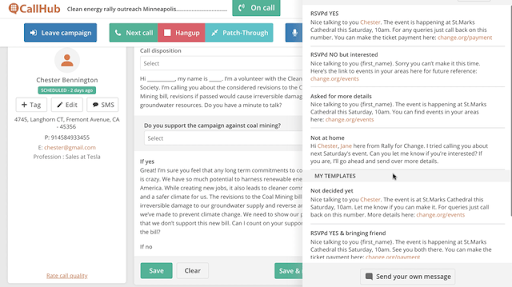 Setting up a voice broadcast campaign for calling donor retention
Here's how you can set up a voice broadcast campaign in CallHub:
1. Create campaign
Create a voice broadcast campaign and choose your contact list.
2. Add your audio
You can upload an audio recording or use the text-to-speech option
3. Set dialer settings
Set call frequency and retries.
4. Set campaign timing
Calls will not be made outside the times you set.
Automatically detect answering machines
Answering Machine Detection lets you send out a different voice broadcast message depending on whether a supporter picks up, or not.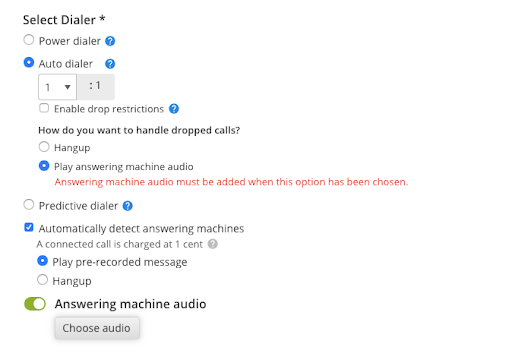 How to get started
Along with being lightning fast to set up, CallHub offers plenty of benefits for the value-conscious nonprofit:
Choose from flexible pricing plans
Choose from different pricing plans. You can pay as you go or choose a subscription plan for advanced features and further discounts. See Pricing
Detailed call center analytics
Analyze the success of your donor retention campaigns with real-time tracking.
Integrations with top nonprofit CRMs
CallHub integrates with CRM's like NationBuilder, Salesforce, Blackbaud, and more. Contact details are synced in real-time. Take a look at our full list of integrations.
Ready to make an impact in your donor retention effort through phone calls? Sign up here.