Giving by individuals totaled an estimated $292.09 billion in 2018
Out of them, individuals earning $25,000 or less donate the largest share (16.6%) of their income to charity.
While these numbers may seem small, they have a significant impact on your fundraising efforts.
Losing even a small chunk of these individual donors can set you back drastically. On the other hand, small donor retention could help you meet your fundraising goals faster! 
Now, isn't that a dream?
Let's dive into a few strategies organizations can use to ensure they can retain this segment of donors. 
How is a small donor different from a major donor?
Understanding a small donor psyche and characteristics will help you form a better retention strategy that is exclusive for this segment of donors.
Here is a quick snapshot of the two donor segments and how it informs your donor strategy.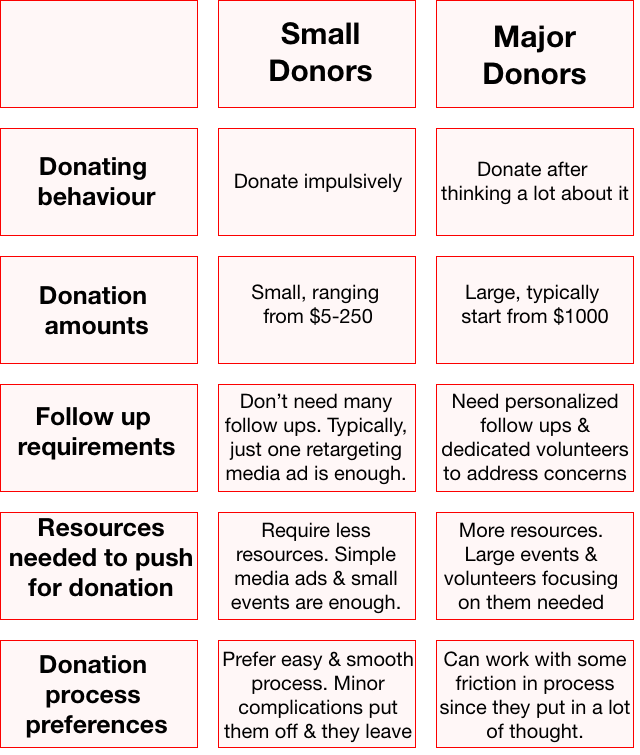 Now that you understand what defines a small donor, let's dive into the next burning question: Why do you need to focus on your small donors?.
Why is small donor retention crucial?
Donor retention is important for all nonprofits, period. If you take a look at the graph below, it will show you how retaining just 1% of your donors can improve your nonprofit fundraising efforts.
It is only logical then, that retaining a major donor is important. Even if you retain 1% of major donors (as compared to small donors), you automatically get higher funds. Strong donor retention strategies thus become crucial investments in the nonprofit sector.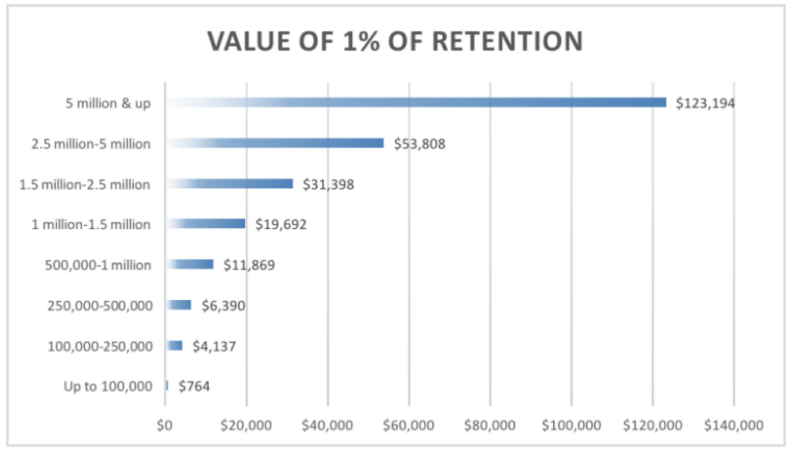 While that assumption is true, it is not a practical fundraising strategy. 
That is because of three main reasons
1. Small donors, give more.
In 2012, people earning less than $100,000 a year donated around $57.3 billion collectively. These small donations ranged from $10-$250. However, those earning more than $100,000 collectively donated only $77.5 billion. 
The latter demographic includes the multi-billionaires like Jeff Bezos, Mark Zuckerberg, etc. who donate billions to charity. Mark Zuckerberg alone donated $500 million to the Silicon Valley Charity in 2012. 
Since a majority of these funds are raised by such influencers, the amount donated per person in this group falls even lower. This highlights the fact that the majority of wealthy donors have a very low chance of donating. 
So instead of spending your nonprofit resources chasing 'major donors', you could much rather spend it on small donors who have a higher chance of giving.
2. Small donors make a bigger percentage of the population
Only 9.08% of the American population makes over $100,000 a year. That is a relatively tiny donor pool for you to focus your efforts on. 
Added to the fact that this donor pool is notoriously hard to convince, you would be spending a lot of effort for a minimal outcome – not an efficient strategy.
On the other hand, you could focus on the bigger segment – the remaining 91% and stand a better chance of not only winning a donation, but getting a higher donation amount. 
3. It is comparatively easier to approach small donors for donations.
Small donors act on impulse which is easy to trigger (check the Haiti Text-to-donate example below). With major donors, however, you have to go through a longer process to convince them (approaching them, following up with the, addressing their concerns, etc.).
Please note, I am not suggesting you completely ditch major donor fundraising. I am merely highlighting what a missed opportunity it would be to not include small donors in your fundraising strategy.
So how do you go about making a plan for small donor retention? The right strategy will include every touchpoint between the donor and your organization.. 
Mapping the donation touchpoints for small donors
To see how a potential donor interacts with your nonprofit, let's take a quick look at the donor journey. 
What is a donor journey?
The donor journey is the time from when a donor becomes aware of your campaign, gets inspired to donate, and is encouraged to donate again.
Typically, it comprises of the following stages: 

How is it different for small donors?
For small donors, the journey is not that different. What changes is how closely you chase them to win a donation. 
To put it simply, you don't have to inspire small donors again and again (like a major donor).
Once they are involved with your organization, just engaging with them the right way is enough to compel them to donate again. 
Here is how a small donor journey looks like:

As is clear from the image, the most important touchpoints that you have to focus on for small-donor retention are: Ask to Donate – Receive Donation – Thank – Engage & Repeat.
Below, we'll take a look at how you can ramp up your nonprofit communication at these touchpoints to inspire and retain small donors.
Ask to Donate
How do you ask individuals to donate? It can happen either offline or online. Some of the most popular channels for this are: 
Send letters to retain donors
Quite a traditional way to ask for donations. Since letters are tangible and personal, they make the recipient feel important and could lead to better conversions. 
Letters are typically sent to drive repeat donations from supporters who have donated previously. However, they can also be sent to new prospects for first-time donations by either purchasing or exchanging databases. 
Does it work for retaining donors?
Letters are not suitable for small donors as the costs may exceed the donations received. Plus, reaching out to a large number of people through direct mail could be quite a labor-intensive task. 
In-Person meetings for retaining donors
As the name suggests, these asks are usually made during meetings or events in-person. Apart from that, some nonprofits also leverage door-to-door canvassing to collect donations in-person.
Do they work as donor retention strategies for small donors?
Small donors are usually asked for donations in-person during small events that cater to them. Bake sales, potlucks, garage sales etc. are a few examples of such events. 
In-person donations may work really well for small donors. However, it's only beneficial if the costs of the events can be managed through sponsorships or partnerships.
Events like these don't always pull very large crowds and the donations too aren't really huge.
Phone calls
Calling is a great way to add a highly personalized touch to your outreach campaign. Calling potential donors increases their likelihood of giving as it allows you to address their concerns or reasons for not donating directly.
The contact numbers of new prospects are most likely given in the databases purchased for direct mailing. 
Successful calls are usually followed up with a text or email that directs donors to the donation page. 
Does it work for small donors?
Similar to letters, calling too is a labor-intensive task. With the average conversion rate of 6-8% for first gifts and 15-25% for returning donors, the yields through tele-fundraising may not be as impressive while approaching small donors.
Email
Fundraising emails are digital versions of fundraising letters. Emails are a cost-effective way of reaching out to a very large group of people.
Email ids of new prospects could either be purchased or exchanged as databases or procured from your website through various lead capture methods (blog subscribers, interest page forms, request for information forms etc.).
Does it work for small donors?
Email is one of the most efficient channels to request donations from small donors. It is cost-effective, easy to customize, and allows you to add some personalization.
With email tracking, you can also get a good idea of what works for your nonprofit and what doesn't. 
Social media posts
Just like emails, social media is also an effective way of reaching out to a large online community efficiently. It gives you the opportunity to connect with an ever-growing community of donors.  
Does they work as retention strategies for small donors?
Social media works really well for small donors. This cost-efficient channel allows you to reach out to prospective donors everywhere with no constraint. Plus, with most Americans extensively engaging with content on social media, the conversion rates can go as high as 59%. 
Bringing it all together, here's a quick look at how the various outreach channels look for small donors: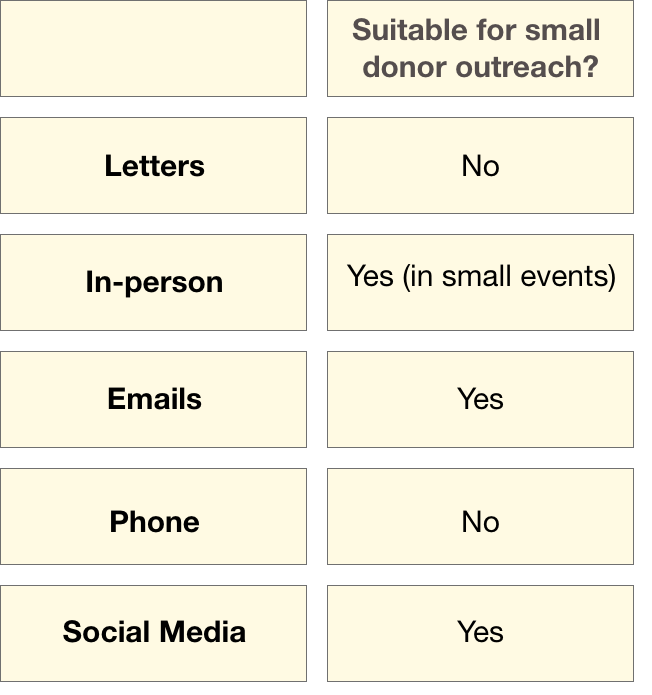 Receive Donation
Once you have made your request, we move on to the next touchpoint – collecting/ receiving the donation. 
This touchpoint merits a section of its own because it is important to make the process seamless. A single point of friction will mean that the prospect will drop off without completing his contribution.
Here are a few channels in this touchpoint that can help you provide a great customer experience. 
Donation Pages
Donations pages are the base of all your online donations. Most of your online outreach channels lead your donors to this page.
The donation page is where the first expectations are set and where donors decide whether to build a relationship with you or not. 
Here's what you can do about your donation pages to ensure a high small donor retention rate:
Restructure your donation form:
In 2019, the average conversion rate on donation pages was 20% for desktop users and just 8% for mobile users.
Most of the dropouts were attributed to complex and lengthy forms. Hence, to maximize conversions here's how you can restructure your donation form: 
Keep the form short: Ask the donor to fill in only the information to see the donation through. All other details can be requested in a follow-up email or a text later on. 
Remove distractions: You don't have to fill your page with a lot of content. Just include the relevant information with a compelling CTA. Skip the CAPTCHA on these pages to shorten the process.
Make the form mobile friendly: 51% of people who visit a nonprofit's website do so through a mobile. Make sure to make these pages mobile-friendly so you don't miss out on this group. 
Pencils of Promise, a nonprofit aiming to increase education opportunities in developing countries, got their form right. All they have is a plain and straightforward donation page that just requires you to fill in your card details to donate.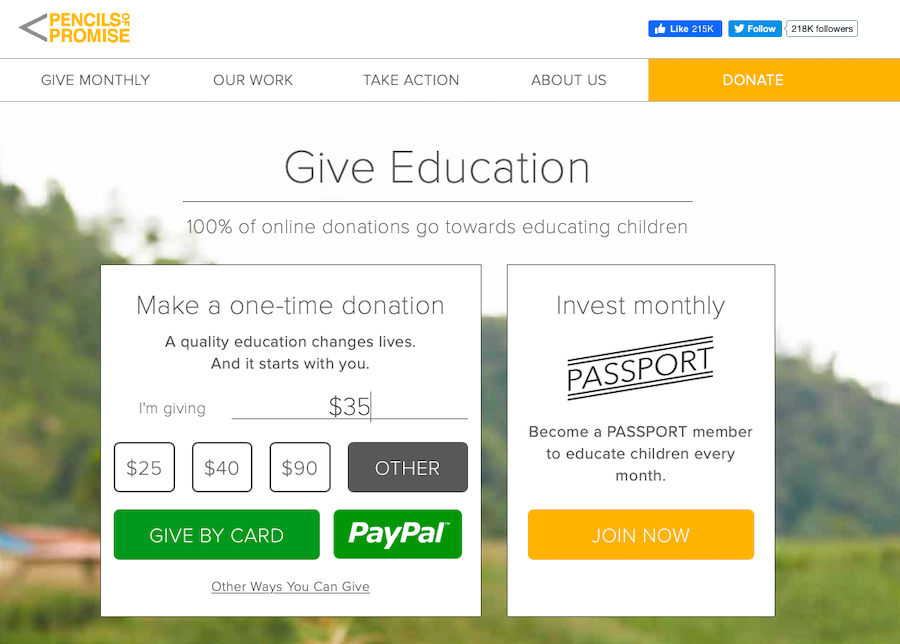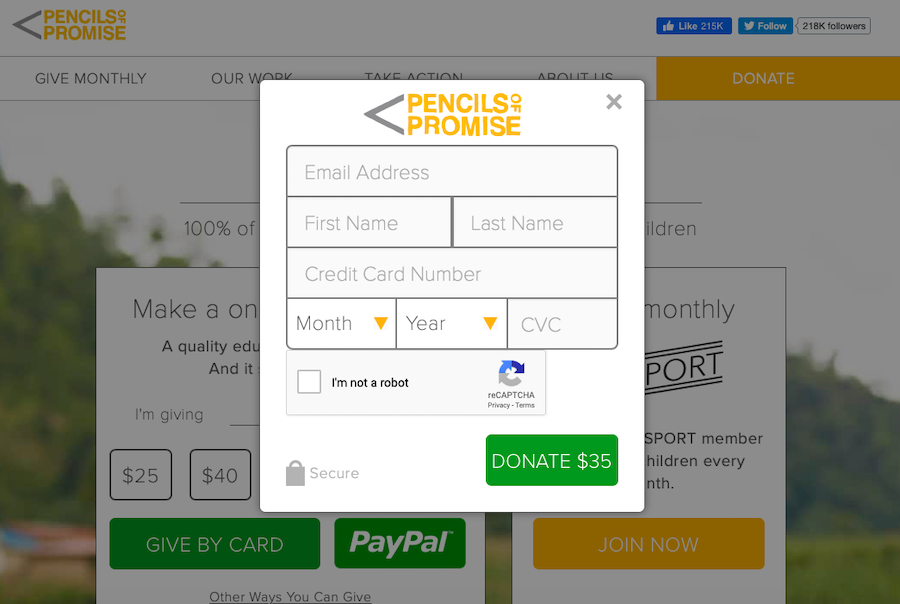 Why does it work for small donors?
As mentioned earlier, small donors donate impulsively. Hence, even minor complexities can put them off and push them to leave the page.
Keeping the donation form short and easy ensures that donors don't face any difficulties and dropout. 
Display a range of donation amounts (starting from small sums)
Displaying a range of donation amounts is a great way to engage donors and give them more control.
Typically, the best practice is to provide 4-5 suggestions. These suggestions must start from minimal amounts and have an option to enter a custom amount.
The flexibility in the donation amount is what will push small donor retention.
Bernie Sanders's campaign donation page is an excellent example of this. The donation amounts range from $2.7 to $1000.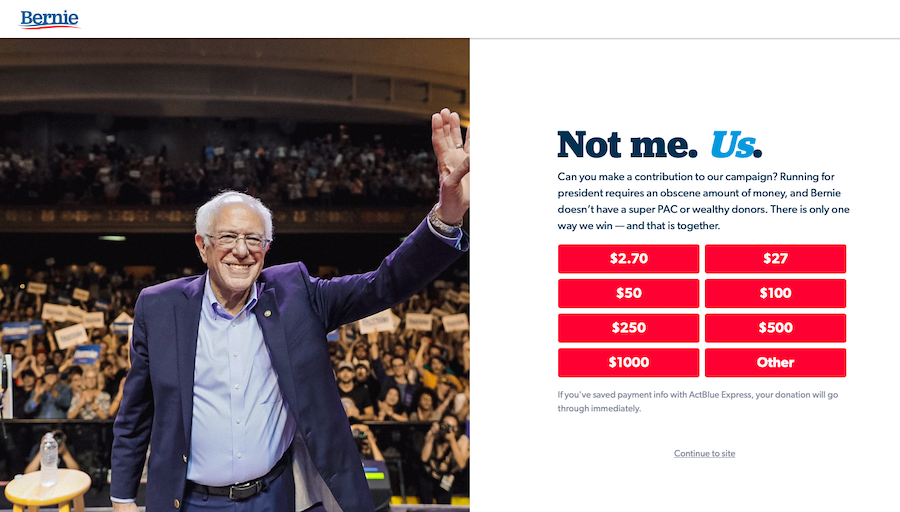 Why does it work for small donors?
Small donors cannot give out large sums of money at once. But they are always willing to donate. 
Hence, including small denominations on your donation page allows you to accommodate people from different financial capabilities.
Plus it gives them the assurance that they can make an impact even with a small donation.
Suggest Recurring/Monthly Donations
Recurring donors are incredibly valuable to nonprofits. Most donations trickle in from existing donors. Since the chances of donors logging back on to donate every month are very low, automating the whole process makes all the difference. 
Hence, when you get the chance, suggest them to opt for recurring donations. It is one of the easiest ways to maintain donor loyalty. 
But, you will need to make the process to opt for recurring donations as easy as checking a box or clicking a button. For example, the donation page for Invisible Children has a simple button in place.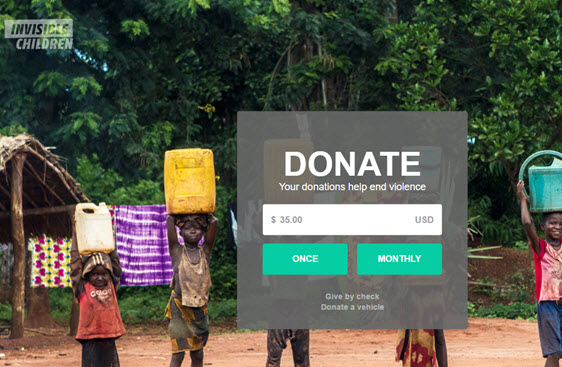 Why does it work for small donors?
Suggesting recurring donations of small sums is a way to reinforce their donation impulse.
It aids in small donor retention by making it easier for donors to give continuously (instead of logging in and filling a form every time)
Showcase impact (tell your success stories)
Apart from that, you must also showcase the impact of monthly donations to encourage small donors. Since they act on impulse, a more compelling reason to donate will increase your chances of converting.
UNICEF showcases their monthly donation program very persuasively. They break down the donations to per day expenses that range from just 50 cents to $2.5 and showcase a quantifiable impact.
Furthermore, the meager donation amounts also push small donors to donate as they don't see it as a substantial financial burden.



Why does it work for small donors?
8% of your donors leave because they don't know how their money is being used. It's a common fear among small donors giving their hard earned money.
But, if you show how their money is being used and give show them an actionable impact, you just might get yourself a long-term donor.
Text-to-Give
Apart from donation pages, organizations can collect donations through text messages too. 
Generally, supporters text a keyword to a shortcode to donate. Following this they either get a link to the donation page or the amount gets added to their phone bill. 
Here are a couple of changes you can implement when receiving donations through text: 
Keep it simple
Donating through text doesn't have to be very complicated. Typically, the best practice is to ensure a two-step process wherein the user texts you a keyword and you get back to them with a donation link.
With the aforementioned changes in place, your donation page would do the rest of the job of converting them and pushing small donor retention.  
Shortening the process to just a single step would boost your conversions even more, just like the Haiti Text-to-Donate campaign. 
To aid those affected by the 2010 earthquake in Haiti, the Red Cross tied up with the US Government to raise $21 million through texts.
Supporters just had to text the keyword "Haiti" to a shortcode to donate $10. This amount would then appear as a charge in their phone bills.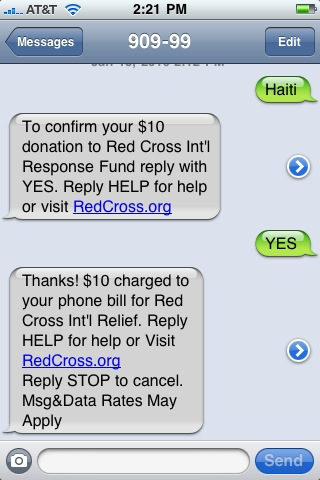 Leverage an easy to remember Keyword and Shortcode
Another reason why the above campaign worked really well was that they used a very simple keyword and shortcode.
The fact that the keyword was related to the cause people were donating for also made it easy to remember. The shortcode too was something that would stay on your fingertips even after a quick glance. 
Why does it work for small donors?
A study by Pew Internet and the American Life Project on the Haiti text-to-donate campaign concluded that most of these donations were made on impulse after seeing the media coverage, especially on TV.
Given that the process was as easy as sending a text, the campaign turned out to be a huge success.
Texting allows donors to act promptly and it usually takes less than 60 seconds. The short conversion process ensures that donors don't lose motivation which is why it works so well with small donors.
The possibilities of texting, however, are not limited to just fundraising though. They are quite effective in aiding retention too. Our post on texting for donor retention shows you how.
Offline Methods
Offline methods to donate typically include wire transfers, cheques, and even cash. There is not a lot that you can change while collecting donations offline. 
Since offline donations are mostly collected in-person, the conversion rates are high. The fact that these methods are not very complicated also helps.
Offline conversions are higher as volunteers personally interact with people and encourage them to donate while addressing any concerns they may have. 
Why does it work for small donors?
Offline methods work well for everyone. Typically, small donors use cash to donate offline which is as easy as it can get. Since there's no friction in the process, the likelihood of giving is always high.
All your outreach methods asking for donations from individual donors can be mapped into the following channels to receive donations: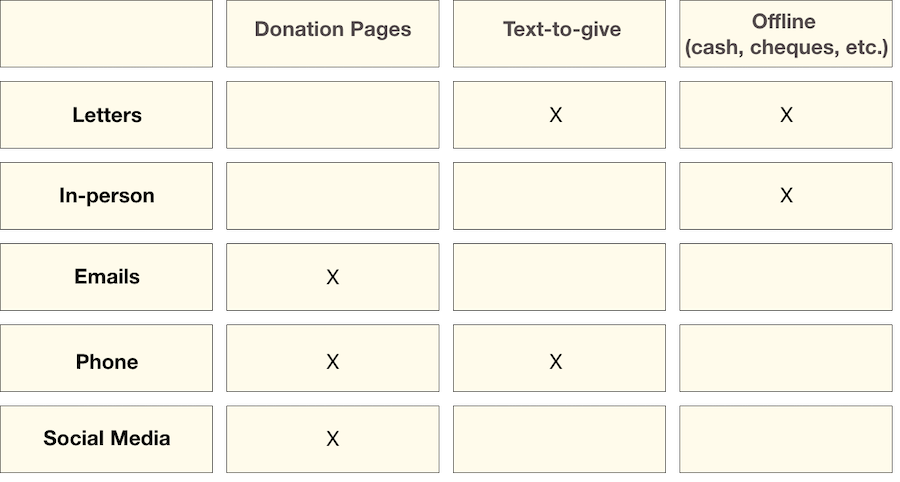 Keep in mind that you can also use a combination of these channels to engage with your donor.
For instance, if a prospective donor 'likes; your page, you can run targeted ads to them and bring them to your donation page to donate. 
Let's move on to the next touchpoint and see what can be done to improve that.
Thank all donors
You implemented the changes and have now acquired a large base of small donors. You've raised a good amount of money and now it's time to thank all of them. 
So, how do you go about this? Here are a few ways how:
Personalized conversations through peer-to-peer texting
A lot of nonprofits send handwritten notes or direct mails to thank donors which is not feasible for small donors, primarily because of the costs.
Emails could work. But with majority of people developing email blindness, it could be rendered ineffective. 
However, you can still personalize your thank you's with engaging conversations over text. With an open rate of 98%, text messages can ensure that your message is delivered and read.
A peer to peer texting campaign is the perfect solution to thanking donors over an engaging conversation through text.
You can set up a campaign that sends an automated "Thank you" message after the donation. The message can be coupled with a question to engage the donor in a conversation. 
These questions could range from surveys (like birthdays, reasons for donating, etc.) to inquiries related to future donations (for example, would you like to give more later).   
After getting the first response from the donor, your volunteers can get on the text thread to respond to them. Just like in the example below: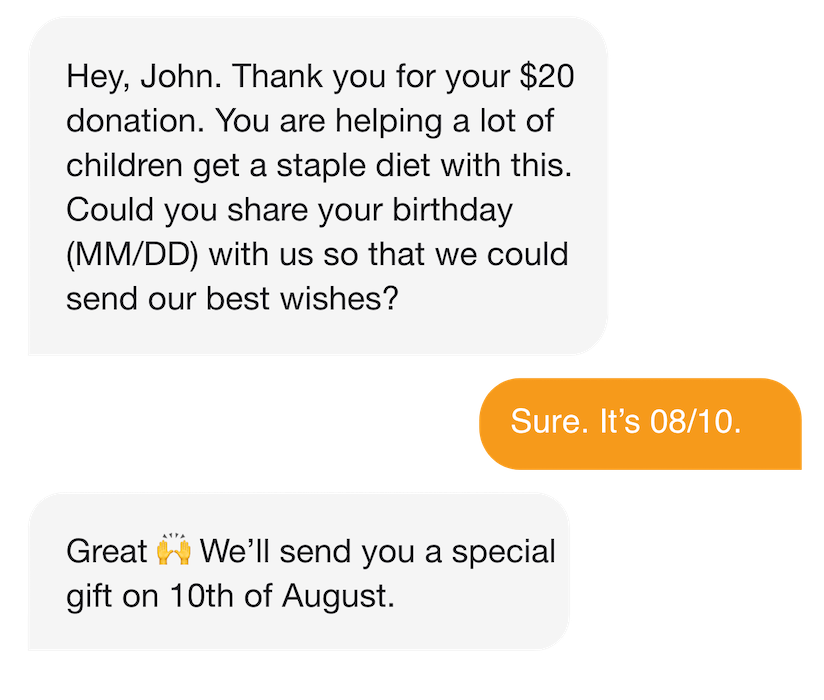 Besides giving a human touch, conversations like these also leave the donor feeling more valued and trusting of your brand, which makes asking for donations in the future easy. 
Why does it work for small donors?
If you appreciate small donors for donating, no matter the amount, they feel valued. They develop a positive feeling about the impulse that was triggered. 
And you ask, how does that help?
Well, the next time you trigger a similar impulse in them, small donors will be more likely to donate just to experience that positive feeling. It's how we humans function. Ask a psychologist if you'd like!
Read Next: Texting for Donor Retention and Engagement – Strategies and Templates.
Make future giving seamless 
Apart from thanking users, it is also important for you to make sure that their future giving experiences are more seamless. While small donors will be more inclined to donate again (as pointed out above) they can still lose interest if the process is complex. 
ActBlue Express implements this perfectly by making donating as easy as clicking a link. While accepting the first donation, the user can set a password and save their card/account details in their profile.
So the next time someone's planning to donate, they can just click on the link/donate button, and the payment gets deducted automatically.
This process remains the same across campaigns and even organizations using the ActBlue platform. As per ActBlue's research, organizations can raise up to 200% more money with a single click donation process.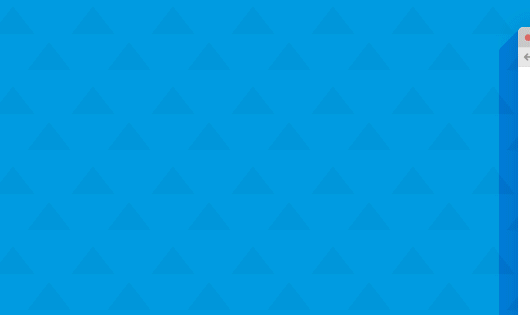 But how does this fit into the Thank stage?
Well, since engaging with donors while thanking them is good practice, a great way to do this is by asking them if they would like to donate for another campaign (could be similar to the one they donated for).
This ask could be coupled with a Thank you message sent after a certain period since their last donation. 
Why does it work for small donors?
Small donors are more likely to give small gifts to multiple initiatives rather than just giving to one initiative multiple times. 
Donating to the same initiative raises concerns regarding the gifts making an impact at all. This concern leads them to feel less hopeful about your work and ultimately unlikely to donate.
However, multiple initiatives enhance your organization's and mission's credibility which in turn boosts their morale about your work.
By making subsequent giving easy across campaigns, you reinforce this morale with each gift, thereby winning their loyalty. 

Engage and Repeat
By now, you have thanked all your donors, asked them for more donations a couple of times, and received a good response.
But you can't really keep asking them for more donations with each communication. Now it's time to engage with them a little differently.
This touchpoint is when you boost your small-donor retention by engaging with them with the objective of building a long-lasting donor relationship. Here's what you can do here:
Invite them for exclusive membership programs
One of the most effective ways of making people feel like a part of a community is through unique membership programs.
Psychologically, exclusivity induces a sense of belonging and importance in humans which in turn boosts loyalty towards the community.
Ensuring that your donors develop this feeling of loyalty for your nonprofit is what will help you retain them.
Your exclusive membership club can offer several benefits for that appeal to donors. These could include things like membership cards, discount vouchers for corporate partners, discounted ticket prices for fundraising events, etc.
UNICEF, for example, includes all their monthly donors in their Guardian Circle membership community. These community members get the following benefits: 
A digital membership card 
An annual statement to make filing taxes for you easy
A dedicated staff member acting as a point of contact (who can also help you with queries you might have regarding tax returns)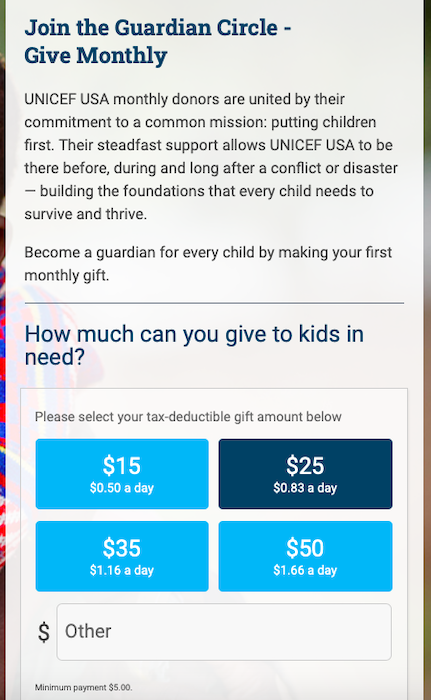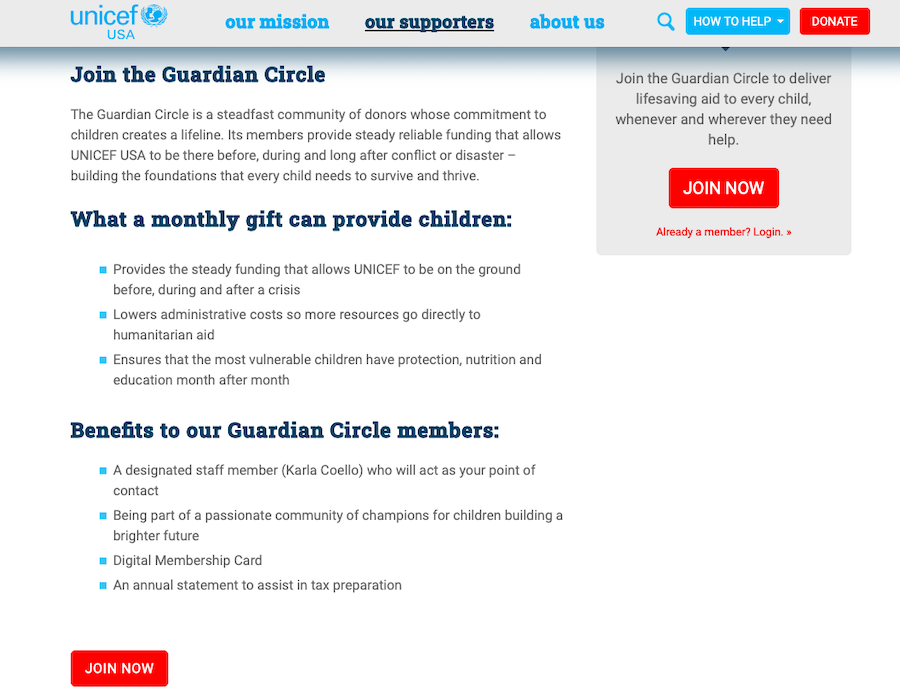 It's good practice to have multiple membership slabs of varying amounts to ensure that a majority of your small donors can be accommodated.
Each membership slab could offer different benefits which would also encourage donors to upgrade their donation values whenever possible. 
Why does it work for small donors?
It often happens that small donors may not be sure about the impact they have with small donations. But as part of a community of people of similar financial capabilities, their effect can be amplified. 
Since small donors are motivated by their genuine interest to bring change, being part of a community that can actually make an impact boosts this motivation. The higher the motivation, the more these small donors will want to get involved with your cause. 
Take their feedback
18% of donors leave after the first donation due to poor service or communication as per Dr. Adrian Sargaent's study.
According to the studies from DonorVoice, one of the essential reasons why donors stay loyal to nonprofits is the fact that they receive a lot of opportunities to make their views known.
These metrics suggest how important it is for nonprofits to get donor feedback as much as possible.
Highlighting the changes your organization makes based on those feedbacks is also crucial to make donors feel heard and win their loyalty. 
Again, peer to peer texting would be a great solution to organize a feedback campaign to support small donor retention. You can set up peer-to-peer texting campaigns to send messages to donors after a certain period since their last donation and collect their feedback. 
To make the conversation more engaging, you can have volunteers get back to them with answers related to their input, like in the example below: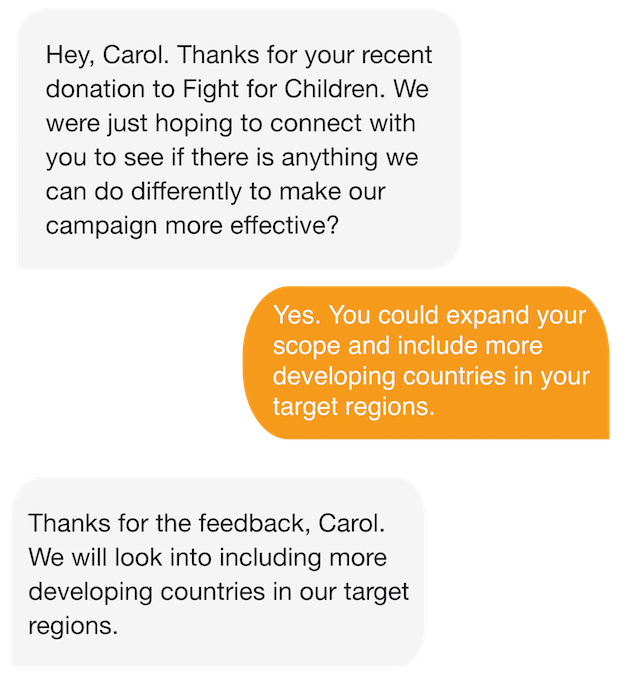 Why does it work for small donors?
Small donors genuinely care about the cause and wish to donate more than just monetarily. So giving them an opportunity to help works great in building a relationship with them which in turn wins their loyalty.
Apart from that, small donors are always eager to give in other ways too. This gives them that chance to give more than just money and be more closely involved with you.
Encourage them to drive peer to peer fundraising
A majority of the small donor crowd is comprised of Gen Z and millennials. As per studies, these two generations are most likely to volunteer with a community organization.
Individuals from these generations may not be able to donate much monetarily, but they most definitely are willing to give in other ways. 
Among various volunteering opportunities, peer to peer fundraising is the most effective for both small donor retention and nonprofit fundraising. 
So how do these relate? 
Well, going by the facts, more than 2 in 5 Gen Zers claim that they have educated family or friends about a cause. These stats show that they are already involved in spreading awareness through peer to peer networks. 
Fundraisers can leverage all these characteristics of Gen Z's and millennials to drive successful peer to peer fundraising campaigns. 
The Children's Miracle Network Hospital runs a Dance Marathon for fundraising which is driven by college students on campuses. In 2019, this program raised $44 million.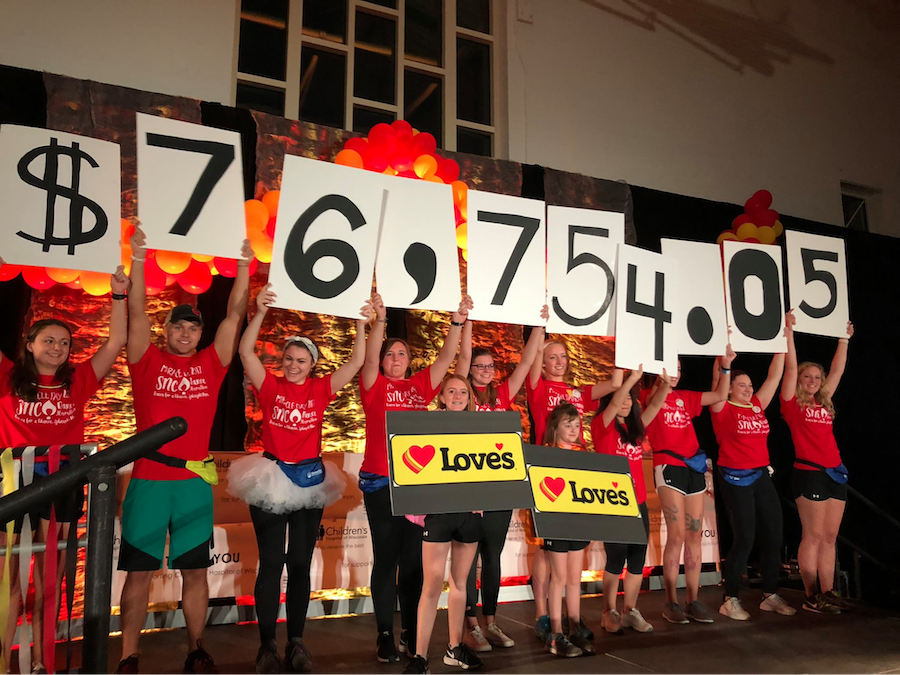 Why does it work for small donors?
Small donors, especially Gen Z's and millennials, are always up to give back to the community in more ways than just money. 
By encouraging them to get involved in peer to peer fundraisers, not only do you successfully reach out to more people of a generous generation, but also yield better results for your initiatives.
You May Also Like: 6 Ways to capture and retain young donors for Nonprofits.
Takeaway
By implementing a healthy mix of these strategies in your campaigns, you could boost your small donor retention rate remarkably. 
While crafting a new plan for small donor retention, a basic rule of thumb is to keep their inspiration for giving alive and attain their loyalty through smart engagement.
 By ensuring this, you are bound to attract lifetime donors for your cause and organization.
"Nonprofits are in the happiness business. It's not about getting people's money. It's about inviting them to join us in doing something where they can enact their values in a meaningful way. But they don't know how to do it by themselves. We are their philanthropy facilitators."

Claire Axelrad, Fundraising Coach, Clairification