Let me bring to your attention to two shocking fundraising insights from a recent FEP report found:
88% of your gifts come from 12% of your donors
76% of Gifts Come From 3% of Donors
What do these insights mean for you?
These insights are rather like the 80/20 rule (which is 80% of your donations come from 20% of your donors) that most of you might be aware of.
But what's concerning here is the fact that your entire revenue is so heavily dependent on such a small segment of your donor database.
Nonprofits often ignore the value of identifying and building relationships with a major part of their donor base, stating a lack of staff and resources as excuses. However, these shortcomings can be easily overcome with a detailed nonprofit communication plan, which is what we'll help you with.
In this post, we'll cover everything from the objectives and messaging to the digital channels of communication you need for each stage of the donor journey.
Stages of the donor journey
Every donor goes through a journey and each step is unique in terms of engagement and the ask you make. You can't tailor an effective messaging if you don't know what the donor is looking for. Therefore, the first & most crucial step for building a nonprofit communication plan is understanding these different stages of the donor journey.
The traditional journey looks somewhat like this: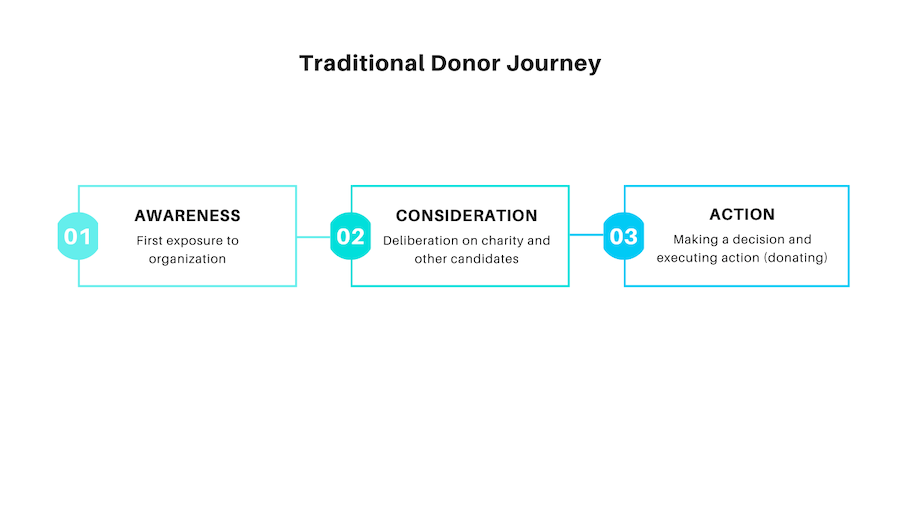 However, this funnel only tells you part of the story and leaves you clueless about the steps to be taken after the action.
To build a more sustainable communication plan, you need to reimagine the donor journey that allows you to plan for donor retention and further cultivation.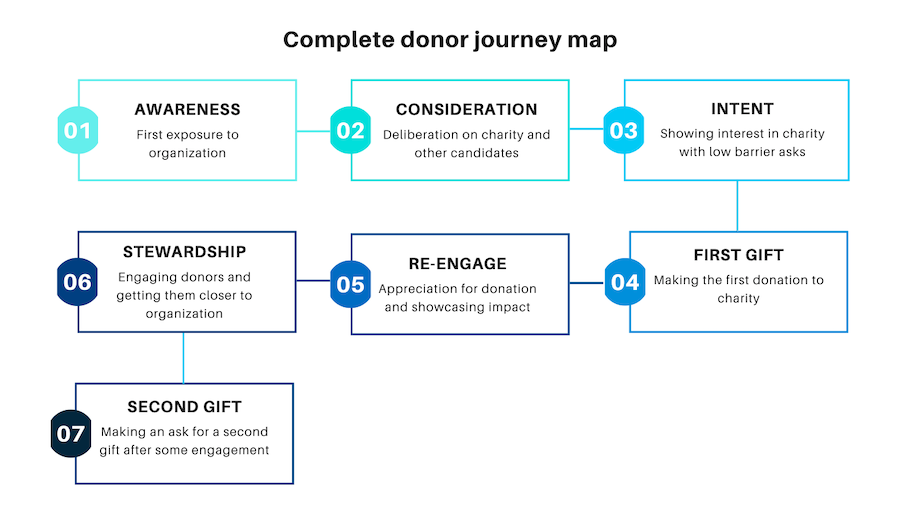 As you may have noticed, the "action" stage is further broken down to intent and the first ask. This is based on Sherry Arnstein's Ladder of Engagement.
A donation is a big ask and making it immediately after the consideration stage is not wise. People won't be invested enough in you to heed to such an ask here which would lead to you losing these prospects.
To avoid this, you engage them with smaller asks in the intent stage first, get them more deeply invested in you, and then gradually move to request for donations.
Let's go over each of these stages and what they mean for you in detail.
Awareness
Stage
What happens here?
What is your objective?
Awareness
The prospect is first exposed to your organization and work. This could be through:

1. Friends (word of mouth or social media posts)

2. Ad on social media or search engine

3. Blog (on your website or affiliate site)

4. Events or rallies

5. Flyers, banners, billboards, etc.
Your goal here is to drive people to:

1. Sign-up for your email list or opt-in to text messaging list

2. Follow your social channels (optional)

Messaging
Authors often get caught up in their methodology and their principles, and they're so excited about the process or idea they've come up with, they forget no one cares.

Rob Eagar, Sell Your Book Like Wildfire.
According to Eagar, people care about the results you get; not about how you came to achieve them.
Keep this in mind and think about what would make a new prospect sign up for your newsletter or opt-in to your SMS list. Here are a few reasons:
Find out more about the impact you create: At this point, people are not fully aware of the cause you're fighting and the impact you make. Offering content that fills this gap is valuable to them and will drive them to subscribe to your newsletter.
Emotional delight: Remember that people are driven to donate by emotions. As a nonprofit, your goal should be to spark these emotions right from the first touchpoint.
Here's an example of an email sign-up form from DoSomething.org: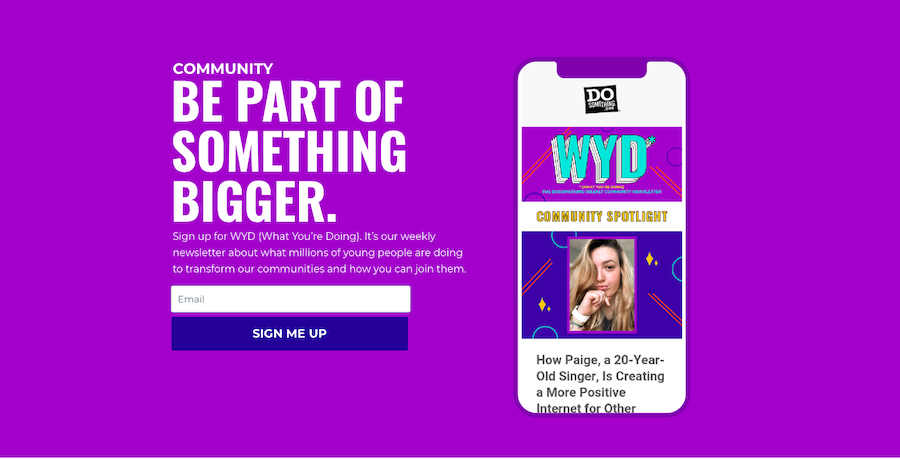 They use phrases like "Be a part of something bigger" to give people the chance to be a part of a bigger community, something that everyone wants. Moreover, with statements like "what millions of young people are doing to transform our communities", they let prospects know that they'll be learning about the impact you're creating.
A takeaway from the form is its simplicity. Longer forms may put off prospects and reduce their chances of signing up.
Channels of communication
1. Website
Your nonprofit website is the hub of all information. The first time someone hears about you, they will probably do a quick search for you online and end up on your website.
While providing them the relevant information they're looking for, your website should simultaneously nudge them to opt-in to your email or text list. A few ways you can do that are:
Add a simple sign-up form or SMS opt-in details wherever possible. A sticky banner on the side of the blog, the footer, the header, at the end of the blog, etc. You never know at what point people will be convinced to sign-up, and you don't want them to go searching for the form then.
Here's an example of an email sign up form in the footer of WWF's website: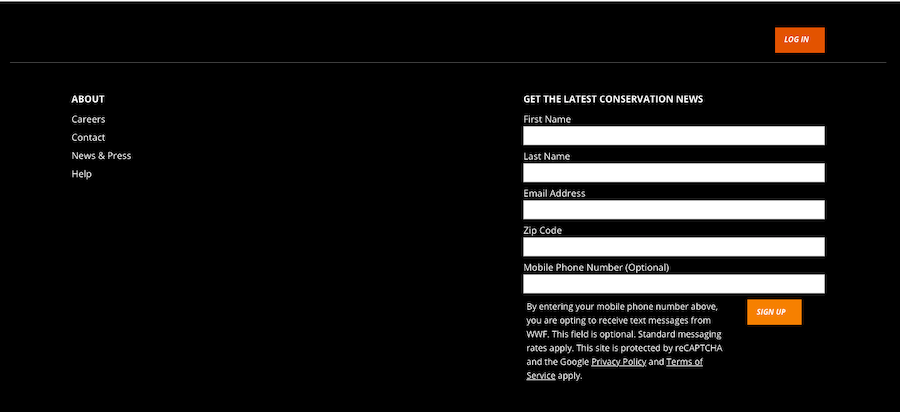 Notice how they have combined email and text sign up in the same form (by adding a field for the phone number). However, they are not being too pushy about it (as a lot of people may not be as comfortable to share their numbers initially) and have kept the field optional.
Offer gated content and other resources. Content like blogs, case studies, guides, etc. may be valuable to prospects during awareness. You can gate this content and get their email in return for it. Make sure to give a sneak-peak of the content to assure people of its value.
2. Social media
Your social media efforts at this stage would be directed towards:
Prompting people to follow you on social media. This will be achieved through your website or emails. Add social icons on the website and at the end of emails to nudge people to follow you on social media. Furthermore, adding an exit intent pop-up for the same on the website is also a great idea.
Leading prospects to the website with intriguing posts. Your website then takes care of prompting these prospects to sign up. Here's an example of a Facebook post from The Humane Society International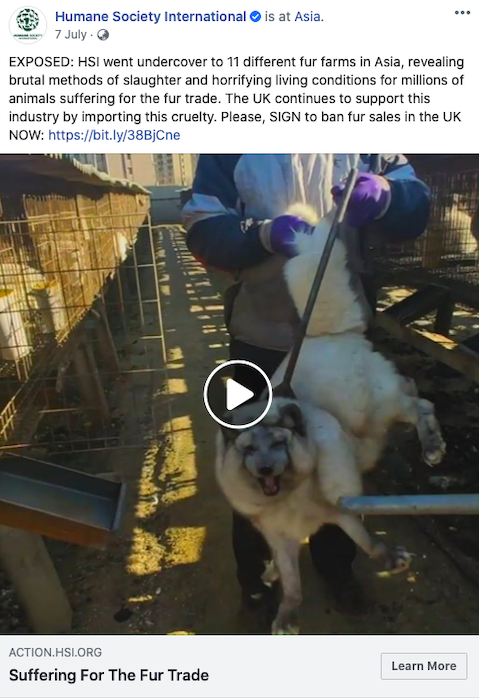 Directly prompt people to sign up for your email or SMS opt-in. Make sure to offer something valuable in return. Look at this post from DoSomething.org,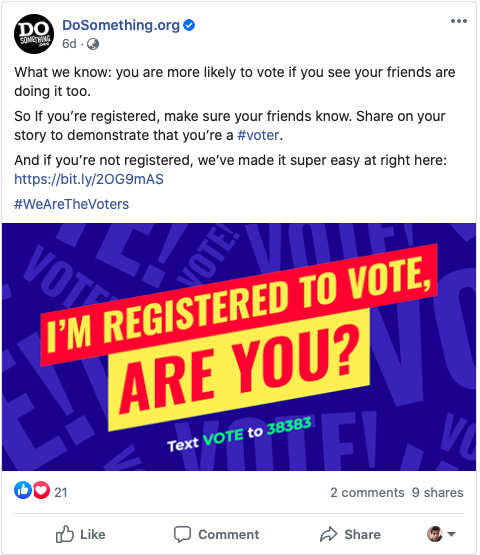 They promote a keyword and shortcode and offer the value to opt-in to their list in a simple manner. They even made the image less distracting by adding only the key elements (shortcode, keyword, and compelling phrase) needed.
Overall, keep in mind that you want to make a low-friction ask at this point of the nonprofit communication plan. The objective here is to get them more interested in your organization.
Read Next: The Art Of Better Conversations: 10 Donor Communications Best Practices You Need To Follow
Consideration
Stage
What happens here?
What is your objective?
Consideration
In this stage, prospects are comparing your charity to others wondering about:

1. The credibility of your organization and the impact you make.

2. Why should they support your cause over others.
Once people sign up for your list, your objective is to:

1. Showcase why the donor should care and how their contribution can create an impact.

2. Convey success stories to establish your organization's credibility & provide social proof
Messaging
In the consideration phase, your content has to be more informative and educational. Your messaging needs to revolve around:
Exactly how you're helping and how donors fit into the process. In this stage, prospects are trying to understand how important their contribution is for you. The more you highlight their importance, the more likely they are to choose you because of the greater emotional satisfaction they'll get.
The beneficiaries and success stories. The success and beneficiary stories will serve as social proof. Not only will they convey the impact but also enhance the credibility of your work.
During this stage, prospects are looking to dive deep into the details of your work and the change you're bringing.
"Details not only have the capacity to increase how much we care about another person's plight, but they also have the ability to influence how much we believe we can have an impact on a given problem. This increase in perceived impact leads to increased generosity."

The Donor is in the Details, a paper by researchers from Carnegie Mellon and Washington University.
Channels of communication
1. Email/Text
Now that you have the prospect's email (or mobile number), you can send them personalized messages with the details mentioned above. To maximize its impact, make sure to:
Use strong visuals to support your message. Visuals make your message more engaging and hook the prospect immediately. Here's an example of an email from Charity: Water:

Note: Instead of emails (which have a low open rate), you could also send the message as a bulk MMS. Craft the MMS with an appealing image, an excerpt from the story, and a CTA to redirect people to the website. An MMS will get you a higher reach (because of increased engagement rates (typically around 70%).
In CallHub, mass texting campaigns are MMS capable. Learn more about sending bulk MMS here.
Don't make a major ask here. People may not be completely ready for a major ask (like a donation, and it may come off as desperate and off-putting. Notice how, in the example above, Charity: Water doesn't ask for a donation, they just share a story.
2. Social Media
If you were successfully able to get people to follow your social channels (maybe on the website or through the welcome email), post these stories on social media too for prospects to see.
Leverage video for more visibility. Social media algorithms prioritize video posts over others. Prospects may not even come across the link posts that you share. Moreover, video posts allow you to tell the story in a more engaging manner. The nonprofit, 1% for the Planet, uses this perfectly: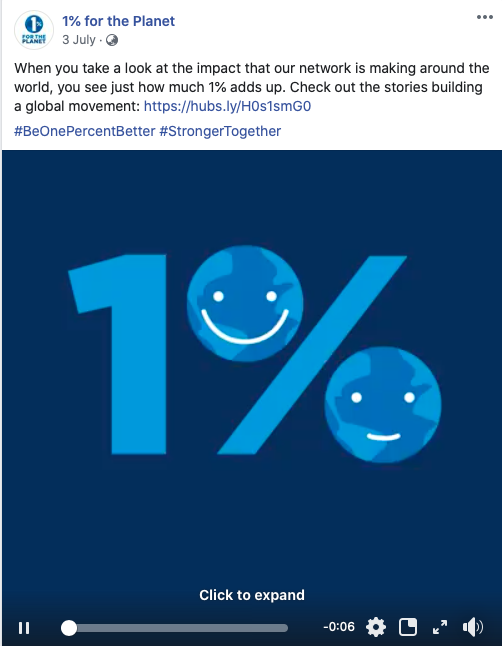 Notice that the organization is not making an ask here either They are just trying to engage people with interesting content.
When sharing such posts, make sure you don't post links to donation pages, lead them to blogs or other content to give them more information about your work. By increasing engagement in this way, you'll notice more people signing up for smaller actions that we will talk about in the next stage of the nonprofit communication plan.
Intent
Stage
What happens here?
What is your objective?
Intent
Now the prospect knows about your work and wants to get involved with your organization by:

1. Taking a smaller action (like signing a petition, taking part in a survey, etc.) to show their interest
Your goal here is to leverage low-barrier asks to:

1. Get more information to target them with higher levels of personalization.

2. Give them a closer look at your work with these asks.
Messaging
78% of people stated that personalized content increased monetary intent. This shows that if you tailor the message to the lead's behavior, they are more likely to donate. This is why this stage of your nonprofit communication plan is pivotal to converting a prospect to a donor.
Since at this point, your message is more focused around making low barrier asks, your messaging should get people to:
Act on non-monetary asks (sign a petition, fill a volunteering interest form, etc.): People may not expect an incentive here, but frame your message to provide one anyway. For example, convey the impact they can make by simply signing a petition. 
Share your message on social media. This won't help you get their information directly. However, you can leverage certain marketing tools that collect the user's social data when they do so. Plus, it also gets you new prospects through peer to peer recommendations (social pressure and peer behavior can influence actions).
Channels of communication
1. Email
To your email subscribers, you can schedule a mail making a small ask.
Schedule to send the email after they have engaged with at least three emails. The average response rate almost quadruples after 2-3 emails series. If you don't get a response, you can send them a follow-up after a while.

Keep your email short, concise, and compelling. Avoid distracting the reader from the main CTA by keeping the content of the email concise. Use compelling phrases to motivate them.
2. Text
Apart from emails, you can also use schedule texts for the same. Given the high open rates, texts would get you a higher response rate.
Schedule automated text messages to all prospects. Add a link to the landing page where the prospect can go and sign-up (or take the action). Do make sure that the landing page is mobile optimized to deliver a good experience.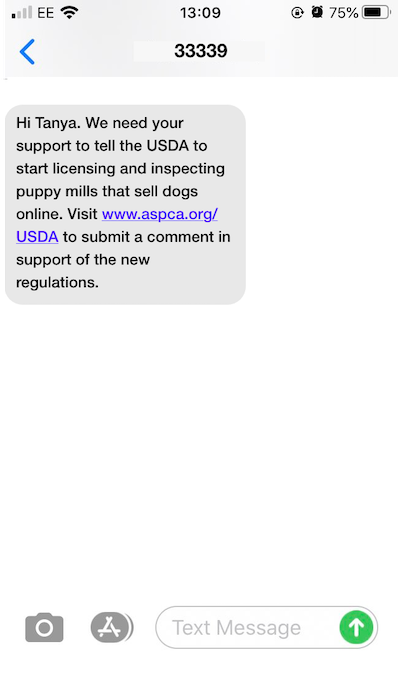 3. Social Media
On social media, you will be motivating people to fill up the survey in two ways:
Share the link of a downloadable that requires them to fill a form to get it. Here's an example of PETA putting it to action: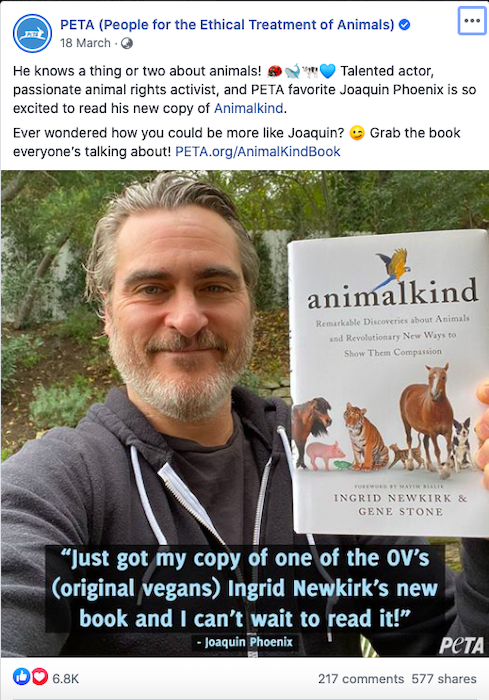 Notice how they use an influencer, actor Joaquin Phoenix, to make it more convincing. You can follow this too.
Have them fill up a survey over text. 350.org promoted their shortcode and keyword on social media to get people to opt-in and show their interest in becoming a climate activist. Once they sent in the keyword, they set up an automated SMS data collection process with CallHub to get their details.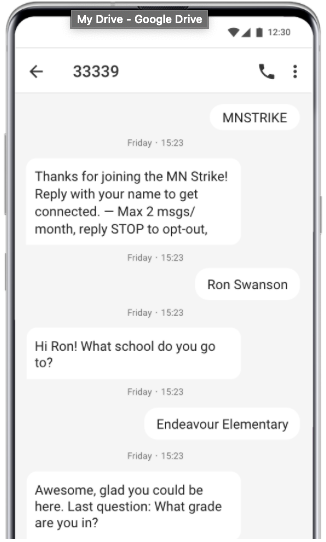 Keep in mind that in the intent stage of your nonprofit communication plan, your aim is to get them more deeply involved with your organization with low-barrier asks.
First Gift
Stage
What happens here?
What is your objective?
First Gift
After the prospect's invested enough in you, the next thing they'll do is donate in the form of:

1. A monetary donation

2. An in-kind donation (infrastructure, assets, other forms of valuables, etc.)
Your only objective here is to get the prospect to successfully donate by:

1. Making the donation process as simple as possible

2. Avoiding drop-offs in between by driving people to complete the process.
Messaging
If nonprofits want to raise money for a charitable cause, it is far better to appeal to the heart than to the head. Put another way, feelings, not analytical thinking, drive donations.

Deborah Small, Professor of Marketing and Psychology, Wharton University
Going by the statement, your messaging to drive more donations should:
Spark the right emotions. Although there are a lot of different emotions you can focus on (happiness, anger, fear, etc.), a study showed that messaging that induced empathy got the best results.

Convey the message as a story and with urgency. You need to appeal to the prospect's heart the best way to do so is with a storytelling approach. Stories are engaging and help prospects make an emotional connection with the beneficiaries better. Plus, people remember details better if they are wrapped in stories making it even more critical. Creating a sense of urgency is another psychological trick to motivate people to take action quicker.
Channels of communication
1. Email
The fundraising emails that you send out will consist of a call-to-action button that directs people to a donation page. To ensure better results:
Segment your contact lists to prioritize emails to a specific group. This will include the people who have engaged with you the most (opened most of your emails, clicked on most of your links,etc.).

Maintain focus on the call to action button. Similar to the intent emails, make sure that your email copy is concise, and the CTA is distinctly visible. Use strong graphics to convey emotions, like in the example below: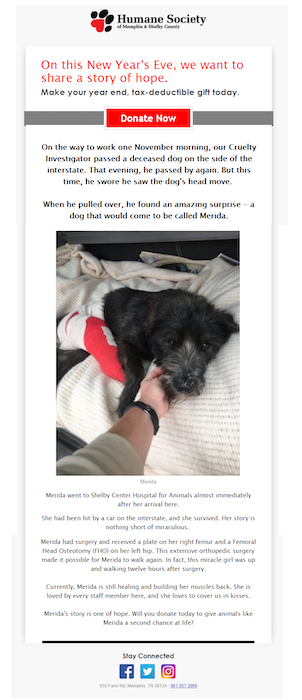 Ths email from the Humane Society uses an image to induce empathy. They also placed the donate button right at the beginning, supported by a statement conveying mutual benefit (tax-deductible gift) thereby making an effective CTA.
You can make the donation process simpler with the help of an online donation tool. It'll provide you with a simple form (that people will be directed to on clicking the link) with additional features to push the process. For example, you'll be able to display multiple donation options (with one being pre-selected), a monthly giving option to make it simpler for donors, etc.
3. Social Media
Your nonprofit's communication plan will drive your social media fundraising in two ways:
Collect donations directly. Most social channels allow you to add a post with a "Donate Now" button that redirects to the donation page. Even if that's not the case, you can just add a link within your post for the same.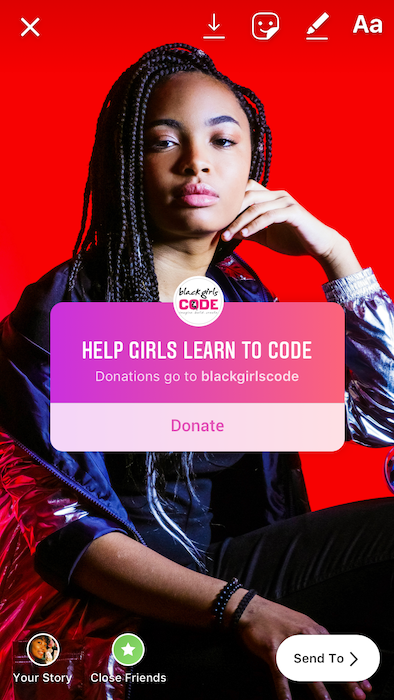 Here's how Black Girls Code is using Instagram stories to raise funds. Clicking on the donate button leads you to the donation page.
Support other channels to collect donations. This strategy is used to promote multichannel engagement. Social media is perfect to drive donations from other channels as well, like in the example: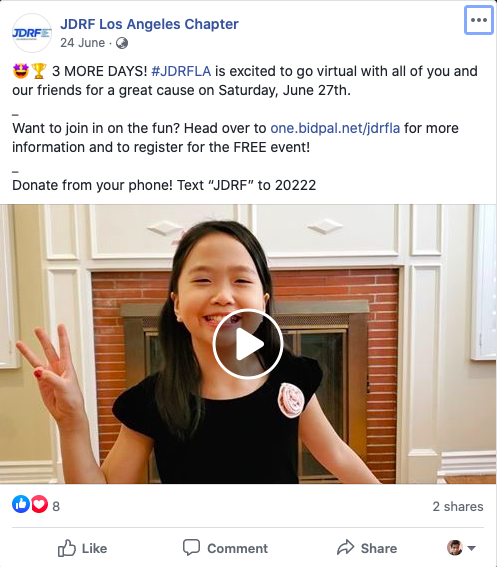 Notice how JDRF Los Angeles uses a video to provide all details to prospects in an engaging way. Moreover, since this post is visible to everyone (even those who might not have engaged with you), using a text donation process here is a great way to get new prospects to sign up for your SMS list.
3. SMS
SMS can be used to drive text-to-give or text-to-donate campaigns. In this, you promote your shortcode and keyword on various platforms (for example, social media).
Once people send in the keyword, you set up a text autoresponder with a donation link (text to donate) or directly deduct the amount from the prospect's carrier bill (text to give).
Leverage P2P texting to make the ask conversational. Often, prospects may have queries before donating. P2P texting can ensure that they can clear those queries on the same thread. Remember that readers won't have any way to know that they can reply to the message to ask questions, so you'll have to mention this.
Use MMS to make the message engaging. MMS has proven to generate a higher click-through rate and hence, can boost your fundraising efforts. Here's how Human for Education leverages MMS for their text to donate campaign: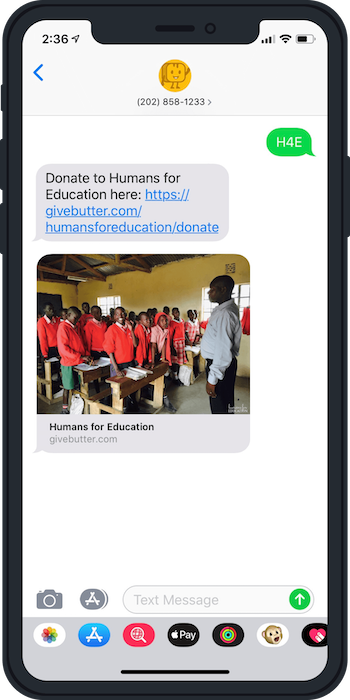 4. Website
Your website will be central to all your donation efforts. This is where the online donation form is hosted, and all prospects are directed to, no matter where the link is shared. To make the process easy and more impactful, you'll need to take care of a few things:
Keep the donation form short. Longer donation forms requesting too much information may put off prospects and drive them to drop off. You can always ask for more details in a follow-up email or text later.
Here's how Pencils of Promise keeps their form simple:

Optimize the page and form for mobile. 50% of your prospects will donate through their mobile devices. Test your form and website design for different screen dimensions (including tablets) and ensure that it renders well everywhere.
Add a social sharing option after the donation is complete. Make it easy for prospects to share that they donated to your organization. Remember that people become aware of your charity through social media posts by friends? Well, here's a chance to drive that awareness.
Tip: When sharing the donation link, make sure that it opens up directly to the form and not on a page that requires prospects to click a button again. The more steps you add in the donation process, the higher the chances of the prospect dropping out are. Keep the process as short and simple as possible.
Overall, at this stage of the nonprofit communication plan, all your efforts should be to get the prospect to make the gift. Once they do, it shows that they are deeply invested in your organization now. This makes engagement and further cultivation easier.
Re-engage
Stage
What happens here?
What is your objective?
Re-engage
After the first gift, there are three categories that you classify donors into:

1. Major or mid-sized donors

2. Recurring donors

3. Small doors
No matter what category the donor falls into, your objective here is to:

1. Re-engage with them after they give their first gift

2. Build a strong relationship with them through constant communication
Messaging
The primary reasons why donors stop giving are:

1. Failure to properly thank and involve donors.
2. Failure to place the focus of communications on the donor, rather than you.
3. Failure to be consistent, both in messaging and in service delivery to the donor.

Roger Craver, Author – Retention Fundraising: The New Art and Science of Keeping Your Donors for Life.
Immediately after a gift is made, your focus should be to tackle the first point that Roger Craver talks about (the next two will be handled in subsequent stages).
Now, to properly thank and involve donors, your message should include:
Your gratitude and the impact made. A personal thank you within 48-hours of giving increases the likelihood of first-time donors giving again. Also, talk about the measurable impact you made to give donors the emotional satisfaction that drove them to donate in the first place.
Getting their feedback and learning about their experience. The easiest way to get donors more closely involved with you is by getting their feedback. Make this conversation as personalized as possible, to make donors feel like a part of the team.
Channels of communication
1. Email
Although an email may not be as personal, it is a great initial touchpoint immediately after a donation. Schedule to send thank you emails after a donation is processed. Two things that you need to make sure of when crafting the mail are:
Include a link for further information. While ensuring your thank-you is as heartfelt as possible, provide a way for donors to get back to your website to pull them into taking more action (like reading a blog, sharing content, etc.) for further engagement.

Craft a copy that makes the donor the star. Remember, donors make the gift to attain some emotional delight. By framing your message in a way that makes them the hero gives them that delight and increases the chances of them doing the same again.
Here's an example of a thank-you mail from Charity: Water that executes both these tips perfectly: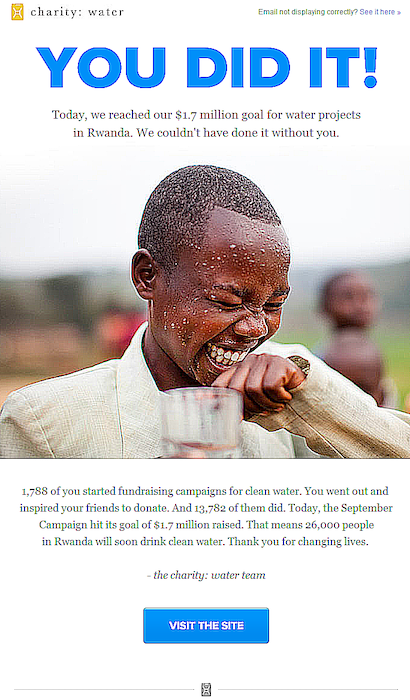 Notice how the theme of the content focuses on the word "You" to give importance to the donor while a CTA directs them back to the website. They also use a heartwarming image for more impact.
2. Social Media
Your thank you posts on social media too won't be personal. However, they would serve another purpose of building your credibility in the eyes of those just discovering you.
When creating social media posts, make sure that you:
Write a short and sweet copy for the post in a human tone. Demonstrate the measurable impact that you made (with numbers and figures) while keeping the language light. Here's an example of a post from the Humane Society International: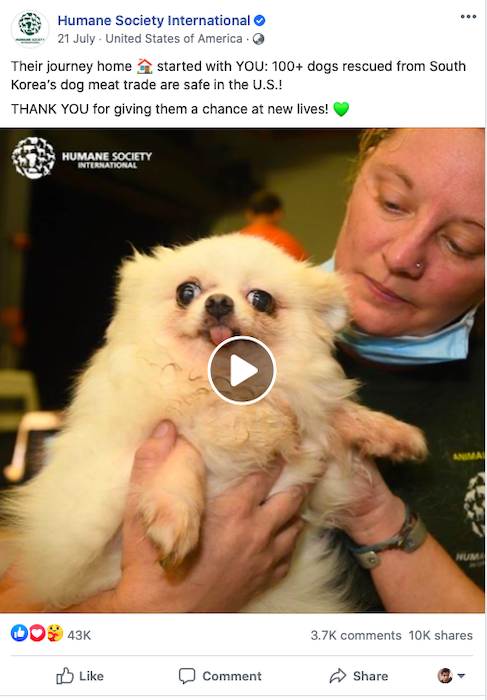 Using a video to thank donors is another great idea that you can steal from HSI's post here.
3. Text
SMS marketing is a personal channel of communication that you'll be using to reach out to small and recurring donors.
Use P2P texting to keep it conversational. For the communication to feel personalized, the donor must feel like he/she is talking to another human. P2P texting helps you do that while allowing your staff to talk to multiple people simultaneously.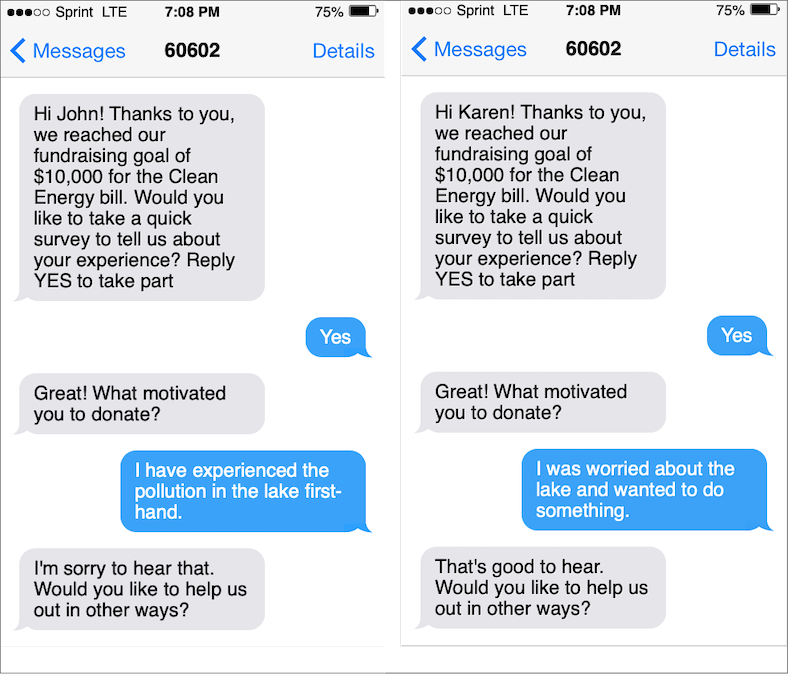 4. Phone
You'll be calling your major and medium-sized donors to thank them for their support.
Use a calling script to guide the conversation. Don't use a script to read it out but to structure the conversation flow. Most of your staff members may not be experienced callers. Hence, having a donor thank-you call script to guide them is recommended.
Employ a call center software to make calls. While calling, your callers will be faced with a number of complex situations like dropping a voicemail, scheduling a callback (for those who asked for it), recording the survey answers, etc. A call center tool will make it easy to manage all these tasks.
In CallHub, callers can do all this and more from a single interface while they are on the call.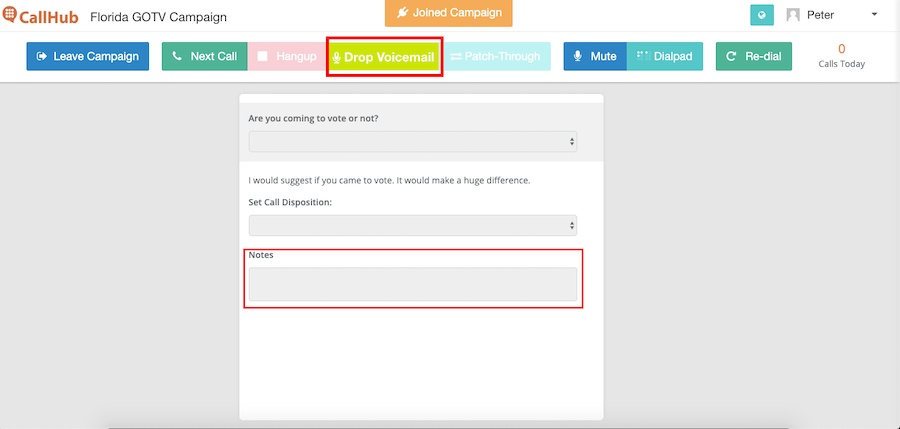 Note: In case you're understaffed, you can prioritize calling only the major donors and connect with mid-sized donors over text.
Remember, the aim here is to make the donor feel appreciated for his/her involvement to build a strong and long-standing relationship.
Stewardship
Stage
What happens here?
What is your objective?
Stewardship
The next stage of the donor journey is donor stewardship. In this stage, you:

1. Engage with donors keeping them in focus rather than your organization

2. Establishing a consistent cycle of communication and service delivery to donors
At this stage, your efforts should be aligned to achieve:

1. Constant interactions with all donors (with the goal of building relationships)

2. Ease them into the next cultivation cycle by involving them in your work
Note: Although thanking and asking for feedback (as we spoke about in the above section) is also a part of stewardship, we break it down to two different sections because the objectives we focus on with the messaging are different.
Messaging
The two largest reasons a donor will leave an organization is because:

1. Their donation was never recognized with a thank-you and
2. The organization was not communicating what outcomes resulted due to the donation."

Adrian Sargeant, Philanthropy professor and Co-Founder of the Institute for Sustainable Philanthropy
While you cover the first point in the re-engagement stage above, the second point is what your messaging should address in this stage of the nonprofit communication plan:
Communicate campaign impact, organizational updates, beneficiary stories, etc. with all donors. Try to tie these back to the donor's gift wherever possible. For newer campaigns, you can highlight how donors helped you in general.
Make low-barrier asks to involve them closely with your organization. These asks could include sharing a social media message, referring people to donate, helping out with phone banking, volunteering, etc.
Communication Channels
1. SMS
Use SMS to send out a personalized message to all donors to make low barrier asks. While you can use email for the same, the high open and read rates of texts will ensure better reach. When texting donors to ask for something, keep in mind to:
Remind them how they were involved with you. Since you'll be making these asks a while after the donation, chances of donors forgetting about it are high. Remind them of their past involvement to bring back those feelings of delight and encourage them to go through it again.
Check out this example of Wolf-PAC making a small ask over text: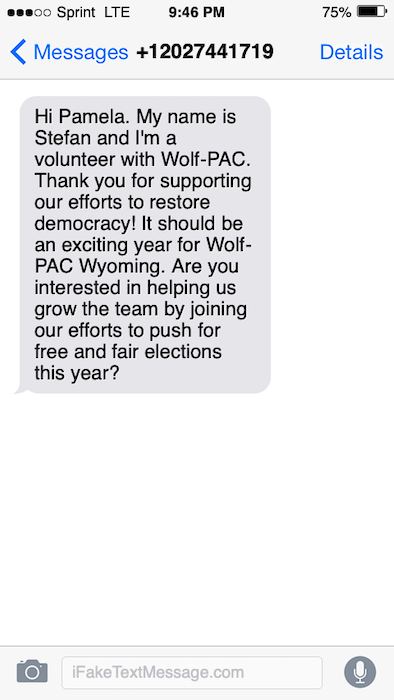 A thing you can improve here is to make the past involvement more clear. Wolf-PAC does mention it, but it sounds pretty vague.
2. Email
You'll be connecting with donors over email to provide them with organizational updates, beneficiary stories, the impact you made, newsletters, etc.
The best practices of the stewardship email remain the same as in the stages above. A few things to recap are:
Use strong visuals to support your email copy.

Craft a copy that is donor-centric. Make the donor the star.

Include a link that directs the reader to another page to take some action (like watching a video, read a blog, etc.)
Here's an example of an update email from Charity: Water: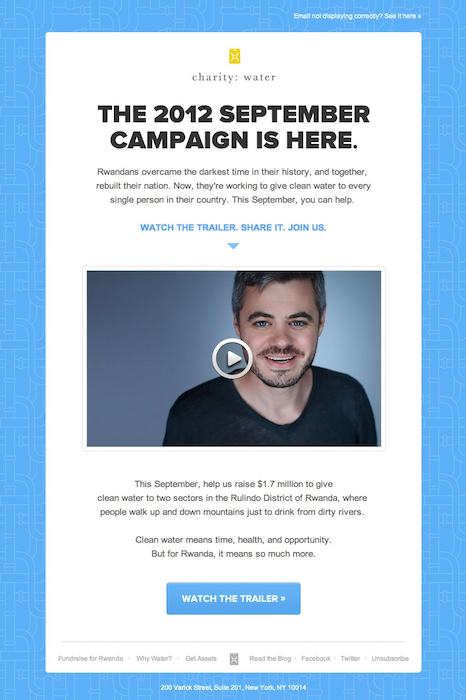 Make note that they embed the video in the email itself to make it more engaging while also including a link to the page where they can watch and share the video.
Keep in mind that in the stewardship stage of the nonprofit communication plan, it is important to maintain donor relations and get them more deeply engaged with your organization. The more you get them involved in your work, the more they will be open to donating again.
Second ask
Stage
What happens here?
What is your objective?
Second Ask
While your stewardship efforts go on forever, you'll be mixing up your efforts with more donation asks in between.
Your objective here is to upsell to the donor. This could be by:

1. Getting one-time donors to upgrade to a monthly giving plan

2. Upgrade the monthly donation amount of recurring donors

3. Getting one-time donors to make another gift (preferably of a larger sum)
Messaging
Making another ask can be intimidating, but keep in mind that the average donor retention rate of first-time donors is 23%, and for those who make a second gift is 64%. This means that if you can just get a first-time donor to give again, you would have earned a loyal donor.
All you need to do is ask again, but it has to be done with some positive reinforcement and not just out of the blue (which may put the donor off). Here's how you can do it:
Tie up the second ask to a special event. This could be the donor's birthday, an anniversary, or any event (acquire this data during the intent stage or right after the donation). It will be easier to appeal to donor sentiment on special occasions and ask them to donate and spread happiness.
Leverage social proof. Research suggests people tend to be followers who look to others to let them know what is expected and default to the norm. This is why social proof works so well. When making the second ask, adding a phrase like "most people give X amount (or X times)" is enough to rope them in for another gift.
Related Reading: Writing the Perfect Nonprofit Fundraising Plan – In 10 Easy Steps.
Channels of communication
1. Email
Schedule all celebratory emails for special events/donor milestones. It would be difficult to keep track of all these events, which is why you can use a personalized email template for different occasions and schedule them beforehand. This will ensure that you don't miss out on this opportunity to get in touch with donors.
Check out WDC's birthday email to all donors: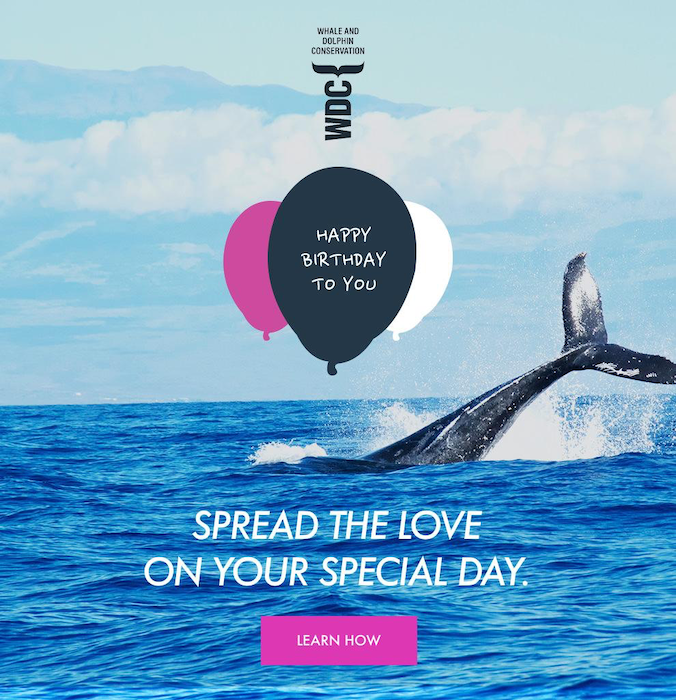 Make note that they use a very simple and concise copy while bringing the reader's attention to the CTA. The phrase before it creates curiosity, thereby making the CTA more effective. Instead of adding the details to the email, WDC eliminates distractions and aims to direct readers to a page that includes all the information to encourage them to donate on their birthday.
2. Phone
You'll be connecting with major donors (even mid-level and recurring donors if you have the resources) over a call to communicate the message we spoke about above.
One major area where most organizations go wrong with telephone fundraising is the structure of the call. When speaking to donor over the phone, make sure you:
Don't get to the ask directly. Converse with them, wish them, ask how things are, thank them for their gift, listen to their feedback, and then make the ask. Your first priority here should be to build a relationship and then get a gift. Starting off with the ask would make them feel like an ATM to you, which would lead them to leave forever.
Here's an example of what a good fundraising script for a second ask should be like: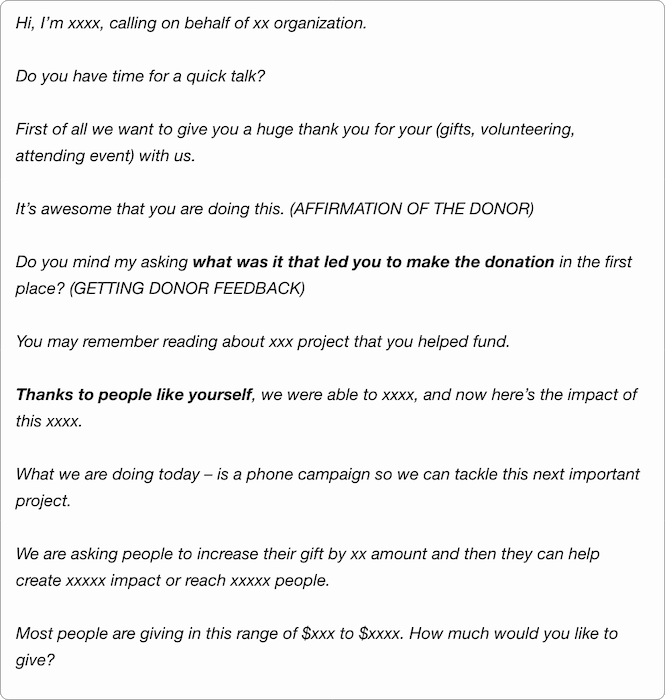 For donors who made a second gift at this stage, repeat the cycle from the Re-engagement stage to maintain an ongoing relationship with them.
For those who didn't convert here or reduced their interest in your work after the first donation, re-target them with the plan described in the intent stage. Meanwhile, you can simultaneously continue to add more prospects to your list by executing the nonprofit communication plan from the Awareness stage parallelly.
To conclude
There are three areas where nonprofits go wrong in terms of their communication:
The absence of a structured formal strategy. Almost 70% of organizations have admitted to not having, in one way or another, a plan. Moreover, most organizations don't have a streamlined plan. The plan for all the stages discussed above is often disjointed which makes it difficult to lead the prospect down the funnel.

Lack of clarity of the complete donor journey, with "complete" being the keyword here. A quick google search will reveal that most donor journey maps end after the First Gift stage, which renders your communication inconsistent and leads to a poor donor experience (causing them to leave).

Deciding on the communication channel. Depending on your audience or your messaging, you should carefully choose your communication channels. So for an elderly person calling works well whereas Millenials will respond better to texting and an email or social media video post is great for showcasing your impact from the last year.
Hopefully, the stages of the donor journey and engagement plan for each we spoke about above help you fill the gaps of your nonprofit communication plan.
To share your inputs or thoughts about this, shoot me an email at [email protected], and I'll be glad to discuss this in detail.
Feature image source: Austin Distel