Avoid the need to manually operate a large part of your texting campaigns.
Automated text messaging reduces the time, effort, and resources required to communicate with your contacts.
Messaging costs $1-$5 per interaction on average. Automation can bring it down to 25 cents.
Set up your text message campaigns with CallHub and let us do the rest.
What is automated text messaging?
Automated text messaging lets your organization save time by scheduling your texts to go out in advance.
With CallHub, you can take advantage of automated text messaging in your text broadcast and SMS opt-in campaigns:
Schedule text broadcasts to go out when you want them to
Create auto-replies based on keywords
Create follow up prompts for data collection
Nudge contacts with a repeat followup if they don't reply
Automatically unsubscribe contacts who opt-out
Types of automated text messaging
1. Scheduled text broadcasts
Setting up a time for your text message to go out is the simplest form of automated text messaging.
In CallHub, you can choose the time for the initial message to go out as well as set up operational hours for your campaign, outside of which automated replies don't go out, which is important if you're operating under TCPA regulations.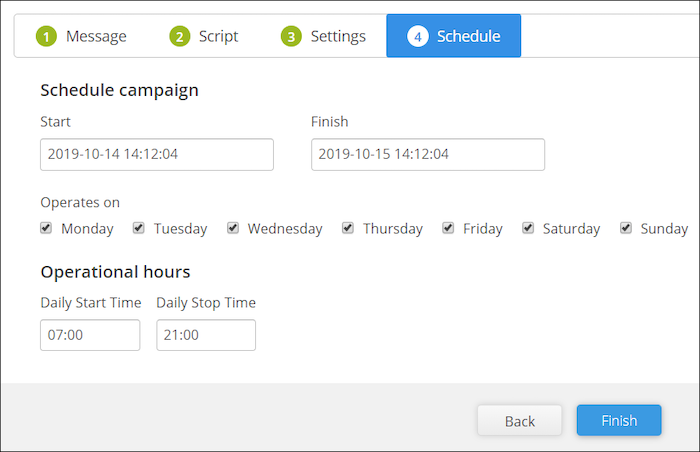 2. Auto-replies based on keywords
Avoid leaving your contacts hanging with automatic text replies for text broadcast campaigns. Customize which reply goes out based on the keyword your contacts send in. Note that approximate replies can also count as keywords as long as you define them beforehand.
You can use these replies to send RSVP confirmations or provide additional details, like a donation link.
3. Collect data on sign-up with prompts
Collect additional details (email, zip code, etc.) from your contacts when they subscribe to your lists through SMS opt-in. Automated messages will be sent as soon as you receive a response. You can even add the newly collected information as merge tags to personalize subsequent texts from your campaign. For example, your contact's name as depicted in the image.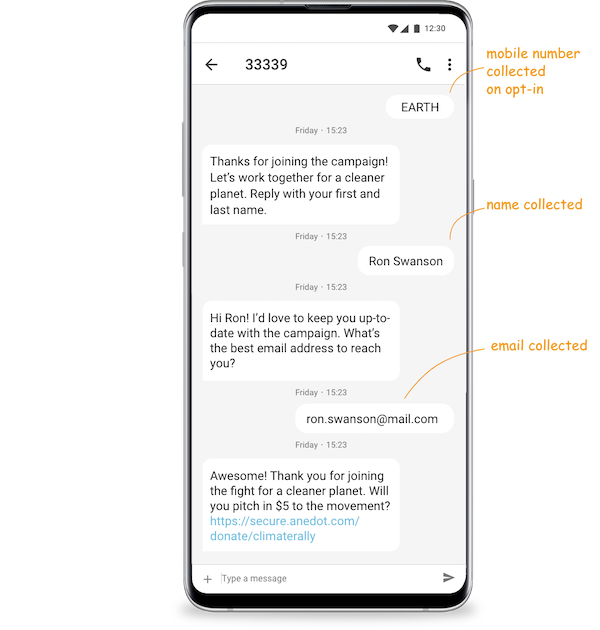 4. Send a nudge to complete sign up
So your contacts haven't replied to your last text message. Best case scenario, they come back later and reply to the text. If they don't however, you can be proactive and resend your last text message.
You can schedule this message to go out hours or even days after your last one.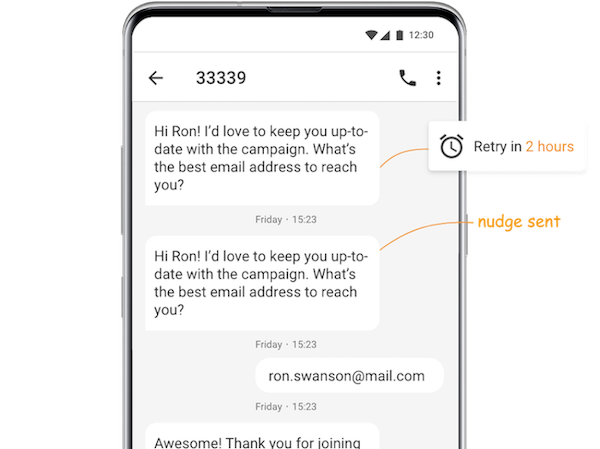 5. Automatically remove opt-outs from your contact list
CallHub keeps your lists clean by automatically unsubscribing people who reply with STOP, END, CANCEL, UNSUBSCRIBE, and QUIT.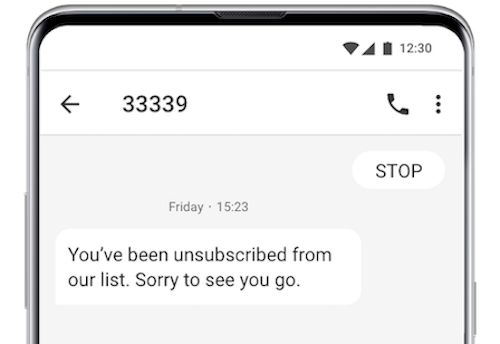 Why use automated text messages?
Clearly, automated text messaging saves you both time and effort. Here are just a few ways how:
Simple setup
With just a browser and 2 minutes, you can start sending texts. We checked! That means for an urgent update, you can get the message across in no time. Of course, you could also spend some time configuring your campaign for more refined automated messaging.
You can test out a campaign without spending a penny, with some initial free credits.
Schedule texts in advance
You don't need to be on standby at the right time when you want to send a text update to your contacts.
Text scheduling free's up your time for more important tasks.
Don't need texting agents
For a manual form of texting, like peer-to-peer texting, you would need the help of agents to reach all your contacts. While this does have it's advantages (more personal conversations) it needs you to have the resources to do so.
By setting up text autoresponders and follow-up prompts in CallHub, you can keep the back and forth going with your contacts without the need for human intervention.
How to set up automatic text messages?
Can we add a quick list here of steps to set up auto text messages?
To see automated texting in action, let's take a use case that makes full use of the automated messaging capabilities of CallHub.
For instance, sending blog and news updates via text to people who opt-in through SMS:
Collect blog subscriber details via follow-ups
So your contacts have seen the CTA advertising your keyword and shortcode on your site or elsewhere and have decided to opt-in via text.
Great! But if you want to provide a personalized experience and send them the updates they really want to see, you need some information from them first. That's where automated SMS data collection comes in.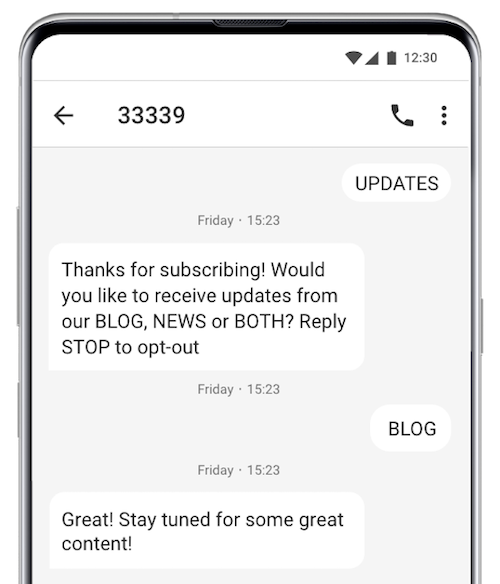 You can export your contact list and segment it based on the type of content they want to receive from you.
Setting up prompts in CallHub
You can set up prompts for your SMS opt-in campaigns during setup.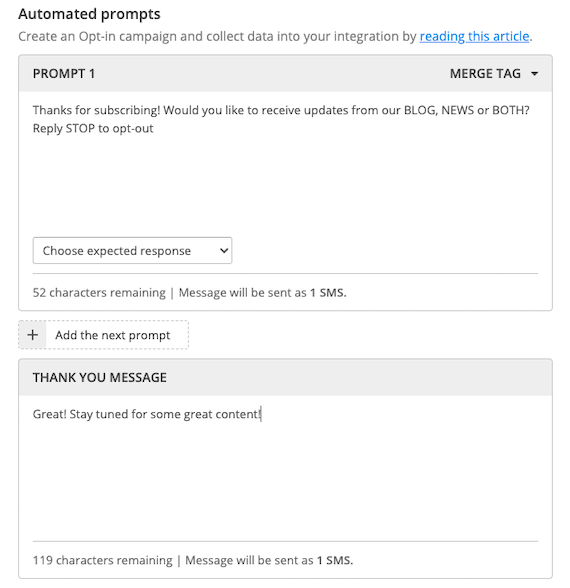 Give them a nudge if they don't reply
Since the data you're collecting is important for future message targeting, you will want to make sure your contacts are following through with your opt-in campaign.
Often, contacts simply forget to reply to your next prompt, so it doesn't hurt to send a follow-up if they don't reply after a while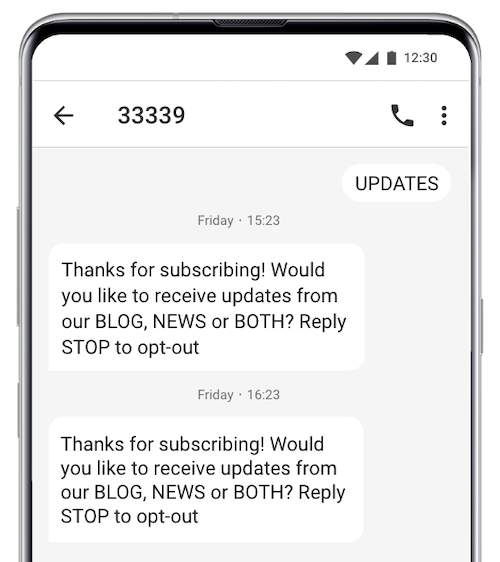 Enable retries in SMS opt-in setup
You can schedule a reattempt to go out hours or days after the initial attempt.

Schedule a text broadcast when you want to send a blog update
With your newly acquired list of contacts and their details, you are all set to send targeted mass text messages. Based on the above example, for contacts that chose to receive blog updates, you can segment your list and upload them back onto CallHub as a contact list.
Choose this contact list when setting up your text broadcast campaign.
Scheduling on CallHub
Scheduling is the final step before hitting start on your text broadcast campaign: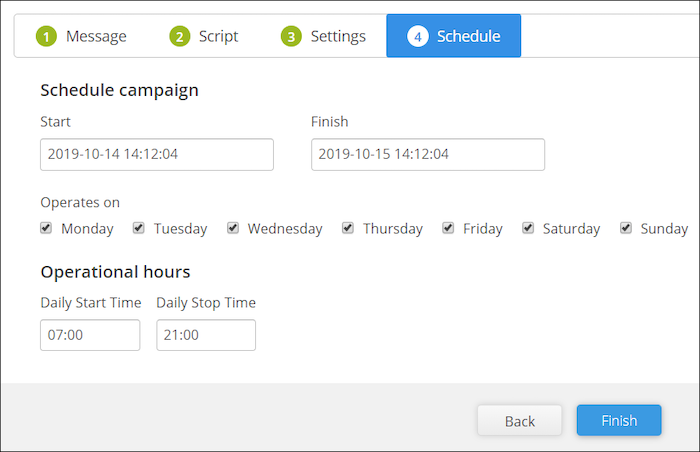 Send auto-replies with additional information
If you want to keep the dialogue going, you can ask contacts to respond to your initial text message with a keyword. You can have responses go out to contacts based on the keyword they reply with.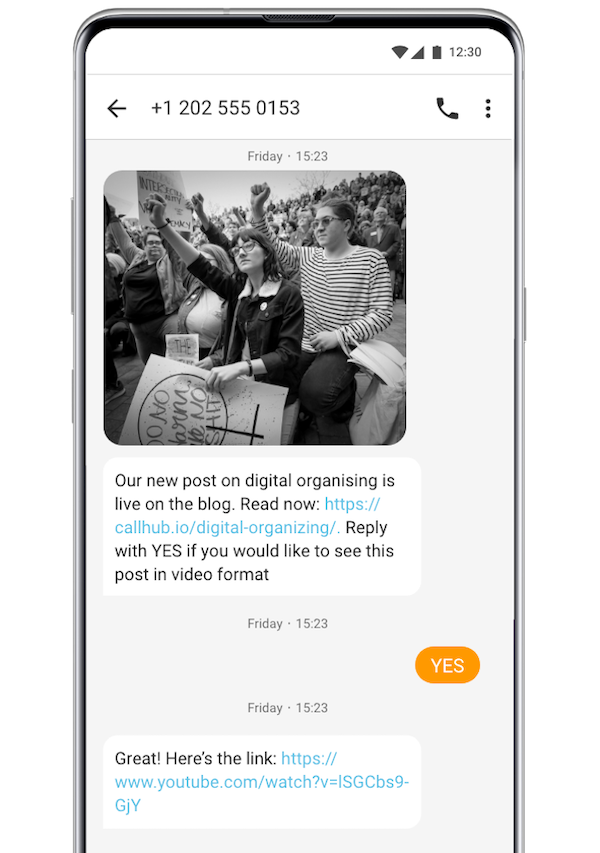 In the example above, a link to the video was added for interested contacts. If your video is less than 5MB in size, you can embed it directly in your text message in the form of MMS.
How to send automated text replies in CallHub
You can add auto-replies right after your initial broadcast message. In this example, if the contact replies with YES, they receive a follow-up message.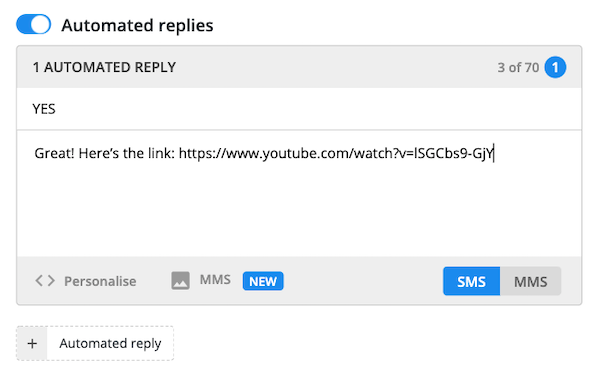 You can add multiple auto-replies for your mass texting campaigns.
Remove unsubscribers from your list
Avoid any liabilities that may arise when sending automated text messages to people who have opted out. In this case, if a contact wants to stop receiving blog and news updates from you, all they have to do is reply with one of these keywords: STOP, END, CANCEL, UNSUBSCRIBE, and QUIT.
CallHub removes them from your lists immediately and automatically.
350 used automated text messaging to organize the climate strike
MN350 built an engaged list of 2919 young climate activists and organized them to take action towards climate justice.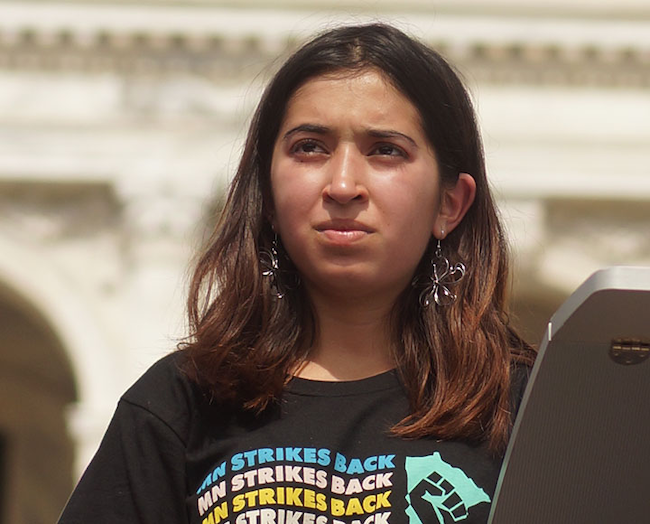 CallHub's automated text features made it easy for them to collect details that enabled them to send targeted messages to their supporters. Read their story.
Choosing an automated text message service
While there are plenty of automated texting services that are available, here's why we think CallHub is the best option for you:
Why choose CallHub for your automated texts?
Responsive support
Need help? Our customer support specialists are always ready to lend a hand. If you want to DIY, our detailed guides and documentation can help you get started.
Multi-channel engagement
In addition to reaching your contacts through automated text messages, you can have one-to-one conversations with them through peer-to-peer texting and phone calls.
Flexible pricing
CallHub offers both pay as you go as well as a subscription plan. That means you can choose the option that best suits your needs at the moment and switch when you need to.
Sync with major CRMs
Our integrations allow you to sync your lists and import data back to your CRM. Can't find your CRM on our list of integrations? You can even use our Zapier integration to connect your tool to CallHub.
Ready to start automating your text messaging campaigns?